No trip to Mongolia is complete without seeing the Gobi Desert. It's not as hard you might think getting there and is worth the ride. This article will show you how to travel there on a motorcycle, what the roads are like, which part to visit and what you need to know to experience the best of Mongolia's Gobi Desert. 
The Gobi Desert Motorcycle Travel Guide
Background
The Gobi Desert is the largest desert in Asia and acts as a natural border between Mongolia and China. It has a total surface area of 0.5 million square miles and one of the world's most volatile climates, changing from -50C to +40C through the year.
Choosing the best bit of the Gobi 
The Gobi is split into five different ecosystems; you've got the Eastern Gobi, Alashan, Gobi Lakes, Dzungarian Basin and Tian Shan range. As you travel through the south of Mongolia you'll likely be riding or driving through parts of the Gobi without even realising it. It's not all sand and desert.
To get to the quintessential image of the Gobi – you want to visit the Khongoryn Eels area, located in the Gurvansaikhan National Park.
Riding to the Gobi Desert
The Gurvansaikhan National Park is probably the most famous part of the Gobi region, it holds the Flaming Cliffs, Yolyn Am Ice gorge and Khongoryn Eels dunes. Those three are the reason you'll want to make the trip south. Check the map out below to find the location of all three. You can find more about the Flaming Cliffs and Yolyn Am in our Top 10 things to do in Mongolia Guide.
Assuming you are making your way south from Ulaanbaatar, you will want to head towards the city of Dalanzadgad. The road to Dalanzadgad from UB is well paved and quick riding (but boring). It's a two day ride and a good halfway stop off-point would be Mandalgovi, where there are a couple of hotels.
Once you've reached Dalanzadgad, turn west and head to the town of Bayandalai, where you can stock up on fuel, food and water (goes without saying that there aren't any shops in the desert past this point). That road will be a little bit more rough. Once you leave that town and continue west towards Khongoryn the going will get a lot more tough. There are a few mucky swamp areas, big ruts, sand pits and very, very poor gravel roads. It is doable though, and can even be done with two people on one bike. It is hard going, but worth it once the dunes come into view.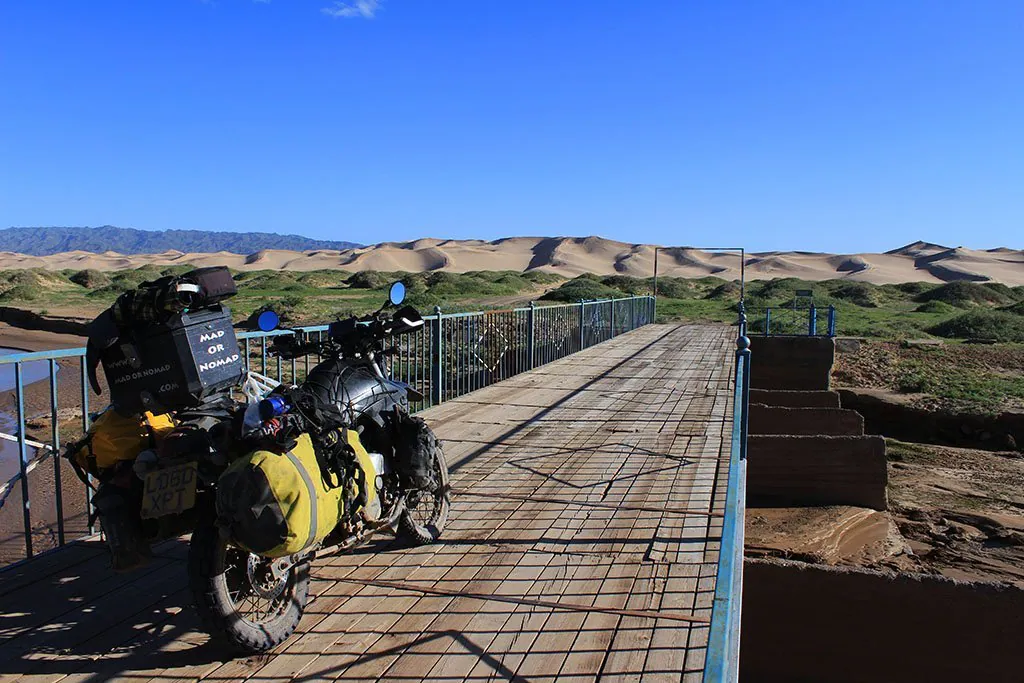 To get to the dunes you will need to cross a river by using a small bridge. The exact coordinates for the bridge are 43.776096, 102.255259. Once you're in Bayandalai, we'd recommend putting those exact coordinates into Maps.Me. Once you've done that, the app will show you the trails, which lead to the bridge – and the trails are surprisingly accurate. It's easier to use the app in that area as a GPS map instead of as a sat-nav. As long as you're following it in the right direction you'll eventually make it.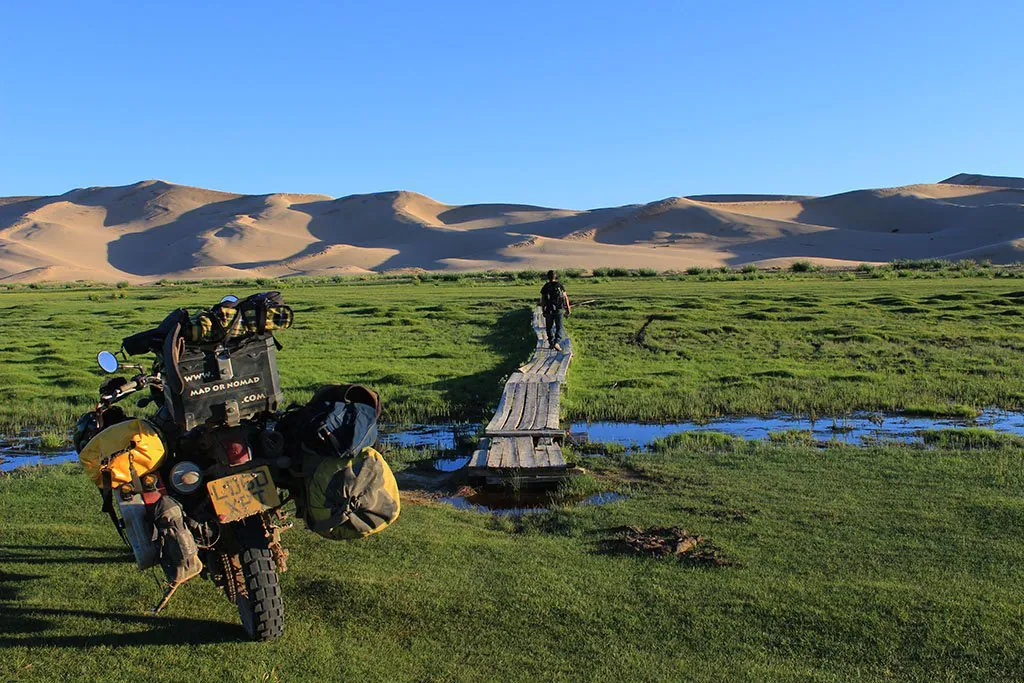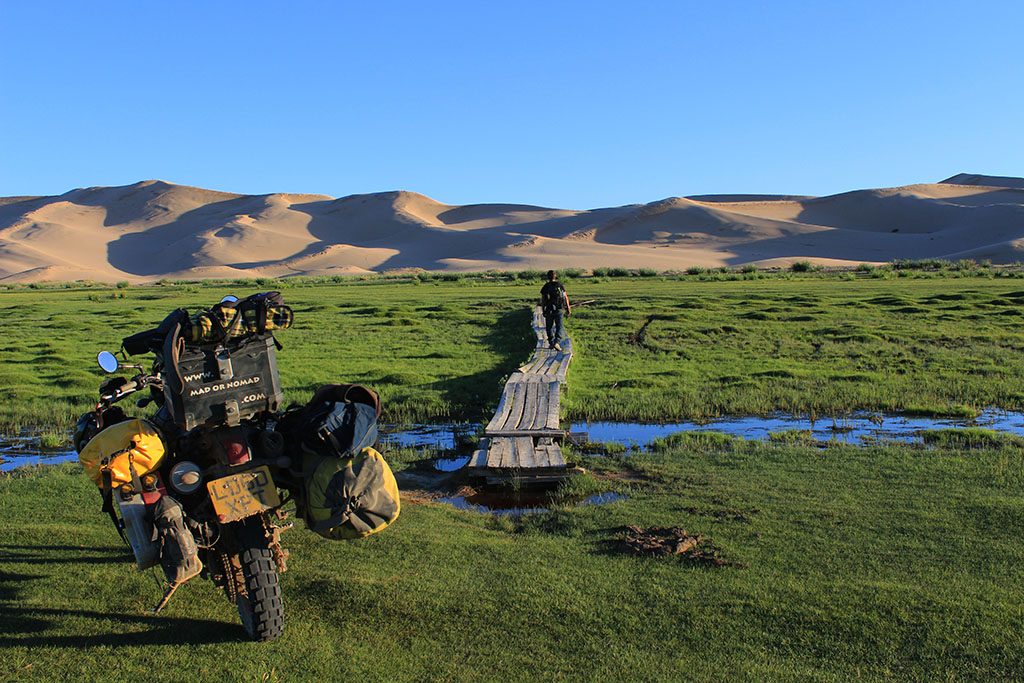 Once you cross the bridge, you will have a bit of sand riding to do. It's not deep sand and doable, just take your time and plod through. You'll eventually exit the sand area and come to a long green patch and the dunes will be in front of you.
You can ride your motorcycle onto the dunes. We saw plenty of Mongolians on little 125s blasting around right at the top.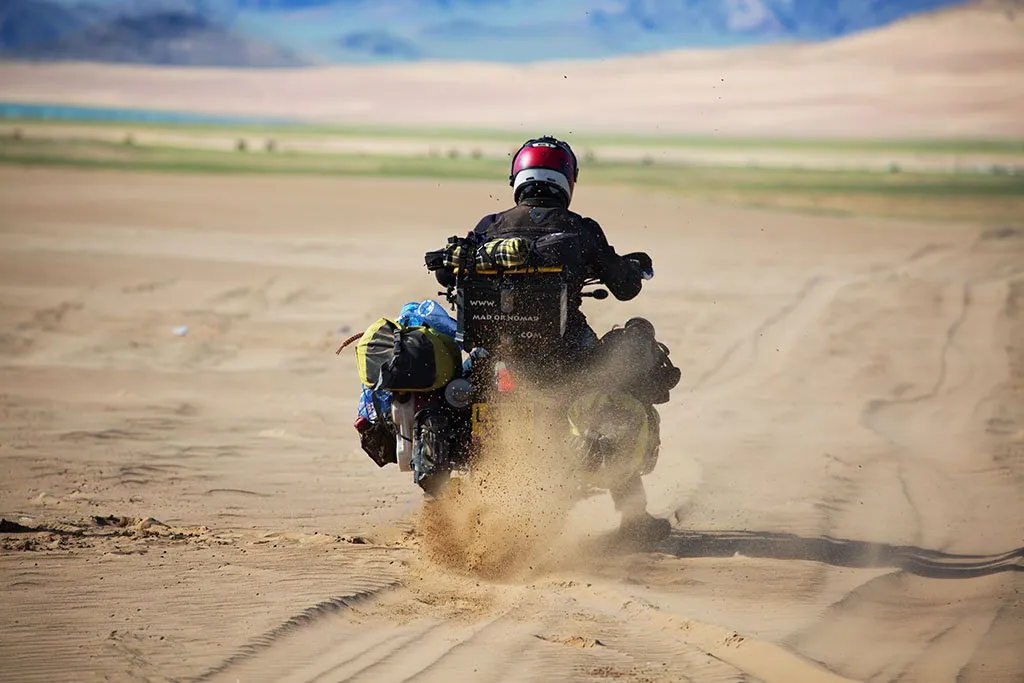 Accommodation
As you close in on the dunes you will see plenty of yurt camps and herds of camels. You can stay at these camps (there are loads for you to pick and choose from) and they will also offer camel rides and food.
If you'd rather camp, then once you cross the bridge at the coordinates we supplied, just head straight towards the dunes and you'll see a little camping sign.
We wanted to camp right in front of the dunes and decided to pitch our tent on the grass in front of them. Your call.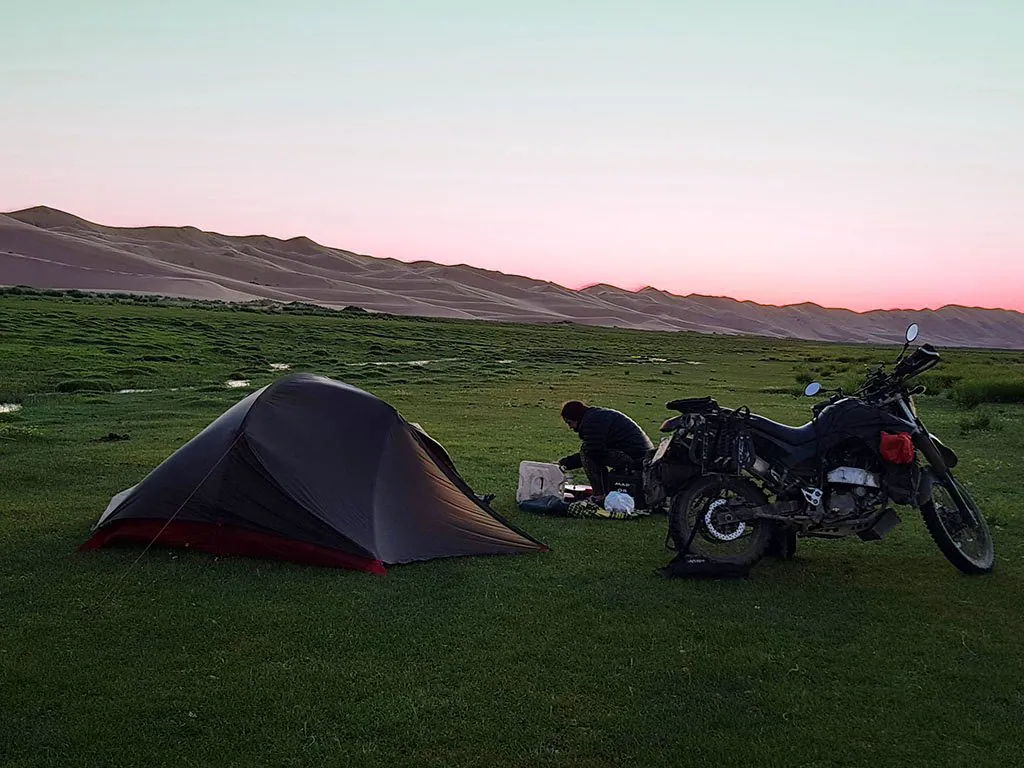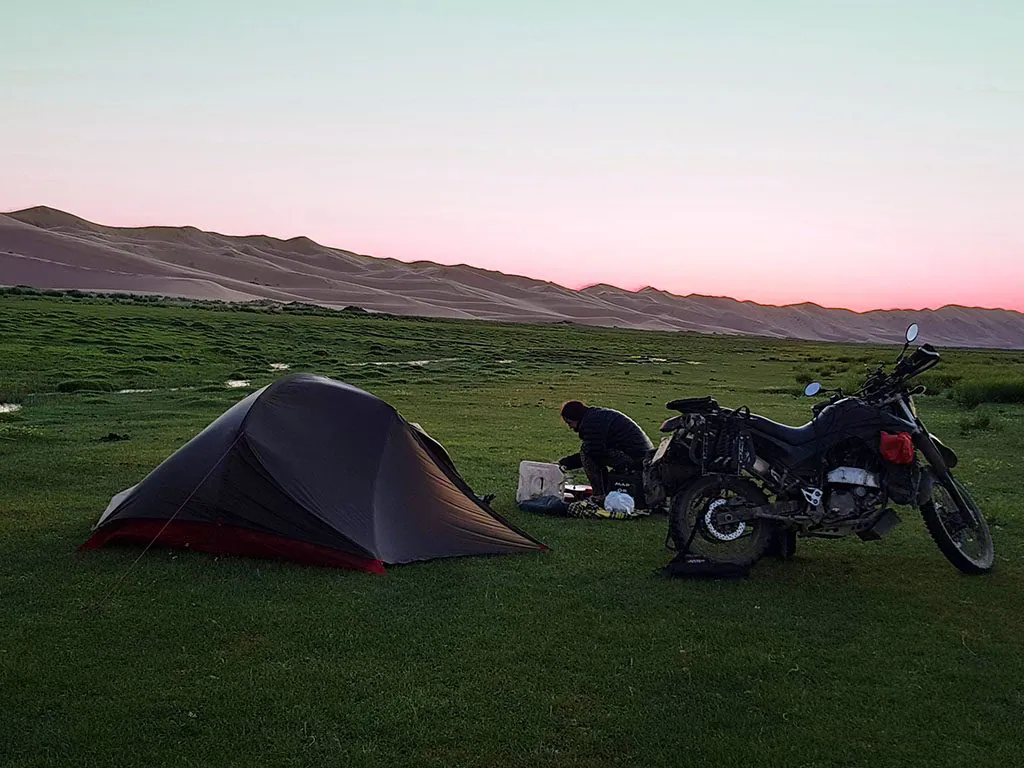 When to go
You can go to the Gobi any time of the year. But if you're overlanding and travelling in your own vehicle, chances are that you won't be travelling through Mongolia in winter. The best times of year to go are from June to August, we visited early September and saw no tourists, only locals. 
Flaming Cliffs
You'll probably hear a lot about the Flaming Cliffs while you're in Mongolia. Unfortunately, there aren't any fires or eternally burning flames there (like the natural fires in Turkey and Azerbaijan) . Instead, an American palaeontologist named it when he visited in the 1920s. It's famous for the world's first discovery of dinosaur eggs. In fact, Mongolia in general and the Gobi specifically, have produced incredible dinosaur fossil remains.
But anyway, it'll be on your route if you're heading to Khongoryn Eels and worth a stop. It's a short ride from the Bayandalai village and easy off-road single tracks to get there. You can't really miss it and can pinpoint the exact location using Maps.Me. It can get busy in summer with tourist busses stopping at the top. It's prettiest at sunset and make sure you take a long walk into the valley, just watch out for dinosaurs. There's no payment to enter the valley and you can ride or drive right to the top.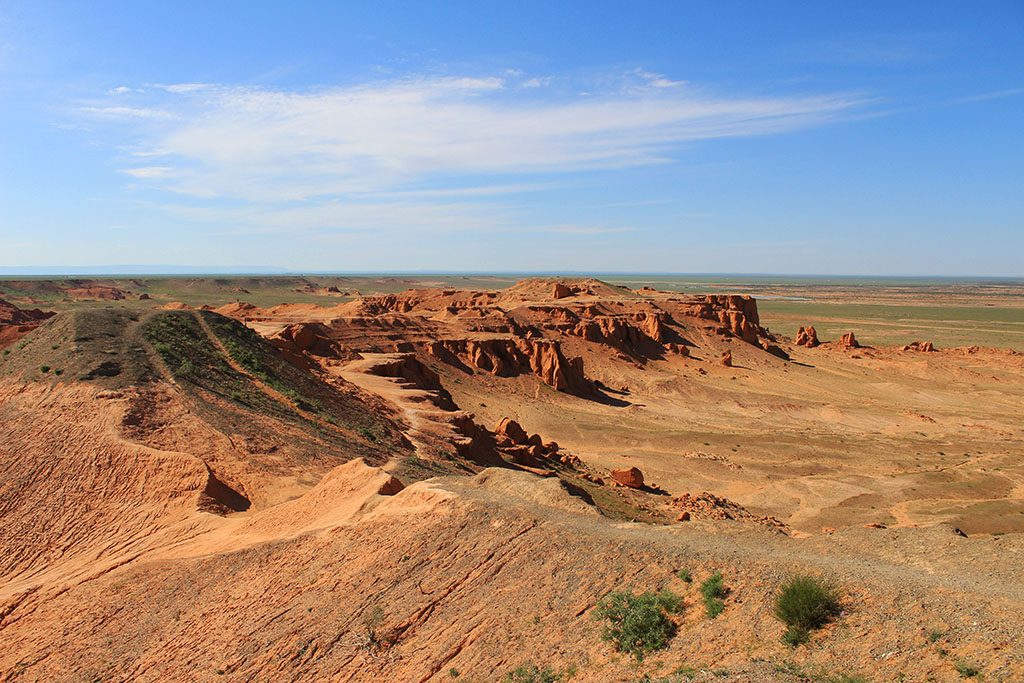 Yoyln Am Ice Gorge
The Yoyln Am Ice Gorge (try 'Yoylin' if your navigation device isn't picking it up) is on your way from Dalanzadgad to Bayandalai. It's a deep gorge in the Gobi and famous for being filled with ice all year round. While this was once potentially true, it's no longer the case. The ice tends to melt away by September, so plan accordingly.
It's still a nice walk and a very beautiful ride. You will need to pay to enter the national park, should be about £1. From the ticket office it's a tricky off-road ride. The route can be a bit treacherous with deep slushy mud in places, dependent on the time of year. You'll eventually reach a car park where you will need to leave your vehicle and walk.
Do not try camping in Yolyn Am. We tried camping near the car park and were awoken late at night and told to move. We said no because it was dark and dangerous to ride the mucky route at night. The park attendants got aggressive fast and a lot of them turned up, pulling and tugging at our tent. We had to pack up and ride in the dark to get out of there. You can camp in a field next to the main road instead. It was the only one time in Mongolia where we were told to move. We pretty much camped everywhere and anywhere in Mongolia, so don't let that put you off. We believe officials just don't like people camping in national parks that require payment to enter.
Join an organised tour
Alternatively, if you'd like to join an organised tour to visit an Eagle Hunter in Mongolia, we recommend booking on Viator. There's a range of tours to choose from dependent on your budget.  
Read more on Motorcycle Travel in Mongolia
Thanks for checking out our Guide to the Gobi Desert. We hope you enjoyed it! Here's a few more articles on motorcycling in Mongolia that we recommend you read next. 
Liked that? Try these next…
ps. We may receive a small commission, at absolutely no cost to you, if you purchase any products using the links on this page. We're not sponsored by anyone, are completely impartial and don't run ads. So this helps us keep the site running. Thank you for your support.