Northern Italy is home to some of Europe's finest touring routes, incredible roads, stunning architecture and gorgeous vistas. You're going to love riding there and this packed guide and top ride report will help you plan your perfect trip. 
The Northern Italy Motorcycle Guide
Northern Italy offers Alpine mountain passes, great scenery, fantastic lakeside towns, castles, culture and cathedrals. It's got everything you'd want from a European bike jaunt. It's easier to get to than you might think too. The only tricky bit is fitting it all in. Have a read of this guide and ride report and start planning your route! 
The Best Riding Route in North Italy
The Stelvio Pass on the SS38 connects Italy to Switzerland and, at 2757 metres above sea level, is one of Europe's highest roads. Its numerous hairpin bends are not to everyone's taste, but in my opinion it should be on every biker's Bucket List!
Don't Miss…
Whether you want great biking roads to blast along or to take a slower pace, there is something for everyone. The Stelvio and Gavia passes offer amazing views and scenery. Or you could take in the opera at the Roman amphitheatre in Verona and there's always lazing by the beautiful Lake Garda too. Alternatively, head to Valentino Rossi's home town of Tavullia on the east coast and enjoy lunch at his very own restaurant!
When to go?
The best time to visit are the months between April and September, although keep in mind that July and August can get very hot and the tourist destinations get very busy.
How much?
Unfortunately, these days a trip to Europe is not much cheaper than the UK. Food can be expensive and all restaurants add a service charge, so be mindful of that when the bill comes. Expect to pay:
Petrol price per litre: £1.25
Average cost of dinner: £20-£25
Average hotel: £75-£100.
Accommodation 
There's a wide choice of accommodation on offer to suit most budgets. My personal preference is hotels and we budget accordingly, but obviously there are cheaper alternatives such as camp sites, wild camping and AirBnBs. If you stay in the more rural locations, prices will be lower than in the major tourist hot spots where prices can sky rocket.
Paperwork
You should take originals of your driver's licence, insurance certificate, MoT if required and your V5 (logbook). Italy has several motorways, most of which are toll roads, but not all. Prices vary depending on which company own a particular stretch of road.
With the UK leaving the EU, you may need a International Driving permit (IDP) which is available from most post offices for around £5.
Speed limits in Italy are strictly enforced. Being a foreign driver who "doesn't know any better" won't get you out of paying hefty fines. Unless you see a sign indicating otherwise, the speed limits in Italy are 130kmph (80mph) on highways like the Autostrada and range from 50kmph to 110kmph on other roads. Some highways have much lower speed limits than you'd expect due to their proximity to a town centre, so keep your eyes peeled for speed limit changes.
Getting there and away
If travelling from the UK, there are various ferry options or the Channel Tunnel. Calais to the Italian border is approximately 600-700 miles. The last time I visited we had a stopover in Baden Baden and then Liechtenstein before arriving in Bormio on the third night (via the Stelvio pass of course!)
We recommend booking and checking with directferries.co.uk as you can find up-to-date and current sailing times and routes and book in advance.
Top Tips
Take extra care on the mountain passes – especially the Stelvio. Motorcyclists, cyclists, camper vans and numerous other weird and wonderful car and auto clubs want to go too. The last time I was there, there was a vintage tractor rally heading up!
On a more general note, Italian drivers don't believe in the two-second rule and spend most of their time with their hand firmly plastered on the horn. That may be a little stereotypical but it's my experience.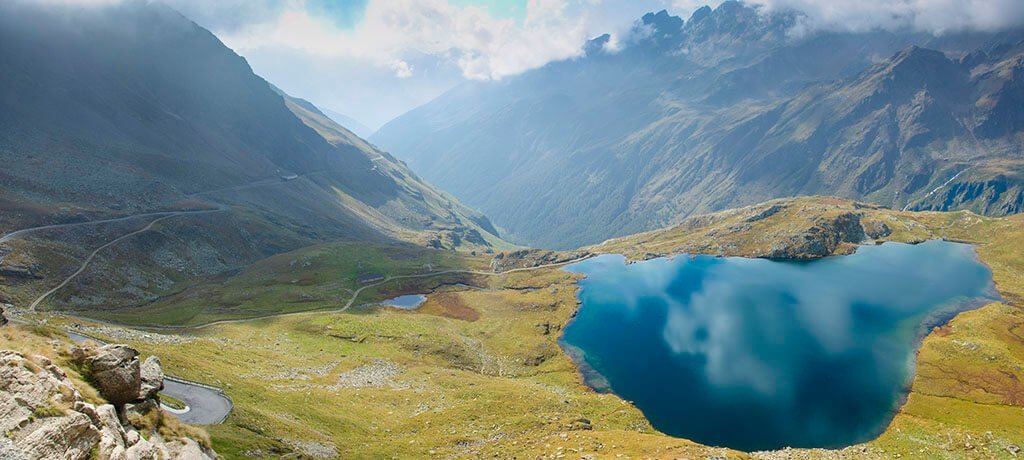 North Italy Motorcycle Ride Report
Northern Italy is such a beautiful part of Europe and offers so much for the touring motorcyclist. Alpine passes, green and lush countryside, great lakes and a history and culture stretching back to the Roman Empire. Whether you want switchback hairpins (Stelvio Pass), fast flowing roads, quaint lakeside towns or castles and cathedrals, Northern Italy offers it all.
In 2017, my partner Kim and I loaded up our BMW GSA and headed off on our annual summer tour. We used the ferry from Hull to Zeebrugge and then headed to Baden-Baden for our first night. The next day we made our way to Liechtenstein before passing through Switzerland on route to Bormio, which would be our first stop in Italy. When Kim and I tour, we like to mix the riding with some time off the bike to take in the sights and scenery. We never camp and always use hotels.
Riding the Stelvio
As our intended route was to take us from Switzerland into Italy, we planned to go via the Stelvio Pass as Kim had never been over it before and wanted to experience it for the first time.
If you're not familiar with the Stelvio Pass, it is one of the highest paved roads in Europe at a height of 2760 metres above sea level with over 40 hairpin bends on either side to get you to the top. It's not for the faint-hearted as it can get extremely busy with motorcyclists, cyclists, car clubs, camper vans and walkers – you name it and they want to go up and down the Stelvio. That said, it should not be feared; it is 'just another road' at the end of the day.
Once at the top, you will be met by food stalls, gift shops, restaurants and more. I love it at the top of the Stelvio and always think there's a great vibe and buzz about the place. It's probably because everyone is so chuffed to made it there. Are there 'better' passes in the Alps? There are certainly ones that flow better and are less busy but the Stelvio Pass should be on everyone's list to ride at least once in their biking life.
Bormio, Sermione and Lake Garda
After the thrill of Stelvio, we made our way down the Italian side and into Bormio for our first night in Italy. Bormio in a small old town with narrow streets and alleyways with shops and bars tucked away out of sight.
Then next morning we were up and away by 9am because although we didn't have a big day mileage-wise, the predicted temperature was in the high thirties, so we wanted to be at our next destination sooner rather than later.
After leaving Bormio we headed to the Gavia Pass which was recommended to me only a few days before we set off and hadn't been on the intended route, however, it was well worth the detour and was a great road to set us up for the day's riding.
We arrived at our next hotel in Sermione mid-afternoon and it was idyllic!
Sirmione is on the southern bank of Lake Garda. It's known for its thermal baths and medieval castle overlooking the lake. Set at the tip of a peninsula, Sermione is a traffic-free zone unless you live there, deliver there or are a guest at one of its hotels. There is a 'check point' you have to pass through and you won't get in without the necessary paperwork (which your hotel provides you with when booking).
We spent 3 days at Sermione, it was a great hotel with fantastic views and the town itself, although small, is a little gem. The bike didn't move the whole time we were there and it was great to chill out by the pool, cool beers at hand. 
A Slice of Pisa
On leaving Sermione we rode 180 miles to Pisa. It was a bit of a drag in places because the roads can get extremely busy, especially the initial miles getting away from the Lake Garda and entering Pisa.
There's not much I can tell you about Pisa: there's the Tower, the Baptistery, cathedral and the town. It can get very busy and you should hang onto your wallets, watches and jewellery. We never had any issues, but there were signs up at various locations. As Pisa is very touristy (understatement!) it is also quite expensive for eating and drinking, but we knew that before we set off and budgeted accordingly.
I liked Pisa, it was smaller than I thought and after the Tower etc, there wasn't much to see but it's still worth the visit. It goes without saying that we got the obligatory photo of us holding the tower up and one of me and the bike in front of it, which isn't strictly allowed but if you get up early enough, ignore the signs and move the right cones, you can do it!
From Pisa we headed for Florence via the town of Collodi. Collodi is the surname of Karlo Collodi, the creator of Pinocchio and who took his name from the town where his mother was born. There is a Pinocchio museum in the town and as Kim has fond childhood memories of the story, we decided to visit the museum. Well, it has to be said that I really can't recommend it to anyone. It was run down, very little was working (including the staff) and the whole experience was appalling. Definitely one to miss. 
Beautiful Florence
We arrived in Florence late afternoon and header to the hotel. Bike kit off, showered and we headed straight into town via a walk along the river to the famous Pont Vecchio bridge.
Florence is a beautiful, colourful, historic and culturally vibrant city. There seemed to be something going on with dancers, musicians and magicians at every street corner. I absolutely loved Florence! Like Pisa, it was very busy and quite expensive but worth the queuing and waiting and I would go back in an instant.
After a few days enjoying Florence it was back on the bike and we headed across country to the east coast and Tavullia: the home of Valentine Rossi where we would enjoy lunch at his very own restaurant. Lunch was worth the visit although no sign of the great man himself. Next up was Rimini.
Rimini is a beach resort and that was the sole reason for going. We wanted to have a few days chilling in the sun on the beach. Unfortunately, the weather gods had different ideas and after settling on the beach, the storm clouds gathered and for the next 48 hours Rimini suffered some of its worst thunder and lightning storms it had seen that year. Rimini was once described to me as Italy's equivalent of Blackpool and although that's a little unfair, it's also not far off the mark. But we went for the sun, sea and… beers! One out of three wasn't too bad. 
Ferraris, Shakespeare and the Opera
From Rimini it was time to head north. We visited the Ferrari museum at Modena, which was very good, before arriving at our next destination in Verona.
With the bike garaged for the next couple of days we headed into town. We visited Juliet's balcony, the alleged location for Shakespeare's play Romeo and Juliet. It was also while in Verona that we had our first experience of going to the Opera. Now that's a sentence I never thought I'd type!
Neither Kim or I have ever visited an Opera before, or ever really discussed it, but when we were researching the trip Kim looked at what was on at the Roman Amphitheatre and there it was. So tickets were purchased and off we went. I can't say it's something I would rush to do again, but enjoyed the experience. Because we were sat far back from the stage and neither of us speak Italian, we ended up just watching the whole opera on the subtitles on the big screens either side of the stage!    
Verona was our last night in Italy. From there we headed into Austria, then Germany and finally through Belgium back to the ferry. In total we were away for 20 days and covered around 2,500 miles.
We both loved Italy. It was a perfect combination of great roads, beautiful scenery, historical cities and lots of amazing food and drink. We plan to visit again, but next time we're heading to the Amalfi Coast. See you there!
About the author
Ian Speight has been riding motorcycles for 40 years with extensive touring experience in the UK and Europe. As an ex-police motorcyclist, Ian now works as a motorcycle tour guide and also owns and runs Ian Speight Advanced Rider Training. 
Read more on motorcycle travel in Europe 
Thanks for checking out our Northern Italy Motorcycle Guide. We hope you enjoyed it! Here's a few more articles on motorcycling in Europe that we recommend you read next. 
Are you planning a motorcycle trip to Italy or do you have any questions or tips to share? Let us know in the comments below.