Welcome to the New Adventure Bikes for 2023 Guide. Here you'll find the latest adventure bike offerings for this year as well as a list of updated models so you can see what's new on the market today.
Adventure Bikes
This article's job is to showcase new adventure bikes released this year [2023] and will be updated yearly. If you're after a complete list of the best adventure bikes currently on the market, or the best round the world bikes, then take a look at these guides: 
The Latest Adventure Bikes 2023
The seemingly unstoppable march of the adventure bike continues, with more manufacturers than ever looking to get a slice of the globe-trotting pie.
The evolution of the adventure bike has been an interesting one to watch. The first models were large-capacity, heavy machines with little refinement, while today in 2023, adventure bikes feature some of the most cutting-edge technology available on two wheels.
With the unwavering popularity of this sector, there's now a model to suit every rider, from trailies to middleweights and large capacity heavyweights. Manufacturers are injecting their bikes with tech, investing heavily in marketing, R&D and producing such a huge range of machines because adventure bikes account for the most competitive market.
That means these companies are constantly pushing out both upgrades and new models every year. And this articles job is to showcase the newest adventure bikes released each year. And we'll update this article yearly with the latest offerings while keeping the previous year's bikes at the bottom of the article. Here's the selection of new adventure bikes in 2023…
New Adventure Bikes for 2023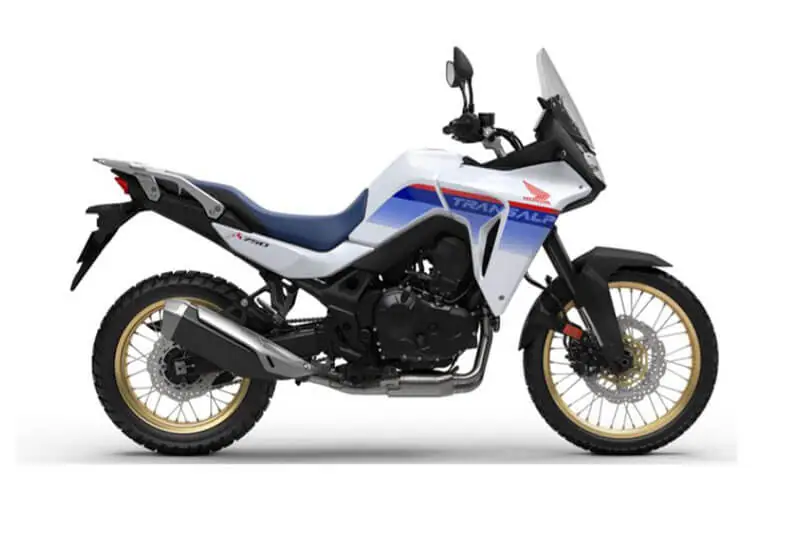 Specs
Price: £9,499, Engine: 755cc liquid-cooled parallel twin, Power: 90.5bhp, Torque:  55.3 ft-lbs, Wet weight: 208kg, Seat height: 850mm, Tank capacity: 16.9 litres, Tyres: 21 front, 18 rear, Front suspension: Preload adjustable Showa upside down forks, Rear suspension: Preload adjustable Showa monoshock. 
About
Welcome back, Transalp, it's been a long time. The new 2023 XL750 Transalp sits in between Honda's hugely popular CB500X and Africa Twin. It's not been pitched (or built) as a hardcore adventure bike, but is more of a do it all bike – just like the original Transalp of the '80s and '90s. Meaning this middleweight adventure bike should strike a good balance between long-distance touring and off-road riding. The new for 2023 adventure bike clearly takes aim at Yamaha's Tenere 700 (as does the new Suzuki 800DE), but is sways more towards a comfy tourer than the T7. So, it depends what you're after.
Why we like it
The spec sheet. Take a closer look and you'll see it's pumping out 90 bhp, that's only 10 less than the 1084cc Africa Twin – and it's 18kg lighter!
It also has a host of decent electronics such as anti-wheelie, four riding modes (Standard, Sport, Rain and Off-Road) which configure braking power, ABS and tractional control (both ABS and TC can be completely switched off). There's even a Rally Pack where you can fit an optional quickshifter.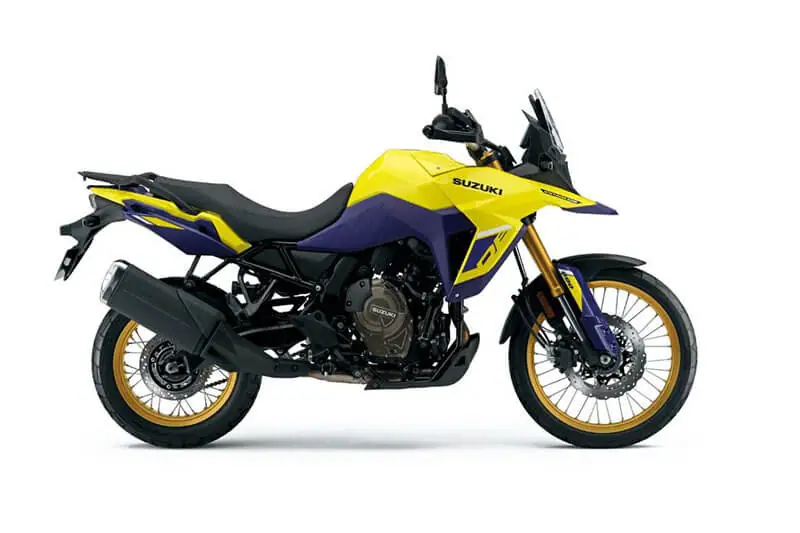 Specs
Price: £10,499, Engine: 776cc liquid-cooled parallel twin, Power: 83.1bhp, Torque: 57.5 ft-lbs, Wet weight: 230kg, Seat height: 855mm, Tank capacity: 20 litres, Tyres: 21 front, 17 rear, Front suspension: Fully adjustable preload, compression and rebound Showa upside down forks, Rear suspension: Fully adjustable preload, compression and rebound piggyback remote reservoir Showa monoshock.
About
Suzuki has upped their game for 2023 with their brand-new middleweight adventure bike offering (about time!) – the 800DE. It's poised to battle the likes of Yamaha's incredibly successful Tenere 700 and the new Honda Transalp and will wedge itself in between the popular Suzuki V-Strom 650 and newer 1050DE model.
Why we like it
The V-Strom 650 and 1000 are great bikes. Having ridden them for years, what they lack in thrills, they've made up for in reliability and, more importantly, excellent value for money and we reckon this one won't disappoint either.
Suzuki have ticked all of the classic adventure bike boxes with the 800DE offering 82bhp from a new parallel twin motor, a 21-inch front with decent suspension travel (220mm).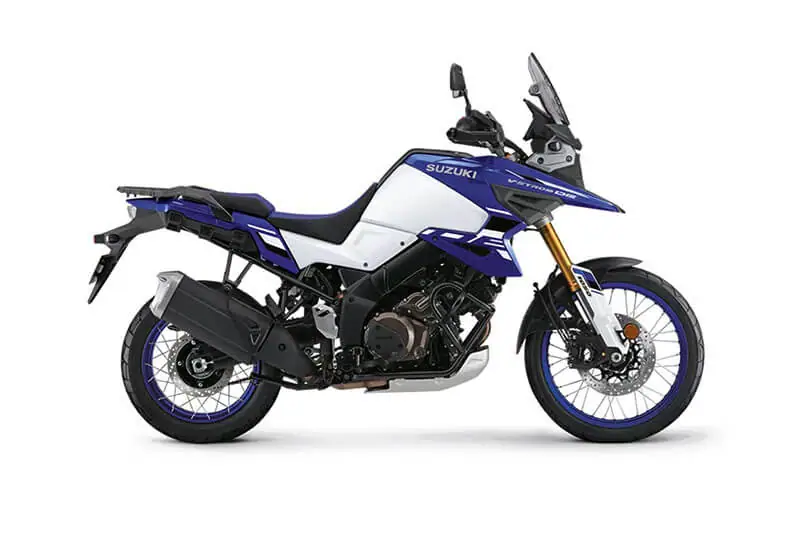 Specs
Price: £13,699, Engine: 1037cc liquid-cooled V-twin, Power: 105.5 bhp, Torque: 73.8 ft-lbs, Wet weight: 252kg, Seat height: 880mm, Tank capacity: 20 litres, Tyres: 21 front, 17 rear, Front suspension: Fully adjustable KYB upside down forks, Rear suspension: Preload adjustable KYB link type suspension.
About
We're torn on whether to stick this one in the New or Updated section. It's not a new bike, but has received such an extensive host of upgrades it deserves a little more breathing room. So here it is.
There's the Suzuki V-Strom 1050 and its more off-road focused 1050 XT counterpart. For 2023, Suzuki has thrown the XT model in the bin and replaced it with an even more off-road focused 1050 DE variant.
Why you ask? The previous 1050 was a marked improvement over the old V-Strom 1000, but just didn't quit cut it as a properly off-road capable machine. So, for 2023 Suzuki are having another crack at it, and it looks like they've hit the nail on the head.
Why we like it
For 2023 the DE gets a 21-inch front wheel (over the old XT's 19-inch front), fully-adjustable KYB suspension, more ground clearance, longer travel, new aluminium swingarm, increased wheelbase, wider bars, off-road foot pegs. They've added all of that and managed to shave 6kg off the previous model. Not bad. All of these are very welcome additions if you're looking to ride on the rough stuff.
But for those wanting more touring focused additions, it also gets a new TFT colour display, quick shifter, centre stand, USB and 12V sockets and handguards all as standard. The 2023 adventure bike also gets new electronics: lean sensitive ABS, hill hold and 'Gravel' riding mode.
Adventure Bike Updates for 2023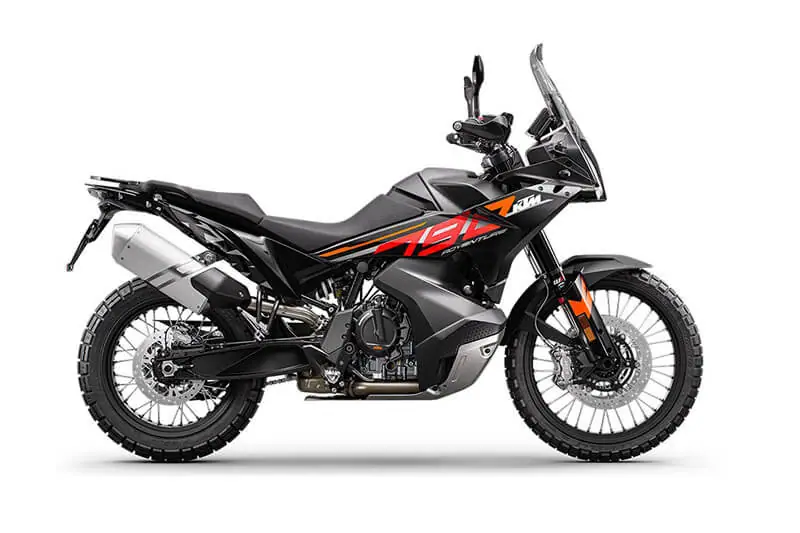 Another welcome return! This time KTM are returning the 790 Adventure, which was first released in 2018 and departed in 2020. After a three-year break, the parallel-twin is due to be released mid-2023 and has been revamped to meet Euro 5 emission standards with a revised motor and will feature new tech, fairings and designs. Interestingly, the 790 is set to be built in China by CFMoto (KTM's partner).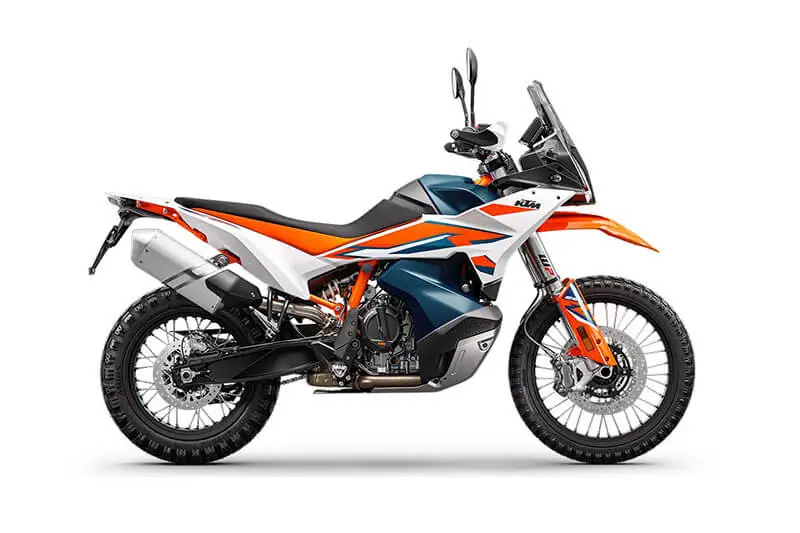 The KTM 890 Adventure R has been treated to new fairings, posher TFT display, a new windshield for increased airflow and suspension upgrades – namely to make it more comfortable. So, not much to write home about and probably not even worth adding to this list. But the 890 is such a gnarly adventure bike that it's good to know what tweaks Austria are making.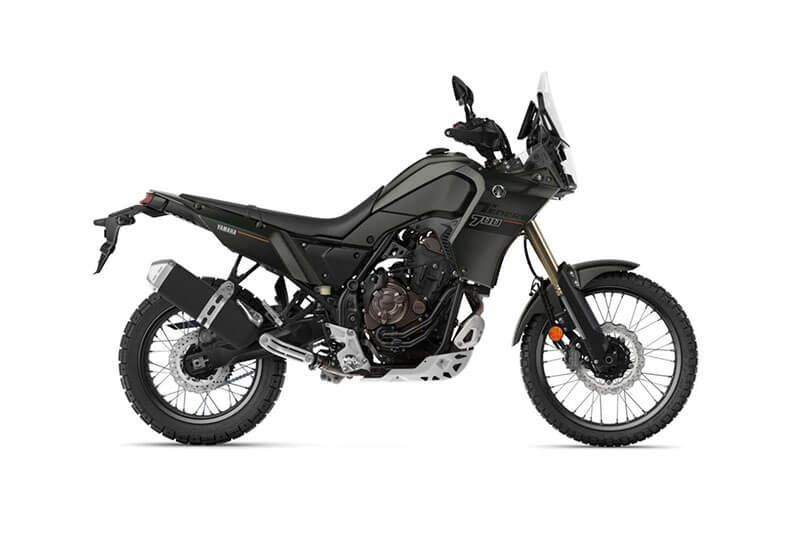 There's nothing special about the 2023 Tenere updates, but they're worth mentioning. The T7 gets new colours and graphics, a shiny new TFT screen that allows for smartphone connection with the MyRide app (which is pretty good to be fair as it records your routes, distances, speed, altitude and acceleration), a new front brake lever, USB socket to replace the previous 12V one, LED lights and indicators and a three-mode switchable ABS system.
Ducati Multistrada V4 Rally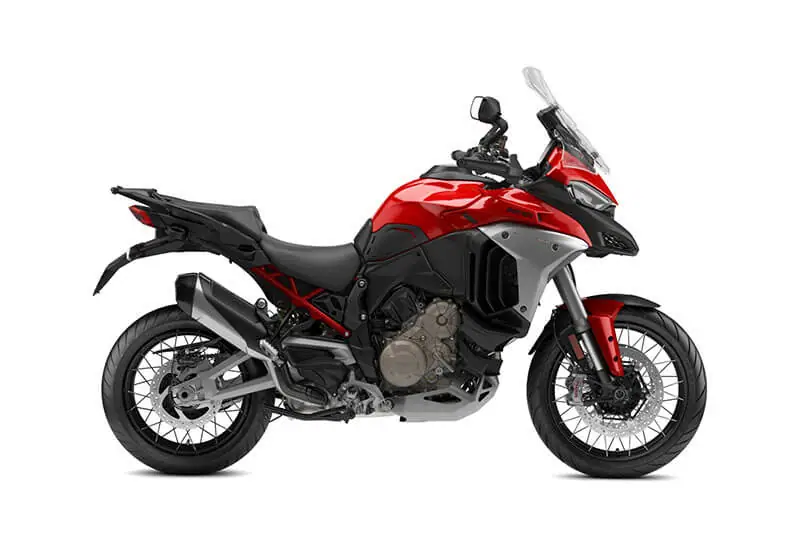 The ever popular Ducati Multistrada V4 gets a Rally upgrade for 2023. That means it receives a whopping new 30 litre tank, an off-road riding mode, increased suspension travel, a new 40mm higher and wider windshield and Ducati has also increased the tail to make it comfier for pillions. Be warned, this is £23,000 bike.
Below you'll find last year's article detailing new adventure bikes and updates for 2022. 
New Adventure Bikes for 2022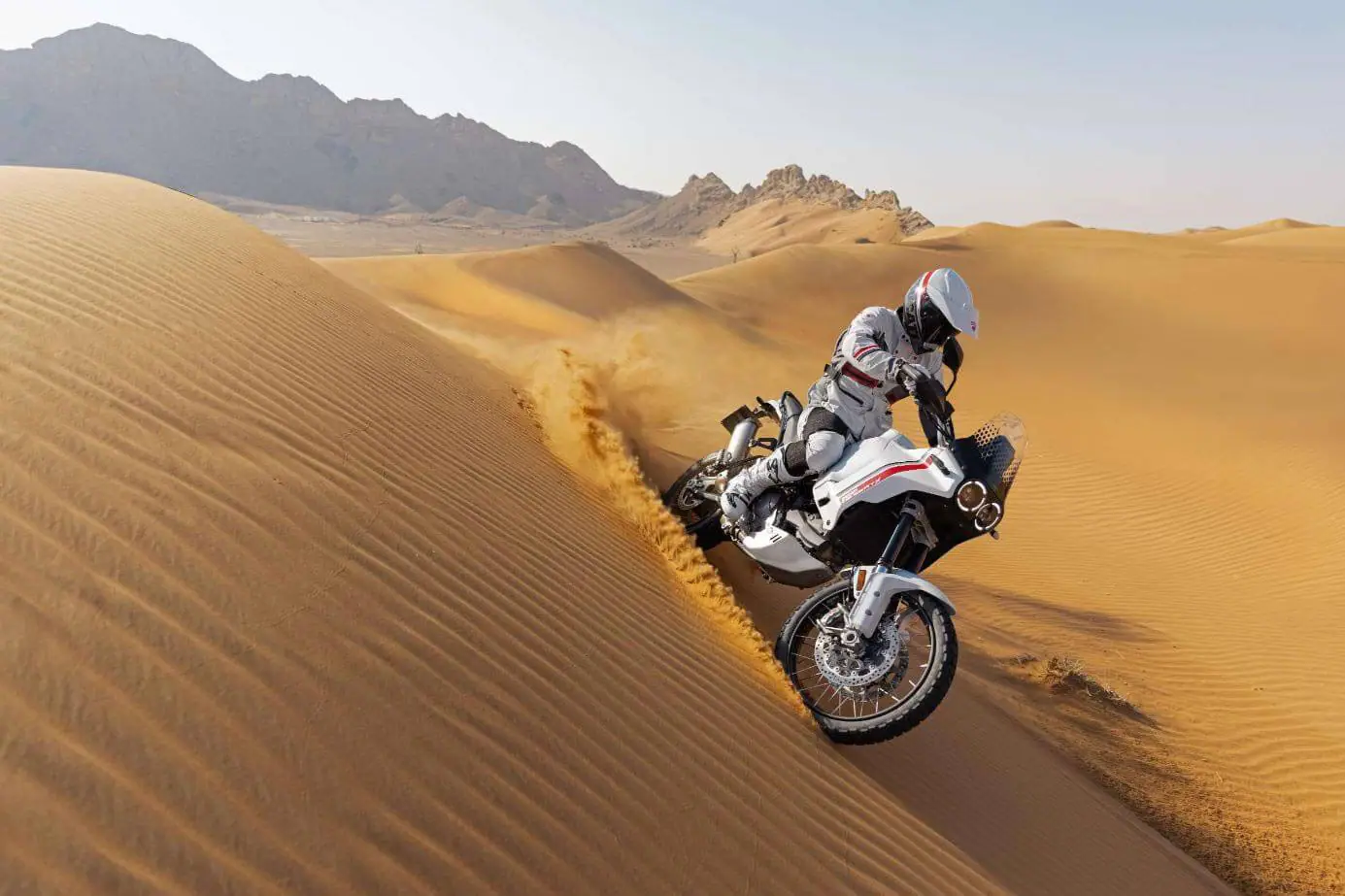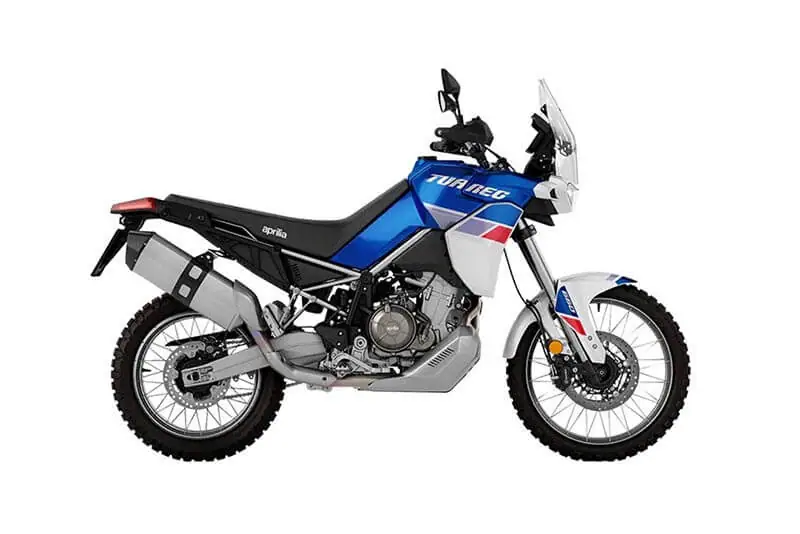 Specs
Price: £10,600, Engine: 659cc liquid-cooled parallel twin, Power: 79bhp, Torque: 51.6 ft-lbs, Wet weight: 204kg, Seat height: 860mm, Tank capacity: 18 litres, Tyres: 21 front, 18 rear, Front suspension: Fully adjustable 43mm upside down Kayaba forks – 240mm travel, Rear suspension: Fully adjustable Kayaba monoshock – 240mm travel. 
About
The Tuareg 660 is Aprilia's first genuine adventure motorcycle since the original Tuareg 600 ceased production in 1990. That means Aprilia had a clean slate to create a brand new adventure bike around the much loved 660cc parallel-twin engine used in the RS660 and Tuono 660.
As a result, Aprilia have created an extremely versatile machine capable of tackling any terrain thanks to 240mm of travel at both ends and a off-road focused 21" front wheel. The Tuareg comes with a substantial engine guard as standard, but unfortunately is lacking grab handles for pillions. There's plenty of space behind the large front screen for a navigation tower or auxiliary lights too.
Why we like it
For Aprilia's first true adventure bike in 30 years, the Tuareg ticks a lot of boxes, with plenty of versatility and ruggedness. The Tuareg isn't the lightest, but it's got a sensible and useable amount of power and looks good to boot.
Why we don't
The rear subframe is welded to the main frame, rather than bolted.
READ MORE: Aprilia Tuareg 660 Review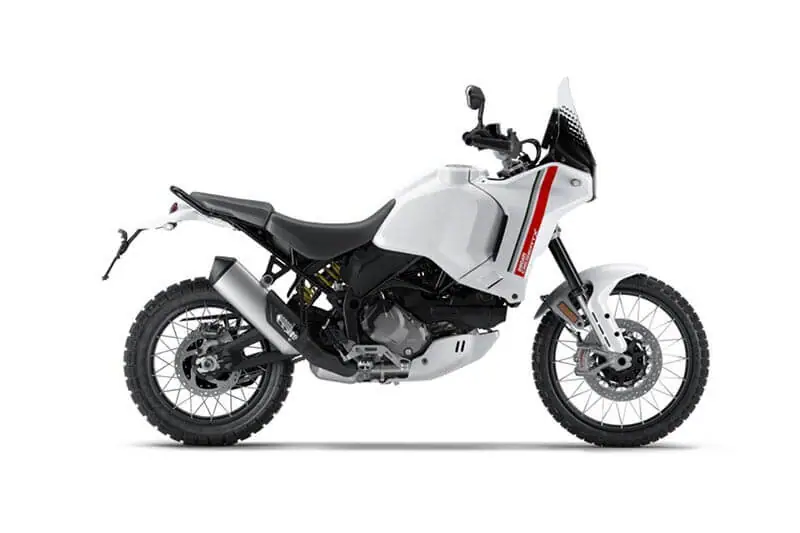 Specs
Price: £13,795, Engine: 937cc liquid-cooled V-twin, Power: 110bhp, Torque: 67 ft-lbs, Wet weight: 223kg, Seat height: 875mm, Tank capacity: 21 litres, Tyres: 21 front, 18 rear, Front suspension: Fully adjustable 46mm upside down KYB forks – 230mm travel, Rear suspension: Fully adjustable KYB mono shock – 220mm travel.
About
Traditionally known for sports bikes, Ducati have steadily been diversifying over the last 10 years with bikes like the Diavel, Multistrada, and Scrambler range, but the adventure-focused, neo-retro DesertX may be their boldest bike to date.
The new DesertX features distinctive twin headlights, and is reminiscent of Dakar bikes of old and Ducati reckon it could be just as capable, too. The DesertX comes packed with the latest electronics, but also some tasty accessories like the usual Termignoni exhaust you get with all Ducatis, a rear-mounted 8-litre fuel tank (which bumps overall fuel capacity to 29 litres), up to 117 litres of storage options, as well as additional lights and a centre stand.
Why we like it
The DesertX is probably one of the most stylish adventure bikes of the last decade. Pair that with a proven engine and all the other gizmos Ducati have thrown at the DesertX, and we think Ducati could be onto a real winner.
Why we don't
It almost looks too nice to get dirty.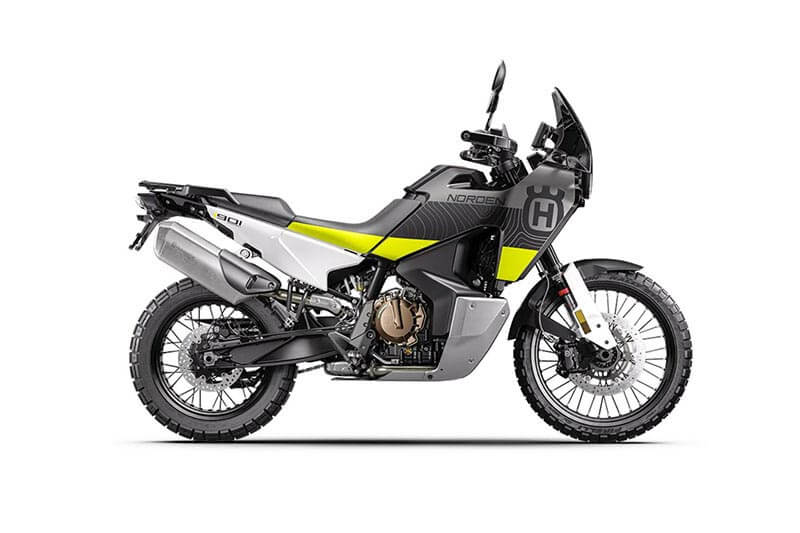 Specs
Price: £12,349, Engine: 889cc liquid-cooled parallel twin, Power: 103bhp, Torque: 74 ft-lb, Wet weight: 223kg, Seat height: 854mm, Tank capacity: 19 litres, Tyres: 21 front, 18 rear, Front suspension: Fully adjustable 43mm upside down WP forks – 220mm travel, Rear suspension: Fully adjustable WP monoshock – 215mm travel.
About
Husqvarna have been benefitting from parent company KTM's products and experience for several years now, and the Norden 901 is the latest model from the Swedish manufacturer.
Using KTM's mad 889cc parallel twin engine, the Husqvarna has a good spread of torque and power, and plenty of rider modes to suit the conditions. If you look at the KTM family as a whole, the Norden sits between the 890 Adventure and 890 Adventure R, which means it's not quite as off-road focused as the latter, but will still hold its own on all but the trickiest of sections, and will be more than capable enough for the vast majority of riders.
Why we like it
This is another good-looking adventure bike, and KTM know a thing or two about making good adventure bikes.
Why we don't
There's an awful lot of plastic, which will soon look scruffy after a few drops, and it minimises the areas where luggage can be attached.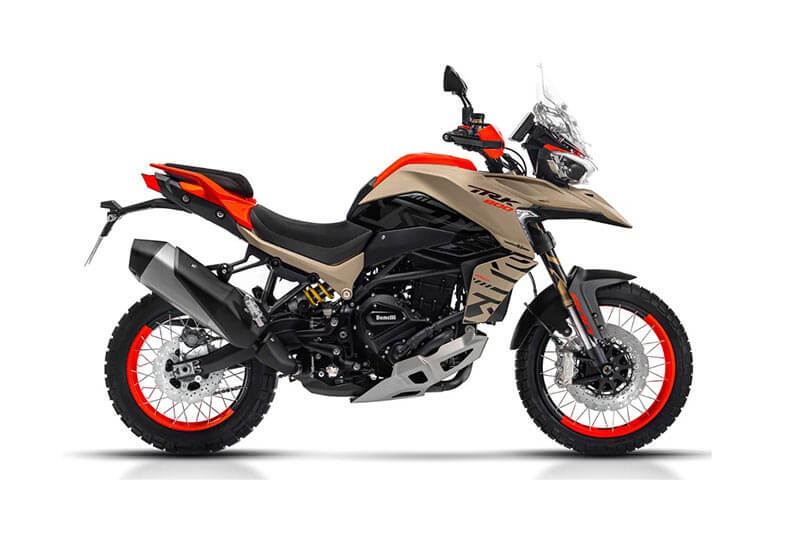 Specs
Price: £TBC, Engine: 754cc liquid-cooled parallel twin, Power: 76bhp, Torque: 49 ft-lb, Wet weight: 249kg, Seat height: 833mm, Tank capacity: 22 litres, Tyres: 19 front, 17 rear, Front suspension: Fully adjustable 50mm upside down Marzocchi fork – 170mm travel, Rear suspension: Rebound and preload adjustable monoshock – 170mm travel.
About
Benelli might not be the first manufacturer that comes to mind when you think of adventure bikes, but the Chinese-owned Italian brand have had success in Italy with their small capacity TRK 502.
And as you might have guessed, the 800 is the bigger, more serious brother. Benelli have given the 800 spoked wheels shod with Pirelli Scorpion Rally STR tyres to signal the off-road capabilities of the bike, and with a claimed tank range of almost 300 miles, Benelli are confident the TRK 800 could be a real adventure bike. Set to be released in the second half of 2022, the Benelli could be a real dark horse among the more established brands.
Why we like it
Although the price is currently unknown, we're pretty certain the Benelli will be cheaper than the competition.
Why we don't
It's heavy, and with only 170mm of suspension travel and a 19-inch front wheel it doesn't offer the same level of off-road capability as others on the list.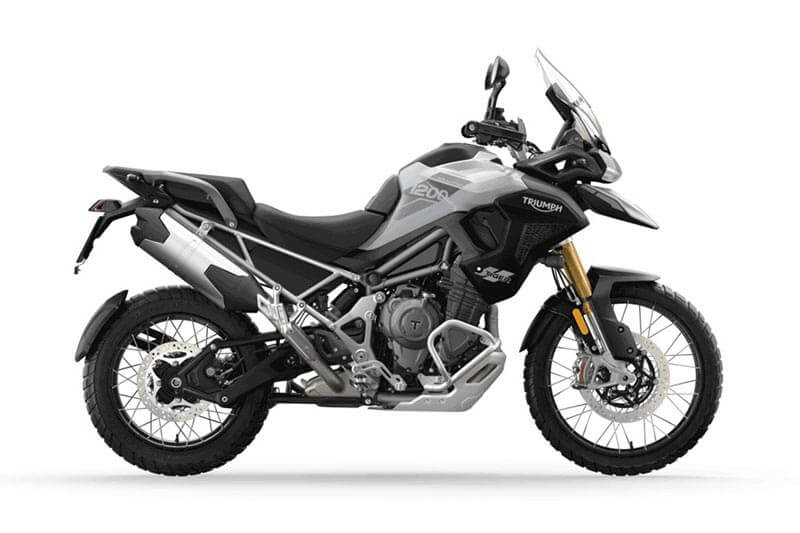 Specs
Price: From £14,600, Engine: 1160cc liquid-cooled inline three-cylinder, Power: 148bhp, Torque: 96 ft-lb, Wet weight: 239kg, Seat height: 850-868mm, Tank capacity: 20 litres for the Pro, 30 litres for the Explorer, Tyres: 21 front and 18 rear for the Rally models, 19 front and 18 rear for the GT models, Front suspension: Semi-active Showa upside down forks – 200mm travel on GT models, 220mm Travel on Rally models, Rear suspension: Semi-active Showa monoshock –  200mm travel on GT models and 220mm travel on Rally models.
About
The Triumph Tiger 1200 is the only real heavyweight on this list, and the only bike that comes in several different flavours. The GT models are designed more for road use, while the Rally models lean more towards off-road use. Explorer models get larger fuel tanks, while the Pro models get slimmer bodywork.
There's a lot of technology packed into all the Tiger models – even the base Tiger GT, but all that technology comes with hefty price tags. The larger 30 litre tanks on the Explorer models should be good for 350 miles between stops, which is nothing to be sniffed at. Regardless of what kind of adventure bike you're after, there's something in the Tiger range for your needs.
Why we like it
Something for everybody and packed to the gills with all the latest technology and equipment.
Why we don't
Heavy weight and a heavy price tag.
Adventure Bike Updates for 2022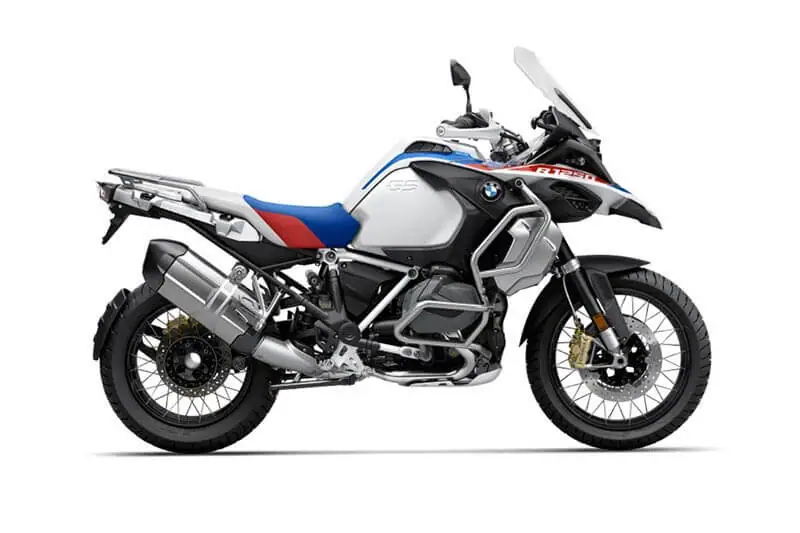 The R1250GS Adventure stays mostly the same for 2022, save for changes to the package options. Comfort, Touring and Dynamic packages are no longer available. Instead, the GS only has Select and Premium packages. The Select package comes with additions such as heated grips and cruise control, while the Premium package features everything from the Select, plus electronic goodies such as a quick-shifter and smart lighting.
KTM 1290 Super Adventure R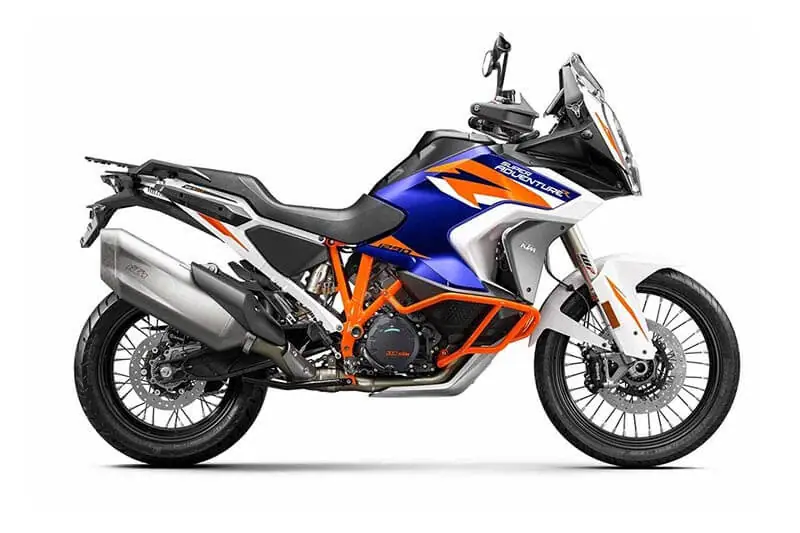 KTM's flagship adventure bike comes with a host of small changes for 2022 to keep its off-road credentials intact. Suspension at both ends has been reworked, engine cases have been thinned to save 1.5kg in weight, tyres have been changed to the Bridgestone AX41 and a new airbag helps the 1301cc V-twin engine breathe easier.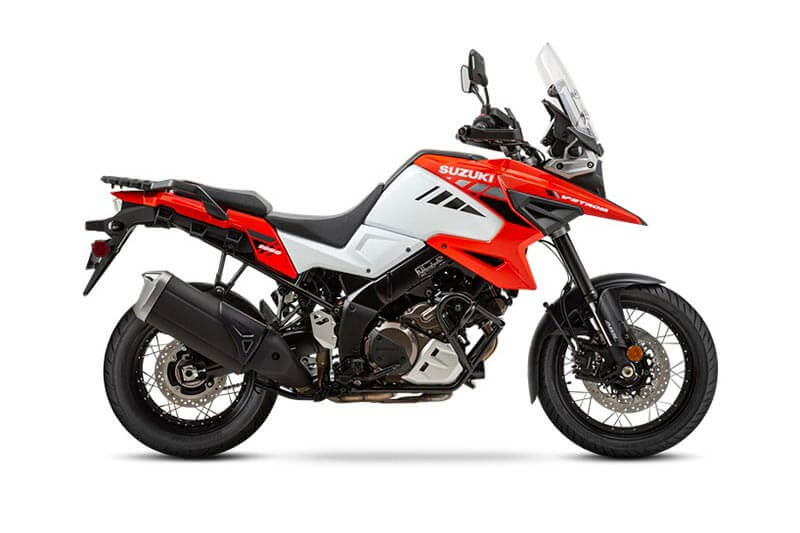 Mechanically the V-Strom 1050 enters 2022 unchanged, but gains a new blue and grey colour scheme, and an update to the RM-Z inspired yellow option. No mechanical changes mean the 1050 still gets lean-sensitive ABS, hill hold and engine bars, spoked wheels and hand guards on the XT.
Honda CRF1100L Africa Twin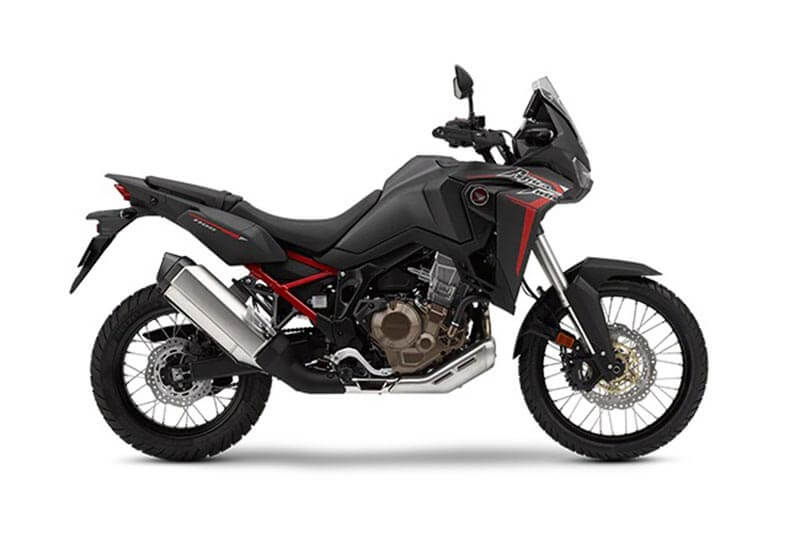 Honda have updated the semi-automatic gear box for smoother getaways in the first two gears, as well as updated the quick-shifter on the manual model for smoother changes in lower gears. The standard Africa Twin receives an aluminium luggage frame as standard, while the Adventure Sport gets a lower windscreen.
Yamaha Tenere 700 World Raid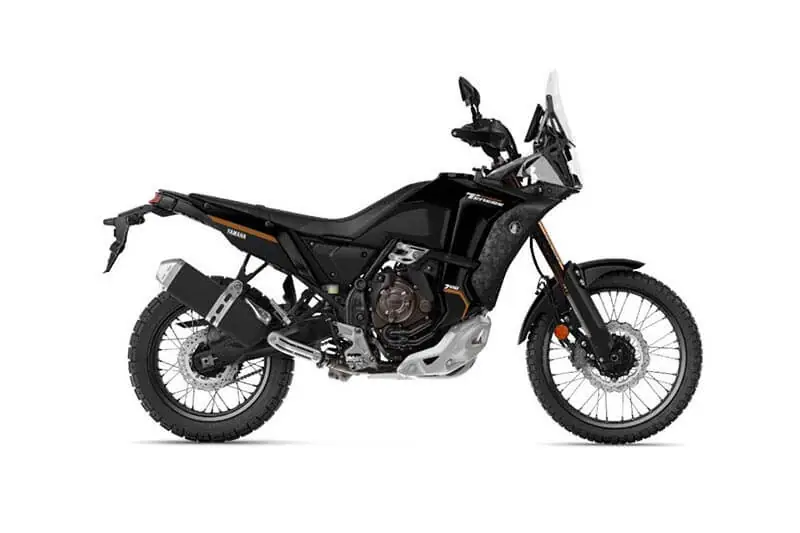 The World Raid gets a 23-litre double tank, which Yamaha claims is good for 310 miles between stops. The design of the tank means Yamaha have been able to fit a flatter seat for easier position changes, and Yamaha have also added a new 5-inch TFT dashboard. Three-mode ABS, an Ohlins steering damper and 43mm KYM forks with 230mm of travel come as standard.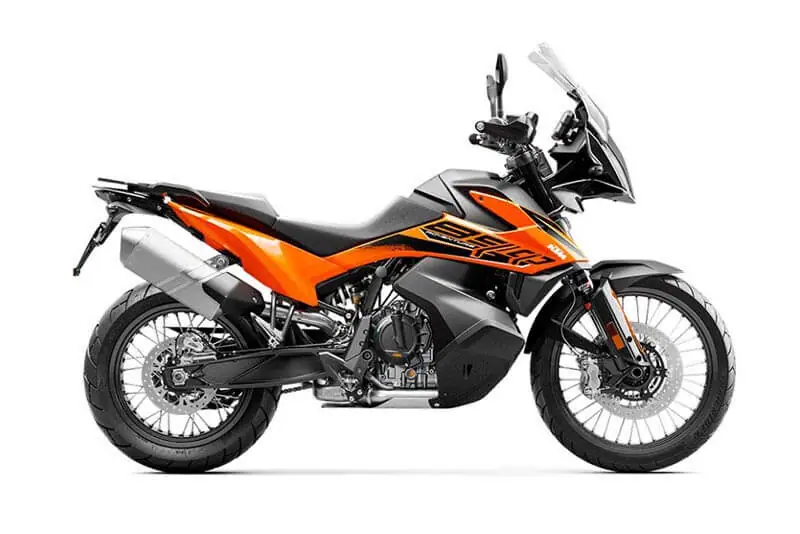 The KTM 890 Adventure R has been refined and smoothed out for 2022. Suspension settings have been altered slightly to offer a firmer ride on the road, and the gearbox and clutch have been tweaked to create a smoother ride overall. The updates have been small, but the 890 Adventure R is still one of the best adventure bikes on the market.
More on Adventure Bikes
Thanks for checking out the New Adventure Motorcycles for 2023 guide. We hope you enjoyed it! Here's a few more articles on adventure motorcycles that we recommend you read next. 
Liked that? Try these next…
Are you looking for a new adventure bike? If you have any questions or just want to share your opinions, then please let us know in the comments below. We'd love to hear from you.