Nepal Motorcycle Rentals and Tours
Home to the mighty Mount Everest, beautiful Lake Pokhara, the epic Mustang Valley, colourful Kathmandu, stunning temples and a fascinating culture and people. Nepal is one of the best places in the world to rent a motorcycle or join a tour and here are some of the country's best companies.
Recommended Motorcycle Rental and Tour Companies in Nepal.
Please contact the companies listed on this page directly for more information.
Hearts & Tears Motorcycle Club
"Hearts & Tears is a Nepal based motorcycle touring company who live and breathe the Himalayas. From years of experience we know how to strike that fine balance of adventure, personalised experiences, culture/tradition, epic riding, fun nights, and 'oh my god this is freaking awesome' vibes, all whilst ensuring a professional, genuine, and honest approach to everything we do."
Services: Guided motorcycle tours. Hearts & Tears offer fixed departure packaged tours and also custom packaged tours.
Touring bikes: The Royal Enfield Himalayan is their main touring bike. They also have the Royal Enfield Classic and 250cc enduro bikes in their fleet. 
Tour prices: Prices are from US$1,720 (£1,245) /rider for an all inclusive 7-day tour. Please see the website for full details.
Insurance: Yes.
Kit availability: Yes. Included free of charge.
Pokhara, Nepal
www.heartsandtears.com
Matt Gardner
+977 9805 870 644
  ride@heartsandtears.com
More tours: This company also provides tours in Tibet, India, Georgia and Spain.
"With more than 50 years of combined expedition and guiding experience, we know how to create the ultimate adventure. The first company to offer fully-supported trips into the far western reaches of Nepal, we are the only operator with our own mobile basecamp. Our style of travel allows us to go far beyond popular tourist routes. And we also offer itineraries with accommodations in remote lodges and small hotels. Our specialty is going where few can."
Services: Fully guided and supported motorcycle adventures. Custom expeditions available on routes never before traversed by outside travellers.
Touring bikes: Royal Enfield Himalayan and Classic 350cc motorcycles. 
Tour prices: All tours priced with the start/end in Kathmandu and are all-inclusive. Guide services begin the minute you step off the plane. Prices begin at $3,400 for ten day excursions.
Insurance: Available.
Kit availability: Helmets and jackets with limited inventory.
Nepal
www.farxplorer.com
Christophe Noel
+1 970 501 8651
  christophe@farxplorer.com
"City Motorbike was established over 35 years ago. We're teamed up with expert mechanics and regularly inspect our bikes, provide reasonable prices and some of the best bikes in Kathmandu. We also offer guided tours all over Nepal and have won three travellers choice awards by Trip Advisor for our services."
Services: City Motorbike offer both rental motorcycles and fully guided tours in Nepal. 
Rental bikes: Hero Xpulsev, Honda XR  190l, Royal Enfield Himalayan, Royal Enfield 350cc, Honda CRFs and more. For a full list of their bikes and rates visit the website.
Touring bikes: Rental prices start from 8USD per day up to 70USD per day dependent on the bikes.
Tour prices: Tour prices start from 1,700USD to 4,500 USD dependent on tours.
Insurance: Not provided on rental bikes. 
Kit availability: Only helmets. 
  www.citymotorbike.com
Sujan Maharjan
+9779843360610, +9779841205828
  info@citymotorbike.com
"We're passionate about motorcycle travel and are always looking for new places to explore. Our aim is to give you a genuine motorcycle experience off the beaten track and packed with adventure!"
Services: Explore360 offer all inclusive adventure motorcycle tours and off-road training on your own or rental motorcycles (depending on the destination). 
Touring bikes: Honda CRF 250. The motorcycle rental prices are included in the tour price or separately mentioned in the brochure (check here on explore360).
Tour prices: Nepal tours start from £4,305 and are to the Upper Mustang region. For full details on the tour check their Nepal page. 
Insurance: Yes, third party insurance is included. Full coverage is sometimes optional.
Kit availability: No.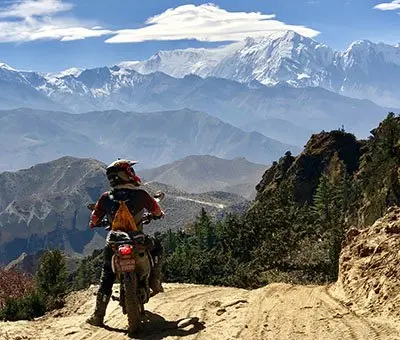 www.explore360.nu
  Chris Wilthuis
+46 (0)720 150 570
  info@explore360.nu
Worldwide: This company is on our Worldwide Companies page as they offer tours in Iceland, Norway, Sweden, Wales, Romania, Morocco, Nepal, Vietnam, Sri Lanka, Uganda and South Africa
"We offer the most unique and authentic motorcycle adventures across India, Nepal and Tibet. We live the culture full time and provide the best fleet of motorcycles, mechanics and support team."
Services: Full motorcycle tour package including the bike, fuel, support team and vehicles, medical back up, hotels and meals.
Tour bikes: Royal Enfield Himalayan and Royal Enfield 500cc Bullet.
Tour prices: Vary in price starting from £3,820.
Insurance: Yes, motorcycle insurance is included. 
Kit availability:  No.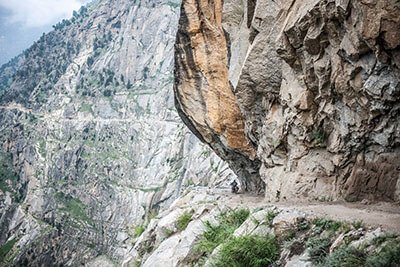 Bengaluru, India
  Alex Pirie
WhatsApp 0091 9623 048879
 alex@nomadicknights.com
Tours are also provided in: India, Nepal and Tibet.
Quick Facts on Nepal Motorcycle Rentals and Tours
FAQs on Nepal Motorcycle Rentals and Tours
Read more on Motorcycle Travel in Nepal and Asia.
Thanks for checking out our Nepal Motorcycle Tour and Rental Companies post. We hope you found what you were looking for. Here's a few more articles on motorcycling in Nepal and Asia that we recommend you read next. 
Click here for all of our Nepal Motorcycle Travel Guides
Motorcycle Rental and Tour Companies
Planning a Fly and Ride bike adventure? Here's our recommended motorcycle rental and tour companies from around the world. Check out the page, click a country and see what's on offer!
Read More
We'd love to hear from you! Let us know about your Nepal and Asia motorcycle tour experiences and ask any questions in the comments below. 
Please contact the companies listed on this page directly for more info on their rental and tour services.