"The MSR Hubba Hubba NX2 is an excellent, ultra light, compact and high-quality tent. It's freestanding and versatile, can be quickly put up anywhere in the world whatever the terrain. It's perfect for motorcycle travellers." 
Snapshot
Price: £380.00
Time tested: 3 years
Testing conditions: Round-the-world
Function: 5/5
Durability: 5/5
Ease of use: 5/5
Value for money: 5/5
Where to buy UK: amazon.co.uk
Where to buy US: amazon.com
Features
MSR is a high-quality and well-known brand and the Hubba Hubba NX is one of their flagship tents and bestsellers. It's a lightweight, dome style three-season tent. It was developed for backpacking and mountaineering, so it's been specifically designed to be light and compact. But as it's a dome tent, it's still very roomy inside.
Here are the tent specs:
Weight: 1.72 kg

Packed dimensions: 46 x 15 cm
Sleeping floor dimensions: 127 x 213 cm
Interior height: 100 cm
Style: Dome
Doors: 2
Freestanding: Yes
Vestibules: 2
Removable fly cover: Yes
Can be used without inner body: Yes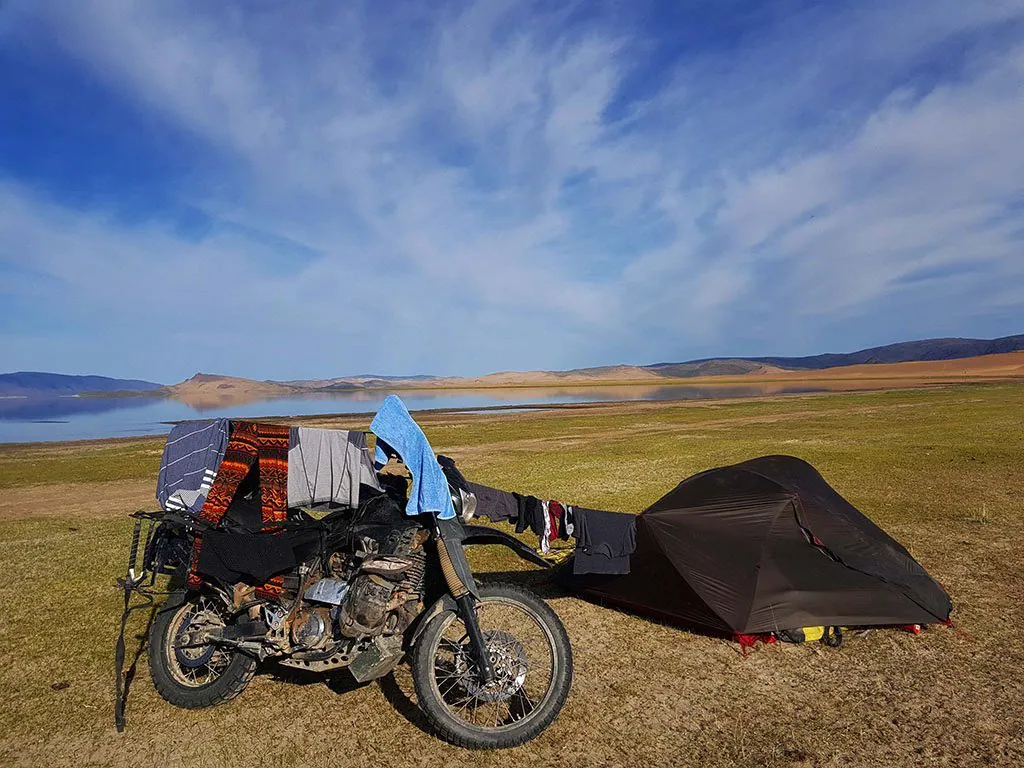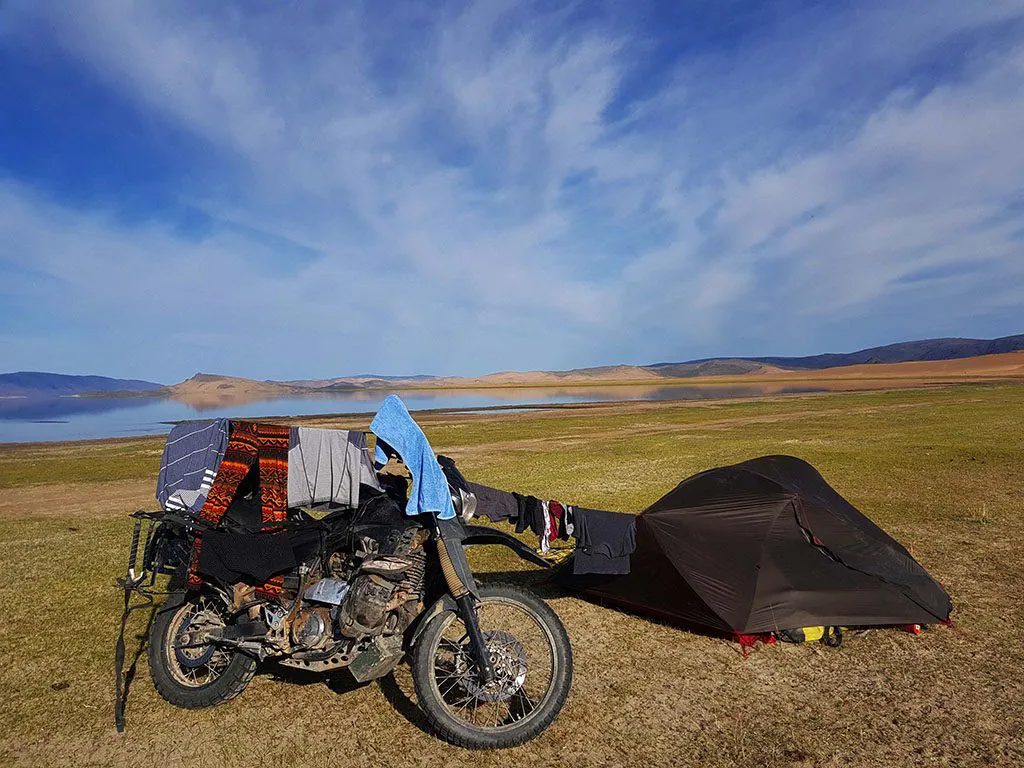 What's good?
One of the biggest perks of the Hubba Hubba (and the reason we use this tent on our RTW trip) is because it's freestanding. That's important because it means you don't need to peg it in to erect it. That makes camping in sand, deserts, snow and on ultra rough terrain a doddle. There have been so many occasions on our trip where it wasn't possible to peg the tent in and so we would have hugely struggled without a freestanding tent. I once used a tunnel tent (not freestanding) on a motorcycle trip through Death Valley, USA. The ground in the area I decided to camp was like concrete. I was too tired to find somewhere else and so had to try and erect the tent by tying it to boulders and the bike. Nightmare and never again. 
Another great thing about the Hubba Hubba is its removable flysheet. The body of the tent is mesh, so you can leave the sheet off in hot weather and gaze at the stars. We found this particularly useful in hot countries and loved it in Mongolia where you can fall asleep staring at billions of them. The negative to this is that the tent can't go up in one quick go. But we weighed this up before leaving and decided it was worth it because not only can you star gaze, you can also use just the outer fly sheet and the poles for a quick shelter without the inner body tent – handy for use on the beach etc. 
The MSR Hubba Hubba is a high-quality tent with premium components. That shows when looking at the weight and pack dimensions. MSR have managed to get the Hubba Hubba NX2 (two-man tent) down to an ultra light 1.72kg – that's one of the lightest tents you can get. And the pack size is 46x15cm, which is exceptionally small for a two-person tent. The materials and poles are light but still strong and durable.
We've used the tent throughout the world and in conditions from -10C to 40C and it's never let us down. There's enough space for two people and all our bike gear, it's light and packs away small in our camping bag, goes up quickly, is freestanding, has large vestibules, uses a removable fly sheet and is durable and well-made. 
What's not?
We haven't found any negatives with the Hubba Hubba. It's worth noting that it's worth going up a man-size as there's not a lot of space in there. As we're two people with motorcycle gear and luggage going into the tent every night, we probably would have gone for the three man tent in hindsight.  
READ MORE: The Complete Motorcycle Camping Gear Checklist
READ MORE: The 10 BEST Motorcycle Camping Tents
Round-up
The MSR Hubba Hubba NX2 is an excellent, ultra light, compact and high-quality tent. It's freestanding and versatile, can be quickly put up anywhere in the world whatever the terrain. You can stare at the stars without the fly cover or you can use it without the inner body as a quick shelter.
It's made using tough and durable components and is perfect for motorcycle travellers. 
MSR Hubba Hubba NX2 Tent Review: 20/20
Read more on Motorcycle Camping
Thanks for checking out our MSR Hubba Hubba Tent Review. We hope you enjoyed it! Here's a few more articles on motorcycle camping gear that we recommend you read next. 
We'd love to hear from you! Please leave your comments below.