Motorcycling to the Coldest Place on Earth
The White Wolf is riding a 30-year-old motorcycle (that can't be switched off in case it freezes) to 
Oymyakon as it plummets to -50°C this winter. Here's 
everything you need to know about his mad Siberian ride…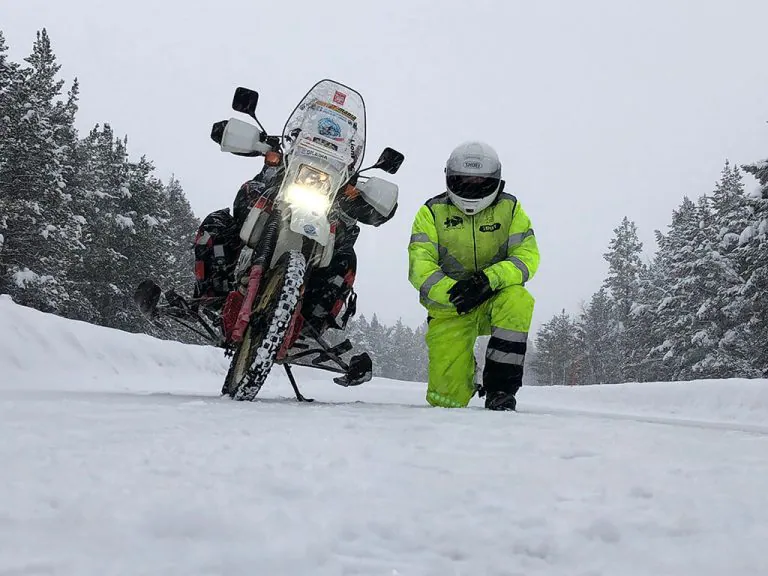 Mad or Nomad Interview with the White Wolf
The Mission
I'm going to motorcycle to the coldest inhabited place on earth… in winter. On January 4 2020, I'll leave Poland and ride through Ukraine, Moscow, across the whole of Russia and cross Siberia. The aim is to get to Oymyakon by the end of January as that's when it's coldest.  
It's a tiny settlement with around 250 inhabitants. I'm expecting an average temperature of around -46°C along the way. But the closer I get to Oymyakon means I'll face temperatures as low as -55°C. It holds the world record for the coldest officially recorded temperature in the Northern Hemisphere at -67.7°C. The only place colder is Antarctica. 
From there, I'll head to one of the coldest cities in the world, Yakutsk, before making my way home… well, that's the plan anyway.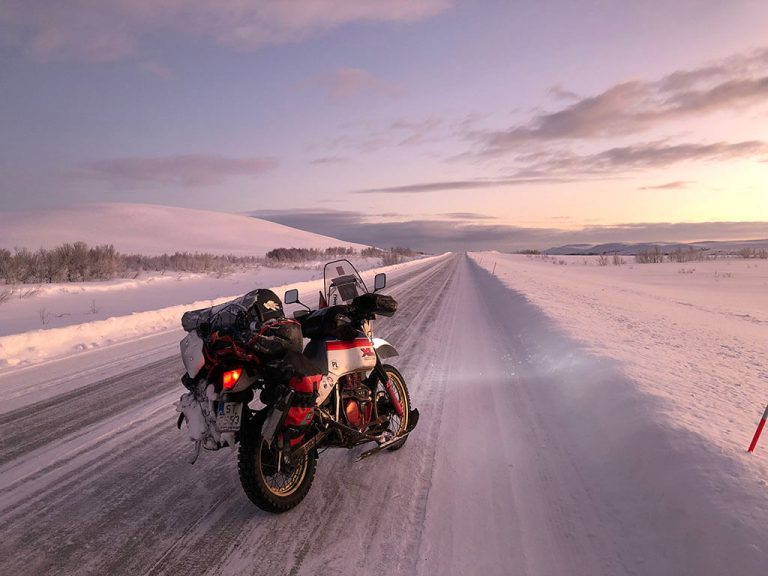 I've got a good feeling about this one…
Years ago, I realised that my ability to feel the cold is minimal. I don't feel it like most people do and so when I ride in it, it's therapeutic as much as it is challenging. It also gives me huge satisfaction, knowing I can face the difficulties of extremely cold travel.
I've covered thousands of miles in winter riding over the years; I think around 40,000 so far. The lowest temperature I faced was -45°C on my way to Nordkapp, Norway so this is nothing new for me.
Training, preparation and cold weather motorcycle gear
Training is hugely important, if not a crucial element of preparing for this trip. I actually wear less winter clothing than you might think, and a lot less than other cold riders. That way my body gets used to lower temperatures.
Also, it may sound strange, but I try and gain more body weight before the trip so that I can lose it during the trip when my body uses up energy to keep warm.
And of course, my fitness level is extremely important as I must be able to carry all the necessary equipment.
I'm riding a very old machine, so I can't use extra heated clothes or equipment. The only heated element are the gloves, which I have to switch off most times anyway to save battery power for the bike. 
The cold weather motorcycle
I'm using a vintage 1987 Honda XL600M. They only made it for around three years and Honda used it to take part in the Paris–Dakar Rally.
It's simple, uncomplicated in design and has many advantages. All new motorbikes produced these days are packed with electronics that are vulnerable in extreme weather conditions. Importantly, my Honda XL is air-cooled, so I don't need to worry about the liquid coolant freezing either. I just can't imagine riding any other motorcycle. It's the perfect winter warrior and her name is Elza.
Bike modifications
As all solo travellers know, there's no support when riding endless miles – it's just you and your motorbike. For that reason, I had to fit a pair of skis to the bike.
I couldn't find any information on how to make the skis, except for photographs of of them strapped to 1950s Husqvarna motorcycles used by the Swedish Army. It was no easy task making them, but I finally succeeded and they work perfectly. They're brilliant as they let me ride in all conditions without the fear of falling over.
I've also moved the back brake from the foot pedal to the front hand lever, which allows me to ride standing up. This is also a Swedish patent and I think it's a great idea.
You can only purchase basic winter tyres on the market today. I wasn't that impressed with them so decided to use a pair of Continental TKC 80s and fitted 700 12mm long spikes into them in my own design. They've worked very well on my previous trips and I'm going to use them for this one too.
The last modification I made for the ride to Siberia was building a special warming system for the engine to reduce the risk of it freezing over. 
Keep going… literally
I haven't needed anything extra to start the bike in the morning on any of my previous trips. A small fire would usually do the job if I couldn't get it going easily. But it's a different story for Siberia…
The plan is to travel approximately 1,860 miles (3,000km) from Yakutsk without switching off the engine. The bike's engine must stay running for that entire stretch. It's a trick all the local people in the area use during winter and it works for them, so I hope it works for me too.
Finding fuel
Russia has very few petrol stations, and as you go deeper into the more remote areas there are even less of them. The only way to get petrol is from the local people. I'm facing a 680 (1,100km) stretch of the journey where there won't be a single living soul. At the end of that leg there is only one small town to stop at… and I'm not even sure they'll have petrol there! I will have to carry enough fuel to last the entire leg of the journey as a back-up.
The population of small Russian villages can be as low as 50. Realistically, there will be a very lonely section of about 1,800 miles (3,000kms) through Siberian Taiga. Human beings disappear after Baikal and there's no GSM from that point onwards. I'll have to rely entirely on myself.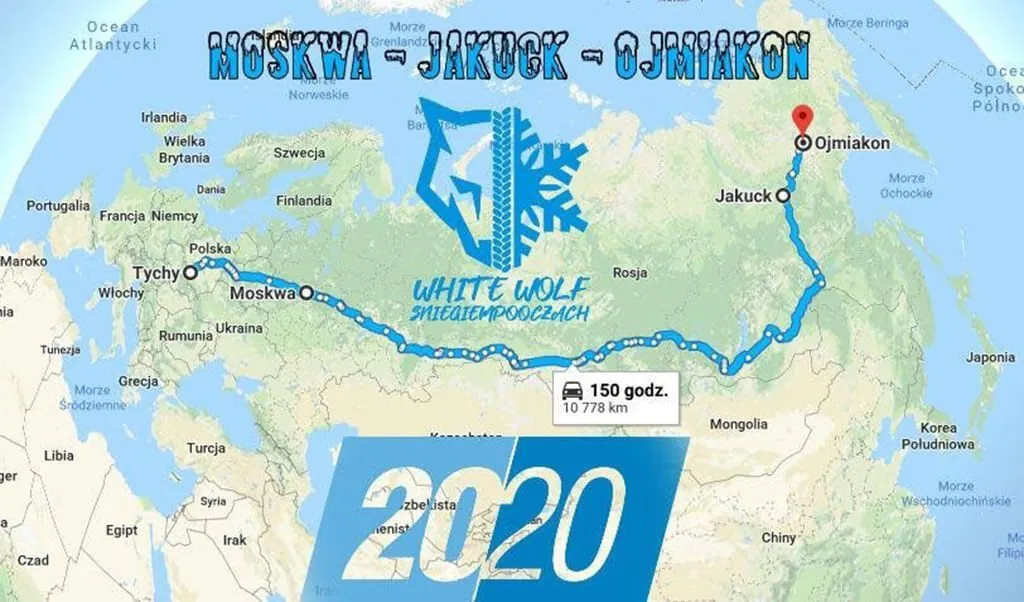 Sleeping and accommodation
I'll use hotels at the start of the journey. After that I'll hope for the kind hospitality of local people. I realise there will be times I have to use my tent and I honestly don't mind sleeping in -50C temperatures. The most challenging thing about sleeping will be keeping an eye – or should I say an ear – on the motorbike to make sure the engine doesn't stop running overnight.
Getting home
The plan is to ride to Oymyakon and then onto Yakutsk from there. This will add an additional 600 miles (1,000kms), so by then I will have travelled around 7,450 miles (12,000kms).
I'll pack the motorbike up in Yakutsk and send it to Moscow where it will arrive a few weeks later. Meanwhile, I'll fly home to Katowice in Poland. Once the bike has arrived, I'll fly back to Moscow, pick it up and ride it home to Poland.
One week to go!
Only foolish people have no fear. Of course I am nervous, but at the same time I am extremely excited and am already feeling the adrenaline pump through my body.
I'm about to do something that will surely be full of surprises. It's an unusual adventure and that's the whole point of my winter trips. Normally, I don't return from one trip without planning another. So, the next stop after Siberia will be Alaska in 2022! I guess I must be a little crazy in my own way, but this is my passion. I'll see you on the road this winter!
Stay warm out there, 
The White Wolf
Follow The White Wolf's Adventure
This story, along with all content on Mad or Nomad, is copyrighted and the property of the author and website. It is not to be reused without permission.