The mighty Himalayas, Lower Mustang Valley, Kathmandu, Pokhara Lake, incredible festivals and unforgettable experiences all wrapped up into one 3,500-mile, 10-day motorcycle adventure through Nepal. If you're planning a ride in Nepal, have a read of this awesome trip report first for some proper Nepalese inspiration…
Nepal Motorcycle Trip Report
I'm drawn to the Himalayas. Pulled in, mesmerised and addicted to its gargantuan peaks. This addiction has led to an extensive exploration of the region from Leh Ladakh to Himachal Pradesh and Uttarakhand in India.
But I can't stop there. Even though Nepal is India's neighbour and the two close countries share the Himalayan range, Nepal is still home to the highest mountain in the world, Mount Everest and seven other peaks that belong to the 'Eight Thousanders' (a group of mountains towering over 8,000m high) – it's a different adventure altogether.
Nepal's Three Regions
Nepal is divided into three physiographic areas. Firstly, Himal (the mountain region containing snow; secondly, Pahad (mountain region that generally doesn't contain snow); and thirdly, Terai (the valley region). Geographically, Nepal has seven provinces and I managed to cover five of them in 10 days on this motorcycle tour.
I explored the Himal, Pahad and Terai, passed through towns, villages, plains and mountains and experienced challenging and relaxing days within the ten-day journey through this beautiful country.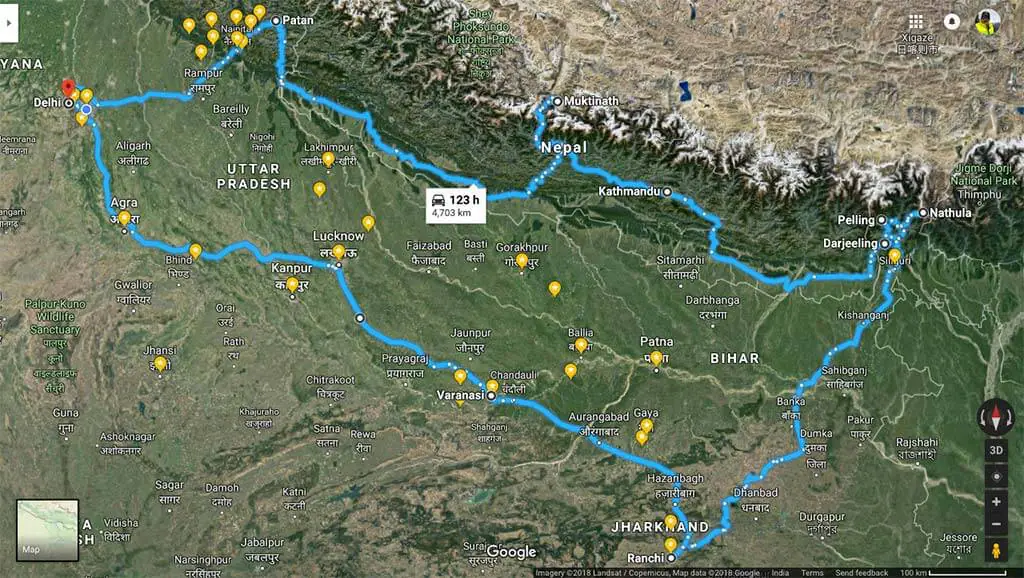 Nepal's National Parks
The journey started in New Delhi, India. With my Kawasaki Versys 650 I crossed into Nepal 375 miles later and headed to Bardia National Park.
My main target was to cover at least three of the main National parks: Bardia National Park, Banke National Park and Shivapuri Nagarjun National Park. All three of them are well known for rare wildlife and various species of birds. The following were on my 'must capture' list: tigers, clouded leopards, rhinos, Bengal foxes, corsac foxes, Tibetan foxes, Asiatic elephants, marbled cats, Chinese pangolins and Tibetan wolves – to name a few.
These parks are untouched, natural and raw beauty that cannot in any possible way be compared to man-made attractions.
Bardia National Park
Bardia National Park has eco resorts setup for the travellers. Camping inside the park isn't an option because free movement of elephants is common even in the buffer zone. There is also a habitat centre inside the park for the rhinos who need a sheltered recovery zone.
I left Bardia with mixed feelings, happy because I made it to my destination (after a nine-hour ride from New Delhi) and sad because I couldn't complete a full safari as they were all cancelled due to bad weather.
Banke National Park
Banke National Park has been called a 'Gift to Earth'. Tigers and four-horned antelopes are the main attraction for wildlife here. The park's flora and fauna is a treat for travellers who enjoy silent beauty.
Shivapuri National Park
Shivapuri National Park lies on the outskirts of Kathmandu. You can get there by trekking for 2-3 hours, using a 4×4 or a high-powered motorcycle to battle the park's challenging tracks.
There are a few Buddhist monasteries scattered within the park. Although I couldn't visit all of the monasteries due to my packed schedule, I did visit a couple of them. The jungle is seriously dense and needs a certain level of skill to deal with it. A spectacular view overlooking the entire of Kathmandu can be captured from Zero Point in Shivapuri.
Pokhara Lake
After the thrills of the jungle, I set off towards the serene, calm and quiet Pokhara Lake where I pitched my tent for a few nights of camping. Being in the midst of hills, listening to chirping birds, laying under a night sky bursting with stars, hearing crickets cry and soft waves of water soothing your muscles is an experience that can't be described in words. So, I'll leave it for you to visit and experience yourself. I spent a full day lazing around and enjoying my own company before gathering enough energy to change direction and head for the Himalayas…
Motorcycling the Lower Mustang
I hit the road with Muktinath as my next targeted destination. Interestingly, Muktinath is also commonly known as lower Mustang. Maybe because of the exhilarating off-road experience it offers? Well, that's my guess anyway.
If you're riding a motorcycle into Nepal's Lower Mustang, then a dirt-bike is your best option. An adventure bike is not apt for this type of terrain.
Even though it's only about 74 miles from Pokhara, you will need to carry extra fuel to cover a distance of at least 310 miles. The drop inn mileage is huge because of the extremely challenging terrain.
Along with extra fuel you'll also need extra engine oil, a puncture repair kit, tyre inflating pump and a bash plate is a must to avoid a broken engine cover.
You don't need to carry food supplies as it's readily available, but do not forget your camping gear!
To deal with the heavy luggage on my bike, I decided to leave my extra baggage at a roadside food stall and planned to pick it up on my way back. There is only one way in and out of the Mustang Valley so this plan worked just fine. The people are friendly, helpful and honest so leaving your stuff behind isn't a problem.
The trouble taken and time spent to visit Mustang Valley was absolutely worth it. The entire journey is incredibly scenic and you can ride and admire stunning and famous peaks such as Dhaulagiri, Annapurna, Machapuchare and a few others.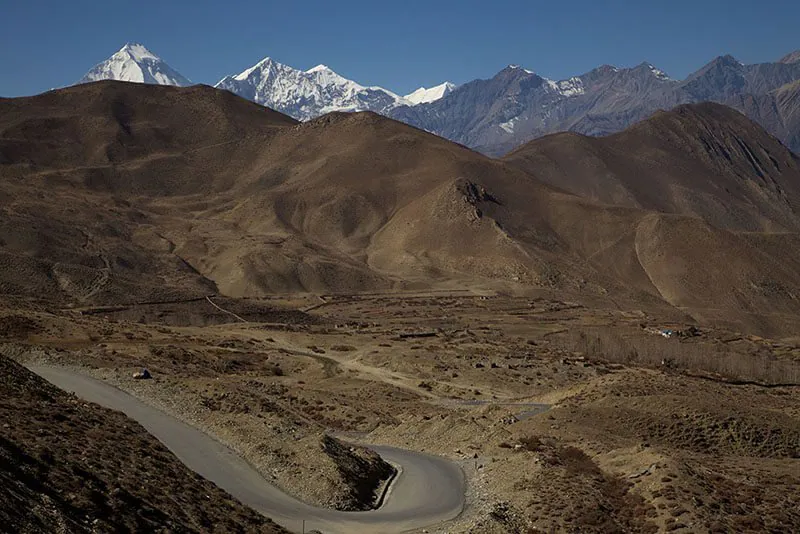 To Kathmandu
On my way back from Mustang I visited Sarangkot, which is famous as a take-off site for paragliding. But instead of taking to the sky, I decided to change my original plan and headed towards Kathmandu to enjoy some colour and vibrancy.
I checked into the Marriott and enjoyed the exact opposite experience of camping along the Pokhara Lake. Kathmandu offers so much for its visitors. It has an eclectic mix of temples, nightlife, shopping, food and fun. The city is so full of energy that it complements the calmness and serenity that the mountains and plains offer within this country.
Kathmandu is governed by good driving sense and most of the traffic is controlled by the traffic police – not traffic lights!
A few must visit places for shopping are Thamel, Ason and the Mangal Bazaars and I bet you will definitely find something to spend your money on…I did too. As you might already know, the Nepalese Army also referred to as the Gorkhali Army, is one of the best in the world. The symbolic weapon of the Nepalese Army is called a 'Khukuri', a specially designed knife that can be used as a tool and a weapon… so I had to pick one up as an awesome souvenir!
Nepali Diwali
Just like India, Nepal is a diverse country where you can experience a change of culture, language, dialect, food, traditional wear and weather every 60 miles. Being a food-lover and a cook, local flavours attract my palate and the thrill of tasting various local dishes, experiencing the flavours and talking about the cooking styles are a key component of my trips.
As luck would have it, I was in the midst of the festival season where Diwali (also called 'Tihar' in Nepal) was being celebrated and I wanted to enjoy every moment of it. This festival is celebrated for three continuous days and encompasses a lot of fun, delicious food, music and colour. Day one is called 'Kaag Tihar' or Crow festival. The Nepalese consider the crow as a messenger of the god of Death.  
Day two is called 'Kukur Tihar' where dogs are worshipped. All the dogs on this day enjoy the luxury of wearing garlands and having good food. This is celebrated to acknowledge the close relationship between humans and dogs.
Day three is called 'Bhai Tika' or the festival of brothers where the sacred brother-sister relationship is celebrated. Traditionally the sisters apply a red mark or 'tika' on the brother's forehead and the brothers promise to take care of their sisters. The days ends with a lot of good food, dance and music. It's the biggest festival in Nepal. All shops are petrol stations are closed for the entire day – there's no riding today… just join in and enjoy the incredible festival!
Jomsom Town
I was already in Varsali by then, camping and enjoying the great flavours of food and the colours of the festival. This place was about 44 miles from Jomsom town.
Entering Jomsom got me thinking, am I still on Earth?  The perfect combination of a small town situated on the banks of the Kali Gandaki River, offering a view of Dhaulagiri and the Nilgiri Mountains was just beautiful and breath-taking.
Inhabited by 'Thakali' people, Jomsom offers great local food. A full meal is called 'Thakali Thali' primarily containing lentils, rice and vegetables or meat and refills of food items are free. Cow being declared as the national animal, Nepal is a no-beef country, sorry beef lovers, you'll have to do with mutton!
Beef…no, Airport…yes! This little town boasts of an airport so if you choose not to drive or you are short of time, you can fly in too. It is just a 15-20 minute flight from Pokhara.
Nepal's Temples
Now it was time for me to get religious, so a temple visit was on the cards and first up was the Monkey Temple. After climbing 365 steps I finally reached the temple and it was worth the effort. A combined mixture of Hinduism and Buddhism was a treat to the eyes.
Pashupatinath Temple was second on the list. One the biggest temples in Nepal and belonging to Lord Shiva – it's quite the beauty. Sadly but rightfully, photography is not allowed inside this temple else I would have captured the largest Nani statue that I have ever seen in my life.
Time for tea
After taking God's blessings I decided to treat myself to some fresh green tea. What better than to go to the source itself, so I hit the tea plantations next.
The various shades of green on show as you scan the massive tea gardens. The entire area is peppered with locals in their colourful attire working the farms.
Until next time
Nepal is bursting with incredible wonders and there's nothing I'd love more than to spend more time exploring this beautiful country. But my clock was ticking, so it was time to head back home India. You could explore Nepal for years and only uncover a fraction of its beauty. You'll love riding there… it's heaven on earth.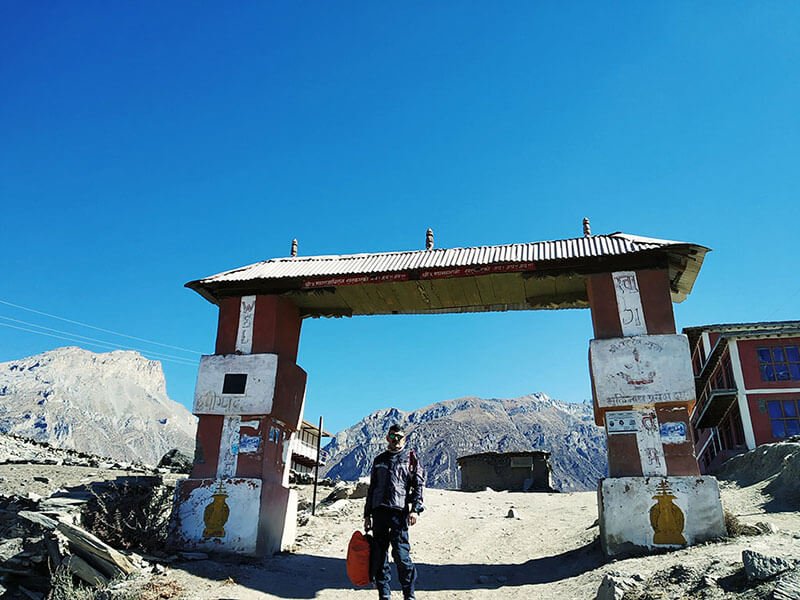 Anurag Kakkar 
I'm a passionate wildlife photographer, birder and biker. I have been riding motorcycles for 30 years and have ridden through Europe, Southeast Asia and Asia.
I'm based in New Delhi to be in close to the Himalayan ranges, which is one of my favourite destinations. Many international bikers have started their journey from my house in Delhi, which also acts as a base camp for their trips around India.
Some of my favourite destinations are the foothills of the Himalayas, Western Ghats, South-Eastern shores and the Great Indian Thar Desert, which can also be called my second home. There's so much to see and explore in this beautiful country, which reminds me of a quote: "One has to be born thrice if you want to experience complete India" … and I'm only in my 40s!
Read more on motorcycle travel in Nepal and Asia
Thanks for checking out this Nepal Motorcycle Trip Report. We hope you enjoyed it! Here's a few more articles on motorcycling in Nepal, India and Asia that we recommend you read next.
Are you planning a motorcycle trip to Nepal, India or the Himalayas or do you have any questions or tips to share? Let us know in the comments below.