Fancy dipping a toe into Afghanistan? This Motorcycle Travel Guide will show you how to enter the Wakhan Corridor – the safest part of Afghanistan and your best bet as a tourist. You'll find all the info you need on how to get your visa, register and travel safely in Afghanistan's Wakhan Corridor and the town of Sultan Eshkashim right here.
Motorcycle Travel in the Wakhan Corridor
Let's start by stating that we don't necessarily condone motorcycle travel in the Wakhan Corridor, nor are we saying it's safe or that you should go. We went and are simply explaining how we did it and how you can do it too – if you want to. That said, we hope this comprehensive guide will give you all the information you need to get in, have a great time and get out safely.
And if you're interested in reading what it was like riding there, check out our blog post:
READ MORE: Welcome to the Wakhan.
Pre-Entry Safety Jitters
We entered in June 2018 and could not find anything online to say it was definitely safe. We searched high and low and only found old articles and a couple of reports of people being kidnapped. Every report started like ours; 'security situations change all the time etc, do your research, we're not responsible' and so forth.
Of course, this massively put us off. But, trying to remain undeterred, we spoke to the Afghanistan embassy in Tajikistan and they reassured us it was safe. Our hosts in Tajikistan agreed, and we got the phone number of a tourist agent living in Khorog who said it was fine too (details listed below).
The best thing to do is to contact the numbers for Afghan guides we've listed further down this page as they live there, speak good English and know the actual situation on the ground.
How to get your Afghanistan visa
Getting a visa for Afghanistan couldn't be easier. But it is expensive. As Brits we had to pay 150USD per person and an additional 60USD to take our motorcycle in to the Wakhan. The embassy is in Khorog, Tajikistan and is very easy to find. Different nationalities have different prices, Americans for example have to pay more.
If you're heading to Khorog you'll need to get to Dushanbe and then either take a very long taxi ride through the Pamirs or ride/drive the incredible road yourself.
Here's the contact number for the Afghan tourist agent living in Khorog. She speaks excellent English and is very helpful, she also runs the Welcome Inn Bed and Breakfast in Khorog. + +992 (93) 703 53 93
Here's what you need to apply for an Afghanistan visa:
Passport
Photocopy of your passport
Photocopy of your vehicle registration document (if you're taking your own vehicle)
2 x Passport photographs (if you're not taking your own vehicle you will only need one passport photograph)
1 x copy of each of your Tajikistan visas – you will need TWO Tajikistan visas (see below)
You will need to write a simple letter with the date, your name, that you want to visit Afghanistan as a tourist, include your passport number, nationality and vehicle registration. You will need to write 'I declare that I am responsible for all my actions and own safety in Afghanistan'. And sign it (seriously).
And that's it! Hand it all in to the friendly lady working at the embassy (who speaks excellent English). She will tell you to come back in three days and you'll have a sparkling Afghan visa valid for 30 days. If you need it done next or same day she will charge an extra 50USD. The embassy is typically open between 9-12pm.
TOP TIP: If you're entering the Wakhan on a motorcycle, you will receive a piece of paper with all your vehicle details on and your passport photo stuck to the top. You should photocopy this before you enter Afghanistan. The border guard asked us for a copy of this, which we didn't have so he jumped on the back of our motorcycle, came into town with us and we had to pay 5USD to have a photocopy made (he originally tried to charge 15USD). You may not need to do this, but it's worth getting a copy. A friend of ours tried to enter Afghanistan three weeks after we did and was denied entry because he didn't have his chassis number on his paperwork. The guards eventually offered to let him in for an additional 100USD but he refused. Make sure you have the chassis number clearly displayed at the embassy so they put it on your document.
Where we stayed in Khorog
A very nice guest house in Khorog is Laalmo Homestay (right next door to Pamir Lodge), it's much homelier and relaxed with very sweet owners. They're more in tune with the situation in Afghanistan. The embassy is a 10-minute walk from their homestay. They charge 10USD per person for one night. Also, their next-door neighbour is an expert welder and welded our sumpguard and pannier racks back together as well as building an exhaust heat plate.
Here are their details:
Lalmo Homestay
Lalmo Muborakkadamova
UPD District, Gagarin st 2 (next to the school #7)
+(992) 93 508 69 99
lalmolodge@yahoo.com
mizhgona92@mail.ru
Why you need two Tajikistan visas
When you entered Tajikistan, you will have bought a visa and if you're heading into the Wakhan area then you will have bought one with a GBAO permit (additional 20USD). As you're leaving Tajikistan to Afghanistan, you will need a fresh new visa for when you return. You cannot use the same visa twice. They will take BOTH visas at the border and cross reference your visa numbers, keep your first visa and give you back your second one ready for re-entry. Buying your Tajik visa is easy and can be done online and you'll receive it via email the next day. Make sure you print your copies. Both will need GBAO permits. 
READ MORE: Motorcycle Travel Guide: for Tajikistan
The Tajikistan/ Afghanistan Border Crossing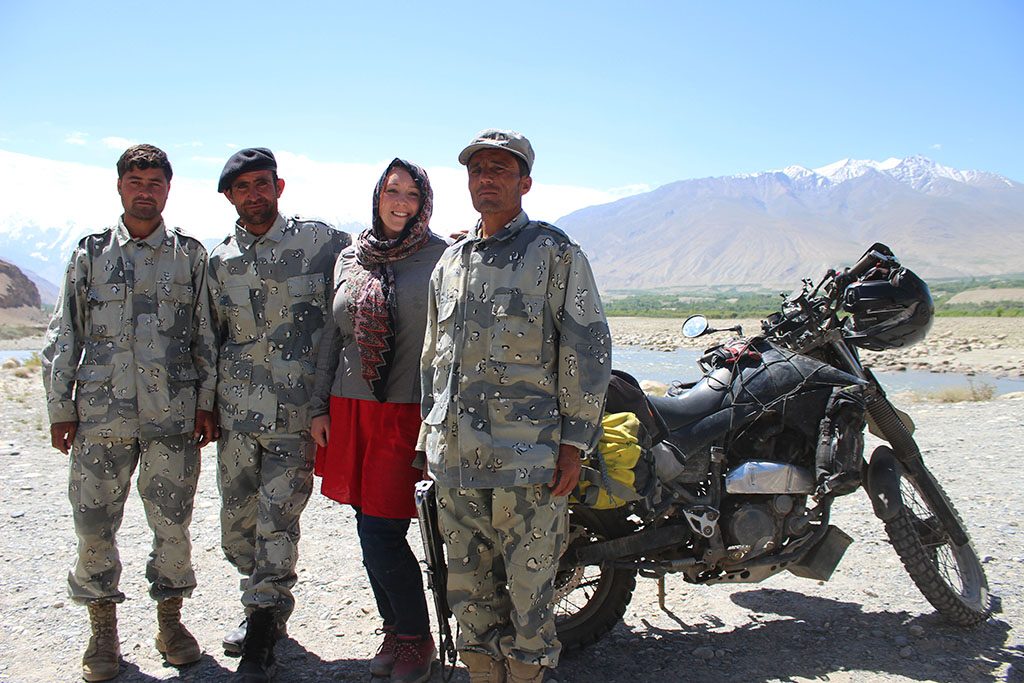 Where is the border?
We crossed into Afghanistan from Tajikistan at the Tajik town of Ishkashim and crossed back at the exact same border. You will ride past the border as you enter the town – it's the barbed wired and padlocked gate before a bridge. Plenty of people have got in touch with us since we entered saying they thought the border was closed. It does look closed and there's nobody there. But once you pull up the Tajik military will soon be there as there's a military base very close by. There is a fantastic hostel called Hanis Guest House (it's on Maps.Me) in Ishkashim, Tajikistan. The guys there have good knowledge of Afghanistan.
There are other borders, but they open and close all the time and there's no guarantee they'll be open when you go so you will need to check first. If entering at another border you will want to make sure it's definitely going to be open as you need to enter your entry and exit border when applying for the visa.
Crossing the Tajikistan border
The border looks closed from the Tajikistan side. Just pull up at the locked gates and wait. A soldier will eventually rock up, ask you if you have a visa and radio through. Someone will eventually show up and take you through the formalities of exiting Tajikistan. They'll take your first visa, check you have a second for your return and wave you through.
Crossing the Afghanistan border
The barbed wire fences will open up and you'll be met with a bunch of super friendly guards, who undoubtedly won't speak any English. The guards we had were very friendly and offered tea and shade. We had to wait for hours for the passport control guy to turn up. He checked through our papers, asked for a photocopy of our vehicle paperwork that we didn't have, stamped our passport and jumped on our bike to come with us to town.
Border opening times
Tajikistan and Afghanistan are open from 8am-5pm.
Afghanistan is supposed to be closed on a Friday but we managed to get through on a Friday.
Tajikistan is supposed to be closed on a Sunday, but we managed to get through on a Sunday – but this was harder. We had to annoy the military until they eventually relented and agreed to let Andy go to the border to prove it was closed with one of the army guys on the back of his bike. Once there, the guards recognised Andy and agreed to phone their Tajik border guard mate – who was asleep. Andy asked him to please come and open up and he agreed to open the border for us.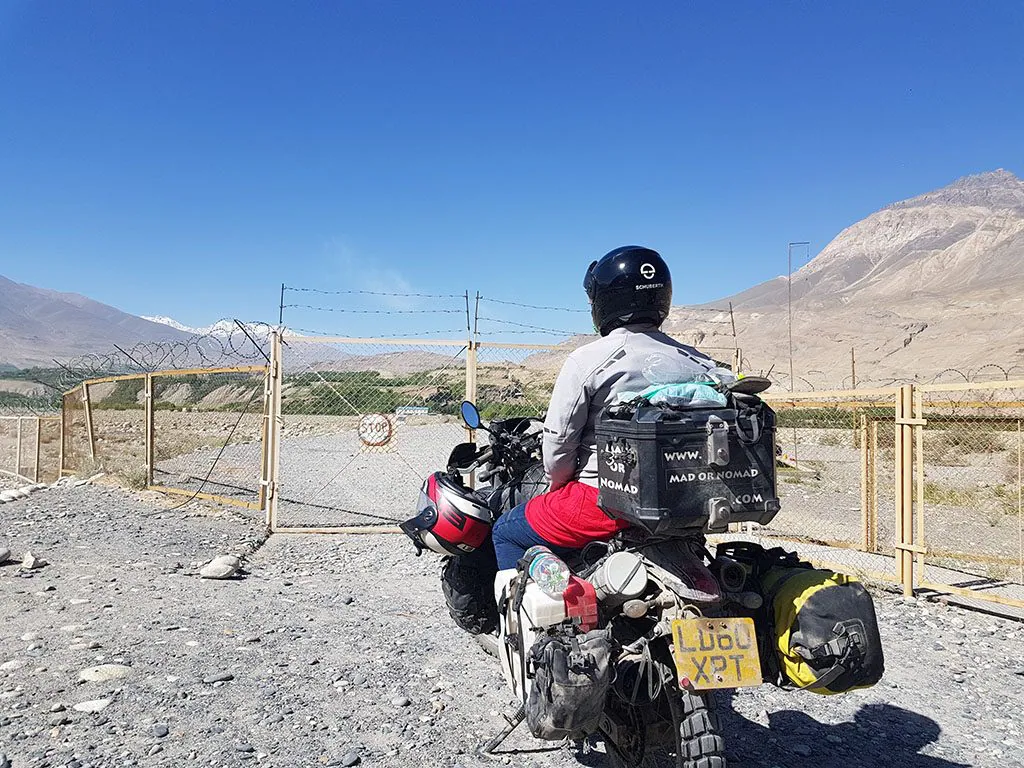 TOP TIP: If you have your own vehicle, you will need to pay 10USD for another customs paper when you re-enter Tajikistan. MAKE SURE you get this paper. When we re-entered, they said the internet wasn't working and gave us the captain's phone number and said to tell the guards to call them when exiting. However, as we left Tajikistan to Kyrgyzstan there was no phone reception, the guards were massively pissed and tried charging us 100USD for not having customs papers and that was after 30 minutes of arguing. Luckily, we found our original customs paper from when we entered at Dushanbe and used that. Customs papers are valid for 15 days and you will need to get them renewed if staying longer (although we didn't and nobody noticed).
A quick word on town names
The border town in Tajikistan is called Ishkashim. The town closest to the border in Afghanistan is called Sultan Eshkashim, although it is often also spelt as Ishkashim. Quite confusing. Still, say Sultan Eshkashim and people will know what you're talking about. Sultan Eshkashim is a few kilometres from the border, you can either get an expensive taxi there (probably around 20USD), walk or use your own vehicle.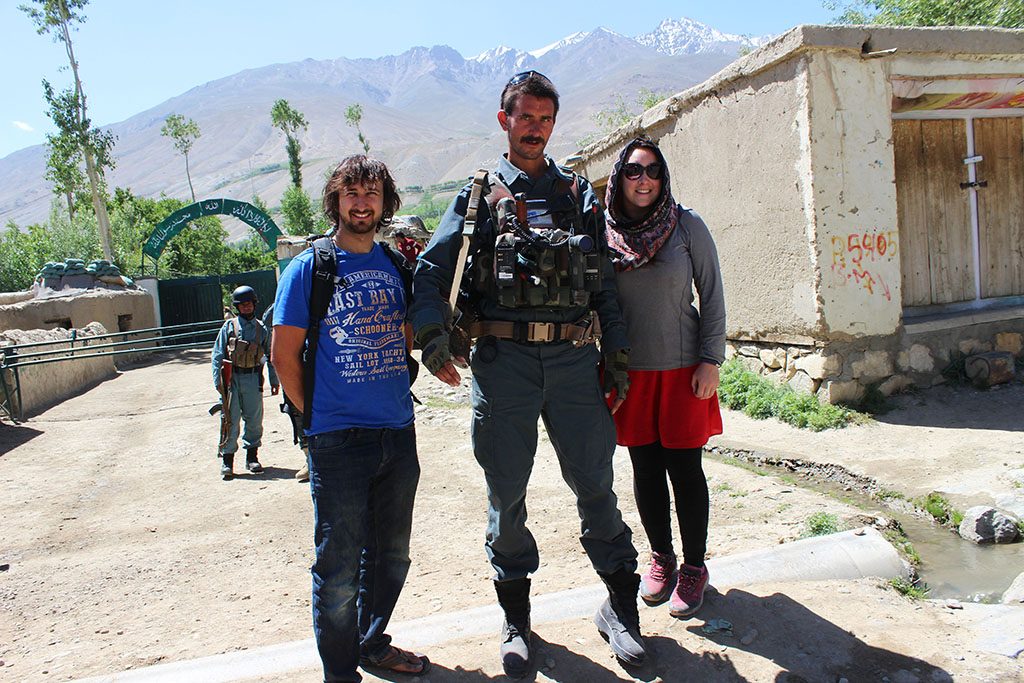 Registration and permits in Sultan Eshkashim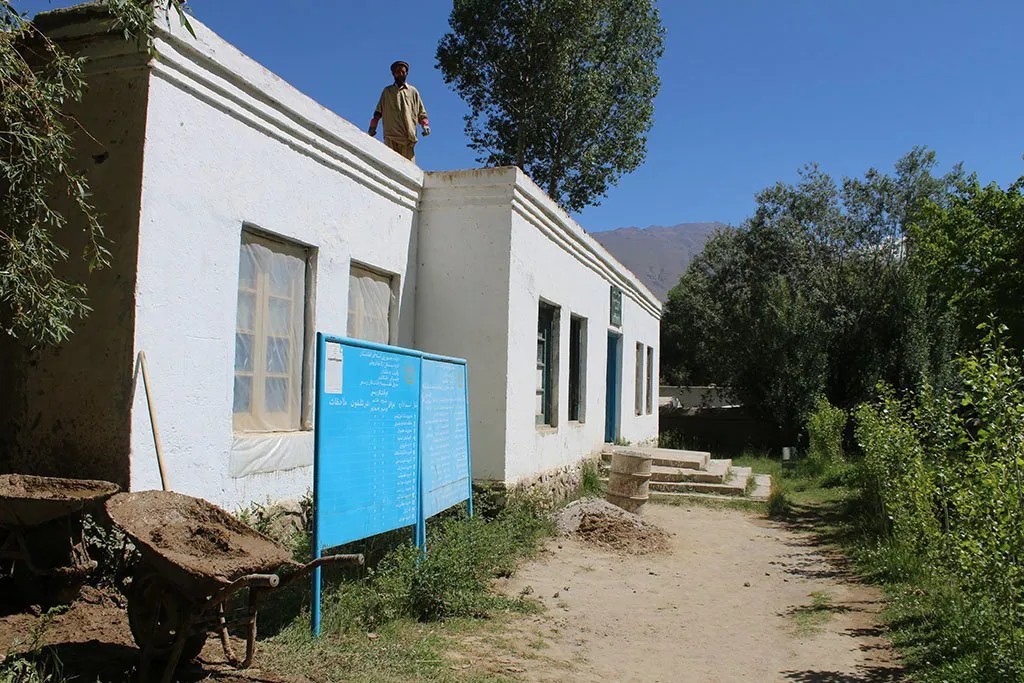 How to register
You need to register yourself to the authorities within the first 24-hours of staying in Afghanistan. Registration and permits (only if venturing out of the town) are both done in Sultan Eshkashim. The registration process is easy-peasy and doesn't take long. You will need to take two passport photographs with you. If you forget or don't have any then don't worry – the registration guys will take you to the local photocopier shop where this friendly chap will take your photo and print two pics of you for less than 1USD.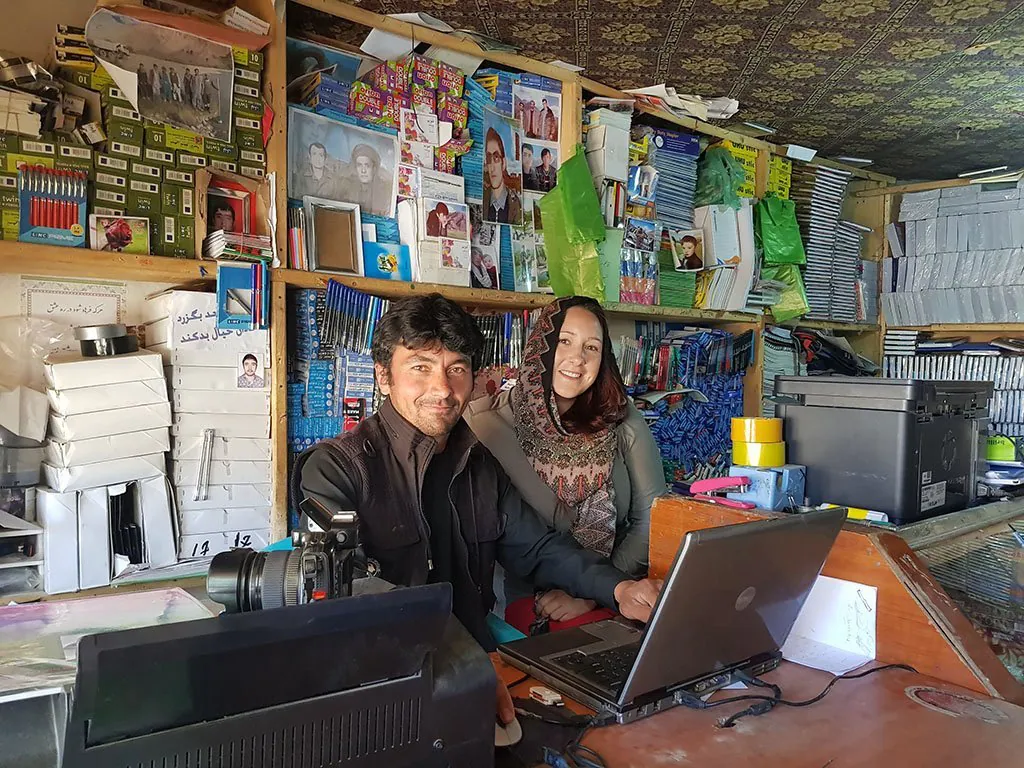 You'll need to fill out a few papers, sign some stuff, they'll photocopy your passports and you're registered! You need to register yourself within 24-hours of arrival.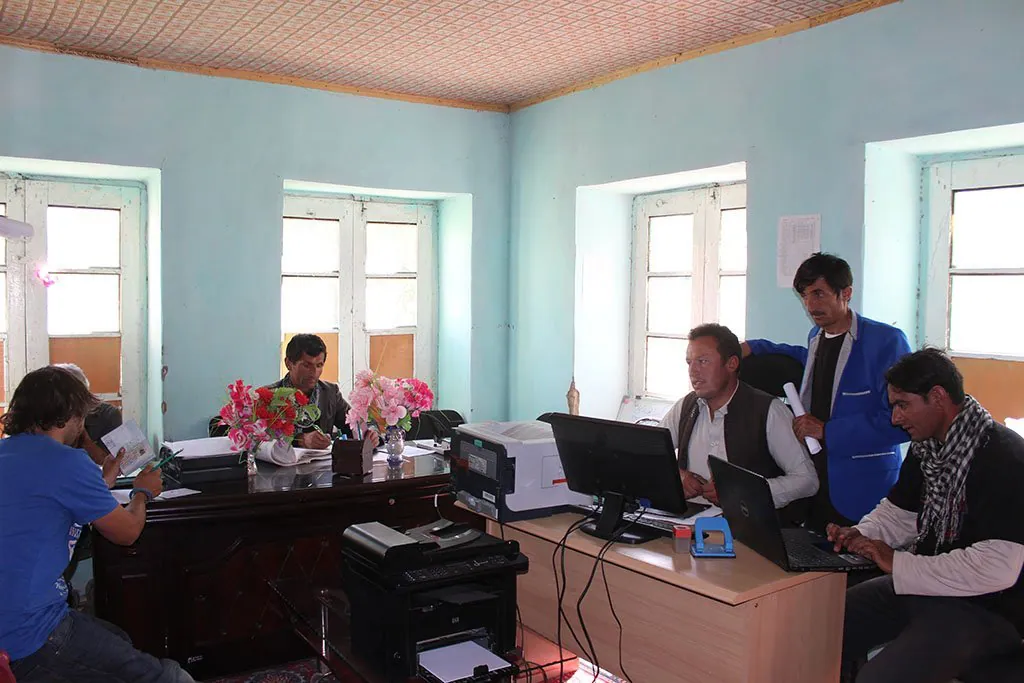 Do I need a Wakhan Corridor permit?
If you're only staying in Eshkashim then you don't need a permit. If you're heading into the Wakhan on your motorcycle, you can get a permit at the same place you register. Getting a permit is FREE despite what any guide may say. If someone says they charge then just go and do it yourself.
The guys in the registration office are super friendly, speak good English and will sort everything out for you. They just ask where you want to go, write that down and give you a stamped form. You will then need to take that to the town's border guards (locals will point show you where to go). They will give it to their captain who will exchange it for a hand-written note saying 'be cool to these guys'. That's your permit, don't lose it.
Once you have this you're free to go into the Wakhan as far as it says on the note. This will have been pre-agreed when applying for the permit in the registration office. If you want to go further then you will need to arrange for a new permit at each new village. So, it's best to decide how far you want to go while at the registration office.
Accommodation, clothing, food, water and money
Where to stay
There are two main guest houses in Sultan Eskashim. The well-known Marco Polo (+93 (0) 793 702 459) and the Wafais guest house. We stayed at Marco Polo, we were originally offered a room for 30USD per person including breakfast and dinner. We haggled them down to 15USD without food. We later found out the standard price is 25USD including breakfast and dinner. The accommodation, toilet and shower were clean, the people friendly and the location not far from town. There's also a safe place to park the motorcycle inside the gates, not that there was any worry for its safety.
Wafais came very highly recommended by a group of people we met in town. Three women, who live in the USA but are originally from Afghanistan and returning for a holiday stayed at the guest house and couldn't recommend it enough (if you stay there let us know your thoughts!).
Both guest houses can be found just by asking the locals. The town is very small and everyone knows everyone.
What to wear
Women are expected to wear a head scarf, long sleeves and long trousers with a loose-fitting dress or skirt to hide the shape of their curves.
Men can wear t-shirt and shorts but shorts will be frowned upon. On our first day Andy walked around with shorts and had a few funny looks. Then a few people (very politely) had a quiet word and mentioned that some people don't like it. So, he put trousers on for the rest of the trip. Nobody was rude about it, it's just more polite to wear long trousers.
Money
US Dollars are king and changing money is easy. Most shops will change for you, good rates can be bargained for and the more you change the better rate you get. Don't worry about getting money until you get to Sultan Eshkashim as you won't need any at the border.
Food and water
Water isn't as easy to find as you'd think as most people drink the water from the stream running through the village. Bottled water can be found but usually only in small bottles. Food can be tricky to come by, there's a tasty restaurant in a hotel in the main street. It was closing at 6pm when we arrived for dinner. Just ask any local to point you to the restaurant or hotel in town. Remember when you go there to take your shoes off, wash your hands before eating and not to step on the long strip of mat as that's the 'table' and very rude. It may be easier to have breakfast and dinner at your homestay. Snacks, food and drinks can be found in Sultan Eshkashim, but as soon as you leave the town don't count on shops. Take what you need with you.
Petrol
There is a petrol station in Sultan Eshkashim so don't worry if Tajikistan's Ishkashim petrol station is out of fuel (which it commonly is). Calculate how far you're planning on riding and make sure your motorcycle has enough fuel for your entire Wakhan Corridor trip. 
Motorcycle riding into the Wakhan Corridor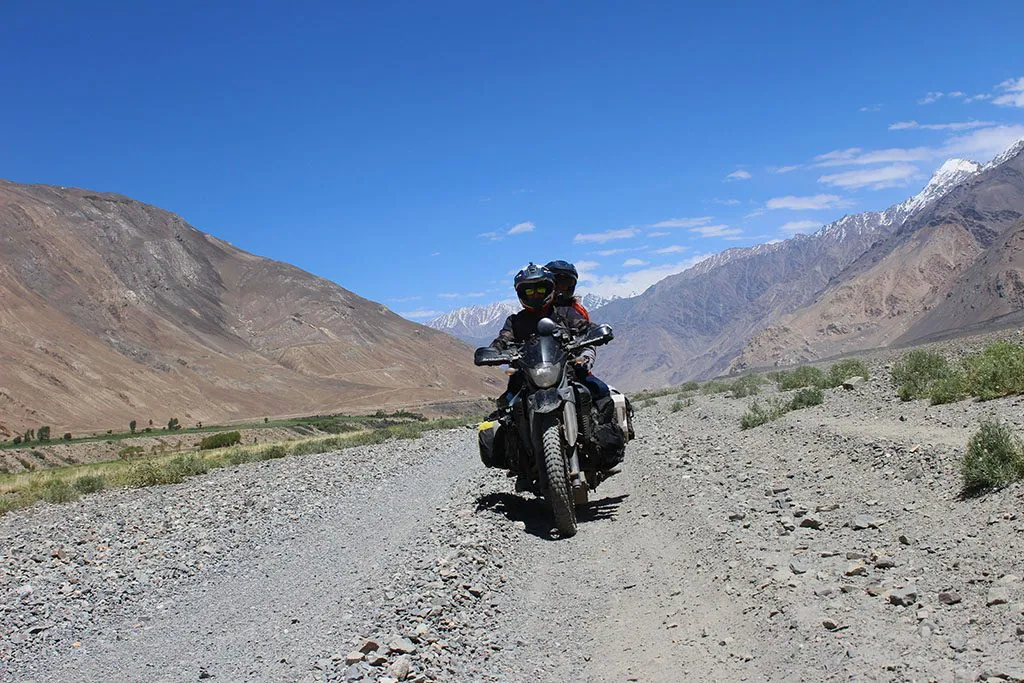 Quite often, people who head into Afghanistan go straight to Sultan Eshkashim, soak up the atmosphere of the wonderful town and head back to Tajikistan the next day. If you actually want to motorcycle into the Wakhan Corridor then you need to arrange a permit as mentioned above.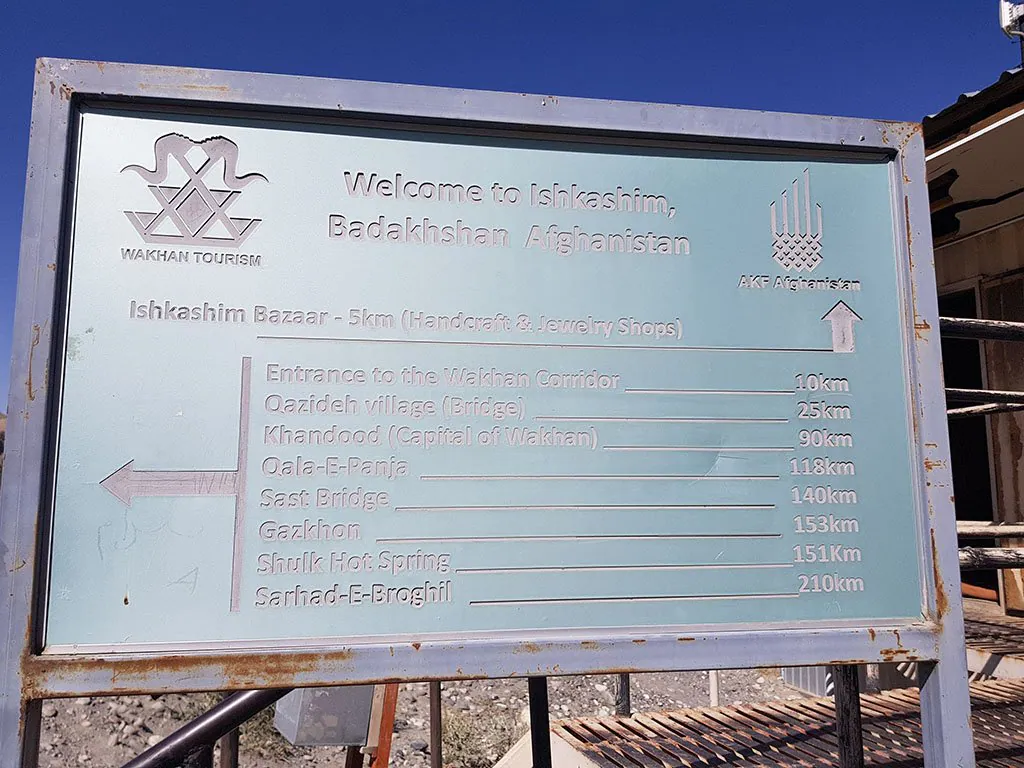 Trekkers, mountain climbers and hikers will no doubt have planned their trip very well and will have a guide. So, you guys will know how far and where you're going. If you're self-driving though, it is definitely worth at least making the ride out to the first village, Qazideh. Keep in mind that it's one long straight-ish road, which you will need to come back on yourself on. Consider petrol, how much food and water you'll need.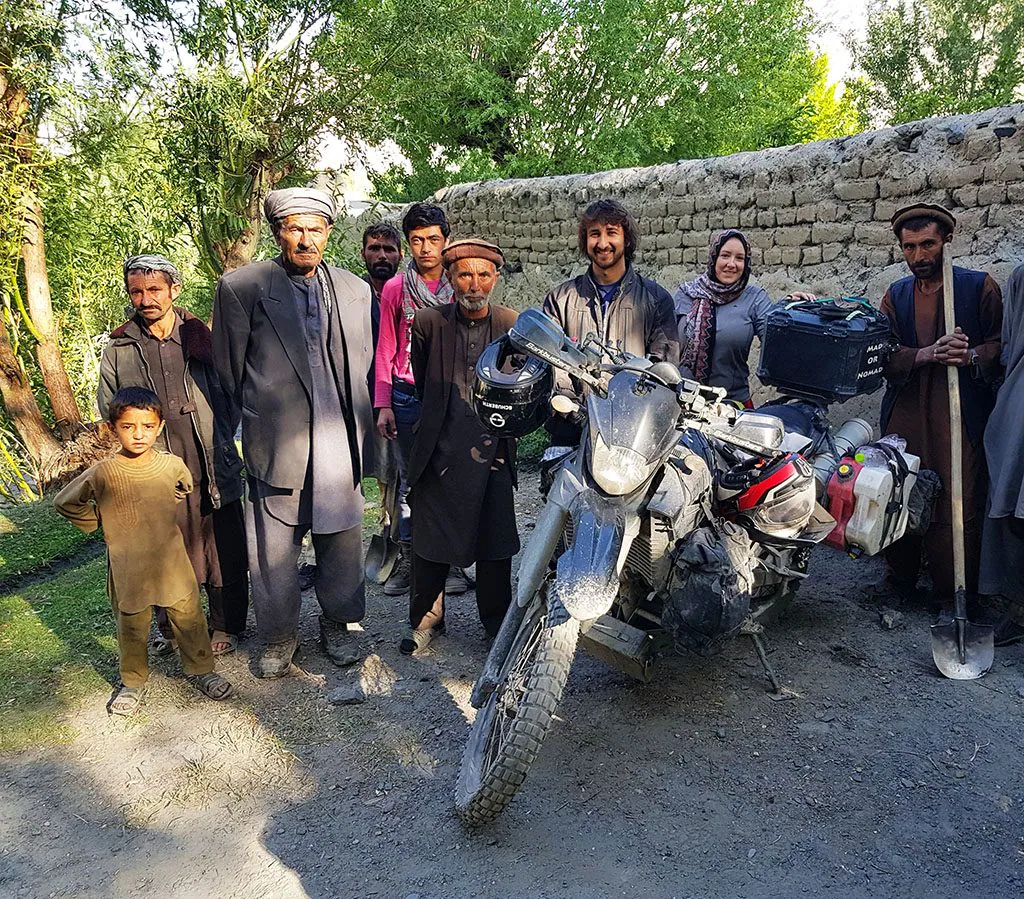 It's a beautiful little village after a moderately tricky, sandy and steep ride. There's no proper shops but the people are incredibly kind. We were given a tour of the town by a little 12-year old girl and a friendly chap.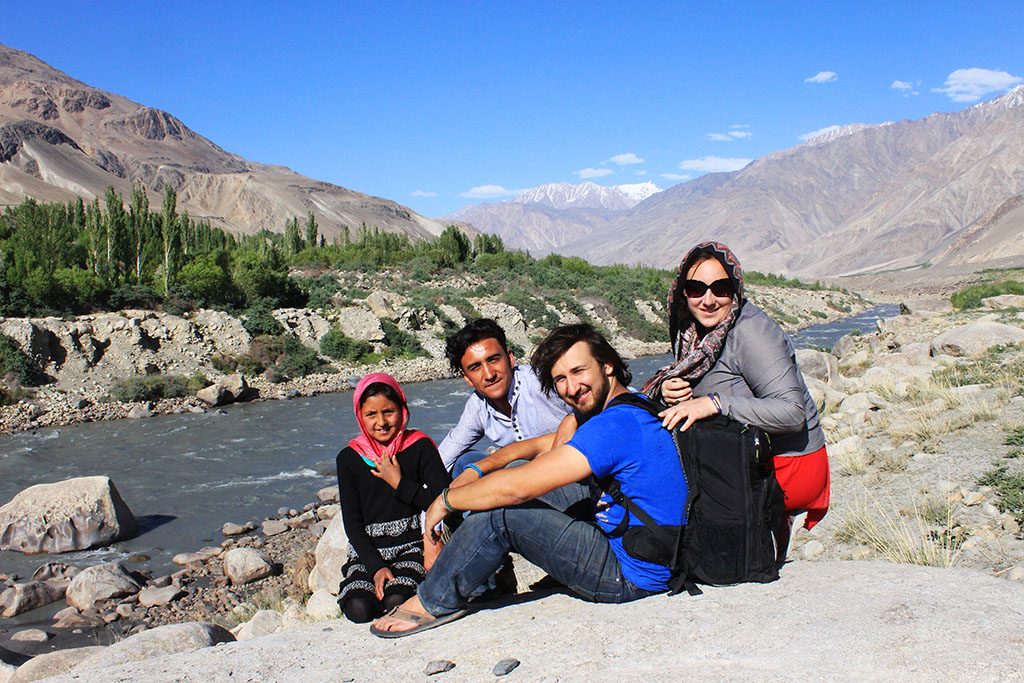 They took us to everyone's home and introduced us to different families. They also took us to the river border with Tajikistan and to watch the children work the animals in the fields.
There is an official campsite in Qazideh, which is 5USD a night or you can stay in the hostel, but that's more expensive. The toilets are pretty bad. Either way, it's definitely worth the trip!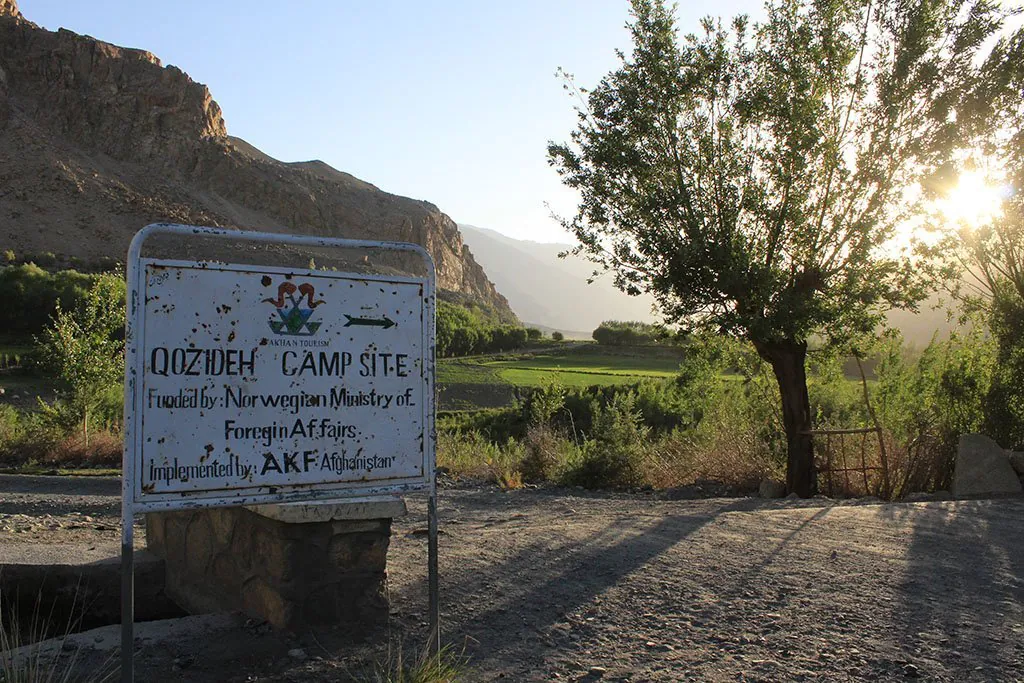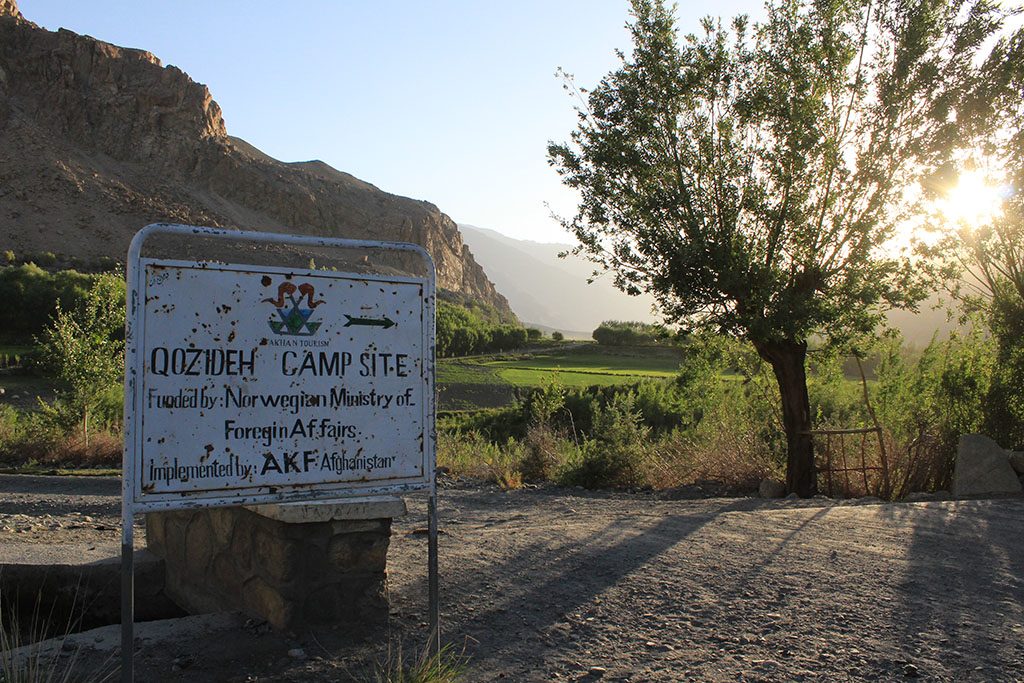 Road conditions in the Wakhan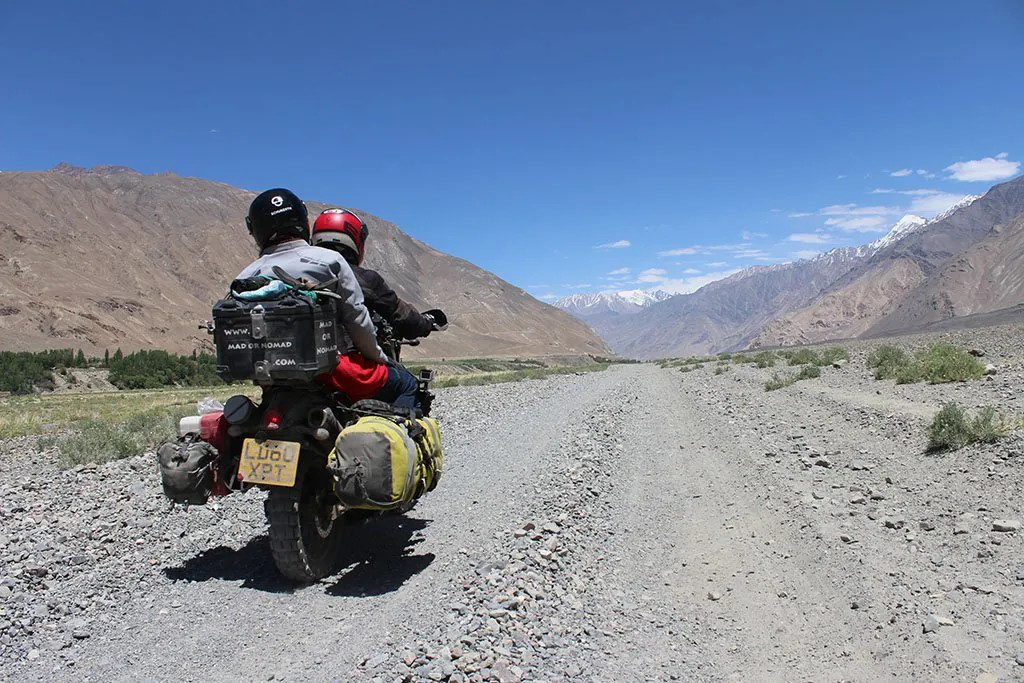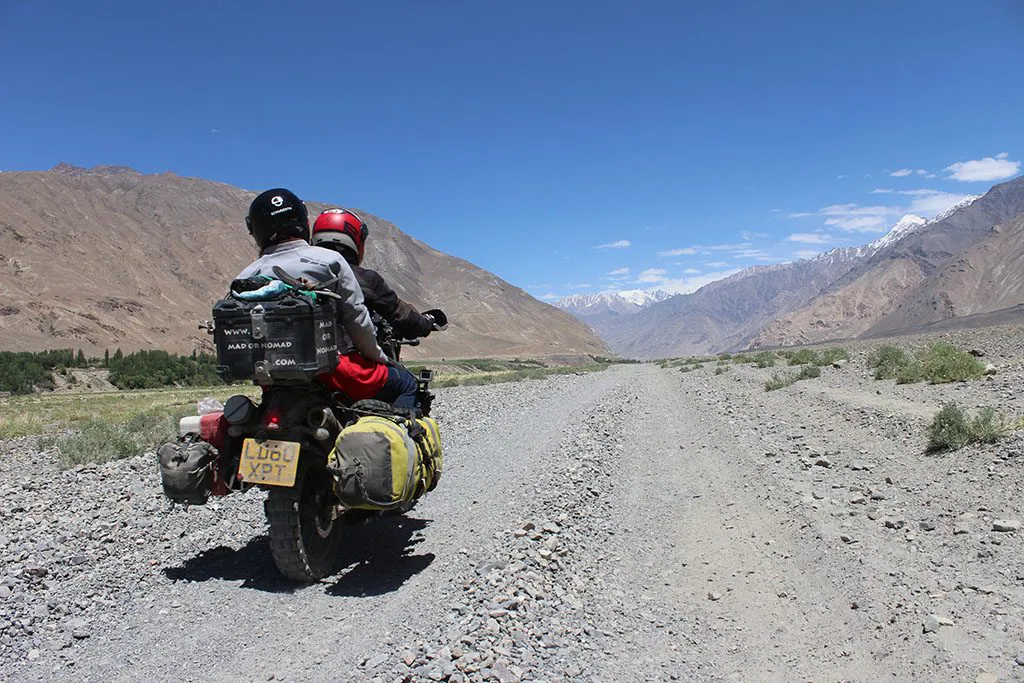 The road conditions in Afghanistan are bad. If you've just motorcycled through the Pamirs to get to Afghanistan then you're definitely capable of riding in the Wakhan. It's worse than the Pamirs but not much worse. The further you go into the Wakhan the worse it will get though. We stripped off nearly all our luggage apart from a few clothes, wash-kit, food, water, camping kit and tent and left our other stuff in Hanis Guest house in Ishkashim. There's plenty of pockets of deep sand, which can catch your out so if you're on a motorcycle keep an eye out.
Wakhan Corridor Guides
All of the below guides are people we met inside Afghanistan. We did not use any of their services and so can't comment on how good they are. But, we met them, they speak good English, work as guides and were very helpful. We've listed their information just in case you may find it helpful.
Amin – We met Amin in the registration office where he works. He helped us get our passport photos and fill out the paperwork.
amin.sahyeed25@gmail.com
+93796160082
Big and little Pamir Travel Agency – We met Malang Darya in a restaurant. He said something about being the first Afghani to summit a certain mountain. Seemed like a really nice guy.
pkbtta@hotmail.com
malang.noshakh@gmail.com
+93 (0) 794 766 067
Tajik number +992 931 066 499
Roof of the world tourist company – We met Yar Mohammad Attahi as we were walking around town and he gave us his card
roofoftheworld.touristcompany@gmail.com
yarattahi50@gmail.com
+93 (0) 794 99 46 95
+93 (0) 795 77 58 22
+992 50 18 66 930
Price list
Transport from Ishkashim to the Afghan border is a whopping 10USD (cheaper to walk)
Taxis in Afghanistan cost around 50USD an hour
Trekking and climbing guides are 30-50USD a day
Donkeys are 10USD a day
Horses are 20USD a day
All prices are rough, should be taken with a pinch of salt and can be haggled
What to take to Afghanistan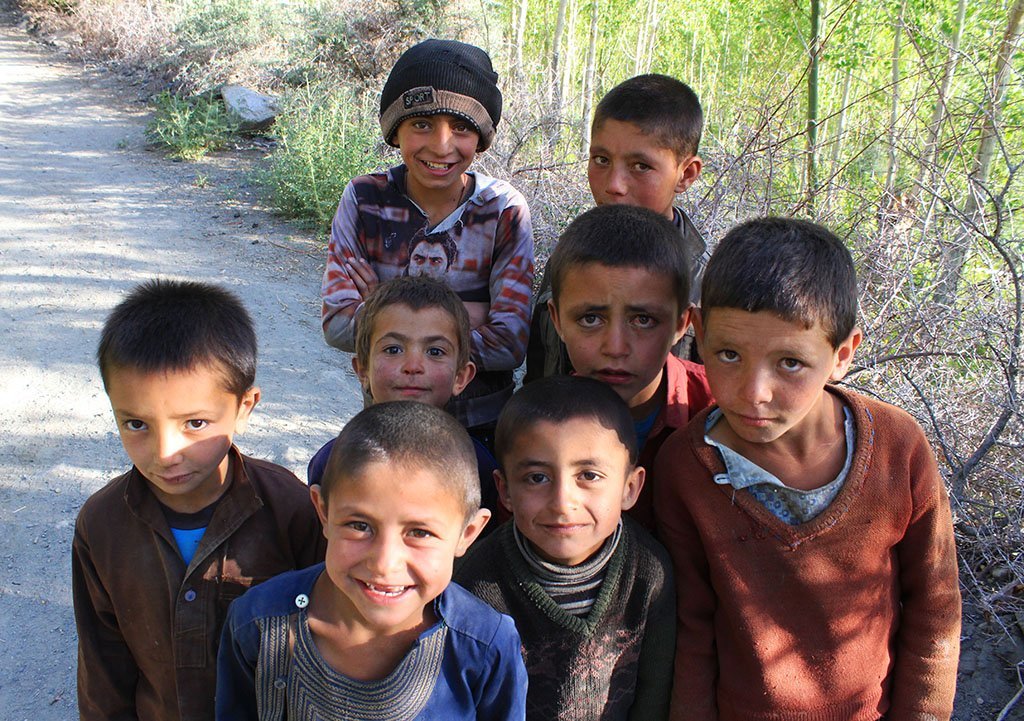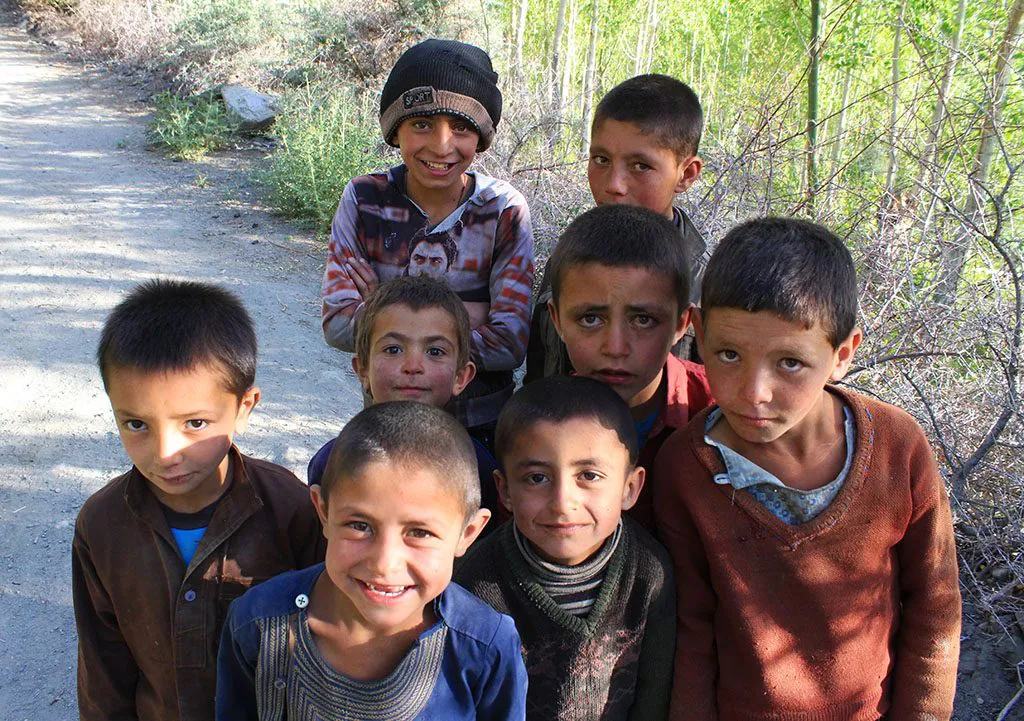 Favourite snacks and water
Fuel if you need it (there is petrol in Sultan Eshkashim, but it's worth having enough)
First aid kit
Camping kit if you're travelling further into the Wakhan
USD
Two passport photographs if you're going into the Wakhan
Fully charged cameras and battery packs (outside of Eshkashim electricity is hard to come by)
Warm clothes for cold nights if you're going in winter
A pack of small gifts for the kids
Tool kit– if you've got your own vehicle
Our experience, people, safety and photography
In our experience, we felt very safe while strolling the streets and in the villages. The people were incredibly welcoming and kind. Plenty of people spoke English and were excitedly keen to flex their new vocab. Taking pictures was also very interesting – people loved their photograph being taken and on plenty of occasions actually asked us if we could take their picture.
They loved posing for the camera, just make sure you show them the picture afterwards. Believe it or not, you can actually photograph women in blue burqas. You just need to ask. Admittedly it was easier for me as a woman to ask.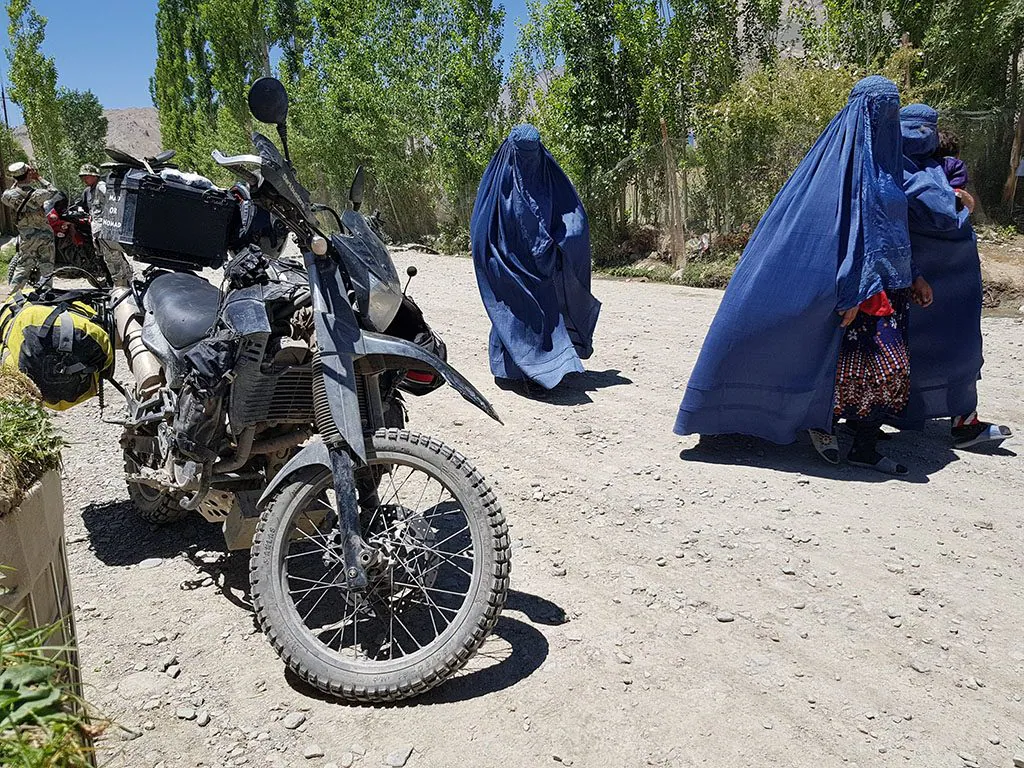 But with Andy, he simply lifted the camera without his eye behind it and sort of gestured the act of taking a picture with a smile – if they were okay with it they'd nod or stop. Just be respectful, use your common sense and it'll be cool.
Treatment of women
Perhaps most surprising of all was how I was treated in Afghanistan. Before entering we read that women are not allowed to speak to men or give them money. Anything they wanted to say had to be said to their partner, who would relay it and the recipient would then relay their reply back through the partner.
That went out the window in the first 10 seconds as the border guards asked for selfies with me. Throughout our time there everyone was mainly interested in taking pictures with me, which was so strange! People would skid to a stop on little motorcycles, jump off and ask if they could shake my hand and take a photo.
At one point there was an orderly que of men waiting in line to have a photograph standing next to me, which Andy found hilarious! But most importantly it wasn't in a creepy way at all. I've been in remote areas and countries before where it wasn't comfortable. But in Afghanistan it was very respectful, friendly and more out of curiosity than anything else.
Final thoughts…
Afghanistan did scare me at first, the idea of going into the Wakhan with our motorcycle was scary. I was torn, and just couldn't decide if I should go. Andy was going regardless and I guess the fear of missing out outweighed the fear of going. Once there all my worries dissolved, the people greeted me so affectionately and warmly, nobody turned their nose up at me, stared or shouted. The villages were even more incredible – in Qazideh we were taken to family homes to look at how they live, given a place to camp, brought food and taken for a little walking tour of the village. Afghanistan's Wakhan Corridor has got to be one of the best experiences of my life and will stay with me forever. If you're in two minds and people on the ground in Afghanistan and the embassy are saying it's okay to go – then go, explore and meet these incredibly warm and wonderful people.
Read more on Motorcycle Travel in Afghanistan
Thanks for checking out our Motorcycle Travel Guide: Wakhan, Afghanistan. We hope you enjoyed it! Here's a few more articles on motorcycling in Afghanistan that we recommend you read next. 
We hope you found the Motorcycle Travel Guide for the Wakhan Corridor helpful. If you're planning a trip there, let us know in the comments below. We'd love to hear about it!