If you're planning a biking trip in Vietnam, then have a read of this packed motorcycle travel guide first! It's filled with useful info, riding guides, top tips and loads more to help you have an epic motorcycle adventure in Vietnam. 
Motorcycle Travel Vietnam Guide
Why motorcycle travel in Vietnam?
Vietnam is an incredible country to explore – especially on two wheels. Here's five solid reasons why you'll fall in love with the place
The people
The people are friendly and inquisitive. You are unlikely to have any real difficulty or disagreement with the locals as they are keen to present the good side of Vietnam to tourists.
The food
The food is varied and delicious. Each region, Southern, Central, Northern has its own speciality and these are often quite new for most visitors.
The landscape
The geography has something for everyone – if you are a fan of beaches, mountains or drier plains, you can find what you want.
Something for everyone
Range of activities to take part in: trekking, visiting ancient ruins, war relics and battle sites, fantastic open roads with little traffic winding through old growth rainforest, waterfall climbing, paragliding, deep water soloing.
Easy on the budget
It is possible to tour Vietnam on a low budget. You only need to eat locally and stay in smaller hotels/hostels a little out of the tourist centres.
If you prefer a little more comfort and quality, it is available and usually with a welcome and a smile.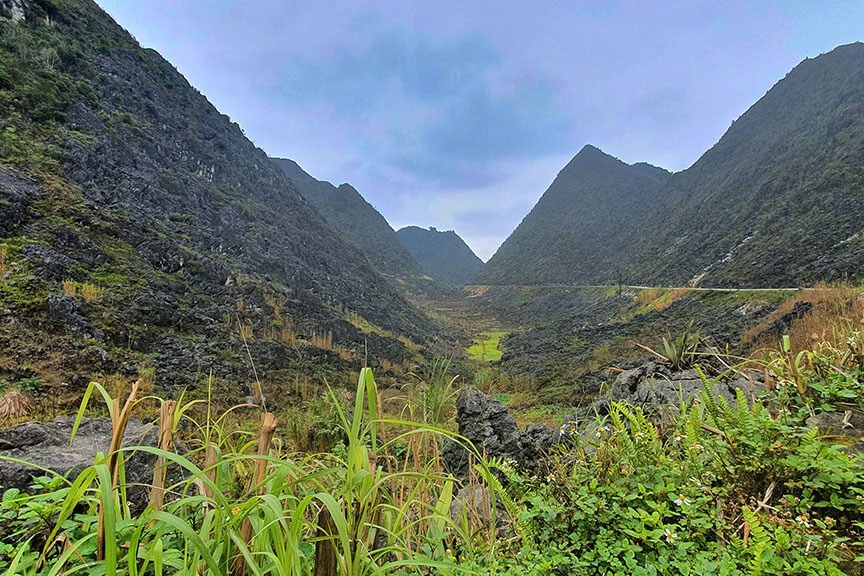 When to motorcycle travel in Vietnam
When you go greatly depends on the region because Vietnam spans several latitudes. Here's a handy regional weather guide to plan your North Vietnam motorcycle tour. 
Spring
March, April and May
15-30C
Good for riding
Relatively cool and dry but can be cloudy – especially at altitude
Light rainwear, light clothing for chilly evenings
Summer
June, July and August
30-40C
Uncomfortable for riding and dangerous
Hot and sticky. Convection storms, flooding and landslides 
Light quick drying gear with ventilation, full cover and good sunblock
Autumn
September, October and November
20-30C
Good for riding, peak season book ahead
Generally warm, little rain if any, clear skies, maybe cloudy at altitude
Light clothing, thin layers, light waterproofs
Winter
December, January and February
10-20C
Generally good for riding but can get cold and wet. Dress accordingly
Cooler sometimes cold, some rain, drizzle for days, often cloudy and misty
Warmer clothing, good boots, good waterproofs, particularly gloves.
Accommodation and cost
Types of accommodation
There are a range of guesthouses throughout Vietnam now, particularly in the tourist spots. You can find:
Shared dorm rooms in hostels and stilt houses for around 4-5 USD per night, shared bathroom / toilet. Meals provided are usually limited and a not too cheap. There are usually also private rooms and bungalow options too.
Check out this example: Lakeview Homestay, Hoa Binh
Cheap motel rooms are around 10USD per night for a room for two with an en-suite bathroom/toilet and aircon. Meals are not usually provided here. 
Check out this example: Khach San 88
Chain hotels 3 or 4 star in the larger towns and cities. These can range between 30-60USD per night with breakfast included, depending on location.
Check out this example: Muong Thanh Hotels 
Boutique resorts include all manner of resorts from hot springs to, modern stilt houses, bungalow villages and even mountain top hideaways. These can cost similar to the larger hotels at between 50-80USD per night with breakfast included.
Check out this example: Pu Luong Treehouse 
Accommodation availability
There is plenty of available accommodation and if you turn up at a place without a booking there will be another nearby. There really is no need to book more than 24 hours in advance unless you wish to stay at one of the high-end boutique resorts such as Topaz Eco Lodge in Sa Pa.
That said, if you plan to stay somewhere that is off the beaten track, like Kiou Leou Ti Mountain, then you should book 24 hrs in advance so that the host can stock up on food and prepare.
Paperwork
Firstly, you need a valid passport and visa to enter and stay in Vietnam. When you rent a motorcycle, some companies may want to keep your passport. If you leave it with them, make sure they give you a photocopy of your passport page because you will 100% need this to check into any hotel. You can not check into hotels or even guest houses without at least a photocopy of your passport page. We carry a laminated photocopy of our passport's main page for such situations.
Driver's licence
To ride a motorcycle in Vietnam you need a valid driver's licence and an International Driver's Permit (IDP). There are two IDPs: 1968 and 1949. For Vietnam you need the 1968 version.
The IDP is issued in your home country and is a small booklet with translations of your licence. If you're from the UK, you can get your IDP at the Post Office for around £5 and it takes five minutes.
When you rent a motorcycle, you will also be given paperwork that shows who the owner is, keep this safe and with the bike.
Permits
You may need a permit when travelling to certain regions in Vietnam such as Ha Giang in the extreme north as it borders China. For more info on this visit our Ha Giang Guide.
Safety and security in Vietnam
Crime
Vietnam is a relatively safe country for motorcycle travel. The locals tend to leave tourists alone in terms of violent crime. If you ask for trouble you will get it, but most tourists don't have any issues. Be streetwise and careful late at night like anywhere in the world.
However, many locals are happy to overcharge and you need to beware of this behaviour. It is also difficult to get a definitive answer on something and no comeback when what has been promised is not delivered.
Men: be careful of young ladies fawning over you and taking your belongings.
Women: be careful as some taxi or rickshaw drivers may become aggressive when they are rebuked. Both men and women may be followed by these drivers touting their business. They are certainly very persistent and annoying; I have been followed all the way back to my hotel on many occasions. I think this may spook some people so beware.
These situations (except the stalker like behaviour, which happens any time) tend to occur later in the evening, perhaps when one is a tad tipsy and are unlikely to happen at other times.
Laws and police
The police do not seem obliged to help and will often see dealing with foreigners as a hassle. They can often be reluctant to get involved and will refer you to your embassy, who will in turn refer you to the police.
Do not expect much effective action from police unless it is to get some sort of 'fine' out of you.
The police are often unwilling to stop foreigners as the language barrier causes them delays and wastes time that they could be spending on collecting 'fines' from local motorists. This is NOT an excuse to flout the law. They will stop you and this will cost you time and money.
It can be better to pay an on the spot 'fine' if possible as this can speed things up considerably.
If you are on one of our rental bikes, you should call us and let us discuss things with the police. We can often help to come to a win win agreement (no promises mind).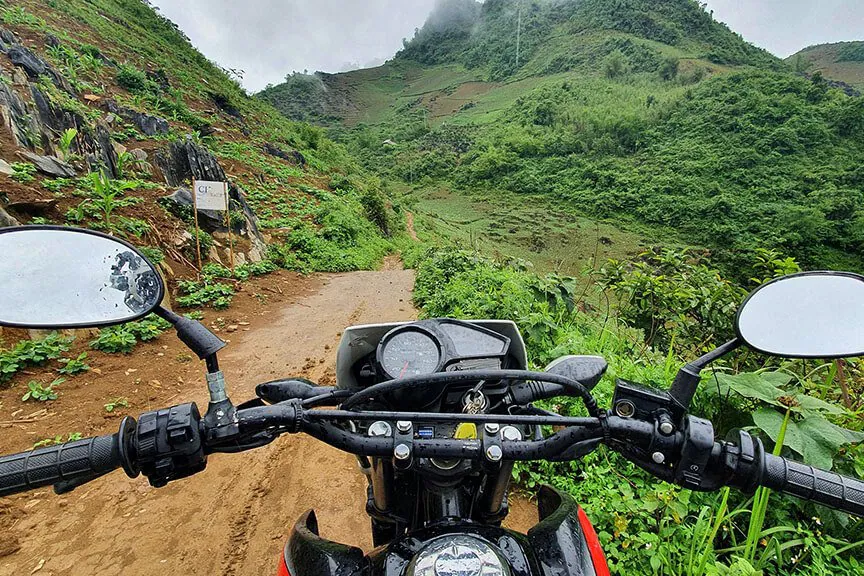 Motorcycle riding conditions in Vietnam
Throughout Vietnam, if you are motorcycle touring, you will predominantly be on tarmac or concrete roads. Perhaps, 90% or more. It is rare to find a route that is not well used and, therefore, sealed in some way.
To find dirt you will need to look carefully and take routes that are rarely used by locals. In fact, if you ask, they will always route you on the sealed road as they cannot understand why you would want to take the dirt route.
So, without a guide it is hard to find dirt tracks that you can be guaranteed will get you to your destination.
This means you would choose a road bike, right? Wrong. We find that the condition of many of these sealed roads is not great and the extra travel in the suspension allows for more comfortable touring.
Road rules and other drivers
Driving here is not like many other countries as it is much more of a free for all.
Space is of a premium and other drivers will do anything to fill a gap. You are best off letting them get ahead, rather than risking any bumps or bruises.
Traffic lights, right of way, signalling before manoeuvring and even looking before manoeuvring are all alien concepts. Cars and trucks will bully you into the gutter if you let them but sometimes it is better to yield than prove you are right.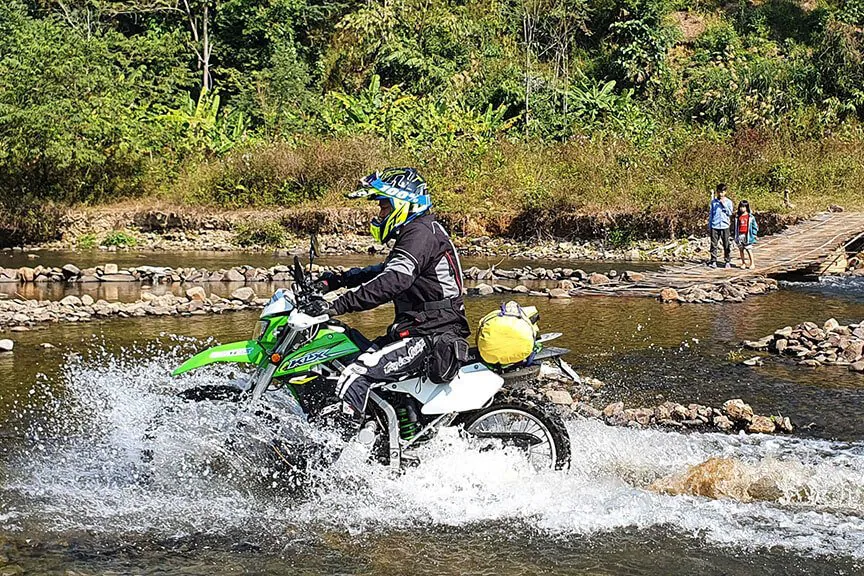 The best motorcycle routes in Vietnam
Ha Giang Loop
This is considered to be the best that Vietnam has to offer motorbike tourists. There are great roads through the mountains and good places to stay, often run by the local ethnic people. The landscape is stunning and there are a variety of road surfaces to be found: tarmac to dirt.
READ MORE: How to Motorcycle the Ha Giang Loop
Central North Loop
This is an epic adventure that could take anything from 10 to 25 days. You can head out west to the Dien Bien Phu military site and then loop round to Sa Pa, one of vietnam's premium tourist destinations. After this, you head to the northernmost point, Ha Giang and then on to the quieter area of Cao Bang. All the time skirting the border with China to the North.
Hanoi to HCMC (Sai Gon)
Another epic journey made famous by the Top Gear Crew. You will pass through the Northern, Central and Southern regions of Vietnam with their differing culture weather and food. This how to truly get to know the country.
Central Loop (Danang/Hue)
This is a short loop that will get you out into the countryside amongst the relics of the American War. A trip along the HCM Highway and then back to the ancient capital of Hue before taking the stunning Hai Van Pass over the mountain back to Danang.
Ta Xua Loop
An excellent adventure. You can wind your way through the back routes from Hanoi to get the the 'Dinosaur's Spine', which will give you the willy's when you walk on it. To make it even more intrepid by take the route from Ta Xua to Tram Tau to loop back to Hanoi.
Vietnam regional motorcycle riding guide
If you're still unsure which region in Vietnam to visit or perhaps you have limited time, then take a look at this quick and easy regional riding guide to help summarise each one – it may help narrow down your choices!
North Vietnam
Weather: 4 seasons, very hot summer, mild winter. Northern Hemisphere seasons – Christmas is cold. 
Geography: The wide reiver delta around Hanoi surrounded by mountains to the north and Ha Long Bay to the East.
Places of interest: 
Hectic Hanoi City
Cat ba and Ha Long Bay for beach life
Ninh Binh and Cuc Phuong
Mountain areas of Sa Pa, Ha Giang, Cao Bang etc.
Notes: The North has great bike touring areas and a lot to see on the road. The four seasons mean that you can choose to come when the weather is cooler. It is more about mountain life than beach life.
Central Vietnam
Weather: 2 seasons
Geography: A thin area of coastal land rising up to mountains in the west towards Laos.
Places of interest:
Danang and Hue Cities,
Hoi An and Long Co for beach life
Hai Van Pass and Ba Na Hills for mountains
My Son for ancient culture.
Several interesting ethnic groups: Jarai, Bahnar, Cham
Notes: It is generally warm year round but be careful of storm season. There is a good mix of beach life and mountain life so you have a choice.
South Vietnam
Weather: 2 seasons, wet / dry
Geography: Wide open river delta area with some mountains to the west.
Places of interest:
Mekong Delta boat trips, city life in Saigon,
Beach life: in Mui Ne, Nha Trang
Mountain adventure: Da Lat.
Ancient culture: Khmer and Cham Temples
Notes: The Mekong Delta in Saigon is generally, warm all year but again watch out for storm season. Mui, Ne, Nha Trang is more a beach and river delta area with the beaches being accessible but still quite far from Saigon.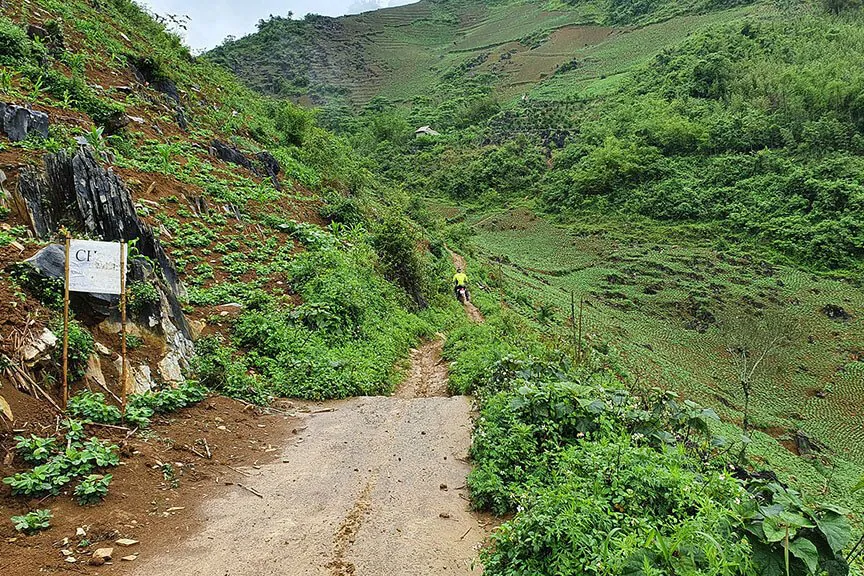 Motorcycle riding gear for Vietnam
As shown above in the riding routes section, the gear you wear will greatly depend on the season. The Winter is not blisteringly cold, just cold enough to be annoying. The Summer IS hot enough to kill though. 
For most times of the year, you will need light airy clothing that will dry clearly and wick away sweat.
In Summer you need that type of clothing and to remember to stop for drinks a lot, or use a camelpack.
In Winter it pays to have rain proof trousers, a good jacket AND a poncho. Under this, one or two layers of clothing will be enough to keep the cold out.
Always have a rain poncho available; you can buy them almost everywhere and about 10-15usd will get you a top notch one.
Gloves are useful to prevent burning in the Summer and cold fingers in the Winter. Of course, year round they protect in case of an accident and should be worn. You are unlikely to need very thick gloves as the Winter is not cold a medium thickness will be fine.
For loads of in-depth info on motorcycle riding gear while travelling, check out these packed articles!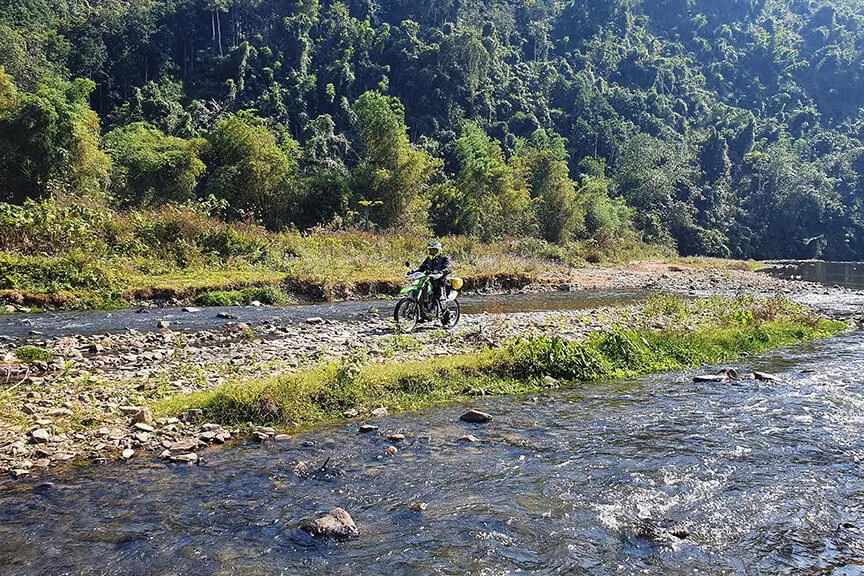 Packing and motorcycle luggage
The main thing here is to take as little as possible. Most things that you need are available in Vietnam, particularly for men. Available here but well worth considering are wet wipes. Not a very manly item, but a very useful one, if you are caught short in the wild, or if you come across a very basic toilet and there are many of them about.
Remember to dispose of them correctly and not leave them or bury them in the wild.
Women on the other hand should bring their preferred cosmetic and sanitary products. I hear that the correct ones of these are hard to find.
Here's a bunch of our luggage articles that you might find useful:
Motorcycle rentals and tours in Vietnam
Motorcycle tours in Vietnam
Not all tours are created equal. Check very carefully about the type of accommodation (ask for details) and what kind of food will be provided. This will give you an idea of the value of each offering.
Check carefully how many days are included in the cost. Some firms will charge the first, meet and greet, and one day, others will start charging from the time you first head out.
For some biking tours all food and soft drinks are included, on others only breakfast so you may need to pay for lunch/dinner. Be aware when comparing prices.
Renting a motorcycle in Vietnam
Check the bike carefully for scratches and broken parts. Take notes, tell the renter and take video if you wish. Do not be charged for parts that were damaged / broken.
Check carefully when you are to return the bike. Some firms will give you 24 hrs from the time you take the bike, others will consider overnight to be 1 day's rental.
You will be expected to leave a security deposit. This is often EITHER an original passport with an entry stamp in it OR a cash deposit (sometimes up to 500usd per bike).
Bikes can be expensive and there is no insurance. Any damage will need to be repaired (paid for) by yourself.
It is unlikely that any rental firm can 'freeze' a charge on your account, even if they claim that they can. They will charge you and refund you. This will cost you fees and perhaps in the exchange.
Note from Mad or Nomad: We rented two motorcycles from Rentabike Vietnam in January 2023 for a tour from Hanoi to Ha Giang and can't recommend their services enough. You can read about our experiences in our blog post Happy New Year from Ha Giang
Buying and selling a motorcycle in Vietnam
If you are travelling to Vietnam for an extended period of time and would prefer to buy and then sell a motorcycle or scooter, have a read of the below guide. You'll also find information on there regarding how to take your bike across borders and the paperwork needed. 
READ MORE: How to Buy and Sell a Motorcycle in Southeast Asia
Top Tips
North: The Ha Giang Loop is the best of Vietnam. Try to get here if you have time. It needs around 4+ days to really see everything.
Central: The HCM Highway (west) is a fantastic stretch of road cut out of the jungle. It is one of the few places in Vietnam where you might actually feel alone.
South: Da Lat is Vietnam's mecca for adventure and the surrounding area is great for driving. Consider this inland route rather than following the coast North.
Currency: USD is king any other currency may be difficult to exchange in the countryside. You can easily exchange most major currencies in the towns and cities but more remote areas will want VN Dong or USD. It is very difficult to exchange VND outside of the country so don't take any home with you.
Market days: If you are touring, the North particularly, then you will want to see the local markets. These are held on days following the lunar calendar, which can be confusing. Check very carefully with anyone telling you when there is a market.
Tet: Don't plan to tour over Tet, or if you must, try to be in a tourist area at that time. Things are closed for a minimum of 3 days and often longer. If you are in a remote area, you will have difficulty finding food and accommodation.
Drinking / Driving: Drink A LOT. Not alcohol, WATER. You will dehydrate very quickly on the bike and not realise it. Then, you will get confused and things could go wrong. Stop every hour or so and have a rehydrating drink: Sugar cane, coconut… 
BEWARE. The maximum permissible blood alcohol limit in Vietnam is 0.0%. ZERO. Don't think you can have 'just one' and then drive. You might come a cropper.
Charity: Human trafficking and slavery are rife in this part of the world. Rent A Bike supports Blue Dragon Children's Foundation, which is a charity dedicated to rescuing men, women and children that have been forced trafficked, abused and forced into modern day slavery. We give a small portion of the rental fees to them every month and help to fund vocational training for women in Dien Bien Phu Province and their Hanoi Street Children Rescue Programme. Please visit their site and if you feel they are worthy donate a few bucks to help them carry on the stellar work that they are doing.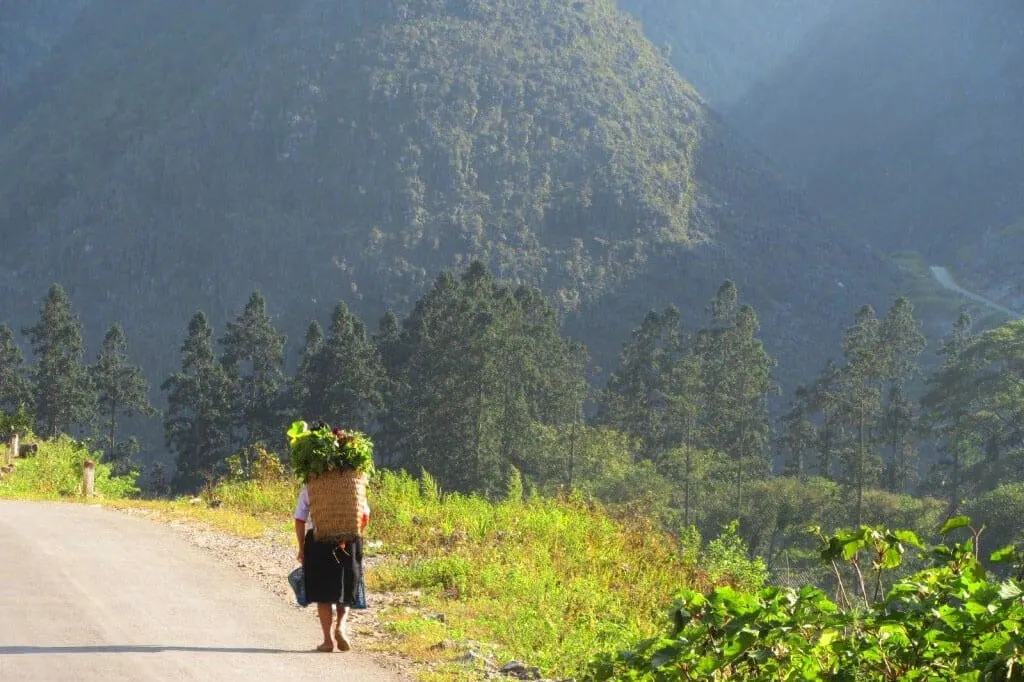 Danny Pearce is a long-term expat and founded Rent A Bike Vietnam in 2004 with his Vietnamese wife, Thu. It's a family run business that focusses on quality bikes with
quality service and an understanding that trust is a key factor when adventure
travelling in a foreign country.
Safety is the number 1 priority when renting out bikes so good servicing and maintenance schedules are adhered to as well as direct communication to assist in anything from the simplest question to the most serious situation. Knowing your are in competent, safe hands provides welcome peace of mind that allows you to fully enjoy your tour. 
Check out Danny's awesome tour company:
Read more on Motorcycle Travel in Vietnam and Southeast Asia
Thanks for checking out this Motorcycle Travel Guide: Vietnam. We hope you enjoyed it! Here's a few more articles on motorcycling in Vietnam and Southeast Asia that we recommend you read next. 
Are you planning a motorcycle trip to Vietnam or Southeast Asia or do you have any questions or tips to share? Let us know in the comments below.