Welcome to the Motorcycle Travel Guide for Uzbekistan. This article is packed with info for adventure bike riders and overlanders on road conditions, routes, paperwork, borders and a bunch of extra tricks and tips to help you on your way.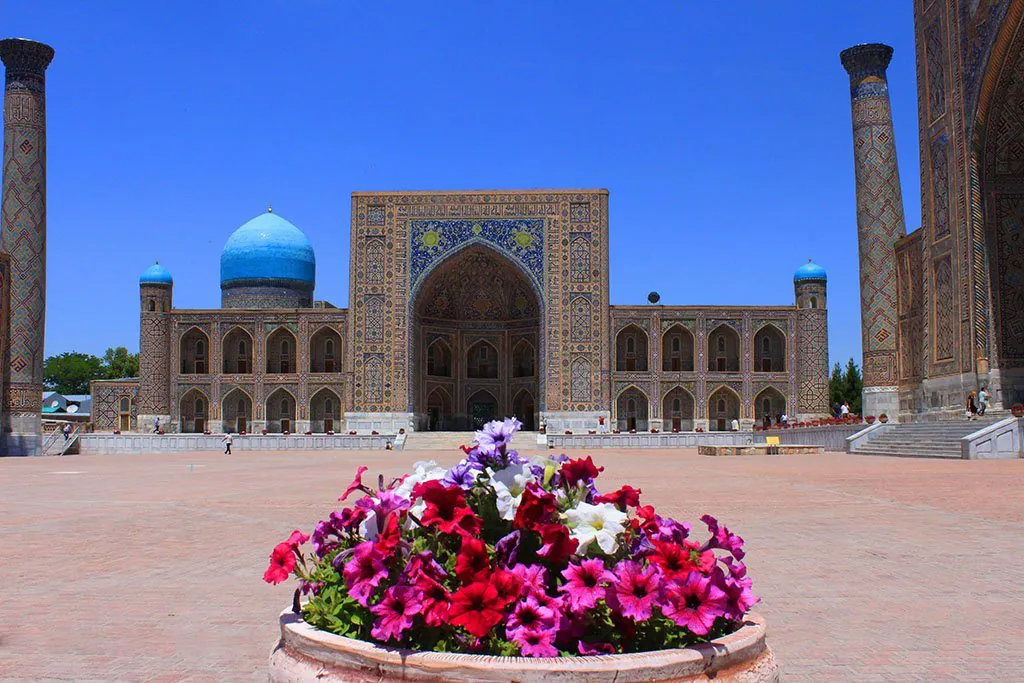 Motorcycle Travel Uzbekistan
Riding your motorcycle through Uzbekistan is tough but incredible. The country was once the jewel of the Silk Road. Some of its cities sparkled with blue mosques in an otherwise sandy yellow world, while others were walled off to keep tens of thousands of slaves from escaping. Turkmen raiders would go on human hunting parties while rich merchants strolled the streets. Khiva was the most brutal and most dangerous city in the world at one point in history. Long gone are those days, but the beauty of its architecture and the rough terrain remain.
Travelling through Uzbekistan on a motorcycle can be tough, depending on where you enter and exit. You will have no doubt heard of the fuel shortages, bribing and difficult visas. But it's really not as tricky as you may have heard. Read on for our motorcycle travel guide to Uzbekistan…
Motorcycle routes through Uzbekistan
Motorcycle travel in Uzbekistan can be a dream ride or a nightmare depending on where you enter and leave. For most overlanders and motorcycle travellers, Turkmenistan is a no-go due to its strict transit visa rules. But if it is a go, and you're coming from the west and heading east, then you're in luck. You'll end up riding through Turkmenistan and cutting into Uzbekistan around the Nukus area – slap bang next to Khiva. You've then got an easy ride from Khiva to Bukhara to Samarkand before entering Tajikistan (or heading north to Tashkent and Kyrgyzstan).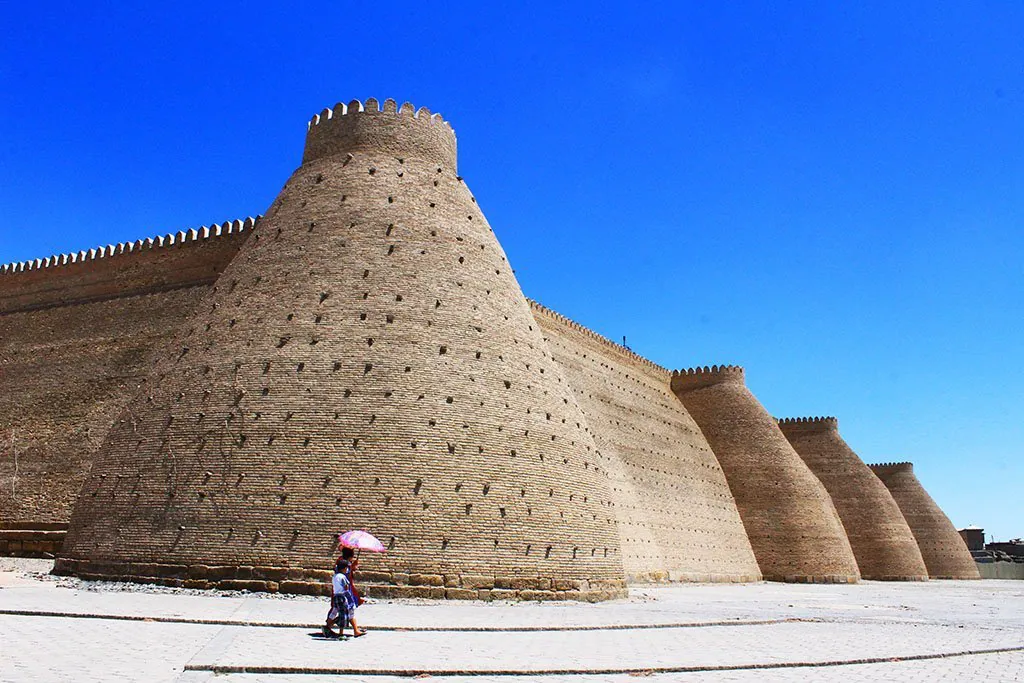 Or, if you're travelling from Kazakhstan, Tajikistan or Kyrgyzstan then you'll probably hit up those cities from the east before heading into Turkmenistan or visiting them and looping back round.
However, if you're coming in from the west, then you'll need to enter near Beyneu in Kazakhstan. If you're leaving Azerbaijan, then you will need to catch the Caspian Sea ferry to Aktau, Kazakhstan and ride north to the Beyneu border crossing. Unfortunately, there's no southern border.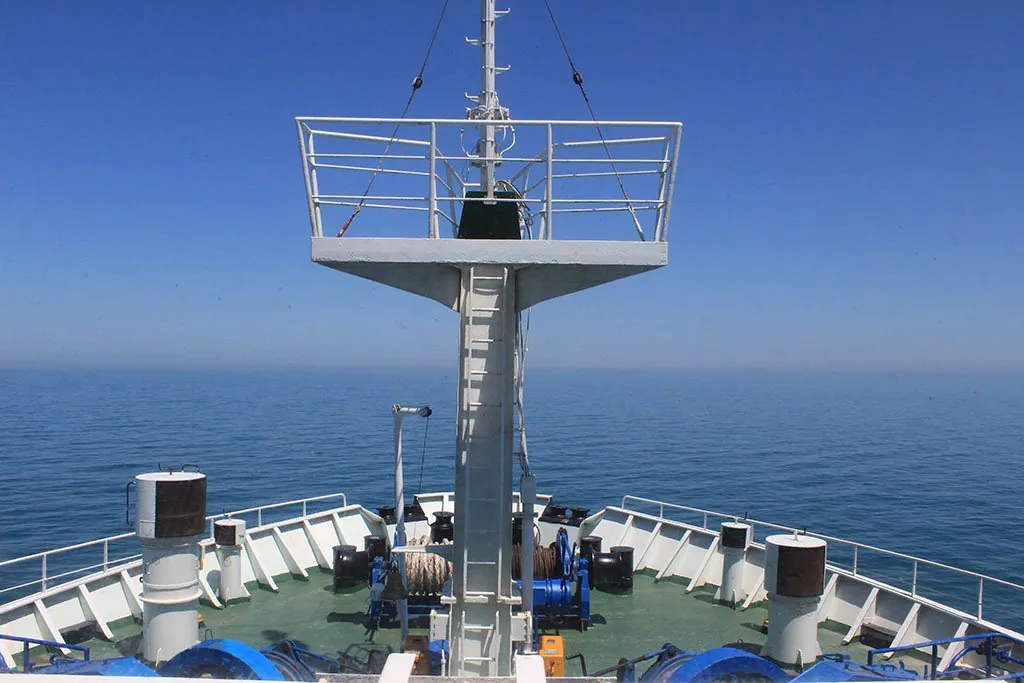 If you're entering from Beyneu, then expect a very long, very hot stretch to Nukus. Fill up with fuel in Beyneu, and then again at the fuel station midway between Beyneu and the border. The exact location and coordinates can be found on iOverlander. You won't find another station until you reach Nukus, and even then there may not be any fuel. If you can carry enough fuel from Beyneu to cover 400 miles then you will have absolutely no worries.
NOTE: You will need to take the weather into consideration when planning your trip to Uzbekistan as it can easily reach 40C and over.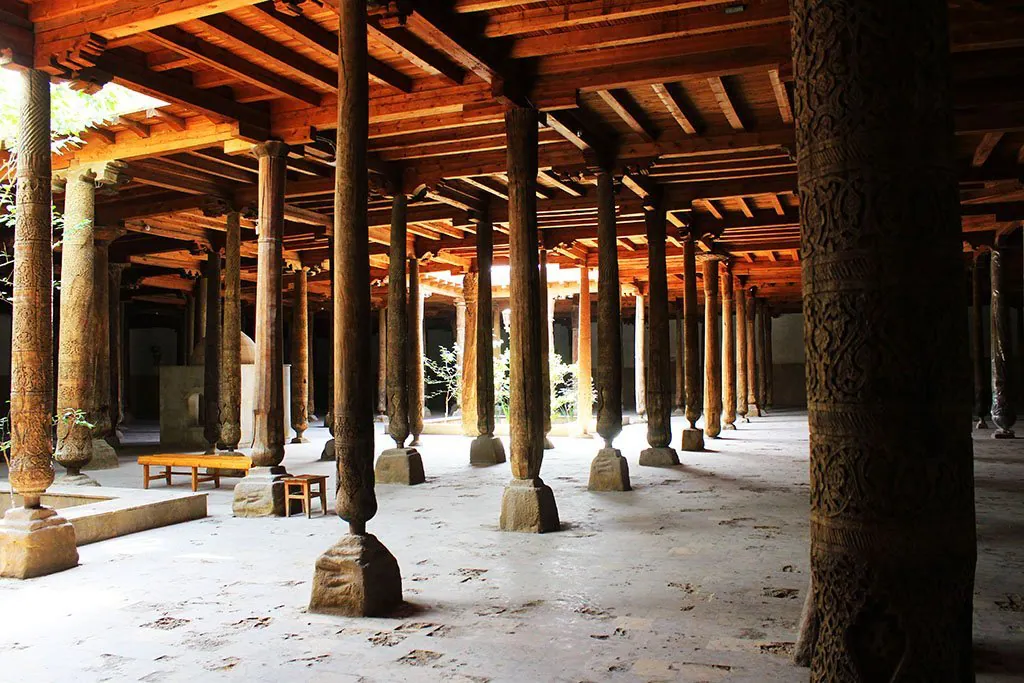 Uzbekistan Borders
Before entering Uzbekistan, we read and heard from everyone that the border control was extremely strict and thorough searches will be done on your vehicle and belongings. That's because certain things are illegal in Uzbekistan, but legal in your home country – like some pain killers.
Before 2018, guards would go through your belongings searching for codeine, porn and so on. And you could get into a lot of trouble for something you thought harmless. But it's changed. We weren't searched at all, and nobody we have met since has. We're not 100% sure on the new laws, so it's best to check what is and what isn't allowed first. But we have heard and experienced a much, much more relaxed Uzbekistan.
You do not need to pay for anything at the border. You will only need to fill out some forms and the guards are now super friendly.
Police in Uzbekistan
Police used to be a problem in Uzbekistan, but things are changing. We heard of a few people who were unjustly stopped and asked for money. As always, if you're in the right, just refuse and stand your ground. But those stories are very old. Nobody we met while travelling through or since was stopped and all the police we met were very friendly. Don't worry about the police in Uzbekistan.
Uzbekistan Road Conditions
The roads in north-west Uzbekistan are in extremely poor condition. There are no shops, petrol stations or rest stops. The road is long, flat and deceptive.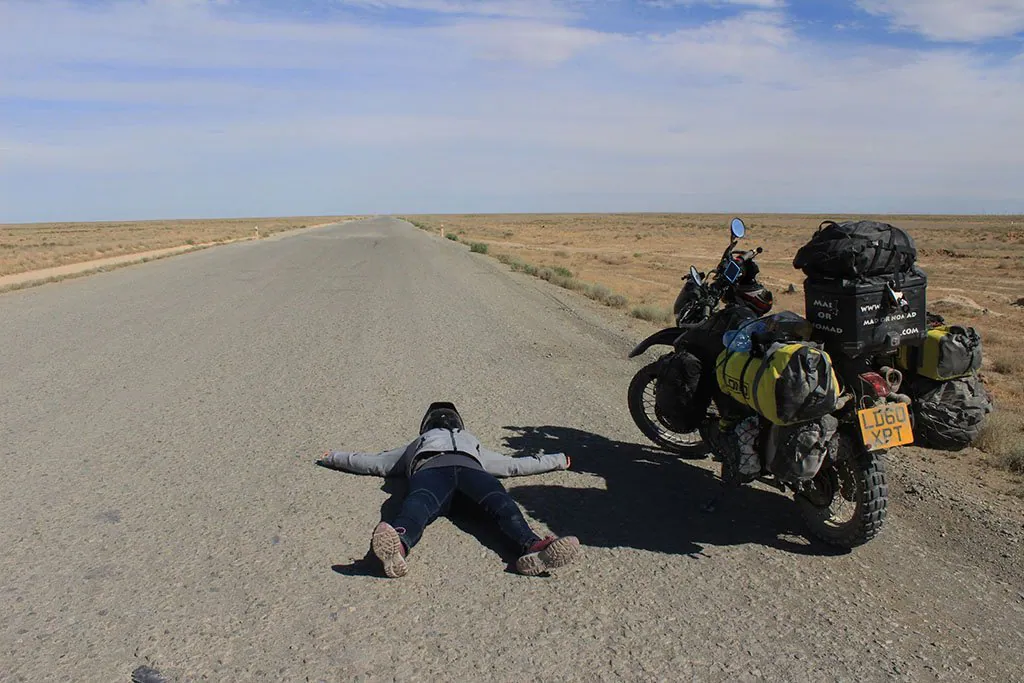 It looks like a perfect road – and that's how it catches people out. You start to twist the throttle and pick up speed and then a huge crater comes out of nowhere and your bike or car smashes into it.
We've heard countless stories from fellow motorcycle travellers in Uzbekistan who busted their rim or burst their tyres on this stretch. It's extremely slow going, boring, hot, dusty and arid. Don't get tempted to ride fast, just take your time plod through. From around Kanlykul the road does get better and you'll be treated to a fast highway.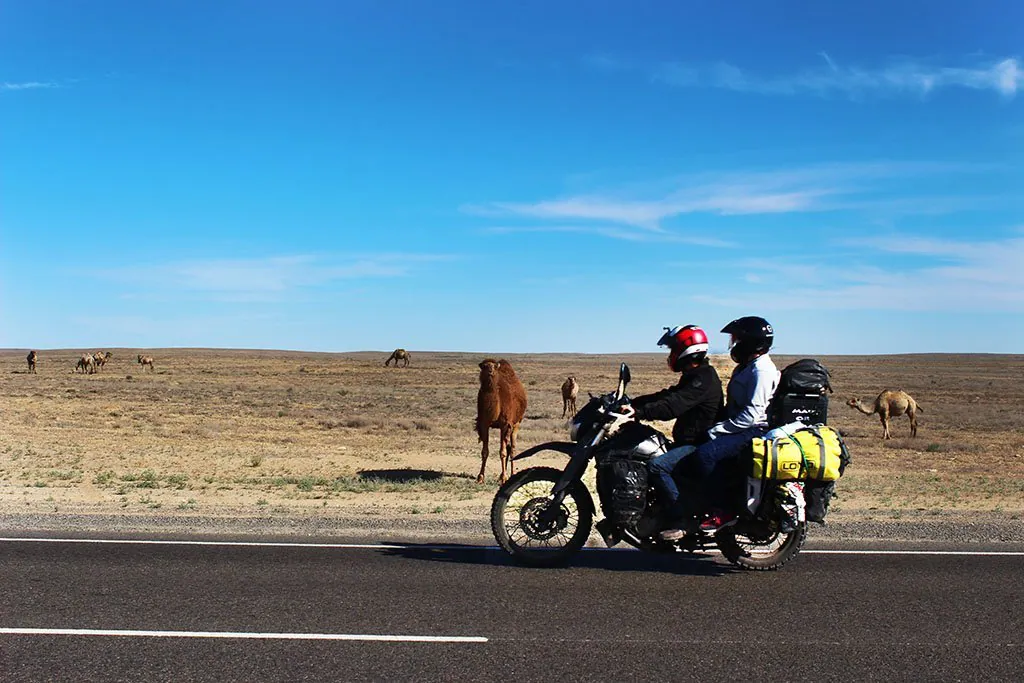 Finding fuel, food and water
Everyone's biggest concern about overlanding Uzbekistan is fuel and diesel. It's true, Uzbekistan does have fuel shortage problems, but the country isn't fuel dry. Your biggest problem will be the north-west stretch to or from Beyneu. The absolute most you will need to travel without fuel is 400 miles, and that's if you take a detour to Moynaq and the Aral Sea. This should be fine for most motorcycles with a decent tank range and a few extra bottles of petrol.
The north-west of Uzbekistan is arid. Finding food and water in that region is particularly difficult. We'd advise carrying enough food and water until you reach Nukus.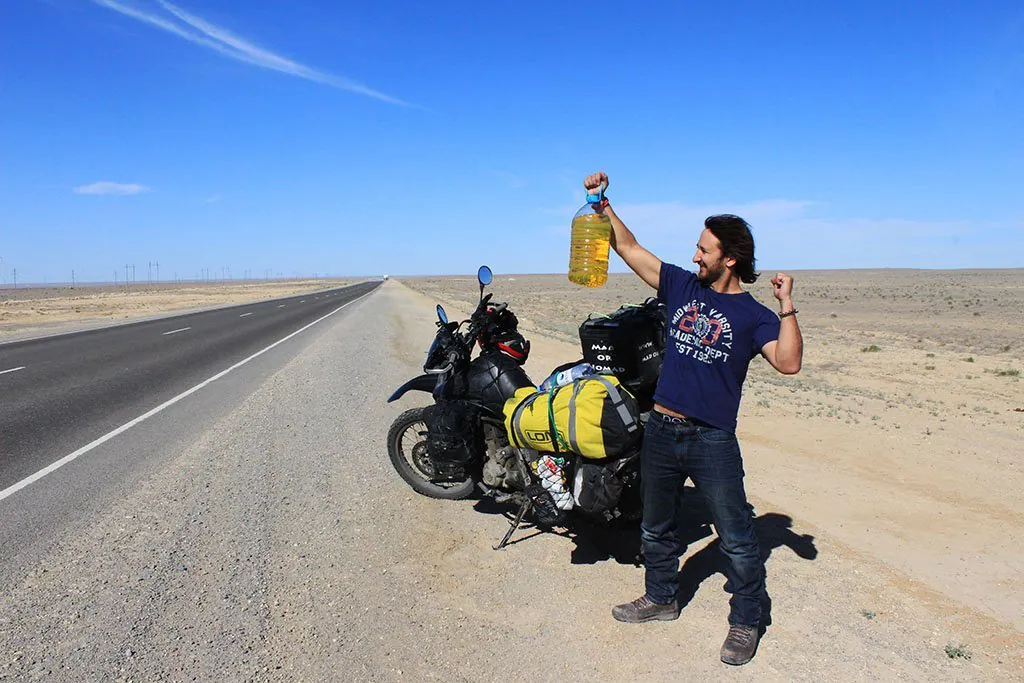 Don't panic if you run out of fuel as you can always buy some on the mysterious black market. When people say they bought it on the 'Black Market', they're referring to simply knocking on someone's front door and asking if they have any petrol for sale. It's no big deal in Uzbekistan so don't threat it.
Quick tip: Pick up a fuel filter before you enter Uzbekistan and some octane booster. We carried a Mr. Funnel filter to capture any dirt and water in the petrol. If you're going to be using black market fuel, then this is a must. An octane booster is also a good idea as you may only find 80 RON in many parts of the country. 
Camping and Accommodation
Registration is important in Uzbekistan, or at least it used to be. The old rule was that you need to register your stay at least once every three days at a hotel. The hotel staff know what to do, just give them your passport and they'll give you a little white slip saying you stayed with your passport details. You were then supposed to show this when leaving Uzbekistan. Apparently, if you didn't have enough slips you could be seriously fined and detained.
We collected our slips as we rode through Uzbekistan in 2018 and they didn't even mention the slips at the border and we didn't take them out of our bag. But, that's not to say you don't need to still do it. It's unclear on whether or not it's still a requirement. So, to be on the safe side it's best to collect your registration slips.
If you are planning on camping, you can register yourself through this website www.emehmon.uz. Accommodation and hotels close to any major city are easy to find on the appps we mention in Navigation below.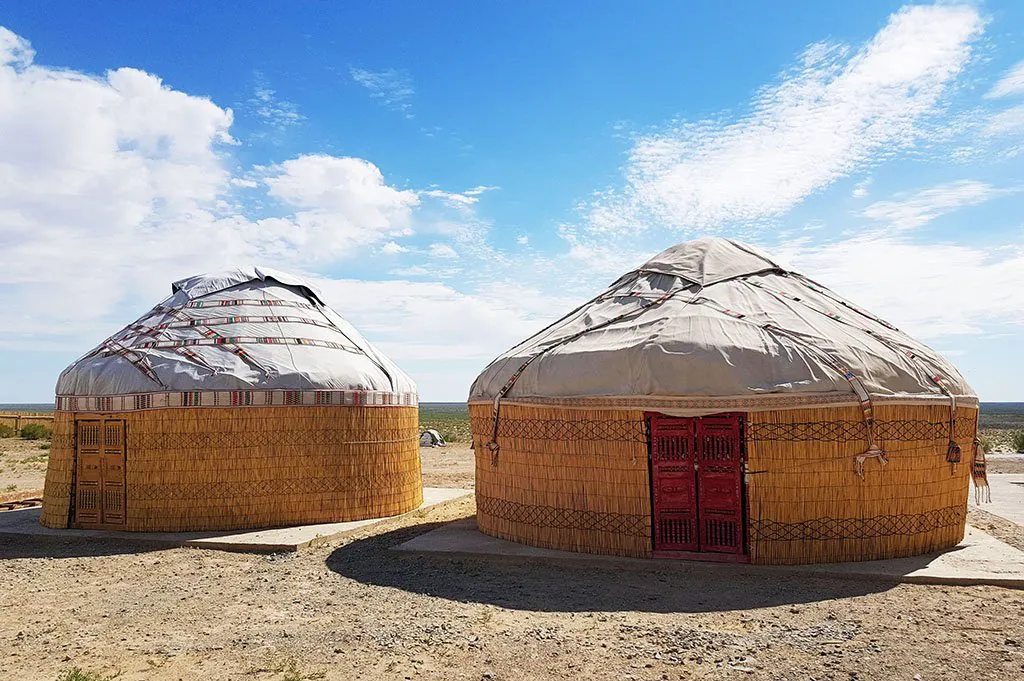 Navigation
Uzbekistan is relatively easy to navigate. There's not a lot going on there and the roads are long and straight so it's hard to get lost. Download iOverlander and Maps.Me as they'll help massively with getting around and finding points of interest.
Uzbekistan visa, insurance and paperwork
Uzbekistan used to be a massive pain to get a visa for, involving embassies and long waits. 
UPDATE: Uzbekistan has now adopted a visa-free system for 65 countries and are adding even more. Citizens of all EU countries get 30 days visa free at land borders and airports as of January 2020. Click here to see if your home country is on that list.
For a full rundown on how to get your Uzbekistan visa, what paperwork you need as well as customs and insurance info, check out our Central Asia Visa Guide.
Money
As soon as you cross any Uzbek border, you'll be flooded with people trying to sell you wads of Uzbek cash. Technically, you're legally supposed to exchange at the bank but people still sell at the borders. Just have an idea of how much you want to exchange and how much you're prepared to spend to exchange it and swap out enough currency to get you to one of the major cities.
USD is king currency in Central Asia, so have notes ready for when crossing the border. If you cross at the most desolate, north-west border from Beyneu you'll see a large restaurant on the left. There's WiFi in there, just go in and grab some food. Once you're relaxed, find a money counter and change up there.
Once you make it to Nukus and Khiva, you'll find banks that will happily exchange your USDs. There are ATMs in Uzbekistan, but it's best not to rely on them. We have also heard that you can now change your Uzbek money back to USD once outside of Uzbekistan. That used to be impossible, and as there isn't much information on how or where, we'd still recommend spending all of your Uzbek som before leaving.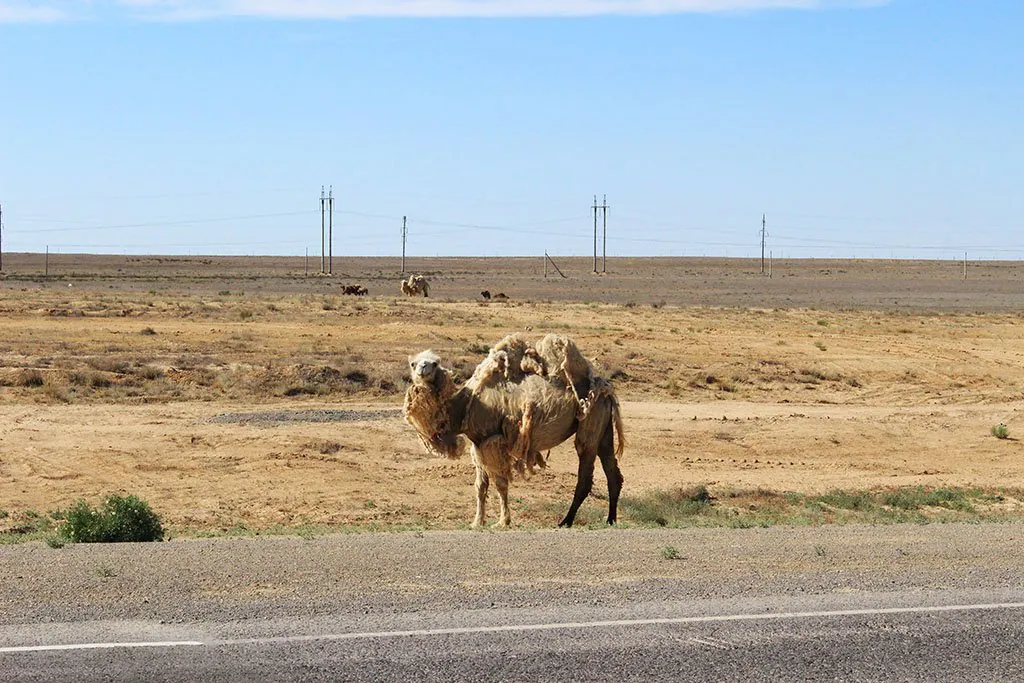 Read more on Motorcycle Travel in Uzbekistan 
Thanks for checking out our Sand, Seas and Camels in Uzbekistan blog post. We hope you enjoyed it! Here's a few more articles on motorcycling in Uzbekistan that we recommend you read next. 
Liked that? Try these next…
We hope you found the Motorcycle Travel Guide for Uzbekistan helpful. Let us know your thoughts in the comments below. We'd love to hear from you!