Turkey is a place like no other, it's an explorer's dream and there's no better way to discover it than on a motorcycle. If you're planning a motorcycle tour in Turkey, have a read of this guide first. Here's what you need to know about riding there…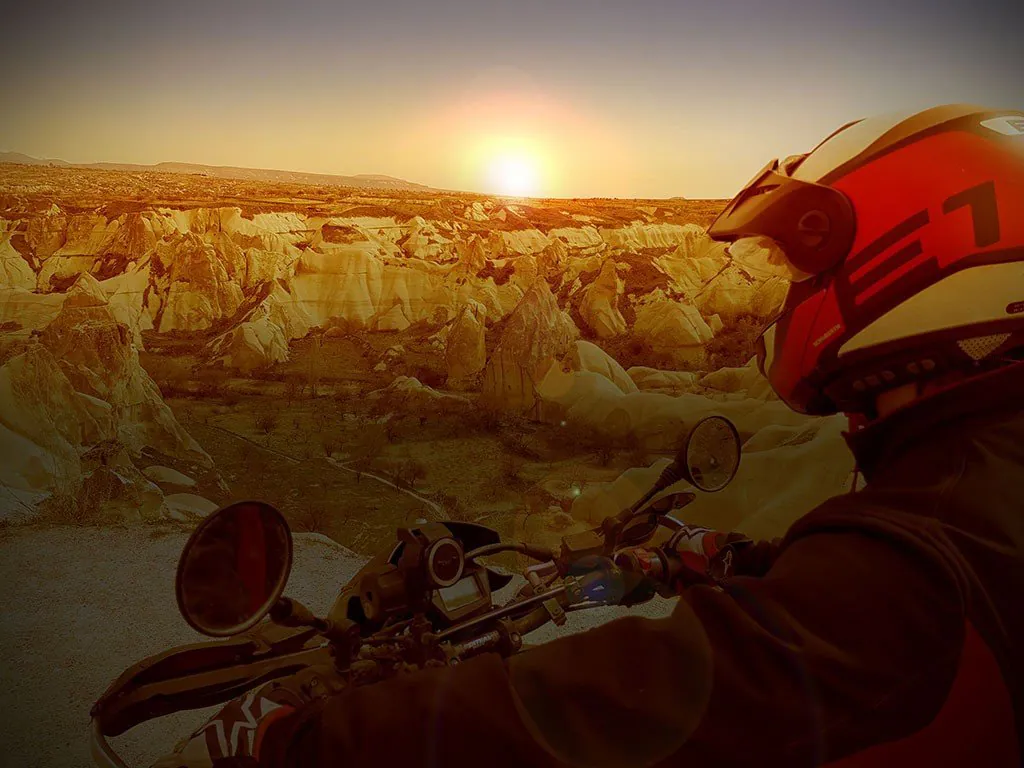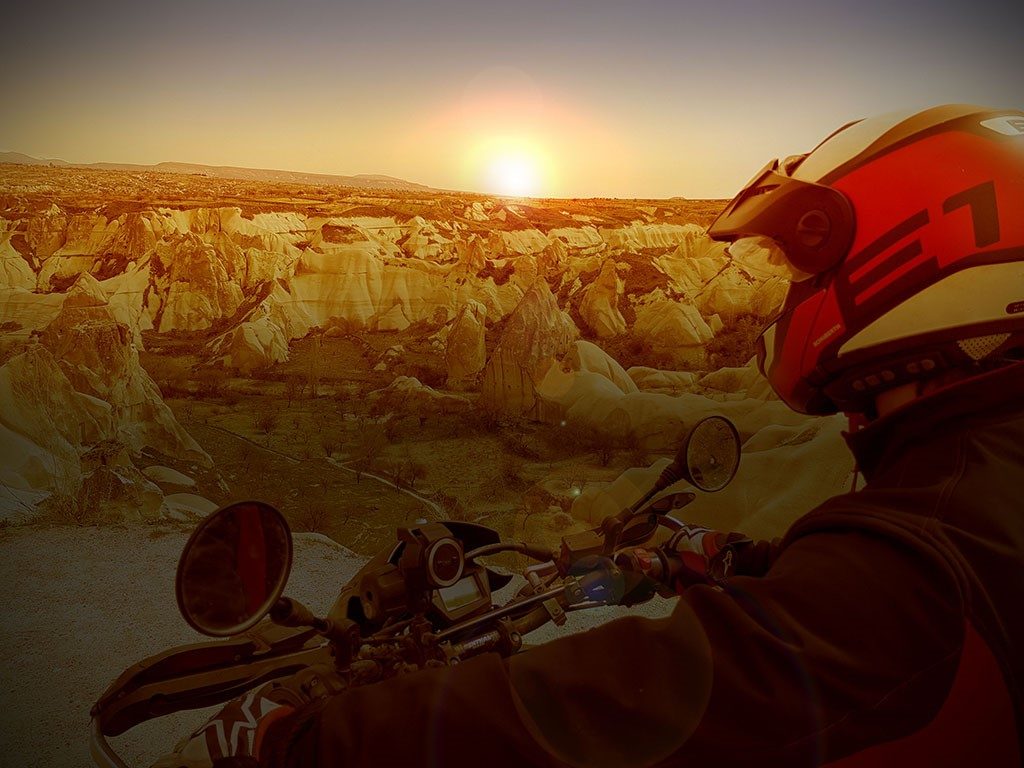 Motorcycle Travel in Turkey
As you motorcycle across Istanbul's mighty Bosphorus Bridge, you're literally riding into Asia and leaving Europe behind. Prepare yourself for an intoxicating concoction of melding worlds, ever changing landscapes, incredible hospitality, mind-bending history and mouth-watering food. Travelling on a motorcycle in Turkey is like nowhere else, it's an explorer's dream and there's no better way to discover it than on a motorcycle. Here's what you need to know about riding in Turkey…
How to ride to Turkey?
Getting to Turkey is half the fun. Forget about the old South of France run and the Spanish summer blast… this time you're heading East. You're looking at around 1,800 miles to Istanbul with a maze of route choices. You can take the eastern route and dive into Slovakia before slicing your way over Romania's epic Transfargarasan, or dip south through the big Bs; Budapest, Belgrade and Bulgaria. Either way, all the new scenery is just preparation for what's to come.
For more info on routes and rides in Europe, take a look at our European guides. 
READ MORE: Europe Destination Guides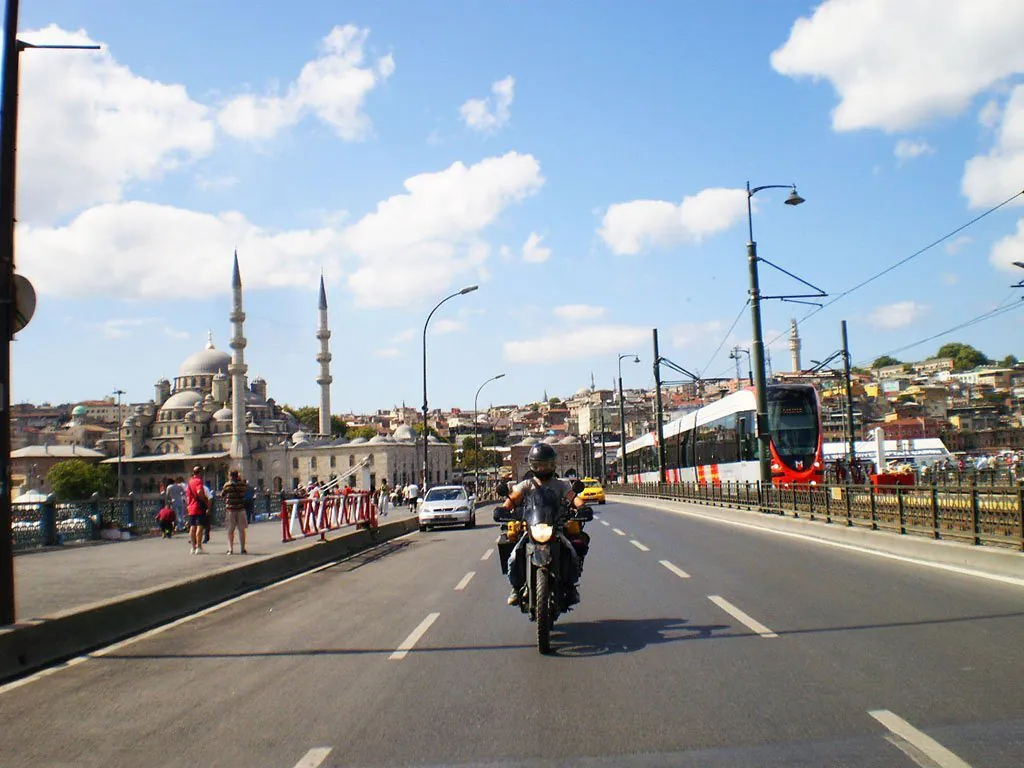 The best places to motorcycle tour in Turkey
Here's a small selection of our favourite places to travel in Turkey. If you're after a more in depth guide, check out our top 10 list and the Turkey destination page.
READ MORE: The 10 Best Things to do in Turkey
READ MORE: Turkey Destination Guides
Istanbul
You'll need a few days in Istanbul's melting pot, just to get used to the thick muddy coffee, deliciously sweet tea and insanely delicious food. Don't forget to check out the Hagia Sophia, Sultan Ahmed Mosque and wonder through the bazaars in between all the eating and drinking. With more hairs on your chest from the coffee and a loosened belt buckle it's time to start exploring the rolling backdrop that is Turkey.
The Turkish Coast
Head south west to the old battle grounds of Troy then wiggle your way to the coast. If you've got a 'Dynamic' setting on your bike – now's the time. Chasing the Turkish coast is like flying along a ribbon of spiralling black tarmac winding its way round cliff edges… and you're going to love it. You can't get lost either, just keep the sparkling blue Aegean and turquoise Mediterranean Seas on your right shoulder. Stop off at roadside cafes for fresh orange juice and grilled fish as you take the road from Bodrum to Marmaris, Fethiye, Kas and then Antalya.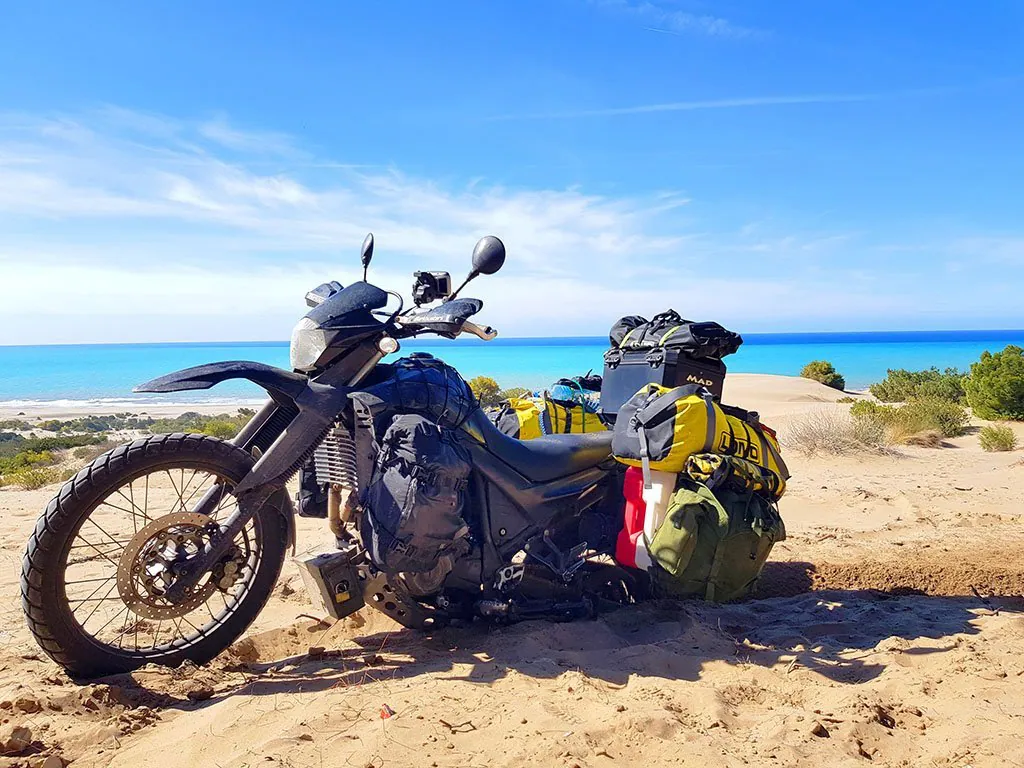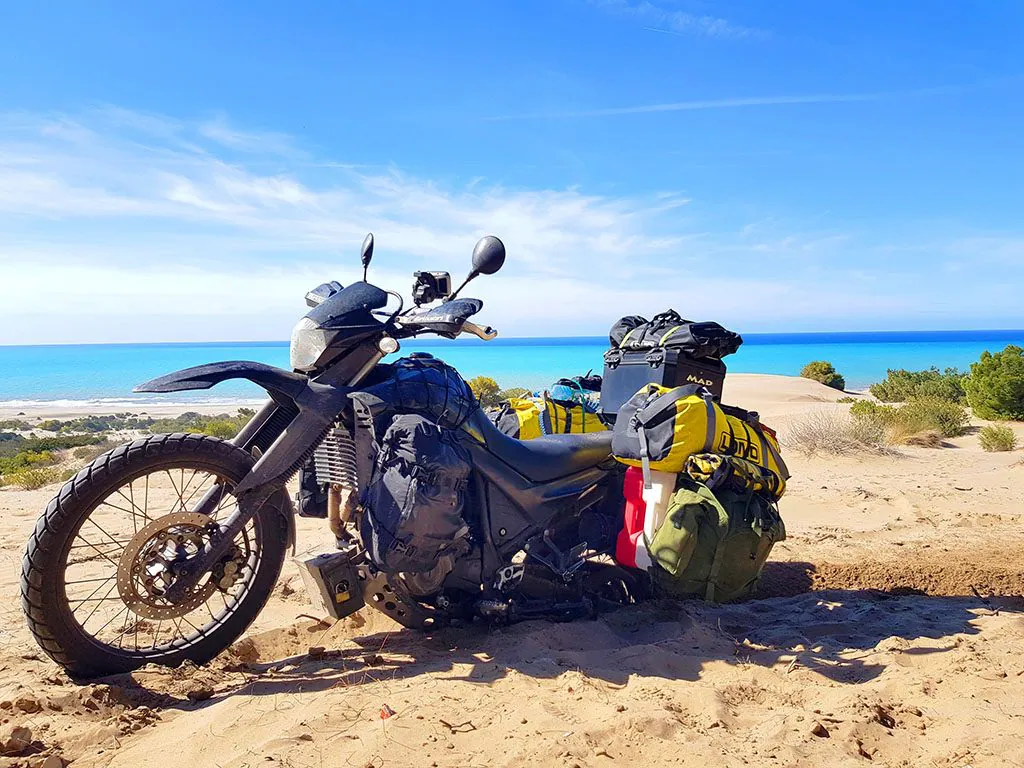 Historical sites
Don't get too carried away with the switchbacks though. This part of the route is peppered with incredible historical sights and wonders from the ancient world. There's Ephesus, a 3000-year-old city first belonging to the Greeks, then Persians and Romans. It was once one of the most important cities in the world with around 40,000 residents and brimming with pilgrims, merchants and traders from all over Asia. You can stroll around the ancient libraries, walk the old streets and take a pew in the colossal coliseum.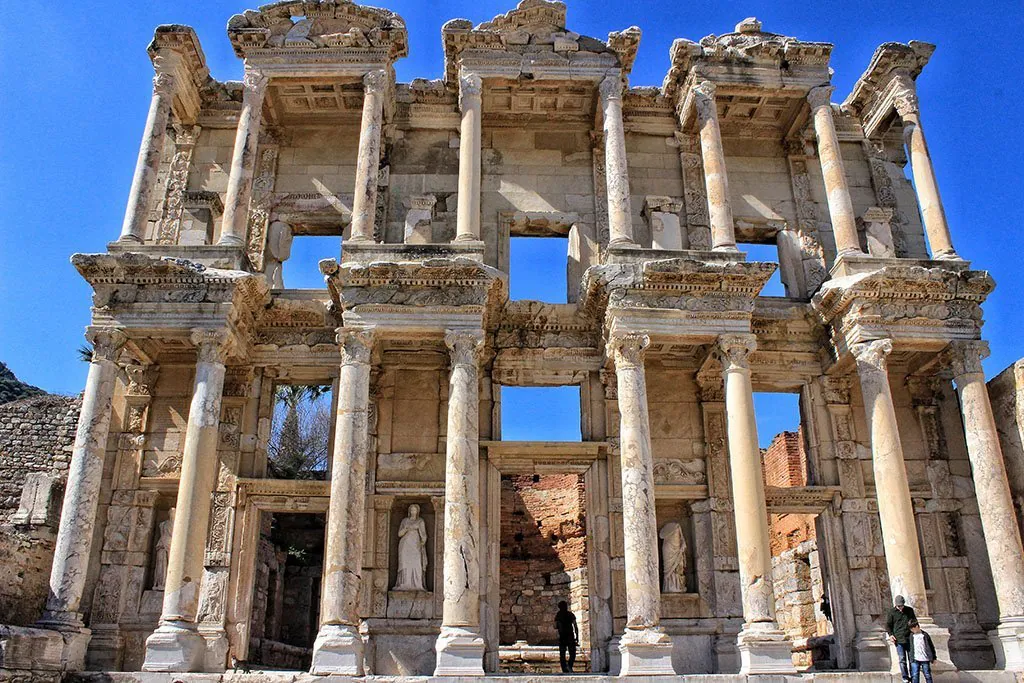 Natural wonders
You'll also find the natural wonder of Pamukkale and its lava heated mineral pools, thousands of Roman ruins, tombs carved into Dalyan's mountains, the eternal flames of Cirali and so much more.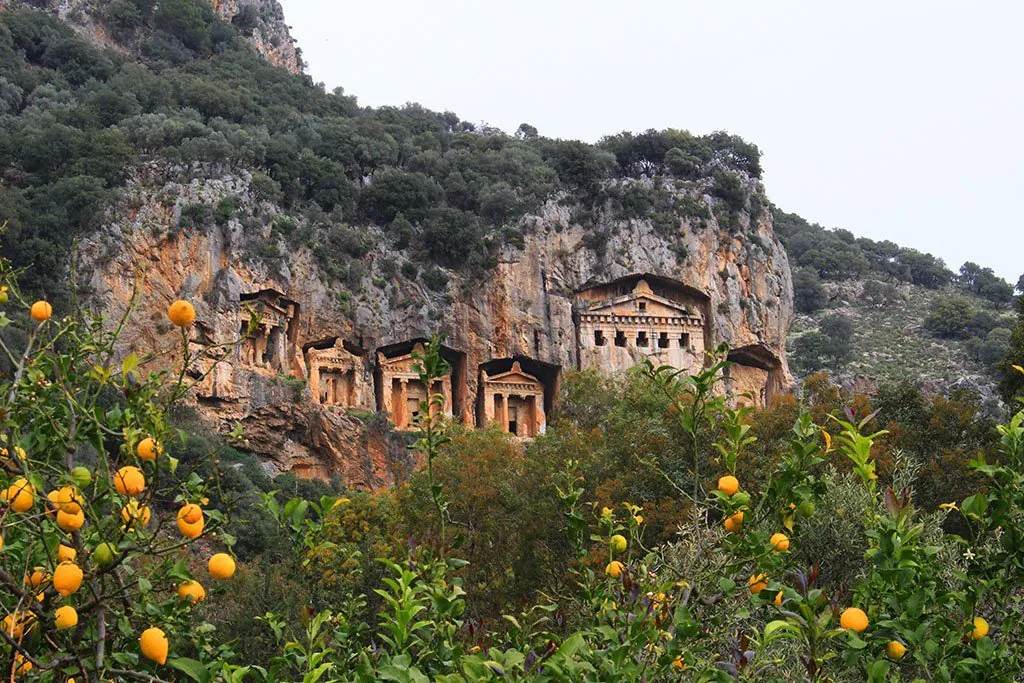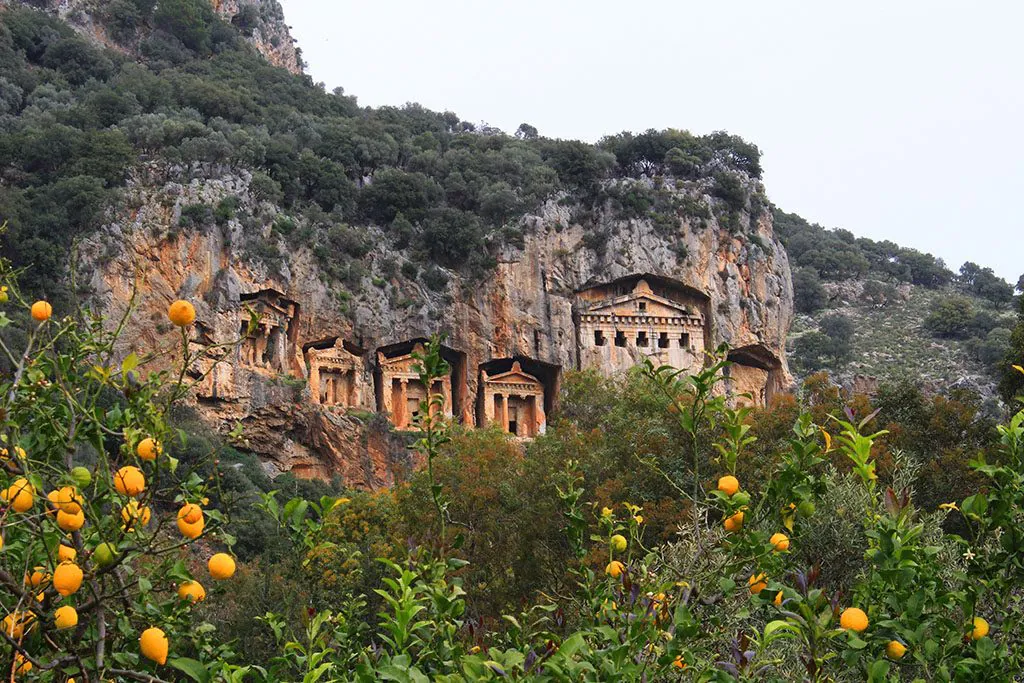 Cappadocia
But if there's one place you must visit on your Turkey motorcycle tour, it's Cappadocia. It's one of Turkey's brightest highlights and the surrounding area is a motorcycle traveller's dream. There's nothing like it anywhere else on earth, spiralling fairy-tale rocks shaped like miniature mountains fill entire valleys.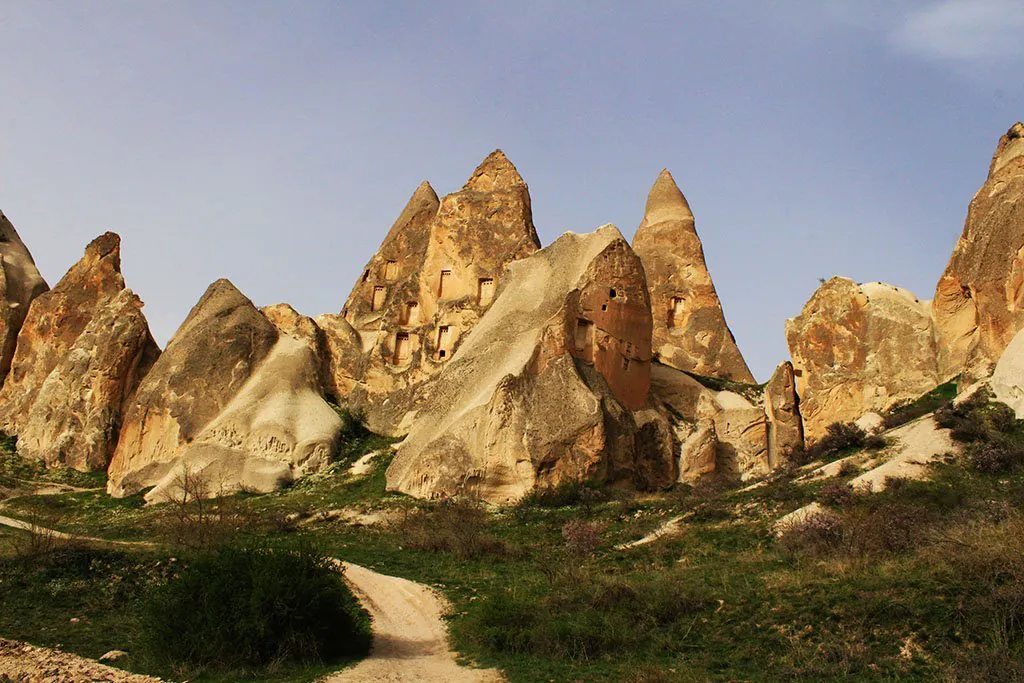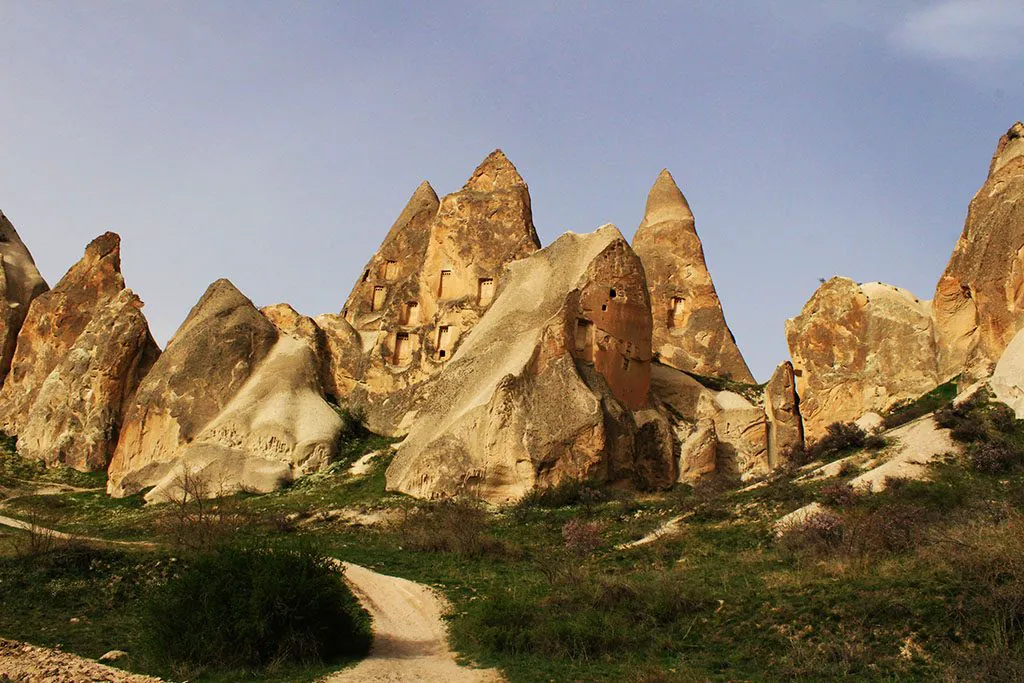 Get closer and you'll see that most of them were hollowed out by families who lived inside them thousands of years ago. Gargantuan underground cities, 200 feet below the surface, capable of holding 20,000 people with complex tunnel systems, ventilation shafts and schools. And if going underground isn't your thing, then it's also one of the best places in the world to take a hot air balloon ride. But more importantly, click into gear and chase the tracks through valleys, around the mountains, past the castles and spend as much time as you can exploring this fascinating, ancient wonder.
READ MORE: The Ultimate Cappadocia Guide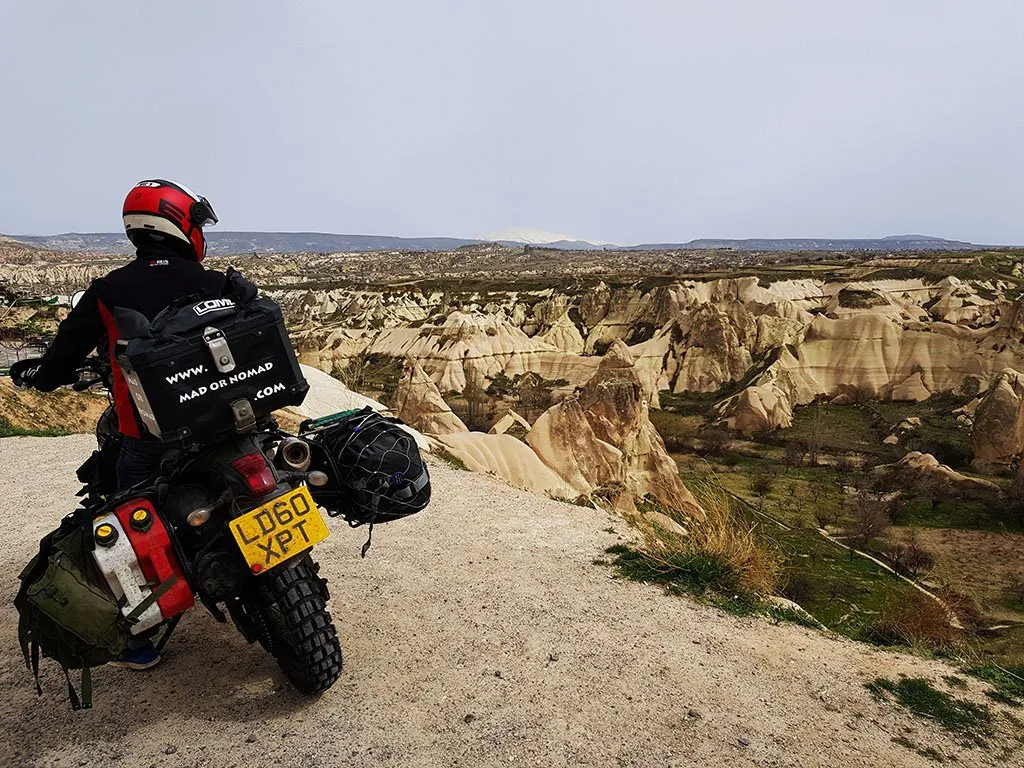 What are Turkish people like?
The Turkish people are among the kindest, friendliest and most warm hearted we have ever met in over 15 years of travelling through 80 countries. Of course, there are good and bad everywhere so keep an eye out in cities and tourist spots – advice for the world over. 
But away from all of that, expect genuine kindness and deep hearted hospitality. Offering tea is customary and should be expected and accepted as you make your way through the country. Sharing tea, often leads to invites of dinner with families to staying in the family home to continuous dinner parties. It's inexplicable. Motorcycle travel in Turkey is so special because of the wonderful people you meet on the way.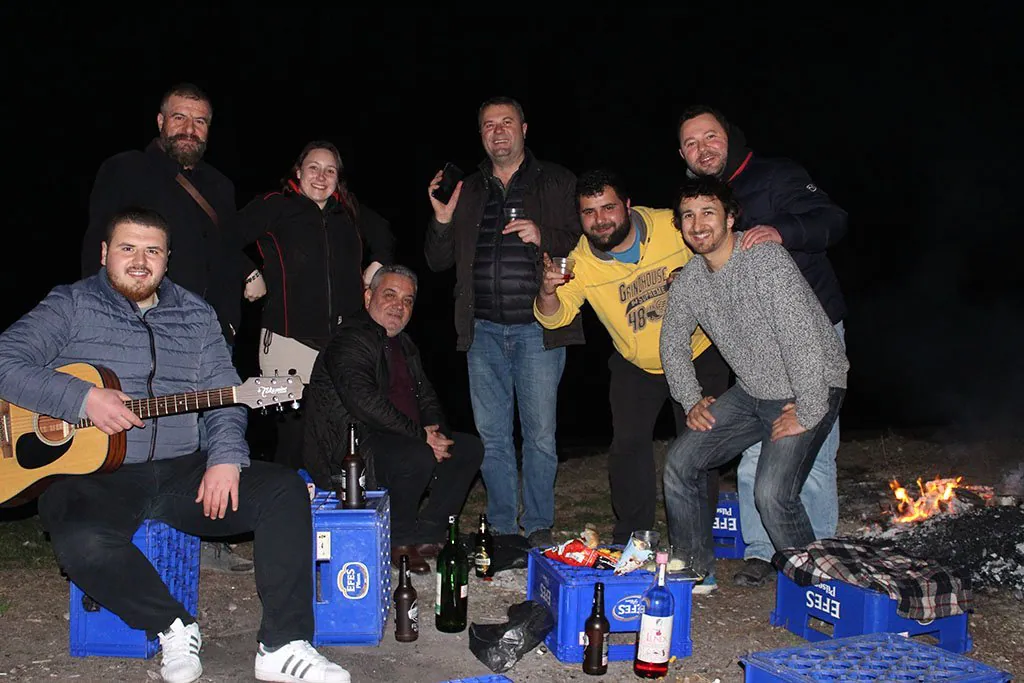 Paperwork for motorcycle touring in Turkey
As a Brit, you will need a visa to enter Turkey. You can get the visa at a land border and it will cost about £25 and last 90 days. As of 2022, it appears the £25 visa has been scrapped. Check via the UK Gov website for more info. 
Other than the visa you need insurance, and it's easy to get stung by it. Turkey requires a green card insurance. Many UK insurance providers don't offer green card papers anymore, so you'll need to stand firm and insist that they supply you one for Turkey. If they don't, then you will need to obtain an additional green card insurance.
Just turning up at the border with insurance that says you're covered for Turkey but isn't obviously a green card won't do. Try and get a green card from your insurance provider or buy it in advance from a Turkish company like Groupama before you go.
If all else fails, you can buy the insurance at the border. If that's your only option then buy on the Bulgarian/ Turkish border as the Greek/ Turkish border will sting you for about £200.
Other than the visa and insurance, you will need your driver's licence, International Drivers Permit (available from the Post Office for about £5) and your V5.
READ MORE: Motorcycle Travel Guide: Europe
READ MORE: The Motorcycle Travel Paperwork Guide
READ MORE: The UK Motorcycle Travel Insurance Guide
Is motorcycle touring in Turkey expensive?
Petrol is expensive in Turkey but not much else is. Accommodation can be extremely cheap and affordable. Make use of AirBnB, you can get some incredible deals on there for lovely apartments for next to nothing. The free Couchsurfing website also works full swing in Turkey so give that a go if you fancy it. Food and water are cheap and you can free camp anywhere.
READ MORE: How to Motorcycle Travel on the Cheap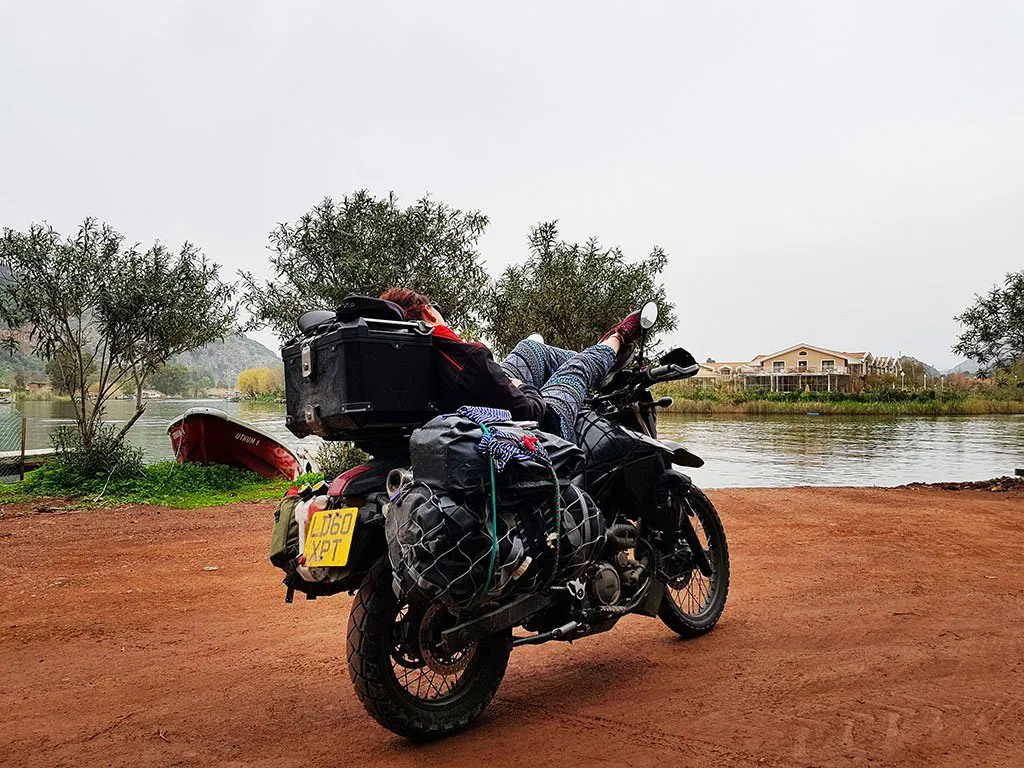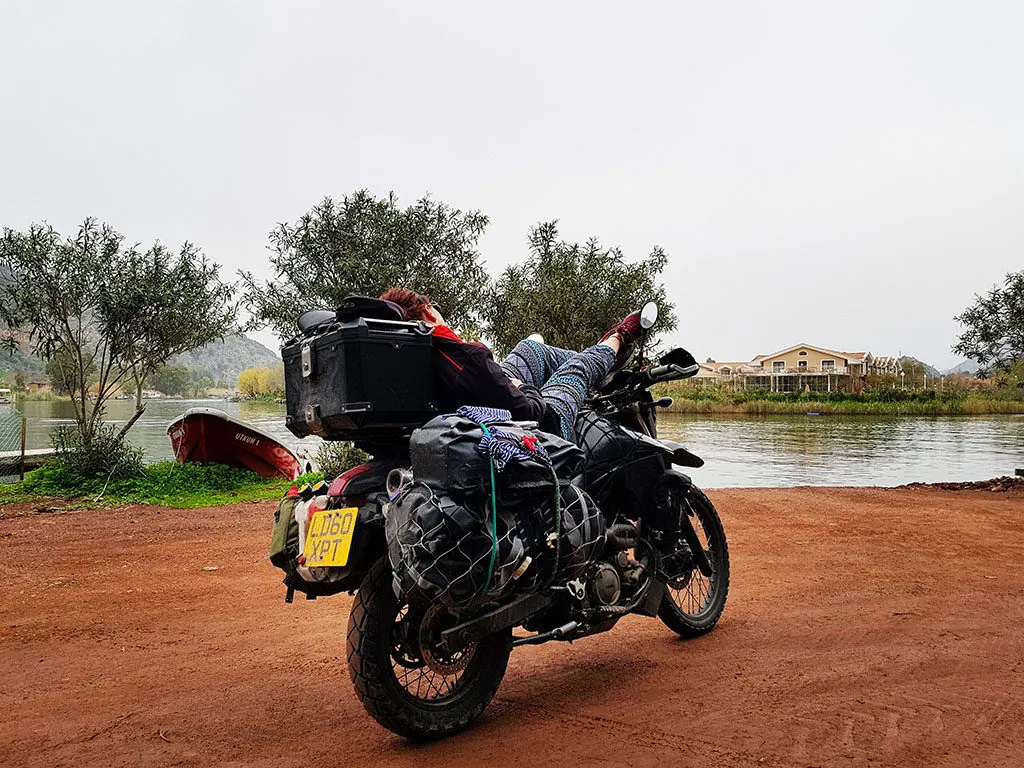 Is touring in Turkey safe?
The mass majority of Turkey is safe. The south east of Turkey near the Syrian and Iraq borders are currently considered unsafe by the FCO, which advises against all travel to those areas. Watch out for pickpockets in large cities and be careful of stray dogs in the rural areas, especially at night. Generally, riding a motorcycle at night in Turkey is best avoided due to poor lighting and road conditions (in some areas).
Camping in Turkey
Camping in Turkey is easy and safe. There are official campsites, but these are harder to find as soon as you start riding East. It's easy to wild camp, and if you can't find a quiet spot, just pull up outside a restaurant for example and ask if you can camp in the garden. You'll be surprised at how kind people are! 
READ MORE:
Riding conditions for motorcycle travel in Turkey
Turkey has a brilliant road and infrastructure setup for motorcycle touring. You can easily have a fantastic road or off road motorcycle adventure dependent on where you want to travel.  
Navigating can be tricky due to a lack of signage in places, so if you are travelling solo, we'd recommend using a Sat Nav, Google Maps or Maps.Me on your phone to make the most of your time in Turkey.  
READ MORE: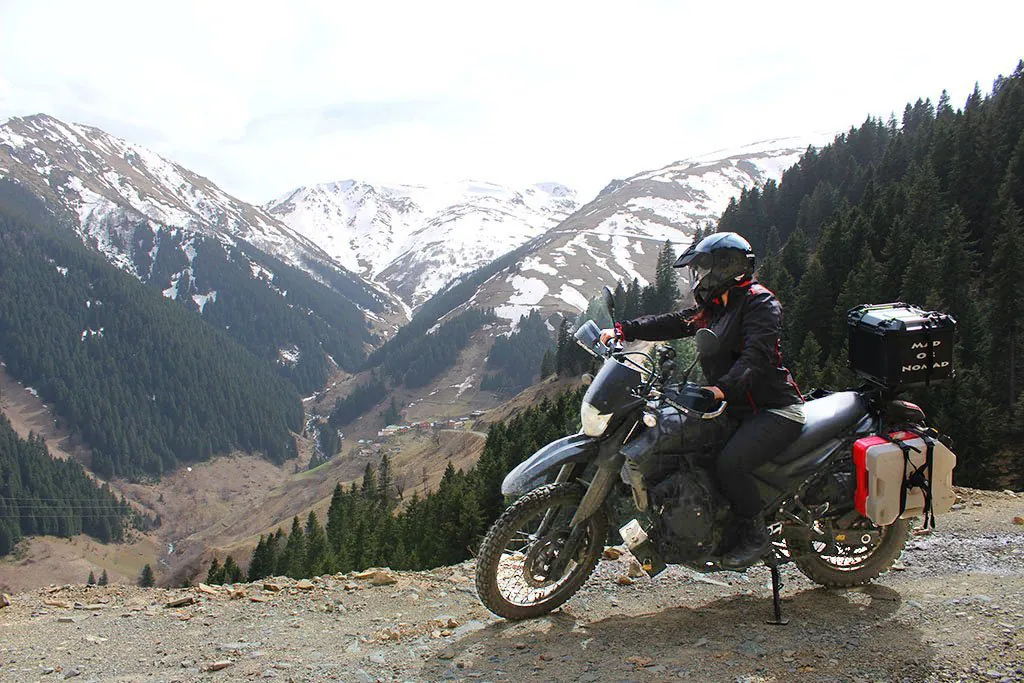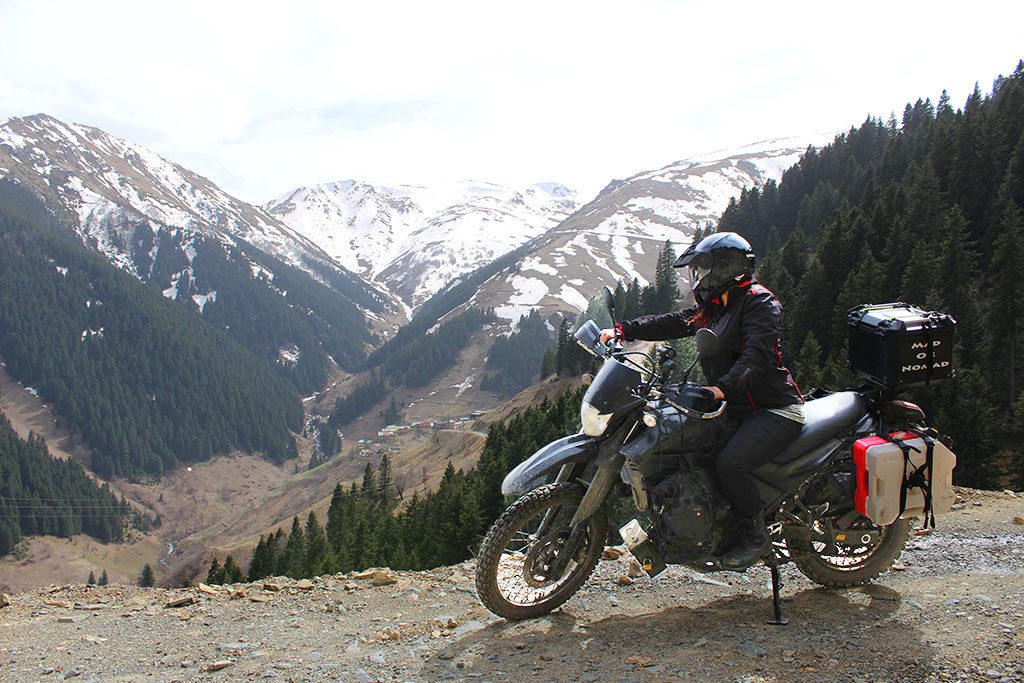 Riding gear for motorcycle touring in Turkey
Turkey can be exceptionally hot in the summer and there's plenty of snow in the winter and it gets very cold up in the mountains.
We'd recommend a mixture of clothing and gear that can take you through both warm and cold temperatures. A good idea is to go for adventure or touring kit that is breathable with a removable thermal and waterproof lining. Or to leave the waterproof lining at home and take a throwover waterproof.
Footwear is also important too and needs to be comfortable because there's a lot to see and walking is inevitable.
For loads more information on biking gear such as the best adventure helmets, jackets, boots, reviews and loads more, check out the travel gear guides section below.
READ MORE:
Motorcycle rentals and tours in Turkey
Turkey is an awesome country to go on a motorcycle tour. But it's a good distance from Calais, and if you're on a tight time schedule or only have a few weeks off work, you may not want to spend half of your trip getting there and riding home. A great alternative is to simply fly into Istanbul or Antalya and rent a motorcycle, or join a guided tour if you want to take the stress out of it.
We have a great recommended company for Turkey motorcycle rentals. You'll find it in the Rental and Tour section below. 
READ MORE: Turkey Motorcycle Tour and Rental Companies
Read more on Motorcycle Travel in Turkey and Europe
Thanks for checking out this Motorcycle Travel Guide: Turkey. We hope you enjoyed it! Here's a few more articles on motorcycling in Europe that we recommend you read next. 
Are you planning a motorcycle trip to Turkey or Europe or do you have any questions? We'd love to hear from you. Let us know in the comments below.