This motorcycle travel guide for the Caucasus region is packed full of info on visas, insurance, registration, border situations and a bunch of extra top tips for travelling with a motorcycle through Georgia, Armenia and Azerbaijan.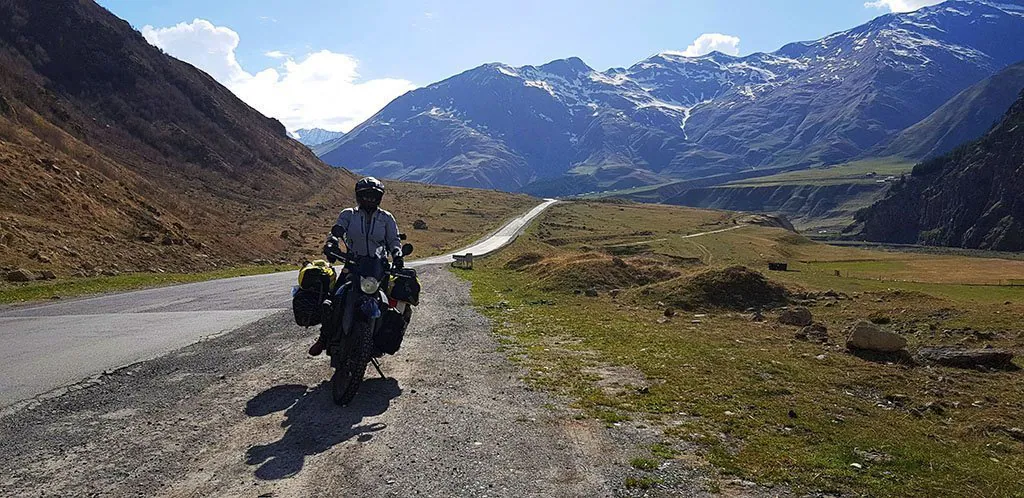 Motorcycle Travel in the Caucasus
The aim of this guide is to give you as much information as we can about travelling through the Caucasus region with a motorcycle. But it'll also be helpful for anyone travelling there in a car or rented vehicle as the same rules apply to every vehicle. The three countries in the Caucasus; Georgia, Armenia and Azerbaijan, are incredible and you're going to love travelling through them, but each has its own regulations and requirements. Here's what you need to know. 
Motorcycle Travel Georgia
Motorcycling through Georgia is a piece of cake – apart from the terrible road conditions and maniac drivers. That aside, borders are smooth, there's very little cost involved and it's easy getting in and out.
Georgia visa
Georgia is visa free for a huge list of countries including the UK, European Union and the USA. Check here to see if yours is on the list of countries. You can stay up to a year and don't need any paperwork other than your passport, V5 (if taking your own vehicle in) and insurance.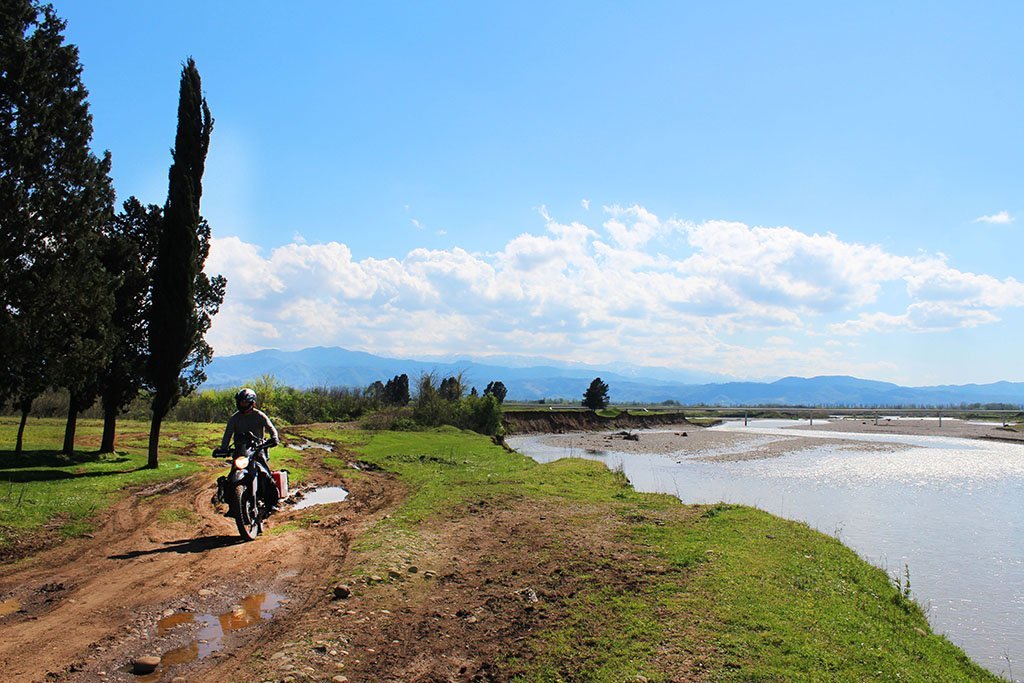 Motorcycle insurance for Georgia
Georgia is visa free, but no longer insurance free. You will need to purchase Georgian insurance after you have entered the country for your motorcycle. Shortly after the border crossing, or at the border in some places, there will be an insurance kiosk or building for you to buy the duration of insurance needed. You don't need insurance to get into the country, but will need to buy it once in.
When we entered Georgia from Turkey there was no mention of insurance. When we left Georgia for Armenia we were fined 100 Lari (£30). I explained that we didn't know and weren't told. The guard found this hard to believe as it was a new rule implemented country-wide. We came to an agreement, whereby we had 30 days to pay the fine. As I would be exiting Georgia to Armenia, staying there for 10 days, returning to Georgia for 2 days before exiting to Azerbaijan I could pay the next time I come back to Georgia. The guard joked that maybe my grandchildren would pay it.
So, if something does happen and you forget to buy insurance, or didn't realise you needed it, remember that you've got 30 days to pay up and you are allowed to leave the country without paying (provided you're within the 30-day window) whatever they may say. As we tried to exit to Azerbaijan, the fine popped up on the border guard's computer. He wanted payment there and then. I explained the 30-day timeframe and after much checking we were allowed on our way.
Georgia has a decent website listing the insurance costs for all vehicles. You can find it here. The new rule only came into effect on 1st March 2018.
Getting in and out
Georgian borders are usually very quick and efficient. They'll want to see your passport and vehicle registration on entry and the same plus insurance on exit.
Accommodation
You'll find a range of accommodation in Georgia. But it's worth checking out Motohotel Georgia. Specially set up for bikers, Motohotel offers bike repairs and maintenance as well as accommodation. 
Everything else
There are plenty of police patrol cars.
Speed cameras are there – just hidden. If you're in a hire car they will definitely come back to you and cost around £15 a ticket.
Credit and debit cards are widely accepted at all petrol stations
Be careful of potholes, the road conditions are terrible in places
But be most aware of the drivers. Georgian drivers are suicidal and overtake at ridiculous times, their driving etiquette is far worse than Armenia and Azerbaijan.
If you're on a motorcycle then expect dogs to chase you
READ MORE: All Georgia Motorcycle Travel Guides
Motorcycle Travel Armenia
Armenia is a beautiful country with an incredibly sad history. Its people are warm and welcoming, the roads seem to be under permanent construction (but they are getting there) and the drivers are better than in Georgia. Petrol is super cheap but make sure you carry cash!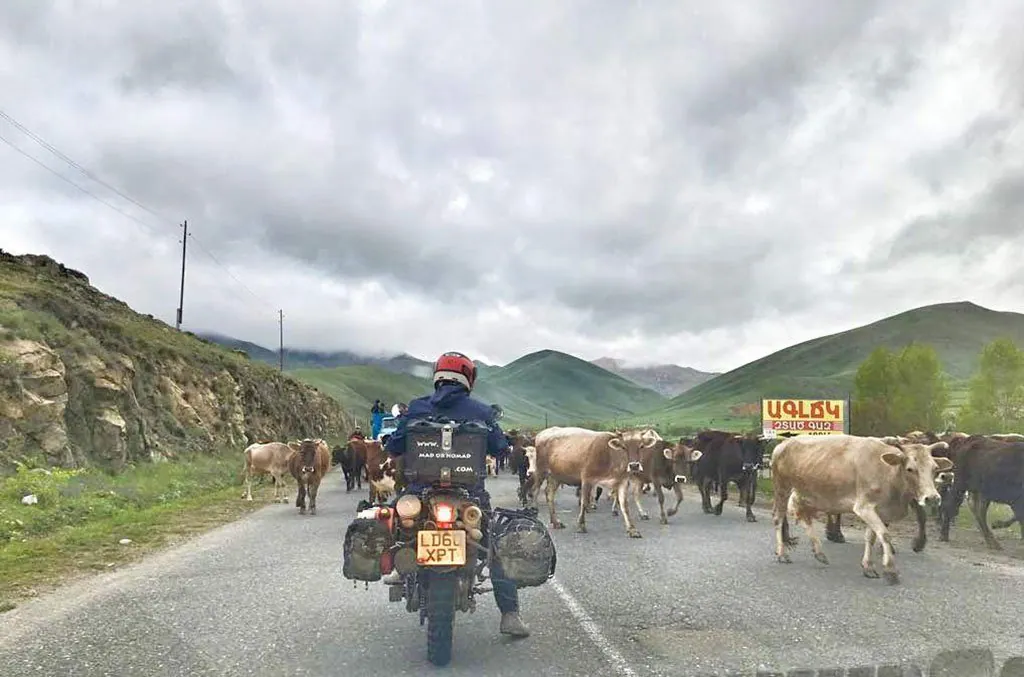 Armenia visa
Armenia operates a visa free programme for citizens of 60 countries including the UK, the European Union and the USA. Check here to see if your country is on the list. Citizens of these countries are allowed in for 180 days within a year.
Motorcycle insurance for Armenia
There was no question about motorcycle insurance at the border and as far as we're aware you don't need it. We read a few stories of needing to purchase it if you're there for longer than 15 days but can't back this up. We didn't have any, didn't pay for any and wasn't asked for it on entry or exit.
If you're in a hire car and have rented it from Georgia then you will need to make sure you go with a company that allows you to drive into Armenia and will have to pay extra (typically an additional £80) on top of your rental fee. You'll then get paperwork for Armenia. This is all done at the rental pick-up point. Don't try and cross in a rental car that's not been pre-approved for it.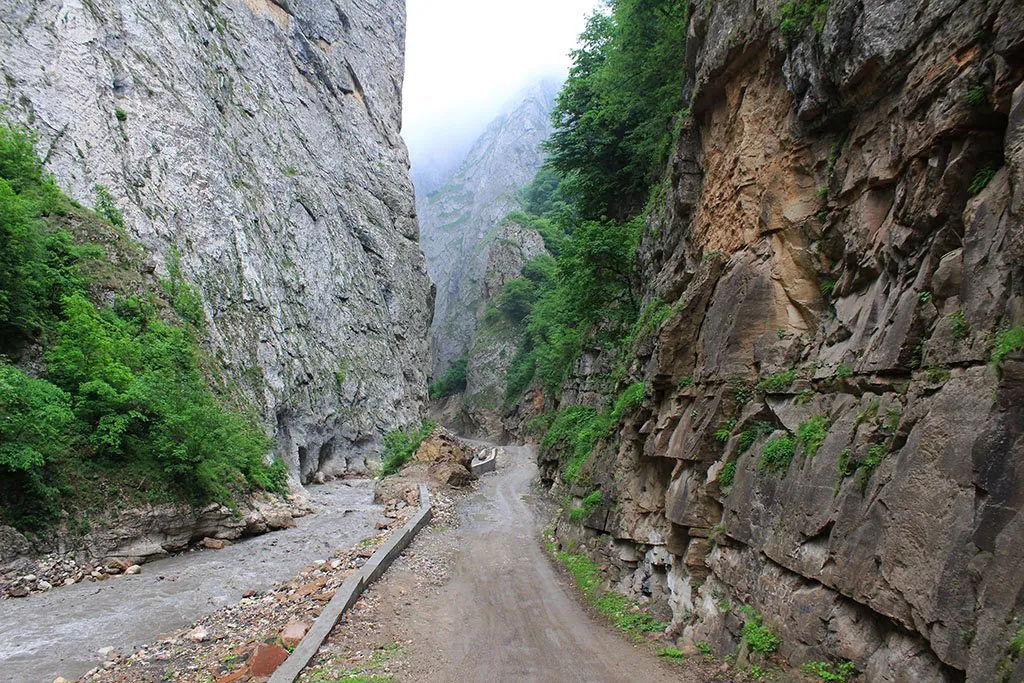 Getting in and out
Leaving Georgia to enter Armenia is straightforward but can take a little time. You'll need to get your passport stamped at a booth as per usual. But you'll also need to get a signed and stamped piece of paper from customs. You will need this to enter and need to return the paper when exiting. It's free and you only need your passport and V5 to get it. They should show you where to go if you say 'customs papers'. If not, then walk into the main building, you'll see a bank booth and three small ones. There's usually a smartly dressed police officer in one of them who will need to scan your V5, passport and ask you to sign two forms. You each keep a copy and can go on your way.
If you're coming into Armenia from Georgia then after you've exited the border control you'll enter a small town near enough immediately. There'll be a bunch of guys there trying to flag you down. Just keep going.
Everything else
Petrol – most, nearly all petrol stations only accept cash. Keep this in mind when travelling around the country. Even right on the outskirts of the capital it was cash only. So, fill up enough in Georgia to get you to a location that has an ATM.
The roads are in better condition than Georgia with lots of major repair works being done throughout the country – although the roads being repaired are completely dug up and work is not exactly fast.
There's a small police presence on the roads, not many camera guns but the odd speed camera dotted around the country. They do work and will flash you.
If you're on a motorcycle then expect dogs to chase you
War between Armenia and Azerbaijan
The two countries are neighbours at war. There is no passable land border between the two countries. If you're travelling overland you will need to go back to Georgia to enter either Armenia or Azerbaijan. The war stems from the unresolved Nagorno-Karabakh region, which Armenia currently holds. You can guarantee that if you visit that region (and have it stamped on your passport) then there's no way you'll be allowed into Azerbaijan. But if you just visit Armenia, without going to NK then you are allowed into Azerbaijan – after a bunch of questions.
READ MORE: All Armenia Motorcycle Travel Guides
Motorcycle Travel Azerbaijan
Welcome to the most welcoming country in the Caucuses. The border guards are smiley and super friendly, the roads are perfect (watch out for speed cameras) petrol stations take cards and everyone wants to be your friend. It's the trickiest of the three to get into and stay (visas and registration is required) but Azerbaijan has made massive headway with this as five years ago it was near impossible to enter at all! You'll love it here so the hassle is totally worth it.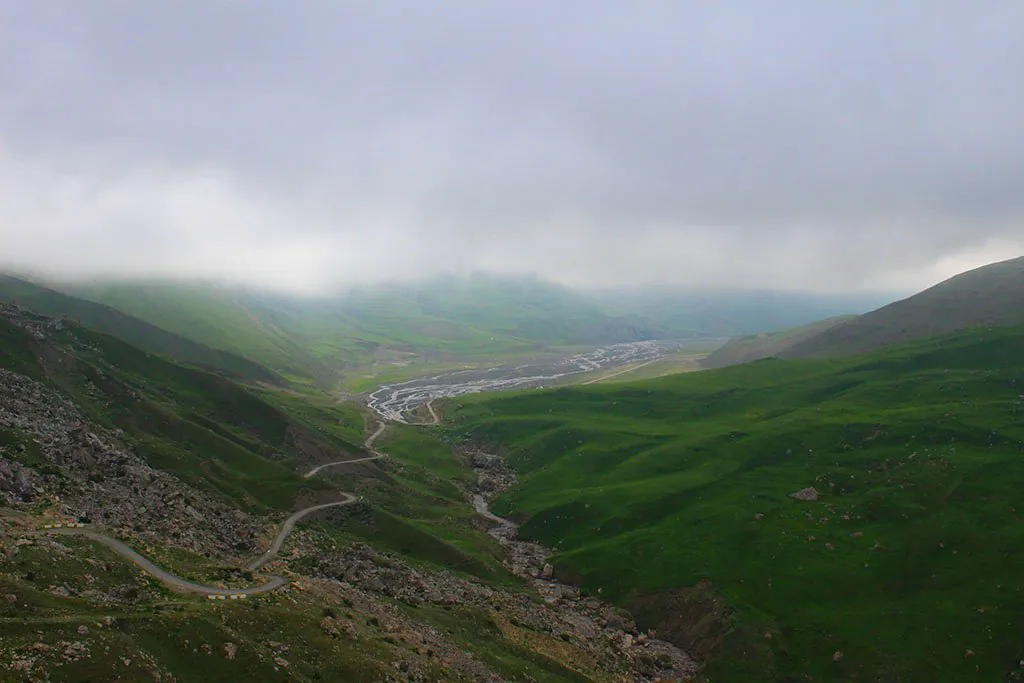 Azerbaijan visa
You will need a visa for Azerbaijan, which you can obtain online for 30 days for around £20. It's straightforward and easy to apply for. We heard of people being turned away at the border because of misspellings on their visas. Something as little as a misspelled middle-name cost one cyclist a full day and many phone calls while stuck at the border. So make sure you know how to spil your neme.
If you're planning on staying longer than 10 days you will need to register yourself within the first 9 days or risk a £250 fine when trying to exit.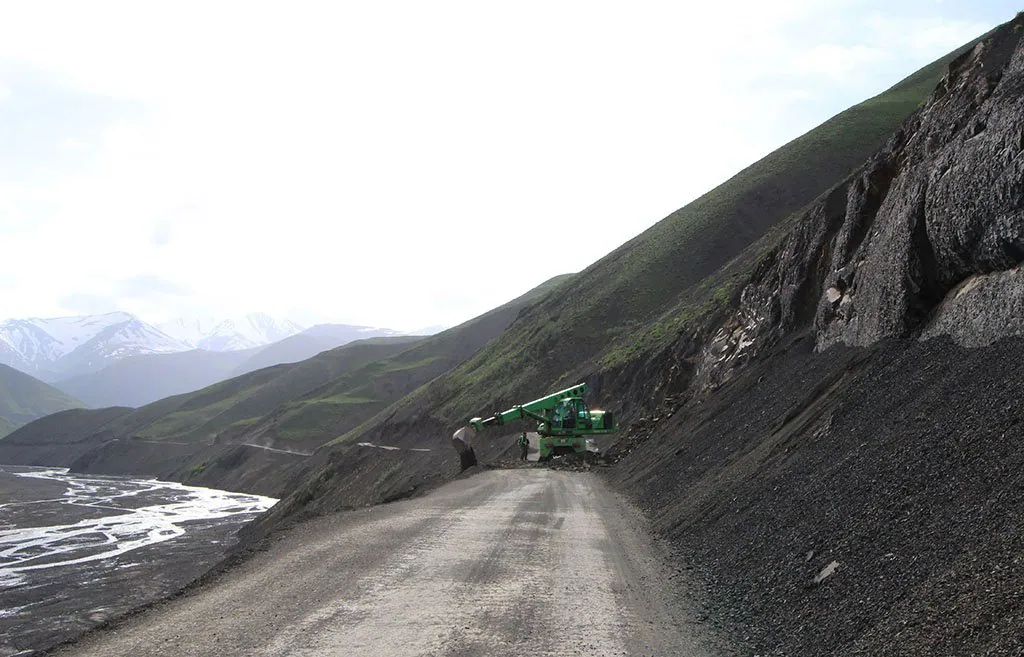 Motorcycle insurance for Azerbaijan
You must have insurance for Azerbaijan. You can pay around 10USD at the border and they will print you a green card slip. Easy peasy.
Getting in and out
UPDATE: August 2023
The land border between Georgia and Azerbaijan is currently closed. You can travel from Azerbaijan to Georgia, but not from Georgia to Azerbaijan. This is because Azerbaijan shut its borders back in 2020 due to the coronavirus pandemic. Since then it's constantly been reported that the border will open shortly. But we're now in August 2023. The last date it was supposed to open was November 2022. Unfortunately, this also means the Caspian Sea ferry is closed too. As soon as we hear of a reopening we will update this section.
We received this report from a fellow traveller in May 2023:
"Be aware I tried to cross the Georgia – Azerbaijan border in late April (three weeks ago) and was refused entry into Azerbaijan. I carried a dated Azeri visa, Medical history and certificates to confirm all Covid inoculations. The Azeris would not talk to me, the Georgians forwarded my visa details to no avail. As the discussion progressed commercial traffic was crossing freely both ways.
The Georgians advise this border has been closed to tourists for three years. For UK nationals this is the overland route to Central Asia. The official websites place heavy emphasis on the fact the border can be closed at short – no notice. Leading to the possibility of travelling out but being stopped on the return."
If you have any new info or updates, please let us know in the comments below and we will update the page.
The land border from Georgia to Azerbaijan is easy enough. If you've recently been to Armenia or have an Armenian stamp in your passport then there are a few things to remember.
Azerbaijan is not very happy with Armenia due to the Nagorno-Karabakh conflict and dispute. So, their happy smiles will quickly turn sour once they see an Armenian stamp. They will want to know why you visited Armenia, where you stayed, how long for and where you went. Keep your answers limited to 'I didn't like it, tourism, only Yerevan, Hotel in Yerevan, not long and I'm really looking forward to Azerbaijan!'.
Also, keep in mind that you're not allowed to take any food, drink or souvenirs from Armenia into Azerbaijan. If you're crossing in a vehicle on a land border then they will X-ray all your luggage and ask if you have any prohibited goods. They may search if they don't believe you. If you're on the train then they'll most likely search your bag.
Everything else
The road network is of European standard. With little to no potholes, smooth roads and plenty of signage.
Speed cameras are peppered throughout the country. If you're renting a car, the agency will have access to a system to check if you've been fined when you return the keys. 
Petrol stations accept credit and debit cards
If you're flagged down by friendly locals, chances are they just want a chat and will probably invite you for dinner!
READ MORE: All Azerbaijan Motorcycle Travel Guides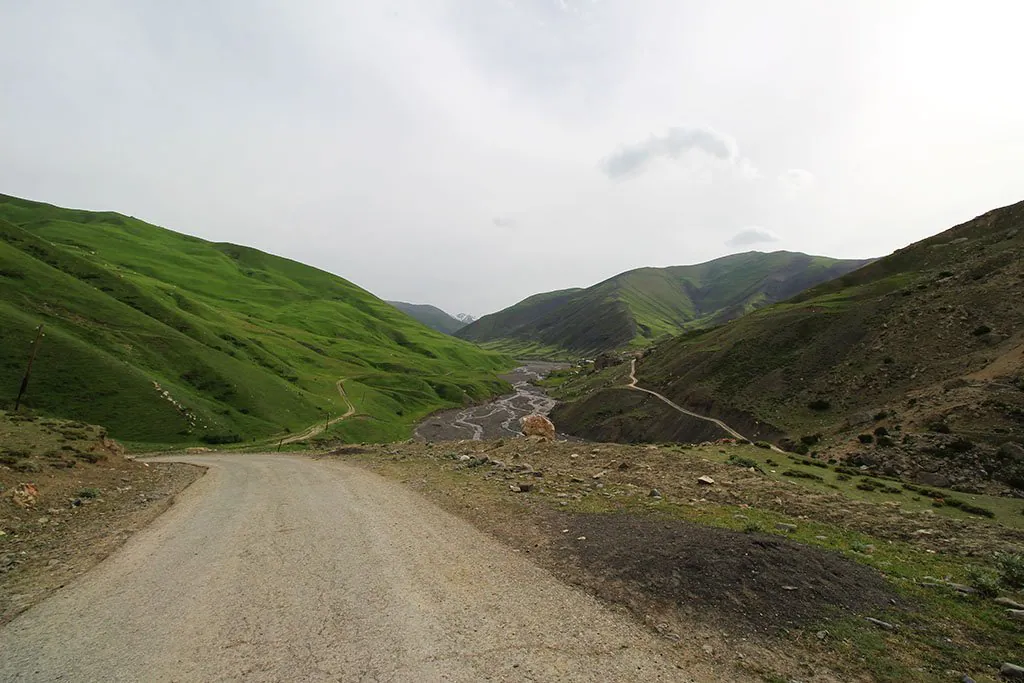 Read more on motorcycle trips in the Caucasus, Georgia, Armenia and Azerbaijan
Thanks for checking out our Motorcycle Travel Guide: Caucasus. We hope you enjoyed it! Here are a few more articles on motorcycle travel there that we recommend you read next. 
Liked that? Try these next…
We hope you found this motorcycle travel guide for the Caucasus helpful. If you're planning a trip there, let us know in the comments below. We'd love to hear from you!