Welcome to the Thailand Motorcycle Travel Guide! This biking guide is packed with information for motorcycle travellers looking to ride in Thailand. You'll find info on road conditions, routes, paperwork, borders and a bunch of extra tips and tricks to help you on your way.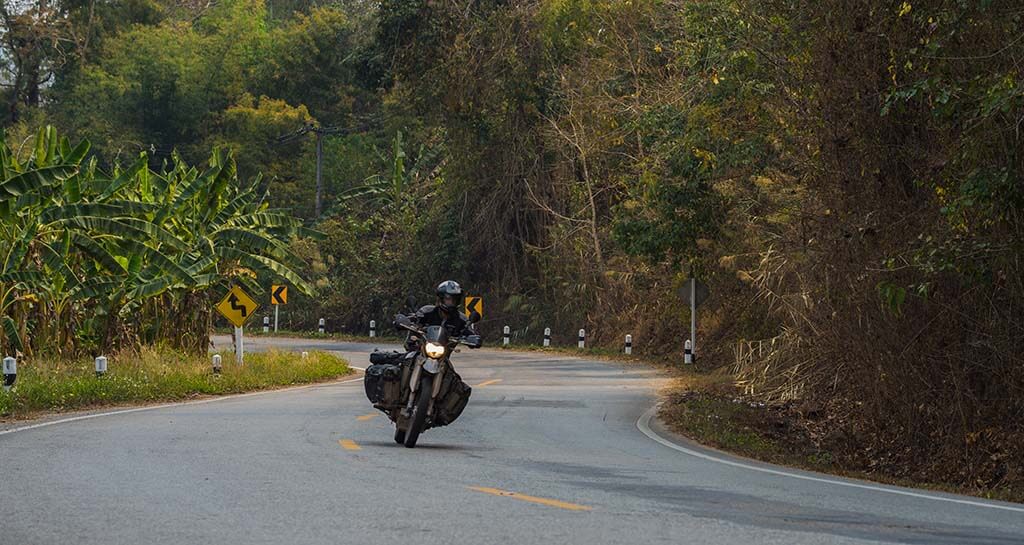 Motorcycle Travel in Thailand
Welcome to Thailand and the Land of Smiles! Thailand is the tourism capital of Southeast Asia and far more developed than its rustic neighbours: Cambodia, Laos and Vietnam. If you're looking for raw riding then they are your better options. But Thailand is unparalleled for fast, smooth and epic roads, beautiful beaches and is a far easier country to rent a motorcycle and travel through. The difficulty nowadays is actually getting a foreign motorcycle into the country thanks to new paperwork and guide requirements. The new rules aren't applicable to rental bikes in Thailand or bringing a rental bike in from ASEAN countries. See the rental section below for more info.  
This Motorcycle Travel Guide for Thailand will provide you with all the information you need to take a foreign motorcycle into the country, or rent one there, paperwork info, the best Thai routes and roads, gear and top tips.
Motorcycling in Thailand is an incredible experience and the country has so much to offer. If you're interested in our experiences there, then check out our Thailand blog post. 
Paperwork
To enter Thailand with a foreign vehicle you will need a passport, visa, temporary import, International Driver's Permit and your vehicle registration document. If you are bringing a motorcycle into Thailand from one of the ASEAN countries (Association of South East Asian Nations), which include Cambodia, Malaysia, Laos Vietnam, Indonesia, Myanmar, Philippines, Singapore, Brunei, then you do not need to obtain a temporary import. But do check with your rental/ tour provider first.
Visas
Thailand is 100% on the ball with tourism and so getting a visa is easy if needed.
Visa rules are dependent on your nationality and citizenship. But, Thailand currently offers visa free travel for citizens of 64 countries (but how many days you get varies). UK citizens get a 45-day visa exemption when arriving via air – the same goes for the US and much of Europe. Check if your country is part of the 64. 
Previously, visa exemption was for 30 days. Thailand changed it 45 days in October 2022 and it is due to stay in effect until March 2023. It may change thereafter. 
Visas can be extended once for an additional 30 days at Thai immigration offices throughout the country for a fee of 1,900 THB (£50).
You can enter via land border twice in a calendar year using a visa exemption, but there isn't a restriction on visa exemptions when entering at an airport.
If you want to stay in Thailand for longer, or need to cross in and out through borders frequently, then you can get a 60 or 90-day visa that allows for multiple entries, but this must be purchased before entering the country. They can also be extended once in the country.
Don't overstay your visa. It's 500THB per day up to a max of 20,000THB and you can be detained, fined and deported.
Visas and entry requirements for Thailand are constantly changing and there are a lot of different options dependent on what your plans are. For example, flying in versus land borders, the amount of border crossings out and in you want to do, where you're from etc. That makes keeping this section up-to-date impossible. So, please check what the current visa regulations are before travelling. 
For more info on Thai visas, we recommend checking out the informative Facebook group Thai Visa Advice.
Temporary Import for foreign motorcycles in Thailand
The difficulty with getting a foreign motorcycle into Thailand is getting a Temporary Import. They used to be easily supplied at land borders upon entry. Now, under new government rules, you must have a guide or permit with you to enter the country with a foreign vehicle. This seems to be coming into effect on more and more borders. There are currently only a few borders, that we know of, left that are letting travellers in without this permit.
If you're renting a motorcycle from one of the ASEAN countries: Vietnam, Laos, Malaysia, Cambodia, then the above rules don't apply. Your rental company will supply you with paperwork needed to enter.
Bear in mind, Thailand is not a Carnet country and shouldn't accept the Carnet, but there are cases where they have let travellers in with a Carnet instead of a guide or permit. There are many people out there who say it's impossible to enter with a Carnet, but we have personally entered Thailand with one and know of others who have too. It does look like Thailand is clamping down on Carnet entries too, so your best bet is to try and enter at a border with a temporary import. The difficulty is finding a friendly border.
As the border situation and rules are changing so frequently, the best option is to check out the helpful Facebook group Thailand – New regulation affecting overland travellers on foreign vehicles.
Extending the Temporary Import
You can extend your Thailand Temporary Import once a month. It can only be extended for an additional 30 days at a time, but only for as long as your visa is valid. The TIP can't be extended further than your visa expiration date. You must be present in the country to extend it yourself and it can be done at any customs house throughout the country for free. You will need your passport with valid visa, vehicle registration document and original Temporary Import document. They will simply stamp the backside of the paper with the new date.
Overstaying the Temporary Import
If you overstay your Thai Temporary Import, you will have to pay 1,000THB per day up to a maximum of 10,000THB. Payment will be made at the border when you exit. There are many reports of people overstaying up to a year and paying 10,000THB on exit. We haven't heard of anybody paying more than that.
Update: in November 2022, we rode out of Thailand with a two-year expired TIP. The below guide explains what happened and what you can expect if you're in a similar situation.
READ MORE: Overstaying your TIP in Thailand
Insurance for motorcycles in Thailand
It is a legal requirement to have at least third-party Thai motorcycle insurance to ride your bike in Thailand. Luckily, it's inexpensive and easy to obtain. It's worth sorting your insurance before you enter. We recommend getting in touch with the Thai company www.aainsure.net 
Contact Miss Tipsuda Nunkaew (Took) on info@aainsure.net as she's exceptionally helpful.
You can get your insurance by emailing them a copy of your passport, vehicle registration document and driver's licence. Expect insurance to cost you about 650 THB (£17) for one year. They will kindly offer to post you the original certificate, but you don't need it, simply ask them to send you an email copy and print it out. 
International Driver's Permit
You do need an International Driver's Permit for Thailand. It's not 100% clear which convention permit you need out of the 1949 or 1968 IDP. It's always best to carry both if your country issues them. You can be stopped and fined if you don't have one, even if you have your home country driver's licence. IDPs are available from your home country. If you're from the UK, then they're about £5 from the Post Office.
Getting in and out
Thailand is bordered by Cambodia, Laos, Myanmar and Malaysia. There are a number of border options with Thailand's neighbours and some are easier than others. The main difficulty is finding a border that will let you into Thailand without a permit or guide. The situation is changing daily and so you will need to check on Facebook groups like Thailand Foreign Vehicles for the most up-to-date experiences of other travellers.   
Check out these guides for more information on Thailand's neighbours.
Shipping a motorcycle to and from Thailand
If you're looking to ship your motorcycle to Thailand, then we recommend you check out the International Shipping Companies Finder page. You'll find loads of info on there as well as a recommended companies and agents. Here are more helpful shipping guides:
International Motorcycle Shipping Companies
Welcome to the Motorcycle Shipping Companies Finder. This page lists worldwide freight forwarders, companies, agents, fixers, ferry services and detailed guides. Click a country on the map to see what's on offer.
Read More
When to go?
Thailand's busiest months are December and January. If you're on a fly-and-ride trip, then these are the most expensive months to fly into the country.
November, December, January, February: Winter months, cool, dry and the best time to visit.
March, April (hot), May, June: Hot season and less rain. It's also the time of year that people light thousands of illegal fires in the north. The entire north is engulfed in smoke and smog and the pollution levels are extremely bad.
July, August, September, October: Monsoon season. Take care of slippery asphalt and pack waterproofs.
Safety
Thailand is a relatively safe country to travel through. Like with any major tourist country, you will of course find petty crime in the popular tourist spots and cities like Bangkok, Pattaya and Phuket. But outside of these areas, Thailand is a safe country to travel through. Keep you wits about you in touristy and built up areas as you would anywhere else in the world. But in more rural and remote parts, it's a safe place to travel. If you're concerned about motorcycle security while you travel, check out these guides. 
What are the roads like?
Thailand's road network is very good and the road surfaces are well maintained and smooth. If you're coming from either Laos or Cambodia, then Thailand is like riding in the West.
The main issue with riding in Thailand is the speed of other road users. They often drive fast and aggressively and overtake within millimetres if you're in the fast lane.
Bear in mind that motorcycles are not allowed on toll roads and highways in Thailand. You will be swiftly turned around and told to exit.
The best motorcycle routes in Thailand
Thailand has incredible road and off-road routes and the best of both are found in the north.
We have a dedicated guide to the very best road riding route in Thailand: The Mae Hong Son Loop. Check out the guide for more info.  
The Mae Hong Son Loop Guide
Thailand's best riding road
Motorcycle rentals and tours in Thailand
Renting a motorcycle or going on a tour in Thailand is straight forward and very easy. You will need your passport, International Driver's Permit and Driver's licence. It is of course advisable to take out your own personal travel insurance. For more info, check out our comprehensive insurance article:
There are a number of quality rental and tour agencies in Thailand. We have listed our top picks and recommendations in the Motorcycle Rental and Tour Companies page.
Buying and registering a motorcycle in Thailand
You can buy and register a motorcycle in Thailand either in your name or in a friend's. There's a lot of information to cover here, so please check out our dedicated guide below.
READ MORE: How to Buy and Sell a Motorcycle in Southeast Asia
Riding gear for Thailand
Riding gear in hot, humid and wet southeast Asian countries is always a tricky question and it depends on your take on 'All The Gear All The Time' (ATGATT). The weather can be stiflingly hot and muggy one minute with torrential downpours the next. Because of the heat, the country is full of inexperienced tourists riding in flip flops and ending up red raw and bandaged from head to toe. If you're travelling through the country on a motorcycle (and not just pottering around on an island) it's worth wearing proper gear, especially considering the driving standards.
If you're after proper gear then we recommend mesh lined kit. Thailand is a great place to buy cheap and decent bike gear, or you could always bring it with you from your home country. It's best not to go for lined gear and especially nothing pro laminate as it won't be breathable. 
Many motorcycle adventure suits have removable waterproof and thermal layers. You might as well take those layers out and chuck them because you're not going to want to take your jacket off, zip a liner inside it and then put it back on.
Go for cheap fully mesh jackets and trousers like these for men and these for women. And carry a cheap and cheerful set of throw-over waterproofs in case of bad weather.
Here are a bunch of guides that will help with picking the right motorcycle gear for your travels.
Top tips for riding in Thailand
Petrol stations use Gasahol, which is easily mistaken for regular petrol. Make sure to ask for benzine and try to avoid using Gasahol as it can corrode your bike's internals if your bike hasn't been manufactured to use it.
Local SIM cards can be purchased in 7 Eleven stores. It's easy to top up in 7 Eleven as well. There will be cards on the shelves that display data packages and for a set amount of days, just take it to the till, they'll scan it through, type your Thai phone number (you will have received when you purchased your SIM) into the card keypad and it will top up automatically. 
Make sure you carry your International Driver's Permit on you at all times. It's not worth the fine if you're caught without it. The same goes for Thai motorcycle insurance.
Always keep your wits about you on fast roads. Drivers can be erratic and love overtaking with only inches to spare. 
Thai culture is about respect and saving face. It's never a good idea to shout at Thais (or anyone, obviously) to get your point across, no matter how angry you are. Always play it cool. 
Pack waterproofs as the weather can change rapidly. Watch out for dangerous thunderstorms as well. 
Read more on motorcycle travel in Thailand and Southeast Asia
We hope you enjoyed this Motorcycle Travel Guide for Thailand. Here are some more articles on Thailand, Southeast Asia and Travel Guides that you may find useful.
Are you planning a motorcycle tour in Thailand or Southeast Asia? Let us know if you have any questions in the comments below.