The legendary Pamirs sit amidst the Hindu Kush, Karakoram, Himalayas and Tian Shan mountain ranges – all whispering to and luring adventurers for thousands of years… but now it's your turn. Here's your Motorcycle Travel Guide to Tajikistan and what you need to know about the Pamirs, from visas to routes and accommodation.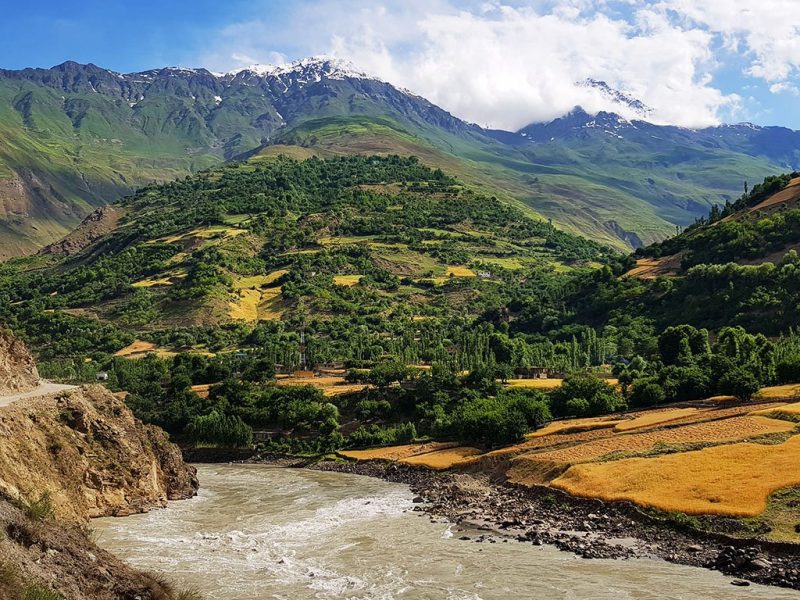 Motorcycle Travel in Tajikistan
Tajikistan road conditions for motorcyclists
The roads in the Pamirs aren't great. But let's be honest, it's half the excitement. Bad roads equal adventure and that's what motorcycle travel in Tajikistan is all about. Anyway, they are bad, but aren't the worst in the world. You'll find sections of mud, washboard, loose gravel, stretches of sand, huge potholes and rough asphalt. The majority is easy-going gravel. 
The Pamir Highway M41 is the easier of the three routes and the Wakhan is tougher. But it can be done. Cyclists take the Wakhan (with difficulty) and we've met inexperienced motorcyclists on completely inappropriate bikes who just plodded their way through. Whether you're driving a clapped out Fiat Panda, riding a BMW GS motorcycle, a Honda Cub scooter, riding your bicycle or hitchhiking – you will make it through. Check out our story of Franck the Frenchman on his Royal Enfield through the Pamirs. 
Police in Tajikistan
The Tajikistan border guards and police used to shake-down tourists. Then someone caught an officer doing it on video and stuck it on YouTube and that was pretty much the end of bribing in the Pamirs (mostly). Tajikistan is trying really hard to boost its tourism industry with initiatives like "The Year of the Tourist" and its easy-peasy E-visa. 
It's unlikely you'll get stopped and even more unlikely they'll ask for a bribe. There are plenty of check-points along the Wakhan Corridor route. You're a stone's throw from Afghanistan so they do check your visa and record your details. But the police are friendly so don't worry. If someone does ask for a bribe, just smile, play dumb, hold your ground and don't give in.
If you are worried about bribes, have a read of this guide. 
READ MORE: How to Deal with Bribes on the Road
Visas, GBAO Permit and Registration for Tajikistan
Getting a visa for Tajikistan could not be easier. Simply visit this website. Type in your details, pay online and you'll get an email with your visa attached the next day! Print it off and you're done. You don't need to send your passport off, visit an embassy or any of that stuff.
Your visa will be valid for 45 days within a 90 day period – starting from the start date you enter on the online form.
UPDATE: We received word from a motorcycle traveller in August 2019 that the Tajikistan e-visa system is experiencing difficulties and is very slow. It took 8 days to receive the visa. We've heard it took someone 20 days and someone else 20 minutes. Apparently the average waiting time is now six days. Plan your visa in advance.
We'll update as and when we receive more info.
Double entry visa
If you're planning on leaving the country and then coming back in, simply apply for two E-Visas! Change the dates on the second one to match your trip and just print it off and carry both with you. It's not technically allowed, but everyone does it, even major tour companies. So just don't flaunt it and you'll be fine.
The only catch is that you need to apply for the second one while you are in Tajikistan – don't apply for two e-visas before you enter the country as each has a unique visa ID and they may be able to see on their computer system that you have two.
While we were in Tajikistan, we decided to leave the country and go to Afghanistan. A week before we decided to cross the border we just applied for a new Tajik visa online and printed it off. We crossed the border to Afghanistan using our original visa. When crossing back into Tajikistan we showed our new, recently printed e-visa.
GBAO permit
If you're entering the Pamirs then you'll also need to click 'Yes' to needing a GBAO permit on the online visa form – your visa will then state you're allowed entry. This will cost an extra 20USD but will mean you're allowed to ride/drive/cycle there. To ride your motorcycle through the Pamirs you'll need the paper print out with GBAO permit on it, your passport and vehicle document.
Insurance
We were not asked about and did not purchase any motorcycle insurance, nor have we heard of anyone else with it for Tajikistan.
You should always get your own personal travel insurance though, this is different from motorcycle insurance and is highly recommended as it covers medical bills in case of an accident. Have a read of this guide first. 
READ MORE: Motorcycle Travel Insurance Explained
Registration and customs
When you enter Tajikistan you will need to pay 10USD for customs for your motorcycle. The paper you get in return is very important – don't lose it. However, it will only entitle your vehicle to 15 days in the country. You can extend this by registering in Dushanbe or Khorog for roughly the same price. It's down to you if you want to register or not, we have heard plenty of reports from overlanders who did not and got through the border fine. However, we have also met others who were fined.
Note: We crossed the border into Afghanistan and on return had to pay another 10USD for customs papers, which would entitle another 15 days. However, the guards could not find the correct paperwork so the chief gave us his contact details and mobile number should we run into trouble. 
On exiting to Kyrgyzstan, the guards wanted the paper and could not call the number as there was no reception on the high pass. Without it they said we could only get through after paying 100USD. Luckily, we had the original paper, which had now expired. But they were happy with it and accepted the original, didn't notice or didn't care about the expiry date and didn't charge us. So, make sure you get the paper when entering the country. Getting another 15 days is a chance game – but the safer bet is to just pay the 10USD again in Khorog and avoid the trouble.
Travelling solo vs tours
We met so many people who opted for tours because they thought the Pamirs would be too hard-going, the roads too rough and that it would be impossible to find food, water and lodgings in a baron, desolate land. By the end of their tour they wished they did it alone. 
We have also met plenty of people who went on a motorcycle tour, had the time of their lives and made life-long friends. So, if you're considering a tour only because you're worried about logistics and road conditions then don't. You can do it. The roads are filled with like-minded travellers in cars, on adventure bikes and push bikes and you will get through it. If you are strapped for time or just fancy taking all the pressure off and enjoying the sights then an organise tour is a great idea. 
Motorcycle rentals and tours
This guide is geared towards overland motorcycle travellers riding their own bikes in and out of Tajikistan. However, you can always fly into Tajikistan and either rent a bike or join an organised tour instead. If you are planning on renting or joining a tour, then it's likely you'll be flying in, in which case we recommend using skyscanner.net to find the cheapest flights. Just make sure when selecting dates that you click 'flexible dates' and select by month. That way you'll find the cheapest dates in green. 
We also actually recommend renting a motorcycle in Osh, Kyrgyzstan and riding that bike to Tajikistan. This is more difficult nowadays with the border closure and will mean you have to go through Uzbekistan (which is beautiful), but the bikes are better in Osh, there's more on offer, cheaper variety and you get to make a big trip out of it. 
Either way, you'll find our recommended rental and tour companies here:
READ MORE: Motorcycle Rental and Tour Companies
Routes through Tajikistan's Pamir Mountains
You've got three route choices through the Pamirs, the M41 Pamir Highway, the Bartang Valley or dip south and follow the Wakhan Corridor trail. The M41 is the easier route; some stretches are rough road, but most of it is tarmacked. Cyclists and those in vehicles not well-suited for off-roading tend to opt for this route. If you're travelling on a motorcycle in Tajikistan and enjoy off-roading then the Bartang and Wakhan routes are both completely off-road. 
The Bartang is more remote, lacking fuel stations, food and water so you'll need to calculate your mileages. The Wakhan route hugs the river Panj, which acts as a border between Tajikistan and Afghanistan. There are fuel stops and plenty of places to stay along this route – it's regarded as the most scenic and incredible for motorcycle travel.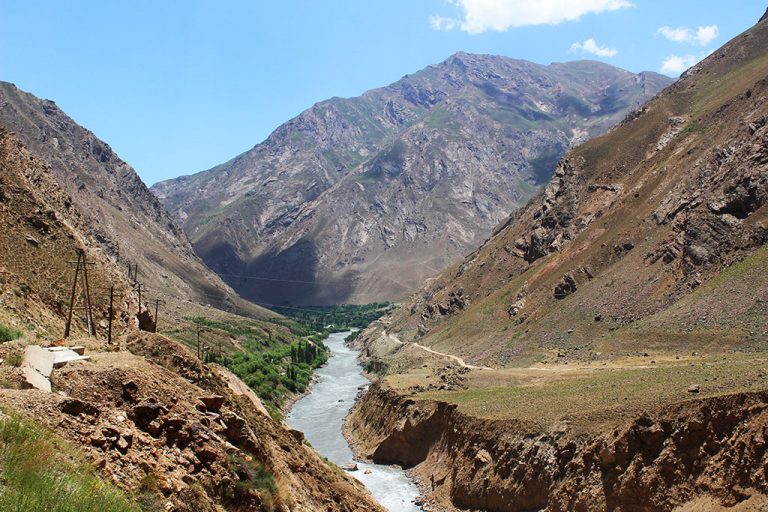 Tajikistan and Kyrgyzstan border crossing
UPDATE: March 2023
The border between Tajikistan and Kyrgyzstan is currently closed and not safe or possible to cross. If you want to travel in Kyrgyzstan and Tajikistan, you will need to transit via Uzbekistan and come back that way.
Accommodation in the Pamirs
Don't worry about accommodation, there's plenty of it. Download iOverlander on your mobile phone and it'll show you (while offline) where cheap hostels, guest houses, hotels and camping spots are along your route. 
Maps.Me is another one to download. Most towns and villages along the way have at least one guest house. Expect to pay around 10-15 USD a night including breakfast. You can find accommodation as cheap as 2 USD and there are thousands of beautiful camping spots if you prefer your tent.
However, once you get to the capital, we recommend using booking.com to find cheap accommodation. 
Finding fuel in Tajikistan
Fuel isn't really a concern through the Pamirs, although you do have to consider it. The roads aren't plastered with petrol stations but they are there. It's only something to think about if your motorcycle tank holds 100-250km worth of petrol. iOverlander and Maps.Me will show you where the fuel stations are, so just calculate your mileages and plan accordingly. And if you arrive somewhere expecting fuel but the station is shut, or if you can't see any petrol pumps – don't panic. Just ask a local and they'll call their mate's brother's best-friend's dad who will come with a bucket of fuel.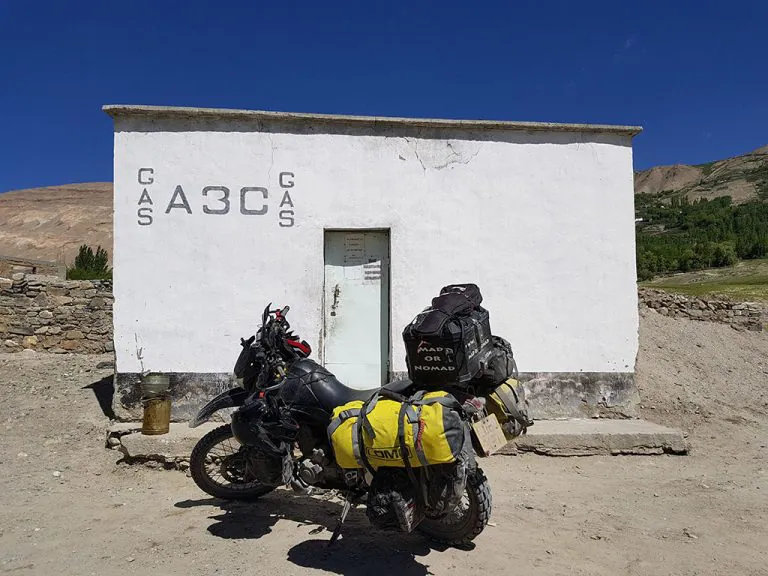 Money in the Pamirs
Don't expect to use your credit cards in the Pamirs. You'll need to carry cash. It's always a good idea to carry a couple of hundred US dollars as if you can't find a bank or ATM that will dispense cash, you can always exchange. The easiest way is to carry enough Tajik money with a back-up of USD to see you through the entire Pamir range and into your next country. However, if you don't feel comfortable carrying that much cash, there are banks along the way (which may not give you cash from your card but will always exchange dollars). Again, the apps will show you where. It's common for ATMs to refuse your card, or not have any money in them. So you may find yourself exchanging all your USD. Also, while plenty of banks and ATMs take MasterCard – it's actually Visa that's king.
Food and water
There are stops and shops stocking food and water. There are also lots of streams and springs to fill up your bottles if you don't like spending money on water. But do make sure you carry spare essentials, water and emergency food in case you need to camp or shops are closed.
Is Tajikistan safe?
Tajikistan is safe. There was a terrorist attack, which left four cyclists dead not far from Dushanbe in July 2018. The shocking and terribly sad incident was the first of its kind in Tajikistan. Understandably, it has put people off and Tajikistan's tourism industry has already taken a big hit. But thousands of people visit Tajikistan each year and have done for years, which leads the authorities and tour companies to class it as an isolated incident. Tajikistan is a motorcycle traveller's mecca, and it would be a shame to let such misguided people put you off such a wonderful country.
Aside from that, you do also have to be careful when venturing off the beaten track in case of land mines. See the pic below!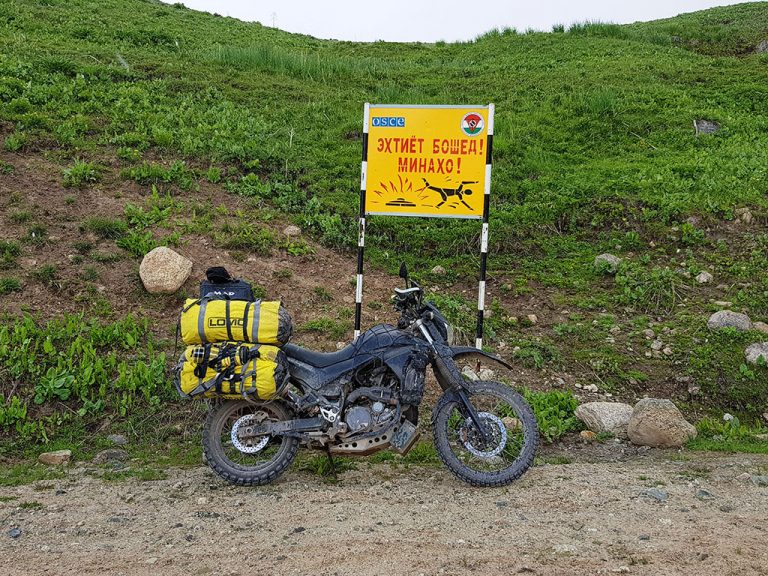 Our experience motorcycling through Uzbekistan
If you're wondering what it's like riding a motorcycle in Tajikistan, we recommend having a read of our round the world motorcycle travel blog. Tajikistan and the Pamir Mountains are probably our absolute favourite riding destination. We had an incredible trip there and absolutely loved it. We detail our experiences and what it was like for us riding through this incredible country along the Silk Road in this blog. 
READ MORE: Motorcycle Travel Blog: Tajikistan
Go! You'll love it!
The Pamir Mountains are incredible. If you're visiting or riding your motorcycle overland through Central Asia it would be a huge shame to miss out on the stunning peaks, exhilarating roads and wonderful people. Overlanding and motorcycle travel in Tajikistan is incredible, it's a truly spectacular part of the world and you are going to love it!
Read more on motorcycle travel in Tajikistan…
Thanks for checking out our Motorcycle Travel Guide on Tajikistan. We hope you enjoyed it! Here's a few more articles on motorcycling in Tajikistan that we recommend you read next. 
We may receive a commission, at no cost to you, if you purchase a product using the affiliate links on this page. We're not sponsored, are completely impartial and don't run ads. So this helps us keep the site running. Thank you for your support.
Liked that? Try these next…
We hope this Motorcycle Travel Guide to Tajikistan was helpful. If you're planning a bike trip to the Pamir Mountains, we'd love to hear about it! Let us know about your travels in the comments below.