Welcome to the Newfoundland Motorcycle Travel Guide! This article is packed with info, the best biking routes, maps, what not to miss and a bunch of top tips on bike touring in Newfoundland. 
The Newfoundland Motorcycle Travel Guide
Riding a motorcycle in Newfoundland is an adventure you wont forget. There is almost no traffic here, the ocean scenery is second to none and the entire island is dripping in incredible history. Did you know the viking explorer, Leif Erikson, who discovered the Americas (about 500 years before Christopher Columbus) first arrived here in the 11th Century? Newfoundland was also Britain's first overseas territory and the forerunner of the British Empire. We were our own country until 1949, have the most eastern point in North America (Cape Spear) and are also home to one of North America's oldest cities too!
But there's plenty of time for history later, here's all the info you're going to need on riding your motorcycle in and touring this beautiful land. 
The Best Riding Route in East Canada
There's something for everyone here. We have long and fun off-road routes like the totally unique 900 km (560-mile) T'Railway, which is the first leg of the Trans Canada Adventure Trail (TCAT). If you're after asphalt, then the Irish Loop, Cape Shore and the Bacallieu Trail are fantastic.
A brilliant tour to spend a couple of days riding are the loops around the Avalon Peninsula. There are a number of lighthouses to visit and the Ferryland Lighthouse offers summer picnic baskets as a place to stop for lunch. There are plenty of beaches to stop and walk around too – St. Vincents is a lovely one. Going by the bird sanctuary in Saint Mary's is a great stop to take in some of the local fauna and puffins are a cute distraction. Grates Cove Studios offer up a deliciously wonderful Cajun/Korean themed meal for lunch or supper while you're there.
What makes these loops so incredible are the meandering roads that wander back and forth along the sea. The roads are never ending curves and corners that trip through little communities perched along the ocean and open to wide vistas of coastline everywhere you turn. Rarely is there any traffic to slow you down.
I recommend staying at the Seagoat Moto Lodge and taking two days to ride the loops. It's about 550 miles per day, with one day being a bit longer than the other. There is one stretch that will have to be repeated but you have a choice of routes to repeat depending on timing or what you want to see again. There are plenty of offshoots to add if you fancy them and of course, you can take as long as you need!
When to go?
Typically, August has the warmest, driest and best weather but the riding season certainly goes from June to October. It is common to find some of the best riding weather of the year in September and October. Always carry cold weather gear with you because it can get down to single digit temps any time of the year. Starting too early or going too late will definitely give you cold weather and most likely some rain. It is not uncommon to get snow on May 24 weekend or Halloween, so be prepared. 
How much?
Fuel tends to be expensive for Canada with average prices around $1.30/litre (£0.70) but in the current climate it is under $1.00 (£0.58) . If you want 5 star dining you can find it in St. John's with the corresponding prices, but once outside of the city you will mostly find average eating with moderate pricing. Newfoundlanders don't eat as much fresh green food as you might like. Hotels in the area go from $120 (£700 to as much as you want to spend. The Fogo Island Inn can put you in their Fogo Island Family Suite for $3,475 per night (£2,000). And yes, it is absolutely stunning.
Accommodation 
There are campgrounds across the island both Provincial and private, be warned that the private ones cater mostly to RV's. On the upside it is legal to camp anywhere in the province unless it's private property so feel free to pop up your tent anywhere you please.
There are AirBnBs all over the island in all kinds of people's homes and at all kinds of prices. Hotels are generally only found in bigger population centres and what most people would think of as good hotels only in the two bigger cities.
One standout is the Seagoat Moto Lodge that caters specifically to touring motorcycles and bicycles. There are four rooms for rent, two with en-suites and two with a shared bathroom and campsites for tents too. There are specific amenities for motorcyclists such as boot dryers and space to hang up wet tents. There's a bike lift and tools plus supplies for basic maintenance. The Lodge is partnered with the local BMW dealer and can help set-up a service or ordering new tyres or parts. 
The other service they offer is pick- up/delivery of crated motorcycles and you at the airport, so if your time is limited they can still help you make a trip to Newfoundland work. There are no other Motorcycle specific accommodations in the province.
Don't Miss
Newfoundland is all about the ocean and that is what you should plan your trip around. Make time to walk along the shore, do a hike on part of the East Coast Trail, visit some little fishing communities, eat plenty of fish because the local bounty is wonderful and check out local little museums. The history of the white man is over 500 years old if you discount the Vikings that came over 1,000 years ago. You could easily spend months roaming around and some people do.
Getting There and Away
Coming to Canada from out of province requires a passport and some countries may require visas. Visas are not needed for UK citizens. Cars drive on the left so pay attention if coming from the UK. Signage is quite good on major highways but it is a totally different style when compared to Europe and may not be as good on secondary roads. 
There are no bike rentals in Newfoundland, the closet option is in Halifax, Nova Scotia. To get from Nova Scotia to Newfoundland requires a five-hour drive to the ferry.
There are two options: one from North Sydney to Port Aux Basques for a six-hour ride from the west coast of the island and one from North Sydney to Argentia for a 14-hour ride to the eastern side of the island that runs from June to September. For 2020 the Argentia ferry has been cancelled. The PAB ferry 2020 is $43.78 (£24) per person and $57.80 (£33) for motorcycles.
Top Tips
Cape Spear is the most easterly point in North America and it has two lighthouses, if you're here you should go. There might be small lines of RVs at some of the more popular tourist spots but it's not too bad. On weekends, travelling the old road around Conception Bay can be very busy. 
Always carry clothes for cool weather, the wind off of the water can drop the temperature considerably compared to being inland. 
As mentioned the Cajun/Korean themed food at Grates Cove Studios is excellent and there are many good restaurants in St. John's.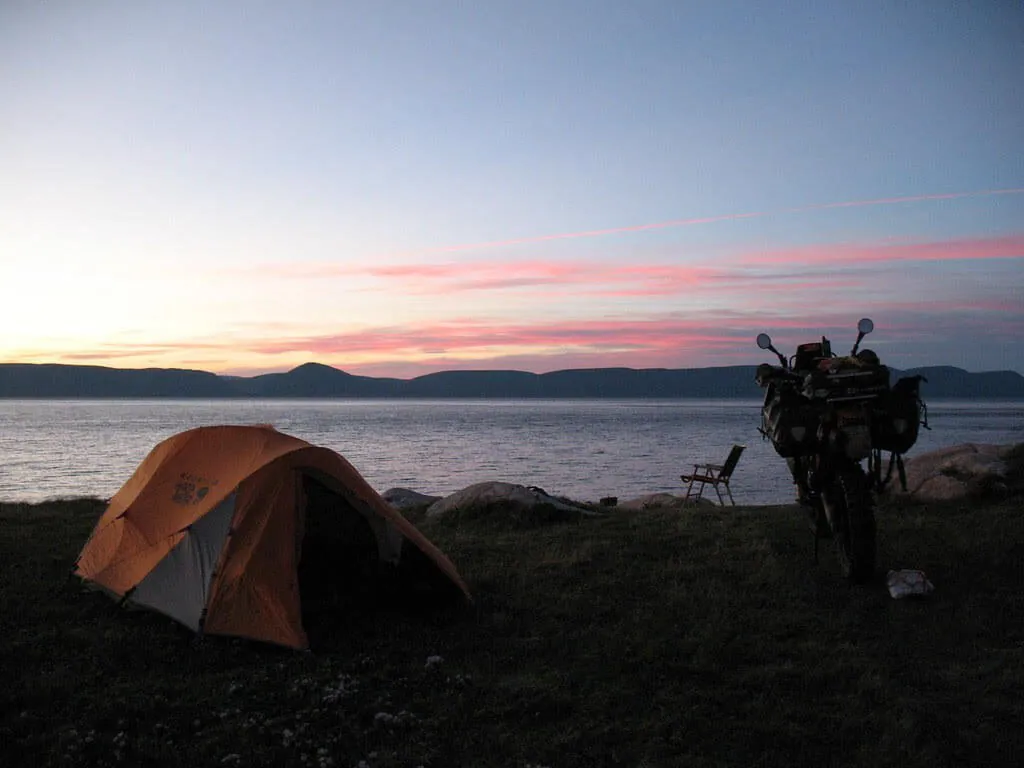 Mike Buhler is an adventure rider from East Canada who calls Newfoundland home. He loves navigation rallies, off-roading and bike tours too. He's also opening up a BnB for touring motorcyclists in Newfoundland in 2021. Check back soon for the link.
Read more on motorcycle travel in Canada 
Thanks for checking out our Newfoundland Motorcycle Travel Guide. We hope you enjoyed it! Here's a few more articles on motorcycling in Canada that we recommend you read next. 
Are you planning a motorcycle trip to Canada or do you have any questions or tips to share? Let us know in the comments below.