Namibia is an epic country for adventure bike riders and motorcycle travellers thanks to its incredible landscapes and insanely good off-road riding. If you're planning a motorcycle trip there, then have a read of this packed Namibia motorcycle travel guide first! It's filled with helpful info, riding routes, the best roads, top tips and loads more to help you make the most out of your motorcycle adventure in Namibia.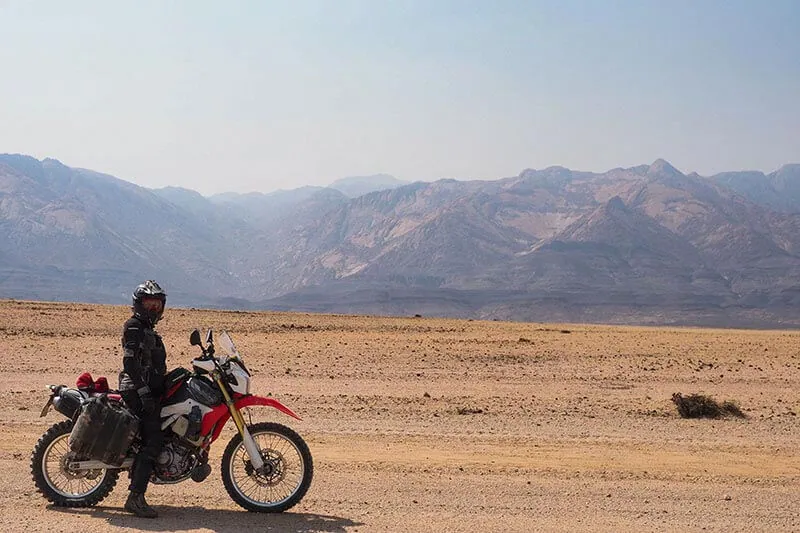 Motorcycle Travel Guide Namibia
Why motorcycle travel in Namibia?
Namibia is an adventure bike rider's dream. If you love riding off the beaten track then you are going to love this beautiful slice of Africa. Namibia is regarded as 'Africa for beginners' because it's so easy to travel around and is well developed for tourism.  
You've got wild coasts to sandy deserts and rugged canyons to lush rivers all wrapped up into one of the most diverse travel destinations on the African continent.
With the highest dunes in the world located in the legendary Namib Desert, the infamous Skeleton Coast and the animal-rich Etosha National Park, there's something for everyone.
And if you're planning on exploring Namibia on a motorcycle, then you're in luck. It's an easy place to travel, is packed with adventure, incredible off-road routes, good people and jaw dropping scenery. Here's how to ride there…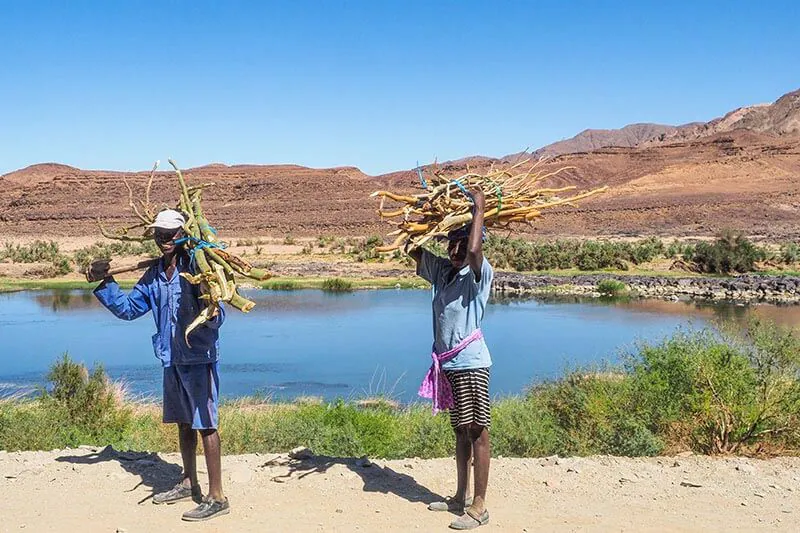 Namibia Motorcycle Paperwork 
Here's the information you need to get yourself and your motorcycle into Namibia. 
Visas
For citizens of 53 countries, Namibia offers visa exemptions and a free 90-day residence permit when arriving at the border. To find out if your home country is on that list, visit the Namibia High Commission website.
It's usually easy to extend your visa too, and can be done in Walfish Bay at the immigration office. The process takes a few hours and costs around €35 per person.
Vehicle insurance
You don't have to buy insurance at the border.
Temporary import / Carnet
It is advisable to enter Namibia with a Carnet de Passage (CDP).
However, you can enter without one at land borders but you will most likely be issued with a 14-day import only. You can extend this for another 14 days at a customs house, and you may even be able to extend for a few months if you're lucky.
Entering with a CPD allows you to stay the duration that your Carnet is valid. 
It's up to you if you want to enter with a CDP or TIP and is dependent on your travel plans. The CDP route is the simplest and advised if you are travelling to more countries in Africa.
If you are shipping into the country you cannot use a TIP and must use a CDP.
Taxes
On entry you will need to pay a road tax. This is calculated dependent on the cubic class of your vehicle. After that there are no further fees (there are no toll highways or other toll roads in Namibia).
Health and Covid
Currently, you do not need a PCR test if you are fully vaccinated against Covid to enter Namibia. However, health requirements are always subject to change so you must check before travel.
A Yellow Fever vaccination is mandatory.
READ MORE: Motorcycle Travel Paperwork Explained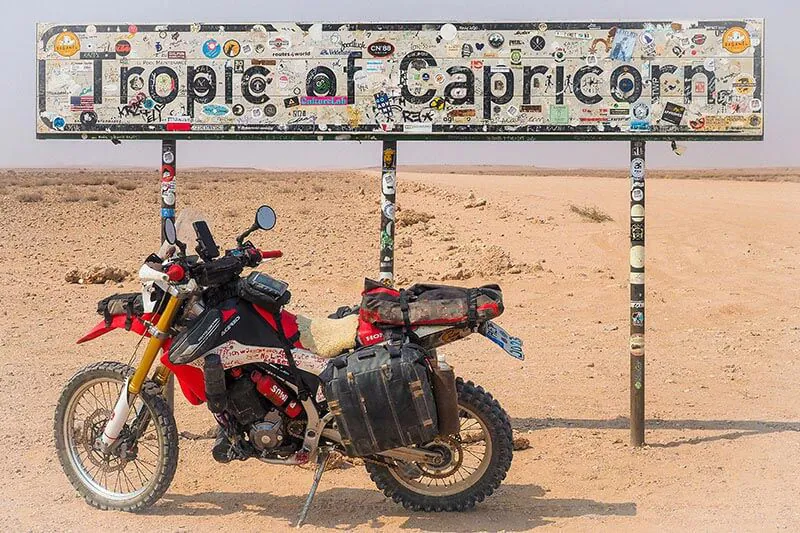 Entering and Exiting Namibia with a Motorcycle
All Namibian borders are very structured and easy to cross. The process usually takes no more than half an hour.
When to go
The best time to travel in Namibia is the dry season from May to September/October. With temperatures of 20-25C, it is not too hot, especially for motorcycling. The trails are all very easy to ride because it doesn't rain. However, it can get chilly at night and sometimes drop below zero.
In the rainy season, Namibia shines in a wonderful green and bird lovers get their money's worth. However, some roads and off road tracks may then be impassable as the rivers fill with water and partially destroy the trails.
Namibia Accommodation and Costs
The currency is the Namib Dollar. 1 Euro is currently around 16.3 Namibian dollars. ATMs for Visa cards can be found almost everywhere, in almost every large supermarket, at every gas station and even in the smallest towns. You can also pay directly with your credit card in many places.
Namibia is very well developed for tourism and since there are many places to visit, you'll find accommodation everywhere.
You can choose between cheaper campsites (8-15€) or expensive lodges. Airbnb apartments are also available. In the north of the country, where there are no fences, you can camp wild anywhere without hesitation.
READ MORE: Motorcycle Camping Guides
The food is cheap, good and plentiful. Namibia is known for its barbecue culture (Braai), which means that you can buy excellent meat on every street corner. Dried meat is also considered a delicacy. As a former German colony, there are many bakeries selling proper dark bread and rolls too.
Safety and Security in Namibia
Namibia is a very safe country. The police are honest and, in our experience, not corrupt towards tourists. Even in the capital, Windhoek, you will feel safe. Of course, you should always be a little more careful in the cities – as with any country.
As a motorcyclist, you don't have to follow any special rules. It's important to know, however, that most intersections don't have proper right-of-way rules: first come, first serve! This seems messy at first, but if you stick to it, it works amazingly well. It should also be noted that you cannot enter most national parks with a motorcycle.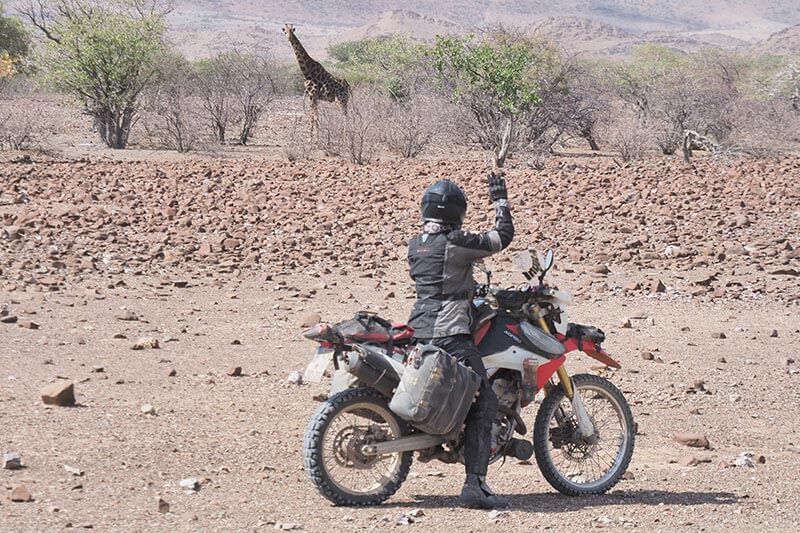 Motorcycle Riding Conditions in Namibia
The roads and tracks of Namibia are well developed. When paved, the roads are excellent and pothole-free. However, most roads in Namibia are unpaved. But the dirt, gravel and sand tracks are mostly in excellent condition and are groomed at regular intervals. You can also ride small, impassable paths everywhere, for example around the Brandberg.
You'll find plenty of petrol too, but should always keep an eye on the distance between petrol stations, especially in the Kaokoveld and Damaraland.
Always watch out for animals, because small springboks in particular like to run across the road.
Avoid riding at night, as the trails are very difficult to assess and potholes and blind crests can be dangerous.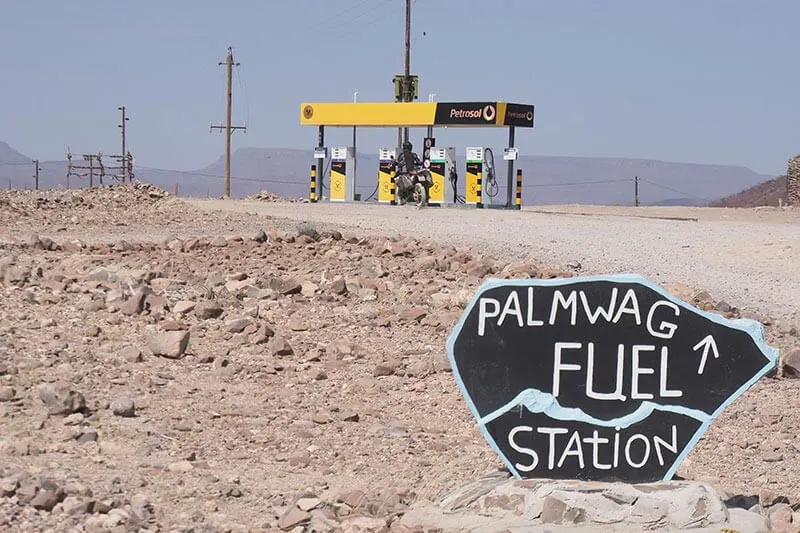 Off road riding in Namibia
The general rule is to stay on the paths. In the remote north of the country, nobody cares if you lose your way.
In national parks it is forbidden to ride off the trails. In many places, the desert is so vast that there is a huge off-road network ranging from easy to impassable. Around the Brandberg for example, you have a true off-road paradise.
You can ride anywhere here. The tracks, trails and off-road paths lead through river beds, over sand dunes and into boulder fields…
Recommendation for orientation: Tracks-4-Africa map (in paper form). There you can find many small trails with ground conditions, distance information and estimated travel time marked out.
The Best Motorcycle Routes in Namibia
Kaokoveld to Skeleton Coast
Opuwo – Palmwag – Bergsig – Cape Cross – Swakopmund
674km, good gravel roads
In Opuwo, the asphalt ends and seclusion begins. The track winds through the mountains of the Kaokoveld to Bergsig. The views are breathtakingly beautiful and the vastness of the landscape is unbelievable. You'll hardly see a soul here, there is little traffic and giraffes will cross your path if you're lucky.
In Bergsig, turn right towards the Skeleton Coast National Park. Already 20km from the coast it is noticeably cooler and windier. The trail leads from a wild mountain landscape with dense bush vegetation into the flat, grey desert of the Skeleton Coast without any vegetation and hardly any life.
The cold Benguela current, coming up the Atlantic from the south, causes a temperature drop of 15 degrees within a few kilometres. You feel like you are in a lunar landscape until you finally reach the coast. Up to Swakopmund the landscape remains monotonous and the temperature cool. The path leads through the loneliness past several shipwrecks and a huge colony of sea lions in Capecross. An extreme form of seclusion, but beautiful in its own way.
Around the Brandberg
Uis – Brandberg White Lady Lodge – through the Ugab River – Rhino Camp – Zebedeus – Uis
About 220km, all unpaved, very sandy in the Ugab River
A round trip around the Brandberg. You should have some off-road experience for this. The main tracks are relatively easy to ride, but the ride through the Ugab River is very sandy and has many ruts. It is recommended to do this tour with several riders in case of falls. The sweat is worth it and the landscape is unique.
The Brandberg has a dry, sandy and barren landscape and the Ugab River is green all year round, but otherwise there is hardly any vegetation except for a few bushes. If you are lucky, you will meet a few elephants who feel at home here. With the shimmering heat, the elephants and many camel thorn trees, you'll really feel like you are in the heart of Africa.
Bosua Pass
Windhoek – C28 – Swakopmund
322km, the actual pass about 166km,  all unpaved, but good gravel roads
From Windhoek you can take the paved main road to Swakopmund or choose the Bosua Pass which is clearly the nicer option.
The off road trails are good. It winds beautifully up to 1,700 meters and drops leisurely to sea level in Swakopmund. You pass a few small villages and meet lots of waving children on the side of the road.
The views from above into the wide valleys are breathtakingly beautiful. Shortly before Swakopmund you have a wonderful view of the rugged Moon Valley, which then slowly runs out towards the coast.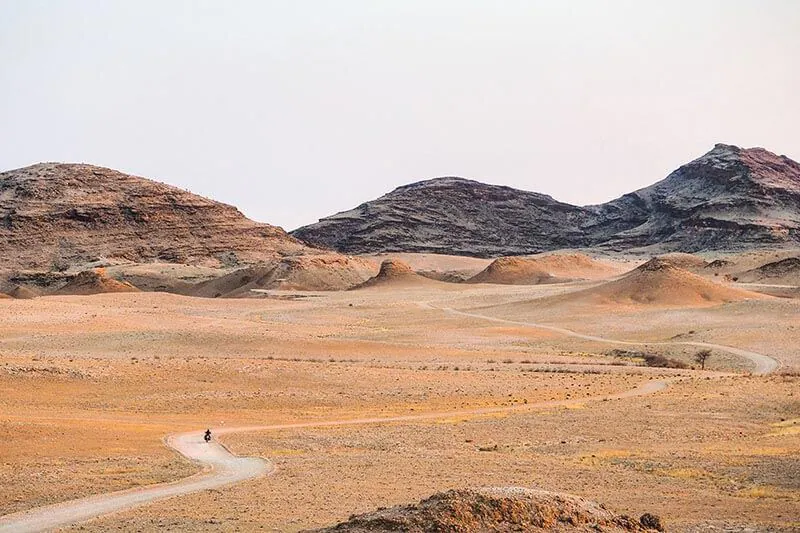 The D707
Betta – Junction C27/D707 – D707 to end/junction with C13
Approx. 150km, all unpaved, initially gravel, then sand
The D707 is well known and popular among motorcycle travellers in Namibia. It is a bit sandy in some parts, but the sand is relatively firm and well groomed. However, it is not deep sand and can be navigated without any problems with good tyres and low air pressure.
To the left, you will always be accompanied by a mountain range, while to the right you have an uninterrupted view of the expanses of the Namib Desert. The colours of the sand change from yellow to orange to red.
It is so dry here that there is no more vegetation. You will be the only person and wont meet another soul in these parts. Well, actually you might run into a few oryxes along the way; they feel comfortable here because they can go without water for a few weeks. We recommend staying at the campsite in Betta and leaving in the dark to be on the D707 by sunrise. The light of the rising sun conjures up a magic in the air that turns the landscape into something mystical.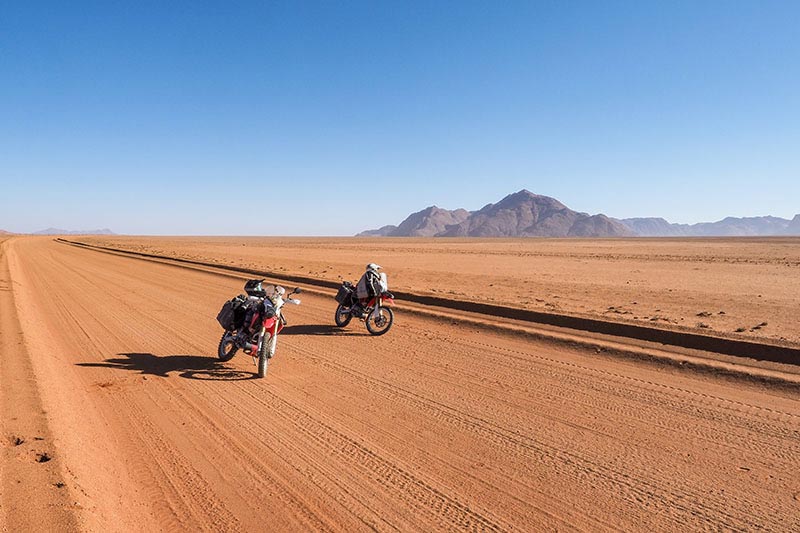 C13 along the Orange River
Rosh Pinah – Sendering Drif – C13 to Außenkehr
105km, all unpaved, but good gravel road
Coming from the north, the trails along the Orange River are a real change. You don't see much greenery in all of Namibia, let alone water. As soon as you reach the Orange River, that changes abruptly: the river carries a lot of water and ensures that the banks are lush and gleaming with trees and flowers. It's a welcome sight after all the desert riding!
The path meanders comfortably along the river to the east. South Africa is already on the other side of the river. You can wild camp anywhere along the river without any problems. Except for a few baboons, nobody will disturb you here and you can peacefully enjoy the pleasant air, which is enriched with sufficient moisture from the river.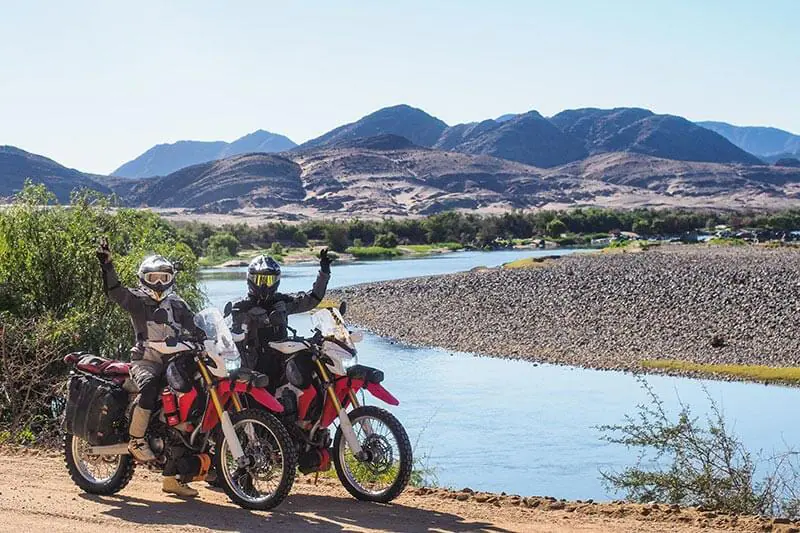 Riding Gear for Namibia
Your riding gear should be vented, breathable and thin, because most of the time it gets very warm, especially in the south of the country. You shouldn't ride without protective gear on, as there'll no doubt be occasional falls on the many gravel and sand tracks. An airy enduro helmet with goggles and lightweight, flexible gloves are recommended.
READ MORE: Riding Gear Guides
Don't Miss These Namibian Gems
The Far North: Kaokoveld, Damaraland
Etosha National Park (without motorbike)
Brandberg area
Namib Desert
Soussusvlei, the highest dune in Namibia (without motorbike)
Orange River on the border with South Africa
Top Tips
In the north, petrol stations are far apart, so if you have a small tank you should take a spare fuel can with you.
There is a motorcycle ban in the national parks. You can only ride through if the main connecting road goes through.
It can get very hot, especially in the south of the country. Motorcycling then becomes exhausting. You should therefore consider leaving very early in the morning, only ride until noon and then look for a pool in the afternoon.
It gets very windy at times along the coast. In winter there is 'East Weather' where the wind blows violently from the East through the entire country. It then gets cool inland, unusually hot on the coast, the air is full of blown sand and motorcycling becomes a feat of strength.
Namibia is beautiful and you are going to love it!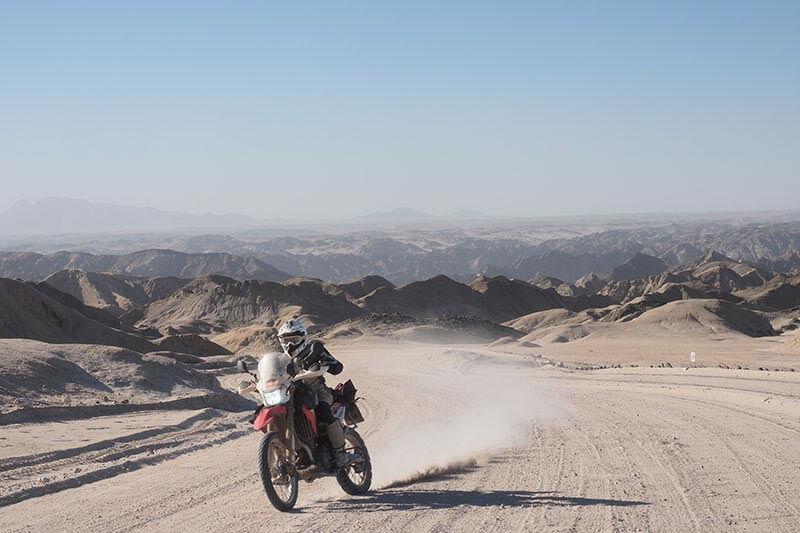 About the authors
Joshua Steinberg and Joana Breitbart
Joana and Joshua are currently travelling on their 'Wetzlosweltwärts' Tour. Over the last 18 months, they have ridden from Germany to South Africa along the East coast of Africa. In spite of the Covid pandemic, they left in September 2020 on two Honda CRF 250Ls for their two year trip around the world. They've got half a year left, are currently in Turkey and heading East to Iran before they slowly ride home to Germany. 
Follow their incredible adventures here:
Are you planning a motorcycle trip to Namibia? Do you have any questions or tips to share? Let us know in the comments below.