Welcome to the Montenegro Motorcycle Travel Guide. This detailed article from our Montenegro touring expert is packed with info and tips and lists three of the best biking routes throughout the country so you can get the most out of your adventure.
Motorcycle Travel Guide Montenegro
Why motorcycle travel in Montenegro?
Montenegro is a small Balkan country with a population of around 600,000 people. The little gem is surrounded by nature, has a stunning turquoise coastline and has huge national parks with gorgeous Alpine views – Montenegro has a lot to offer. But for motorcycle tourers, it's made even better with the country's excellent road connections between the north and south. Most of the roads are paved and winding and that makes it perfect for discovering local cultures and untouched nature.
Everything is concentrated into a tiny territory – that's why it's called a boutique country. You can ride through mountains in the morning and soak in the sun on the coast in the afternoon. You're going to love riding in Montenegro and this guide will show you how.
Paperwork for motorcycle travellers in Montenegro
Montenegro's visa system is easy and simple. It allows all European nationals to enter visa free for up to 30 days. Nationals from the USA, Canada and Australia also get the same 30-days visa free.
There are no paperwork restrictions and no vignettes, but if you are riding your own motorcycle in, you will need EU insurance or Green Card insurance.
Getting in and out of Montenegro with a motorcycle
The two main road border crossings into Montenegro for motorcyclists are from Croatia and Albania as Montenegro is on the highway between central Europe and Greece. It's also possible to enter Montenegro from Italy using a ferry which arrives into the city of Bar.
We recommend checking online with directferries.co.uk as you can find up-to-date and current sailing times and availability.
If you're flying into Montenegro for a motorcycle tour, then there are three main airports: Tivat, Podgorica and Dubrovnik (Croatia border). And we recommend using skyscanner.net to find the cheapest flights.
Accommodation, costs, weather and safety
When to motorcycle travel in Montenegro
The best times to ride a motorcycle in Montenegro are spring (March-May) and Autumn (September-October). Both seasons are beautiful times to see the landscapes in Montenegro thanks to the extreme greenery in spring and orange and reds through Autumn.
It's best to avoid the height of summer as it gets extremely hot and busy with a lot of road traffic. 
Accommodation in Montenegro
Hotels
There are plenty of three and five-star hotels across the country. The coastal and central areas are well developed for tourism in terms of hotels. In the north (mountains) you'll mostly find guesthouses where you can experience living with the locals. The coastal region is a bit more pricy and the mountains are more affordable. The prices vary from 50 to 500 Euros per night – dependent on the season and location. 
Here's a booking.com map to give you an up-to-date idea of current hotel pricing in Montenegro around the Tivat area.
Camping
You can camp with your motorcycle in Montenegro in registered camp sites. You may also be able to wild camp if exploring TET roads in the north of the country. But remember, it is prohibited to camp in national parks.,
have possibility to camp in specific areas which are registered as camping sites. Also sometimes you can camp in tent in nature if you are exploring TET roads in the north of the country. It is prohibited to camp in national parks.
READ MORE: Motorcycle Camping Guides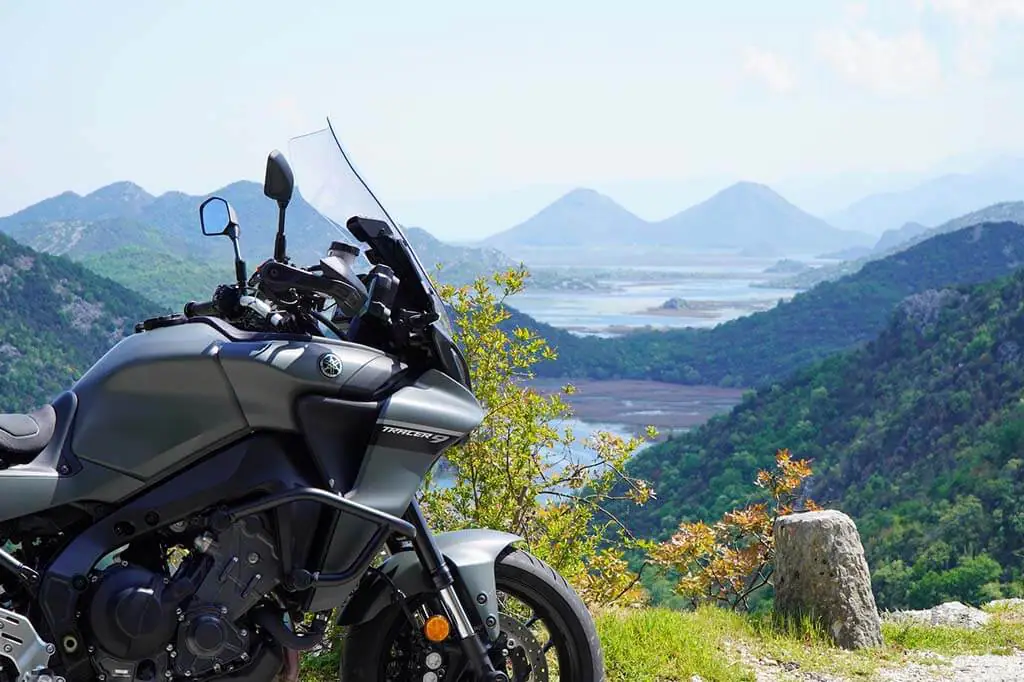 Safety and police
Montenegro is a safe country. Crime levels are extremely low, especially in non-touristy places. It'd be extremely rare to have your things stolen. People are very friendly here, but as a tourist you should always pay attention like anywhere in the world.
Don't exceed the speed limits by more than 10kph as speeding fines can be high. And the process of paying them is complicated too. Your driver's licence will be retained while you travel to the nearest city to find a post office, pay the fine, then you'll have to return to collect your licence or collect it the next day.
Motorcycle touring in Montenegro
Riding conditions
Montenegro has excellent roads connecting the entire country and the government is continuously improving it even further.
You can even reach remote regions via pristine asphalt roads. It's only if you decide to explore the TET that you'll find off-road tracks. But a road going motorcycle is fine for riding to all of Montenegro's key destinations.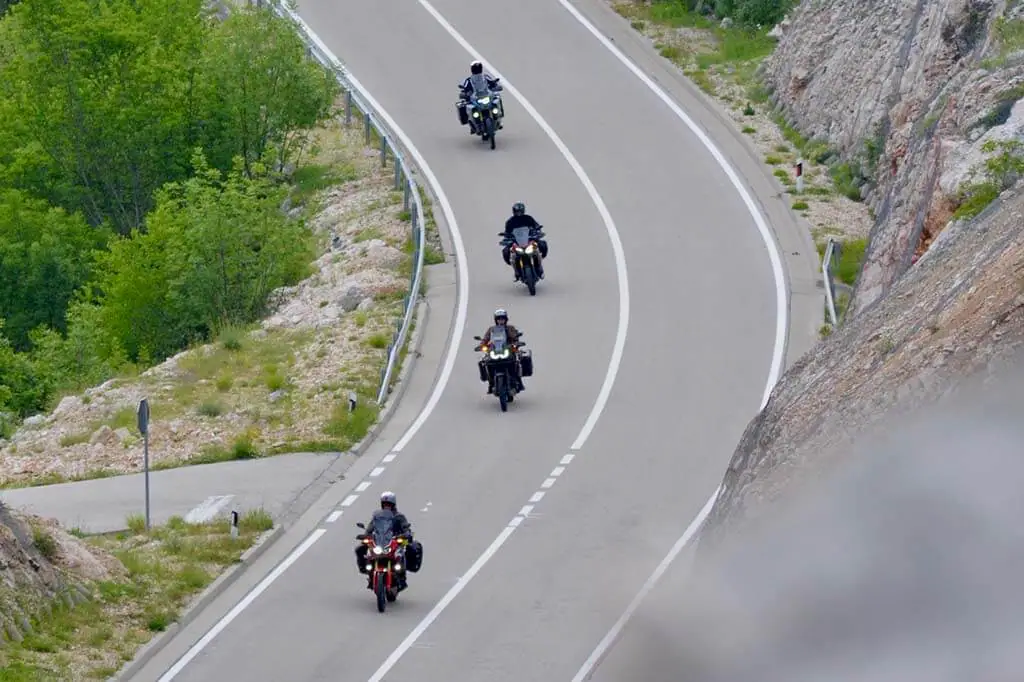 Motorcycle riding gear for Montenegro
It's best to use spring and summer riding gear in Montenegro or mesh kit with layers.
Montenegro's coast is warm all year round. Starting early spring, the north of Montenegro is also rideable.
For your reference, you need three hours to cross the country from south to north. Spring, summer and autumn are all warm on the coast and the temperature fluctuates between 15-25C, while the north is 5-7 degrees lower during those seasons and 15 degrees lower in winter with an average temperature of -5 to -0C.
READ MORE: Motorcycle Riding Gear Guides
The 3 best motorcycle routes in Montenegro
Here are my top three routes and roads to ride a motorcycle in Montenegro. You'll find a one-day, two-day and up to five-day tour here dependent on how much time you have. But do make sure you put a little extra time aside to relax and not just ride, it's a beautiful country with so much to offer.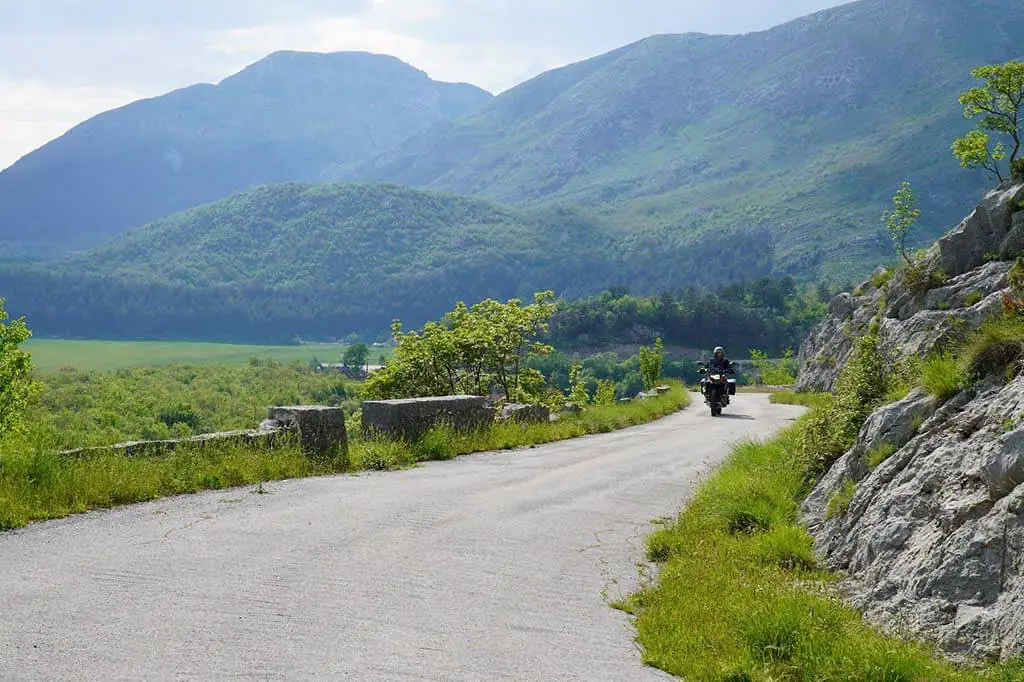 Lovcen National park and Kotor Cerpentine
This is one of the most popular routes in Montenegro for motorcyclists. The road is new, full of twisties and is an excellent route for a one-day ride. It's also easily accessible from the most popular cities along the coast such as Kotor, Tivat, and Budva.
This route is excellent as it provides stunning views of Montenegro and Croatia all wrapped up into a single day's ride. You can ride mountain curves and along straight panoramic roads, take amazing pictures and enjoy the local cuisine along the way.
Another great aspect of this road is that you can reach it from the cities mentioned above, ride a loop and circle back, so you can leave all your gear at the hotel or make a base.
 The great thing about this road is that you can reach it from each of those cities mentioned above, make a circle and come back. This is a great brand-new road with twisties and will be your choice if you have just one day to ride in Montenegro.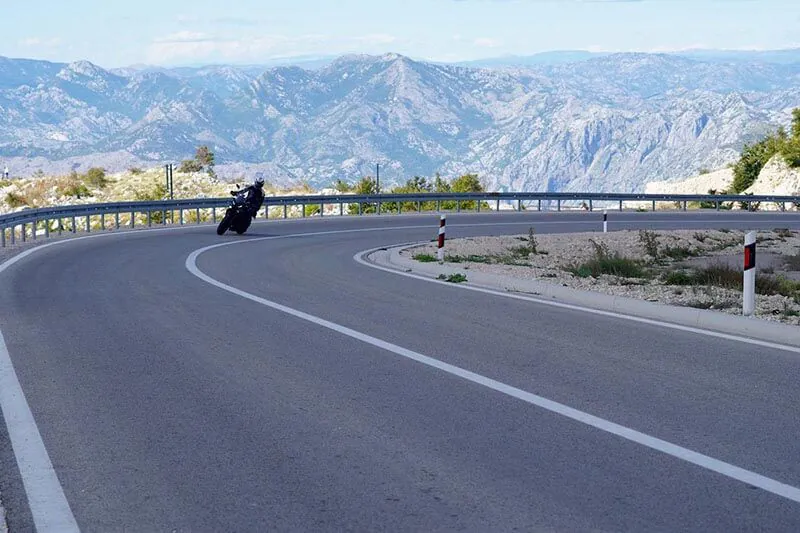 Durmitor National Park – Tara Bridge – Biogradska Gora – Skadar Lake
This is one of the most beautiful places to ride a motorcycle in Montenegro. You have probably seen it before while researching Montenegro.
It's a two-day ride and you can head clockwise or anticlockwise. In either case, you'll be riding through beautiful scenery the entire way.
Pivsko Jezero is an artificial lake in the mountains filled with turquoise water and Durmitor national park has breath taking views right in the thick of nature (you won't have mobile reception up here!). Next to the city of Zabljak, you can visit Crno Jezero,  another beautiful lake surrounded by mountains – this is a must see and make sure you stop here for a cup of coffee.
Then you can ride to Tara Bridge and follow the old road through its tunnels down to Biogreadsko Jezero national park. From there, you can return the coast. On your way, you'll pass Kolasin town with its great mountain resorts and the capital of Montenegro – Podgorica.
After Podgorica, ride through Shkodra Lake – a national park protected by UNESCO with its vibrant wildlife. This is a good two or three day riding tour if you don't want to rush and want to explore all of Montenegro's culture from the south to the north.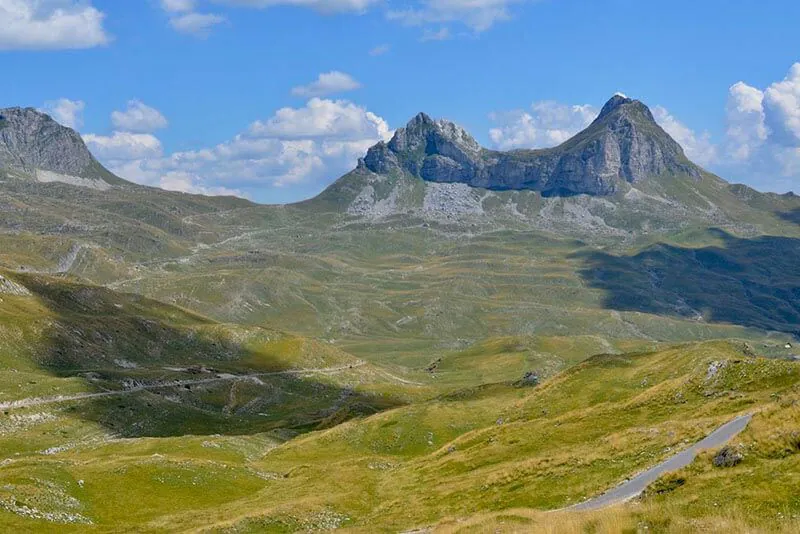 Durmitor National Park – Prokletje Natioanl park – Plav Lake
This is an extended loop from the route above. This one requires 3-5 days, depending on your pace and how much time you want to spend in each location. You will see all of the above – plus visit Prokletije national park and Plav Lake  (a remote area in central Montenegro). On the way, you'll ride beautiful twisty roads, through local villages and places where traditional tourism is almost non-existent.
If you have time to spend a few days on the road, this is the ultimate route that'll allow you to see all of Montenegro on a motorcycle.
Motorcycle tours and rentals in Montenegro
Joining an organized motorcycle tour in Montenegro can be a good idea as it will help you save time on research, planning, finding the best roads and hidden gems and you won't have to spend loads of time and motorway miles riding your own bike there. You'll see all of the scenic routes and national parks while also learning more about the country and its culture with a professional who knows the country inside out. 
If you're planning on renting a motorcycle in Montenegro, the most important thing to consider is which roads you want to ride. Finding the right motorcycle will make all the difference to your experience.
If you want to ride winding asphalt roads and see all of the key destinations in comfort and safety – then a touring motorcycle will be the best choice. If you're looking for more of an adventure and are heading off-road, then an adventure bike will be your best bet. Just remember that 95% of places people visit in Montenegro have good road connections.
The best scenario is to fly in and stay in the Boka Bay region in cities such as Tivat, Kotor or Lustica Bay. From these locations you can easily access all of the mountain roads with minimal traffic. The best airports to catch a flight to reach this region are Tivat or Dubrovnik airport.
My main addition to this is (in my experience) that most people think of Montenegro as an undeveloped region and they're surprised when they come and see the country. Instead, think of it as an average developed country with good services and road connections. Most motorcycles and travellers will be fine here if you are riding your own bike.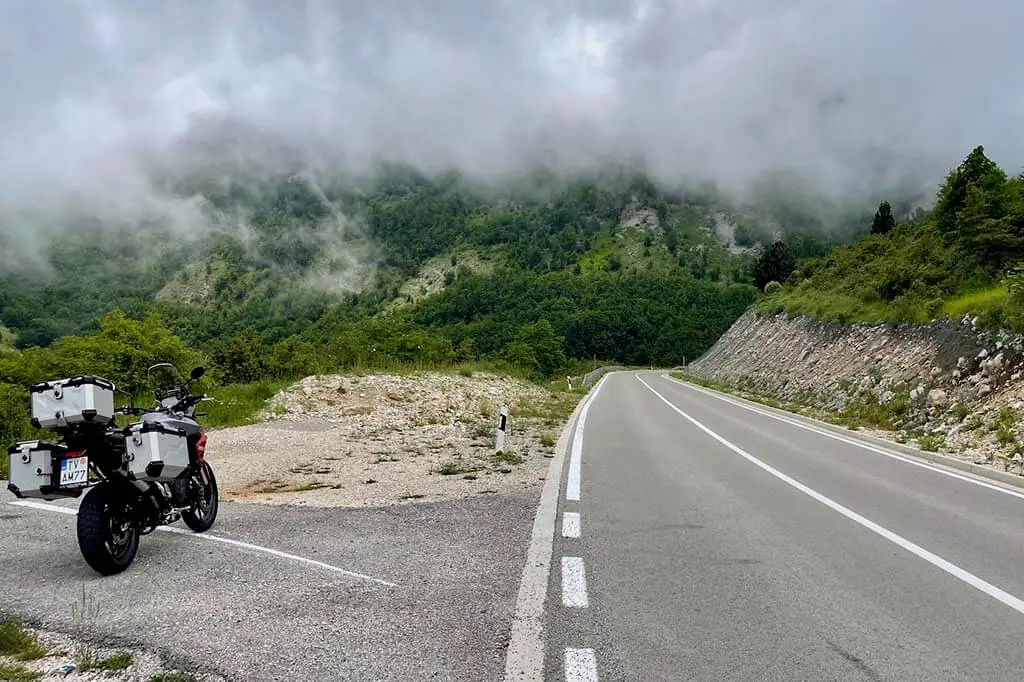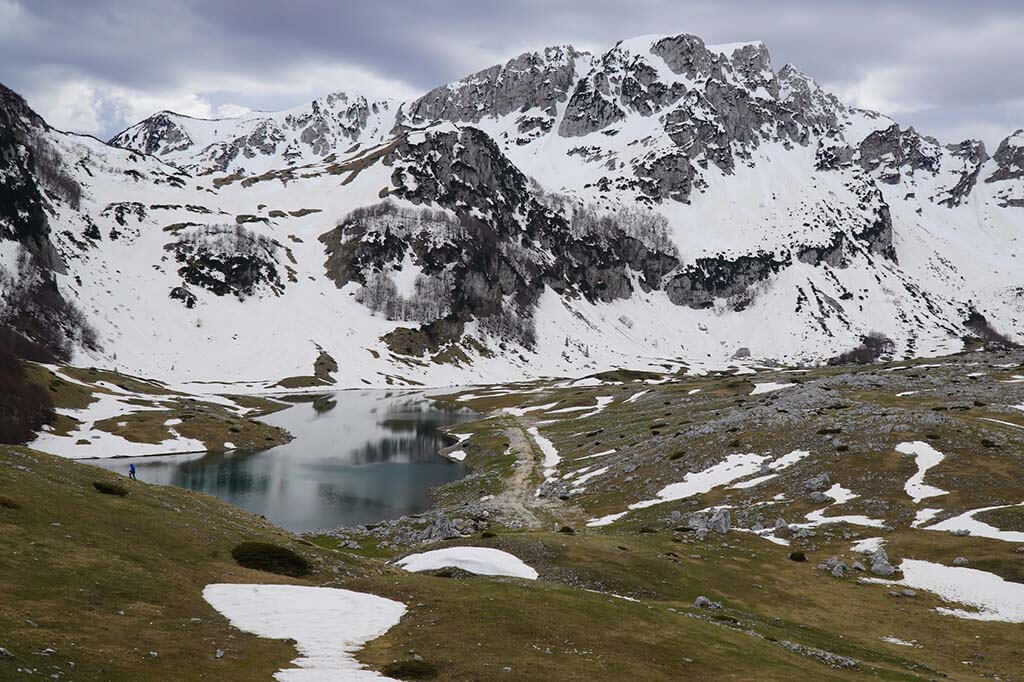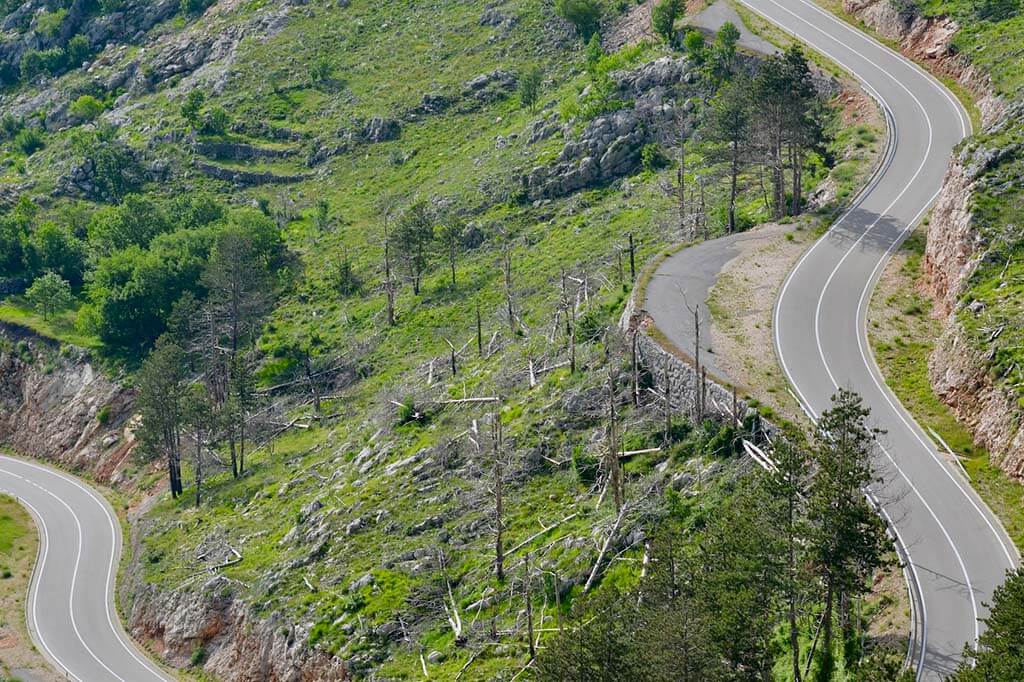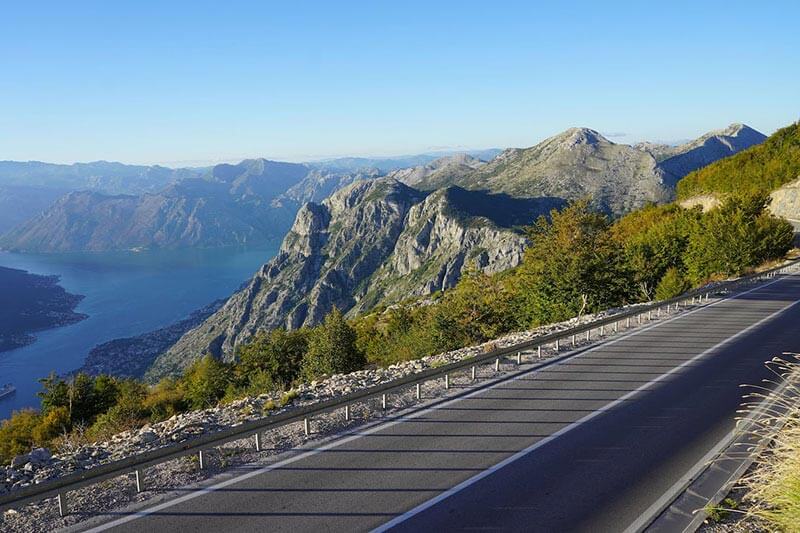 Top tips
Follow the speed limits and don't exceed them
Avoid the coastal roads in summer
Choose a fun motorcycle to ride on the curvy mountain roads
Plan for 2-5 days to fully explore the country (if you don't want to go full on camping and on off-road trails)
Take your time experiencing local culture and food
Spend at least a day by the sea as the water is incredible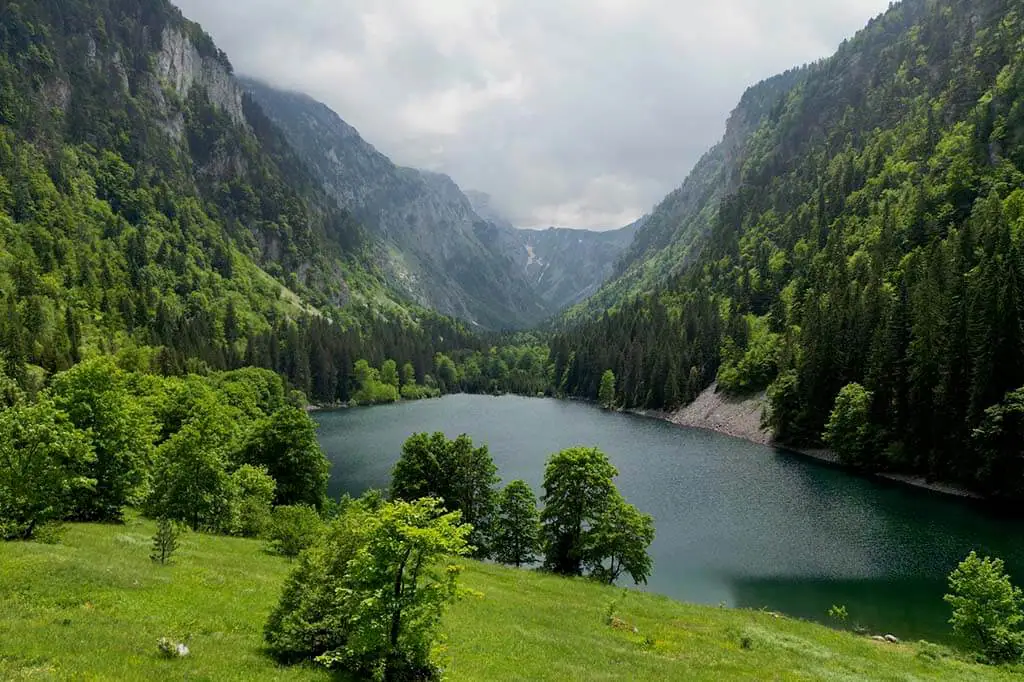 Sergey Vikultsev has been riding motorcycles for over 15 years. He set up Stoppie Travel, a motorcycle touring company based in Montenegro to share his passion of riding in this incredible country with fellow riders from around the world. To join one of his awesome tours, check out his website below. 
Website: stoppie.me
Facebook: @stoppietravel
Instagram: @stoppietravel
YouTube: stoppietravel
Read more on motorcycle travel in Montenegro and Europe
Thanks for checking out this Motorcycle Travel Guide: Montenegro. We hope you enjoyed it! Here's a few more articles on motorcycling in Montenegro and Europe that we recommend you read next. 
We may receive a commission, at no cost to you, if you purchase a product using the affiliate links on this page. We're not sponsored, are completely impartial and don't run ads. So this helps us keep the site running. Thank you for your support.
Are you planning a motorcycle trip to Montenegro or Europe? Do you have any questions or tips to share? Let us know in the comments below.