Planning on traversing one of the most incredible countries in the world? Check out this packed guide dedicated to Motorcycle Travel in Mongolia first!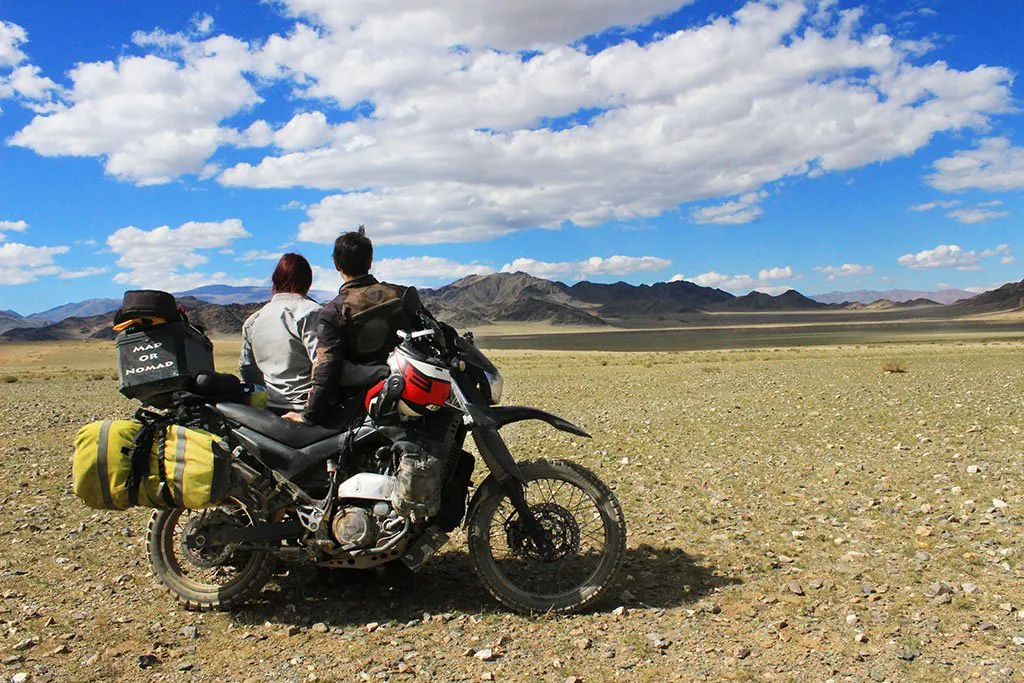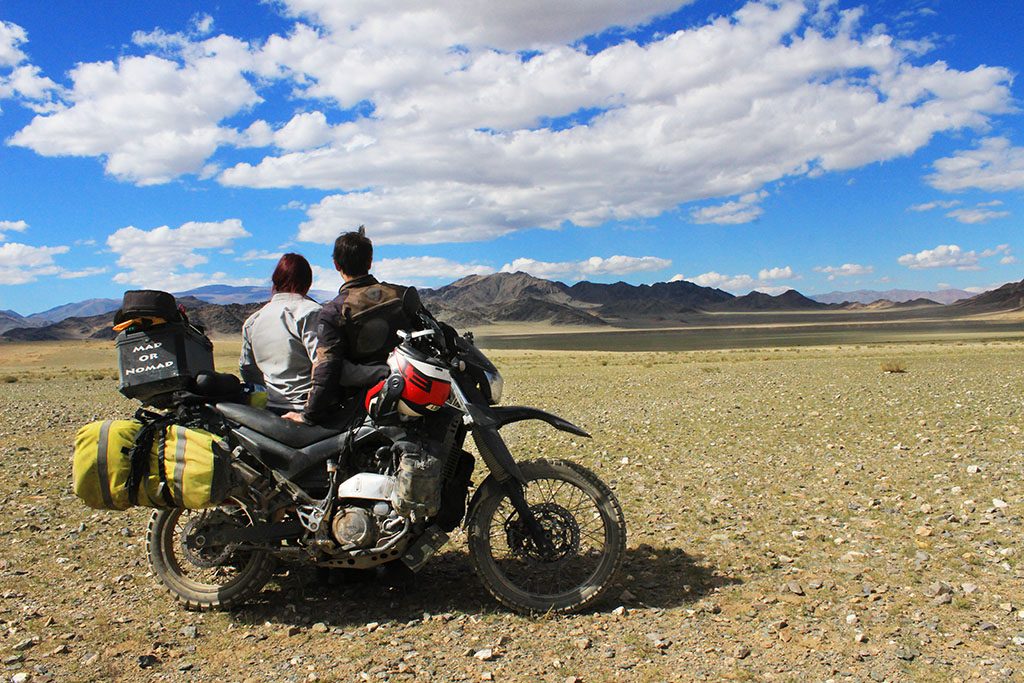 Motorcycle Travel Mongolia
Turns out the brief research we did before entering Mongolia was complete rubbish. You don't need to be an expert navigator, rider and action man to ride there and it's nowhere near as hard as people make out. It's an incredible, expansive, vast land and the beautiful thing about it is that you can make it as hard or easy as you like. Here's everything you need to know about motorcycle travel in Mongolia and overlanding. 
Mongolia Motorcycle Routes 
"Are you taking the north, middle or south route?" The closer we got to Mongolia the more we heard and asked this question. And the funny thing was, everybody had a different idea of where these routes actually were, nobody had any clue which was the best one, everyone had a different idea of what the 'best' one actually meant and everybody had a friend or heard of someone who took one of the routes and said it was the hardest.
In the end, we got tired of trying to figure out which route was the best and just plotted a course to all of the main sights we wanted to visit.
South route
The Mongol Rally was passing through around the time we entered Mongolia and every team we met opted for the southern route. They all heard it was the easiest and other rally teams who had just passed through reported back saying it was the easiest. It's a primarily asphalt route, although a few teams did get diverted into sand traps. It also heads towards the Gobi Desert, you can divert even further south and take a very long hard slog through the desert if you fancy it.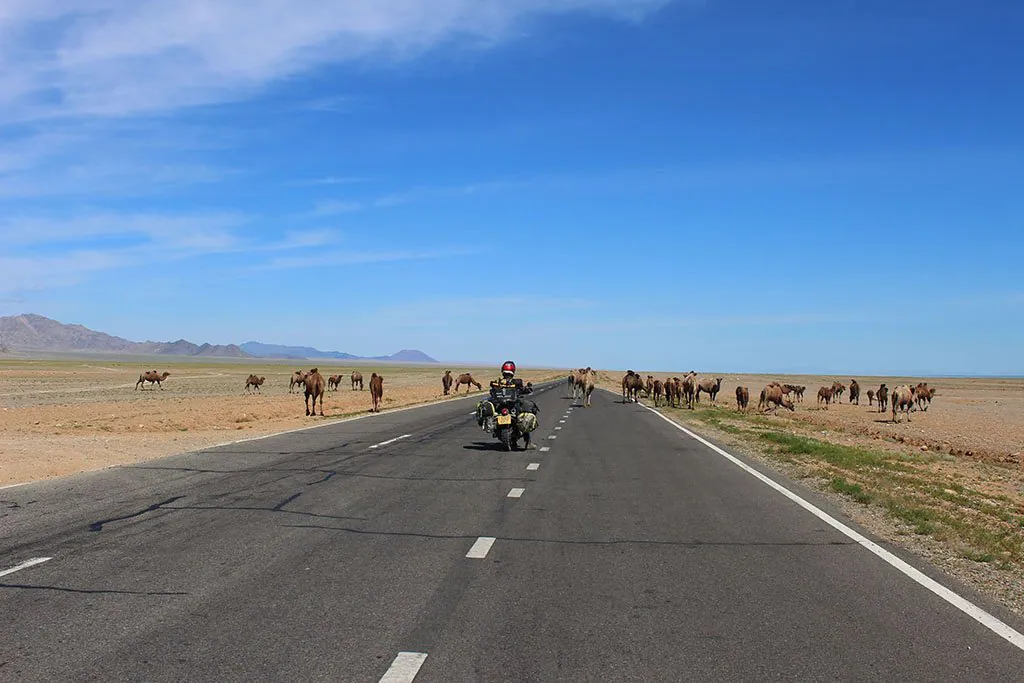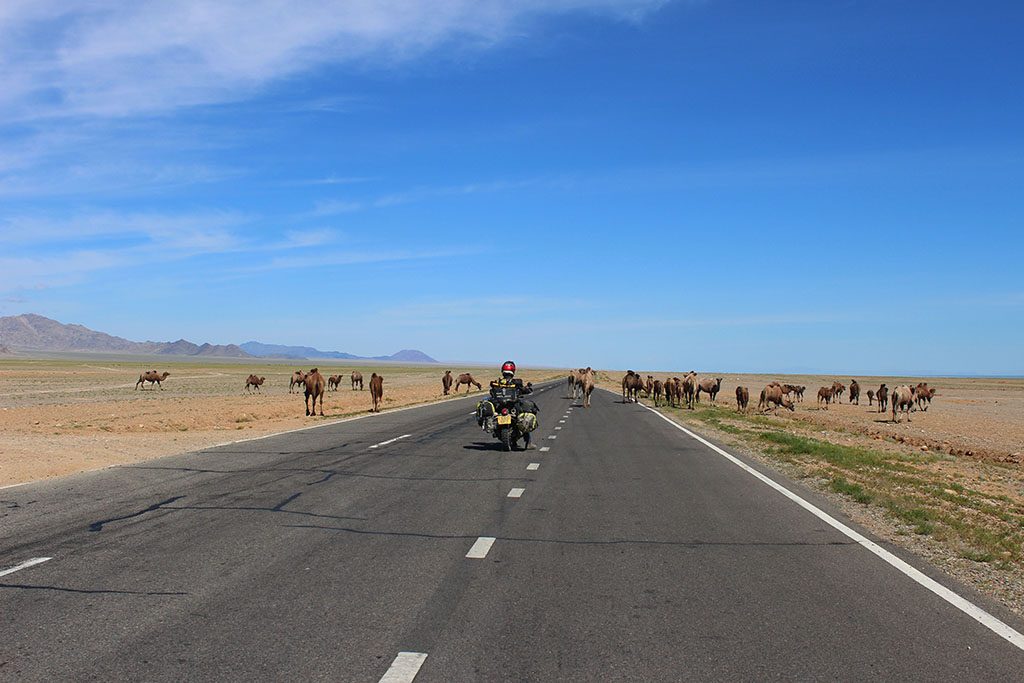 North route
We heard mix reports on the north route. A friend of ours took the route and said it was easy but very boring. He's new to motorcycling and travelled on a Royal Enfield. However, we met people who travelled the north route six months before he did it and they said it was too tough because of river crossings and had to turn around. We've also heard from friends that it didn't really meet their expectations of what they thought Mongolia would look like, appearing more like south Russia and Siberia.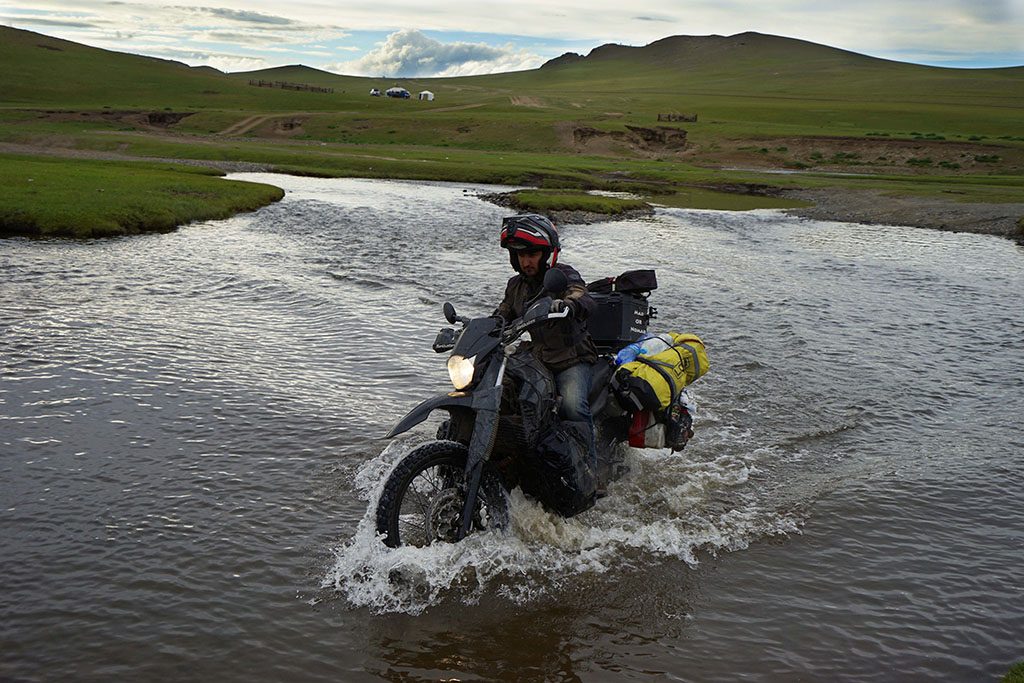 Middle route
Nobody really had much to say about the middle route. So, we opted for a mix of all three, hitting the southern, middle and northern routes to get to Ulaanbaatar from the eastern border with Russia. This route encompassed the classic image of Mongolia by rolling through the grasslands and pastures, it took in the arid deserts of the south, flaming cliffs, and rocky mountains.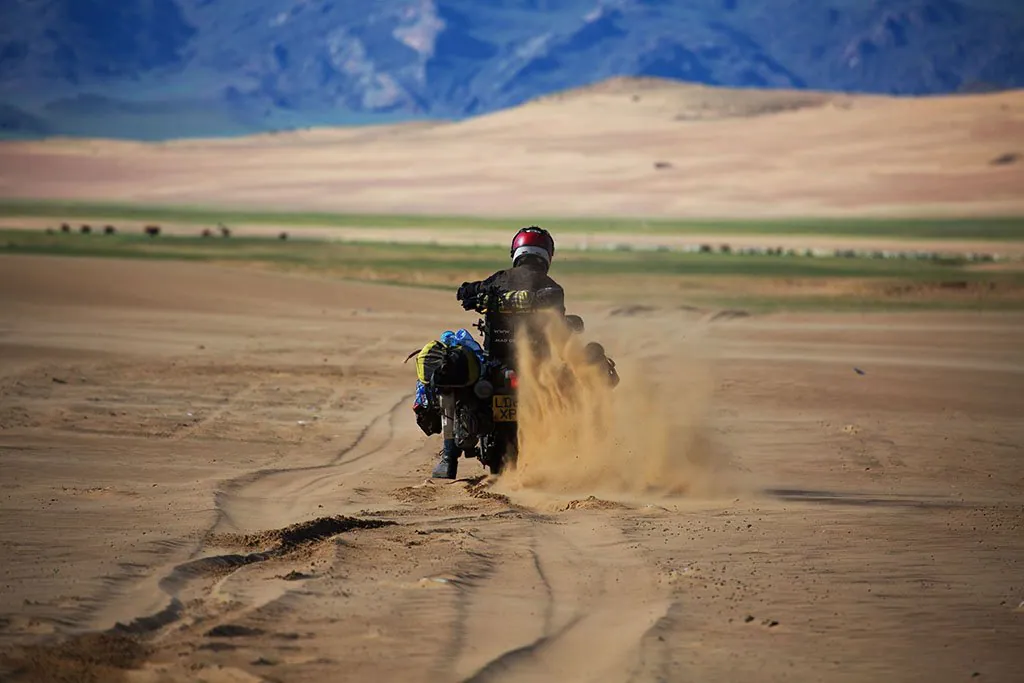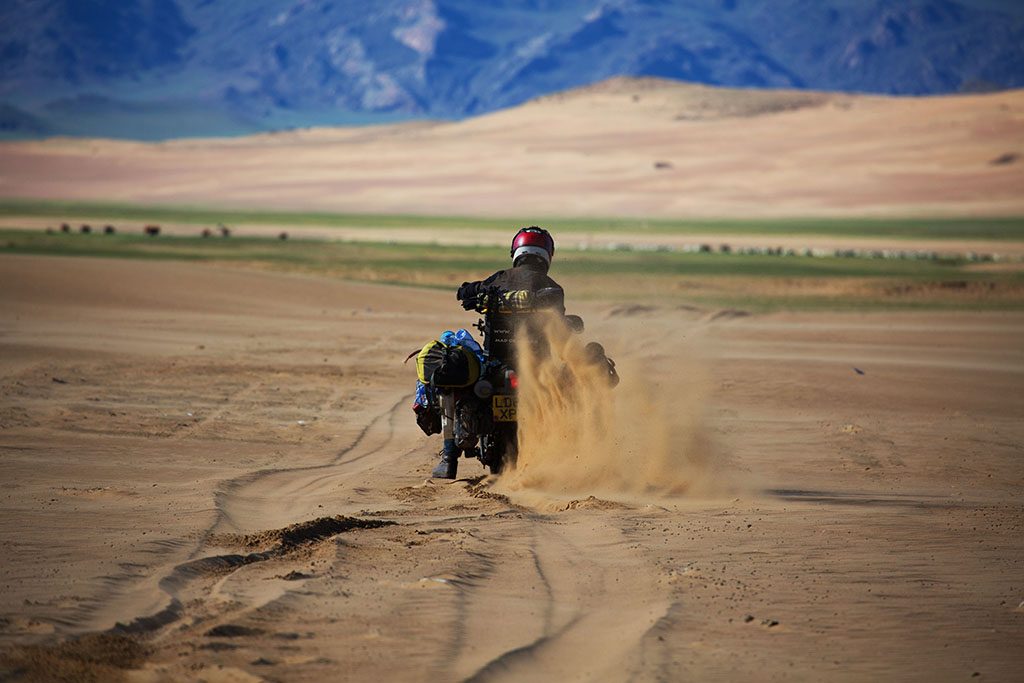 Plotting your own route
Ours started on the southern asphalt route. But that got incredibly boring very quickly. So we moved to the middle. Even then, some of the roads were a little boring so we deviated a little more and ended up plotting waypoints on a map and heading to them off-road.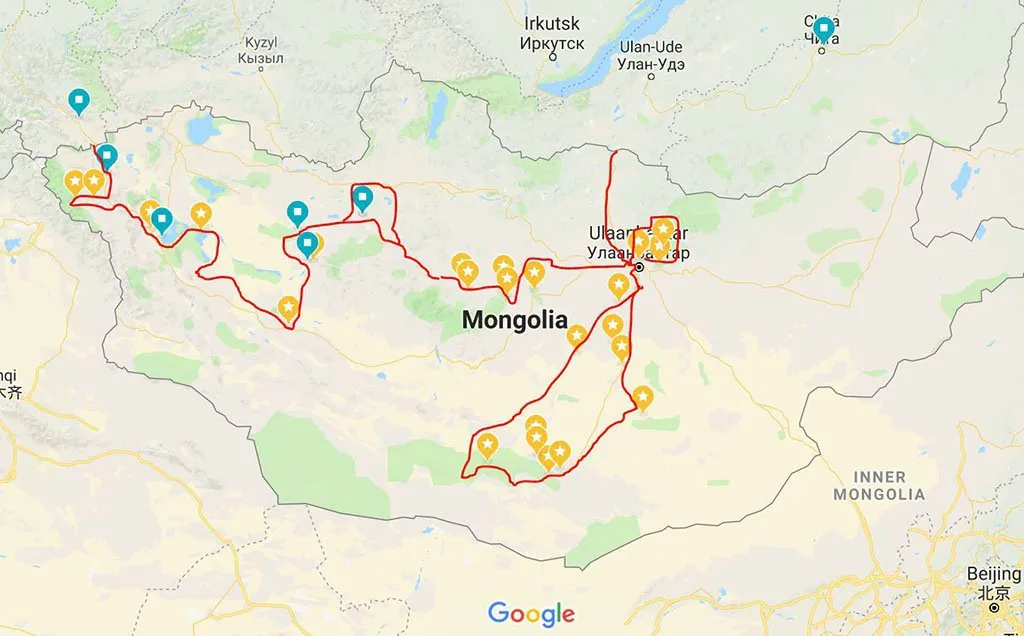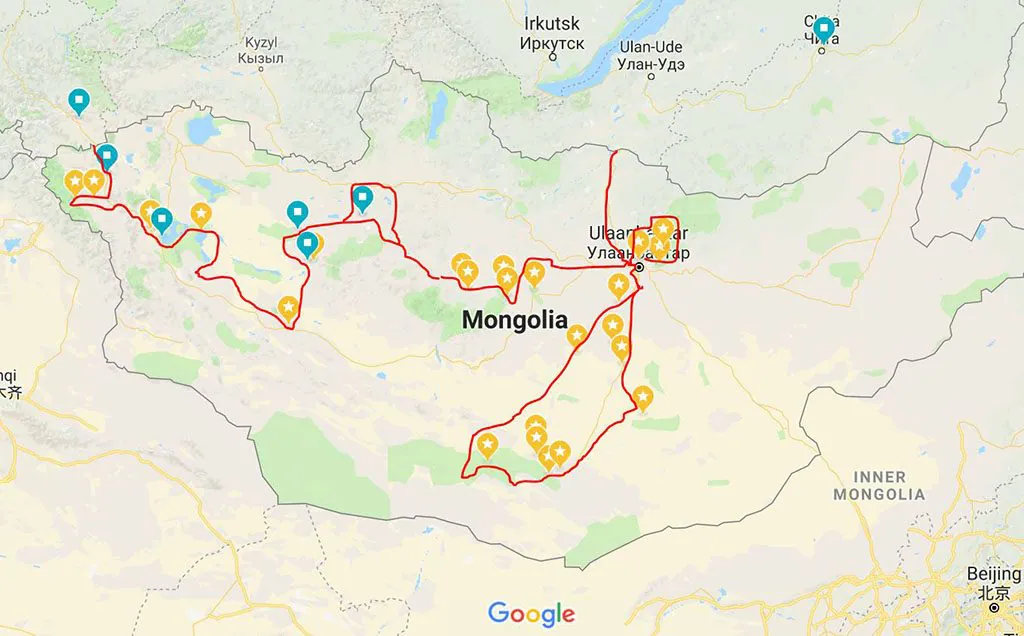 That's the thing about motorcycle travel in Mongolia, and as we mentioned at the beginning, it can be as easy or as hard as you like. If you don't like the route you're on, or if you want more off-road, just plot a waypoint on your GPS and head there. There's nothing stopping you. We met people who had had enough, saying the road they were on was boring. Just leave the road!
In Mongolia, thousands upon thousands of car and motorcycle tracks wiggle their way over the land, just pick one that heads in the rough direction you're planning on and follow it.
It really is a vast wonderment, whichever route you choose you'll be happy.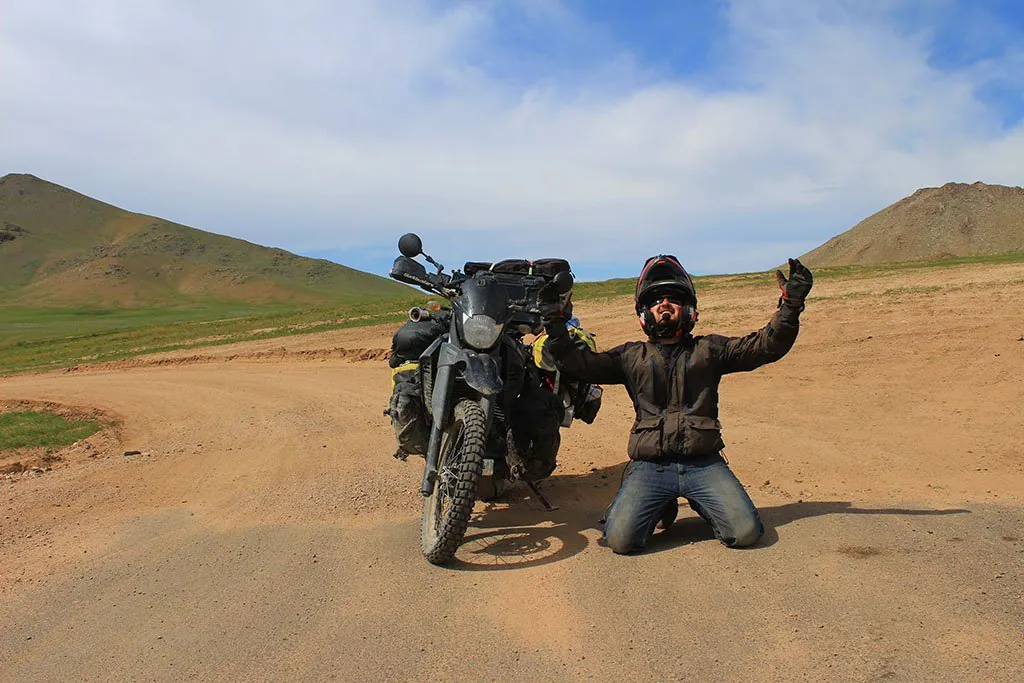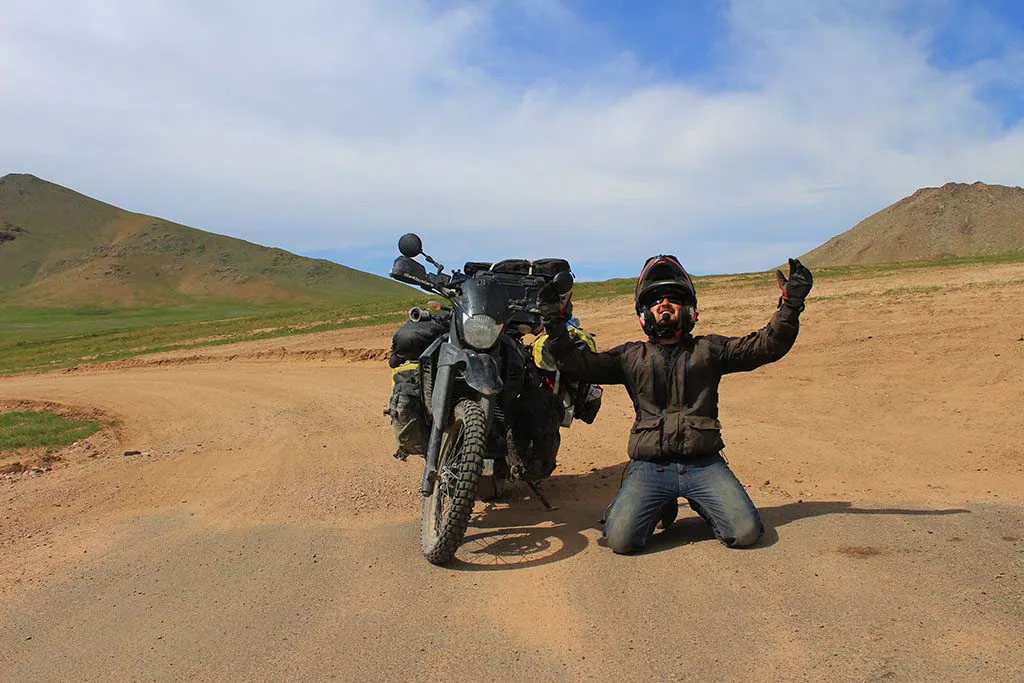 Mongolia road conditions for motorcycling
As mentioned above, there are asphalt roads, which in places are exceptionally good. And the country seems to be working on building new roads everywhere. Despite what some people say, this isn't a problem – you don't have to take them. And if you break down or need help you'll be glad they're there. The roadworks can pose a problem though if they're on your route, as the work is slow going and you'll quite often find deviations and road blocks. You could always come off the main road and ride one of the tracks which will no doubt run beside it.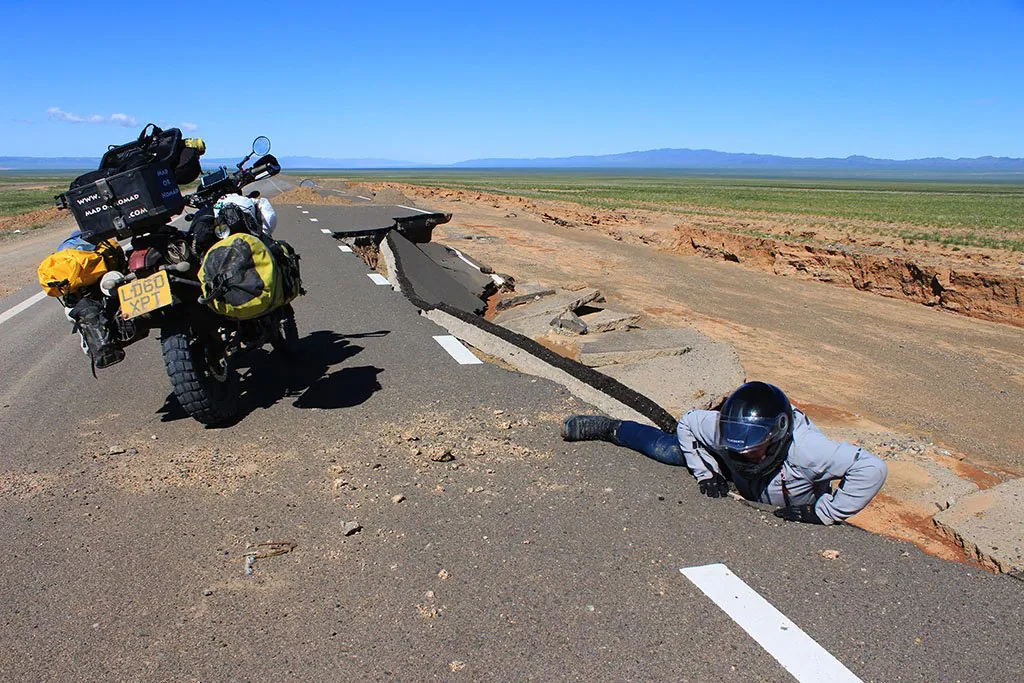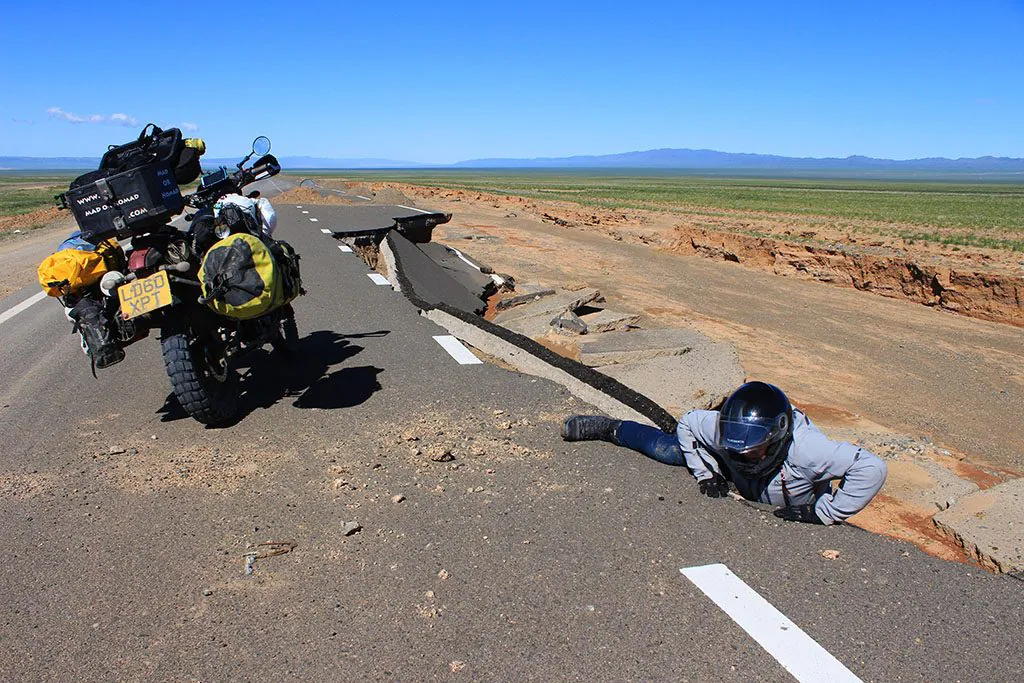 The general condition of off-road tracks are easy going gravel. Only if you go well off course will you start to find sand and deep muck. Depending on the time of year you might not find any river crossings either. You almost need to look for the harder tracks at times. We wouldn't say the off-roading is easy, but it is definitely doable. We opted for hard routes and tracks and we got them. Some days we spent four hours trying to cover 10km through sand and swamps. We chose that as we wanted a challenge and some fun. But you can certainly get away without having to do it.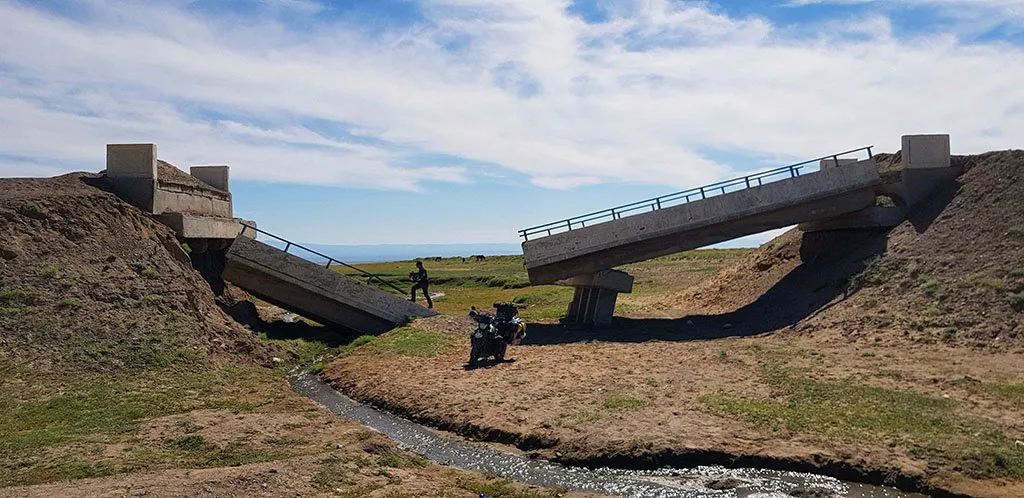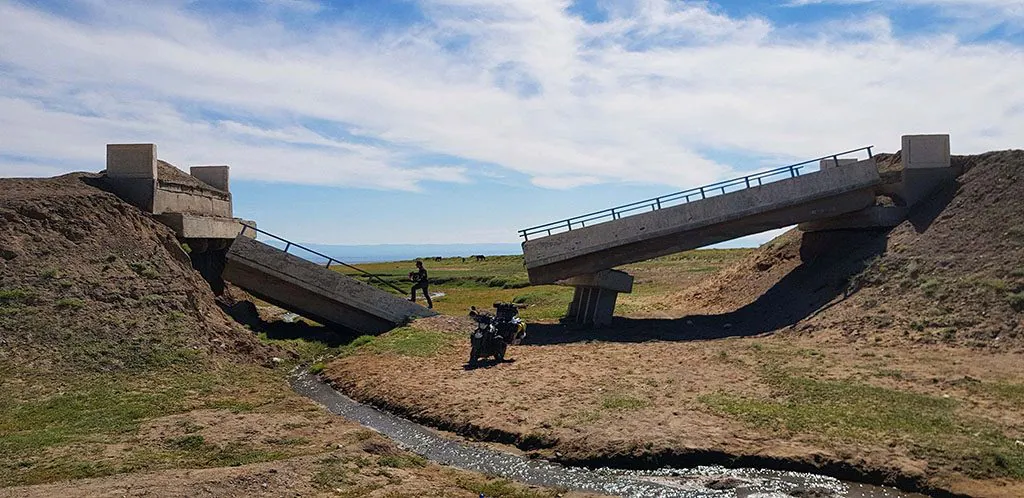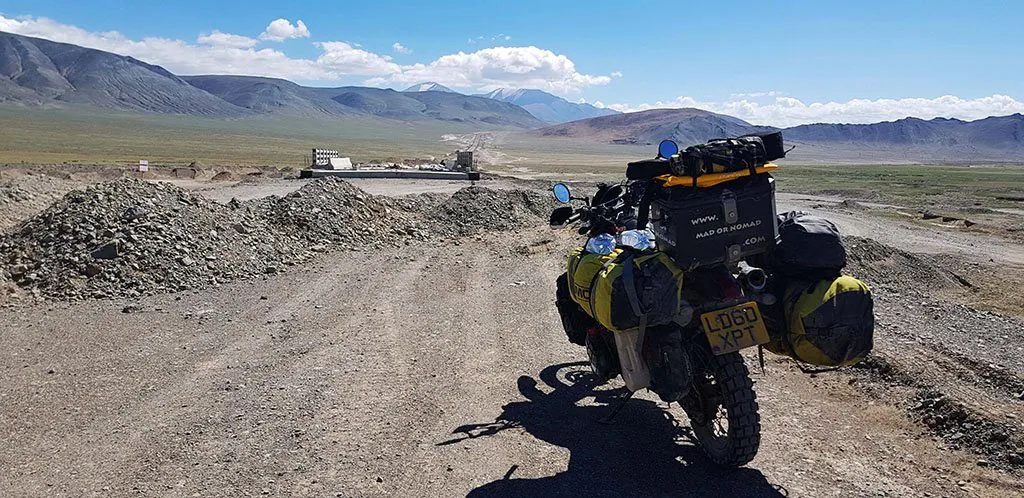 Finding fuel in Mongolia
Finding petrol seems to be the top concern for people planning on motorcycle travel in Mongolia. It really shouldn't be. Our motorcycle has a 15 litre tank, which covers around 250 km. We carry an extra 6.6 litres in a Rotopax jerry can, which gives us an extra 100kms. We only needed to use our spare fuel twice, and that was because we went well off-piste into the Gobi. We also used it a third time, but that was to help a stranded Mongolian horse herder.
We've seen plenty of people online asking and worrying about petrol for their big cars and trucks while stating they can only cover 800km to a tank. It's nuts. Don't worry about fuel, you'll find it in nearly every town.
And if you don't, still don't worry. Nomads inhabit these vast lands and gone are the times of tending their herds on horseback. Now, everyone seems to own small Chinese made 125cc motorcycles in Mongolia. Beeping their horns as they chase their sheep and horses over hills to new pastures. If you run out in the middle of nowhere it's very unlikely that you'll be stranded for long. Most yurts have spare fuel, which they'd be happy to sell.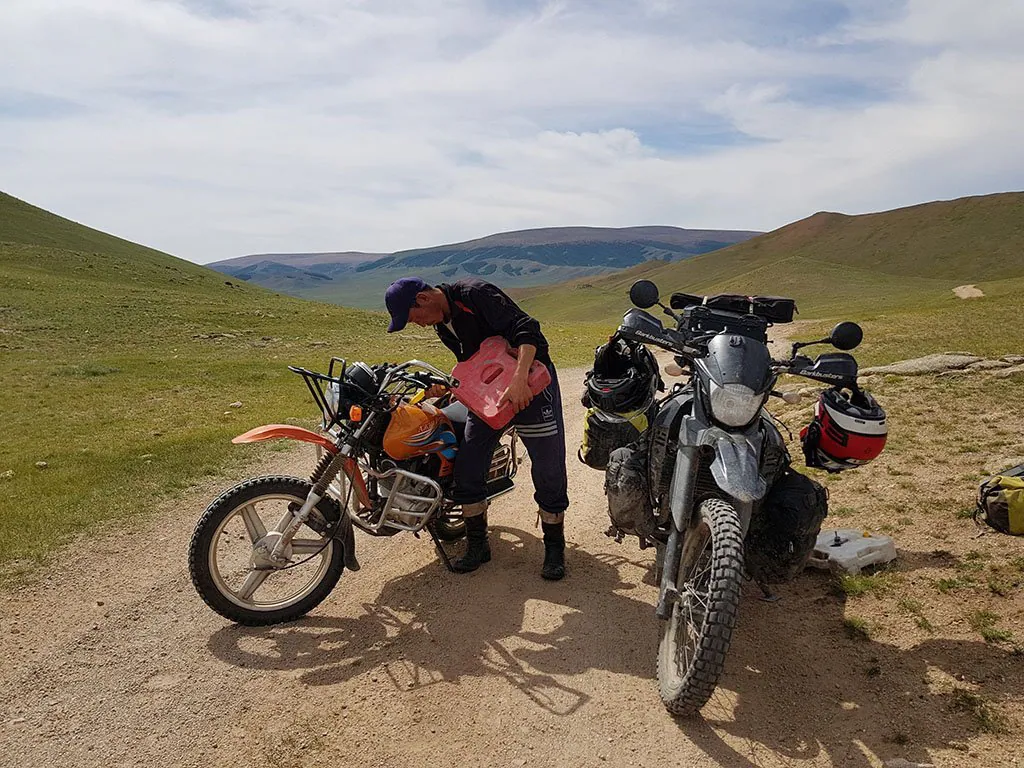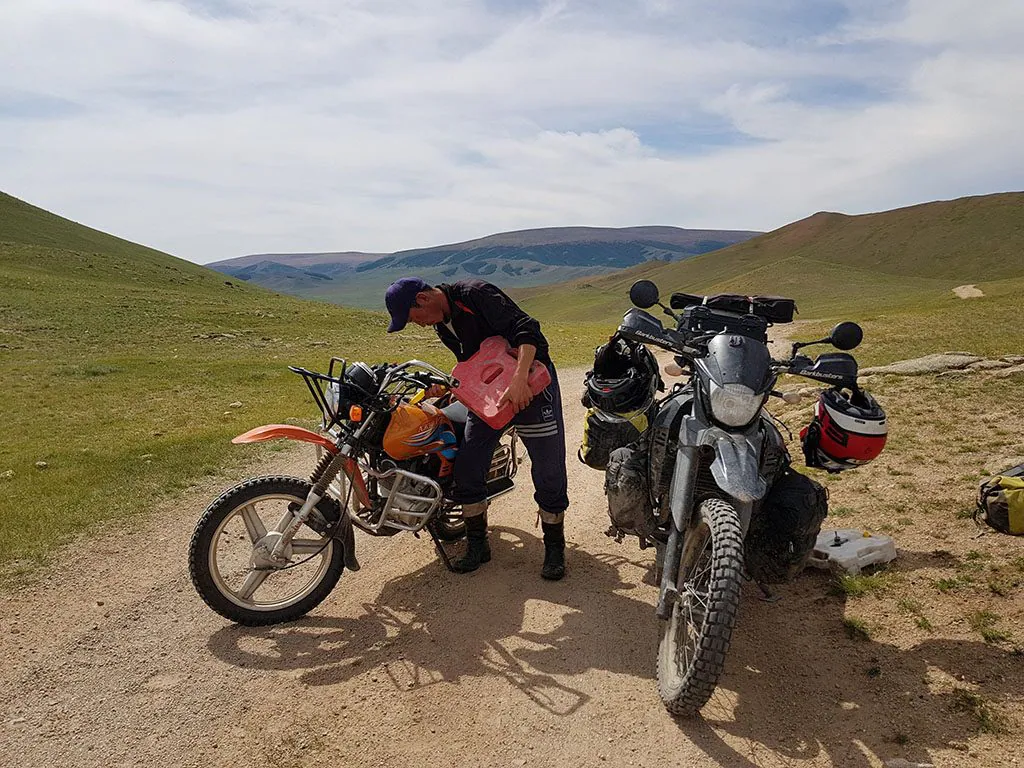 Food and water
Same principal goes for food and water. Simply plan your routes so that you stop every so often in a town and load up on supplies. We carried six litres of water a day for two people. That was enough for drinking, camping, cooking and washing. We recommend boiling river water (if you're looking for cooking equipment, we use the MSR Quick 2 system and the MSR Dragonfly stove).
Camping and accommodation
You can pretty much camp anywhere you like in Mongolia except for in National Parks where you have to pay to enter. We once saw a camping spot on iOverlander which recommended a camping spot in a park. We decided to camp there and were woken in the middle of the night, being told to move. They gave us leaflets in English explaining we couldn't camp. Despite explaining that it was dark, a treacherously hard off-road route back to the main road and we'd leave first thing in the morning, they refused, insistent that we left. That was the one and only time we ever had a problem in Mongolia. We rode back to the main road, crossed the road and stuck up our tent in the next field. It's very uncommon for that to happen, but worth noting that if you have to pay to get into a national park, don't bother camping there.
It's always worth camping out of the way, or if you're near yurts and you get a good vibe from them, you could always ask to put up your tent near their yurt. It could easily lead to invites for tea and biscuits!
Yurt camps which cater for tourists are plentiful and there are usually hotels in main cities.
READ MORE: The Ultimate Motorcycle Camping Gear List
READ MORE: The 10 Best Motorcycle Camping Tents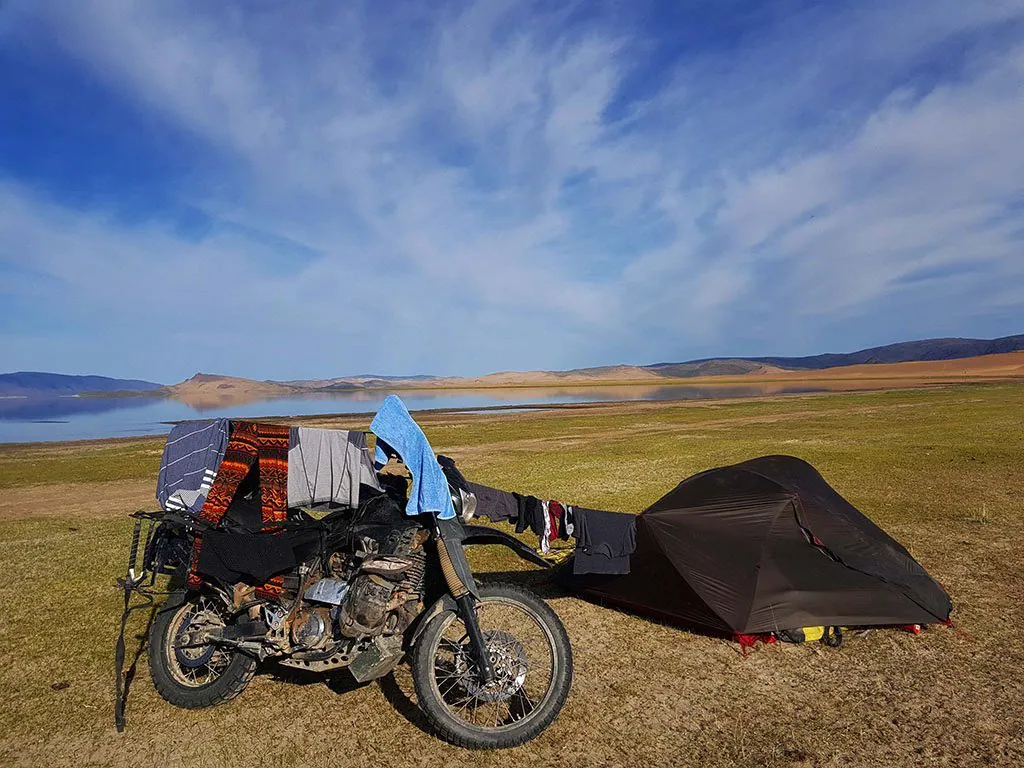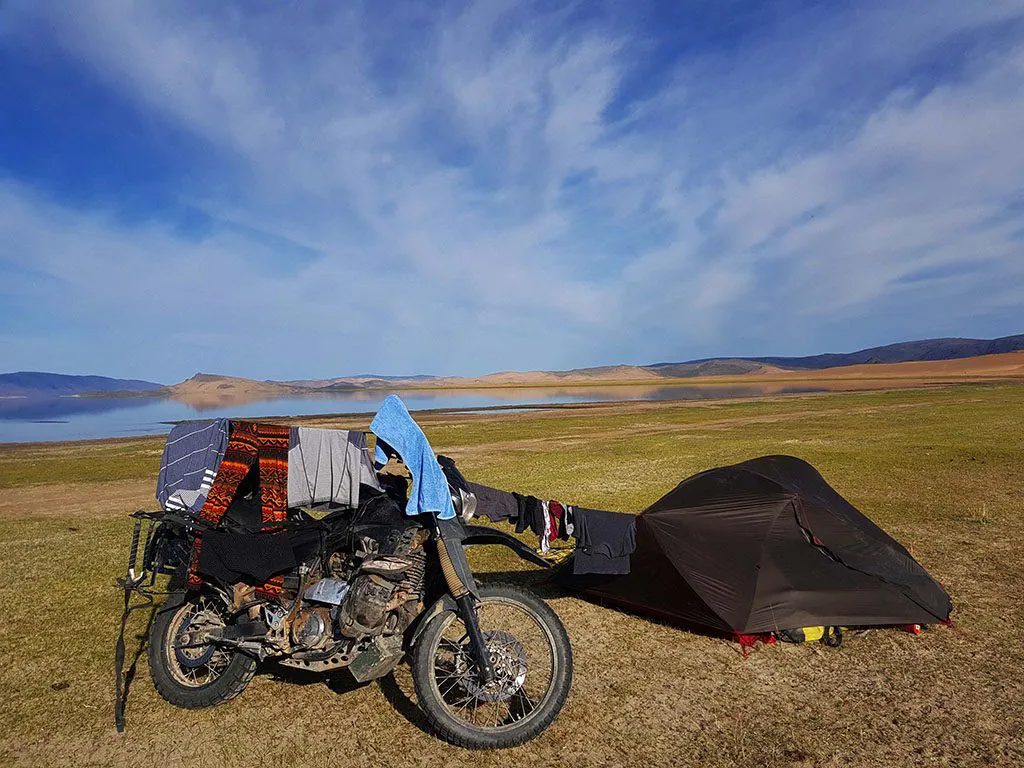 Navigation and maps
We relied on the Maps.Me app for our entire motorcycle ride through Mongolia. The app shows up mini trails and paths that Google Maps doesn't. And as it works offline, making it far easier to plot routes through Mongolia. A paper map also helps to plan the overall direction. But on a daily basis, Maps.Me is perfect, you'd be surprised at the amount of small trails it has.
READ MORE: The Best Motorcycle Sat Navs
READ MORE: The Best Motorcycle Phone Mounts
Visa, insurance, money and paperwork
Mongolia is straightforward when it comes to paperwork, visas and insurance. Check below to find out what you'll need and how to get it. And there's a full guide that explains all the paperwork requirements you'd need on a RTW trip if you fancy digging deeper here…
READ MORE: Motorcycle Travel Paperwork Explained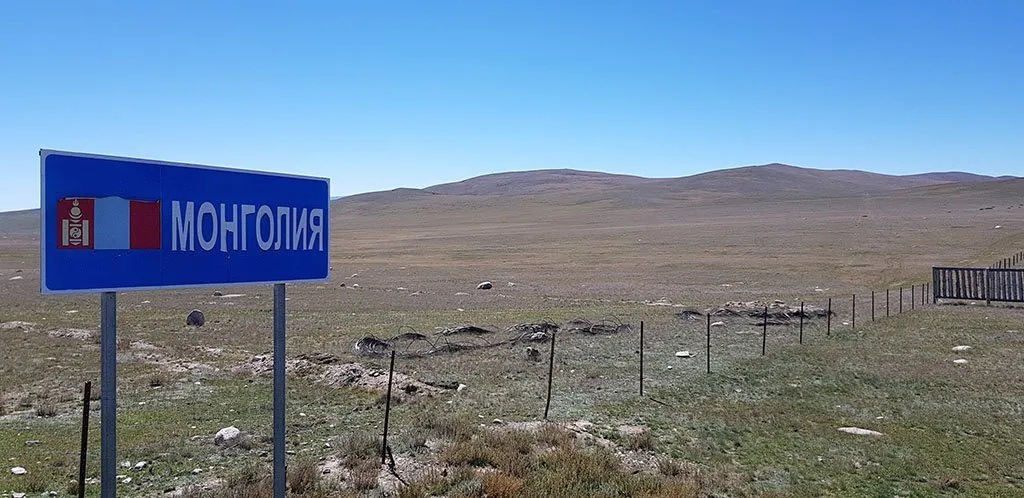 Crossing the border
When we crossed the border into Mongolia from Russia in the west, we had to wait for two hours while the Mongolian border guards had lunch. (On the Russian side, you will have to show the paperwork you were given when entering from Kazakhstan, if you came that way). It's best to tackle the border in the morning. The process is straight forward and you'll just need to get a bunch of colourful stamps. You'll be given a piece of paper by customs if you have a vehicle, which you'll need to keep for the duration of your stay.
Visa
The Mongolian visa is single-entry and valid for 30 days. It is valid for 90 days from the date it was issued meaning you can enter anytime within 90 days of issue and stay for 30 days. Mongolia does allow visa exemptions for certain nationalities – find out if you're on that list.
If you're travelling overland you won't be able to get a visa on arrival, so you'll need to source your visa in your home country or from an embassy abroad, which is incredibly easy.
We obtained our Mongolian visa in Almaty, Kazakhstan and it was the easiest visa process we've ever had. We walked into the embassy, paid 90 USD per person (we paid for an immediate visa, it's around 70 USD if you don't mind waiting a few days) and they processed the visa and gave our passports back in 10 minutes.
You will need your passport, a copy of your passport, complete and printed application forms and two passport photos.
You can only pay in USD.
You do not need a letter of invitation
Check iOverlander for the specific embassy information
You can extend your visa for another 30 days at the Ulaanbaatar or Olgii Immigration Offices (again, check iOverlander for up-to-date info). Keep in mind that if you extend your visa, you will also need to register your day and that you can also extend up to four days before your current visa expires.
Extra info on the Almaty embassy
There is no bell at the embassy, you'll either need to ring the number on the sign, wait for someone to come out or shout
The embassy is located here
The embassy's opening times are Monday to Friday, 0930-1300. It's usually very quiet throughout the day.
Insurance
Officially, you need insurance to travel with your motorcycle through Mongolia. Once you pass through the border you'll be flagged down and taken into a little makeshift office and asked to pay up in exchange for a yellow piece of paper. The insurance will be valid for 30 days. The prices aren't exactly official either. We were asked to pay 20 USD for a motorcycle for 30 days, we paid 15. At the same time, a Spanish guy was asked to pay 30 USD for his car, he paid 20 Euros. 
READ MORE: The UK Motorcycle Travel Insurance Guide
Do not pay for anything else, other than insurance. Friends of ours were shouted at and told that they had to pay tax of some kind. Ignore that, pay your insurance and get out of there.
You do not need a Carnet de Passage for Mongolia.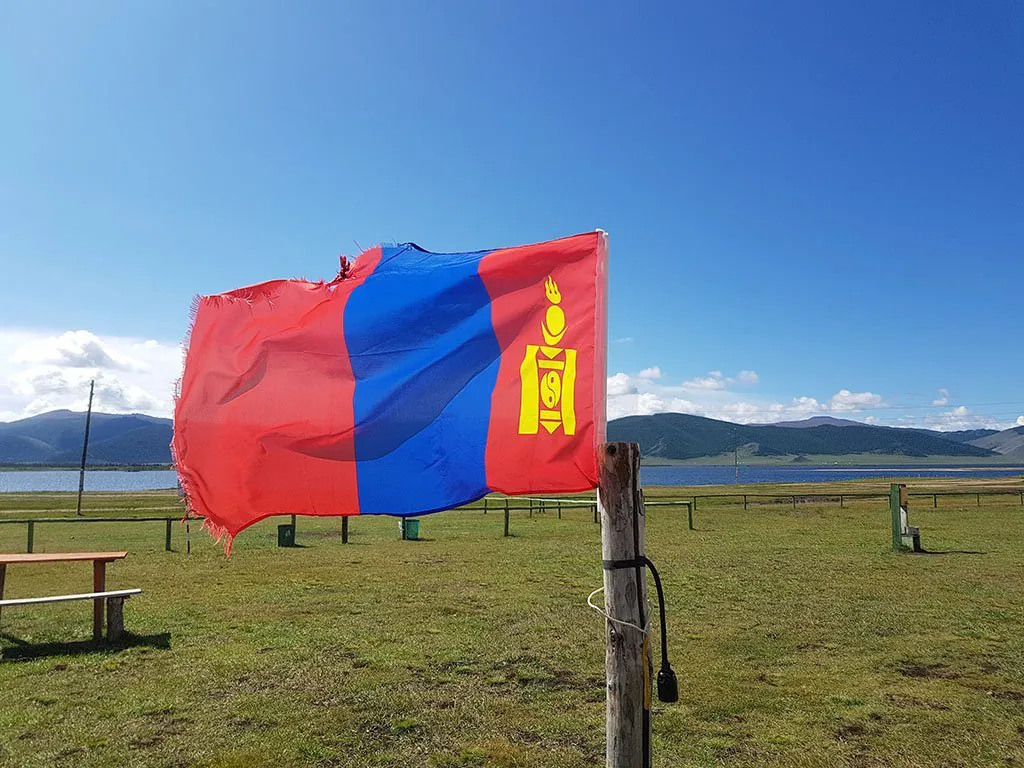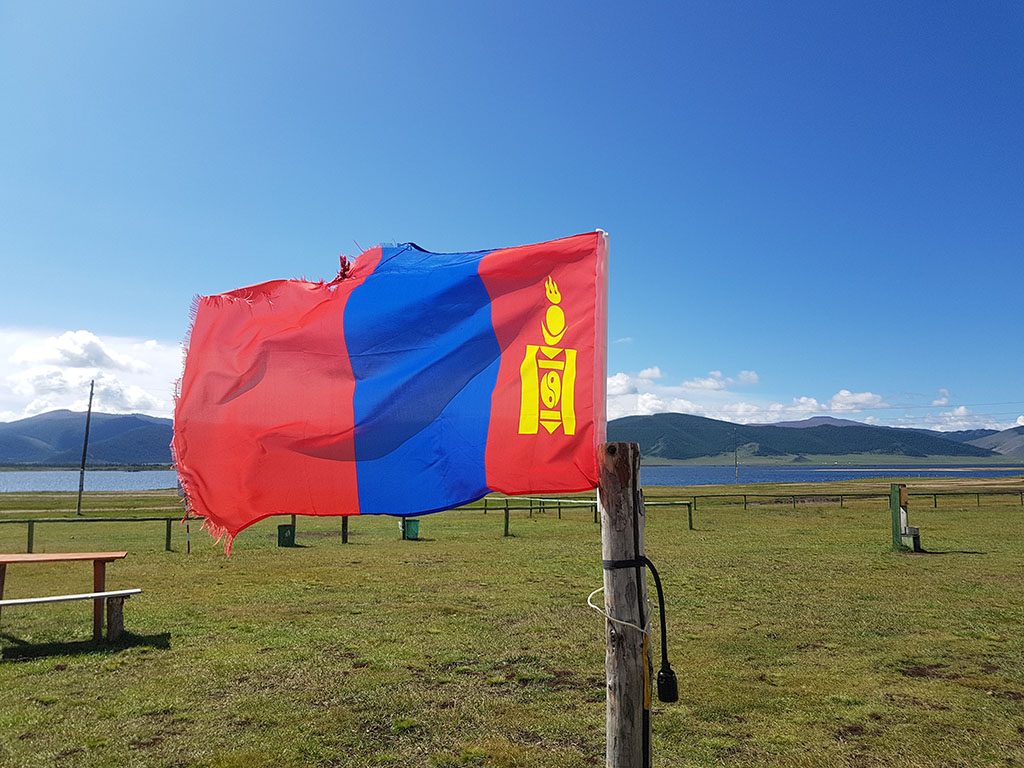 Money
If you are crossing into Mongolia from the west, one of the first towns you'll come across is Olgii, there are ATMs in this town, so you can stock up on cash here. There are also ATMs in all major towns along the way to Ulaanbaatar. We'd advise carrying enough cash, and a few USDs as back-up. Mongolia isn't expensive to travel through, so you don't need to carry big wads of cash, just enough to get you through.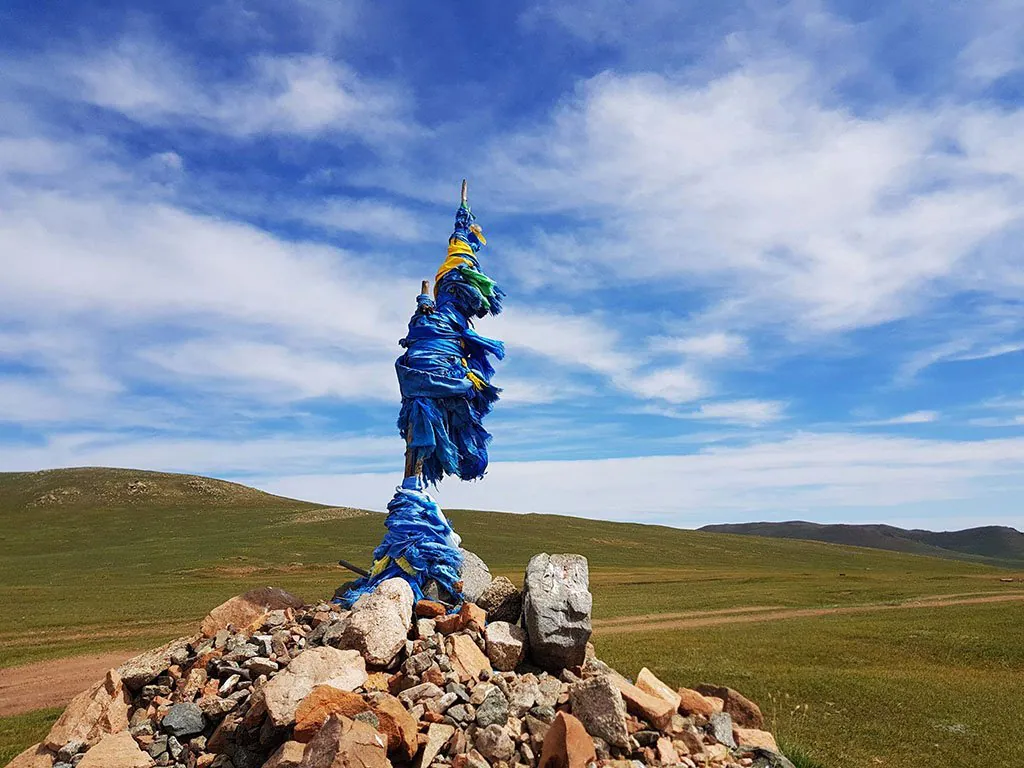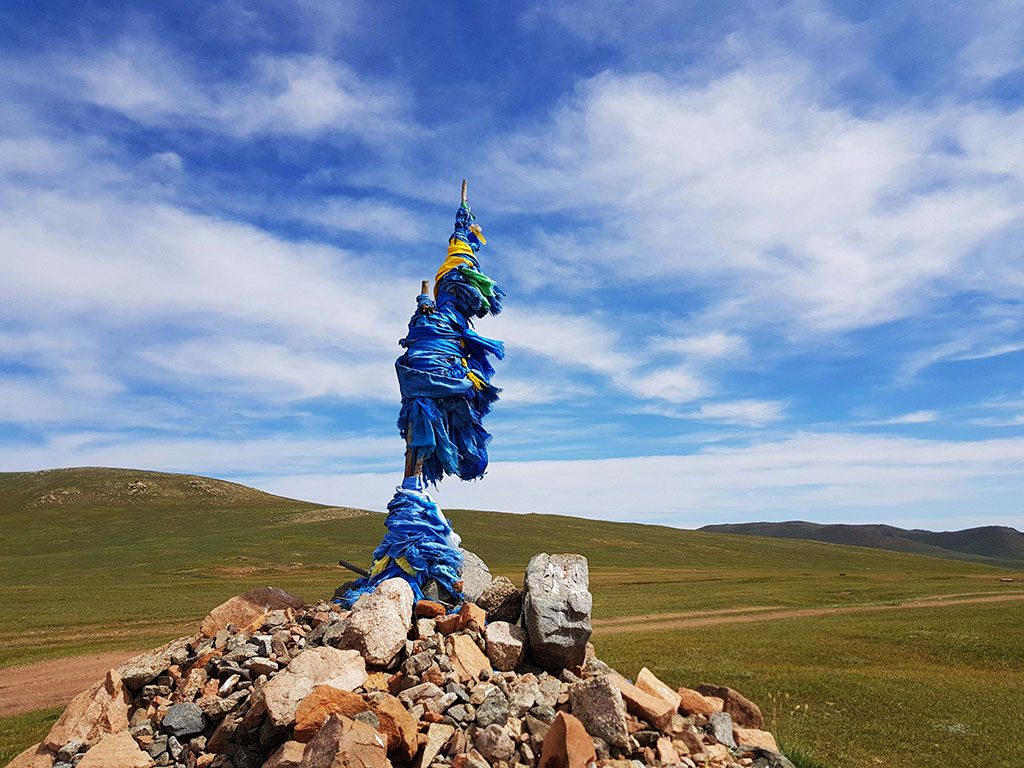 What to take
Packing gear for motorcycle travel in Mongolia means packing for everything. You will need kit for the rain, cold and sun. You'll find yourself sweating buckets in the deserts, freezing cold at night, and trapped in torrential rain in the space of a few days. The weather can be unpredictable and volatile at times, so be prepared. Easy off-road tracks can quickly turn into a nightmare after a rainstorm.
READ MORE: How to Choose Your Adventure Riding Gear
Make sure you have a suitable charging device for whatever you use for navigation if you're relying on technology.

It's worth carrying a puncture repair kit and compressor if you have your own transport.
READ MORE: The Ultimate Adventure Bike Tool Kit Guide
READ MORE: SBV Adventure Bike Tool Kit Review
Tools to fix the basics and help you hobble to a garage. Without sounding mean, some of the workmanship in Mongolia isn't exactly up to western standards, if you need something welded, get a temporary bodge weld and then have it re-welded once you leave.

Carry enough food and water for two days if you're heading well off the beaten path.

Off-road motorcycle tyres if you're travelling on the rough stuff.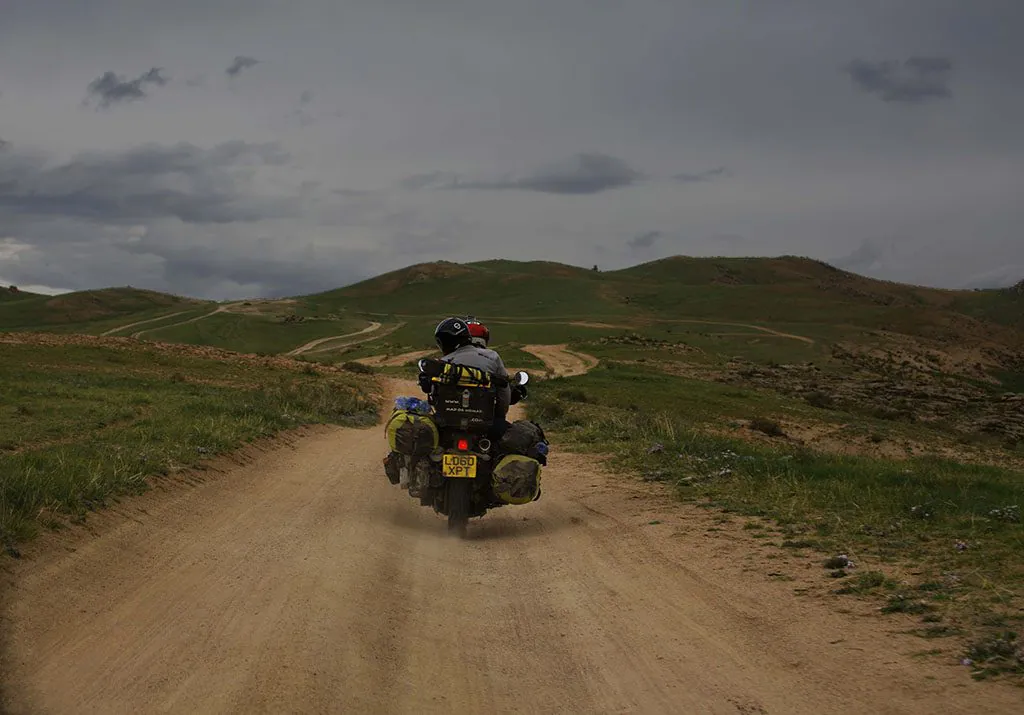 Top tips for motorcycle travel in Mongolia
It sounds silly and obvious, but the most important thing to remember is to relax and enjoy it. We met so many people who got so worked up about motorcycling in Mongolia before they even got there. Everyone goes on about how hard it is, the road conditions, the wilderness and so on. And so when they arrive, they either blast through on easy roads or spend their whole time worrying about a river crossing that never comes. Once they get to Ulaanbaatar they wished they took the time to explore more. It really isn't as hard as people make out. Try going off-piste, if you don't like it just head back to the road you were on.
If you've just come from Central Asia, then you'll probably find the Mongolians aren't as forthcoming and friendly. But they are still kind people, just more reserved than the super friendly Tajiks.
Pack appropriate gear. You could be riding all day in the baking hot sun, but by the time night falls and you crawl into your tent you'll see your breath.
You can buy a Mongolian SIM card in Mongolia, the wifi signal isn't great throughout the country, but it's worth having.
Recommended apartment
We don't normally write recommendations for places to stay, but we want to recommend Amra's place in Ulaanbaatar. Amra is a sweet Mongolian lady, who rents out rooms in an apartment. She speaks excellent English and is also fluent in German. The apartment is centrally located and has three large bedrooms. One of the rooms is taken up by a Tibetan monk on a long-term rental – super nice guy who cooks a mean noodle soup.
The apartment is impeccably clean with two toilets and Amra's lives in the apartment next door in case you need anything, and she pops over every day to clean. Amra also runs tours in Mongolia and the apartment rental is her side business. We didn't go on any tours, and only found out about her place through someone we met in Kazakhstan. We ended up staying for a week because we liked it so much and could park our bike right outside. It's around 15 USD per person per night. You can email her on montoursgh@gmail.com or Whatsapp her on +97695595989 if you're interested.
You're going to love travelling through Mongolia on your motorcycle. It's one of the world's wildest, most vast and epic biking landscapes.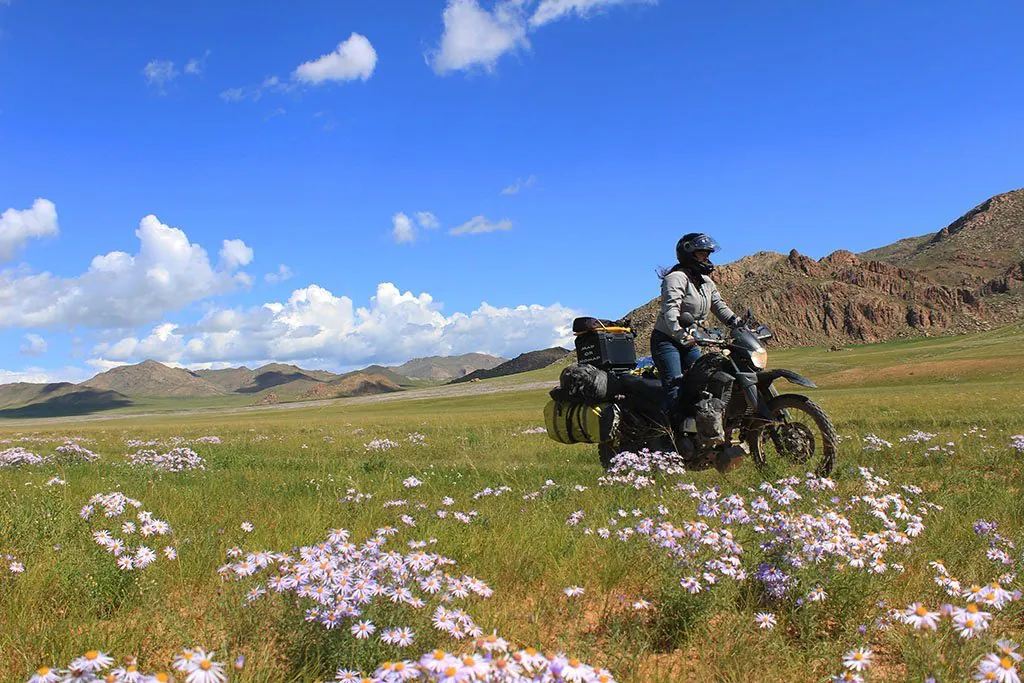 Read more on Motorcycle Travel in Mongolia
Thanks for checking out our Mad in Mongolia Blog post. We hope you enjoyed it! Here's a few more articles on motorcycling in Mongolia that we recommend you read next. 
Liked that? Try these next…
We hope you found this Motorcycle Travel Guide for Mongolia helpful. If you're heading there or have any questions, please let us know in the comments. We'd love to hear from you!