Welcome to the Malaysia Motorcycle Travel Guide. This article explains what you need to know about getting your motorcycle in and out of Malaysia,  paperwork requirements and more. 
Motorcycle Travel in Malaysia
Malaysia might not be at the top of every motorcycle traveller's bucket list. But it is an important country for round the world riders. And that's because it acts as an entry and exit point for overlanders to ship their vehicle in and out of Southeast Asia.
So, this guide will focus on entering and exiting Malaysia with a foreign registered motorcycle, the entry and exit points, explain the shipping processes and cover the paperwork info you need to ride there.
Malaysia paperwork for motorcycle travellers
Carnet
The Carnet in Malaysia is a source of much confusion (and online arguments) amongst motorcycle travellers. Let's set it straight.
You can enter Malaysia without a Carnet via a land border.
You can not enter Malaysia without a Carnet if you are shipping your motorcycle in.
You may also find it tricky to ship out of Malaysia without a Carnet, but it is technically not needed.
READ MORE:
Carnet and Malaysia land border
In November 2022, we crossed the land border from Thailand to Malaysia with our motorcycle and were not asked about our Carnet. In fact, we rode through and entered Malaysia with our bike with absolutely no paperwork or requests for it. We had to turn around and go back through the gates and search out the customs department. It took about 30 minutes and three officials to help us find the right person who knew how to deal with carnets and stamp us in. Even then, this person made a mistake and spoiled a page. This has been reported by quite a few fellow motorcycle travellers, so do keep an eye on whoever is stamping you in.
We used the carnet because we had it and knew we would be shipping our motorcycle from Malaysia to Borneo and wanted to avoid any delays with shipping out, so we might as well have used it. However, if you are entering via land and don't have a carnet, you are allowed to enter.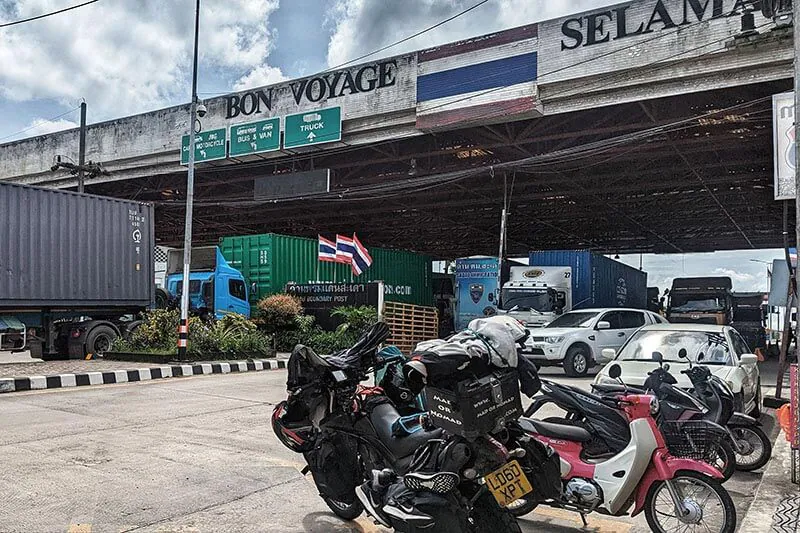 Carnet and shipping into Malaysia
You do need a carnet if you are shipping your foreign registered motorcycle or vehicle into Malaysia. You will most likely be entering the country at Port Klang. If you are considering this option, please contact your shipping company / freight forwarder as they will have up-to-date information on what you need to enter.
Carnet and shipping out of Malaysia
If you are entering Malaysia with a foreign registered motorcycle or vehicle and plan on shipping your motorcycle out of Malaysia – then it's wise to have entered with a carnet. You can technically exit the country without a carnet as it is only required if shipping in, but shippers do tend to ask for it when shipping out. So if this is your plan, get in touch with your designated company and check before entering Malaysia that they are definitely happy to ship your motorcycle out without a CDP.
A quick note on shipping from Malaysia to Borneo. Some travellers plan on entering without a carnet, shipping their bike from Kuala Lumpur, West Malaysia to Borneo, East Malaysia (as there is no need for a carnet) and then crossing the land border to Indonesia. But remember that Indonesia requires a carnet to enter, so you could quickly find yourself very stuck with this route.
Malaysia motorcycle insurance
You need to purchase motorcycle insurance to legally ride your foreign registered motorcycle in Malaysia. You can do this once you have passed through the border and are in the country.
Some reports have suggested that travellers weren't allowed to exit the border without showing their insurance. But this should not be the case and you should be allowed to. Insurance if far harder to find once you have left the border area though. You will tend to find most insurance office located a short distance from the border.
Some travellers purchase their insurance on the Thai side. If you are going to do this, it's worth getting to the Thai border and submitting your documents, getting a hotel and picking up your insurance in the morning for a crossing because it can take some time.
Some travellers have just passed through and not bothered with insurance at all. But this is obviously not recommended.
International Circulation Permit
You need this ICP paperwork to travel in Malaysia and will be asked for it when exiting the country if shipping. You can get an ICP from a JPJ office. These are located at border offices. They're a nightmare to find if you don't get one at a border.
To get an ICP you must first have a valid Malaysian insurance document. So as mentioned above in the insurance section, we had to leave the border (where the JPJ office is located) ride to the nearest insurance office (5 minutes) and then return to get the ICP. The ICP is free from a JPJ office and lasts the same amount of time as your insurance document.
Our experience
We crossed the Thailand / Malaysia border in November 2022 at the Pedang border. There was no request for insurance and no insurance office at the border either. We found an insurance office a 5-minute drive from the border in Malaysia. When I say insurance office, it was a small grocery store that also happened to sell insurance. Co-ordinates are 6.50525, 100.42256. We purchased the insurance for 105R and then returned to the border to get our ICP. You can also get the ICP from this shop, but they charge 85R, while it is free if you ride 5 minutes back to the border.
International Driver's Permit and driver's licence
You do need an IDP and full driver's licence to travel in Malaysia on a foreign motorcycle. Make sure you have valid documents before entering the country.
Vehicle registration document
You will need an original of your motorcycle's registration document.
Passport and visa
Of course, you will need your passport to enter. And dependent on your citizenship will also need a visa. Malaysia allows citizens of 66 countries to enter visa free for up to 90 days including citizens of the EU, UK, USA, Australia, Canada and New Zealand. 94 countries receive a free 30-day visa. Please check your citizenship's visa situation before travelling.      
Getting in and out of Malaysia with a Motorcycle
Land border: Thailand and Malaysia
There are a number of land borders connecting Thailand to West Malaysia. The most commonly used borders are Padang Besar, Sadao. But there are other crossings further south such as Betong and Su-Ngai Kolok.
Padang Besar border – This is a busy border crossing but one of the most direct routes from Thailand to Malaysia. The upside is that they know what they're doing, the downside is expect to be on each side for 60 minutes.
Sadao – This is the most direct route from Thailand to Malaysia as it uses the Number 4 main road from Hat Yai in Thailand. It can be busy, but is efficient. Expect 1-2 hours each side.
Betong border – A small border crossing regarded as one of the easiest and most relaxed to get across. Expect up to 30 minutes each side.
Su-Ngai Kolok border – Straight forward bordering crossing. Not as many foreign motorcycles cross here. Expect between 30 – 60 minutes on each side.
READ MORE: Thailand Motorcycle Travel Guides
Land border: Malaysia and Indonesia (in Borneo)
There is a land border between Malaysia and Indonesia on the island of Borneo. You can ship your motorcycle from Kuala Lumpur to Sarawak and then ride south to cross the land border to Indonesia. From there you can catch the ferry across the Java Sea to Java, Indonesia (more info on the shipping procedures in the shipping section below).
We have a dedicated guide on crossing this land border and how to do it.
READ MORE: How to Cross the Borneo Border (Malaysia and Indonesia) with a Motorcycle
Shipping a motorcycle internationally to / from Malaysia
As mentioned above in the carnet section. You do need a CDP to ship your vehicle into Malaysia. When shipping in or out, it's highly likely you will do so from Port Klang, Kuala Lumpur, West Malaysia. This is an international shipping port and very widely used by motorcycle travellers. Freight forwarders and shipping companies know the drill here and dealing with foreign motorcycles is nothing new.
Get in touch with a shipper in advance to find out what the exact requirements are.
We have a section on Mad or Nomad where we've listed shipping companies from around the world. We recommend checking out the Malaysia page for our recommended freight forwarders and also taking a look at our shipping guides after for more info.
READ MORE:
Shipping from Malaysia to Borneo
Peninsula Malaysia (also known as West Malaysia) is where the capital is located (Kuala Lumpur) and the main shipping port (Port Klang). This part of Malaysia shares a land border only with Thailand.
East Malaysia (also known as Malaysian Borneo) is the northern half of Borneo island (the world's third largest island). Borneo is an island administered by three countries: Malaysia to the north, Indonesia to the south and Brunei has a tiny spec of land on the north coast.
Malaysian Borneo is a beautiful part of the world. It's incredible to visit due to its endemic wildlife, beautiful nature and lovely beaches. The best of Borneo can be found in the north and east.
Most motorcycle travellers will go to Borneo purely so they can cross the land border to Indonesia and ship to Java. It's a round-about way of getting from Malaysia to Indonesia but, due to Covid, has become the main way for overlanders.
For more info on how to do this shipment and crossing, take a look at the below guides. And if you're interested in travelling in Malaysia Borneo, have a read of our blog post below too.
READ MORE: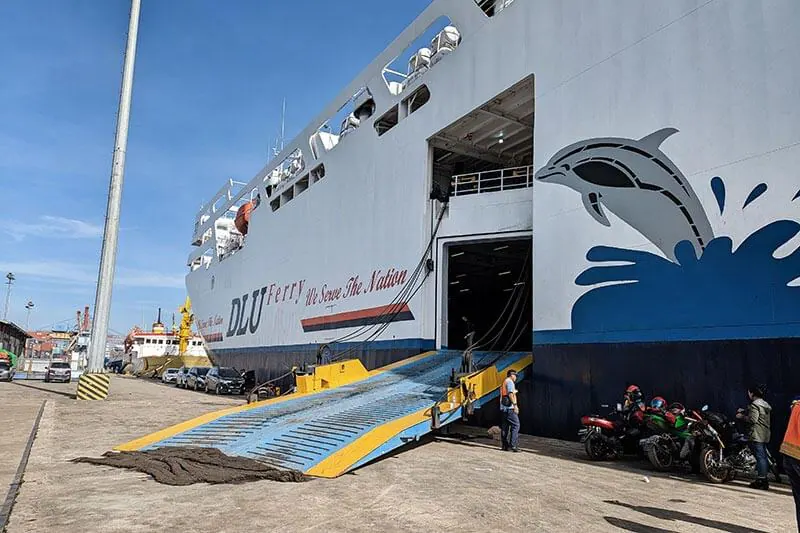 Shipping from Malaysia to Sumatra (Indonesia)
Pre-covid, the motorcycle travellers wanting to get from Malaysia to Indonesia didn't need to ship all the way to Borneo just to cross a land border and catch a ferry back down into Indonesia. Instead, they could just put their bike on a boat from Kuala Lumpur to Sumatra and fly over. Easy. But this route has been closed off for the last few years.
However, around October 2022 we received a report of the first traveller in three years making this crossing. So, it's likely it will fully reopen again soon.
Have a read of the below guide for more info.
READ MORE: How to Ship a Motorcycle from Kuala Lumpur to Sumatra
The motorcycle route from the Thai border to Kuala Lumpur
If you are riding into Malaysia via the land border from Thailand, chances are you'll be taking a direct route to Kuala Lumpur to ship your motorcycle out.
Be warned, this is a long and boring road with not many worthwhile detours. If you have time, it's worth visiting the brilliant islands of Penang and Langkawi. And if you have a lot of time, you could leave your bike in Langkawi and get the boat to Ko Lipe in Thailand for a day trip.
But if you're not planning on visiting either of Malaysia's west coast islands, the route to KL isn't going to blow your socks off.
Motorcycles can travel on the motorway / highway (thankfully). There are toll booths along the way, but you'll always find a pathway for motorcycles to veer around them to the left as motorcycles do not need to pay.
On some stretches the pathway for motorcycles runs adjacent to the main road.
It's worth noting that this long stretch of road is fast going. Bikes and cars will be travelling fast and won't appreciate you sitting anywhere near the fast lane. Bikes almost exclusively use the hard shoulder.
And petrol stations can be few and far between, so fill up when you can.
Accommodation, weather and gear
Hotels
Accommodation in Malaysia is pricier than its neighbouring Southeast Asian countries – especially if coming from Thailand. And personally, we found the standards to be nowhere near as good as its cheaper counterparts either. You'll be paying more for less here. Using Booking.com is a good way to travel here as places do get booked up fast.
Have a look at the below map to get an idea of current hotel prices in Kuala Lumpur.
Camping
Camping isn't as common, but can be done. There are official sites in tourist areas and near national parks. Travellers often wild camp in Malaysia, but do check for local signage on whether or not it is prohibited.
Have a read of our camping guides for more info.
READ MORE: Motorcycle Camping Guides
Weather
The weather in Malaysia can be hit and miss thanks to its tropical monsoon climate. Expect completely different weather forecasts for West and East Malaysia and carry wet weather riding gear regardless of what time of year you travel. It is a hot and humid country so expect muggy riding and thunderstorms.
Riding gear
Mesh textile riding gear is recommended, especially summer motorcycle gear. We'd recommend using non-waterproof textiles to increase ventilation and carrying throwover waterproofs in case you're caught out in a rain storm. It can be thunder and lightning one minute and blazing muggy sun the next.
READ MORE: Motorcycle Riding Gear Guides
Read more on motorcycle travel in Malaysia and Southeast Asia
Thanks for checking out this Motorcycle Travel Guide: Malaysia guide. We hope you enjoyed it! Here's a few more articles on motorcycling in Malaysia and Southeast Asia that we recommend you read next.
Are you planning a motorcycle trip to Malaysia or Southeast Asia? Do you have any questions or tips to share? Let us know in the comments below.