Latvia is an epic country for adventure bike riders thanks to its stunning forests and awesome trails. If you're planning a motorcycle trip there, then have a read of this packed Latvia motorcycle travel guide first! It's filled with helpful info, riding routes, top tips and loads more to help you make the most out of your motorcycle adventure in Latvia. 
Why motorcycle travel in Latvia?
Latvia is a small country in the heart of the Baltic states. It's rich with culture and history that has remained for centuries and ancient buildings that still stand to this day. Latvia, before becoming independent, was always occupied by empires, kingdoms, guilds and colonizers at any given time. This has left Latvia with many war-related structures, museums, stories, and tales.
But despite the occupations, Latvia and Latvians have managed to keep their own culture, unique language, craftsmanship, cuisine, songs and heritage alive.
Most of the country is very sparsely populated – or not populated at all – and mostly covered in forests. The small country has so much to offer and is perfect for motorcycle travellers and tourers because of its great grasslands and dense forests which stretch from its coast to borders. It'll make the heart of a nature lover beat faster. Since wild camping is also permitted here, spending your nights camping under the stars in Latvia's gorgeous nature isn't a problem.
Latvia motorcycle paperwork
Visas – Most countries' citizens are not required to have a visa if visiting Latvia for less than 90 days.
Driving license – Both a driver's licence and vehicle registration certificate are required to ride here.
ID card or passport – Required, and since 26.6.12 it has also been obligatory for children travelling within the EU to have their own identity document.
International Motor Insurance Card – Green Card is mandatory.
Vignette – Only needed for vehicles over 3001 kg weight.
To learn more about necessary paperwork, please visit the official government website for up-to-date information and covid related restrictions.
Getting in and out of Latvia with a motorcycle
Latvia is a part of the European Union and Schengen Area, so if you're European you can freely cross the border and enter the country by land or sea without the need to stop at the border. If you're entering Latvia from Russia or Belarus then you will have to go through the long process of crossing the border and there are some restrictions for food, beverages, and fuel that you can take over the border.
When to visit Latvia
The best time to motorcycle tour through Latvia on a motorcycle is usually late spring, summer and early autumn. Since Latvia is a northern hemisphere country, the average temperature in summer is around +19 degrees, but on some days it may rise to +30 degrees. So, take your swimming shorts and a cold-weather hat just in case. The longest day is around the summer solstice on June 21 and it's also the time when the mosquitos are most annoying.
Besides mosquitos, there are also horse flies and ticks that you should take into consideration when touring in Latvia. As a precaution, it's advisable to get vaccinated against tick-borne encephalitis.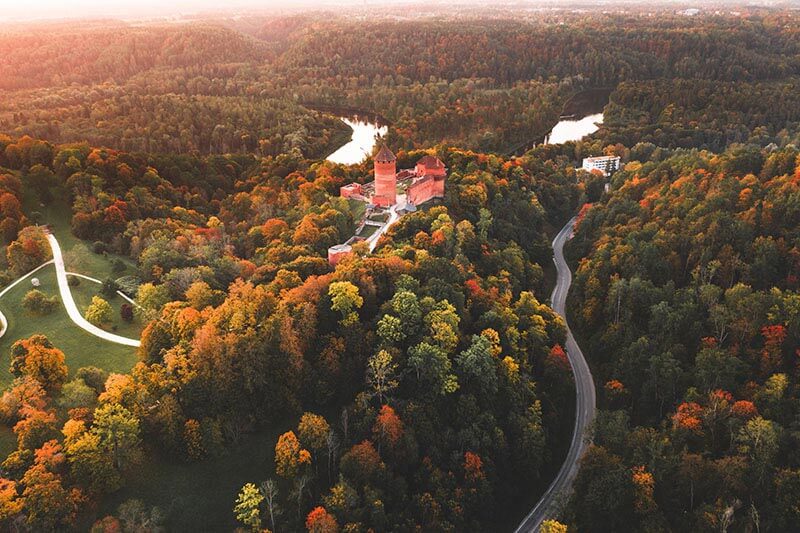 Accommodation and cost
I would advise you to experience the great outdoors as well as hotels on your motorcycle trip in Latvia. When you're staying outside in a tent near a lake or river you can enjoy the country's serene natural beauty, make a campfire, listen to the sounds of nature and breath in the fresh air. And also enjoy the culture, cuisine and bathing experiences of Latvia's many guesthouses and hotels.
If you're staying indoors then most of the guesthouses are fairly cheap and there's a lot to choose from in the countryside. The best thing about guest houses is that they usually include a Sauna, which is a big thing in Latvia. If possible, I recommend going through the Sauna ritual with a professional bather. You will feel reborn and your skin will soak in all the pleasant smells from Sauna. This is absolutely perfect after a long day on a motorcycle!
Motorcycle camping in Latvia
Wild camping is officially allowed in Latvia unless it is explicitly prohibited. The Latvian people are very friendly and tolerate wild campers. However, some points should be considered. If you're staying outdoors in tents then I advise you to use LVM GEO app to find public wild camping grounds in country-owned forests.
Here are some guidelines and advice for motorcycle camping in Latvia.
Staying overnight in nature reserves and national parks is only permitted to a limited extent.
Staying overnight on private property is only allowed with the owner's permission.
Staying overnight in towns or urban areas and near houses is prohibited.
You can build tents and make managed fireplaces in the forest.
Do not litter, remove your trash and take it to the nearest garbage bin.
There are no dangerous animals or other creatures that might attack you.
Electrical socket type is C+F.
Tap water in most places is potable.
The currency used is Euros €, most places have payment terminals.
The average price for a camping ground per person is 5€ to 10€.
The average price in a guest house per person is 20€ to 40€.
For more info on motorcycle camping, check out these articles:
READ MORE: The Ultimate Motorcycle Camping Gear Checklist
READ MORE: The Motorcycle Camping Food Guide (Gourmet Edition)
READ MORE: The 10 Best Tents for Motorcycle Camping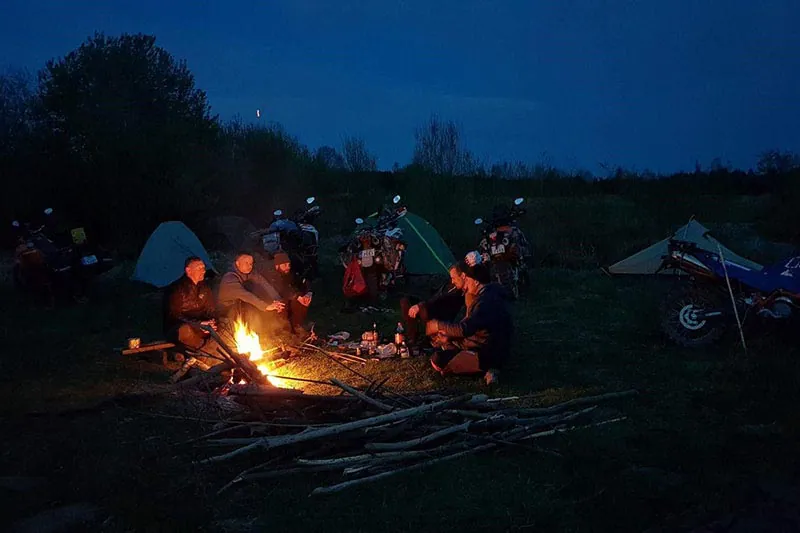 Safety and security for motorcycle travellers in Latvia
Latvia is a safe country to travel in for tourists and especially for enduro motorcycle riders since you're staying away from the capital city where tourists have the highest risk of getting scammed or being mugged. You don't have to worry about carrying pepper spray to repel humans or animals.
If you abide by the law and behave on the road then the police won't stop you and ask for bribes. Do not give any bribes to the police if you are stopped, you will get in more serious trouble.
READ MORE: How to Deal with Bribes while Travelling
Road rules for motorcycle travel in Latvia
It is mandatory to wear a helmet! Only helmets which conform to the ECE 22 standard are approved.
All vehicles must have their headlights on – even during the daytime.
Speed limits

Within built-up areas: 50 km/h
Outside built-up areas: 90 km/h
Dual carriageways (expressways): 110 km/h

There are no road tolls
Emergency number is 112
Legal alcohol limit when driving is 0.05% (50 mg/100 ml blood)
It is not mandatory to carry a first-aid kit or high-visibility vest.
Motorcycle riding conditions in Latvia
The main highways are in fairly good condition but since most of the road is from the soviet era, there are many roads that have potholes – so be careful and watch out for them. The regional roads are mostly gravel roads but the city connected roads are asphalt. So, the general road conditions are good and great for adventure bike riders.
Driving is on the right side.
Gravel road speed limit is 80 km/h.
You are allowed, by law, to travel on any road that has at least two tracks with a motorized vehicle.
Behave on the road and be polite to other passing vehicles or pedestrians.
Off-roading is not allowed, but trail riding is allowed if it's not in a park or the trail isn't for mountain bicycles.
The best motorcycle routes, rides and tours in Latvia
Enduro: TET Latvia
One of the most important and recognized routes for enduro riders in Latvia is the Trans European Trail which goes through Latvia in three separate sections that connect with neighbouring countries. This trail is mostly gravel but on some parts it has a lot of sand or mud that will make you sweat a bit but then again, it's going to make a great camping story!
Latvian Border Tour
Or you can go on the same adventure motorcycle trip around Latvia's border that the Outduro team set in 2021. It's a more relaxed type of trail suitable for bigger adventure motorcycles. This route doesn't go just along the border but in some places, it goes more inland to reach more interesting destinations.
On this route, you can enjoy the coastal side with the beautiful seashores and seafood like smoked fished or go deeper into the inland and find peace in the dense forests, stay in a guest house and enjoy the traditional drink shmakovka (moonshine) that's made in Malnava.
Travel Around Latvia by Outduro – 2,586km around the border of Latvia suitable for bigger adventure motorcycles
Trans Euro Trails Latvia – 1,802km over 3 sections suitable for dual sport but is possible with bigger adventure motorcycles as well
Trails found on Wikiloc – There are many trails added by locals suitable for many different types of transportation or just go on a hike near a campsite
Riding gear and luggage
Riding gear
You should always pack rain gear with you and warmer clothes including a cold-weather jacket and hat because sometimes the weather can dip to very low temperatures, even in summer.
Luggage
The luggage you carry depends on what type of motorcycle tour, trip or adventure you're on. If you're riding off-road then you'll need to pack lighter and it's more beneficial to have soft luggage over hard. Here's a bunch of luggage articles to help you plan your setup for a motorcycle ride in Latvia. 
READ MORE: The Motorcycle Luggage Guide
READ MORE: Hard vs Soft Luggage
READ MORE: The 6 Best Soft Motorcycle Panniers
Camping equipment
I would also recommend taking more camping gear and kitchen cutlery items with you like a pan or a smoker. Take your fishing equipment with you or rent it out and then prepare the meal yourself or together with your riding buddies. Adventure bike riding in Latvia means you can live out in the wilderness for longer than in other countries so it's a great idea to be well fed and enjoy your food while doing it! You can read more about this in my tips on camp cooking while on the trail below:
READ MORE: The Motorcycle Camping Food Guide (Gourmet Edition) 
Extras
You don't need extra fuel cans or tyres since there are many fuel stations and big cities have motorcycle workshops. If you're in Riga and need technical assistance then you can get in touch with us at Outduro as we have a motorcycle workshop and can quickly assist you if necessary.
READ MORE: The Ultimate Adventure Bike Tool Kit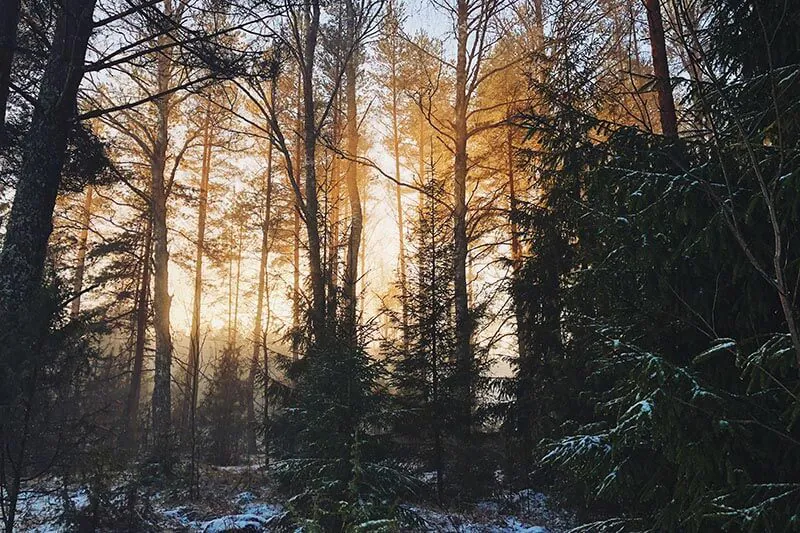 10 Interesting places to visit in Latvia on a motorcycle tour
Camping ground "Oši" near the Baltic sea on a steep bank – enjoy the sunset.
Northern forts in Liepāja – crumbling forts that make for some haunting seaside ruins.
Ligatne Secret Soviet Bunker – A top secret Cold War bunker hidden beneath a Latvian spa facility is now open for tours.
Mazirbe Boat Cemetery – Abandoned vessels that are destined to be reclaimed by the forest.
Ventspils International Radio Astronomy Center – This impressively complicated radioastronomy research centre was once a tool of Soviet spies. 
Araisi Lake Fortress – This wooden recreation of a 9th century lake village looks as though it was built yesterday (which it relatively was).
Sergei Eisenstein Memorial House – A unique museum dedicated to the famed Soviet director and other cinema greats. 
Sutras pyramid – Built by the previous land owners on the centre where geopathological fire and water meets.
Turaida castle – Recently reconstructed medieval castle that was built in the 13th century.
Monument of Vladimir Lenin – A giant statue head of Lenin was moved to the abandoned soviet missile base. Check out the missile hangars as well.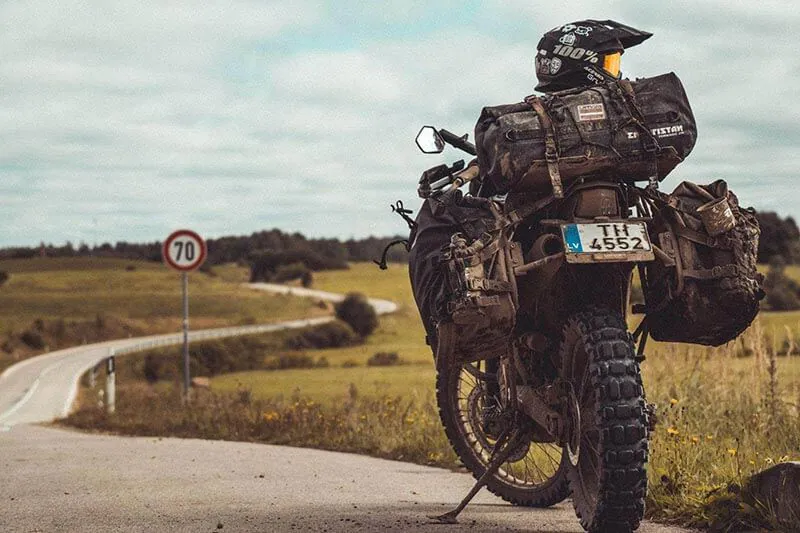 Rihards Grunte
Rihards is a Latvian forest food chef and motorcycle traveller. He's from an adventure bike club called Outduro in Latvia, which is a cool place for both new and experienced riders who enjoy going on motorcycle adventures and prefer the outdoors, camping and making food on a campfire while sharing stories with fellow riders. Check out our Outduro website for loads of useful articles and their awesome YouTube channel for Rihards motorcycle culinary adventures! 
Read more on Motorcycle Travel in Latvia and Europe
Thanks for checking out this Motorcycle Travel Guide: Latvia article. We hope you enjoyed it! Here's a few more articles on motorcycling in Latvia and Europe that we recommend you read next. 
Are you planning a motorcycle trip to Latvia or Europe? If you have any questions or tips to share, let us know in the comments below.