Welcome to the Laos Motorcycle Travel Guide! This biking guide is packed with information for motorcycle travellers looking to ride in Laos. You'll find info on road conditions, routes, paperwork, borders and a bunch of extra tips and tricks to help you on your way.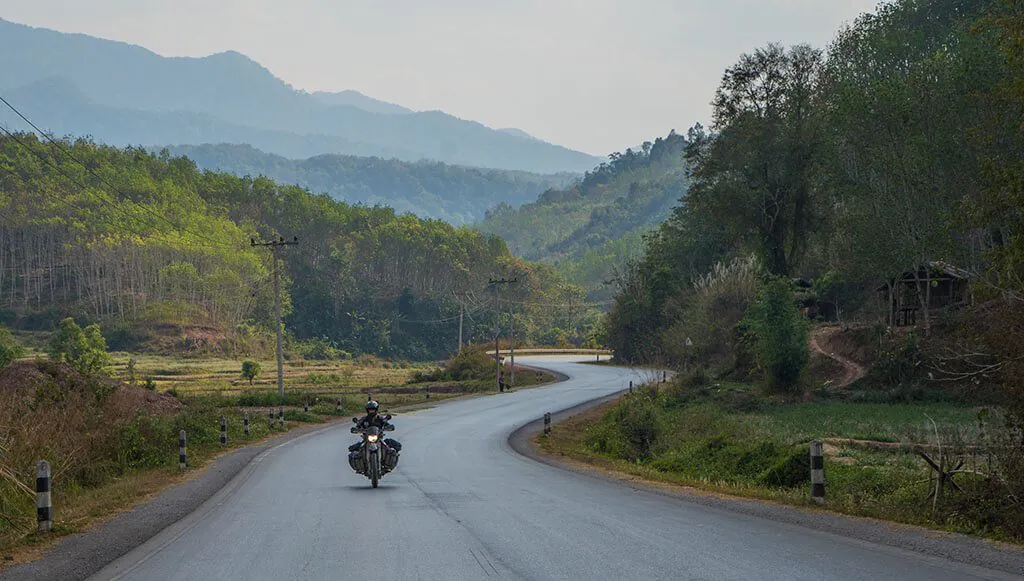 Laos Motorcycle Travel Guide
Welcome to Laos! The landlocked country in the heart of Southeast Asia is one of our absolute favourite places in the world. It's a beautiful slice of rustic beauty with incredibly friendly people, jaw dropping landscapes and out-of-this-world riding. It also has a rich history, takes influence from the days of French colonialism, but also has a horrifically sad past as it's the most bombed country in the world. Out of the 80 plus countries we've travelled through in the world, Laos is in our top five and one of the few we'd ever consider settling down in! You're going to love riding a motorcycle through Laos and we hope this guide will help you make the most out of your trip there.
If you're interested in our ride there, check out our Loving Laos Life blog post.
Paperwork
To enter Laos with a foreign vehicle you will need a passport, visa, temporary import, International Driver's Permit and your vehicle registration document. If you are bringing a motorcycle into Laos from one of the countries in the ASEN network (Cambodia, Thailand, Malaysia, Vietnam), then you do not need to obtain a temporary import. 
Visas
Laos grants a 30-day visa on arrival at land borders and airports for citizens of most countries. There are 15 countries who are entitled to visa exemptions as well. Check this Wiki link to see which category your country falls into.  
The visa costs around 30USD, you will need a passport photograph and the address of where you're staying (you can enter any hotel address, you don't need to book it). The visa can be extended twice and up to a total of 90 days. You can only extend every 30 days and have to visit an immigration office to do so.
Bear in mind that the visa on arrivals are not multiple entry visas. For multiple entry visas you will need to apply for a visa from a Laotian embassy before entering the country. These tourists visas are valid for 3,6 or 12 months. 
Laos Temporary Import
You will need a Temporary Import to enter Laos. The TIP is provided at the border crossing and is valid for the same amount of time as your visa. If you extend your visa, then you can extend your TIP at any custom house for around 3USD. 
Motorcycle Insurance for Laos
You can get Laos motorcycle insurance at the border. The insurance is third party vehicle insurance only. You should of course consider taking out personal travel insurance from your home country before you travel to Laos.  The country isn't renowned for its medical care, so if you have a serious accident in Laos, expect to be moved to Thailand for treatment. That will undoubtedly cost a pretty penny so make sure you have good travel insurance cover. For more information check out our comprehensive article.
 International Driver's Permit
You do need an International Driver's Permit to ride in Laos. It's worth getting one before you travel as many of the Southeast Asian countries require it. You won't be asked for it at the border, but it's worth having in case you get stopped by police. 
Laos' Borders
Laos is landlocked and bordered by Thailand, Myanmar, Cambodia and Vietnam. Entering Laos from these countries is straightforward and the border crossings are simple and easy to get through.
For more information on riding in one of the neighbouring countries, check out our dedicated guide pages:
When to go
Laos has two seasons:
Dry season is from October to April
It's hottest from March to June
Wet season is from May to September
It's wettest in August and September
We recommend January and February for riding. 
Safety
There used to be safety concerns with travelling around Laos, especially on the northern roads where drivers would carry guns in case of attacks. But this is unheard of now and Laos is a safe country to travel through.
However, unexploded ordnance (UXO) is a very real issue for Laotians and foreigners alike. 
Laos is the most bombed nation in the world after the US dropped over two million tonnes of cluster bombs on it from '64-'73  during its 'Secret War' to disrupt supply lines to the Vietnamese. It killed one-tenth of Laos' population. 
This was despite Laos being officially neutral. If you're wondering just how many bombs that is, then it's equivalent to an airplane full of bombs being dropped every eight minutes, 24 hours a day for nine years straight. It's more than all the bombs dropped in the whole of WW2 combined.
But the problem still continues as 30% of those bombs failed to detonate (around 80 million) and they still kill and maim people in today (20,000 since the war ended). Removing these bombs is still a huge and ongoing project in Laos. So do be very careful to not go off-piste or leave marked and used trails, especially if off-roading.
If you're concerned about safety and motorcycle security while travelling, check out these two guides for tips:
Roads
The roads in Laos are fairly decent. You will find smooth tarmac for the most part especially on main connecting roads. But there's plenty of construction and large patches of poor asphalt. Take care when riding in Laos as the driving is manic. The fast main roads are two-lane carriageways and cars will overtake by coming head on into your lane. They flash their lights, which in Laotian means I flashed my lights so if you don't move out of the way it's your fault.  
Also, be careful of the countless wildlife darting into the road. The main roads are lined with shacks, shops and homes and so children, pets and cattle regularly run out into the road. It's not worth riding fast in Laos considering the constant wildlife and poor healthcare system. 
The best riding roads in Laos
Laos has a fantastic mix of beautiful roads and insane off-roading. The best roads and off-road trails are located in the north of the country. We have a dedicated guide for the best riding roads and routes in Laos for you to check out here:
The 5 BEST things to do in Laos on a motorcycle
Motorcycle Rentals and Tours in Laos
Renting a motorcycle or going on a tour in Laos isn't as easy as it is in Thailand, especially if you're after a larger capacity motorcycle than your average Lifan or 125cc scooter. If you want to rent a motorcycle to explore Laos, your best bet is to rent one from Vietnam or Thailand and cross the border.
If, however, you're specifically interested in off-roading, there are a number of excellent options in Luang Prabang in Laos' north. 
You will need your passport, International Driver's Permit and Driver's licence to rent a motorcycle. And you should have your own personal medical travel insurance as well.
Riding gear for Laos
Riding gear in hot, humid and wet southeast Asian countries is always a tricky question and it depends on your take on 'All The Gear All The Time' (ATGATT). The weather can be stiflingly hot and muggy one minute with torrential downpours the next. Because of the heat, the country is full of inexperienced tourists riding in flip flops and ending up red raw and bandaged from head to toe. If you're travelling through the country on a motorcycle (and not just pottering around on an island) it's worth wearing proper gear, especially considering the driving standards.
If you're after proper gear then we recommend mesh lined kit. Thailand is a great place to buy cheap and decent bike gear, or you could always bring it with you from your home country. It's best not to go for lined gear and especially nothing pro laminate as it won't be breathable. 
Many motorcycle adventure suits have removable waterproof and thermal layers. You might as well take those layers out and chuck them because you're not going to want to take your jacket off, zip a liner inside it and then put it back on.
Go for cheap fully mesh jackets and trousers like these for men and these for women. And carry a cheap and cheerful set of throw-over waterproofs in case of bad weather.
Here are a bunch of guides that will help with picking the right motorcycle gear for your travels.
Top tips and advice for riding in Laos
Local SIM cards are cheap and easy to buy from the many, many road side phone shops. Just give them your phone and let them work their magic. The data coverage is pretty good. Even if you don't need to check Facebook, it's worth having data in case of emergencies.
Keep your wits about you on fast roads, animals and livestock running into the road is a real danger. 
Be careful riding off-piste in Laos due to the unexploded bombs from the Vietnam war. 
Check iOverlander and Maps.Me for lovely and cheap guesthouses dotted around the company. Visit our Top 5 Apps for Motorcycle Travellers guide for more info. 
Read more on Motorcycle Travel in Laos and Southeast Asia 
We hope you enjoyed this Motorcycle Travel Guide for Laos. Here's some more articles on Thailand, Southeast Asia and Travel Guides that you may find useful.
Liked that? Try these next…
Are you planning a motorcycle tour in Laos or Southeast Asia? Let us know if you have any questions in the comments below.