This Motorcycle Travel Guide for Kyrgyzstan is packed with info for adventure bike riders and anyone travelling through Kyrgyzstan with their own vehicle overland. You'll find info on road conditions, routes, paperwork, borders and a bunch of extra tricks and tips to help you on your way.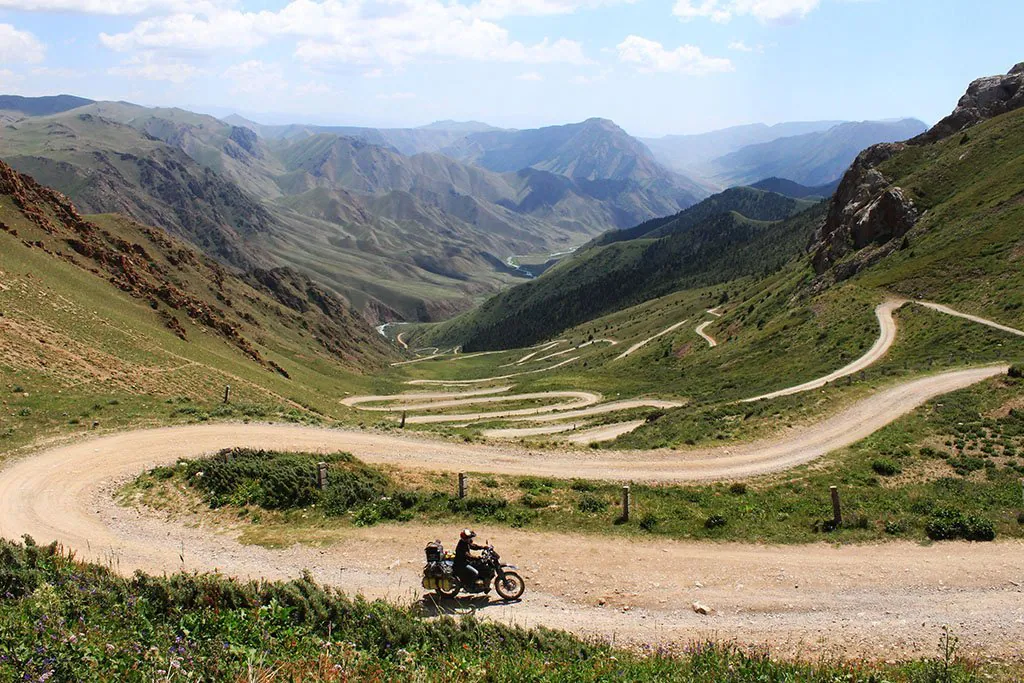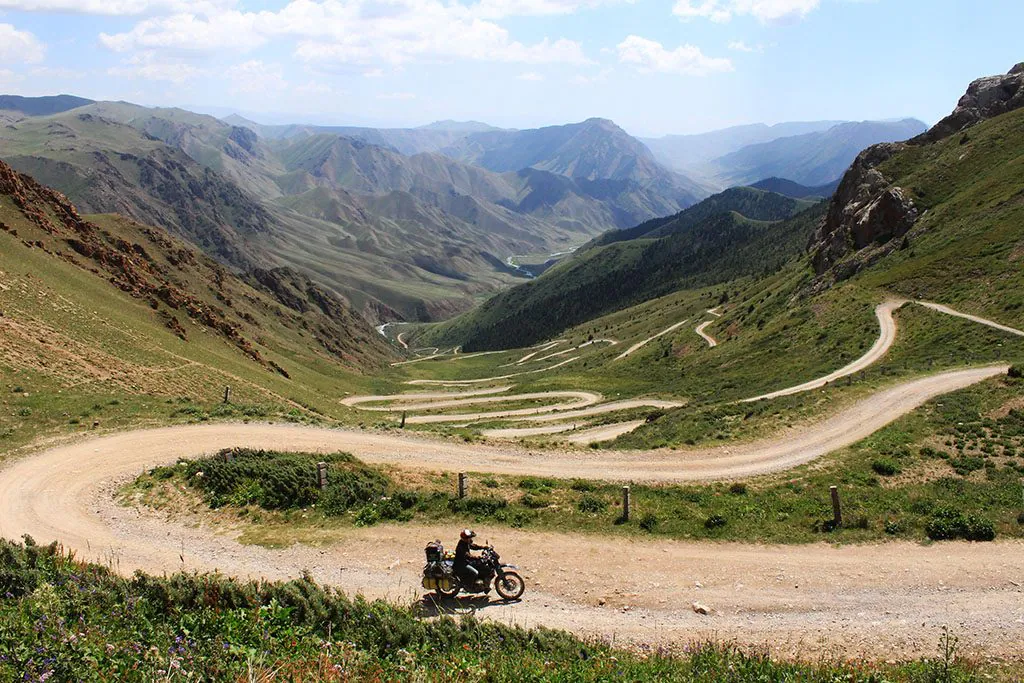 Motorcycle Travel in Kyrgyzstan
Kyrgyzstan is a small, landlocked country in Central Asia bordering China, Kazakhstan, Uzbekistan and Tajikistan. It was once part of the USSR and became fully independent in 1991. It's one of the 'least known' about countries in the world and many of its people still live a nomadic way of life, living in yurts in the high mountain pastures during summer and the plains in winter.
The best motorcycle routes in Kyrgyzstan
You're not exactly spoiled for routes in Kyrgyzstan, which makes plotting a course relatively straightforward. Dependent on where you're planning on entering and exiting from, the main overland routes will take you to the centre of Kyrgyzstan (Song Kol Lake – see below) and then either directly north to Bishkek and onto Kazakhstan, or to Karakol and a north east border to Kazakhstan.
If you're heading south to Tajikistan then you can take the south border over No-Man's-Land and head south for the Pamirs. Or you can go west to miss the Pamirs and head straight for Dushanbe, but no adventure bike rider will want to do that!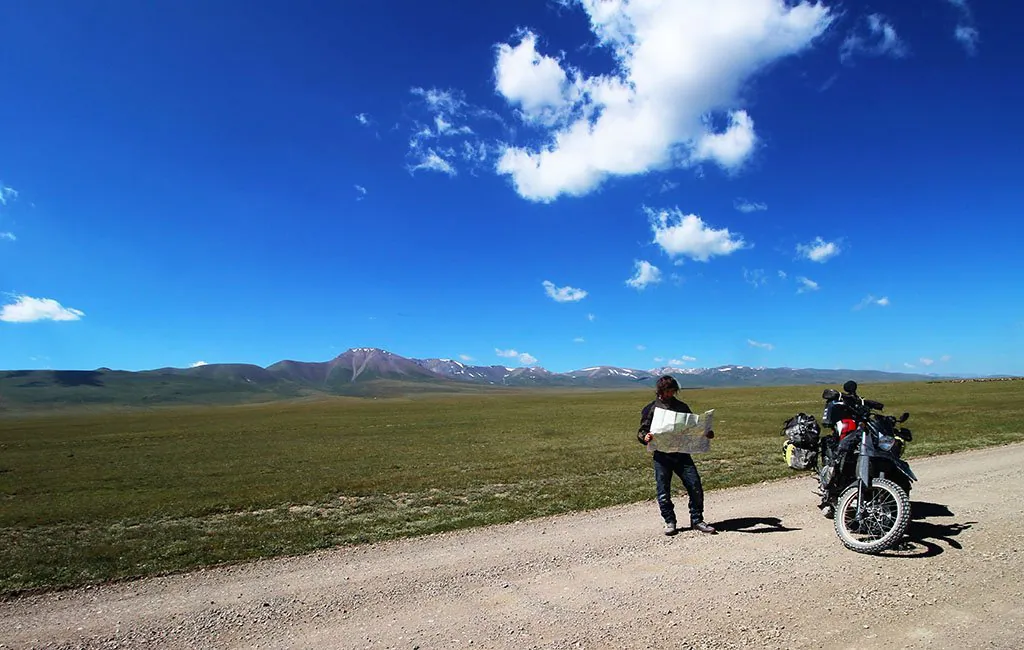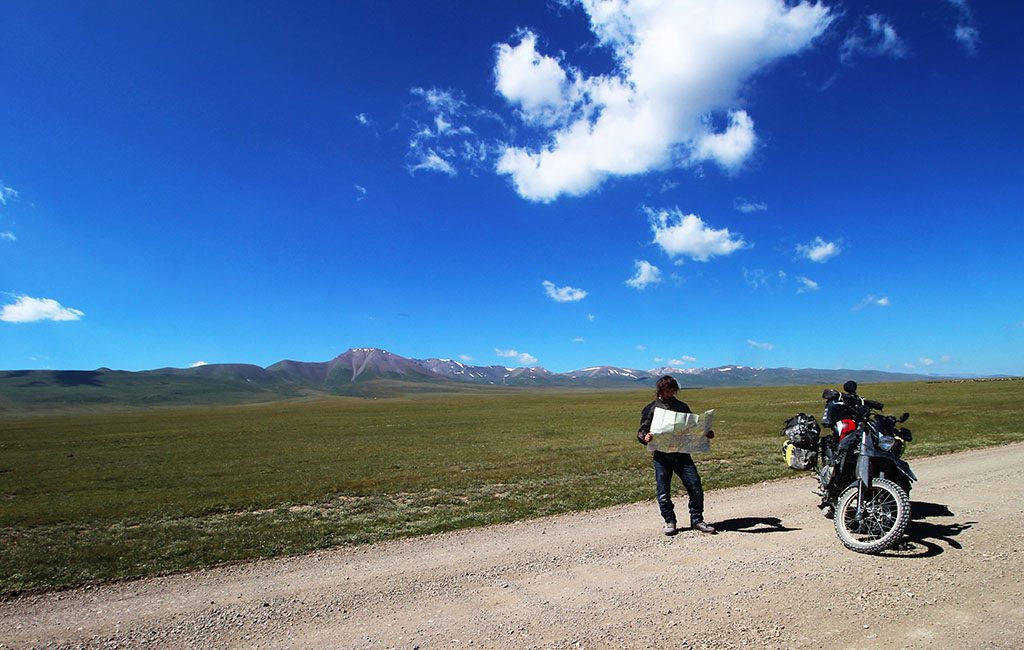 Kyrgyzstan border crossings
UPDATE: March 2023
The border between Tajikistan and Kyrgyzstan is currently closed and not safe or possible to cross.
If you want to travel in Kyrgyzstan and Tajikistan, you will need to transit via Uzbekistan and come back that way.
The border situation doesn't affect the safety of motorcycle travel in Kyrgyzstan. It's not a good idea to ride around Batken, but that's not a popular place for bike riders anyway.
If you absolutely must cross and want to try. Then here is an update from Remy Dezelus who crossed in September 2022:
"Officially the border is closed – even when we crossed. If you are going to try then you need a military authorisation from the Khorog Military Base. You will also need tourism authorisation to cross the border at Kyzyl and can get this from the Kyrgyzstan Ministry of Tourism."
Kyrgyzstan, Tajikistan and Uzbekistan
If you're motorcycle travelling through Kyrgyzstan, then it's likely you're entering from Uzbekistan, Tajikistan or Kazakhstan. All three countries have easy borders. The trickiest is the south-east border crossing between Tajikistan, which heads to Sary-Tash in Kyrgyzstan. The border itself is fine, it's the no-man's land between the two countries that's a pain when wet. It's a high-altitude mountain pass (it can get cold and snowy in winter).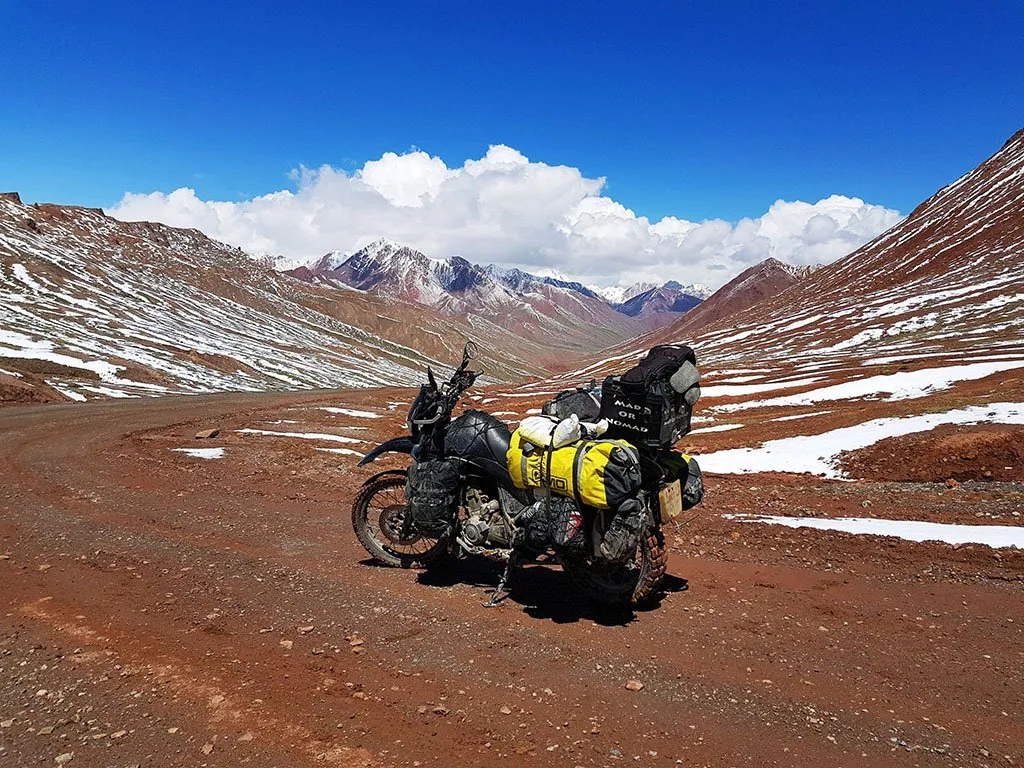 Kyrgyzstan and Kazakhstan
Deciding whether to exit Kyrgyzstan to Kazakhstan at the Bishkek or Karakol border is a big question. The decision will largely come down to when you're crossing (Karakol border is only open mid-May to October), if you fancy off-roading (Karakol) or if you need to visit Bishkek for a visa.
If it helps with your decision making, the Karakol border heads to Kazakhstan's Charyn Canyon and Kaindy Lake (must visit destinations). If you go to Bishkek and cross, you will need to ride all the way east anyway to see them.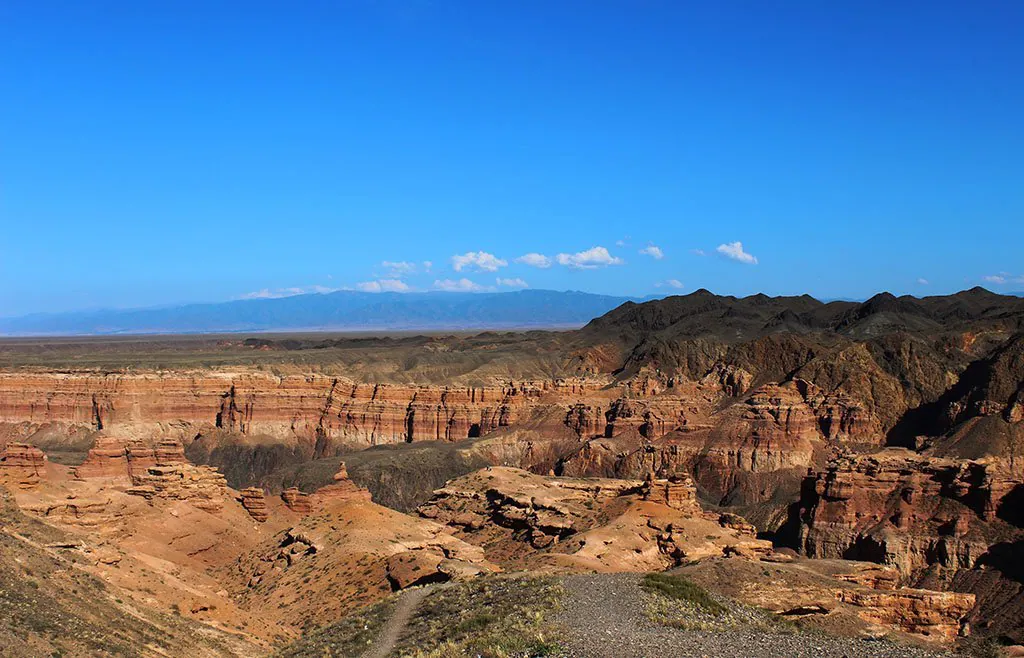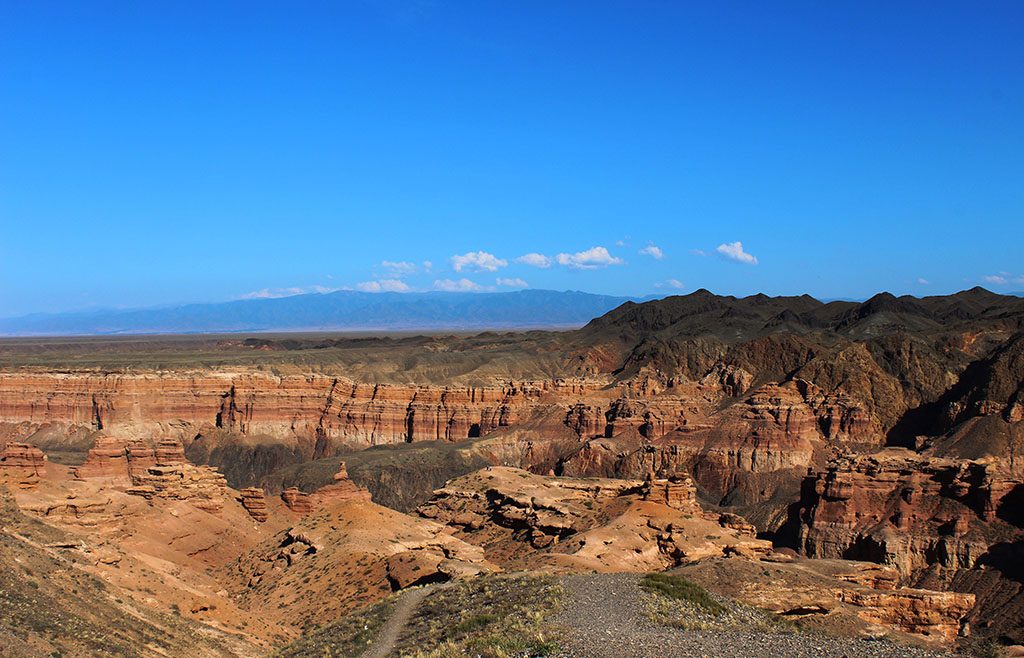 Kyrgyzstan border crossing map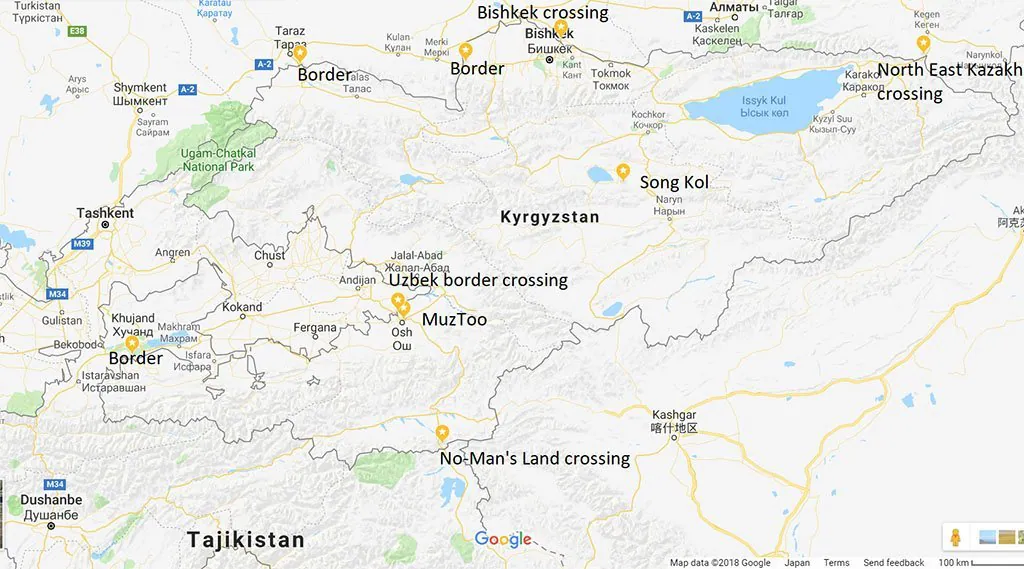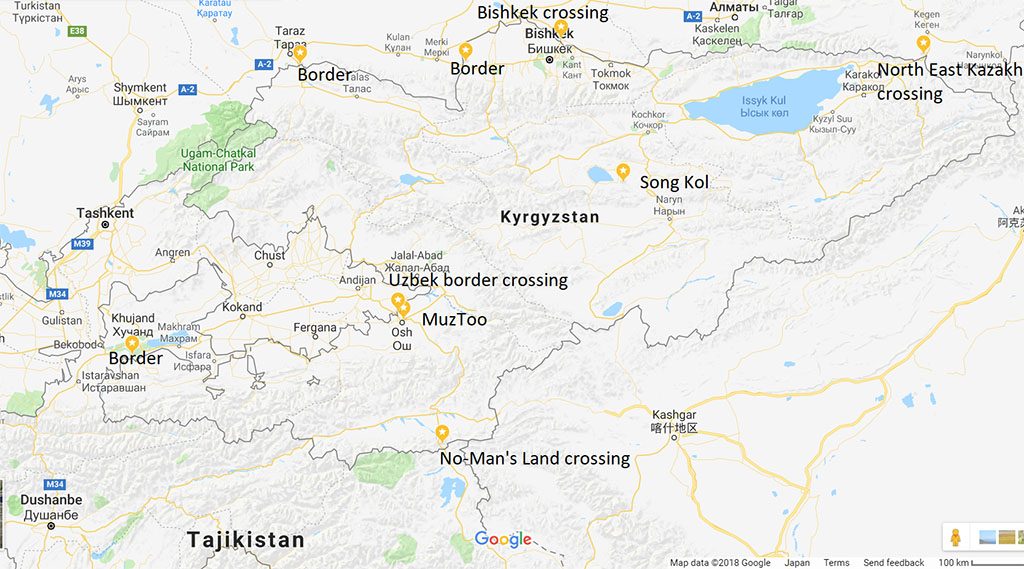 What to see in Kyrgyzstan
Specifically for overlanding and motorcycle travel, the region surrounding Song Kol Lake is the best place to ride, drive and cycle. The road turns from dusty track to beautiful green valleys, before you finally reach the high peaks and head over the pastures surrounded the pearly blue lake.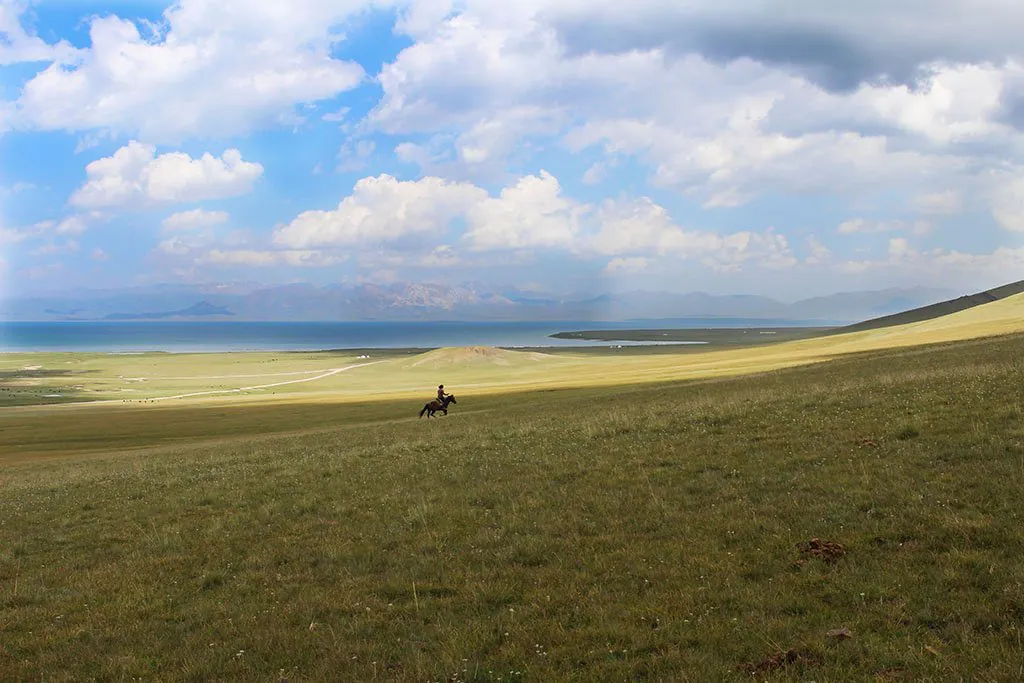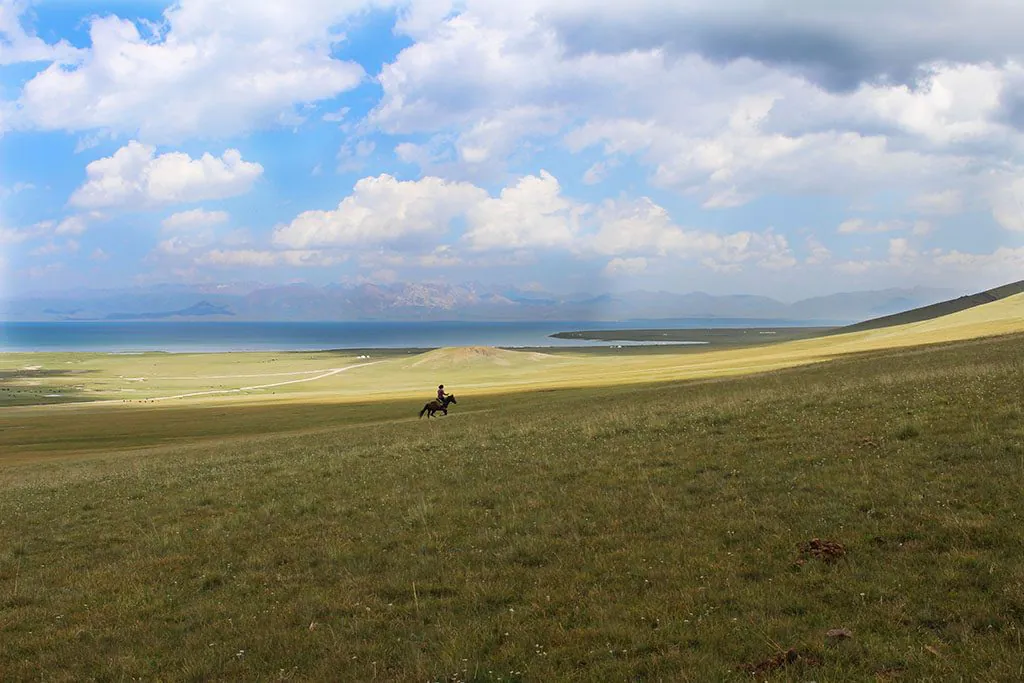 When you leave the lake, you'll notice two routes on Maps.Me both heading east to the main road, which will lead north to Kochkor. Take the southern route for prettier views. The coordinates to head for are 41.733146, 75.428781.
We have compiled a list of our favourite things to do in Kyrgyzstan, which includes horse riding, living like a nomad and top hiking spots. If you want more info for fun things to do on a Kyrgyzstan motorcycle tour, check out the below guide. 
READ MORE: Top 5 Things to do in Kyrgyzstan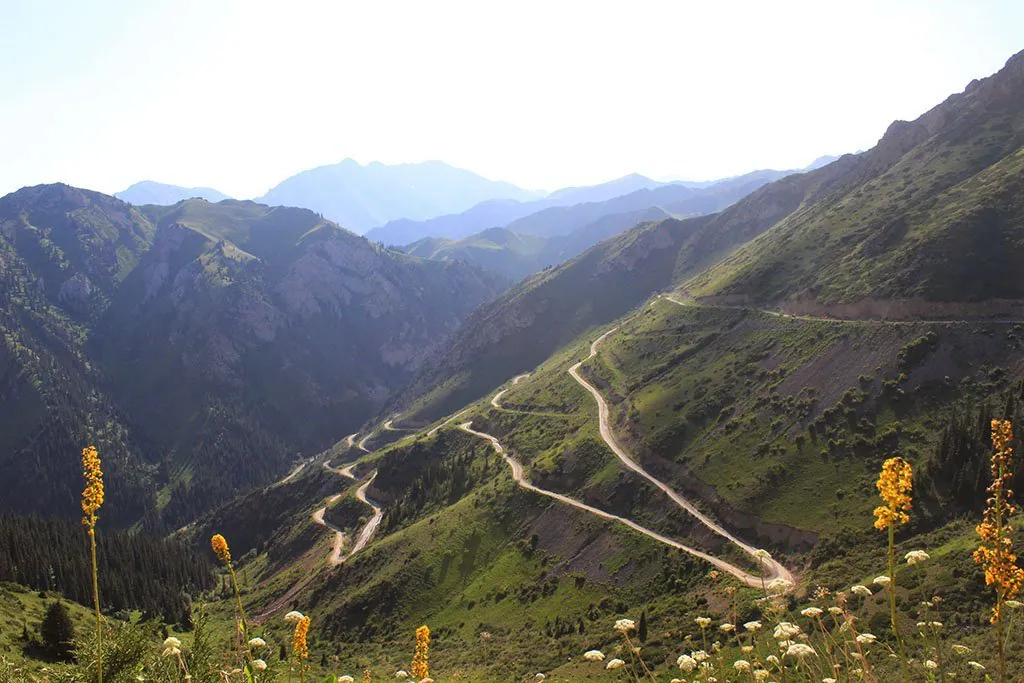 Road conditions and police in Kyrgyzstan
In general, the road conditions are better than Tajikistan and Uzbekistan. And the off-roading is far easier than in the Wakhan. The main roads are in good condition throughout the country. The only thing to be careful of is police. The roads often open up and it's very tempting to speed, but police linger around every corner with their speed guns. They are there to catch you.
But that doesn't mean they'll pull you over for no reason and try and extort money. We have heard of a few cases from fellow travellers, who were stopped and heavily fined for speeding. One guy even paid 200 USD. That's outrageous, even by Kyrgyz standards. If weren't speeding, hold your ground and don't give in. If you were speeding, don't pay more than £5.
READ MORE: How to Deal with Bribes on the Road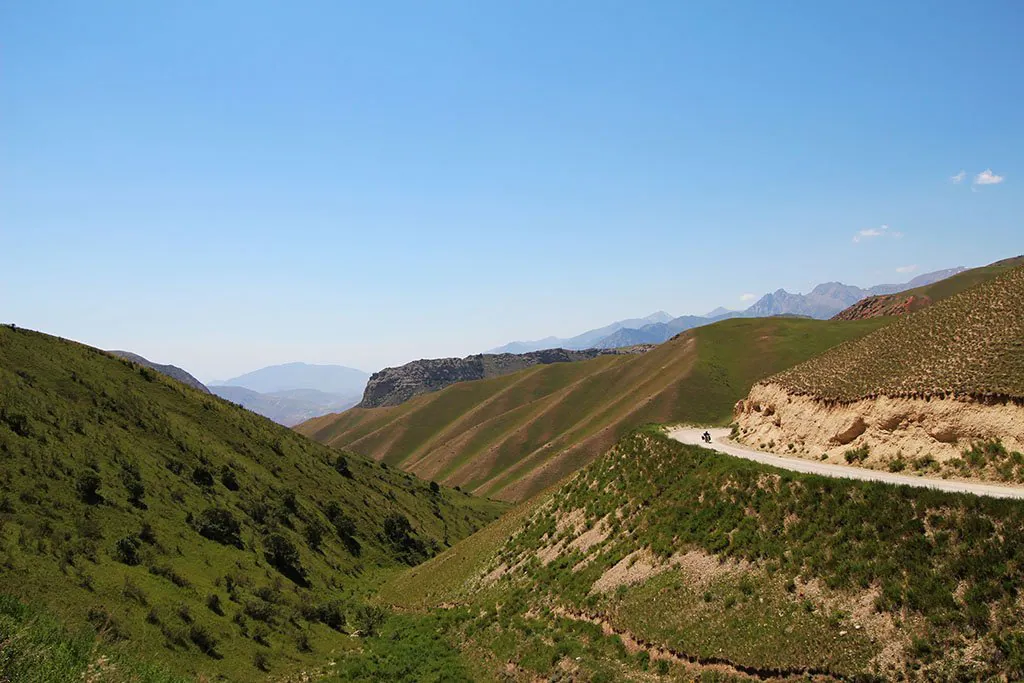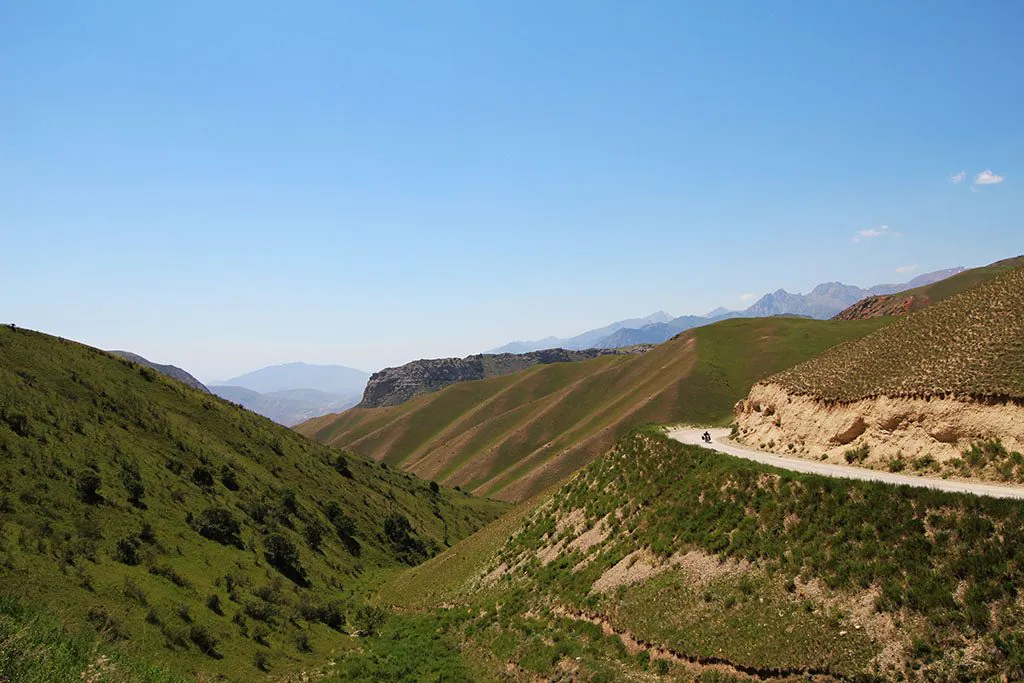 Finding fuel, food and water in Kyrgyzstan
There is no serious issue with fuel, food and water in Kyrgyzstan. Just make sure you check and bookmark fuel stations on Maps.Me if you're heading off-piste. If you're cycling, then you may want to carry extra water through some parts as rivers are harder to come by. Same goes for food. Locals will stop for you if you get stuck, but expect to be force fed horse milk.
Motorcycle rental in Kyrgyzstan
Kyrgyzstan is the best place to rent a motorcycle in Central Asia. It's the easiest of the Stan countries to get into, paperwork is simple and most citizens from most countries get in visa free. But also, Kyrgyzstan has the most rental companies and widest range of bikes. Here's a bunch of articles to read next for renting a motorcycle in Kyrgyzstan. 
Motorcycle tours in Kyrgyzstan
The exact same information as above on renting a bike in Kyrgyzstan is applicable to joining tours. Kyrgyzstan is not only the easiest Stan country to book a motorcycle tour, but also one of the best places in the world to do it. Here's why: Kyrgyzstan is literally an adventure rider's dream. It's got incredible scenery, backdrops and insane roads all wrapped up into one of the most mountainous countries in the world. And if you are strapped for time or want the fuss taken out of planning a trip, or just want to go somewhere with a few mates and get stuck straight into an adventure, then this is the place to do it. 
There are some fantastic Kyrgyzstan motorcycle tour companies out there (listed on our Kyrgyzstan Rentals and Tour Companies page) who will take care of everything for you, from hotels, routes, bikes, fuel and food. So all you have to do is turn up and enjoy this awesome place.
Motorcycle repairs in Kyrgyzstan
There are a number of places to get your motorcycle repaired, serviced or change your tyres in Kyrgyzstan. The best place we have found is to base yourself in Osh. 
We recommend contacting Oibek Sadykbaev who owns and runs Silkway Wheels. His website is: www.centralasiacarrental.com and you can contact him via email on pamirextrime@gmail.com or phone + 996 551 006 115. 
We recommend Oibek because of the excellent work he and his team did on our bike when it arrived absolutely battered with a broken rear shock, snapped frame, cracked subframe and a long list of damage.
You can service your own bike or employ one of Oibek's motorcycle (or car) mechanics to do the work. He also has a hotel for overlanders to stay at while they work on their vehicles or wait for parts. 
You'll find more companies that offer similar services on our recommended Kyrgyzstan rental companies page: 
READ MORE: Recommended Kyrgyzstan Motorcycle Rental and Tour Companies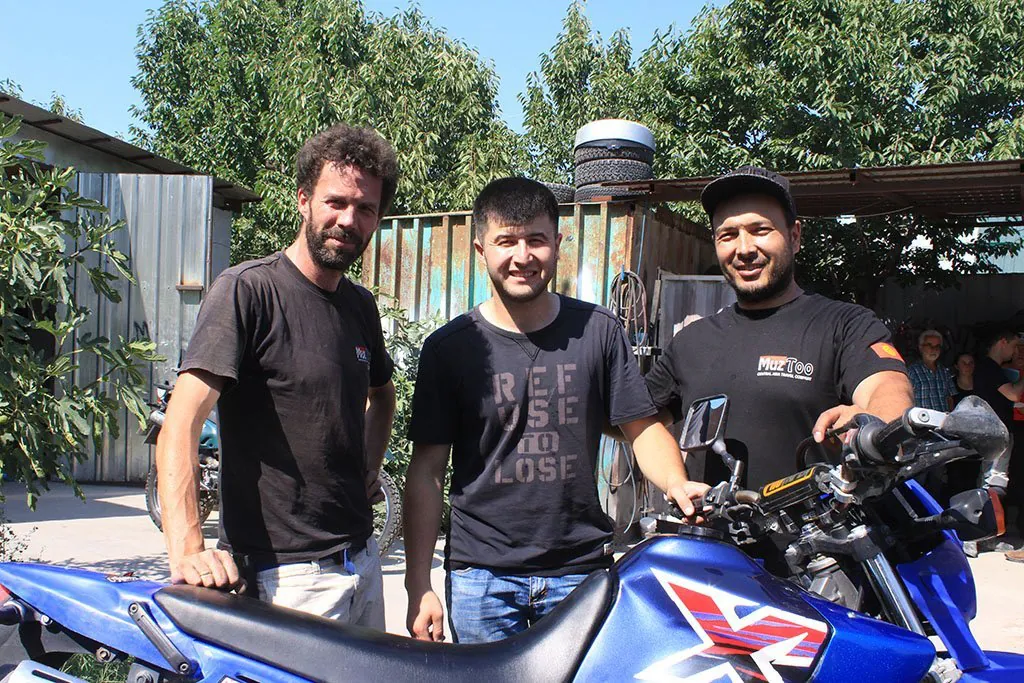 Alternatively, another accommodation option while you work on your bike in Osh is the ESAL Hotel. It's a short drive away (£1 by taxi), very close to the best Italian and western style restaurant in town and one of the best hotels in Osh. 
We're not affiliated with them, but ended up spending two weeks there as we waited for parts for our bike from the UK and loved our stay. Dorm rooms are 6USD or you can get a private double room with ensuite toilet and bathroom for 22USD a night. The owner, Daniel, speaks excellent English and is incredibly helpful. And the WiFi is fast. You can find our review and the location on iOverlander. Coordinates are 40.50808, 72.81799
Camping and accommodation
You can camp freely in Kyrgyzstan, but hotels and hostels are incredibly cheap. You'll find camping and hostel options on iOverlander and Maps.Me. One type of accommodation is a must in Kyrgyzstan though, and that's staying in a yurt with nomads. Song Kol is a fantastic place to do that.
READ MORE: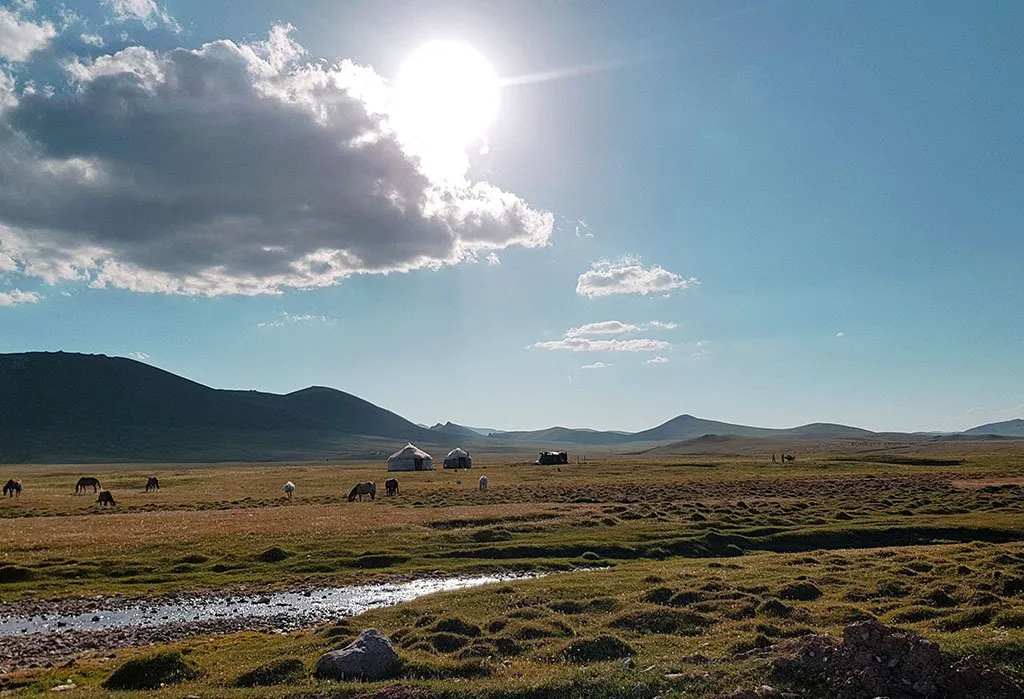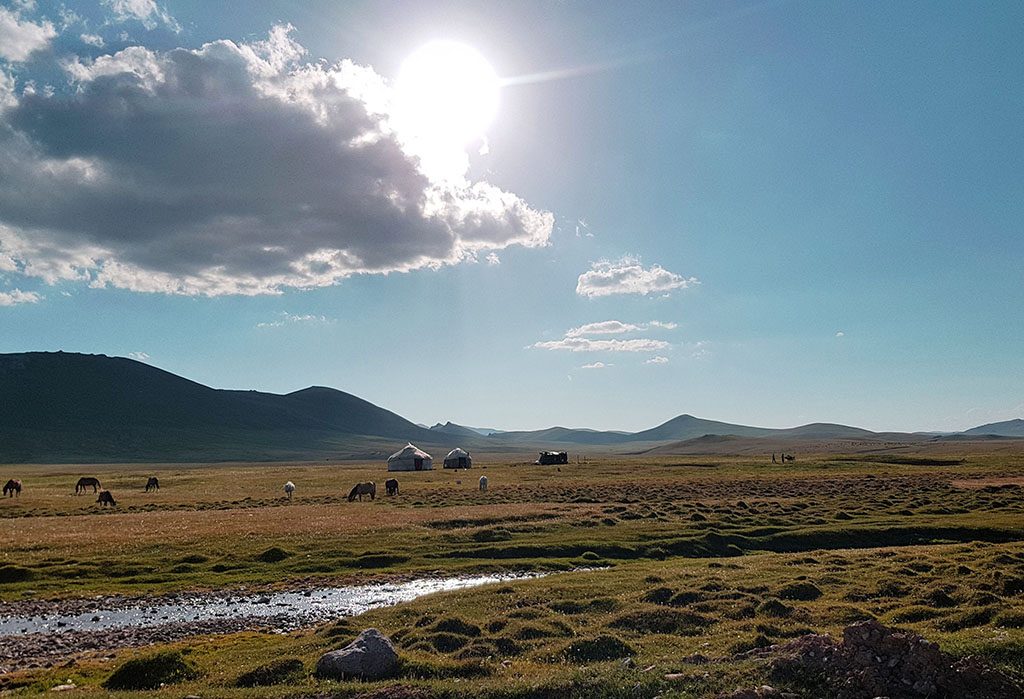 Visa, insurance, money and paperwork
Kyrgyzstan is the easiest 'Stan' country to visit. Many nationalities, including Brits, don't even need a visa. A bunch of countries (including the USA and entire European union) get 60 days visa-free in the country. Just buy your own personal insurance in the UK and go for it! That makes Kyrgyzstan a brilliant destination for motorcycle holidays, because it's so easy to fly in, rent a bike and have a blast. Ride all the way there or rent there, either way, you'll love it.
READ MORE:
Read more on motorcycle travel in Kyrgyzstan
Thanks for checking out our Motorcycle Travel Guide: Kyrgyzstan. We hope you enjoyed it! Here's a few more articles on motorcycling in Kyrgyzstan that we recommend you read next. 
We hope you found this Motorcycle Travel Guide for Kyrgyzstan helpful. Let us know in the comments below if you're planning a trip there, we'd love to hear about it!