Welcome to the Motorcycle Travel Guide for Japan. Here's everything you need to know about travelling overland with a bike in Japan. You'll find links to our in-depth guides, info on roads, visas, accommodation, paperwork, tips, tricks and loads more. 
Motorcycle Travel in Japan
Is Japan good for motorcycle travel?
Travelling is extremely subjective and completely down to personal preference. However, if you're wondering what our viewpoint is on motorcycle travel in Japan, well… the answer is no, but that's not a flat-out no…
Japan is expensive to get your vehicle into and out of. It's also expensive travelling around and very slow going because of low speed limits and heavy traffic anywhere near cities. There's no, or very little, adventurous off-roading, a billion rules, it's expensive to fix your vehicle if anything goes wrong and the time it takes to get places can be frustrating.
That's not supposed to put you off though. Japan is an incredible and amazing country and you must visit. Whether you choose to rent a vehicle, use public transport or take your personal vehicle in all depends on what you want to do and how long you've got.
Let's say you've got one month and want to see a few of the main attractions. It'd be  easier to save the hassle of importing by renting or buying a bike there or using public transport. It's very time consuming using Japanese roads (unless you opt for the incredibly expensive toll roads). You'll spend far more time travelling than planned, reducing the amount of time sightseeing.
If you have three to six months and want to see everything, then of course, your own vehicle would be better as you'll offset the amount rentals and public transport cost.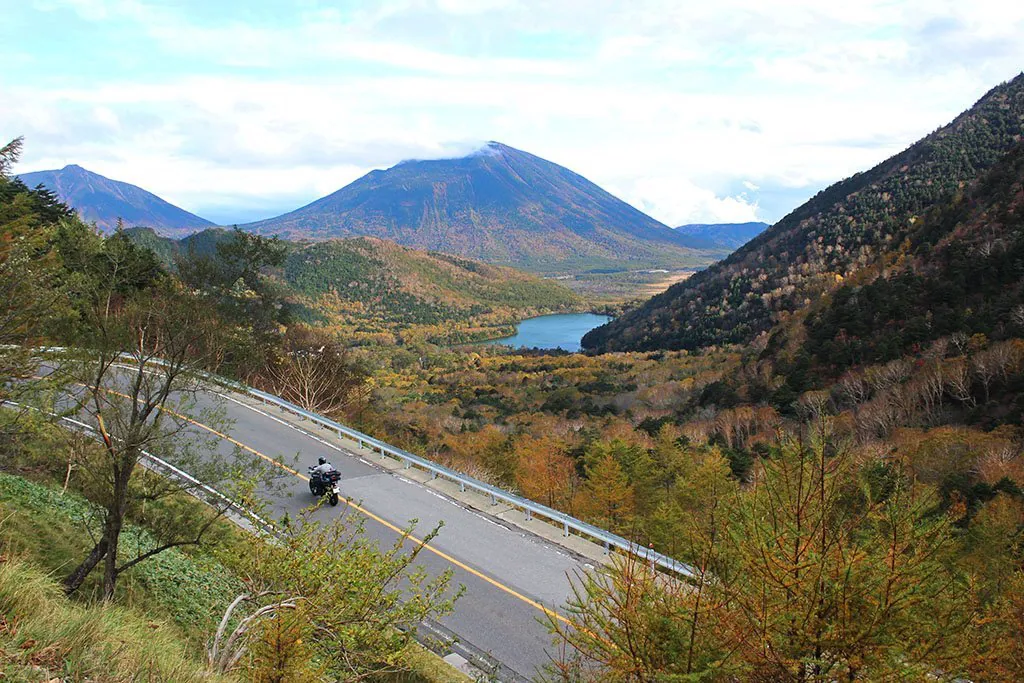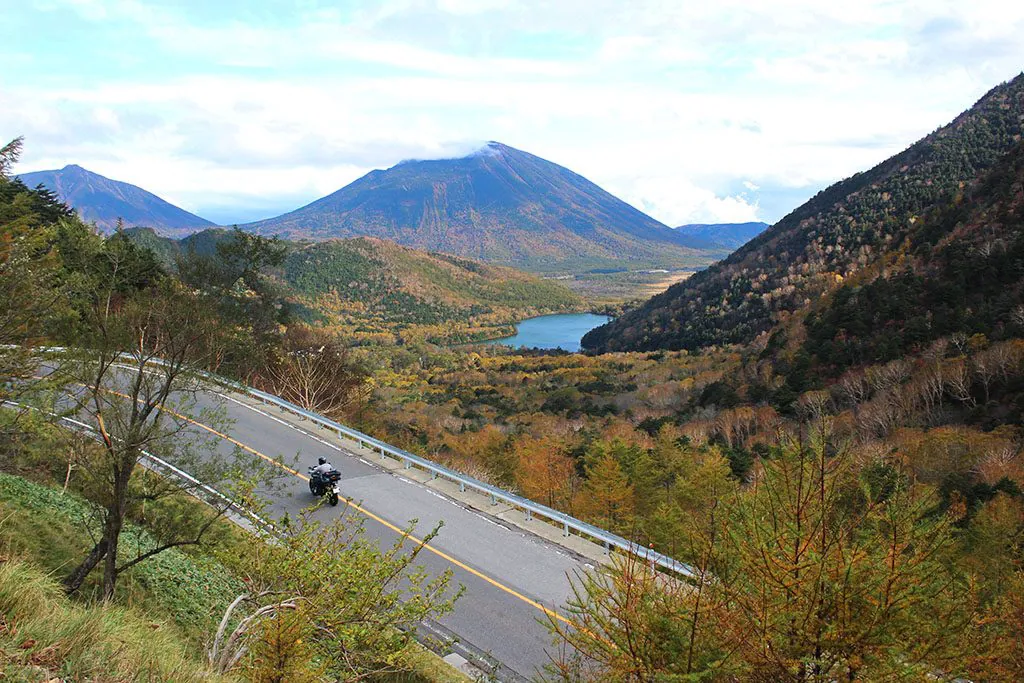 Our motorcycle travel experience in Japan
We spent five months and 5,000 miles exploring the country on our own motorcycles. We wouldn't have enjoyed it with public transport because we crave the freedom our own transport offers and also because we wanted to see so much. Check out our article on
READ MORE: What Motorcycling in Japan is Really Like
Paperwork needed to take a motorcycle into Japan
We have a dedicated guide on what paperwork you need for Japan.
READ MORE: Paperwork Guide for Motorcycle Travel in Japan
If you're travelling in your own vehicle you will need a carnet de passage or a temporary import. You will no doubt find a lot of information on the carnet for Japan, but you can enter without one (using a temporary import). The caveat is that you must enter and exit Japan using a RORO ferry (roll on, roll off).
READ MORE: Carnet de Passage vs Temporary Import for Japan
READ MORE: How to Get the Ferry from Russia to Japan
To be clear, that means you can't enter via ferry, get a temporary import and then ship your vehicle out in a container. It must be ferried out, and not necessarily to the same location it was shipped in. You can ferry in from Russia and ferry out to South Korea.
READ MORE: How to Get the Ferry from Japan to South Korea
Check out our full guide on the differences between using a carnet de passage and temporary import for Japan with a bunch of extra tips. 
What visas do I need for Japan?
The visa situation in Japan makes motorcycle travel easy. UK citizens can enter Japan for up to 90 days without a visa. You'll get a 90-day stamp in your passport when you enter.
You can extend your visa while you're in Japan for a further 90 days before it expires. You can do this at an Immigration Bureau (Nyukoku Kanrikyoku). These bureaus are dotted all over Japan in major cities and just need a quick Google to find. Once you arrive, you will be directed by the staff on what paperwork to fill out.
We applied and received an additional 3-month stay; however, it was a little touch-and-go. The staff said we could not receive a further stay purely to extend our sightseeing. It took a little wrangling but they allowed it in the end. So, if you are planning on extending, plan carefully (you can not extend too far in advance either).
You can leave Japan and leave your vehicle in the country. You won't be asked anything about your vehicle on leaving or when you re-enter. 
How do I get my motorcycle or vehicle into Japan?
To get your own vehicle into Japan you can either ship it in via cargo ship, fly it in or use a ferry from Russia or South Korea. 
Shipping your motorcycle to / from Japan
If you're shipping or flying your vehicle in, then the research will need to be done from wherever your crating and sending from. Your shipping company will advise on pricing and fees at the arrival destination. Check out our International Shipping Companies Finder for our recommended companies in Japan. 
Ferry from Russia to Japan
If you are using a ferry from Russia then you will be coming from Vladivostok using DBS ferries (here's How to Get the Ferry from Russia to Japan). Speak to Yuri from Links, Ltd (details can be found in the Shipping Companies Finder under Russia). 
Ferry from South Korea to Japan
To enter Japan from South Korea you will be using Kampu Ferries (How to Get the Ferry From South Korea to Japan) or Camellia Line Ferries. Speak to Mr Youn (details can be found in the Shipping Companies Finder under South Korea). 
READ MORE: South Korea Guides
READ MORE: The South Korea Motorcycle Shipping Guide
International Motorcycle Shipping Companies
Welcome to the Motorcycle Shipping Companies Finder. This page lists worldwide freight forwarders, companies, agents, fixers, ferry services and detailed guides. Click a country on the map to see what's on offer.
Read More
How to rent a motorcycle in Japan
Renting a motorcycle or going on a bike tour in Japan is straight forward. Check out our comprehensive Motorcycle Rental and Tour Companies page for recommended businesses to see what's on offer in Japan. 
You will need your passport, driver's licence and your International Drivers Permit to rent a motorcycle. It's also worth taking your own riding kit as Western clothing sizes are usually larger than Japanese. 
Motorcycle Rental and Tour Companies
Planning a Fly and Ride bike adventure? Here's our recommended motorcycle rental and tour companies from around the world. Check out the page, click a country and see what's on offer!
Read More
Is Japan as expensive as everyone says it is?
Japan is expensive compared to most motorcycle travel destinations like South East Asia, Central Asia and South America. You're paying first-world country prices. A hefty chunk of your budget will be spent on entering and exiting the country (regardless if you're using RORO or shipping/flying), Japanese insurance and the big one – accommodation. So, it is expensive but that's relative to where you've been and what you've done prior. Read on to find out how to save money and make Japan more affordable for motorcycle travel.
Riding Roads in Japan
Japan has two types of roads: the free national road and the jaw droppingly expensive toll road. Toll roads will eat away at your budget. If you use a debit or credit card to pay, then they charge the full amount twice and reimburse one payment later. The national roads can be painstakingly slow, especially anywhere near a city. Plot your routes away from major cities, avoid toll roads and you'll be fine.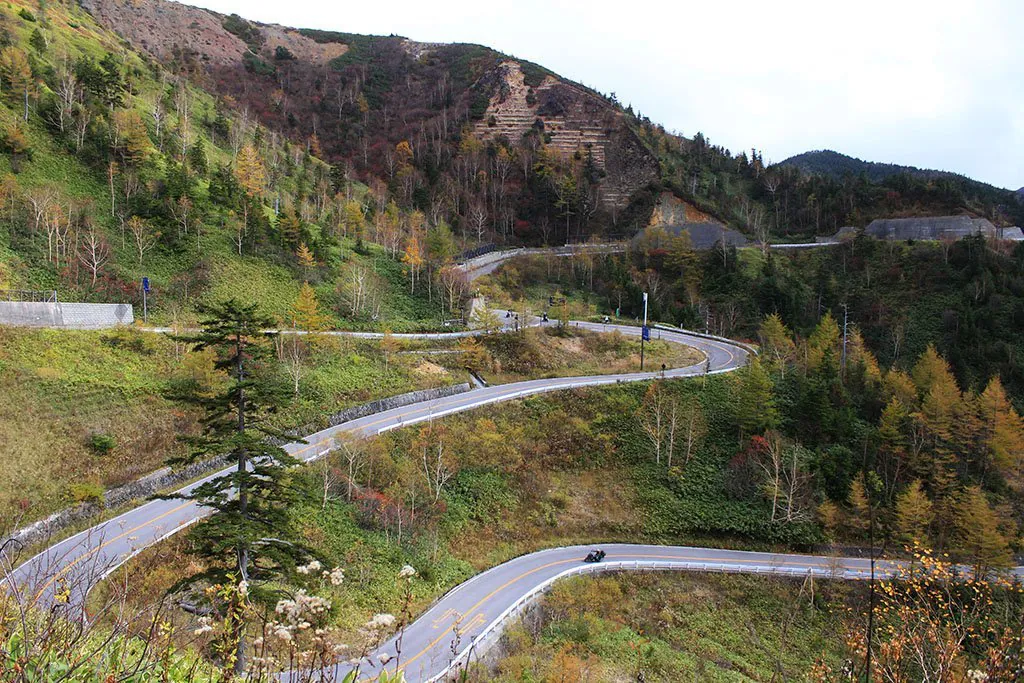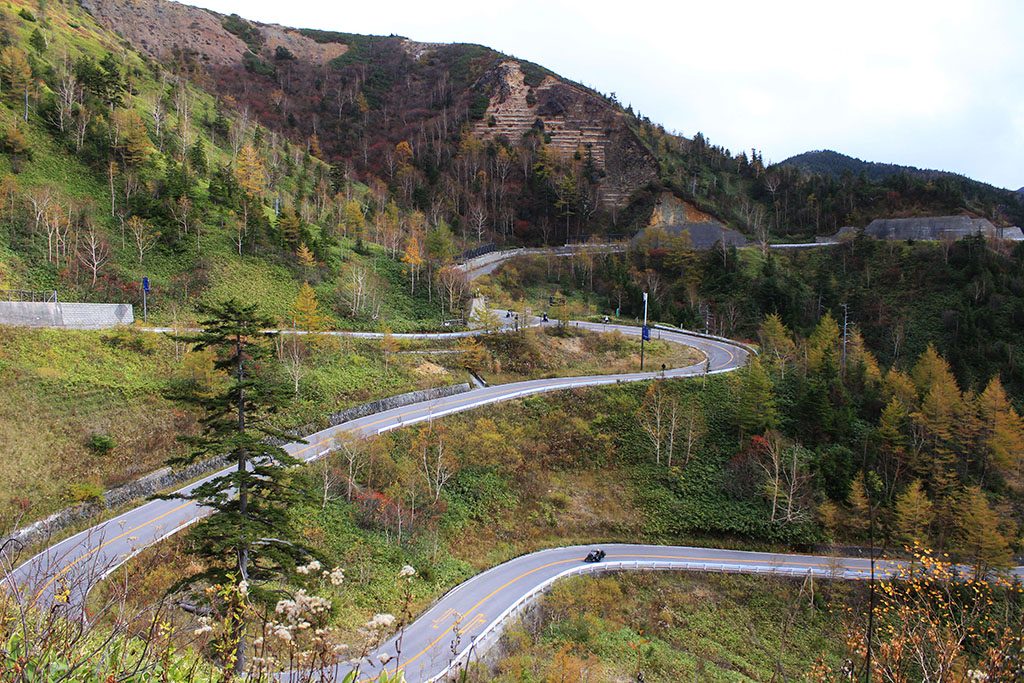 Accommodation and camping in Japan
Hotels are a big expense in Japan. Turning up at a hotel without a reservation can sometimes appear rude to Japanese and you'd be surprised how full hotels get, so booking online in advance is worth it. Booking.com is your best bet for Japan. There are other similar Japanese websites, but they're tricky to use and complicated.
We used AirBnB for longer stays as it proves a lot cheaper than hotels. We used an AirBnB for a four-week stay in Osaka and a three-week stay in Kyoto, had the entire apartment to ourselves and saved a mini fortune.
Love Hotels are also a good option. Before you spit out your breakfast in disgust, let us explain… Love Hotels in Japan are not the seedy and gross hotels that spring to mind. They're immaculate, well looked after and socially acceptable establishments… that can be booked out for the hour. They're dotted all over the country and are easy to spot. The prices are listed outside and you can book the room for 8 hours for a much cheaper rate than most hotels. The love hotel room is more often than not, twice the size of an average hotel room, packed with amenities, easy to check in and out and cheaper. Check them out!
For a rough idea, expect to pay 20 USD for a dorm room hostels, 50 USD for a hotel room, 30 USD for a Love Hotel and 10 USD for a campsite.
Here's a handy map from Booking.com to give you an idea of hotel prices in Japan. 
Motorcycle camping in Japan
There are three types of campsite in Japan: privately owned campsites, official free campsites or wild camping.
The privately owned campsites can prove quite expensive. They are lovely though, usually very well looked after and super clean.
The official free campsites are dotted all over the country and excellent. They don't usually have showers but do have working toilets. They're an excellent way to save money. We recommend the fantastic Facebook group Free camping and hotsprings in Japan. Download their map to your Google maps and you'll see hundreds of great campsites spread across the country.
Wild camping is relatively easy in Japan. As long as you tuck yourself out of the way and disappear in the morning you won't have a problem.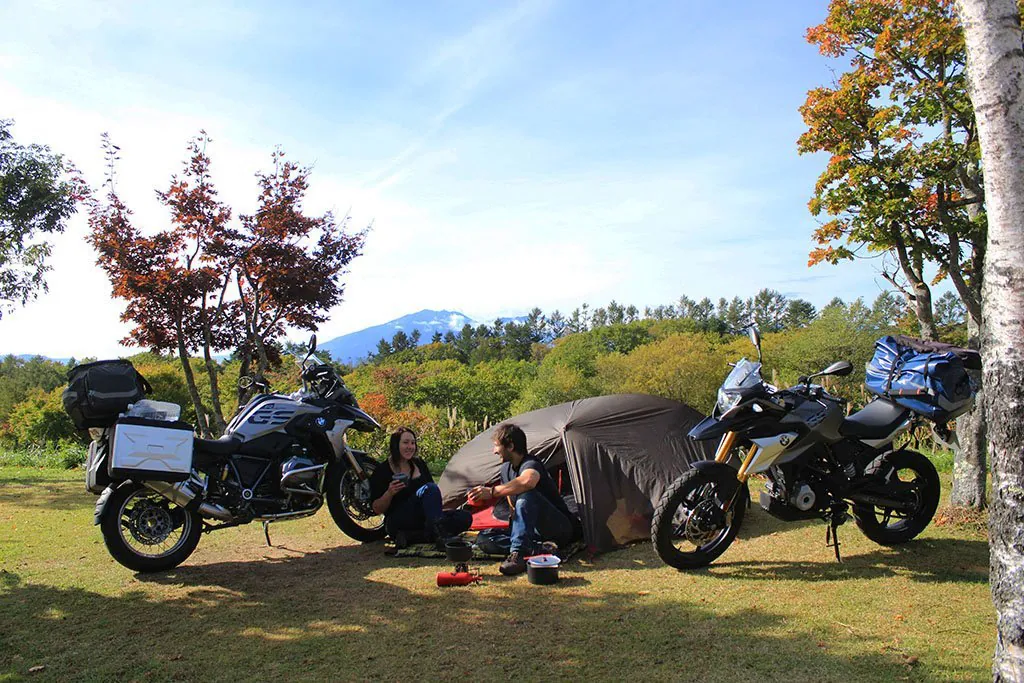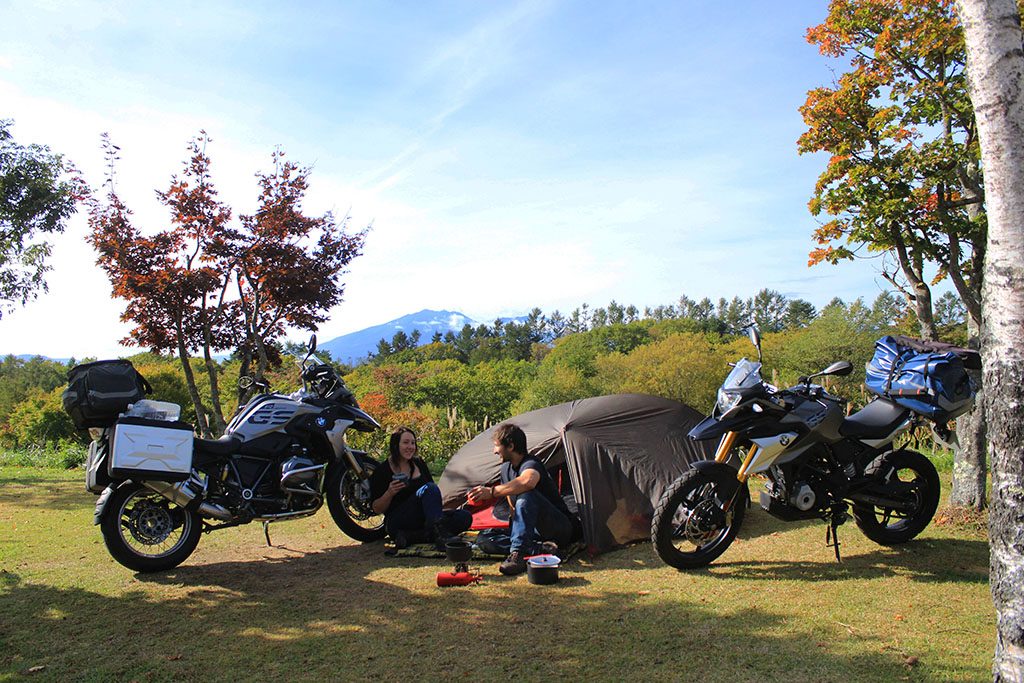 Top tips
Very little English is spoken outside of major cities. Prepare to get good at Japanese charades
However long you think it'll take to get somewhere, double it
Cash is king in Japan
7-Eleven is your best friend. They're a huge franchise in Japan, use them for free wi-fi, to cool down, for their clean high-tech toilets and tasty and cheap food. Also, we only ever withdraw money from ATMs in 7-Elevens as there's no charge. 
Try to avoid visiting during major national holidays like Golden Week. Cheery Blossom season is also pretty mad. 
Read more on Motorcycle Travel in Japan
Thanks for checking out our Motorcycle Travel in Japan Guide. We hope you enjoyed it! Here's a few more articles on motorcycling in Japan that we recommend you read next. 
Liked that? Try these next…
We hope you found the Motorcycle Travel Guide for Japan helpful. If you're planning a trip there or have any questions, please post a comment below. We'd love to hear from you!