Welcome to the Iraq Motorcycle Travel Guide. This detailed article for adventure bike riders explains everything you need to know about riding in Federal Iraq and Kurdistan on a motorcycle. 
Motorcycle Travel Guide: Iraq
Why motorcycle travel in Iraq?
Let's start with the obvious questions: why would you even think about travelling to Iraq – let alone riding your motorcycle there? And of course, is it safe? 
Well, for us travelling in Iraq on motorcycles was a safe experience for us. We were riding in a group of three: two men and one woman. None of us ever felt unsafe, nor did we ever experience any situation that might even be slightly construed as unsafe either.
But, that was our experience and there is of course a reason that a big part of Iraq is a no-travel zone for most countries. If you do travel to Iraq, make sure you get the latest information to make a well-informed decision before you go. It is your safety after all.
If there are a few reasons not to go to Iraq, then why did we go? The parts of Iraq we experienced were mind blowing. Firstly, the nature and landscape were amazing, with mountains and lakes in northern Iraqi-Kurdistan to long stretched desserts in the south.
The Iraqi people are extremely friendly, welcoming and were very happy to host us. In the Middle East, Baghdad is known as the food capital, which is certainly true. Did you know that the roots of civilization as we know it stem from Babylon? A must see if you go to Iraq!
And finally, travelling through Iraq was an adventure. Every day was filled with unknowns, uncertainties, and challenges. We can easily say that we learned more by riding in Iraq in over five weeks, than we did in the months before that. 
There are reasons to go – and not to go. It's up to you to make an informed decision at the time. But if you do decide to travel there, this guide will help by explaining our experiences.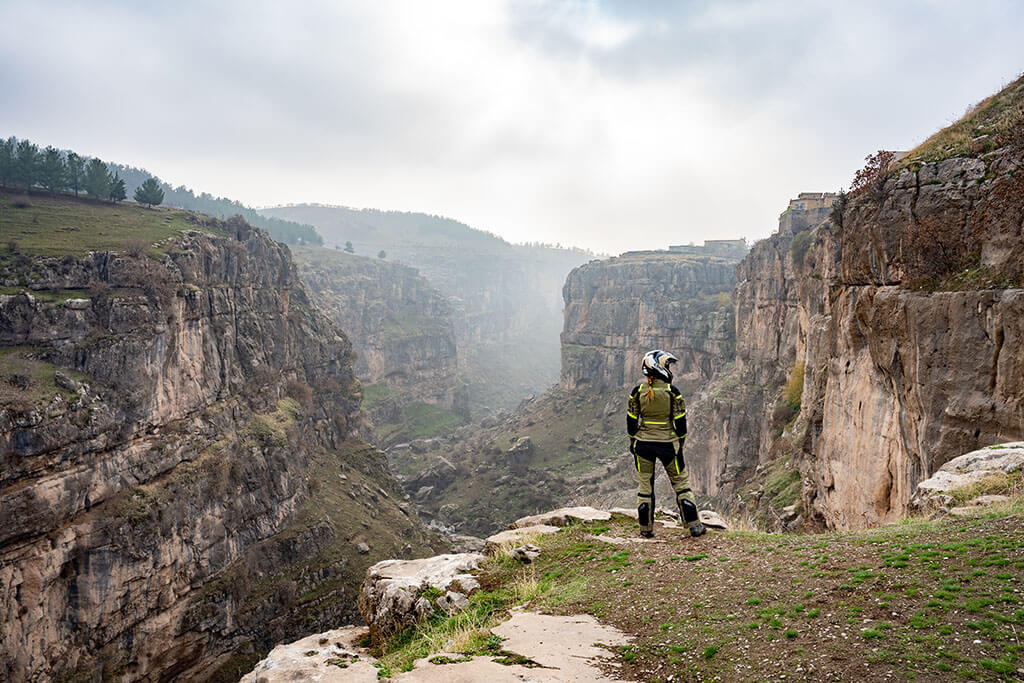 Paperwork for motorcycle travellers in Iraq
Visas
Passport holders from the European Union, Canadian, Australian, United Kingdom, Republic of China, Russian Federation, French Republic, Switzerland, New Zealand, Japan and South Korea – and even the USA are granted an entry visa to Iraq on arrival (for tourism purposes). At the border (land, air, sea) it will just take 15 minutes and the visa is valid for a period of 60 days from the date of arrival.
But! There is a tricky situation in Iraqi-Kurdistan (the most Northern province of Iraq) with the visas. They issue their own 'visa' which is only valid in Iraqi-Kurdistan, so don't try to travel to Federal Iraq (the rest of Iraq) with the Kurdish stamp. This issue only occurs when you enter Iraqi-Kurdistan from Turkey or Iran. If you enter Federal Iraq first, there is no issue. The current solution if you have to enter Iraqi-Kurdistan first is to get a domestic flight from Erbil to Baghdad and apply for a visa on arrival in Baghdad. Sounds like a lot of work, which it is, but it works.
70 USD Iraqi-Kurdistan visa for 30 days
75 USD Iraqi Federal visa 60 days
Note: Travelling to mainland Iraq with an Israeli passport stamp is a no-no, but Iraqi Kurdistan is absolutely fine.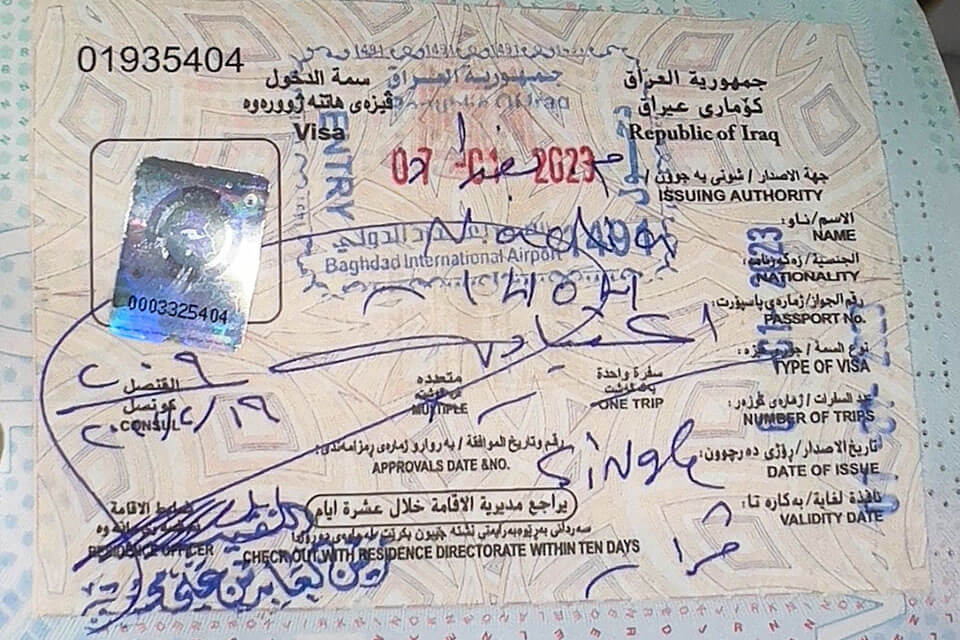 Carnet
For Iraq, a Carnet de Passage is officially required, but so far, all the travellers we spoke to didn't need one. There is a small fee to be paid to import your bike into Iraq, which was 30 USD per bike (which has to be paid in US dollars). The importation is without a deposit.
READ MORE: What is a Carnet de Passage?
Extra paperwork info
Iraq has the same policy with motorcycles as the Dutch government has with weed. It is not allowed, but they condone it. This means that there's no issue riding your motorcycle in Iraq, but there is no way to get insurance, since there is no legal ground for it. Iraq doesn't even have driver's licences for motorcycles.
Nevertheless, the biker community in Iraq is huge, with over 1,500 members and they do have licence plates on all their bikes (although they are usually there for design and are fake).
READ MORE: Motorcycle Travel Paperwork Explained
Vehicle insurance
Since it was impossible to get insurance for our bikes, we always carried a relatively high amount of cash with us (1,000 USD each), so that in the case of an accident we could pay it off in cash.
Personal insurance
Of course, you should always carry personal travel insurance that covers you to ride motorcycles and travel through the places you're heading. Check with your provider first to make sure you are covered in Iraq. 
READ MORE: Motorcycle Travel Insurance Guide
Getting in and out of Iraq with a motorcycle
Here are the main border entrances and exits for overland motorcycle travellers entering Iraq and Kurdistan.
Turkey – Kurdistan: Ibrahim Khalil border crossing
Kuwait – Iraq: Safwan Border crossing
Iran – Iraq: Mehran Border Terminal (Federal Iraq) or Tamarchin Border Terminal (Kurdistan)
Jordan – Iraq: Trebil Border Crossing
Saudi-Arabia – Iraq: Only allowed for Muslims travelling to Mecca. These are military borders.
Keep in mind that when you enter Iraqi-Kurdistan first, the documents you get might not be valid in Federal Iraq (like the stamp (Kurdish visa) and the import documents.
How to fix this? First get pictures from other travellers of the correct Federal visa and documents, this might help you get the correct documents in Iraqi-Kurdistan.
Secondly, accept that the bureaucracy in Iraq is a mess. So, it might take some time at borders or check points to get things sorted. But that is part of the challenge, right?
The other popular border to enter Iraq is the one from Jordan. The Federal visa is also 77USD, then police check, then customs (as far as we know the bags do get checked here). Pay 100USD for road tax (only 50 or 100USD bills). Then insurance 30USD for 30 days. Then back to customs, stamp after stamp after stamp they will bring you to the big boss for final approval and some pictures.
At last a 'gate pass' and then you can start rolling towards Baghdad with the Humvees around you. Enjoy, it's good entertainment.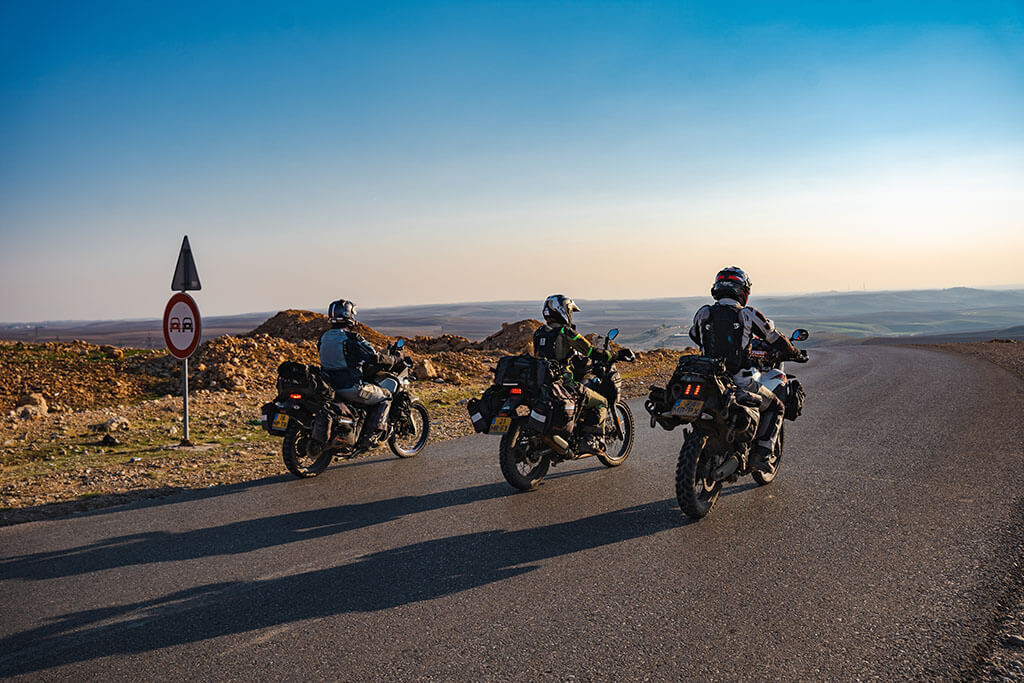 Accommodation, costs, weather, food and fuel
Hotels in Iraq
In Iraq you can use Booking.com and Agoda. Hotel prices are surprisingly high in comparison to the neighbouring countries. The cheapest (decent) place we found was 35USD a night for two people.
The Iraqi people are very friendly, so don't be surprised when you get invited to stay in people's homes every single day, so there is no need for a hotel.
Camping in Iraq
In the whole of Iraq, we were advised against wild camping. Police usually don't speak English and in Federal Iraq there are safety issues when you leave the main tracks.
READ MORE: Motorcycle Camping Guides
Money
Even though ATM's work in Iraq, you'll need to carry cash. It's always a good idea to carry a couple of hundred US dollars. You can exchange money anywhere since US dollars are in high demand!
Both Iraqi dinars and USD are widely used. Card is rarely accepted outside of the bigger towns. Same goes for ATMs. They can mainly be found in bigger cities.
When to go
It's best to visit Iraq in spring or autumn. In the summer it gets quite hot (around 45 degrees Celsius) and in the winter it can be a little cold (around 17 degrees Celsius). In Iraq it only rains a few days a year. The best time to go to Iraq is between February to May and November and December. In these periods you have warm temperatures and almost no rain.
Iraq has a desert climate. The temperature during the day can be warm to hot while it can be cold at night. The average annual rain fall is only 71mm in a whole year, which translates to about 10 rainy days in the year. These days are followed by the government issuing a national free day because of the flooded streets.
Food
Local food is cheap. Kurdistan is a bit more expensive than Federal Iraq. If you eat local, you can get a decent meal for a few dollars. If you are in the market for something fancier, in Iraq a lot of people are wealthy, so there is no shortage of luxury restaurants. A cup of tea varies from a few pennies to just over a dollar, depending on the location.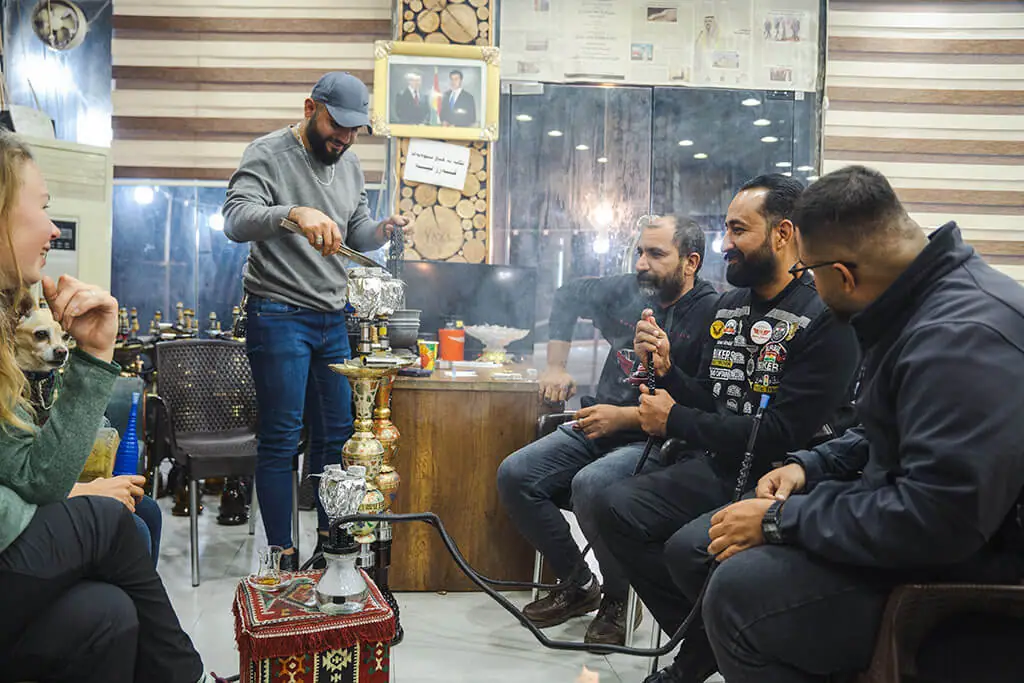 Fuel
Fuel in Iraqi-Kurdistan was about just under a US Dollar per litre (for 95). In Federal Iraq the price is about half of that. Just be aware that to get fuel from a local petrol station can be tricky since the quality can be really bad. We had a few issues with Mitchel's Yamaha T7 after some bad fuel. In Federal Iraq the distances between petrol station can be quite far too, so carry enough emergency fuel.
Safety in Iraq for motorcycle travellers
According to the governments and the media, it isn't safe to travel in Iraq isn't. But in collaboration with other motorcycle travellers, we came to another conclusion. Mind you, there are always risks. By using our common sense, gut instinct and thinking ahead we travelled through Iraq on our motorcycles without any safety issues. Zero!
But… When it comes to adventure travelling it is very important to follow your own gut instinct and common sense. For us, and many other motorcycle travellers, it was safe. Always listen to what local sources are telling you. If they say that you shouldn't go somewhere, it might be a good idea to think twice.
For women, it's a good idea to carry a hijab with you. It was not necessary to wear one in the larger cities and at the checkpoints, but it was mandatory at the City of Ur for example.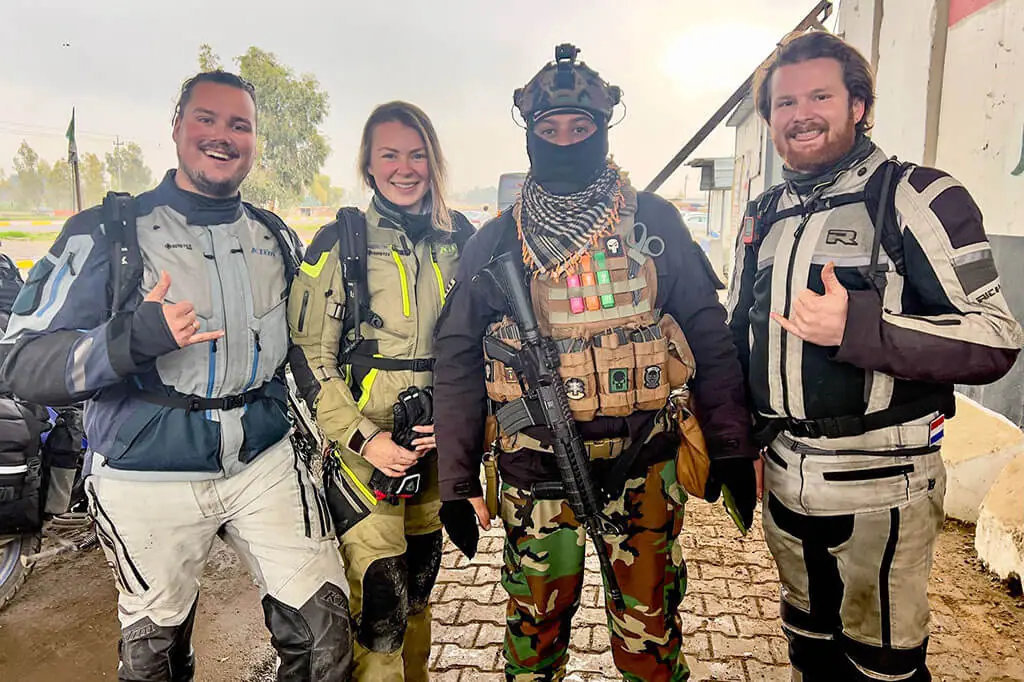 The main roads
It is strongly advised against going remote or off the known paths, because Iraq is a country that has been tormented by many wars and there might some land mines or other explosives left from those times. The main and secondary roads are safe. In Iraqi-Kurdistan going off the common paths shouldn't be an issue, but we would still advise against it. And because Iraq and Iraqi-Kurdistan have a strong military presence, wild camping is not a great option.
The roads in Iraq aren't great. But let's be honest, it's half the excitement. The right lane is for exiting, left lane is for U-turns, which automatically means there is no fast lane. You must really adjust and be aware of the surroundings. One time we had a car come and drive very close to us and the passenger hung out of the window for a high-five on the highway!
We strictly advice against riding at night. We ended up with two dented rims because we hit potholes that we couldn't spot in the dark.
Checkpoints
All Iraqi roads have many military checkpoints, mostly because of the fear that ISIS might attack again. Although every military checkpoint takes a lot of time to explain ourselves, there was never any issue. It just takes time and a lot of patience.
You will definitely get checked at these stops, of which there are many in Iraq. Mostly the questions were about where we were going, why we were visiting Iraq and why we were travelling on motorbikes. Although the bureaucracy was insane, all the officers were very friendly.
They offered water, food, and advice on where (not) to go. The most surprising was that everyone wanted a picture with us. Including the special forces on duty. What we didn't like about the photoshoots, was that sometimes they said we could only get our passports back after the pictures. Although it never really felt voluntary, those times we knew for sure we didn't have a choice.
Western travellers' privilege
We choose to go with three riders to make our own little convoy. Our experience in Iraq was truly the journey of a lifetime. We debunked the image we had of an entire country and saw a side we could never have imaged. Months later we caught up with another travel couple to discuss our experiences of travelling in Iraq by motorcycle. One of the conclusions is that the experience we all had in Iraq was that it felt safe, but that this was partially because we were western travellers. Travelling in Iraq could be a completely different experience for an Iraqi or someone from the Gulf States.
The best routes in Iraq for motorcycle travellers
Here's our recommended routes and the best places to visit in Iraq for motorcycle travellers and overlanders.
Kurdistan
Route: Erbil – Lake Ducan – Geli Ali – Shaqlawa – Lalish
Erbil: The old city of Erbil with its bazaar and markets.
Lake Ducan: The bright blue lake and the road leading up to it is breath-taking.
Geli Ali: The canyons, small waterfall and endless cornering makes Geli Ali a good daytrip.
Shaqlawa: Have a tea and lunch in the cute leveled city of Shaqlawa.
Lalish: Go take in some history in the pilgrimage place of Lalish.
Federal Iraq
Route: Samarra – Baghdad – Babylon – Ur
Samarra: Climb the 1200 y/o spiral tower.
Baghdad: Go wander the streets of Bagdad, the culinary capitol of the Middle East.
Babylon: Dream away while you walk around in Babylon.
The City of Ur: Enjoy some culture in what is believed to be the oldest preserved civilisation starting place and the birthplace of Abraham: the City of Ur.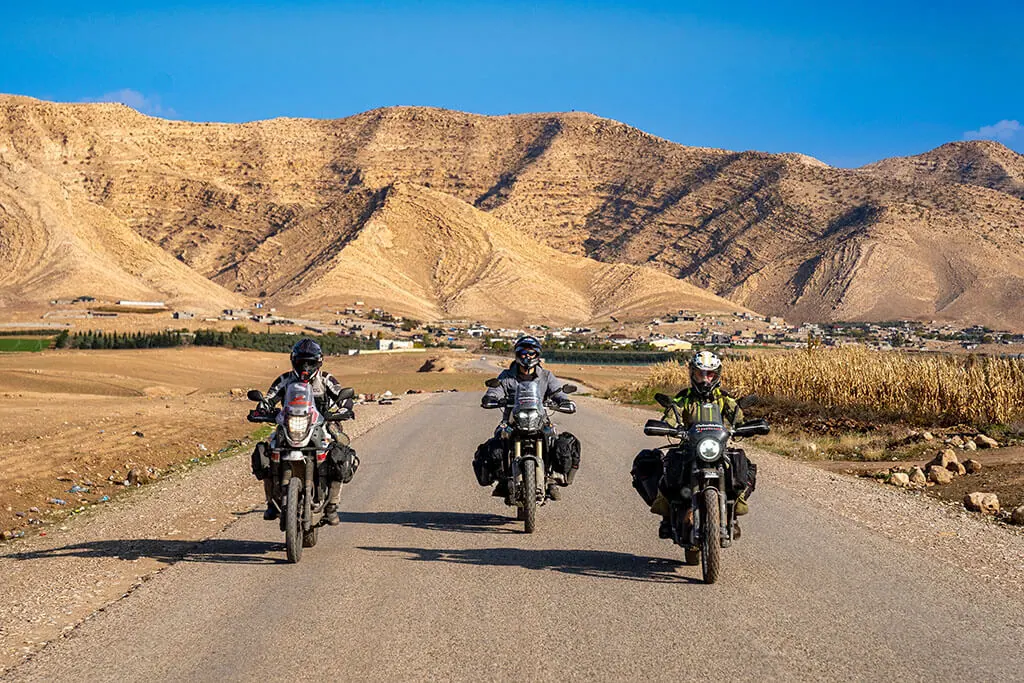 Notes on routes and roads in Iraq
There are highways in Iraq and fifty per cent of them have new asphalt. Which means that the other fifty per cent is bad quality with holes, gravel, and deep tracks on it. Highway M1 will take you all the way from the north to the south of the country.
In Kurdistan you can ride off-road. Especially around Lake Ducan. You'll find sections of mud, loose gravel, stretches of dense sand, (again) huge potholes and rough asphalt. The majority is easy-going hard gravel.
In Kurdistan every corner you take gives you a new painting like scenery. We rode in the mountain passes at the south of Duhok. Here you almost forget that you are in Iraq. We found ourselves taking the same stretch of road multiple times because of the curvy hairpins that take you over the mountains. Once you leave Kurdistan, the landscape turns flat, desert and almost without greenery. You will see remains of the war, like some roadside bunkers or road-blocks just besides the asphalt.
Riding gear, spares and tools
No special riding gear needed. Do check the seasons, the temperatures can differ a lot over the year.
Bring spare parts since there are no official garages/dealers in Iraq. There is motorcycle oil, tubes brake-pads etc. These are mainly aftermarket, imported, personal collection or meant for the local scooters.
It's always a good idea to pack a quality tool kit and be able to work on basic maintenance and problems with your own bike.
READ MORE: Riding Gear Guides
Nine tips for motorcycle travel in Iraq
1. Don't expect quality tarmac
Most roads in Iraq are of bad quality. The tarmac, if there is any, usually has a lot of potholes and have deep tracks because of the summer heat and the heavy trucks. Riding with an adventure bike is advisable, same as riding with quality 50/50 tyres. In the rain the roads turn muddy and even during dry days there can be some patches of (deep) sand.
2. Get a note in Arabic
We got the tip from other travellers that they had a note in Arabic that explained why and where they were travelling. This helped a lot at military checkpoints, since one of the biggest obstacles can be the language barrier.
3. Make sure you (can) obtain the right visa
Iraq and Iraqi-Kurdistan have different visas and different rules. Entering Federal Iraq by the airport or overland from Iran, Syria, Jordan, or Kuwait will get you a Federal visa (if you are eligible). Entering first into Iraqi-Kurdistan should officially not be an issue, but as we – and many other travellers – have encountered, it can be.
4. Contact local biker clubs
Throughout Iraq we met six chapters of Iraqi Bikers. All of them were very helpful and friendly. Contacting them beforehand can smooth things along and give them time to prepare for your visit.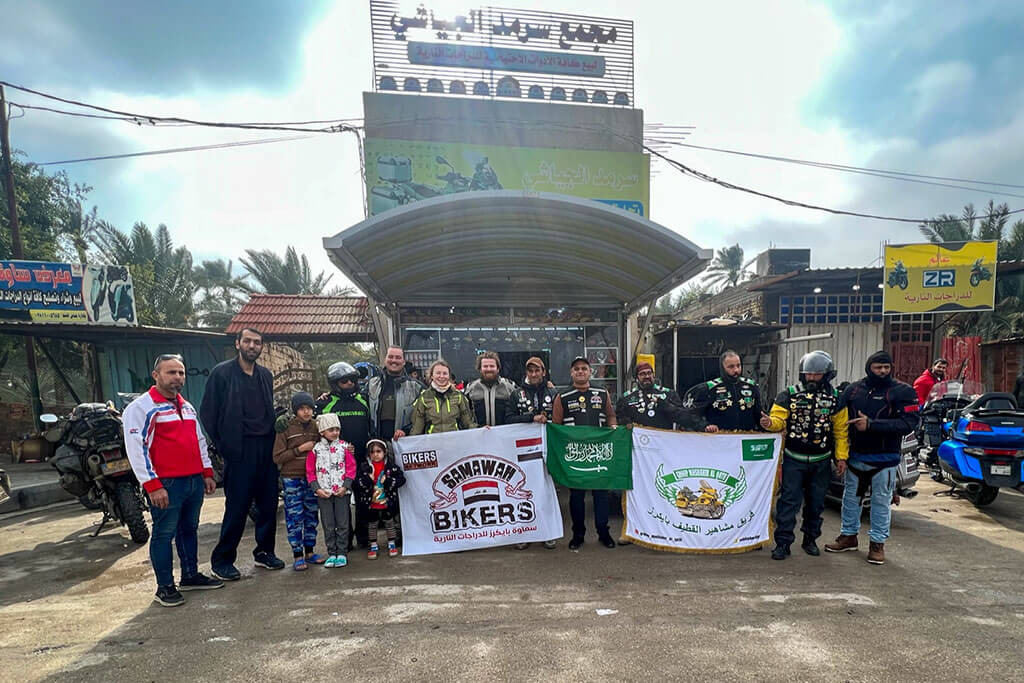 5. People are not the government
Although the Iraqi government seems to be very bureaucratic and not the most functional one, the Iraqi people are the opposite. They are friendly, helpful, and interested. Even at military checkpoints, where sometimes we had to wait for almost an hour, we were offered food and drinks and had pleasant conversations.
A good tip is to get an Arabic keypad on your phone so locals can type something in Arabic on Google Translate if needed.
6. Spare parts are scarce
Most bikers in Iraq ride a Honda Goldwing or some kind of bobber. We only saw one Kawasaki Versys 650 and one BMW 1200 GS. We were fortunate enough to find a store with good motor oil and even filters, but even that is a rare thing to find. Bring the spare parts you think you might need.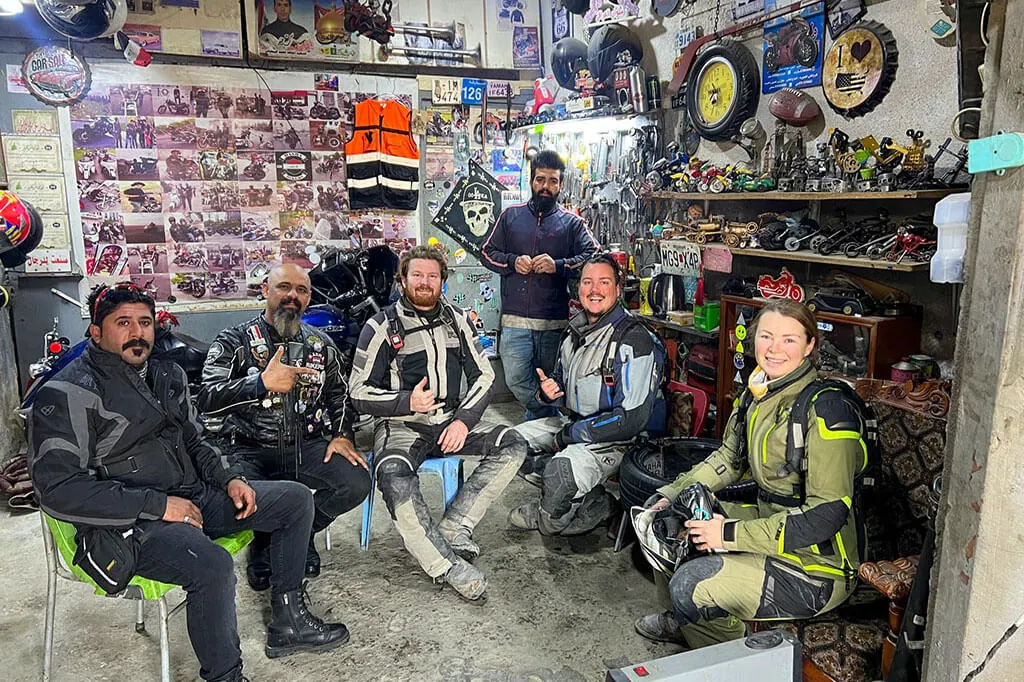 7. Prepare for long distances
Twice our bikes didn't have enough range to go between two petrol stations. Some parts of Iraq are spread out and the petrol stations are the same. We had a total of 6L of emergency fuel each with us, and we needed it.
8. Be careful off-road
In Iraqi-Kurdistan it is safe to go off-road. Even a lot of the main roads are off-road. In Federal Iraq we were advised against going off-road by many locals because of the risk of land mines.
9. Bring cash
In Iraq motorbikes are officially not road legal. The police and military don't do anything about it, but since motorcycles are not legal, there is no way to insure them. Just in case you get in accident involving someone else, it could be a good idea to have plenty of cash on hand to settle things right away. We had a little over a 1000 USD each with us.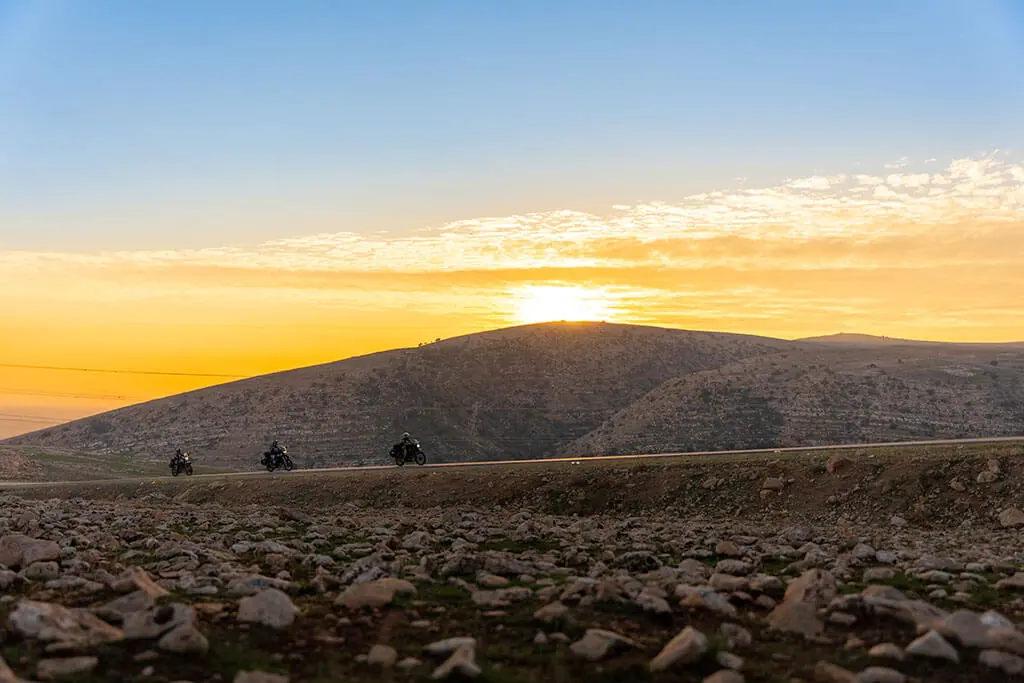 Mitchel and Nadia de Jager
Young adventure-destined couple Mitchel and Nadia are out to explore the world. Creating a life as adventurers, digital nomads, content creators and brand ambassadors they share their journey into the world of adventure riding.
Follow Mitchel and Nadia's adventures with their 'The Great Ride Along' below:
Read more on motorcycle travel in the Middle East
Thanks for checking out the Motorcycle Travel Guide: Iraq article. We hope you enjoyed it! Here's a few more articles on motorcycle travel in and around the Middle East that we recommend you read next. 
Are you planning a motorcycle trip to Iraq or the Middle East? Or do you have any questions or tips to share? Let us know in the comments below.