Welcome to the Indonesia Motorcycle Travel Guide. This packed article explains everything you need to know about travelling through Indonesia with a motorcycle from entry requirements to paperwork, shipping, destinations and more. 
The Indonesia Motorcycle Travel Guide
Indonesia is an incredible country for motorcycle travel. The people are amongst the friendliest in the world, it's brimming with fascinating history, culture and sights, jaw dropping nature, insane beaches and crazy roads. But, due to its geographic location, it's often missed or overlooked by motorcycle travellers and round the world riders.
Most overlanders will start or end the Southeast Asia section of their ride in Malaysia because it's far easier to ship into or out of Malaysia and onto the next point in their journey. For example, ship to Malaysia and ride on to Thailand and continue from there. Or ride from Thailand into Malaysia and ship onto Australia – or elsewhere in the world.
As well as it being easier to ship from Indonesia's neighbour, it's also tricky to get into Indonesia (the country requires a Carnet), it's not easy shipping in our out and it only has two land borders and both of them are on islands (Borneo and Papua New Guinea) neither of which are big motorcycle travel destinations.
So, it's easy to see why it's not a common destination for motorcycle travellers. But, it is popular for riders who want to fly in and rent a bike or join a tour (namely in Bali) and there are riders out there who want to make the effort to visit this incredible country and not just Bali! So, we've put together this guide to help you get there, navigate the entry requirements and get the most out of your Indonesia motorcycle trip.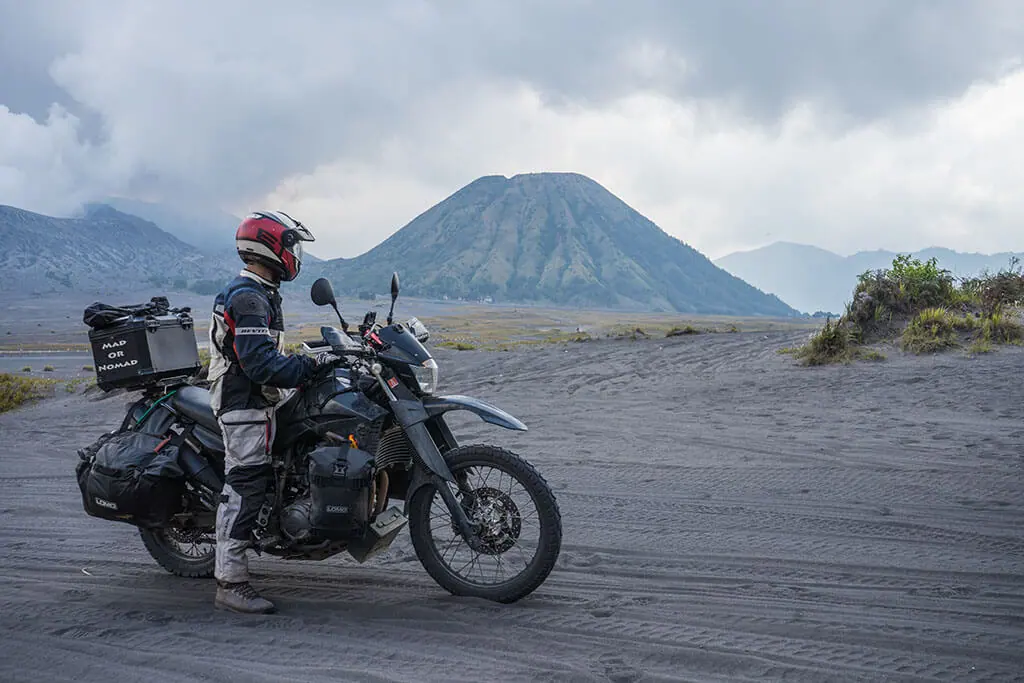 Indonesia paperwork for motorcycle travellers
Carnet
A carnet (CDP) is required to enter Indonesia with a foreign registered motorcycle. There's no way around it other than using one. Make sure your carnet stipulates usage in Indonesia before entering. Remember that motorcycle travel here isn't that common, so keep and eye on the customs officer filling it out and if they seem a bit confused with the document, offer a friendly reminder of how the sections work.
If shipping your motorcycle out of Indonesia, note that the company you use will send your carnet ahead to your arrival destination. More on this in the shipping section below.
READ MORE:
Insurance
We were not asked to purchase insurance to use our motorcycle in Indonesia, nor have we heard of anyone buying any. 
Aside from motorcycle insurance, we highly recommend getting personal travel insurance that covers you to ride a motorcycle in Indonesia. For more information, check out this guide. 
READ MORE: Travel Insurance Explained
International Driver's Permit and driver's licence
You do need an IDP and full driver's licence to travel in Indonesia. Make sure you have valid documents before entering the country.
According to the UK Government website: "You cannot drive in Indonesia using a UK driving licence. You can drive using an International Driving Permit issued in Indonesia. International Driving Permits issued in the UK may need to be endorsed by the Indonesian licensing office in Jakarta." 
While we did not have any issues entering Indonesia with our licence and riding through the country, it does not mean you won't. You travel there at your own risk. 
Registration document
You will need an original of your motorcycle's registration document.
Passport and visa
You can usually obtain a visa on arrival at land borders and airports in Indonesia. A VOA costs around 25USD. This can be purchased on the spot when crossing land borders such as in Borneo, but you will need to pay in either Malaysian ringgit or Indonesia rupiah.
Citizens of some countries (namely in Southeast Asia) can enter visa free for up to 30 days. Check your citizenship's entry requirements before travelling to Indonesia. Your passport must be valid for 6 months and when entering at an airport you may be asked for proof of onward travel. 
Health
You must be fully Covid vaccinated and have proof of your vaccinations to enter Indonesia. This will be checked at all borders and airports no matter where you enter. The Covid vaccination requirements and rules are constantly changing the world over, so check before travelling for any updates.
Getting in and out of Indonesia with a motorcycle
Land border: Indonesia and Malaysia (in Borneo)
There is a land border between Indonesia and Malaysia on the island of Borneo. This border is most commonly used for round the world travellers looking to get from Indonesia to the Malaysian Peninsular (West Malaysia).
We have a dedicated guide on crossing this land border and how to do it.
READ MORE: How to Cross the Borneo Border (Malaysia and Indonesia) with a Motorcycle
Ferry from Java to Borneo
Travellers will often get a RoRo ferry (roll on, roll off meaning you can ride your bike onto it yourself) from Semarang (Java) to Pontianak (Borneo) cross the land border to Malaysia Borneo and then ship from Sarawak to Kuala Lumpur. This route can be done in reverse. Here is the ticket office locations for both directions:
For more info on the shipping process, have a read of the below guide.
READ MORE: How to Ship from Borneo to Java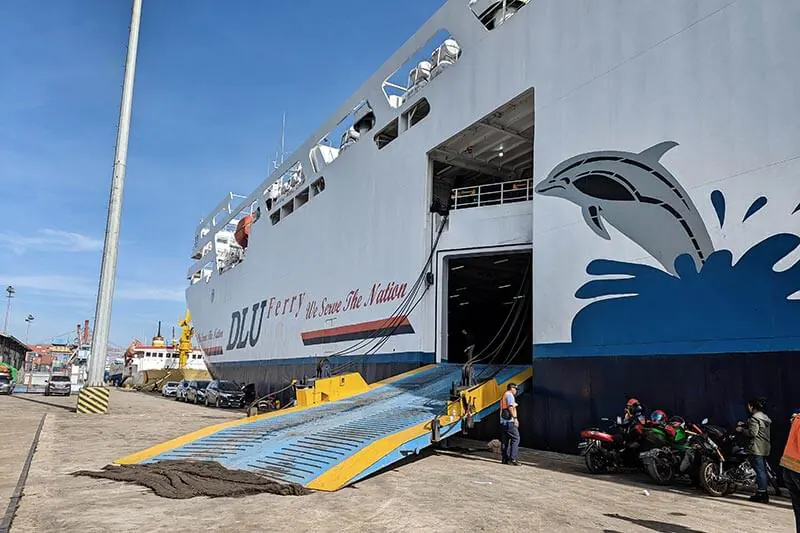 Shipping from Sumatra to Kuala Lumpur
Pre-covid, the motorcycle travellers wanting to get between Malaysia and Indonesia didn't need to ship all the way to Borneo just to cross a land border. Instead, they could just put their bike on a boat between Kuala Lumpur to Sumatra and fly over. Easy. But this route has been closed off for the last few years.
However, around October 2022 we received a report of the first traveller in three years making this crossing. So, it's likely it will fully reopen again soon.
Have a read of the below guide for more info.
READ MORE: How to Ship a Motorcycle from Kuala Lumpur to Sumatra
Shipping a motorcycle internationally to / from Indonesia
The most common ports for international motorcycle shipping to and from Indonesia are at Surabaya, Java and Bali.
You can easily ship your motorcycle to / from Indonesia. Costs can rack up dependent on who you ship with. The easiest way to get a cheaper quote in Indonesia is to be with your bike at the crating stage and make it as small as possible by removing the front wheel, top box, handlebars etc. You should be aiming for under 3cbm.
For more info on Indonesia motorcycle shipments, check out our guide below and also have a look at our recommended shipping companies.
READ MORE:
Motorcycle travel in Indonesia
Riding a motorcycle in Bali 
Bali is Indonesia's biggest draw for tourism. It's not necessarily a motorcycle travel destination, although using a motorcycle is the best way to travel around the island. The riding here isn't particularly special, although if you're not used to riding in Southeast Asia, then you may enjoy riding in the more rural areas for a glimpse of local life. Riding anywhere near the south of the island is a nightmare due the high levels of tourists and traffic jams.
Getting to Bali from Java is easy and takes about an hour on a ferry. You can buy a ticket for under £5 for you, a pillion and your motorcycle from a convenience store close to the port and you'll be on the island in one hour.
Riding a motorcycle in Java
Java is an incredible island to explore on a motorcycle. The big attraction here for motorcycle travellers is Mount Bromo – one of Indonesia's 130 activate volcanoes. The volcano is surrounded by a 'Sea of Sand' and going on a heavy bike will be difficult unless you're a good rider. A light bike is far easier here.
There are fantastic sights and towns throughout Java from Borobudur temple (the world's largest Buddhist temple) to Ijen, Jodipan and the many stunning towns and mountains in between. 
No trip to Java is complete without visiting Bromo. And if you have time, visit the above mentioned places too. For more info, check out our dedicated Bromo guide and blog post. 
READ MORE:
Riding conditions
However, riding in Indonesia can be difficult and stressful. At the time of writing (January 2023) we have visited nearly 100 countries and been on a round the world trip for the last five years, and in all that time we've had the most close calls in Indonesia.
Along the main roads, the riding is slow, fast and dangerous. Meaning, you'll often find incredibly slow trucks taking up the road and a swarm of scooters rammed up right behind it all trying to overtake into oncoming traffic which is doing the exact same.
Motorcycles aren't allowed on the motorways in Java (they are in Bali) and so quite often you'll have no choice but to ride these roads.
The side roads and back country routes are beautiful and the mountain rides are amazing. But they often lead to an impassable route or dead end. So when you need to cover ground, you may have to take the main roads.
Petrol can be easily sourced throughout Indonesia. Just make sure you always fill up with Pertamax and not Pertalite.
For more info on what it was like for us riding from Borneo to Java and onto Bali, have a read of our Indonesia blog post.
Accommodation, safety, weather and gear
Hotels
Accommodation in Indonesia is reasonably priced. You can just turn up on the day at hotels you find on Google Maps or search them out the night before on Booking.com. It can at times be difficult to find decent hotels especially if you're used to the likes of Thailand. Don't expect high quality hotels along the main roads, average prices are around £15 per night. Trucker motels can be extremely basic and most hotels have room and price options at the front desk. They will often give the option of a room with a heater, which you may decide to pass on in summer, but the heater means hot shower.
Here's a few recommendations of great places we stayed.
Java favourites
Nomaden Urban Stay – Semarang. If you're catching the ferry to or from Borneo, this hotel is right by the port. Super clean, very friendly and nice rooms. 
Kunang Kunang Tent Resort – Banyuwangi, East Java. This place is a slice of luxury. It's a 5-star resort where you stay in an incredible dome tent in the heart of a forest.  
ADA Homestay – Borobudur Temple, Java. If you're visiting Borobudur, this is a great place to stay as it's a short walk away and the owner is lovely. 
Inni Homestay – Malang, Java. We recommend this place if you're visiting Bromo from Malang. 
Clover Homestay – Probolinggo, Java. We recommend this place if you're visiting Bromo from Probolinggo.
Bali favourites
Baliwid Villa – Ubud, South Bali. Baliwid is an excellent place to stay in the south of Bali. It's far enough away from the hustle and has a waterfall right on its doorstep. 
Teratai Boutique Resort – Amed Beach, East Bali. A great hotel in Amed with a pool and excellent breakfast included.
NusaBay Menjangan – West Bali National Park. This resort is amazing. You can leave your bike at the docks (with a private security guard employed by the resort) and a little boat will take you across the water to the resort. Beautiful rooms, good food on the beach, stunning snorkelling and wild deer and monkeys roaming the grounds. 
Puri Bali Hotel – Lovina Beach, North Bali. Lovina is well known for swimming with wild dolphins in the sea. If you're staying here, then we recommend this place. 
Finding a decent hotel in Bali is easier than in Java. It's setup for tourism so there's a huge variety of hotels and guesthouses of varying quality and pricing. It depends where you want to stay on the island. Have a look at the below map to get an idea of current hotel prices in Bali.
Camping
Camping is possible throughout Indonesia. You can also wild camp so long as you keep your wits about you and camp away from roads and villages. But do check for local signage on whether or not it is prohibited.
Have a read of our camping guides for more info.
READ MORE: Motorcycle Camping Guides
Safety
Terrorism is a concern in Indonesia and some regions suffer from civil unrest like in Papua and Sulawesi. There are quite a few areas involved in religious and tribal conflicts. 
There is also the danger of natural disasters such as earthquakes, tsunamis and volcano eruptions. 
Bali is a major tourist destination and the UK Gov website reports high numbers of attacks against tourists.
The road conditions and level of driving is extremely poor in Indonesia. Road accidents and fatalities are very common and we have had the most close calls riding in Indonesia over anywhere else in the world. 
You need to keep your wits about you and exercise high levels of caution when travelling here and remember, you do so at your own risk. 
Carrying an emergency satellite device may be a good idea here if you are travelling to remote regions. 
However, we want to add that the Indonesian people are amongst the friendliest we have met. People are kind the world over, but Indonesia's are incredibly friendly. We had a brilliant time meeting new people here.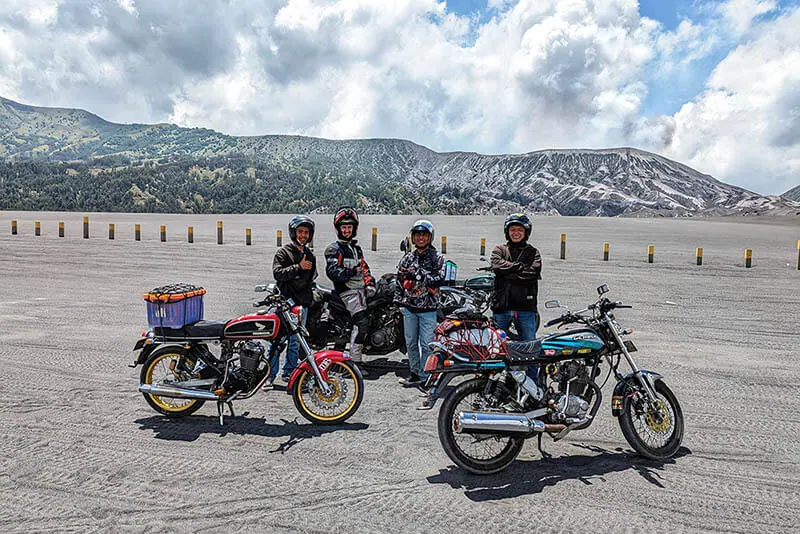 Weather
Indonesia is tropical, hot and humid. The weather in the mountains is cooler and you can find sporadic rain showers the higher you go. As Indonesia is on the equator, you'll find it has two seasons – rainy (November to March) and dry (April to October).
Riding gear
Mesh textile riding gear is recommended for Indonesia. Go for summer riding gear that's non-waterproof and carry a pair of waterproof throwovers in case you get caught out in the rain.
READ MORE: Motorcycle Riding Gear Guides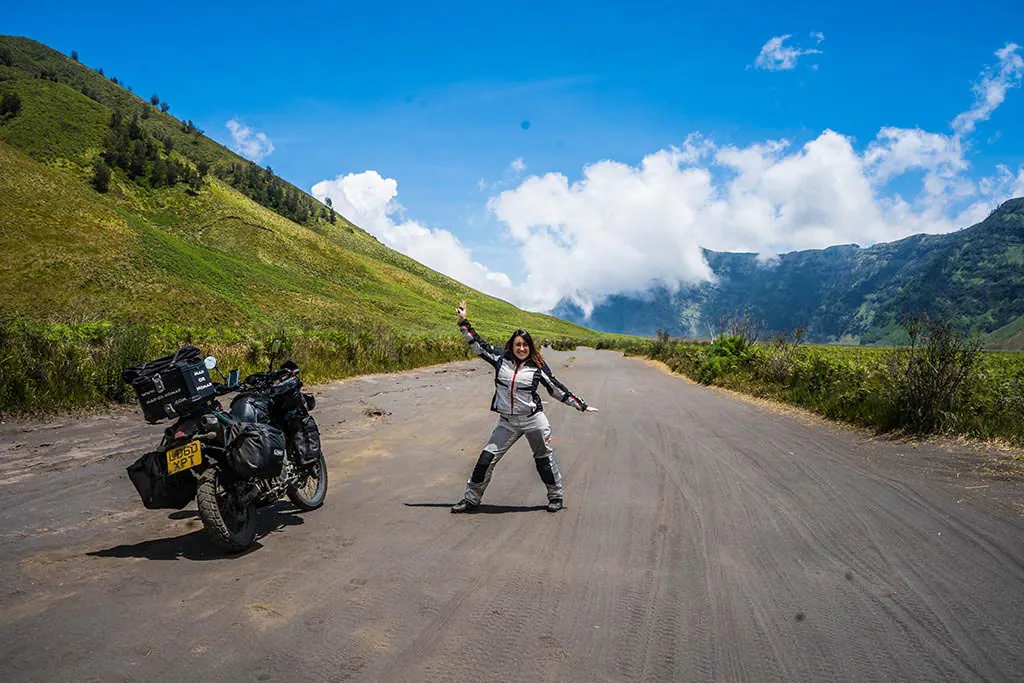 Motorcycle rentals and tours in Indonesia
You're going to be hard pushed to find a motorcycle rental or tour company in Indonesia anywhere other than Bali.
You can easily find great companies located all over Bali, but primarily in the south of the island. You can rent bikes from these companies and go off on a tour of the island or just rent a scooter to get around locally. But, there are companies dedicated to adventure riding and will take you on an off-road tour of Bali or even across to Java and to Mount Bromo. 
READ MORE: Recommended Motorcycle Rental and Tour Companies Indonesia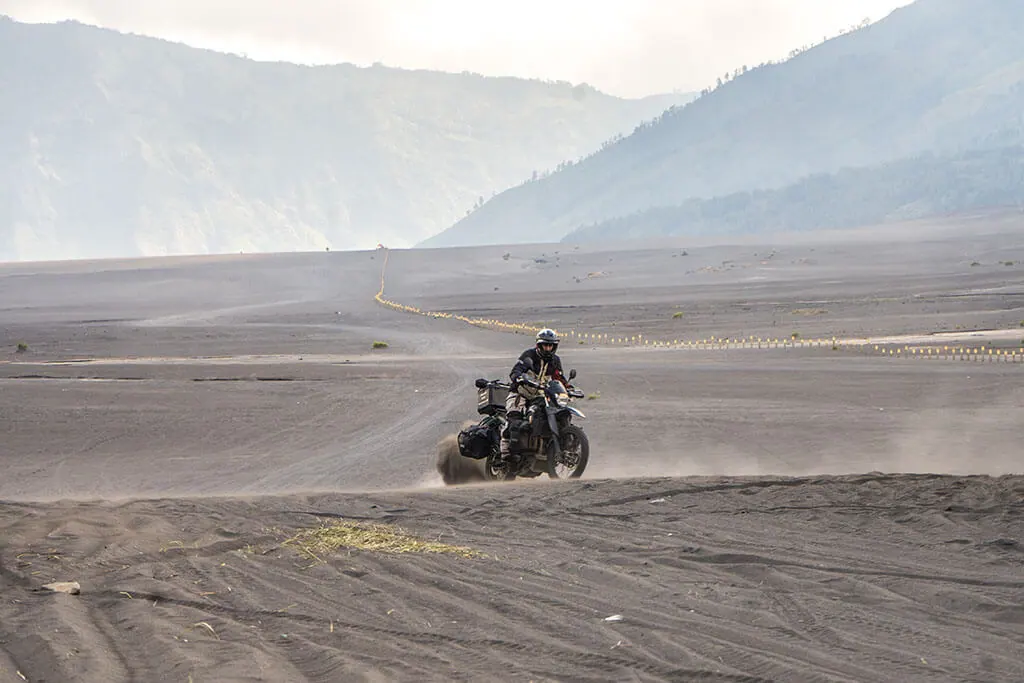 Read more on motorcycle travel in Indonesia and Southeast Asia
Thanks for checking out this Motorcycle Travel Guide: Indonesia. We hope you enjoyed it! Here's a few more articles on motorcycling in Indonesia and Southeast Asia that we recommend you read next.
Are you planning a motorcycle trip to Indonesia or Southeast Asia? Do you have any questions or tips to share? Let us know in the comments below.