If you're planning a trip to Cyprus, then have a read of this packed and comprehensive motorcycle travel guide first. It's got everything you need to know to have an epic biking adventure in Cyprus. 
Motorcycle Touring in Cyprus
Why motorcycle travel in Cyprus?
Cyprus is a small island with many rarely used twisty roads and around 340 days of sun every year. There's no better way to explore this little gem than on a motorcycle. It's rated as the fifth safest country in the world, has a gorgeous Mediterranean climate characterised by long, hot summers and mild, wet-ish winters with beautifully warm weather in between. It's heaving with delicious wine routes and local delicacies, lovely island people and a growing bike culture. Throw in some ancient Greek history, stunning scenery and beaches and you can't go wrong. 
Here in Cyprus we have roads for every ability – we even have a race track!  Everyone can enjoy our coastal roads and there are routes up into the mountains that can be ridden by most capabilities and there are also more advanced, adventurous and technical riding routes. Cyprus has it all and you're going to love it!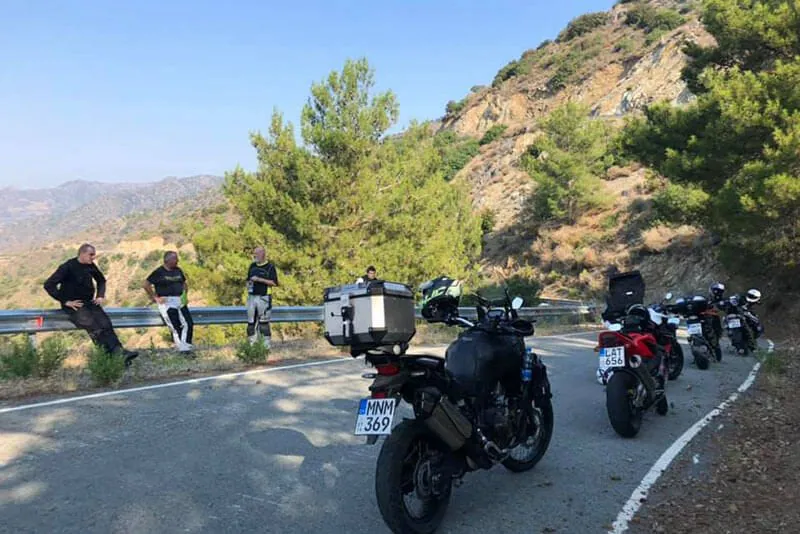 Things to do in Cyprus
Riding in Cyprus is the perfect definition of what a great bike ride should be. It's both affordable and accessible all year round and makes for an amazing biking trip. But it's also brimming with loads of other awesome things to do, so you can really mix up your trip and enjoy all of the country's delights! Here's some of my favourites…. 
Island food and wine
Cyprus belongs to the old world of wine producing countries starting as early as 2,300 BC and ranks 37th in the world, this makes wines of Cyprus popular among wine lovers with many local award winning wines and some of them being among the oldest wines in the world still being produced. Commandaria wine, the legendary ancient wine which is documented back to 800 BC and is known as the world's oldest wine still being produced. What makes this even more interesting is that Cyprus has it's own wine route which connects some of the best wineries with some of the best biking roads on the island.
More info: Biking wine route 
History
We have a tonne of Ancient History with Greek ruins round every turn and a real testament to the island's religious heritage. Cyprus is home to some truly impressive monasteries. Many of these monasteries are real architectural feats, beckoning both religious and non-religious visitors from near and far amid the most peaceful and idyllic rural settings and along some striking biking roads. Many function the same way today as they did years ago, while others have been left abandoned, yet still retaining an undisputed captivating charm. 
Dams
Cyprus has 108 Dams and reservoirs of various sizes throughout the country and many are beautiful scenic places in their own right. One of the most famous has the lost village of Alassa in its depths, where at certain times of the year you can see the spire of the village church rise up from the Dam. It even has its own folklore monster! Linking these dams up makes for an incredible ride. 
More info: Sunken Church of Alassa 
Sea Turtles
Sea turtles come to Cyprus to lay their eggs and several of our beaches are protected. It is possible at certain times of year to watch the huge females emerging from the sea and dragging themselves up the beaches to lay their eggs and it is truly an honour to be around when the little babies hatch and make their way back down the beaches to the sea guided only by the moonlight. On average, there are over 800 turtle nests on our beaches every year with Loggerhead turtles being the most popular, but green turtles can also be seen.
Diving
Once the sea warms up the water temperatures remain pleasantly above 25C well into October. The Island has a longer diving season than most of its competitors nearby. The clarity of the sea is also excellent and visibility of more than 30 metres is not uncommon. Cyprus offers something for all tastes, from simple, sandy-bottom dives for beginners to epic deep dives. The Amphorae Caves can be found off Paphos, where you can see ancient pottery still intact. You can reach the Chapel from the shore which makes it an excellent place for night diving and the Zenobia is the most famous wreck dive on Cyprus, with its trucks still chained to the deck is a sight not to be missed.
There are over 250 fish species in Cyprus waters, home to the greatest diversity of marine life in the Mediterranean. You can dive with Octopus, rays, jacks, shoals of Barracuda, turtles, trumpet fish, lionfish to name but a few.
The Best Beaches
We have the best beaches. Not only do we have stunningly beautiful beaches and rugged wild coast lines we also have 49 beaches in Cyprus that have been awarded the Blue Flag based on environmental management criteria, this means that there are beautiful, clean beaches all around the island.  There are 5 protected marine areas in the coastal waters and a further number of marine reserves which are in open water or supported by artificial reefs. The Island is very proud to be participating in this way.
Boat trips are available from all sides of the Island and offer everything from the huge pirate party boats and the night-time fireworks cruises to the smaller more individual self drive speed boats Cyprus has it covered.
Skiing
Sunny Cyprus is probably not the most obvious place to ski but the impressive Troodos mountain range stretches across most of the western side of Cyprus and offers a cool sanctuary in summer and the opportunity for sports in the winter.
Skiing can be enjoyed between Dec and April if it's a good winter but always January – March when snow can be as thick as 2 metres on the lower slopes. We have a webcam but it's good to remember the snow melts much quicker on the south slopes, so just because you can't see snow if you look up from the south, it doesn't necessarily mean there isn't any.
Troodos Square is alive all year round with its vibrant restaurants sitting at just below the highest peak of Troodos at 1,900 metres. A ski holiday in Cyprus is surprisingly inexpensive and rates as one of the cheapest skiing destinations in Europe where you can get away with a day's skiing for around 20 euros. It definitely is something to be able to take advantage of the pleasures of winter sports under a beautiful blue Mediterranean sky.
Paperwork
 British citizens can travel to Cyprus from the UK for up to 90 days without a visa. What could be easier?
Other nationalities will need to check entry requirements. 
You will need to take your driving licence if you plan on renting a bike or going on a tour. You may also need an International Driver's Permit dependent on the new EU laws. 
Motorcycle insurance
All vehicles must be insured with a minimum of third party insurance.  If you are riding in on your own bike then you must check with your own insurance company that you are covered to ride in Cyprus/Europe. 
If you are hiring a bike here, the company will provide basic third party cover insurance along with the hire bike or car.
Taking your own vehicle in
This has been done and so it is possible but the regulations can change with the situation between North Cyprus and the Republic of Cyprus. The best advice here is to check the situation before booking your trip. Check out potential riding routes through Europe to Cyprus below.
You will need:
UK driving licence
Passport
Proof of Insurance
Two warning triangles are compulsory – for cars
Vehicle registration information
A GPS and road map of the area that you are driving in can be extremely helpful
Tips for Planning a European Motorcycle Tour
Getting in and out
 Cyprus is only a four and a half hour flight from most UK airports and close to many other European countries. 
Larnaca Airport is a good bet and has very reliable and cheap services down to Limassol and Paphos.
If you're travelling in on your own bike then you can take the ferry from Turkey. It sails once a day from Tasucu to Kyrenia. Taking approx. 3 hours 30 mins the cost estimate is 16 euro and may change at different times of the year.  It is subject to change as the situation between Northern Cyprus and the Republic of Cyprus can be fluid. We advise everyone to do due diligence before making their trip.
Route 1 (can be a bit of a hassle)
France, Belgium, Luxembourg, Germany, Austria, Hungary, Romania, Bulgaria, Turkey. Romania and Bulgaria are in the EU but not in the Schengen area so you will have to declare yourselves at the border of Hungary and Bulgaria to let the authorities know you are leaving the Schengen area, not a problem just a passport control old style. 
You can take a more direct route though after Austria, Croatia, Bosnia, Serbia, Bulgaria, Turkey but this will involve visas through Bosnia and Serbia, this may now have some issues due to Brexit. 
Once in Turkey you can ride down through the country to Tasucu where you can get a daily car ferry that will take you to Kyrenia. From Kyrenia it is easy to find the border control to cross over into The Republic of Cyprus. You will need to exit Cyprus the same way at the moment.  However, this can be fluid and so we advise all travellers to complete due diligence before setting off.
Route 2 (Nice and easy)
France, Switzerland, Italy, Greece, Turkey. This route is long motorway sections so good for cruising, France (Reims) through the vosges mountains (tunnel) to Basel (Switzerland) down over the Gothard Pass (only in Summer) or through the Gothard road tunnel ( gets busy on Friday evenings) round Milan, Bologna, Rimini, to Bari.
At Bari you catch a ferry to Greece to a place called Igoumenitsa ( 6 or 7 hrs I think?) This is the route that the lorry drivers use to get to Turkey and other Eastern European countries. At Igoumenitsa you follow the autoroute to Thessalonika and onwards Turkey. Once in Turkey you can ride down through the country to Tasucu where you can get a daily car ferry that will take you to Kyrenia. From Kyrenia it is easy to find the border control to cross over into The Republic of Cyprus. However this can be fluid and so we advise all travellers to complete due diligence. 
Route 3 (Better but longer)
This route involves a mediterranean sea cruise. France (Paris) to Lyon (autoroute de soleil), Avignon (where the bridge is, "sur le pont avignon") Aix le Provence. From here until you get to Salerno is along the mediterannean coast (tunnels and bridges along with vistas of the sea) St Tropez, Cannes, Nice, Monaco, into Italy, Genoa, Livorno, Rome, Naples, at Naples you can cross to Bari if you wanted to do the ferry to Greece (see above) if not carry on to Salerno. At Salerno you catch a Freighter ship. 
A freighter ship is a general cargo ship (no containers) it is allowed to carry 12 passengers, any more and it is classed as a ferry. It is a RoRo ship so you ride your bikes on and park up, you are allocated a cabin which has a shower and toilet, normally an inside cabin as the crew have the outside cabins. You eat with the ship's officers in the officer's mess. It is a working ship so there is no swimming pool but a table tennis table, running machine but that is about it. The ship does not work to specific timetable but it does a regular route so although they say it will arrive in Salerno on Monday it may be Wednesday but it will arrive because that is the route.
The journey is approx 10 days at sea, let me explain. The route is out of Salerno down the Italian coast, (passing Stromboli, a active volcano just off the Italian coast) through the Messina straits, into Greece at Pireas, Athens where you have to declare yourselves to the authorities as you're leaving the Schengen area, not a problem the ships captain organises this as he will probably have some of his crew that need to do this. From here you tend to go to Izmir in Turkey, from there you go to Ashdod in Israel as ships that have been in a Turkish port are not allowed to dock in Limassol (it is a 1974 thing).
If you want to get off the boat for a bit of sightseeing you have to ask the captain for permission and depending on the time he has in port offloading and loading determines that, he will leave without you if you're not back in time. A friend has done this trip twice and at Ashdod they arranged with the captain for a car and guide and went on a day trip to Jerusalem as we were in port for 42 hours. After Israel you come back up to Limassol where you drive off and pay port fees of about € 200. At the dock office you get a temporary import licence for your bike and then you are in Cyprus. 
Motorcycle Travel Guide: Europe
A packed guide on touring Europe
When to go
Occasionally we get a wet wet winter but generally March to the end of June is perfect biking weather. July to August is hot and temperatures can shoot up to 40C+.
September to December makes for perfect biking weather most days.
Riding gear, luggage and equipment
We have the freedom of riding 70% of the year in summer kit! 
If you're riding from April through to November then summer mesh kit is best and just bring a mix of t-shirts and long sleeve/thermal layers and that will get you through.
Here's a selection of more detailed guides to help you find the right gear, luggage and equipment for motorcycle touring.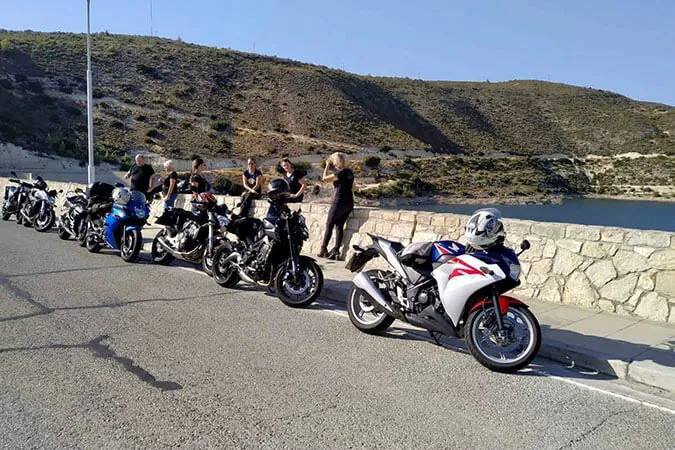 Accommodation and cost 
Hotels and guest houses range from 1-5 star with costs on average of 20 euros a night to 350 euros a night.  It is always best to book in advance even though there are countless places to stay in every town and village. Tourism is still Cyprus' main income.
You can get a pretty decent meal in a village Taverna for 15 euro.  Expect to spend up to 50 euro per head in a hotel restaurant.
Beer is 2.50 – 4 euro depending if it's imported or local
Spirits are 3 – 5 euro
Wine is 1 – 3 euro
Fuel is 1.10 per litre. – 15 euros a day is more than enough for the average large cc motorbike. (If you are on one of our tours on our bikes then petrol is included).
To help find local accommodation, here's a Booking.com map of hotels in Pathos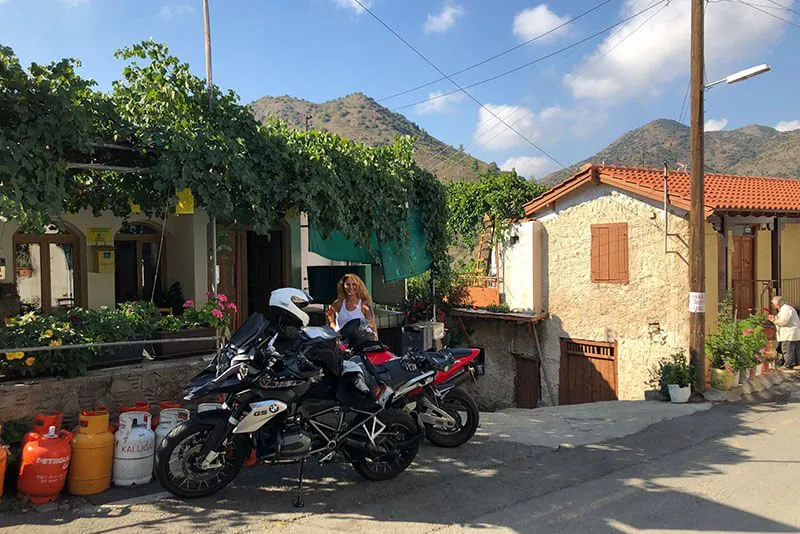 Camping in Cyprus
Wild camping takes place near beaches all over Cyprus. You are not allowed to camp directly on the beach especially if it's a protected beach for the Sea Turtles but the fields and ground behind the beaches often have free campers most summers. Avoid beaches, busy areas and protected land like the Akamas Peninsula and you can't go far wrong. Generally, it is best to ask a local who will happily point you in the right direction.
If you prefer to stay at an official campsite, then here are our 6 top picks:
Polis Chrysochous Campsite
– Situated within state forest land – managed by other agencies.
Location of site: The camping site is situated on the beach in a pleasant eucalyptus grove, (1km northwest of Polis Chrysochous 500 metres from Polis town centre in the Limni state). It is a sandy beach mixed with pebbles and is easily reached by car, motorbike and bus. Water sports, sun bed and umbrella hire are available on site. There are accommodation facilities nearby, while lifeguards are on duty with lifesaving equipment from 11:00 to 17:30 hours during the swimming season.
The site has toilets, showers and washroom facilities for dishes etc. There is a launderette in the nearby town of Polis. There is a snack bar on the beach and a mini market is open from June to August. Open from March till the end of October (maybe longer, weather permitting).
Facilities: Bar – Restaurant – T.V. – Satellite – Unbrellas & Sunbeds – Life Guard – Ramba- Showers – W.C.
Altitude (m): 0
Max capacity (tents, caravans/persons): 200-700,
Tel:+357-26815080
Platania Campsite
– Managed by the Forest Department
Location of site: Platania Camping site is located at Kakopetria – Troodos road, 5 km from Kakopetria on the left of the road just before the Platania forest station. Platania campsite in the forest has 18 toilet/shower blocks with kitchen facilities as well as disabled facilities and picnic tables. There are kids' play areas and near the campsite there is a canteen selling most kiosk type products.
Altitude (m): 1,100
Max capacity (tents, caravans /persons): 150-600,  
Tel: +357-22924225
Price: 5.00 euro per day for a caravan and 3.00 euro per day for a tent.
Stavros tis Psokas Campsite
– Managed by the Forest Department
Location of site: The camping site is located close to the forest station. It can accommodate up to 60 tents and up to 6-7 caravans, for a total of about 150 persons. Facilities include potable water, toilets and showers. About 20km from Lysos village or Kannaviou village, near Stavros tis Psokas forest station. The Forest station of Stavros tis Psokas is in the heart of the Paphos forest, the largest and most beautiful pine forest (Pinus Brutia) of the island. It can be reached from Paphos (51 km), via Kannaviou, or from Polis Chrysochous (34 km). All forest roads leading to Stavros tis Psokas are earth tracks except for a section of the Kykkos – Stavros road.
At the station there is a hostel a cafeteria and an organised picnic area. Nearby there is an enclosure where visitors can admire the renowned Ovis gmelini aphion (Cyprus Mouflon) and the Dama dama, a deer introduced to Cyprus from abroad. Cedar valley is quite close by, about 19 km.
Altitude (m): 900
Max capacity (tents, caravans /persons): 60-150,
Tel: +357-26991860
Price: For small tents up to 2 persons, Euro 2 per day. For larger tents for more than 2 persons, Euro 3 per day. For caravans, Euro 5 per day.
Kambi tou Kaloyirou
– Managed by the Forest Department
Location of site:Platres – Prodromos road, 4km from Trooditissa and 3 km from Prodromos next to the road. A wonderful camping area located in Limassol district, right at the center of Troodos green mountains. The camping area is found exactly opposite to the respective picnic site, namely Kampi tou Kalogyrou picnic site.
Altitude (m): 1540
Max capacity (tents, caravans /persons): 80-300, 
Tel: +357-25422625
Price: €2 per person.
Troodos Campsite
– Situated within state forest land and managed by other agencies
Location of site: Karvounas – Troodos road, 1km before Troodos square, left of the road. Open from May till end of October (weather permitting).
Altitude (m): 1600
Max capacity (tents, caravans /persons): 170-650,  Tel: +357-25420205 or 00357-25470903
Price: 5.00 euro per day for a tent.
Governor's Beach Kalymnos
Location of site: Situated on the beach, 20 km east of Limassol with a capacity of 230.00 caravans and 247 plots for tents. Governor's Beach Kalymnos campsite between Limassol and Larnaca just off the motorway.The site has toilets, showers, a launderette with coin operated machines and dryers and a restaurant. During July & August there is also a supermarket. Open all year round.
Altitude (m):0
Max capacity (tents, caravans): 360,
Tel: +357 25632878
Price: €3.40 per tent plus €2.55 per person per night.
READ MORE: Motorcycle Camping Guides
Safety and security
Cyprus is rated as the 5th safest country in the world. Whilst I am aware that bad things happen worldwide, I can honestly say that I have never known of or met anyone that has had any problems or safety scares here and so I feel that standard travel anywhere advice is  prudent but not really necessary for Cyprus. 
 The standard advice is to keep your wits about you, keep an eye out for petty theft and scams. 
Also, be aware that penalties for drug offences are severe and can lead to life in jail. Carrying even small amounts of an illegal drug can result in jail time.
READ MORE: 10 Tips for Motorcycle Security While Abroad
Laws and police
Many offences are dealt with by way of fixed penalty ticket with a fine. Cyprus has introduced a hand held, centrally controlled, computer system for issuing the tickets. Those who refuse a ticket will be reported and a summons to court will follow. Fines are not collected by the officer at the roadside.
If you are a visitor, the points don't affect you at present, but you should be aware that the EU is currently trying to introduce an EU driving licence and make the more serious traffic offences prosecutable across its borders. It may take some time to get agreement though.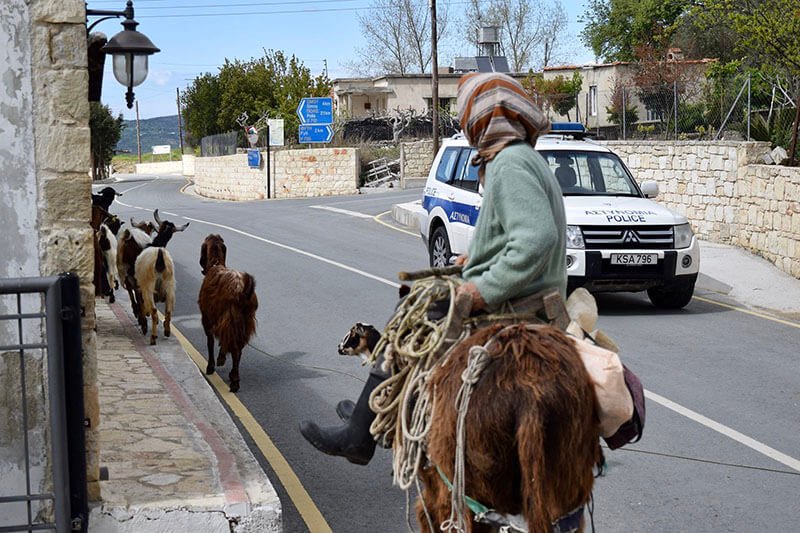 Riding conditions
The riding conditions in Cyprus vary. There are issues on some of the old back roads with cracked asphalt and rock fall in some seasons but generally the roads are great even if not in the best of conditions. There's also a lot of off-roading available throughout the island. 
Road rules
The speed limit is 50/65kph in urban areas/ 80kph on open roads and 100kph on motorways. 
In Cyprus, they drive on the left-hand side of the road like in the UK and overtake on the right.
The maximum legal level of alcohol in the blood is 0.049 per cent. Persons suspected of driving under the influence of alcohol (0.05 per cent and over) may be subjected to a blood test. Police are known to do random breath tests and if you're over the limit, it'll be six points on your license to take back home with you.
Vehicle lights must be used between half an hour after sunset and half an hour before sunrise. Spotlights are prohibited.
Speaking on a mobile phone whilst driving is a serious offence.
All national driving licences are accepted and the minimum age for driving is 18 years of age. UK driving licences will continue to be accepted after Brexit.
LPG is not available. Unleaded petrol (95 and 98) and diesel is available. There is no leaded petrol (a lead substitute additive is available) and it is forbidden to carry petrol in a can.
It is prohibited to use the horn between 2200 and 0600 hours, and in the vicinity of hospitals.
Spiked tyres and snow chains are permitted and often needed on mountain roads in winter.
Most signs are in both English and Greek
You will need to carry your driving license and a copy of your insurance with you at all times. Police are known to do random checks!
If you have an accident – Call the police immediately on 112.
Do not attempt to move your car (even if you're blocking the whole road). Doing this will make you liable for the entire accident even if it wasn't your fault. Just call the police and wait for them to arrive with further instructions.
If you are found to be speeding or violating any other road rules, police are empowered to fine you on the spot. Fines are not paid to the officer – you should be issued a ticket to pay later by following the instructions printed on it.
Most gas stations have attendants on hand whose job it is to fill your car up. Tipping isn't mandatory but it is nice!  You will find them happy and helpful and very careful with your paintwork when refuelling for you.  Some smaller stations leave you to it on a Sunday where you will find yourself with a payment system linked to the pumps.  This is fairly self explanatory and if you get stuck there's normally another friendly customer on hand who will happily help you.  Cyprus is an incredibly friendly place. 
Other drivers
If you've heard the drivers here are crazy – you've heard correctly and the expression 'hope for the best, plan for the worst' springs to mind.
Drivers jumping red lights, sitting in the middle of the road at roundabouts, jumping in and out of queues of traffic, parking without any indication whatsoever, driving whilst on their phones is a daily issue. Then we have the moped and delivery riders who will do literally anything to get ahead of the traffic.
This feels much worse in the towns and cities simply because there is more volume of traffic and therefore more consolidated crazy but does not mean you can chill out on the village and mountain roads where you will encounter the above at a much slower pace with tractors, cyclists, goats and the odd chicken.  Expect the unexpected is a good mantra for riding in Cyprus.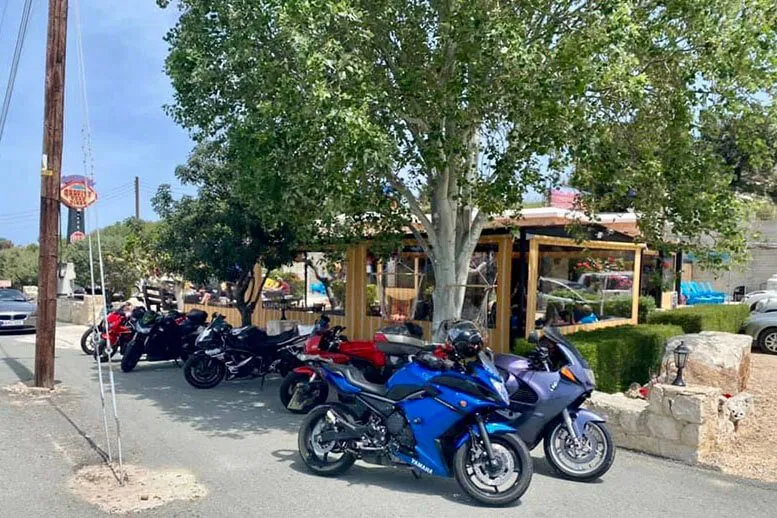 Motorcycle Rentals and Tours in Cyprus
Most of the rental companies have older bikes. It's rare to find a rental company with bikes newer than two years old. They are generally 6 – 10 year old bikes but well maintained and safe. All new rental companies are carefully monitored and have to have 3-4 year old bikes and/or newer but sadly the companies that have been running for a number of years tend to be left alone and are not subject to the new rulings. Do your research and go with a trusted company that you feel comfortable with. 
READ MORE: Recommended Motorcycle Rental and Tour Companies in Cyprus
Top Tips
If booking a fly and ride vacation, at the very least pack your helmet, gloves and boots. We know it seems an issue but with a bit of forethought it's definitely where there's a will there's a way – especially when it comes to packing.
If travelling by road on your own bike do a paperwork check a month before your trip double check the ferry tickets. For everyone else check expiry dates on your passport (min of 6 weeks needed) credit/debit cards, motorbike insurance/tax, travel health insurance and International Driving Permits (if needed)
Take time to smell the roses, stop often for photos, rest and water
Cyprus bikers are so friendly and from all over the world – if you get the chance engage and chat
Julie Price
Julie is a highly experienced motorcycle rider, instructor and owner of the Cyprus motorcycle rental and tour company Adventure Angels Tours.
It's the only motorcycle tour company in Cyprus set up for families who have a biker amongst them and for people wanting to improve their riding skills and obtain their RoSPA whilst on vacation.
Check out Julie's awesome tour company: Adventure Angels Tours
Read more of Julie's articles on the Contributors Page
Read more on Motorcycle Travel in Cyprus and Europe
Thanks for checking out this Motorcycle Travel Guide: Cyprus. We hope you enjoyed it! Here's a few more articles on motorcycling in Cyprus and Europe that we recommend you read next. 
Are you planning a motorcycle trip to Cyprus or Europe or do you have any questions or tips to share? Let us know in the comments below.