Welcome to the Croatia Motorcycle Travel Guide. If you're planning a Croatia motorcycle tour, then have a read of this packed guide first! It's filled with useful info, some of the very best routes, roads and rides and loads more to help you have the best Croatia biking tour possible.
Motorcycle Travel Guide Croatia
Why motorcycle travel in Croatia?
Croatia is right at the top of the list for so many European motorcycle riders – and for good reason. Here's my top four.
First up are the incredible roads. We have endless curves, excellent asphalt and even more curves! Chasing the sparkling coast on these twisty dream roads will have you itching for more.
Next is the extremely varied scenery. We have everything from deep river canyons, to beautiful mountains, natural lakes, lush green forest and jaw dropping views of the 800+ islands sprinkled along the Adriatic coastal road. You'll absolutely love motorcycle touring through Croatia with these beautiful backdrops.
Our culture and history with stunning medieval fortresses, towns established through the Greek and Roman times, spectacular amphitheatres, churches and so much more is a treasure trove for history buffs.   
The cuisine is Mediterranean based, but also differs throughout Croatia's regions, meaning you will be sampling different specialties along the way.
And if all of that isn't enough, then there's also the bustling and vibrant towns, insane night life, water sports and Croatia's coffee culture. Sit by the sea, grab a coffee, bask in the gorgeous weather and enjoy!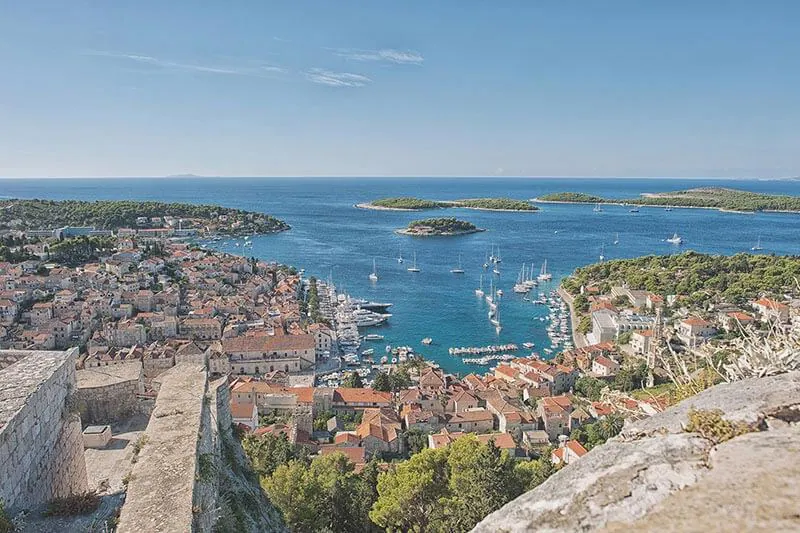 Paperwork for motorcycle travellers in Croatia
As with all EU countries, you'll need to carry your International Drivers Licence, especially if your original licence isn't written in the English language. That's a legal requirement, but on the road you'll rarely be asked for an international licence. However, it's good to have just in case of an accident.
Visas
There are no Visa requirements for UK or EU citizens. Citizens from some countries, however, will need a visa. You can check your country's requirements on Croatia's Foreign Affairs website.
Motorcycle insurance
There is no additional or special insurance required for any European registered vehicle. There are also no other special paperwork requirements for European registered vehicles either.
Toll roads and Vignette
At the time of writing (2022), the highways are operated by a ticketing system. Simply take a ticket when you go in and pay with cash or card when you go out.
How to get in and out of Croatia with a motorcycle
There are many border crossings to choose from depending on your itinerary. Some of the most frequent ones are Macelj and Goričan (from the North), Bregana and Rupa (from the West) and Bajakovo (from the East).
Dubrovnik and Bosnia border crossing
Pelješac Bridge has been in operation since July 2022, which bypassess Bosnian territory. Meaning, you no longer need to go through Bosnia on your way to Dubrovnik and south Croatia.
Ferry from Italy to Croatia
Another option is to catch a ferry from Italy to Croatia – the most common port from Italy is Bari. We recommend checking with directferries.co.uk as you can find up-to-date and current sailing times and routes. 
Accommodation, costs, weather and safety
When to motorcycle travel in Croatia
The best time for motorcycle touring in Croatia is between April and June or September to October. The main idea is to avoid the summer heat and traffic from European vacationers.
In April and May you can expect cooler weather and, most likely, low chances of swimming in the Adriatic. While September and October usually mean warmer sea water, pleasant air temperatures and low traffic.
Accommodation in Croatia
There are numerous hotels, B&Bs, rooms and apartments for rental throughout all of Croatia. You can use the popular booking.com search engines to find accommodation on a day-by-day basis. There's usually no need to pre-book unless there's a festival or something similar in progress. I do recommend booking early if you'd like to stay in a special/particular place (old town centres and castles for example).
Here's a booking.com map to give you an idea of current hotel prices in Zagreb. Shift the map around for an idea of prices around the country. 
Motorcycle camping in Croatia
There are many campgrounds in Croatia suitable for motorcycle camping. They are mostly open between June and September, so be sure to check in advance. Wild camping is illegal in Croatia.
READ MORE: Motorcycle Camping Guides
Average motorcycle touring costs in Croatia
The average price of fuel is massively fluctuating at the time of writing (2022), so for an accurate costing, check at the time of travel.
Food is cheaper than most of our neighbouring countries to the West. You can get a basic breakfast for as low as 2-3 Euros at a local bakery including coffee. Lunch is around 10 Euros and dinner is about the same. Expect to add 50% to that once you're on the coast though.
Basic rooms and apartments will cost 40-70 Euros per night, depending on the location. Most rooms and apartments won't have breakfast offered, that's only in hotels and B&Bs.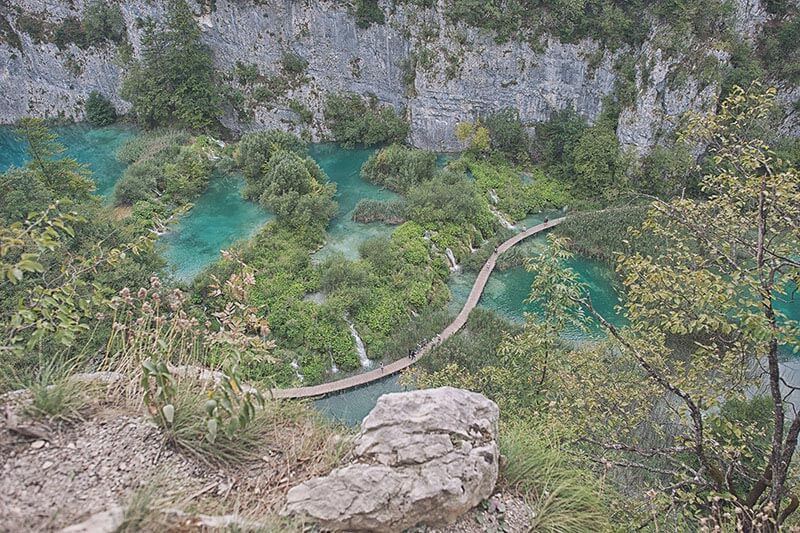 Safety and security in Croatia
Happy to say that safety is not a concern in Croatia. But do use common sense as always when travelling. Park your motorcycle in a garage when possible and make sure you know where your wallet is. Other than that, there's nothing special to know.
We do have our fair share of speed cameras though, so try to use one of mobile apps or look up speed camera in Croatia online first. Most fixed cameras face the front, but we do have some that will take photos of the rear.  
If caught speeding or committing an offence by a police officer, don't be surprised if a policeman tells you to pay in cash to get a certain percentage off the ticket. It is legal and you'll get a receipt for it. So carrying some cash with you could split the fine in half.
Motorcycle travel Croatia
Motorcycle riding conditions in Croatia
Usual road rules apply. Police will normally tolerate up to 10kph above the speed limit. So if it's 50, you could go 60. We have a big network of paved roads that will show you amazing views, but we also have a lot of off-road stretches if off-road or enduro riding is your bag.
Our off-road trails consist of a lot of rocks and stones, so be sure to study the tracks you're interested in taking first.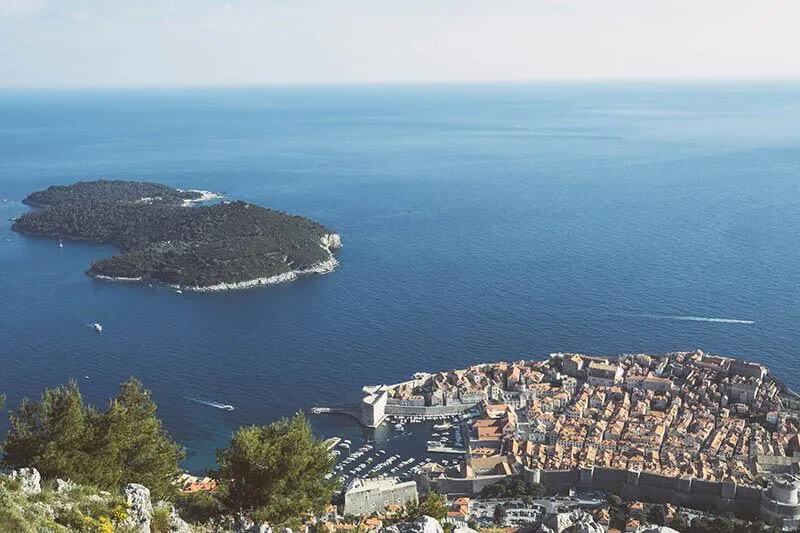 Motorcycle riding gear for Croatia
There are no special recommendations here. It's all dependent on when you're planning to visit. The middle of June, July, August and the beginning of September may be hot, so plan to take lightweight and breathable gear.
Spring and autumn may be cooler, especially in the continental part and in the mountains, so take layered riding gear, warmer clothing and rain gear. A helmet is obligatory and you will be fined for not wearing one.
For more info on riding gear, recommendations and how to choose your adventure riding kit, visit the Travel Gear Guides section.
READ MORE: Motorcycle Travel Gear Guides
Croatia's best motorcycle routes
Don't plan a short break if you'd like to properly experience Croatia. Some riders think they can pass through in a few days, do the coastal road and continue their journey saying they've seen Croatia. Sure, to be honest, the best part of Croatia is along its coast, but there are so many amazing stretches that will take you there and around the country that you can't miss. Here are five of my favourite routes that I know you'll love too.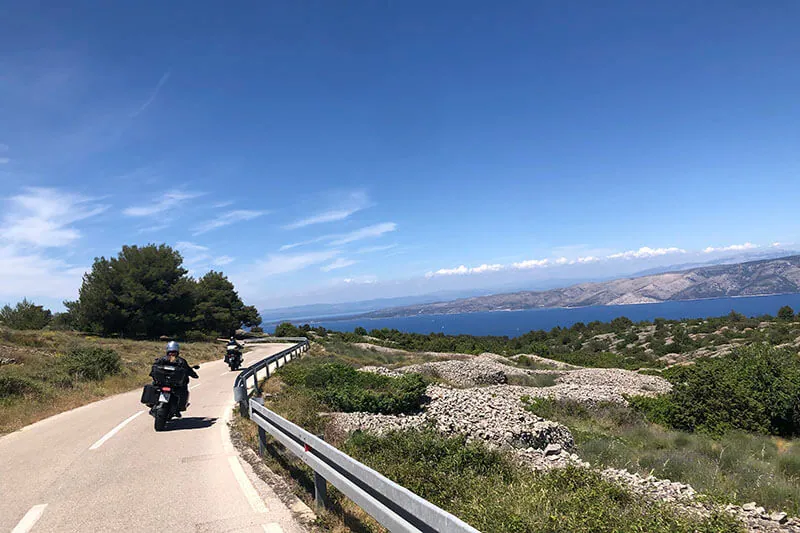 The Big one: from North to South and back
Zagreb to Dubrovnik
This one slightly follows the route of one of our guided motorcycle tours, and has been proven as an amazing ride many times as our customers love it. It's also a great one to include because you can easily add more to it, but make sure you leave at least 7-8 days for it (no less!).
The capital, Zagreb, belongs to the continental part of Croatia. From there, you could take the D1 road all the way down to Sinj through the famous Plitvice lakes, Gračac, Knin, Imotski. After Sinj, continue towards Dubrovnik while staying mostly in the interior. Along the way, some of the amazing stops are:
Stop for a coffee in Rastoke (about 2.5 hours from Zagreb).
Plitvice Lakes National Park (overnight and a 2-5 hour walk around the lakes is highly recommended).
After Plitvice, continue through Korenica and onto Bjelopolje, turn left towards Donji Lapac and Srb. You'll find an amazing alternative road to the D1.
if you're hungry and willing to take a small detour, turn right to Raducic before Knin and stop for lamb in Kod Pere restaurant. It's a very local place with delicious food.
Knin Fortress is another option for a lunch stop and comes with a great view too.
The Spring of Cetina River is half an hour's ride after Knin.
Visit Imotski for its red and blue lakes.
In Opuzen you can stop along the road to buy some locally grown fruit and vegetables.
You'll find some of the best oysters in Croatia in Ston and a view of a wall connecting Mali Ston and Ston. It's the longest wall in Europe at 5.5km (it used to be 7km long).
Just before Dubrovnik, you can ride to Srđ mountain for a breath-taking view of Dubrovnik's Old Town from above (beware, it's a very narrow section with a few tight hairpins).
Welcome to Dubrovnik!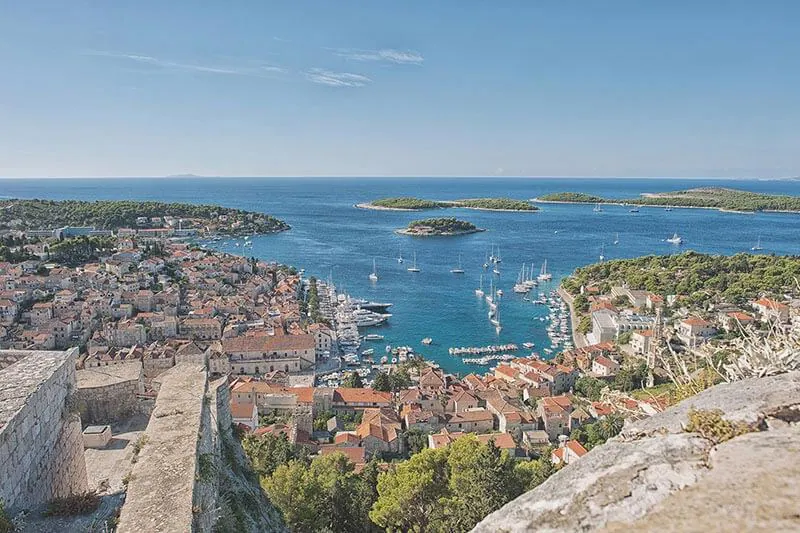 Dubrovnik to Zagreb
Ride back to Ston and continue your ride through Pelješac peninsula. Take some time to explore the roads (and beaches) there. It's one of my favourite islands/peninsulas in Croatia along with Korčula and Vis. All three are pretty small and you won't be doing much mileage there, but they offer an amazing mix of relaxing and riding.
from Pelješac you can take a ferry to Ploče or take the newly built Pelješac bridge, which is a sight in itself too.
After Ploče you have two options (and I recommend both). You can stay on the mainland and ride to Biokovo Nature Park all the way up to Sv. Jure peak at 1,762m above sea level (a very demanding stretch and not for beginner riders). Or/and you can take a ferry from Drvenik to Sućuraj and ride on the island of Hvar. I recommend at least two days on Hvar to explore all its roads (the best is on the west part of the island).
The ferry from Hvar will take you to Split where you can explore the famous Dioklecian's Palace.
The road north takes you towards Šibenik, where a stretch of flat and boring riding starts towards Zadar. I recommend taking some of the interior roads as the coastal road on that stretch offers speed cameras and high traffic (especially through the summer months) instead of nice views.
From Zadar you again have two options, or even a circle ride if you have time: ride through the island of Pag (very scenic ride offering amazing views) or you could do the Best Motorcycle Road in Croatia, locally called 'Magistrala' a.k.a. Adriatic Coastal Road. More about it below.
That takes you to Senj on your way to Istria peninsula, which is the biggest peninsula in Croatia. Plan on spending two days there as you'll find a very special road from Mošćenička Draga to Plomin, locally called Plominka. It's probably in Croatia's top five best roads.
The places to visit once there are Pula for the Amphitheatre, Rovinj and Poreč for their beautiful centres. Then you've got some smaller towns like Motovun, Buzet, Buje and Grožnjan, which are highly recommended too. Istria is home to the smallest town in the world too, called Hum. Try putting that one on your itinerary for a short stop too.
Not to forget while in Istria, ride up to Učka Nature Park and the viewpoint Vojak. Again, one of my favourite stretches of road in Croatia.
On your way back to Zagreb, don't take the highway but stay along the D3 road – it's a beautiful ride. Alternatively, if you have more time, you could go back to Novi Vinodolski and ride up the Velebit mountain on a narrow, low traffic road to Bater, Breze, Jasenak, Ogulin and then through Duga Resa back to the traffic and busy Zagreb. Again, one of the most beautiful roads in Croatia.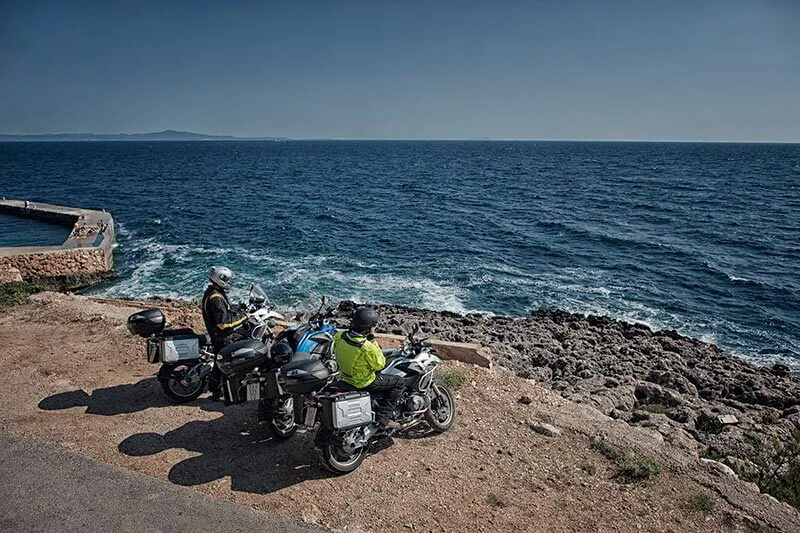 Adriatic coastal road, D8
The Adriatic Coastal Road (D8) is the most famous road amongst motorcycle tourers in Croatia by far. All the Germans, Austrians, Slovenians and other neighbours that visit Croatia frequently just love it – and so do the locals!
The most famous stretch is between Senj (north) and Maslenica bridge (south), while the best of the best is between Karlobag and Tribanj (if we're being picky). There are amazing views of the islands and coast, small quiet beaches and many fantastic restaurants along the way too.
There's no recommendation on whether to take the road from north to south, or vice-versa because both directions will allow for amazing riding and equally amazing views.
Here's a few great side trips and detours (but do make sure you get back onto the D8 road after).
From Sveti Juraj, you can take the road to Krasno. It's cooler and the air is fresher around Velebit Mountain.
From Prizna, take a ferry to the island of Pag
From Karlobag, you can ride up to Baške Oštarije. You'll find more fresh air, exquisite local cheese and great views of the coast.
Pelješac peninsula ride
After sampling rying oysters in Ston, continue riding along the Ston Salt factory (possible to visit too) towards Papratno, then Žuljana, Trstenik and Potomje for some beautiful coastal riding. Ride through the Potomje tunnel and along the main road enjoying twisties all the way to Orebić. If you have enough time, hop on the ferry and explore Korčula Island and Korčula town) on your way to Vela Luka on the other side. Above Vela Luka, there is a beautiful viewpoint from Hum, look for the small narrow road.
Biokovo Nature Park (dead end road)
I recommend this ride for anyone that loves combining mountains and coastal riding. The ride will take you up to Sveti Jure peak at 1,762 meters above sea level. From there, on a nice clear day you can see all the way to Italy.
It's a toll road, but only about 5 Euros per bike. A few years ago, a beautiful glass observation deck was built about ¾ of a ride to the top. Be aware that this is a pretty technical road and it's not suitable for beginner riders as there are many hairpins that get narrower and narrower the closer you get to the top.  
Motorcycle tours and rentals in Croatia
Why join a motorcycle tour in Croatia?
Motorcycle rentals and tours are getting bigger and better every year in Croatia as more people hear about how great the riding is over here.
There's so much to see and do and it's easy to miss most of it, so when you join a guided tour, you're riding with someone who has done the ride many times before. They're aware of local customs, brilliant restaurants, hidden spots and the very best routes and roads the country has to offer, which all combine to make it an amazing experience. Plus, you won't need to do any research before flying out. Just get there, relax and leave it to the professionals while you enjoy the ride.
If you're interested in joining a guided motorcycle tour or renting a bike, here's some extra info to help you plan your trip.
What to check and ask your company
Whether you're going down the rental or tour route, make sure you ask about the mileage of the bike, the year of production and very importantly – the condition of the tyres. Insurance is important too, so feel free to ask about what happens in case of accidents and thefts. Make sure you are perfectly happy with every aspect and fully understand what the conditions are before taking out the rental.
Where to rent a motorcycle from
Zagreb is the capital of Croatia and it's easy to fly in and out of. Our office is nearby and we start and finish all our tours from Zagreb's centre (unless is a custom tour). Split and Dubrovnik's airports are both very well connected with Europe too.
Bike rentals are also possible in cities like Rijeka, Split and Dubrovnik, but the bike models and options may be more limited. Feel free to check and shop around for a bike and deal you're happy with.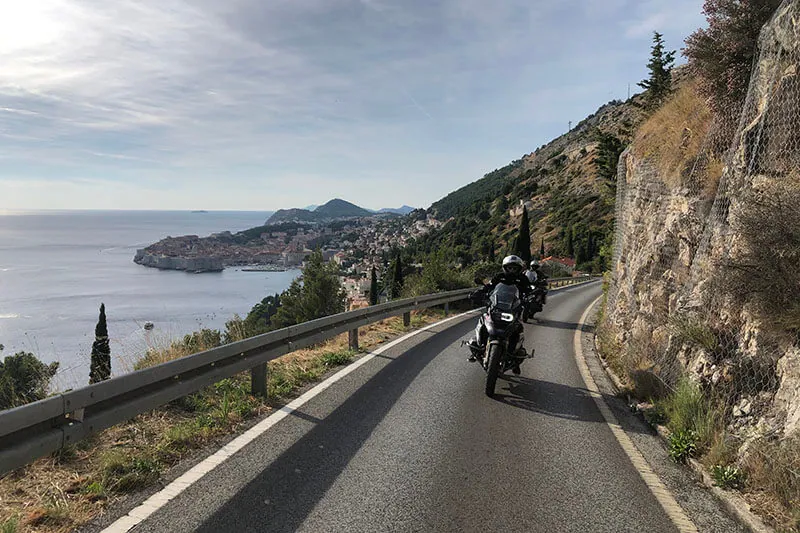 Top tips
Be aware of speed cameras, especially when going in and out of cities
Don't forget to pack a swim suit and flip flops as you won't be able to resist the beaches
Feel free to cut in line at the ferry ports if it's busy. Don't worry, bikes always go to the front.
Put time aside to sample the local food and try as much as possible.
Get ready for some incredible riding!
Darko Novosel
Darko was born and raised in Croatia and has been riding bikes since he was 12. Croatia and the Balkans are Darko's back garden and he rides tours them every chance he gets. Over 10 years ago he set up the motorcycle touring company, mototrip-tours and has been happily guiding guests from all over the world through his neighbourhood.
If you're interested in riding with Darko, check out his awesome tours here:
Website: mototrip-tours.com
Blog: mototrip-tours.com
Facebook: @mototrip tours
Instagram: @mototrip
YouTube: mototrip tours
Read more on motorcycle travel in Croatia and Europe
Thanks for checking out this Motorcycle Travel Guide: Croatia. We hope you enjoyed it! Here's a few more articles on motorcycling in Croatia and Europe that we recommend you read next. 
Are you planning a motorcycle tour in Croatia or Europe? Do you have any questions or tips to share? Let us know in the comments below.