This Cambodia biking guide is packed with info for motorcycle travellers. You'll find info on road conditions, routes, paperwork, borders and a bunch of extra tips and tricks to help you on your way.
How to Motorcycle Travel in Cambodia
Cambodia is an incredibly beautiful country with an incredibly sad past. The country is peppered with stunning ancient Hindu and Buddhist temples that are slowly being reclaimed by the earth and discovering them on two wheels is Cambodia's greatest draw. The friendly people, delicious food and thousands of miles of excellent enduro riding is an added bonus. Whatever your reason for travelling Cambodia, and whether you're on your own motorcycle or a rental bike, this guide will help you make the most out of your journey there. 
Getting in and out of Cambodia with a motorcycle
You have four entry points into Cambodia. You can enter from Thailand, Laos, Vietnam or by the shipping port at Sihanoukville in the south. We shipped our motorcycle from South Korea to Cambodia.
To enter and exit from Thailand is relatively straightforward with your own motorcycle or a rental bike. The same goes for Vietnam, but you can only enter Vietnam with a Southeast Asian motorcycle.
As for Laos, coming in can be tricky and they may try their luck at Cambodian customs by asking for a bribe. Your permit should be free from any border. Exiting to Laos is easier than coming in from Laos. You simply hand your temporary import over and get a stamped document for 10 USD, which you pass onto Laos customs. This document gets stapled to your Laos temporary import.
International Motorcycle Shipping Companies
Welcome to the Motorcycle Shipping Companies Finder. This page lists worldwide freight forwarders, companies, agents, fixers, ferry services and detailed guides. Click a country on the map to see what's on offer.
Read More
Visas and paperwork for Cambodia
Foreign nationals can get a visa on arrival for 30USD. You must also get a temporary import permit (TIP), which lasts 30 days and expires on the same day as your visa. Your Cambodia motorcycle TIP will state by which border you exit and you must exit at that border, so be careful which one you select. It is possible to extend your visa and TIP for an additional 30 days. We know you can definitely do this in Phnom Penh, but aren't sure where else to do it. It should cost an additional 30USD for the visa and the TIP extension should be free. Please let us know if you know any different.
The exact GPS coordinates for the Customs building in Phnom Penh are: 11.57100, 104.92383
Cambodia road conditions for motorcyclists
The main roads are single lane carriageways, fast and dangerous. Oncoming drivers frequently overtake and come into your lane, flashing their lights and expecting you to get into the hard shoulder. Being on a motorcycle can be dangerous as you really do have to leave the road and sometimes ride straight into sand on a hard shoulder at speed because they don't seem to care. There's also livestock and dogs constantly running across the road, so you must keep your wits about you.
There are plenty of dusty off-road tracks weaving their way through the country. These are easy gravel tracks and quite fun for those who like a bit of the rough stuff.
The roads in Cambodia aren't as good as Thailand, can be sketchy, are busier than Laos' roads and require 100% concentration, especially if you're going quick.
Petrol, money, food and water
Petrol and diesel are easy to find throughout the country. We'd recommend going for the superior grade of fuel. If you run out and aren't near a fuel station, it's very likely the wooden shacks that line the roads will have spare to sell in Coke bottles.
Food and water are also readily accessible everywhere and not a problem to find in Cambodia. Cambodian food is delicious, especially Lok Lak and Amok.
Things to do in Cambodia for motorcycle travellers
Siem Reap and Angkor Wat
Siem Reap is the central hub of tourism in Cambodia thanks to the nine astonishing temples located just outside the city in Angkor. The stupendous 12th century Hindu temple of Angkor Wat is the most notable and attracts the bulk of tourists – but it is still a must visit. The remaining 8 temples are also seriously impressive too.
To visit the Angkor area, you need to buy a day pass (37USD), which allows entry to the Angkor area and entrance into the temples. You can also buy longer passes. You can take your foreign bike through to the temples despite whatever the security guards say. Some people might try and tell you that you need a tuk-tuk service, that's rubbish and probably just because they're trying to sell on their friend's services. If you're stopped at a gate, ask them to show you where it says you can't take foreign vehicles, stand your ground and you'll get let in.
Here's our suggestion for visiting Angkor in a day.
Head to Angkor Wat for sunrise (dependent on time of year, but around 5am). Park on the west side of the temple and right up close to the bridge. You'll see plenty of other bikes there. If anyone tells you that you can't take your foreign or big motorcycle through, argue back, it doesn't say anywhere that you can't and they will let you through.
Watch the sunrise and then immediately ride to Baylon Temple before the crowds. Then Ta Prohm, Preah Khan and Neak Poun. Then on your way back down go in and see Angkor Wat as the crowds will have subsided. In the evening, watch the sunset from Pre Rup.
Kampot
Kampot is a sleepy fishing city on the south coast of Cambodia. It's excellent for motorcycle travel because you have so many dusty roads surrounding the area. But there's also an epic ride up to Bokor National Park. The twisty mountain road was built for two wheels. The tarmac is fresh and smooth and the curves are perfect. Once up there, you'll find mountain top Buddhas and temples.
While in Kampot, ride over to La Plantation and go on a free tour of the world-famous Kampot Pepper plantation. It's pretty interesting, and the ride there is awesome for enduro riders.
Temple exploring
Some of the best temples in Cambodia are in Kaoh Ker and the Temple of Preah Vihear on the Thai border. You will have amazing fun exploring dirt roads in search of these ancient wonders. There are about 3000 spread across the country, so you might need a while!
Cambodian Genocide: Killing Fields/ S-21 Prison
The Killing Fields and S-21 Prison in Phnom Penh are gruesome and incredibly sad, but are also a part of Cambodia's history where over 2 million men, women, children and babies were murdered by Pol Pot's Khmer Rouge party from 1975-1979.
When Pol Pot took control of Cambodia in 1975, his Khmer Rouge party quickly set about 'cleansing' their new country of anyone they deemed as intellectual (from professionals to anyone who wore glasses) or who could contest their power. They set-up interrogation prisons all over the country – the most infamous being the S-21 prison where around 12,000 entered and only 12 survived. Hundreds of thousands of people were put through interrogation centres all over the country.
Men, women and children were brutally tortured until they signed false confessions, admitted they were 'enemies of the state' and also said their family members and friends were too. They were then taken to the Killing Fields. It's estimated that 1.7 to 2 million people were killed in about 20,000 fields and mass graves all over Cambodia. They were executed with pickaxes, shovels and rods to save on bullets. Babies and children were held by the ankles and smashed against trees. Chemicals were thrown on the bodies to kill off people who hadn't died immediately.
It became one of the worst tragedies of the 20th century. Death from execution, poverty and disease affected over 2 million Cambodians during the Khmer Rouge's four years in power. Vietnam invaded Cambodia and put a stop to it all in 1979. But millions were displaced, millions more died and the country still suffers today from the horrors of its past.
It's a tough but necessary visit if you're in Phnom Penh.
Motorcycle repairs and rentals
Cambodia isn't a big bike country like it's neighbour Thailand. But that doesn't mean there aren't decent garages. We'd recommend getting in touch with Dean who runs the Just Ride Moto Café in Seam Reap and the Cambodia Motorcycle Riders Forum on Facebook for recommendations. 
Top tips
If you're staying in Siem Reap, we thoroughly recommend Pool Party Hostel. We know it sounds like a wild Australian party place, but it's not. The owner, Sokphan, is a legend, the rooms are large and clean with AC, fast wifi and private bathrooms, there's secure parking for motorcycles and rigs, the pool is amazing and it's about 10USD a night.
Take your time riding the main roads in Cambodia. When an oncoming truck veers into your lane, flashing its lights and beeping, you won't win a game of chicken. You need to dive into the hard shoulder, which could be full of loose sand, so go slow and take your time.
Dollar is king in Cambodia. You can use both USD or Cambodian riel interchangeably. We pretty much exclusively used USD and used riel for smaller transactions. USD can be used anywhere in the country, just watch out for counterfeit money and if the dollars are crumpled or ripped even slightly, they won't accept them.
Cambodian phone shops are everywhere. A Cellcard SIM is around 8USD and comes with unlimited data. It works well throughout the country.
You'll love travelling with a motorcycle in Cambodia. Make sure you set plenty of time aside to visit as many temples as you can and always go early in the morning or as the sun is dipping so as to avoid the heat and crowds. Have fun!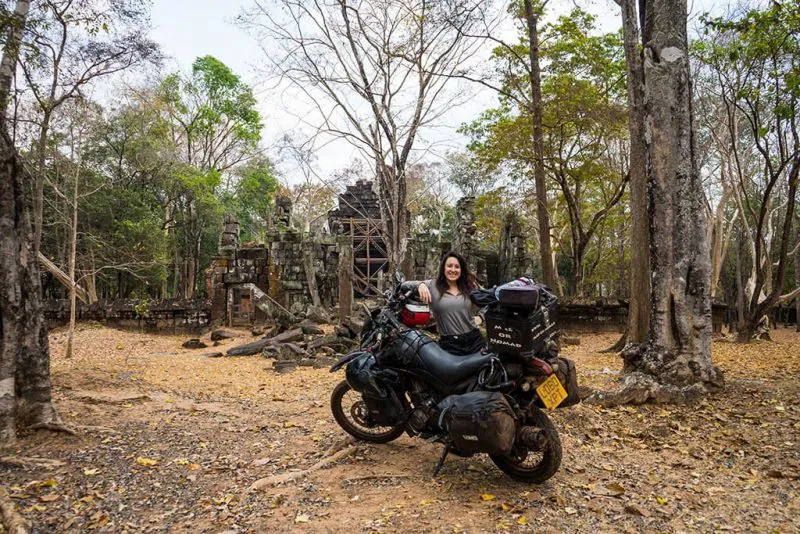 Read more on Motorcycle Travel in Cambodia
Thanks for checking out our Motorcycle Travel Guide: Cambodia. We hope you enjoyed it! Here's a few more articles on motorcycling in Cambodia that we recommend you read next. 
Liked that? Try these next…