If you're planning a Bulgarian motorcycle tour, then have a read of this packed motorcycle travel guide first! It's filled with useful info, some of the very best routes and rides and loads more to help you have an epic Bulgarian biking tour. 
Why motorcycle travel in Bulgaria?
Bulgaria is an incredibly unique country and the perfect place for a European motorcycle tour because it's a huge melting pot of nature, history, architecture and incredible riding.
It's relatively small, but every part is different from the rest. Our culture is ancient and a combination of different peoples and religions. You'll absolutely love exploring our history and archaeology here too as we have plenty of UNESCO World Heritage sites.
Where to motorcycle tour in Bulgaria
East: The Black Sea
Bulgaria is brimming with jaw dropping nature. In the East we have the Black Sea with its amazing beaches, hidden wild places and stunning resorts. In the North we have the Danube River and vast beautiful plains. The pearl of the north is a city called Ruse, which because of its architecture and history in the early 20th century it was dubbed small Vienna.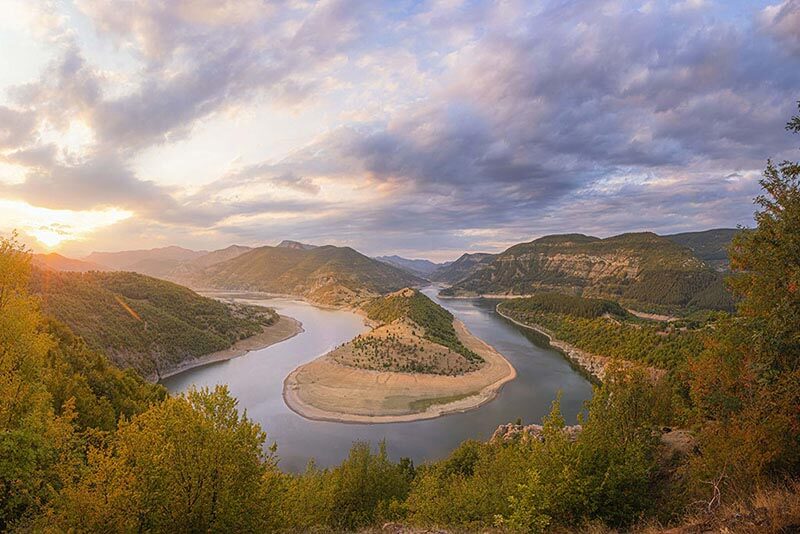 South: The Rhodope Mountains
In the South between the mountains lies the Thracian Valley. It's famous for its beauty but also because of its production of rose oil, great wines and history. The main centre there is Plovdiv – one of the oldest cities in Europe and elected for the Cultural Capital in 2019. You can find the visible remains there of cultures and empires like the Romans, Bulgarians, Ottomans and many more.
Head even further south and you'll find the Rhodope Mountains – the most magical and mystical mountains in Bulgaria where people find real Bulgarian spirit, rich folklore, stunning views, natural sites and – importantly – extra curvy roads!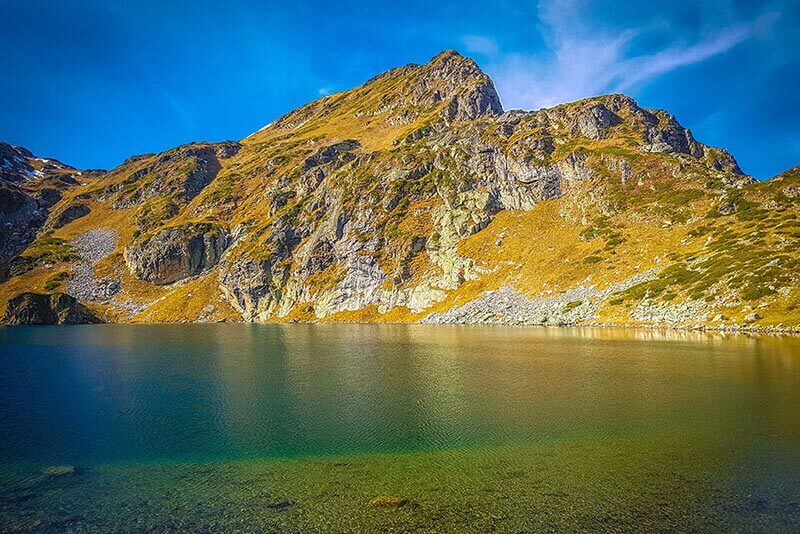 West: Rila and Pirin Mountains
In the West stands the highest mountain in the Balkans – Rila. This gargantuan mountain protects Rila Monastery, which is the biggest monastery in Bulgaria. In front of this mountain is Pirin Mountain (a Natural Reserve and also part of the UNESCO Heritage list). The excellent infrastructure in this region is perfect for bikers as there are great roads which will take you to all the amazing spots hidden amongst these towering giants.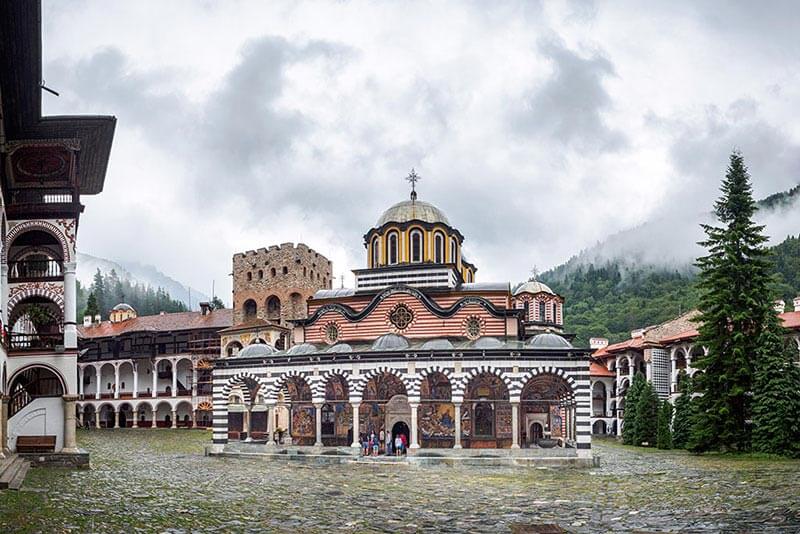 The Capital, Sofia
And of course, we can't miss Bulgaria's capital of Sofia. A city of two million, Sofia is the symbol of modern Bulgaria. But also, it keeps all the colours of our nation left by the different cultures and ethnicities. Bulgarians are famous for their tolerance and a symbol of this is a square in the centre of the city where a mosque, an Orthodox church, a Catholic cathedral and a Synagogue standing in the four corners. It is definitely a city worth visiting.
All of this makes a ride in Bulgaria unforgettable. It's intense – like visiting many different countries all at once. 
Paperwork for motorcycle touring in Bulgaria
Visas – Brits can stay in Bulgaria for up to 90 days within a 180-day period without a visa. More info can be found on the UK Gov site here: gov.uk/bulgaria. Other nationalities should check with their government websites on what their entry requirements are. You will need your passport to enter. 
Vehicle insurance – Third party insurance is mandatory. If you are taking your own motorcycle in, then you will need to make sure your insurance policy covers you to ride in Bulgaria and for the duration of your European trip. If you are renting or joining a tour, then the company should incude insurance on the bike for you.
Personal travel insurance ­– This is not a legal requirement, but is incredibly important. Read more about it in the UK Motorcycle Travel Insurance Guide.
Vignette – There are no vignettes or tax discs required to ride motorways and highways in Bulgaria.
For more info on paperwork when riding abroad, check out these two guides:
READ MORE: Motorcycle Travel Guide: Europe
READ MORE: The Motorcycle Travel Paperwork Guide
Getting in and out of Bulgaria on a motorcycle
If you're flying in to rent a motorcycle or join a tour, then the best option is to fly into Sofia airport.
If you're entering with your own motorcycle, then you've got the primary crossings of Kalotina check point with Serbia and the Danube Bridge 1 and 2 as borders with Romania. There are also easy access borders to Turkey at Erdine, a number of crossings along the border with Greece and crossings with North Macedonia.
When to go
The best time of year to travel to Bulgaria is from May to October. The hottest month of the year is August, the coldest is January and the wettest is June.
Accommodation and cost
Hotels
Good hotels should be booked in advance. The standards are very good with quality rooms and service. You can find plenty of guest houses in every town. Prices for a good three star hotel are around 20-60 Euros.
Check the Booking.com map below to get a good idea on hotels and prices throughout the country.
Camping in Bulgaria
There is no strict camping control in Bulgaria and you can pitch your tent relatively freely. If it looks like private property then always ask for permission first. There are official camp sites in Bulgaria, which are fine, but not as good as in other parts of Europe.
READ MORE: The Motorcycle Camping Gear Checklist
READ MORE: The 10 Best Motorcycle Camping Tents
Safety and security
Bulgaria is a very safe country to travel through. Of course, accidents can happen but it's rare. Stupid drivers are a bigger threat and so you'll need to keep your wits about you.  
Riding conditions for motorcycle travel in Bulgaria
Bulgaria has a good infrastructure for motorcycle touring. There are excellent conditions for road riding and also for off-road enduro adventures. The Pirin mountain is very developed for such trips. 
Navigating can be tricky due to a lack of signage in certain areas, so if you are travelling alone and not in a group or on a tour, we'd recommend using a Sat Nav or using Google Maps on your phone to save taking wrong turns and to also make sure you make the most of your time here. 
READ MORE: The 5 Best Motorcycle Sat Navs
READ MORE: The 10 Best Bluetooth Headsets
READ MORE: The 5 Best Motorcycle Phone Mounts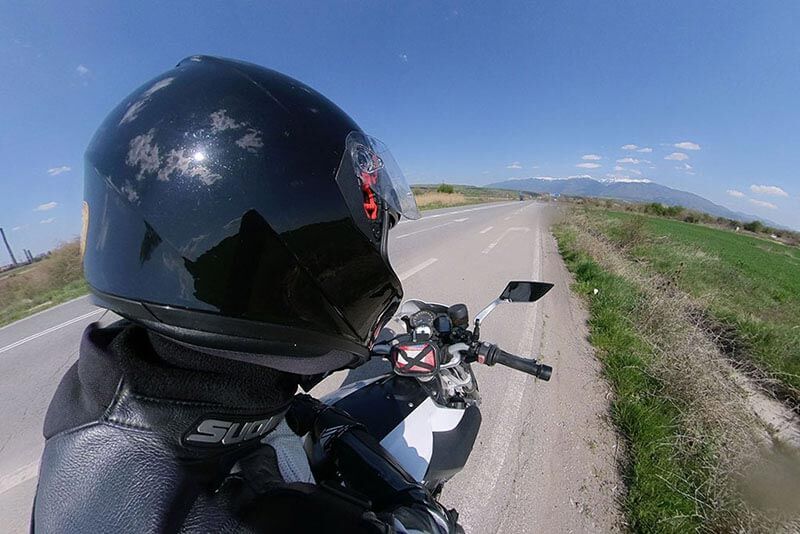 Motorcycle tours and rentals in Bulgaria
Bulgaria is an incredible place to ride a motorcycle. However, we are 1,500 miles from Calais on the most direct route and that's riding boring motorways the whole way! So, this means that a lot of riders from western Europe opt for places closer to home like France, Italy and Spain etc because you don't need as much time off work to ride there. But, you'll still eat up a few days getting to your destination and getting home!
The bad thing about this is that people miss out on the wonders of Bulgaria. The good thing about it is that it's quieter here, there's so much more for you to explore and it'll feel like you're riding through undiscovered lands!
So that's why we recommend jumping on an all-inclusive tour or renting a bike. You'll just need to take care of your flight over here and a good tour company will handle everything else. You miss out all the long boring motorways getting to your actual riding destination and get to make the most of your time off work.
Also, Bulgaria isn't so good for signage and advertising and it's so easy to miss places and tricky to find those perfect hidden roads. So, if you haven't got lots of time and really want to see everything and ride the best routes, then joining an organized tour with professional and knowledgeable guides who know their home country like the back of their hand is a great idea.
I personally run motorcycle tours in Bulgaria, where we pride ourselves on the best tours and rides. So if you're interested in joining one, check out our site www.trips-bg.com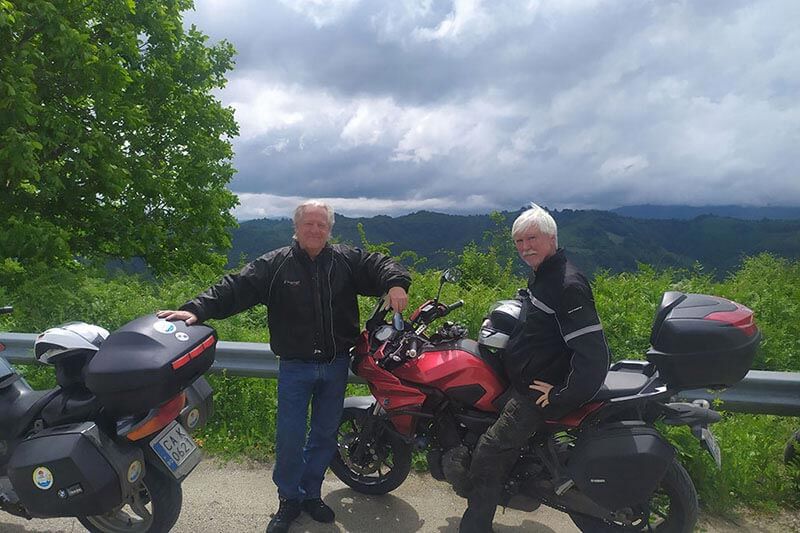 Riding gear
Bulgaria can be really hot in the summer and there's plenty of snow in the winter. We'd recommend a mixture of clothing and gear that can take you through both warm and cold temperatures. A good idea is to go for adventure or touring kit that is breathable with a removable thermal and waterproof lining. Or to leave the waterproof lining at home and take a throwover waterproof.
Footwear is also important too and needs to be comfortable because there's a lot to see and walking is inevitable.
For loads more information on biking gear such as the best adventure helmets, jackets, boots, reviews and loads more, check out the travel gear guides section below.
READ MORE: Motorcycle Travel Gear Guides
READ MORE: Motorcycle Gear Reviews
READ MORE: How to Choose Your Adventure Riding Gear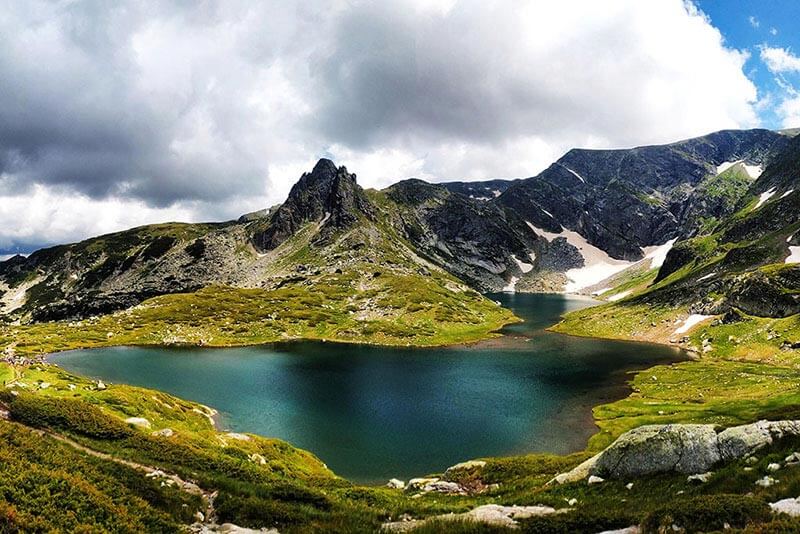 The 4 Best Motorcycle Tours in Bulgaria
To give you a good idea of some fantastic bike tours in Bulgaria, I've shared four of my absolute favourite rides. These are the most popular tours that I take customers on because you'll get to see so much of Bulgaria; from its ancient culture and history to stunning roads and beautiful scenery. You'll find info on each tour and the highlights below to help you plan your own Bulgarian motorcycle adventure! Here we go…
Motorcycle Wine, Nature and Traditions Tour
This tour takes five days to complete and includes beautiful scenic roads and mountain passes where you'll be introduced to our history, archaeology and culture.
The highlights of this tour are staying in guest houses local villages, tasting real homemade food and listening to (and learning) local songs and dances.
And secondly, riding in the Trigrad Gorge and sleeping in a hotel surrounded by natural beauty, horses and Bulgaria's most famous wine region will blow your mind!
Here's how to do this route: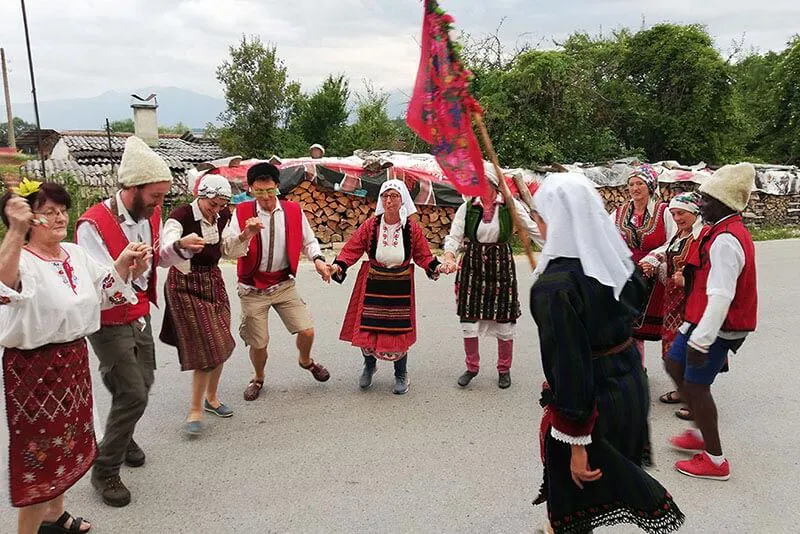 Natural and Historical Wonders of Rhodope Mountain
This bike tour itinerary will leave you breathless. It gives you the opportunity to ride on some of the most interesting, beautiful and scenic roads Bulgaria has to offer. The Rhodope Mountain tour takes in the Vucha dam, Trigrad gorge and roads along the Central Balkan Mountain. In addition to these sites, you'll also visit and explore historical places related to the mysterious civilization of the Thracians, Romans, Ottomans and Bulgarians.
Here's how to do this tour:
Grand Motorcycle Tour of Bulgaria
This is the big one! This tour explores most of Bulgaria's famous sites while riding awesome roads throughout the country. You can complete this tour in one unforgettable week and can visit most of the UNESCO sites, important historical places and learn about ancient cultures and lands while riding and exploring some of the best roads Bulgaria has to offer.
Here's how to do this tour:
The Ultimate Adventure Tour
If you're after a proper Bulgarian motorcycle adventure, then this is the one for you. This tour takes in the amazing nature and beauty of Bulgaria from the ground by riding through the best locations in the country as well as visiting jaw dropping historical locations and cities. And you can also admire Bulgaria from the air by paragliding in the Central Balkan Mountain region and gaze into the infinity of space from the National Observatory in the Rhodope Mountain. This one has it all!
Here's how to do this tour: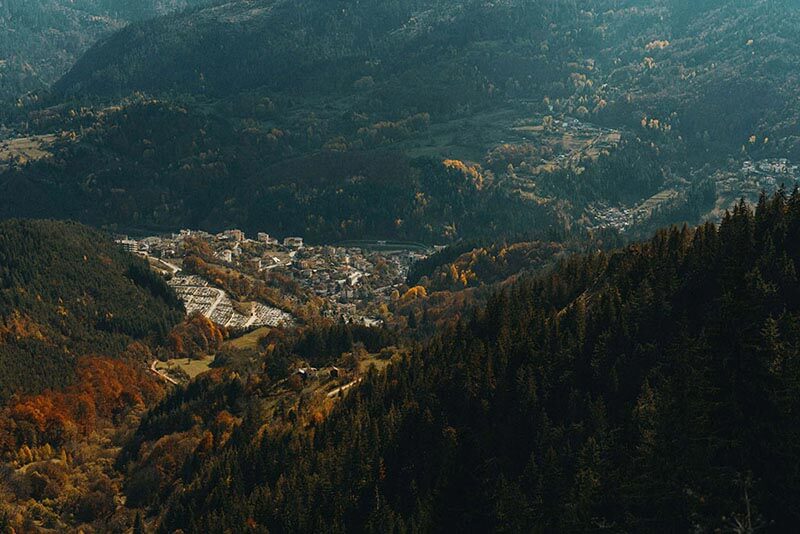 Adrian Zlatkov and Daniel Milushev are professional tour guides from Bulgaria. The duo are the owners of BulTrips Ltd and Biker Guides and run awesome motorcycle tours in Bulgaria. Their goal is to become a leading company for cultural tourism in Bulgaria. They only run small group and private tours, their routes are carefully prepared and always include something that isn't well known or on the tourist map. That's because both Adrian and Daniel are highly educated in history and archaeology and are passionate about applying their knowledge to their tours.  
If you're after an expertly run Bulgarian biking tour, check them out below:
Read more on Motorcycle Travel in Bulgaria and Europe
Thanks for checking out this Motorcycle Travel Guide: Bulgaria. We hope you enjoyed it! Here's a few more articles on motorcycling in Europe that we recommend you read next. 
Are you planning a motorcycle trip to Bulgaria or Europe or do you have any questions? We'd love to hear from you. Let us know in the comments below.