Welcome to the ultimate motorcycle travel guide for Albania. Whether you're planning an on-road touring trip or off-road adventure, this packed and detailed guide lists everything you need to know about adventure bike riding in Albania.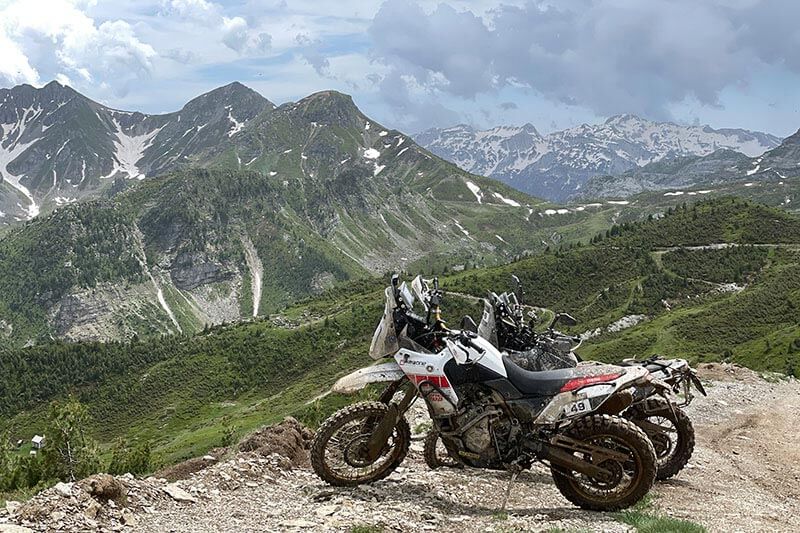 Motorcycle Travel Guide Albania
Why motorcycle travel in Albania?
I visited Albania for the first time back in 2018 and it feels like I never left. I'm always returning and over the years have fallen in love with this often overlooked and forgotten country.
Albania has changed a lot since the "Albanian mafia" days most Western Europeans remember seeing on the news. Security, infrastructure and tourist development have all changed, but there are three crucial things that have remained the same.
Firstly, the Albanian people are still one of the most hospitable and laid back in the Balkans. Secondly, its incredible nature will take your breath away: you can be lay on the beach in the morning and be 2,000m high up a mountain a few hours later. And thirdly, the entire country is covered in an incredible and infinite web of off-road tracks making Albania perfect for adventure riders.
Sometimes you'll feel like you've stepped 50 years back in time because of the way they do things. It may not be what you're used to in the West and there may be things that don't make any sense at all, but that's the beauty of travel and one of Albania's charms.
Everyone will find their little slice of paradise in Albania. Mine is in the mountains in Lurë National Park where I founded a non-profit organisation. Trees for Lurë supports the local economy of the remote villages through our work on the reforestation of the park.
This guide will help you motorcycle travel in Albania and find your own slice of paradise.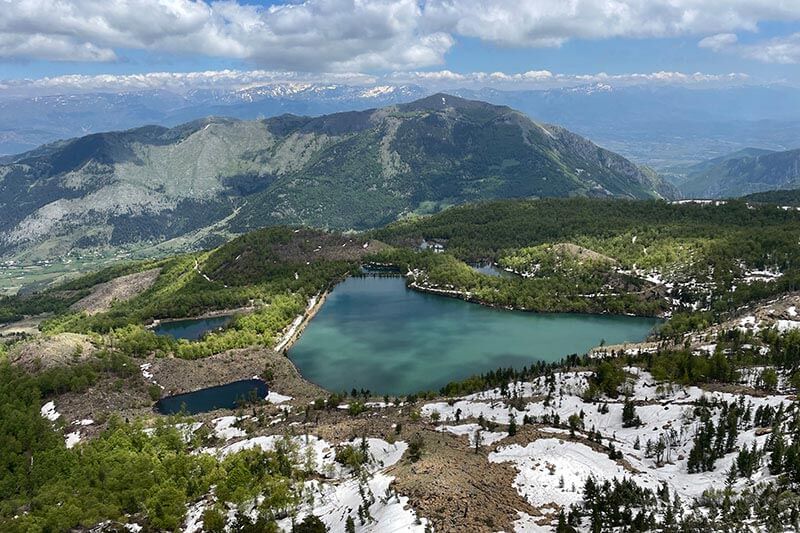 Paperwork for Motorcycle Travellers in Albania
Visas
EU, West/North European, US citizens and Caspian Sea nationalities can travel to Albania visa free for a maximum of 90 days. Some can stay visa free for longer.
EU citizens can use their ID cards to enter Albania. Everyone else will need a valid passport with a validity of at least three months (the max duration of stay).
Always check visa requirements before travelling as rules are subject to change.
Motorcycle insurance
EU citizens can use their Green Card which is usually valid for Albania. It is always cheaper and easier to ask your insurance company to add Albania onto your Green Card before you leave.
Others can buy vehicle insurance (Sigurimi Kufitar – 3rd party only) at bigger border crossings. Examples of borders where you can buy insurance are:
Hani i Hotit – Bozhaj
Muriqan – Sukobin
Qafë Thanë (Pogradec) – Kafasan (Struga)
Bllatë (Dibër) – Spas (Debar)
Kakavia with Greece
You can not buy insurance at small border posts like Cijevna – Grabon or Qafë Prush – Gjakovë. 
It will cost (dependent on company Sigal/Uniqa) £10.90 / £41 (€12.8 / €49) for 15 days for a motorcycle / car and £19 / £55.33 (€22.4 / €65) for 30 days.
Temporary import / Carnet
Motorcycles and cars can stay in Albania for a year before they need to be registered.
Vignette
There are no vignettes in Albania. There is only one toll on a single motorway A1 (Mitlot – Kukes) and a €5 fee for using the Tuneli Kalimash tunnel.
Health
At the time of writing there are no Covid restrictions. In the past, Albania had very little Covid restrictions in terms of masks or green passes. Covid testing is widely available as well as vaccination facilities in bigger cities. Always check the health rules of a country before travelling as these are subject to change.
Entering and Exiting Albania with a Motorcycle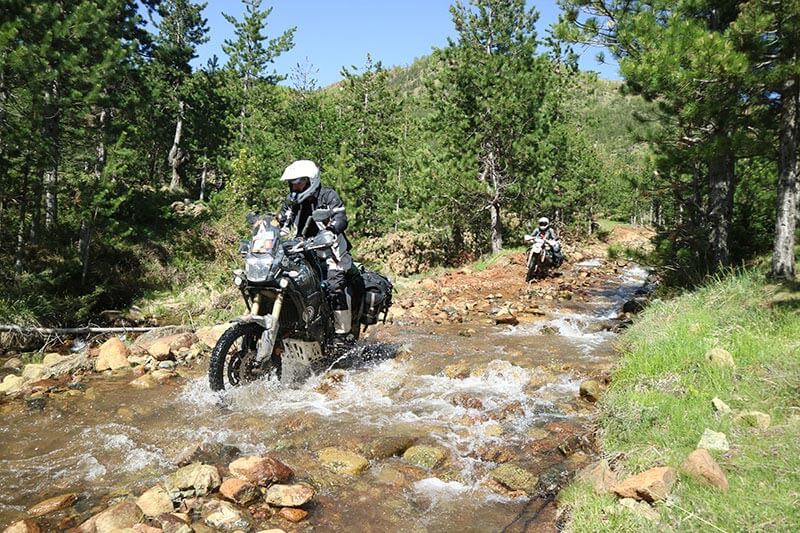 North border crossings
You can cross between Albania and Montenegro using four border crossings.  
The main crossing is Hani i Hotit – Bozhaj connecting Podgorica and Shkodër. It is usually busy and has plenty of lorry traffic.
A smaller and more pleasant crossing is Muriqan – Sukobin connecting Ulcinj and Shkodër.
There's a smaller and very scenic crossing in the direction of Podgorica between Cijevna – Grabon which is wedged in the gorge of Cemi River and close to the famous Leqet e Hotit serpentine.
From the Grabon border crossing, you can follow the SH20 north east towards Vermosh and Lepushe and reach the Vermosh – Guci crossing which is usually calm. And the road is spectacular too.
East border crossings
Albania has Kosovo, Northern Macedonia and Greece on its eastern border. These border crossings are usually quiet, especially with Kosovo and a great example is the tiny Qafë Prush – Gjakovë border crossing.
The Albanian border crossings with Macedonia and Greece are straightforward and easy. In high season the border crossings around Lake Ohrid may get busy.
However, if you're crossing between Albania and Kosovo, then here are a few things to remember.
Crossing to Kosovo from Albania, Montenegro or Northern Macedonia and exiting to Serbia is problematic to say the least. However, crossing to Kosovo from Albania and exiting for example to Montenegro is absolutely fine.
You will need valid passport. An ID card on it's own is not enough when making this crossing. 
Green cards do not usually include Kosovo so you will have to pay €10 at the border for motorcycle insurance.
South border crossings
Albania's southern border with Greece is usually without problems but the big border crossings on main routes may get busy (Kakavia). Also, during the Covid restrictions, the Greek border was closed for a long time as Greece is in the EU and followed imposed restrictions. Bear this in mind in case restrictions are applied again in future.
West border crossings
The best access to Albania from Italy is by using ferries from Bari or Brindisi to Durrës, Vlora or Saranda. Most of the ferry companies sail overnight with fewer sailings in the low season and a day crossing in the high season. Check with directferries.co.uk as you can find up-to-date and current sailing times and routes.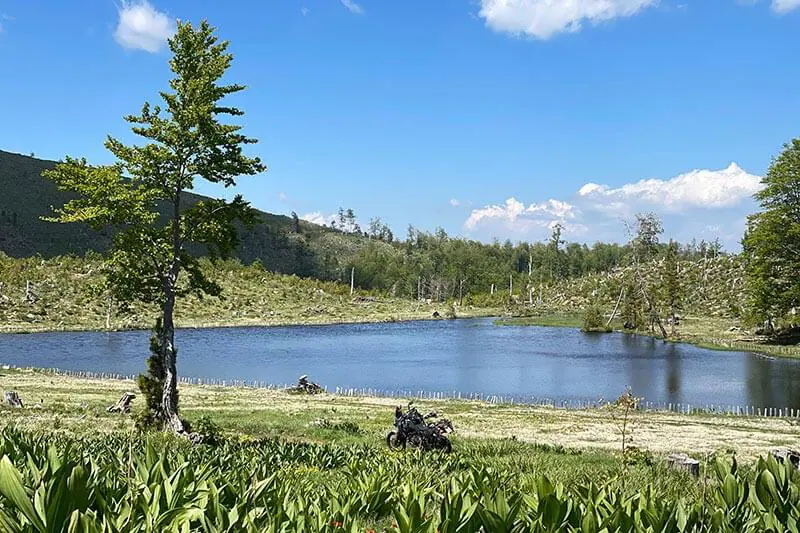 Albania Motorcycle Rentals and Tours
Renting a bike or joining an organised motorcycle tour in Albania is easier than you might think. In recent years, business has taken off in Albania and more intrepid riders are heading here to explore the country on two wheels. 
If you don't have the time to ride to Albania from your home country, or want to save the hassle, you can easily fly in and rent a bike, or take the stress out and join a tour with a professional guide who knows the country like the back of their hand. 
Take a look at the Albania rentals and tour page for great recommended companies offering guided, self-guided and rental bike options.
READ MORE: Recommended Rentals and Tours in Albania
Accommodation, Costs, Weather and Safety
Hotels and guest houses
Accommodation is plentiful in Albania and you'll find everything from hotels to small cottages and home stays all over the country. Showing up last minute is usually fine outside of high season.
Booking.com is your friend as it'll help you easily find places to stay on your route. Here's a Booking.com map you can use to get a feel for what's on offer wherever you're planning on heading in Albania.
Family run guesthouses ('bujtina' in Albanian) are fantastic. They are better value for money when compared to hotels and the family will usually cook you delicious food.
A night in a bujtina will cost you anything from £10-£20 including breakfast.
Motorcycle camping in Albania
Wild camping with your motorcycle is allowed and accepted across Albania, especially in the mountains. But you may find it tricky in high season by the seaside and in the south.
In terms of camping and safety, I have never had a problem in five years of riding and exploring all of Albania. It's also easy and safe to camp in national parks and in the mountains. 
Obviously, if you're camping on someone's land (especially close to villages or the seaside) it is polite to ask permission first – but this is basic camping etiquette regardless of where you are in the world.
READ MORE: Motorcycle Camping Guides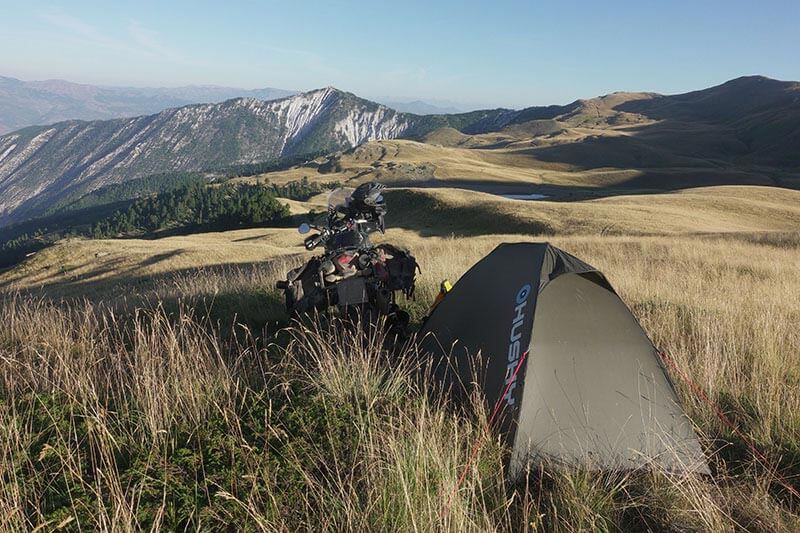 Costs
Here's a selection of average prices for things you may need in Albania to give you a general idea of costings.
Coffee: 36p – £1.80 (50 – 250ALL)
Beer: 50p – 75p / in restaurant £1 – 1.70 (70ALL – 100 /150-200ALL)
Street food and local eateries: £1.70 – £2.18 (100 – 300ALL per meal)
Restaurant / hotel dinner: £10.90 – £21.80 (1500 – 3000ALL)
Hotel rooms from: £10.90 – £36.34 (1500 – 5000ALL)
Petrol is strangely expensive compared to other Balkan countries. Currently during the Ukraine crisis, one litre of 95 is around £1.60 (220ALL)
When to motorcycle travel in Albania
In general, winter is not the best time to visit Albania. Albanian winter tourism is still to be explored and high mountain roads will be closed. The seaside is a bit too cold during winter for the bikini folk too.
I love Albania in the shoulder seasons of Spring and Autumn. Visiting in April, May and June offers an opportunity to catch the wonderful green mountains and enjoy a colder but still pleasant seaside.
If you're visiting during this time, remember that most off-road tracks in the mountains will be passable at the end of May (Theth) or beginning of June (Lurë, Korab).
Autumn from around September to November offers colourful Albania, especially in Dibër and the north. In September the seaside empties out and prices go down while temperatures are still good.
Summer is hot, busy and expensive, especially on the south coast. Be prepared for temperatures to hit 40C in most places apart from the mountains.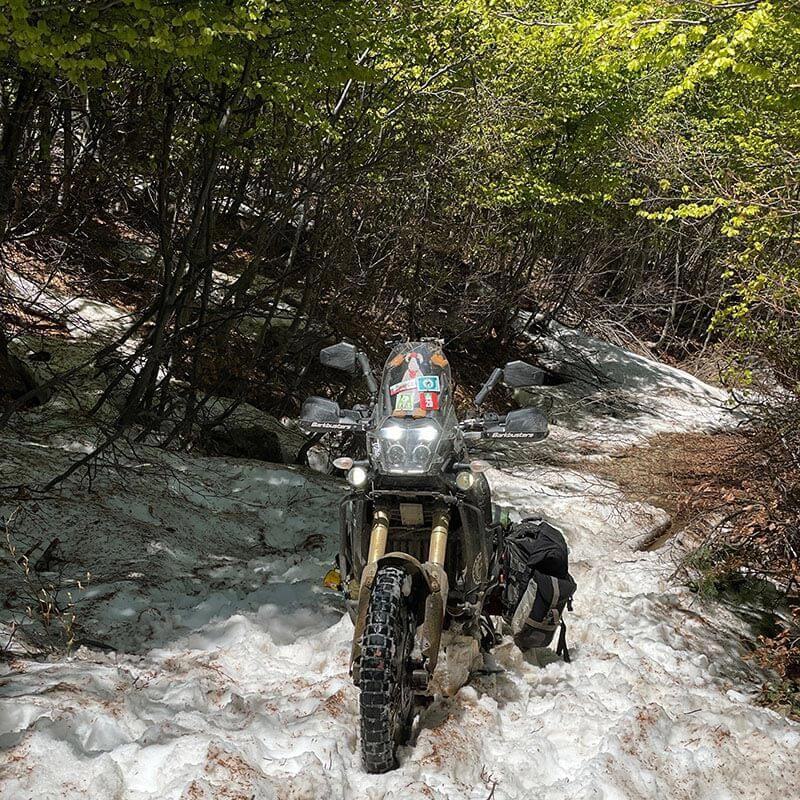 Motorcycle security
Albania (despite its stigma) is a very safe country these days. The Mafia is handling everything so smoothly that there is no reason for violence or theft and its people are the sweetest and most hospitable you will meet (especially in the mountain regions).
I've been parking my Yamaha T7 on the street of Tirana for weeks with no theft or damage. I once parked in Palermo, Italy for 10 hours and everything that was not attached somehow went missing. But, of course, if you are worried, you can find guarded parking almost everywhere. And your hotel or guest house would only let you park your bike somewhere they are sure is safe.
READ MORE: 10 Tips for Motorcycle Security When Travelling
Police
Police are much more concerned about the Albanians than tourists. I've heard cases where groups have been stopped, but personally, I'm rarely stopped and even when I am, they just let me go after the first English word.
While in most countries you'll get pulled over for speeding, in Albania the police will mainly stop and fine you for overtaking on white or double white lines. Speed traps are out of their budget.
Motorcycle Travel in Albania
Motorcycle riding conditions in Albania
Over the past five years Albania has built an incredible amount of asphalt roads. Some of the wonderful off-road tracks have been paved over already and some are being paved at the time of writing, like the Lurë road for example. You can enjoy the whole of Albania completely on asphalt or you can explore it almost 70% off-road.
An important note on traffic rules which is important for your survival: the most important rule of riding in Albania is to forget the rules and be ready for chaos.
This is especially true on roundabouts in bigger cities, big junctions and the main road between Tirana and Shkodër (which is the deadliest in the Balkans). The bigger or more aggressive wins…
Unique to Albania, drivers will go insanely fast in locations where it does not make sense to and will hard brake from 90 to 10 in a few metres on straight sections when they see a pothole (again, especially dangerous on the Shkodër to Tirana road).
Not indicating when turning, driving the wrong way up a road, U-turns in strange places, overtaking on blind corners and drunk driving are all part of the game.
Farm animals on the road are also very common in rural areas especially in the morning and evening when they go/return from the pastures.
So all in all, keep your concentration and always be aware when riding in Albania.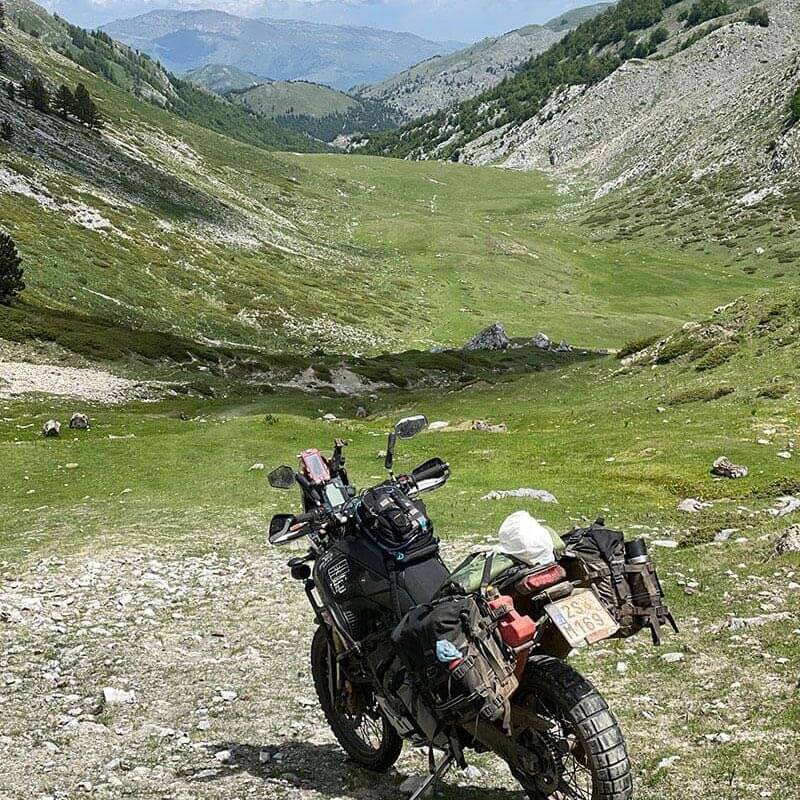 Motorcycle riding gear for Albania
Full biking gear is thoroughly recommended for Albania. Albanian drivers are not the best and in case of a mishap while off-roading, good gear will save your skin – literally. Please keep in mind you'll most likely be riding in very remote areas and help will have a hard time reaching you. So it's best to be as protective as possible with decent gear.
In the summer months (including June and September) you will want lightweight gear or mesh textiles. For the rest of the year you can use a mixture.
READ MORE: Motorcycle Travel Gear Guides
Riding a motorcycle off-road in Albania
Riding a motorcycle off-road on roads and tracks is legal in Albania, making the country a paradise for adventure bike riders.
Please be aware that off-road in Albania varies from easy gravel roads to darn difficult rocky downhill/uphill single track. You'll find it all from sand, rocks and boulders to deep mud and very deep rivers.
This brings me to an important point. Some of the tracks mentioned below can be very, very remote. For example, recovery or medical assistance will reach the Lurë TET section in 6–8 hours! Please do not underestimate this or the time of year as you could be riding in either snow or 40C.
It's also important to point out here that riding off-piste must be avoided for the sake of good karma and the future of off-roading in Albania. It doesn't make sense to ride off-piste in the forests or national parks when there are infinite tracks, trails and routes of varying difficulties all over the country. Such behaviour will only anger locals (who own loads of guns) and could easily lead to off-road restrictions in the future. So please stay on the tracks.
Finally, it's crucial to respect private land. Albanians are very proud of their personal land – and rightly so. If you see private land signs, do not ride there.
The Best Off Road Motorcycle Routes in Albania
The Albanian Trans Euro Trail
Full TET route
406km 7 days
The TET provides a wonderful selection of roads for an off-road itinerary around Albania. I've ridden it many times and despite some sections being paved over recently, it will still take you from the dramatic high mountains of the north to the central hills and the south beaches.
READ MORE: What is the Trans Euro Trail (TET) and How to Ride it?
Albania's most famous motorcycle road
Theth – SH21 (TET)
136km, 1-2 days
This is probably the most famous road in Albania. I have not met anyone who hasn't loved it. Why? Because it will take you to magnificent mountains with views of Maja Jezerca (2,694m) and the Theth Valley. 
The part of the route from Koplik to Theth village is now asphalt while the section from Theth to Prekal and down to Skhodër is the famous off-road section (which is usually impassable before May and during May it is very wet).
If you have time, it's possible to hike Maja Jezerca or to the pass between Theth and Valbona valley for insane views. Another option is to take a detour in Nderlysaj (off-road section) to visit the Blue Eye of Theth (Siri i Kalter).
There is also a shortcut towards Montenegro here, see the Vermosh and Lepushe – SH20 route below for more info.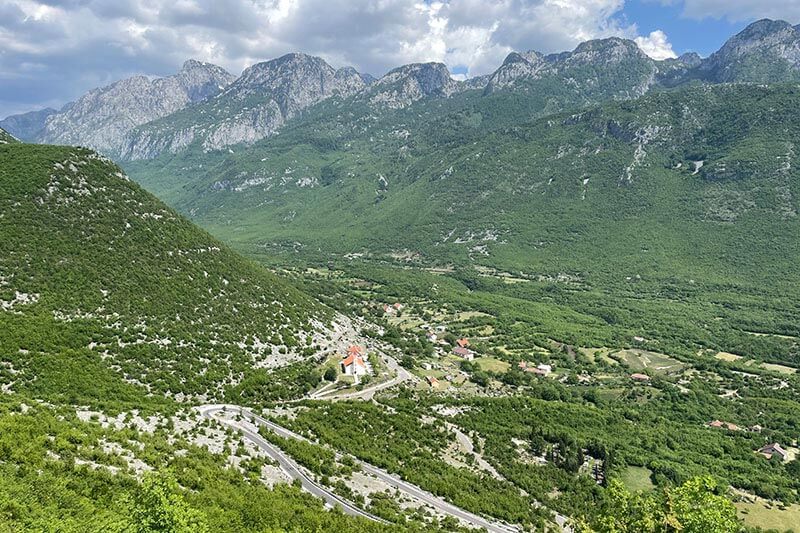 Off-Road Day
Kukës – Skavicë – Muhurr – Peshkopi
80km, under 1 day
For adventure riders who want to ride off-road most of the time, this is a good transit route south along the Drin River. What is interesting about this route is that due to the Skavica Dam (which is being built at the time of writing) this route will disappear in the next 2-3 years (by 2025). Fun thing is, this road is yellow (bigger) on Google Maps while the asphalt version is marked as white (detailed below).
The Tough TET
Lurë lakes / Fushë Lurë – Qafë Murrë – TET
46km, 1 day
This is the hardest part of the Albanian TET and I'd recommend it to proficient riders. If you want to enjoy the Lurë mountains with less difficulty, the SH34 is a better option and you can see the lakes by making a detour up to Liqeni i Mahde from Fushë Lurë.
Lately, the track has suffered due to heavy rain and you need to be prepared for big rocks, river beds, hill climbs and down hills plus some mud thrown into the mix. Do not underestimate the length and its remoteness. In bad weather this route can get tricky very quickly and help is very far away.
You will be rewarded by wonderful lakes, views and incredibly peaceful camping.
This track is only passable from the beginning of June. Go any earlier and you'll find a lot of snow. Liqeni i Mahde is usually accessible from the end of May.
In Fushë Lurë you can visit Trees for Lurë tree nursery or our planting areas (you can camp there as well).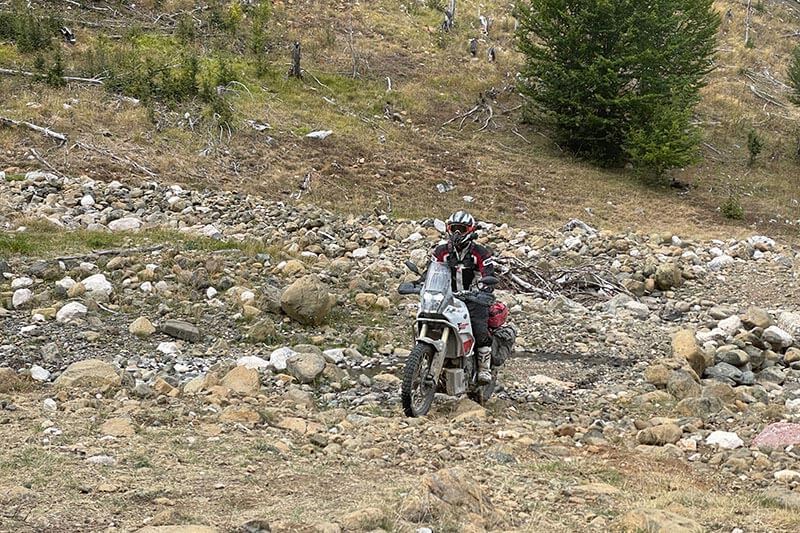 Rally Albania
Fushë Lurë – Arras – Peshkopi – SH34
38km, 2 hours
An incredible track from Fushë Lurë towards Peshkopi offering unparalleled views towards Mt. Korab, Drin River Valley and Peshkopi. It is a demanding track which has been traditionally included in Rally Albania. The road is used by locals to travel to Peshkopi but you may not be able to pass until the snow melts on Land Lurë (the plains above the Fushë Lurë).
Sadly for us off-road adventure bike riders, the SH34 will be paved in the next 1-2 years (by 2024). The work has already started in Perlat (direction from Rreshën) so hurry up!
Historic Ride
Fushë-Arrëz – Gulags – Reps – SH43 and SH40
43km, 3 hours
This is a connection route mainly for people who wish to visit a darker side of Albanian history. During the dictatorship of Enver Hoxha many people died in the gulags built in the mountains between Fushë-Arrëz and Reps.
Epic Views
Borsh – Kuç – Tepelene – TET
54km, 4 hours
This is a wonderful section of the TET connecting the seaside with the mountains. This used to be a famous section of the Rally Albania. Now the off-road section starts right at Borsh and ends at Kuç. This off-road route provides incredible views. The asphalt section towards Tepelenë should not be missed as it provides epic views onto the dramatic valleys of the Bënçë river.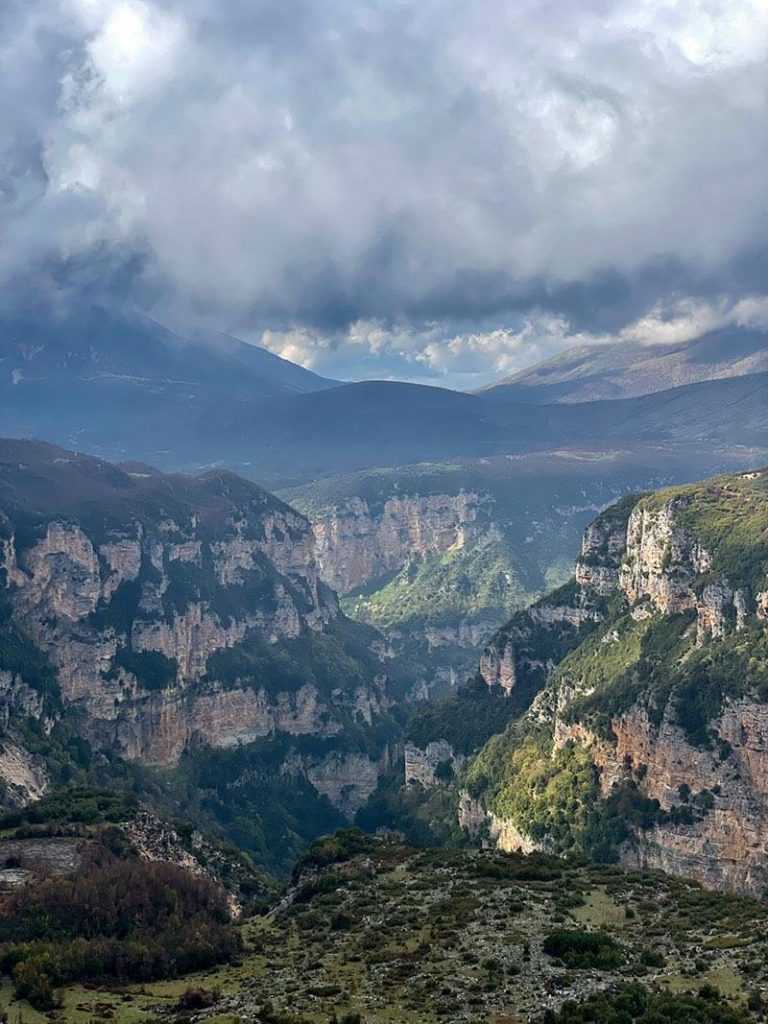 Hot Springs and Summits
Përmet – Kosinë – Raban – Çorovodë – Poliçan – Berat
100km, 4 hours
Visiting Përmet hot springs is one of the must-dos in any Albanian itinerary. Especially during the shoulder seasons when it's cold you'll find fewer people in the springs and gazing at the snow-capped mountains is magical.
From there, take an off-road track through the mountains towards Çorovodë where the asphalt starts. Follow the TET which continues towards Gramsh. You can keep going towards Poliçan and Berat around Mt. Tomorr. Or another detour option is to go all the way up on your bike to its summit and visit the Stacioni Abaz Ali at 2,384m.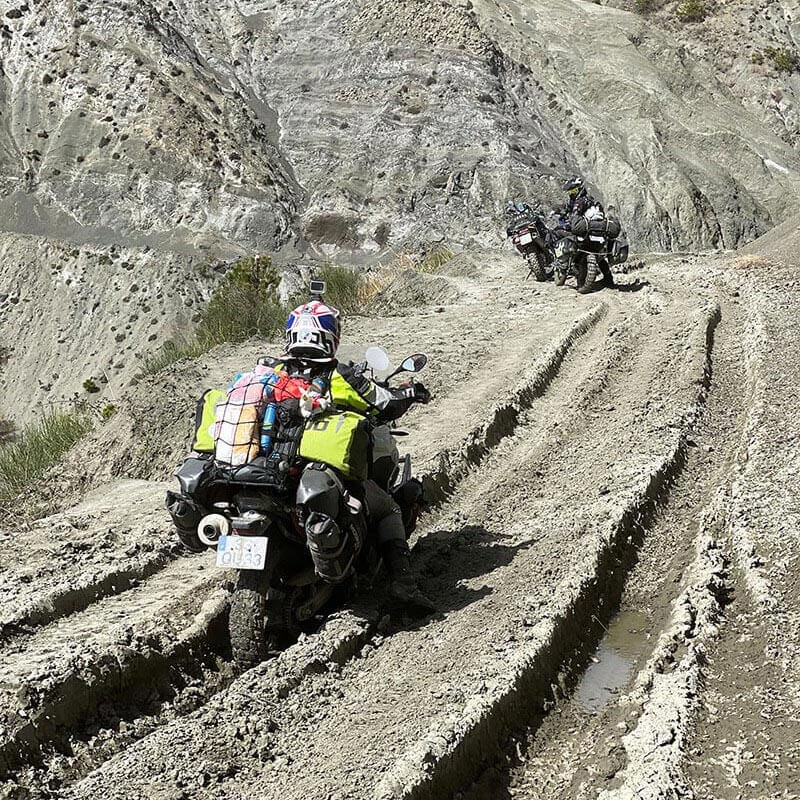 The Best Motorcycle Asphalt Roads in Albania
The Cemi River Gorge
Vermosh and Lepushe – SH20
56km, time is dependent on route 
This route was once a famous off-road track along the Montenegro border (which provides two very laid-back border crossings that are definitely recommended if you're flitting between countries).
Now, the SH20 is a wonderful tarmac ride which takes you through the gorge of Cemi River and incredible scenery of the Vermosh. There's an awesome detour to Lepushe too.
There is also an off-road shortcut to the Theth which avoids going all the way to Koplik if you use one of the mentioned border crossings. Turn off after Rrapshë and follow the dirt to Bartosh, Virth then continue to Theth.
Rivers and Ferries
Fireza – Kukës – SH22, SH5
116km, 3 hours
This one is an incredibly scenic small paved mountain road along the lake created by the dam on the Drin River. Handy when taking the Koman Lake ferry. Don't forget to have a coffee at Hotel Alpin and for those who want to go off-road and towards the sea, look for Fushë-Arrëz – Gulags – Reps – SH43 and SH40.
An Albanian Autumn
Kukës – Lusen – Shumat – Peshkopi
73km, 1.5 hours
An alternative to an off-road connection to Peshkopi. While the off-road version (listed above) snakes along the Drin River in the valley, this road offers magnificent views of the gorges of Drin River and Dibër Hills. Riding this road in Autumn will take your breath away as the whole landscape is blanketed in a thousand colours.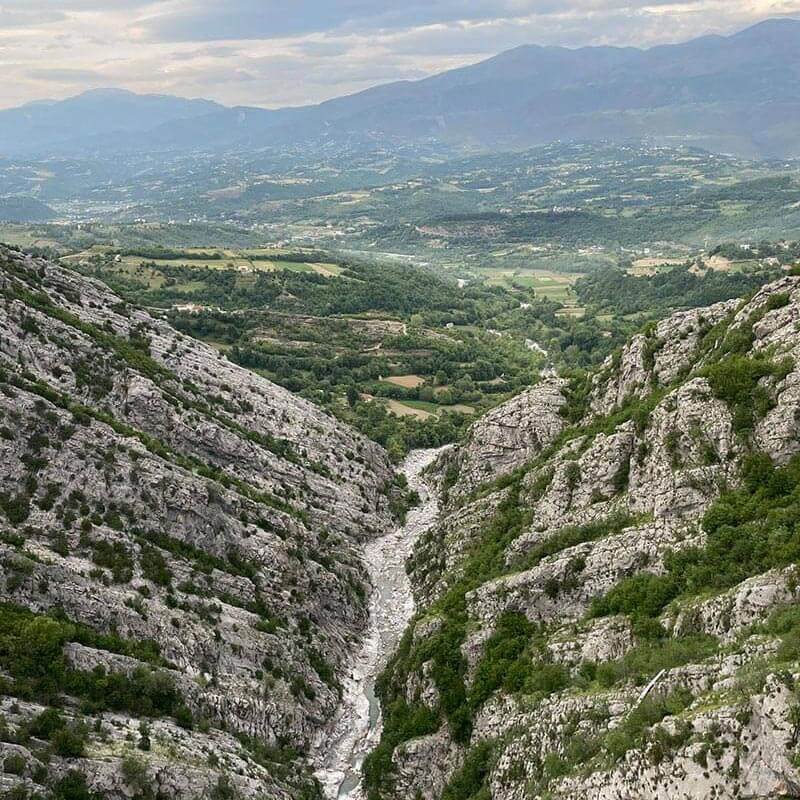 Submarines and Sarandë
Vlorë – Vlore bypass – Llogara pass – Palermo bay – Himarë – Sarandë
130km, 4 hours
This coastal route to the south is packed with beaches and incredible views. On one side you have towering mountains and on the other is the sea. The contrast is extra special from the Llogara pass. In Palermo Bay you can visit old submarine bunkers or the castle of Ali Pasha. Himarë has been a traveller's hotspot and in Sarandë you will find the famous beaches of the Albanian Riviera (Manastir, Ksamil) and the famous Blue Eye (Syri i Kaltër).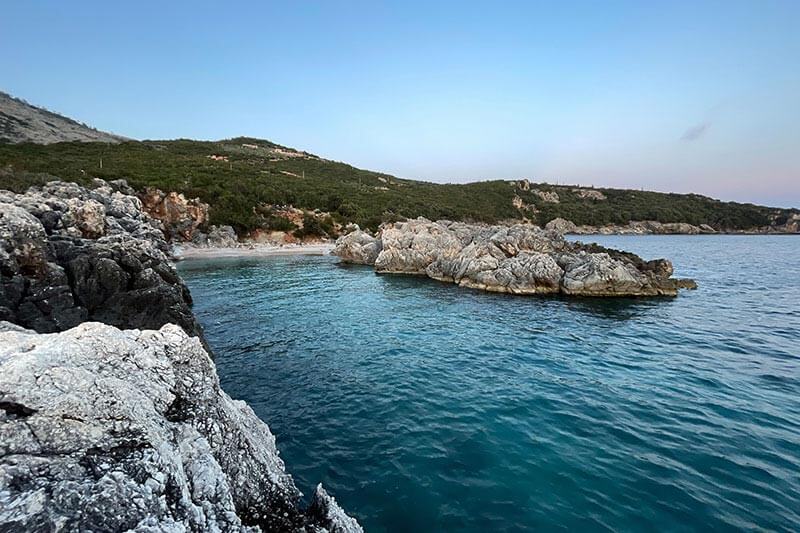 Easy Sailing
Koman Ferry, SH25
One of Albania's unique experiences is taking a ferry on Lake Koman. The scenery is wonderful as the ferry slowly takes you from Fireze to Koman (or vice versa) through the magnificent canyon of the Drin River.
The ferry is also a convenient connection between Shkoder and Barjam Curi (for Valbone or Kosovo).
There are two ferries a day from each direction. One-way costs 2500ALL/€17 for a motorcycle when bought online. More information can be found on the Berisha website.
Top Tips for Motorcycle Travel in Albania
Money
Cash rules in Albania – especially outside of the big cities.
The official currency is Albanian Lek (ALL), however, Albanians are so used to Euros that you will have no issue paying with them even in the smallest of places. The exchange rate is usually very good too because locals also use Euros.
To withdraw cash you can use ATMs in bigger cities. Note that only bigger cities will have ATMs. Most of the banks will charge a withdrawal fee (500–1000ALL or €4–€8). An exception is Credins bank, where ATMs allow free withdrawal.
Petrol
Most petrol stations won't accept bank cards outside of main cities and the main road between Tirana and Shkodër. Kastrati, BOLV usually accept cards but again only in main locations.
Despite petrol stations being everywhere, remote mountain locations like Valbone, Theth, Lurë, Tomorri won't have them so be prepared and calculate your mileages if you're going that way.
If you run out of petrol, just find the closest bar, have a coffee and ask for petrol/benzine. 99% of time it will appear in 2L plastic bottles before you finish your coffee.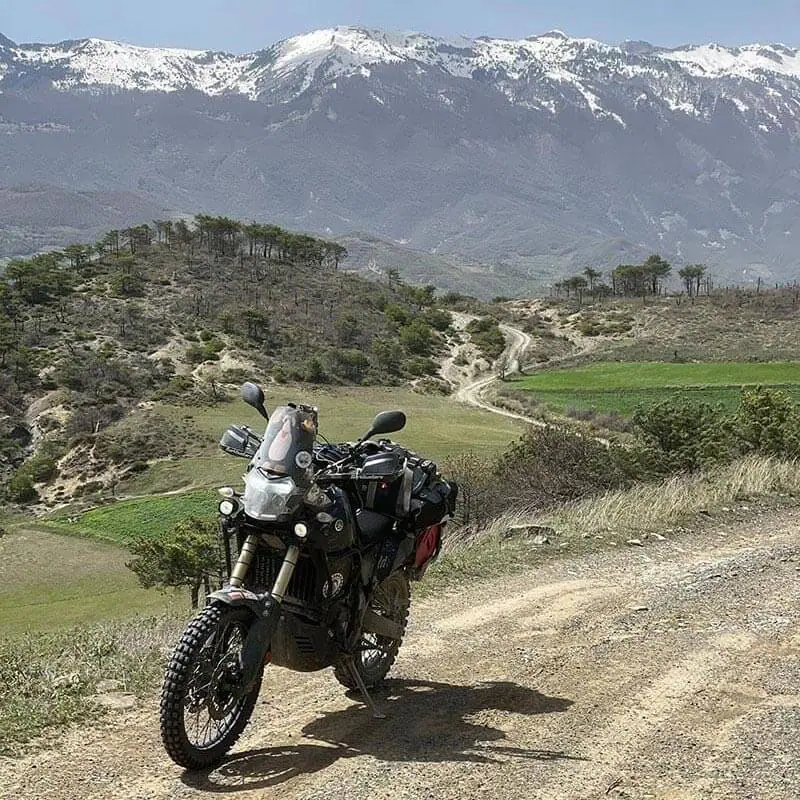 Mobile data
As usual in the Balkans, mobile internet is cheap and works very well. In Albania you can buy a Tourist SIM for €16 (2000ALL) which will typically give you 20GB or more. Look for shops called ONE or Vodafone. I recommend going to a brand shop so you're not sold something else.
Recommended motorcycle service and workshops in Albania
Moto Raxhi  (Great contact if you need something in Tirana)
Moto Teri, Elbasan (Address: SH3 70, Elbasan / phone: +355 69 362 5652) 
Food
Albanian food is delicious. Try and sample as much as you can! Here are a few Albanian specialities that you must try: 
Meat (chicken, beef, pork, lamb, goat) – Mish (pulë, viçi, derri, qengji, dhie)
Fish – Peshk (especially trout – trofta)
Cheese (djathë) and yoghurt (kos)
Traditional pickles – Turshi
Special cheese with pepers – Gjizë me Speca
Thick salty yoghurt – Kos salci
Spirit made of grapes or plums – Raki
Albanian Ayran (yoghurt drink) – Dhallë
Pasta with chicken, traditional in Dibër  – Jufka me Pulë
Veg stew (Tomatoes, Peppers and Feta) – Fergese
Bread – Buk
Beer – Bira
Water – Uj
Language
Albanian is not similar to our European languages, so basic vocabulary will get you surprisingly far:
Hello – Pershedentje
Good bye – Mirupafshim
Thank you – Faleminderit
You're welcome – Je i mirpritur
Yes/No – Po/Jo
Cheers – Gëzuar!
Bon appetite – Bëftë mirë
Good – Mir
Bad – Keç
Road – Rruga
Room – Dhomë
Dinner/Food – Buk
I don't understand – Nuk kuptoj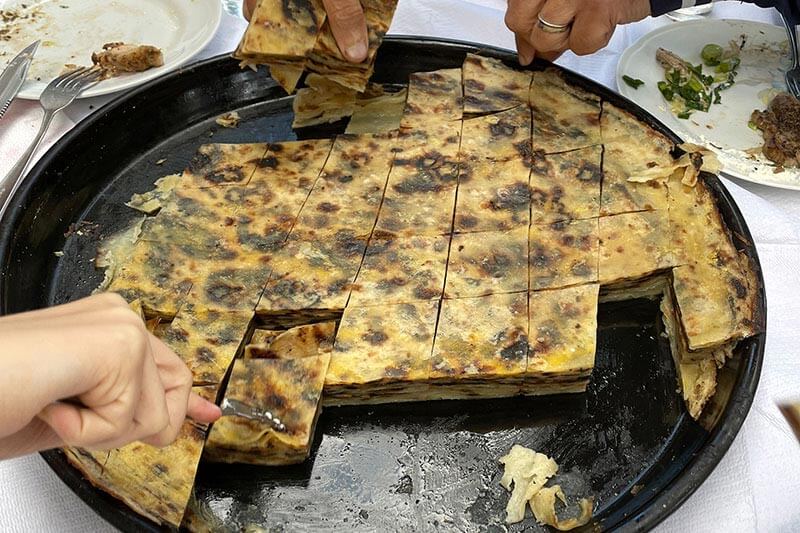 Pavel Kunc took on his first overland trip in 2017 and was bitten by the travel bug… hard. He's now a motorcycle overlander, digital nomad, rally rider and founder of  the Trees for Lure reforestation project in Albania. 
Follow his adventures here: 
More from Pavel on Mad or Nomad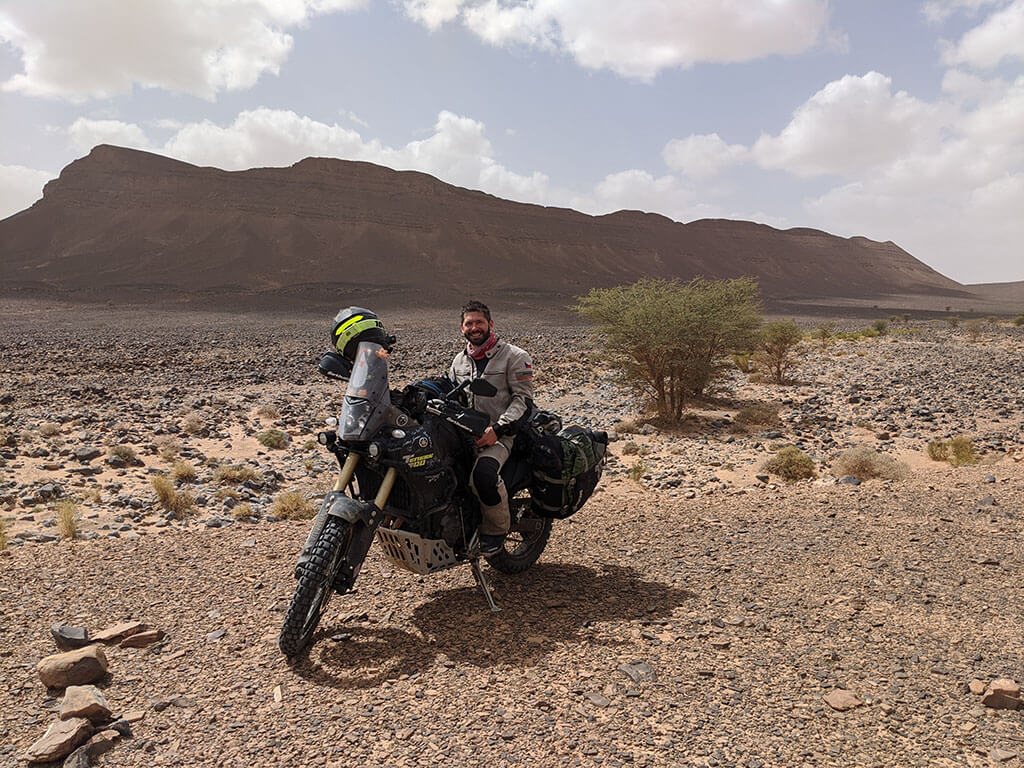 Read more on motorcycle travel in Albania and Europe
Thanks for checking out this Motorcycle Travel Guide: Albania. We hope you enjoyed it! Here's a few more articles on motorcycling in Albania and Europe that we recommend you read next. 
Are you planning a motorcycle trip to Albania? Do you have any questions or tips to share? Let us know in the comments below.