Welcome to the Yorkshire Flyer Route Guide. This report will show you how to ride some of North Yorkshire's finest biking roads, towns and villages.  
The Best Motorcycle Tour in North Yorkshire
A 200 mile loop from and back to York taking in some of the beautiful Dales town and villages and stunning Yorkshire scenery. This is an absolutely cracking route taking in some of Britain's best roads. You'll love it!
Quick info
Route: York, Helmsley, Stokesley, Leyburn, Hawes, Ribblehead, Pately Bridge, Ripon,
Distance: 200 miles
Fuel: £25
Time: 5-8 hours including lunch stops
Best months: Between May and October
The Yorkshire Flyer Motorcycle Route Guide 
Leave York at Clifton Moor and head up the B1363 to Oswaldkirk. From there join the B1257 to Helmsley which is a small market town that attracts bikers from all over the region. The Feversham Monument dominates the market square and the town itself is well worth a walk around. It's brimming with quality cafes and makes the perfect little stop.
As you leave Helmsley, stick to the B1257 heading north. This section of road has earned the nickname 'The Yorkshire TT' because it twists, turns, dips and crests its way to the town of Stokesley. It's a seriously fantastic section of road and if the weather and traffic are on your side, then you'll quickly understand how it got its nickname. 
At Stokelsey head south onto the A172 and then the A19 before turning onto the A684 for Northallerton. For the next 35 miles the A684 crosses the Yorkshire Dales passing through the towns of Bedale and Leyburn before arriving at Hawes. Hawes is a lovely little town that attracts large numbers of bikers through the summer months as well as walkers and cyclists. The main street boasts pubs, cafes and shops or you could visit the Wensleydale Cheese factory! Check out Penny Garth café, it'll be the one surrounded by bikers! There's also a small petrol station on the main street if you need fuel.
Once fuelled up, leave Hawes on the B6255 heading south. The road is initially very narrow and twisty but soon opens out into a fast-flowing road with stunning views left and right. Ten miles later you will come across the impressive Ribblehead Viaduct, which strikes an imposing feature on the landscape as you approach. The viaduct was completed in 1876 and opened on 1st May that year. It has 24 massive stone arches and stands 104 above the moorland. It's reported that over 100 men lost their lives during its construction. Fortunately there are ample places to park for the obligatory photo of bike and viaduct.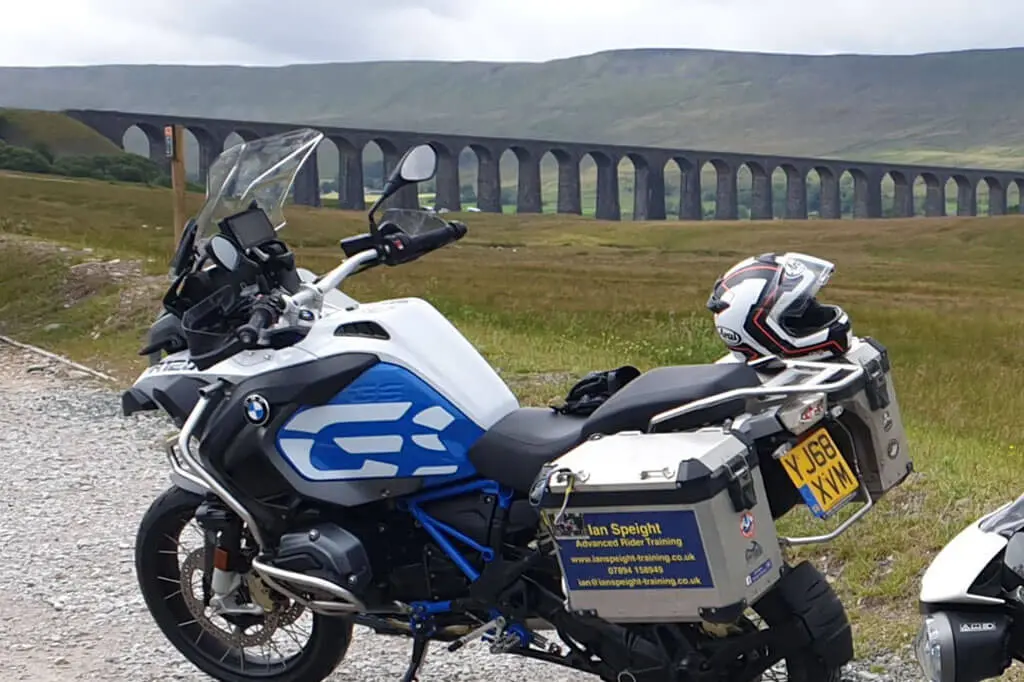 As you leave the viaduct, turn immediately left onto the B6479 and head through Horton in Ribblesdale to Stainforth. Then turn left and head through Arncliffe and Grassington before arriving at Pately Bridge on the River Nidd for your next leg stretch. Like all the villages and towns in this area, Pately Bridge offers a warm welcome and plenty of places to get food and a drink. From Pately Bridge continue along the B6265 passing through Risplith and onto the cathedral city of Ripon which is well worth a stop and walk round. Finally, pass over the A1 to Boroughbridge and down to the A59 for the final 20 miles back to York. 
Accommodation
Camping
There's plenty of camp sites around Yorkshire. Take a look at our recommended UK campsites link below. You'll find a map with all the best motorcycle friendly campsites and can match them up to your route. 
READ MORE:
Hotels
To give you an idea of where the hotels are along your route and their prices, take a look at the booking.com map below, which has a dropped pin on York area.
Ian Speight has been riding motorcycles for 40 years with extensive touring experience in the UK and Europe. As an ex-police motorcyclist, Ian now works as a motorcycle tour guide and also owns and runs Ian Speight Advanced Rider Training. 
Read more on motorcycle travel in the UK
Thanks for checking out our Route Guide: The Yorkshire Flyer. We hope you found it useful! Here's a few more articles on riding in the UK and Europe that we recommend you read next. 
If you have any questions on motorcycle touring in the UK or Europe, please post a comment below. We'd love to hear from you!