Morocco Motorcycle Rentals and Tours
Here's our recommended motorcycle rental and tour companies for Morocco.
"We specialise in organising incredible guided, self-guided and fully customisable motorcycle tours. Come ride with us and we'll arrange an adventure you'll never forget!"
Services: Guided, self-guided and custom tours worldwide. For custom tours, just tell us your budget and time-frame and we'll make it happen.
Rental bikes: BMW, Yamaha, Honda, Triumph motorcycles
Tour prices: From £1,580 for eight days, including the motorcycle, accommodation, breakfast, dinner, local motorcycle guide, excursions, video of the trip, t-shirt and more. Trips can also be extended.
Insurance: Basic insurance is included and can be upgraded.
Kit availability: Gear can be arranged but it's recommended to bring your own.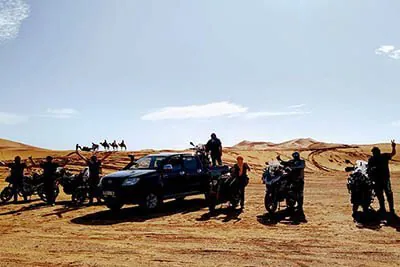 Marrakesh, Morocco
  www.elcirculotravel.com
  David Pueyo
+34 636 215 680
  info@elcirculotravel.com
 Tours are also provided in: Spain, Colombia, Argentina, Brazil, Chile, Morocco, India, Tibet and Bhutan. For more info visit their profile on the Worldwide Tour Companies page.
Overland Motorcycle Tours
France, Spain, Morocco, Alps
"We specialize in road and adventure tours, fully or self-guided starting from the UK or Barcelona, Spain. We also have a range of hire bikes available. Whether you're a new or experienced, come and ride the best roads with Overland Motorcycle tours!"
Services: Road or Adventure tours, guided tours, self-guided tours and bike hire.
Rental bikes: BMW, Suzuki, Honda, Kawasaki, Royal Enfield, Moto Guzzi, Triumph.
Rental prices: From £65 a day.
Tours prices: The Pyrenees tour is from £1,095 (single rider shared room) and Morocco is from £1,325 (single rider shared room).
Insurance: Yes it's included with rental bikes and also breakdown cover 
Kit availability: No. But there are a few helmets available on request. 
  Kingsbridge, UK and Barcelona, Spain
 www.overlandmotorcycletours.com
Jay Pitt
34 600 796 808 (Whatsapp)
overlandmotorcycletours@gmail.com
"We're passionate about motorcycle travel and are always looking for new places to explore. Our aim is to give you a genuine motorcycle experience off the beaten track and packed with adventure!"
Services: Explore360 offer all inclusive adventure motorcycle tours and off-road training on your own or rental motorcycles (depending on the destination). 
Rental bikes: A range of BMW GS motorcycles. 
Rental prices: The motorcycle rental prices are included in the tour price or separately mentioned in the brochure (check here on explore360).
Tour prices: Iceland tours start from £3,900. You can use your own motorcycle on the tour and Explore360 will take care of shipping it there – the cost is included in the overall price. 
Insurance: Yes, third party insurance is included. Full coverage is sometimes optional.
Kit availability: No.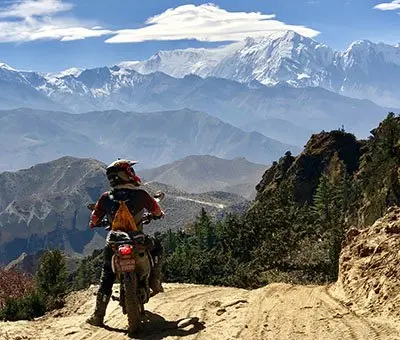 www.explore360.nu
  Chris Wilthuis
+46 (0)720 150 570
  info@explore360.nu
Worldwide: This company is on our Worldwide Companies page as they offer tours in Iceland, Norway, Sweden, Wales, Romania, Morocco, Nepal, Vietnam, Sri Lanka, Uganda and South Africa
What's next? Check out these resources to get started on your adventure!
Motorcycle Rental and Tour Companies
Planning a Fly and Ride bike adventure? Here's our recommended motorcycle rental and tour companies from around the world. Check out the page, click a country and see what's on offer!
Read More
We'd love to hear from you! Let us know about your Morocco motorcycle tour and rental experiences and ask any questions in the comments below.