Welcome to Thoughts from the Road. Here's Mike Taylor on if you really need electronics on motorcycles…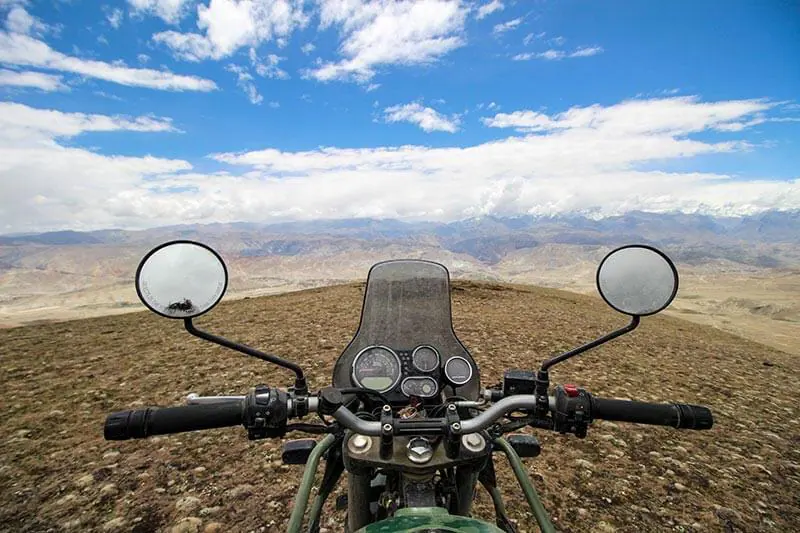 Mike's seriously knowledgeable on Scotland and has been running tours there for the last 15 years. He also knows his way round Europe, goes on holiday too much, is a beer enthusiast and hordes motorcycles.
Mike runs a motorcycle touring company in Scotland. If you fancy a guided tour or need some help planning the perfect route, get in touch with him at passingplacestours.com
And you can find more of Mike's articles on Mad or Nomad on the Contributor page.
Motorcycle electronics and why you don't need them
Picture the scene. You're riding along one of the most scenic, amazing roads you've ever been on. It's sublime. You feel one with the world. Zen like. You know what would make it better? A phone call from some scammer inquiring about your computer security.
You don't agree? Me neither. It baffles me that there are so many questions on social media from poor souls who actually WANT to connect their phones to their bikes. "But it makes great GPS!" I hear you cry, well it can do, until Google maps gets you stuck in some town after trying to save 40 seconds on your 700-mile blast to the Alps because it didn't realise you could filter through the traffic it was "helping" you avoid.
This takes me on to my next bugbear. Keyless systems. You see, it's not actually keyless. You always need a key for something – be it opening a pannier or something. The thing I like about keys is that they are reliable. You always know where they are as they have an almost custom designed storage system, the ignition! You can turn the key and push the bike down a hill to bump start it, yes, even modern fuel injected bikes (you might just need a bigger hill). I have first-hand experience with this after helping someone bump start their bike after they had left their Bluetooth system on and flattened their battery.
Much of this stuff is not even optional anymore. Take Honda's Africa Twin for example. Apple Car play comes as standard but a centre stand is optional. Phenomenal idea for an adventure bike, especially one that falls off its side stand with a flat rear tyre.
Try fixing a puncture with Crapple Car play rather than a centre stand. Don't get me wrong, stuff like ABS and even traction control are great safety nets to have, but as soon as people begin to rely on them it's a bad thing.
Many riders these days can't even down change properly without the aid of an auto blipper. Yes, I'm sure saving 2.7 seconds on your four-week bike trip is important, but I can change gear quick enough. If you want an electronic package on your bike then that's up to you, but I think it should always be an option that you can pay extra to get, not something built into the price.
Mike Taylor
Is your bike packed with gizmos and your helmet full of speakers? Or do you prefer to ride in peace and rely on your own riding skills? Let us know in the comments below. 
Thanks for checking out this Thoughts from the Road column. We hope you enjoyed it! Here's a few more articles on motorcycle electronics that we recommend you read next.