"Stylish, functional and fits like a dream. The Merlin Stafford is one seriously cool riding jacket."
Update
The Merlin Stafford jacket has been discontinued. Merlin has replaced the Atlow with the Monty and Nomad jackets in men's cut and the Harriet in ladies.  However, the jackets, materials and build quality are all very similar and so you may still find this review helpful. All links on this page now point to the newer Merlin jackets. 
Merlin Stafford Wax Jacket Review
Snapshot
Price: £229.99
Mileage tested: 1000
Testing conditions: Touring Japan
Durability: 5⁄5
Fit and comfort: 4⁄5
Protection: 4⁄5
Value for money: 4⁄5
Colours: Olive or Black
Where to buy UK: sportsbikeshop.co.uk
Where to buy US: revzilla.com
Features
Merlin has been doing exceptionally well lately at producing high-quality jackets, which look, feel and perform just as well as their far more expensive counterparts, but for half the price. Their jackets are made well and feel like premium products. And the Stafford wax jacket is right up there with the best of them.
I used this jacket for over 1000 miles through Japan's cities, suburbs, mountains and coastal roads and it didn't disappoint. It's pretty much got all you need for a variety of riding styles and is packed with extra features.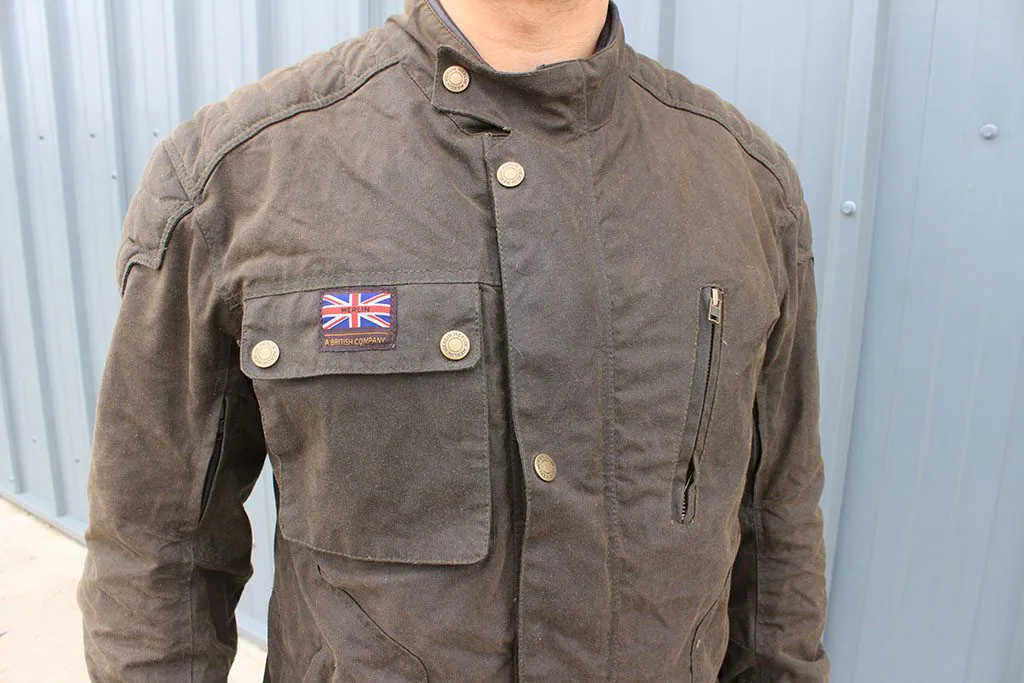 Firstly, it's a wax cotton jacket, so you've got to not mind that waxy feeling on your fingertips every time you slip it on. The wax coat does a decent job of keeping the rain off, but the Stafford also has a Reissa waterproof and breathable removable liner and a removable thermal liner too.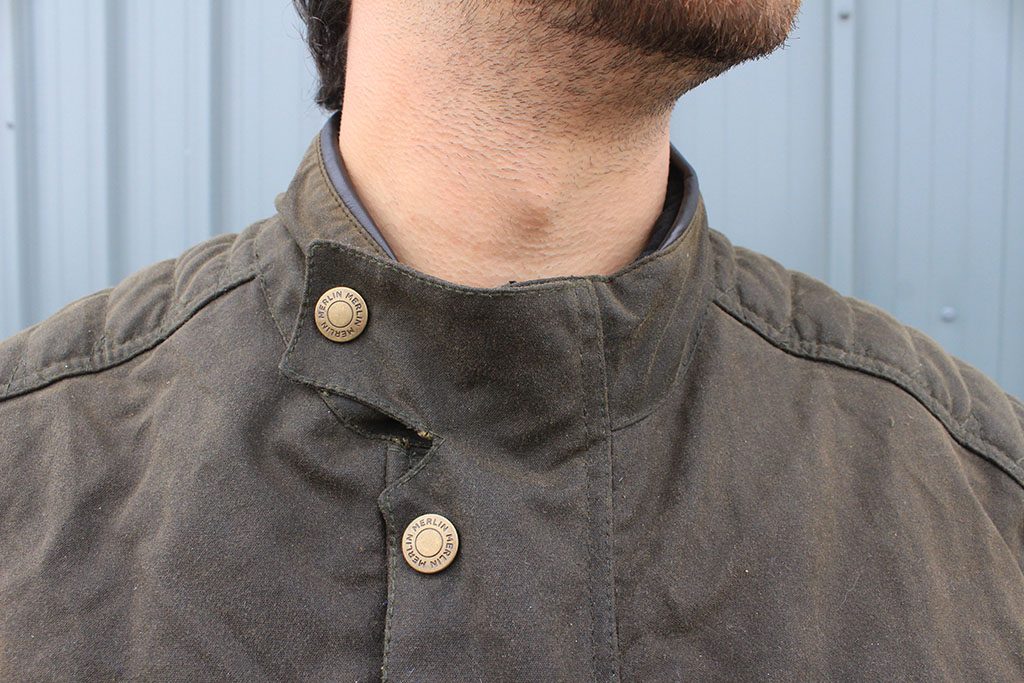 But here's the cool thing, normally wax jackets don't have any ventilation, and quite often the waterproof liner is fixed under the outer wax layer, like the Merlin Atlow jacket, which would be more suited for colder conditions. The Stafford not only has a removable liner, it also has mini zipped vents on the back and upper sleeves too, making it much more suited to a variety of conditions.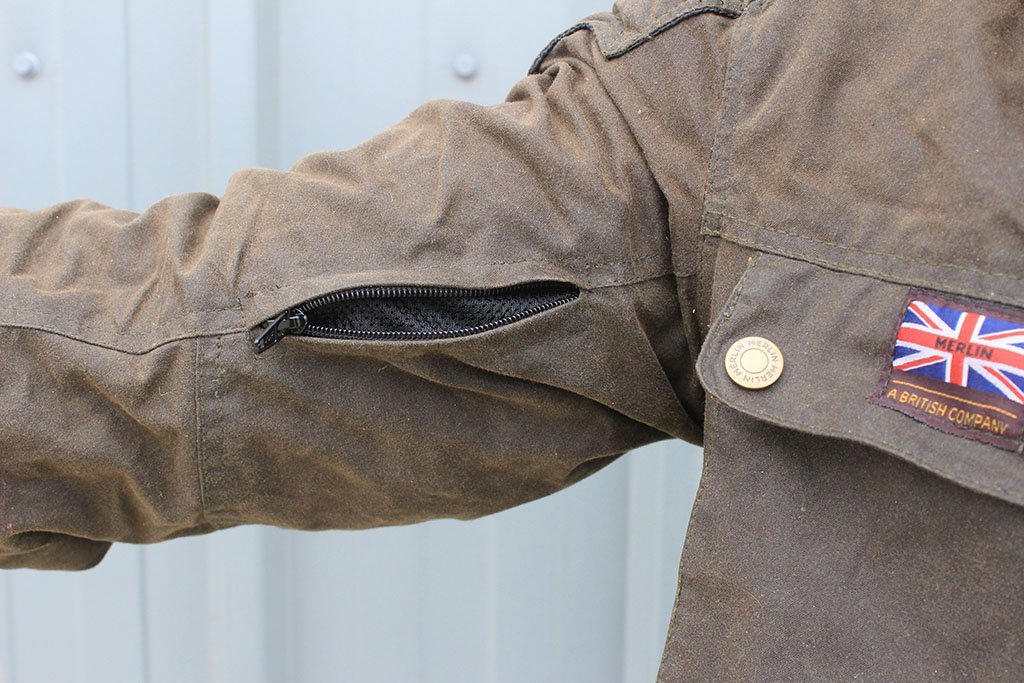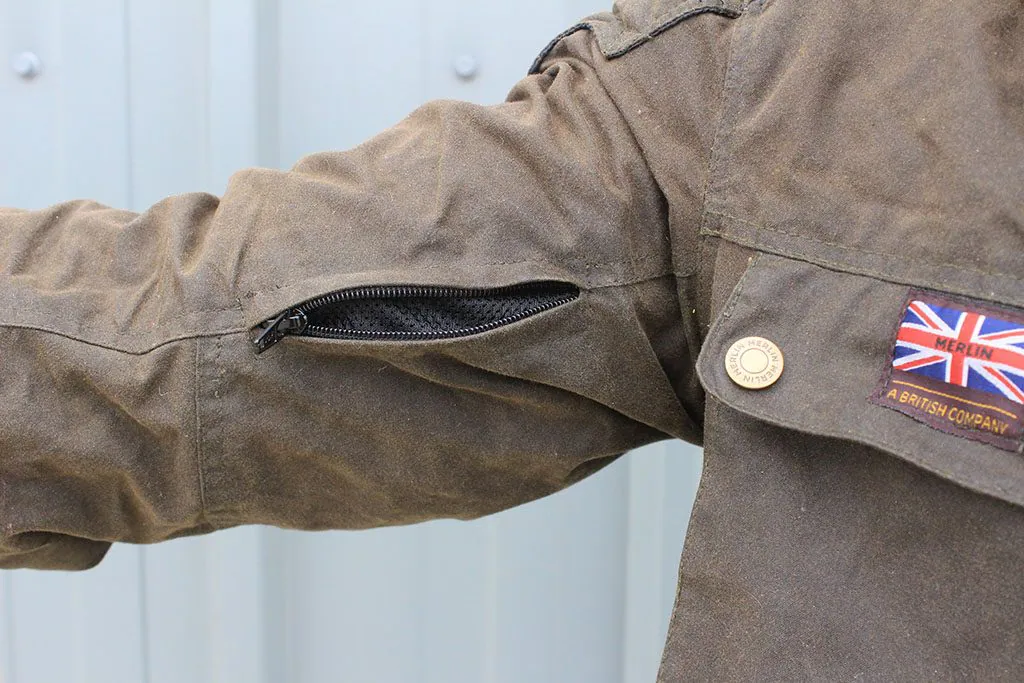 When the weather shot up on the coast roads flowing beside the Pacific Ocean,an unzipped collar and vents were enough to keep me cool. And when we rolled up into the mountains of Hakuba and the temperatures dropped, the hefty front wind flap, liners and plush collar were enough to keep me warm. Get into the city, whip out the protectors and you've got a jacket that looks great in your local sushi bar… or British pub.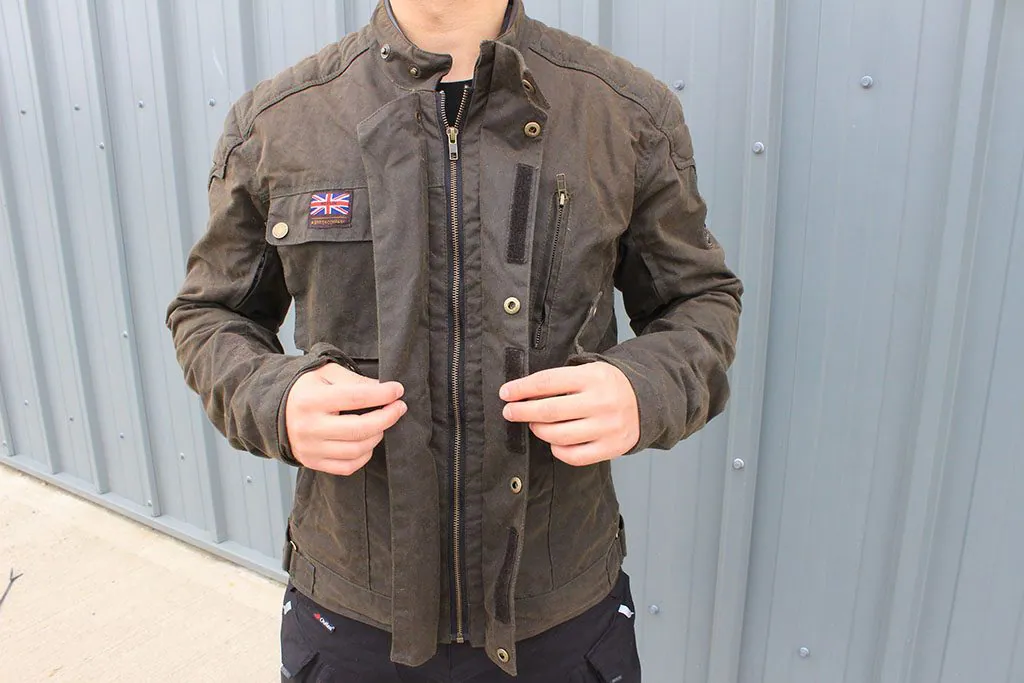 It also comes with two large zipped pockets at the bottom, an inside zipped pocket, a diagonal zipped pocket on the left chest and a popper pocket on the right complete with a Union Jack flag! The cuffs also fasten up with a zip and Velcro making it easy to slide gloves under the sleeves.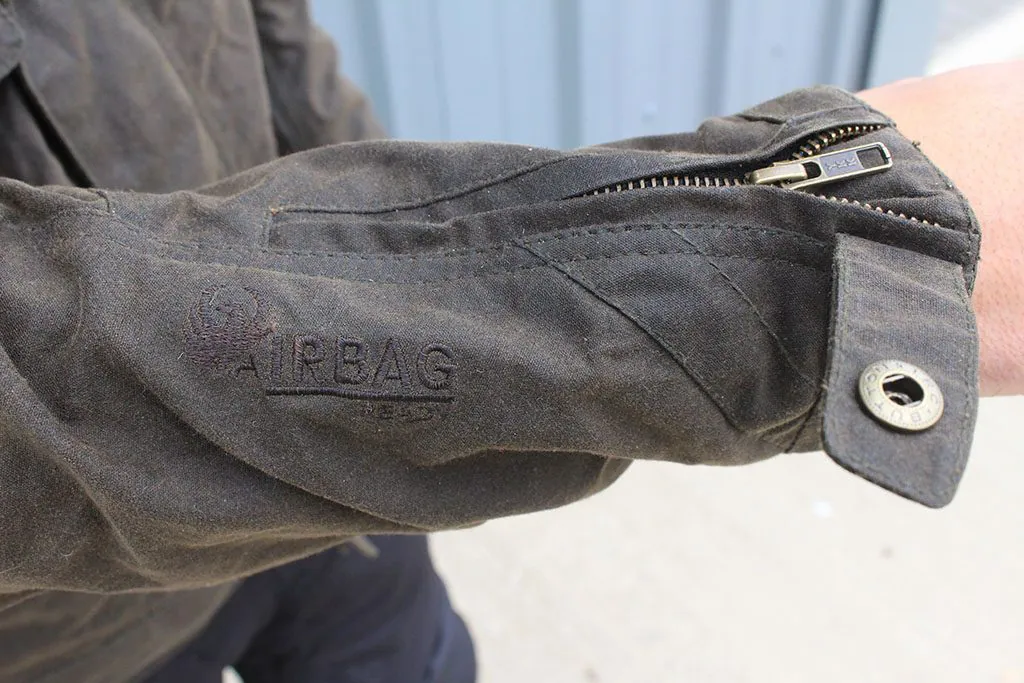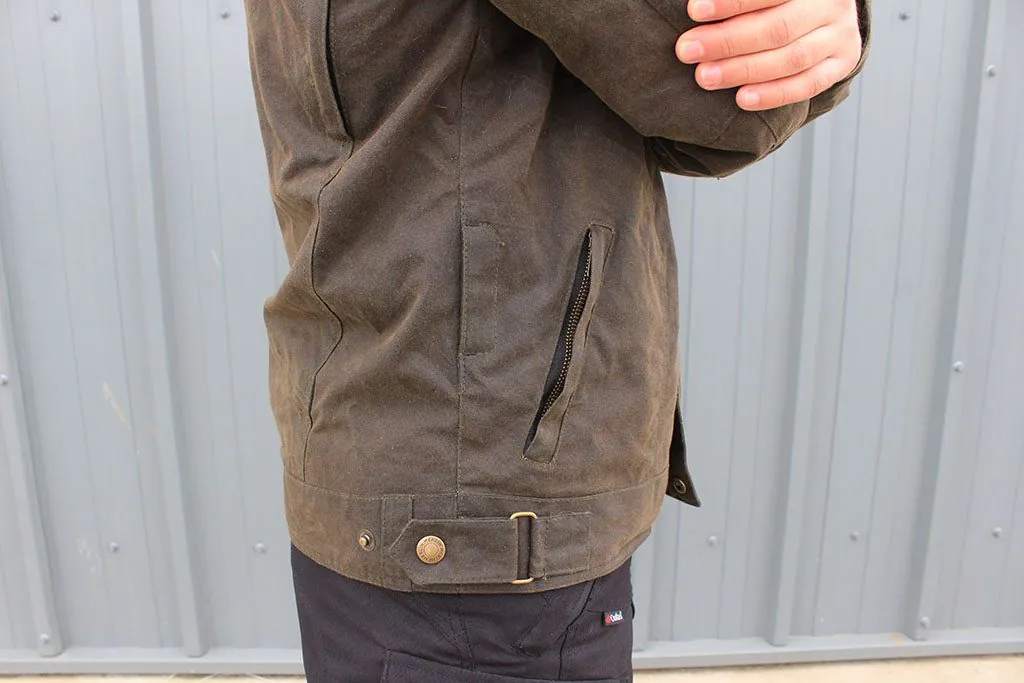 What's good?
Features aside, what stands out most about this jacket is its style and design. Because it's a short jacket, it can easily be worn out and about when not riding. It fits in Tokyo's bustling Golden Gai district just as well as it does bimbling round Devon's bucolic backroads. It's not particularly heavy like other wax cotton jackets and the overall fit is sublime.
What's not?
The Stafford is a well-priced stylish jacket. Cool looking jackets aren't cheap. And cool looking jackets that also fit and perform are even harder to come by. But the Stafford manages to tick all the boxes so it doesn't get any negatives from us.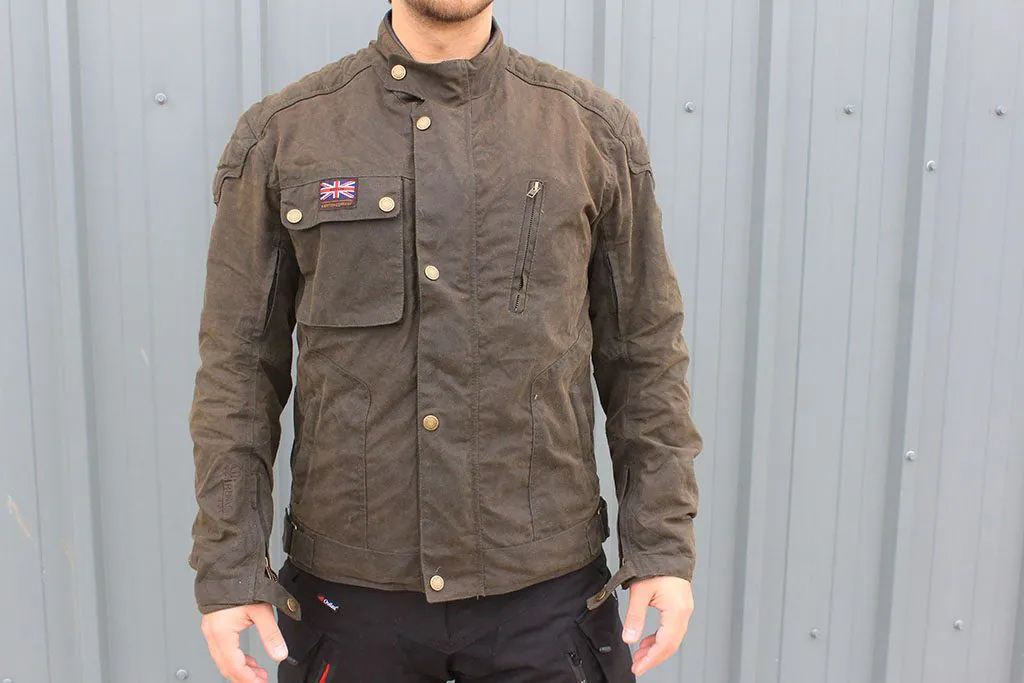 Round up
The Stafford is a sleek, British styled jacket which performs as well as it looks. It can be worn in hot or cold climates, has removable liners, ventilation, neat little touches and is an all-round excellent bit of kit.
Merlin Stafford Jacket Review: Total score: 17⁄20
ps. We may receive a small commission, at absolutely no cost to you, if you purchase any products using the links on this page. We're not sponsored by anyone, are completely impartial and don't run ads. So this helps us keep the site running. Thank you for your support.
Read more on Adventure Bike Gear
Thanks for checking out our Merlin Stafford Jacket Review. We hope you enjoyed it! Here's a few more articles on motorcycle clothing that we recommend you read next. 
We'd love to hear from you! Please leave your comments below.