"Merlin's Lynx Outlast are an action-packed pair of motorcycle trousers – perfect for touring and adventure riding whatever the weather and wherever you're riding."
Update
The Merlin Outlast Jeans have been discontinued. Merlin's new line up of trousers are very similar to these with the same style, functionality and build quality. You'll find the links on this page now point to Merlin's latest range. 
Merlin Jeans Review
Snapshot
Price: £199.99
Mileage tested: 1000
Testing conditions: Touring Japan
Durability: 5⁄5
Fit and comfort: 5⁄5
Protection: 4⁄5
Value for money: 4⁄5
Where to buy UK: sportsbikeshop.co.uk
Where to buy US: revzilla.com
Features
I tested my pair during a jaunt round Japan and they impressed me the whole way. They come with a removable quilted liner and an additional removable waterproof and breathable membrane. For long touring trips and adventure riding, removable liners are a must.
There's no point opting for a pro-laminate as if the temperature suddenly shoots up your boots will quickly turn into two buckets of sweat. You can whip the liners out of these and unzip the two ventilation zips on the upper thighs and have a pair of summer trousers for the hot sections. They're not bulky, stiff or thick and so standing on the pegs along country lanes or taking it easy on motorways is breezy and comfy.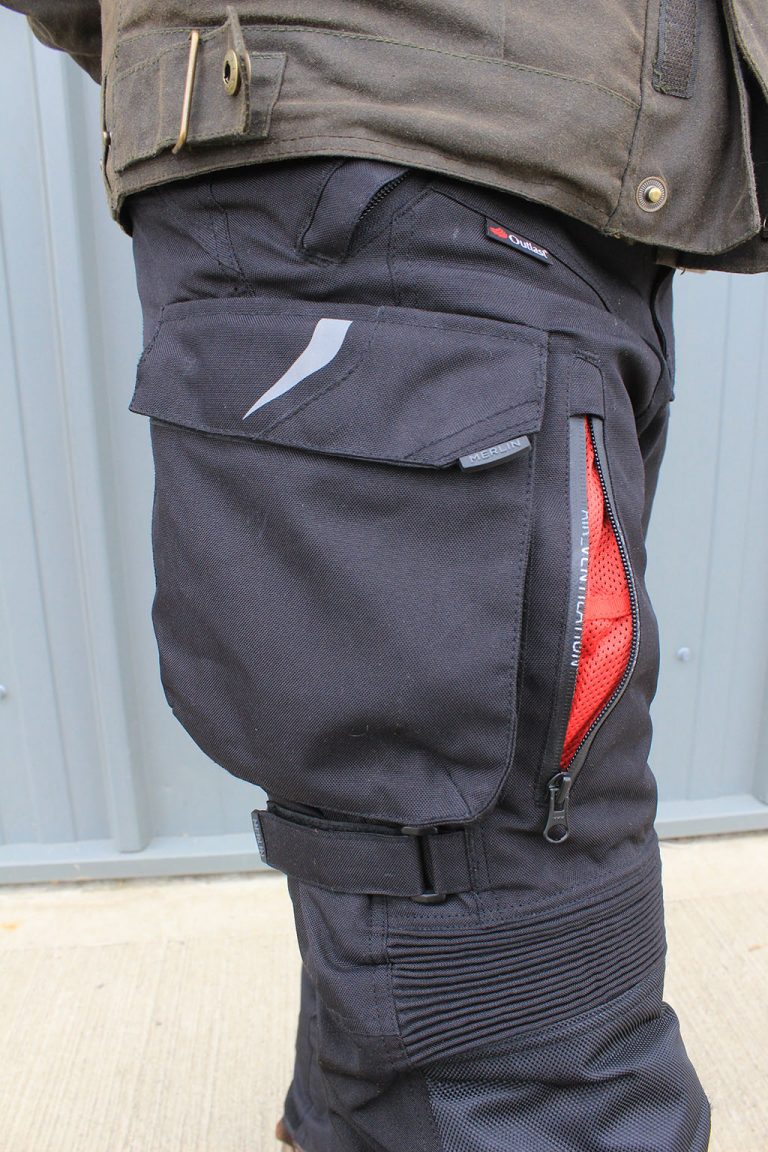 Japan's climate is all over the place, the sun can dip and snow can fall in an afternoon, and that's where these trousers shine. Zip the thermal and waterproof layers back in and you're good to go.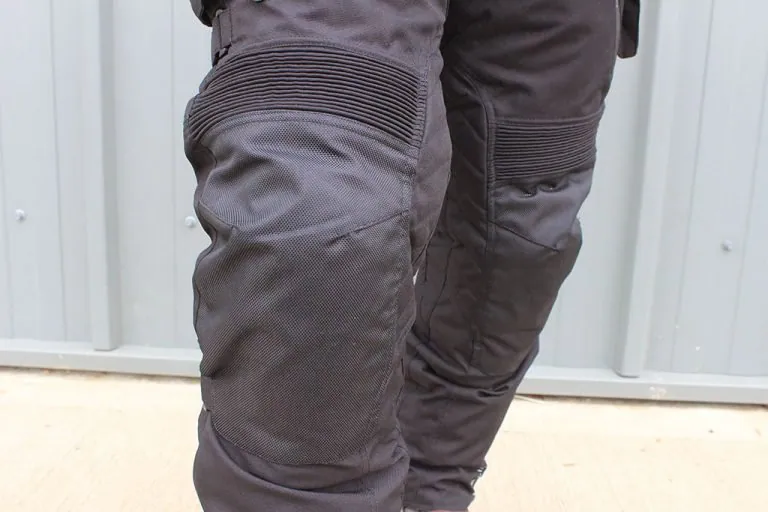 Liners and weather aside, the Outlasts have plenty of extra features – comfort being a big one. They come with stretchy material on the backside, which makes long distance touring a doddle. There are also stretch panels in the knees, an elastic stretch section in the waist belt and a Velcro fastener up front.
They also come with a removable pair of braces too, which makes a big difference on long rides (or after stocking up on sushi). Just undo the waist belt and relax into the saddle as the braces keep your trousers up! You can also adjust the trousers via compression straps on the legs, one on the thigh and one just below the knee – a feature I particularly like on trousers. You can also tighten up at the bottom of the trousers with a zip and Velcro tab, making getting them over boots easy too.
Another thing I really like about these trousers are the pockets. When touring or adventure riding, big pockets and plenty of them are so handy for maps, money, toll tickets and so on. The Outlasts have big, deep Velcro pockets on either side of the thigh and two zipper pockets up top.
What's good?
Overall, these trousers are very well made, come with a decent waterproof and thermal liner, handy features like braces, stretch panels, thigh, calf and ankle adjusters and decent sized pockets. They make excellent touring and adventure riding trousers and were perfect for exploring Japan.
What's not?
It's a hefty price tag for a pair of motorcycle trousers, but if you want a dependable, well-made and versatile pair for wet and warm weather then these are perfect.
Round up
Merlin's Lynx Outlast are an action-packed pair of motorcycle trousers – perfect for touring and adventure riding whatever the weather and wherever you're riding.
Merlin Lynx Jeans Review: Total score: 18⁄20
ps. We may receive a small commission, at absolutely no cost to you, if you purchase any products using the links on this page. We're not sponsored by anyone, are completely impartial and don't run ads. So this helps us keep the site running. Thank you for your support.
Read more on Adventure Bike Gear
Thanks for checking out our Merlin Lynx Motorcycle Jeans Review. We hope you enjoyed it! Here's a few more articles on motorcycle clothing that we recommend you read next. 
We'd love to hear from you! Please leave your comments below.