"Well done, Merlin. This is a sleek, quality, retro styled jacket that looks and feels like it should cost double its price tag. Merlin have done a cracking job on the unisex Atlow and I love it."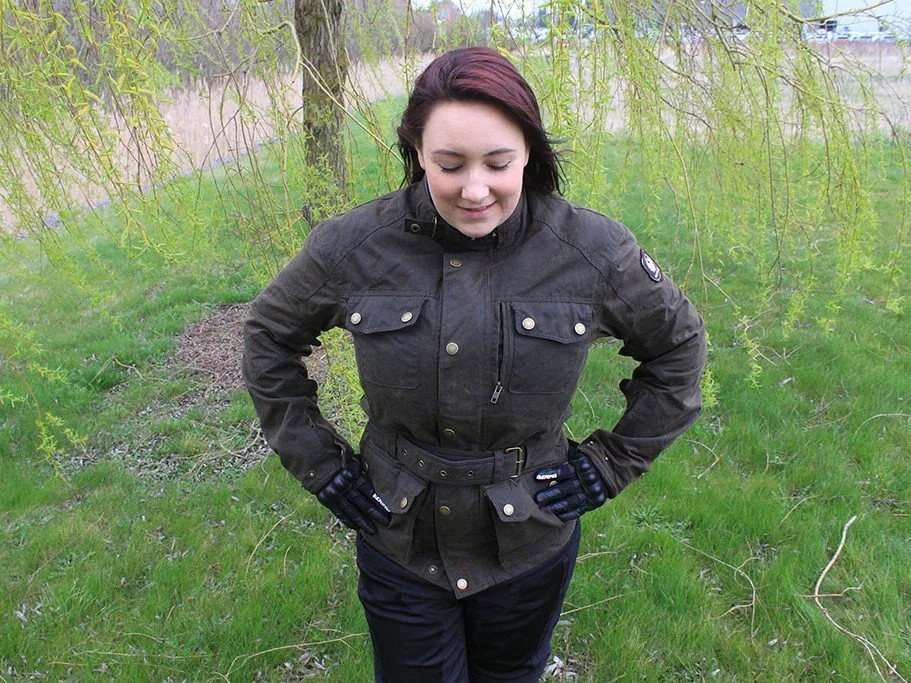 Merlin Atlow Jacket Review
Snapshot
Price: £249.99
Mileage tested: 1000
Testing conditions: Touring Japan
Durability: 5⁄5
Fit and comfort: 5⁄5
Protection: 4⁄5
Value for money: 4⁄5
Colours: Brown, Blue, Black
Where to buy UK: sportsbikeshop.co.uk
Where to buy US: revzilla.com
Features
I wore this jacket as I toured through Japan earlier this year and it looked and felt perfect wherever I went – especially in downtown Tokyo where a lot of people commented on its style. The jacket wasn't just a coffee-shop-showpiece though, I put it through its paces when caught out in a mountain top snowstorm and when riding through muggy gorges and along the warm coast. There are a few things to note, but before we get to that, here's what you need to know about the jacket.
The Atlow is a wax cotton jacket with a fixed waterproof membrane underneath. Keep in mind that you can't see or touch the waterproof liner, so it's not like one of those jackets that feel like a binbag against your skin if you remove the thermal lining. It does come with a removable tartan thermal liner, take that out and the material is still soft and plush.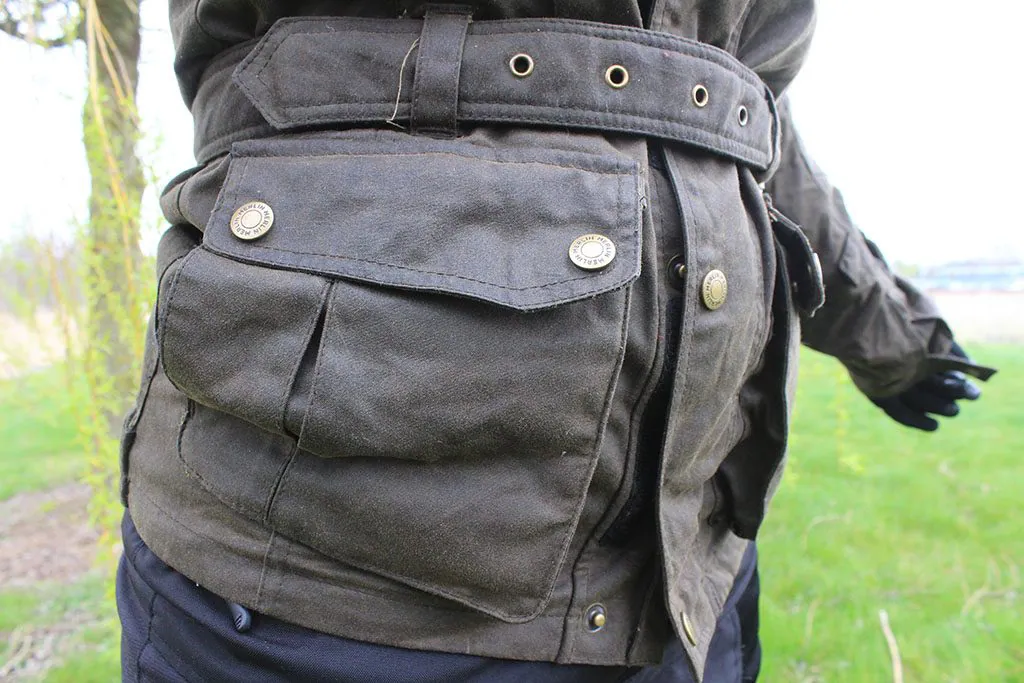 The Atlow is peppered in pockets. You've got four big popper pockets at the front, a small zipped pocket behind the top left pocket and another zipped pocket on the lower sleeve for a card or ticket. And there's also a waterproof zipped inside pocket. There's also the handy additions of handwarmer pockets, which sit behind the two big lower pockets.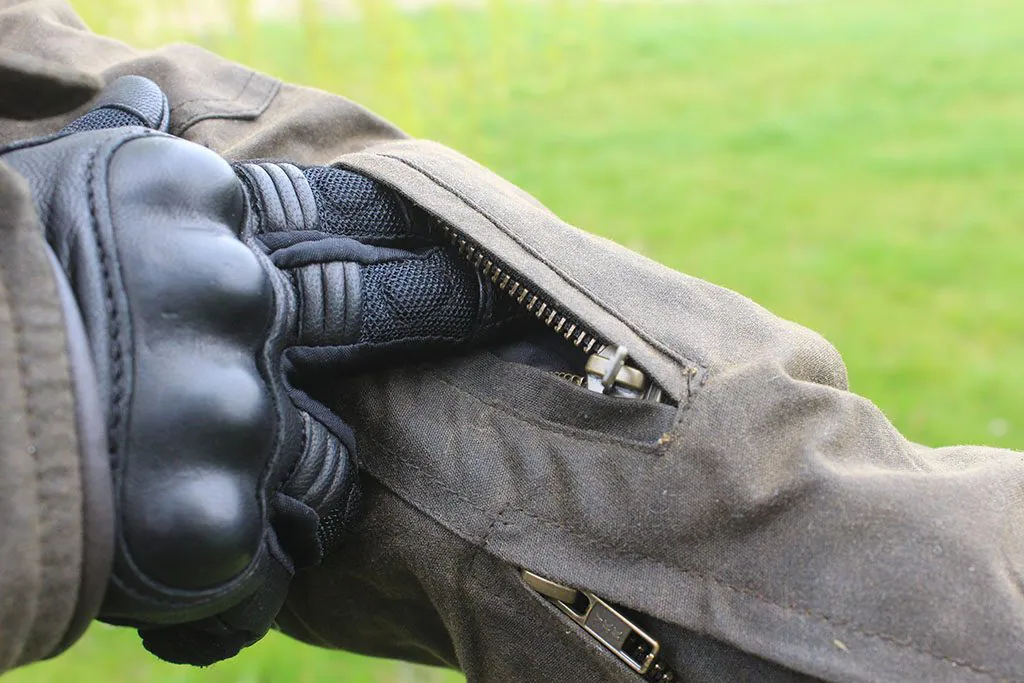 The pockets follow that classic heritage look, and so does the accompanying buckle belt. This is a unisex jacket, but the belt does a brilliant job of bringing the garment in at the waist for a more fitted look. When my partner,
Andy, wore the jacket for a week of testing, he didn't bring it in and just took the belt off in the end.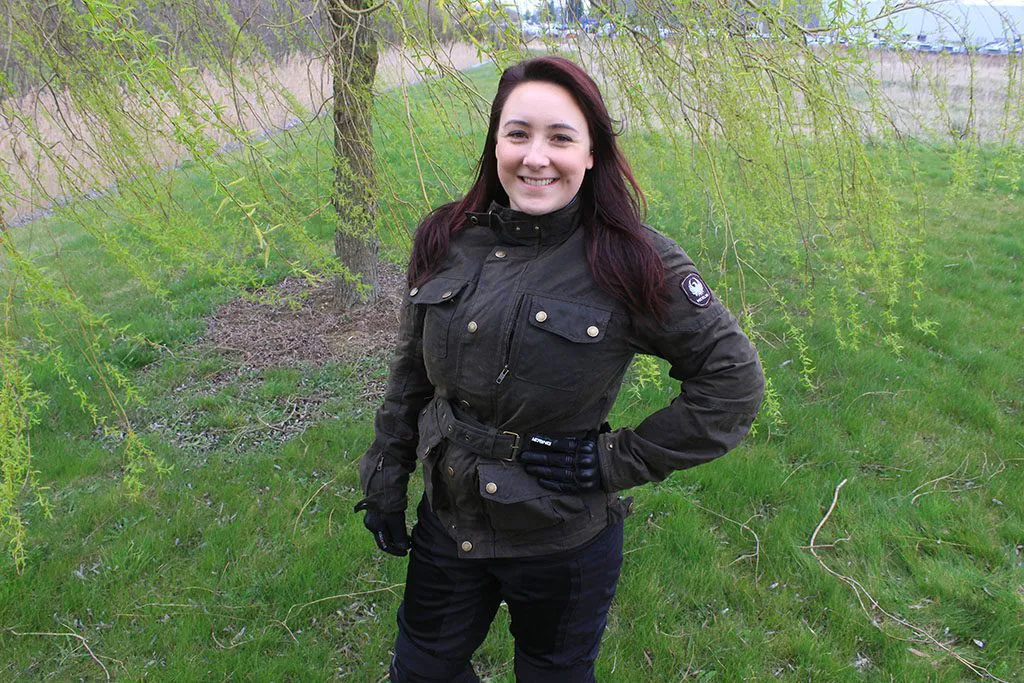 It's not just the belt that helps with fitting though, there are popper adjustments on the upper and lower arm as well as on the base of the jacket to help get the best fit. You can also tighten up the neck strap (the collar has a lovely soft fleece material) and the cuffs have a zip and clip too, which makes getting thicker gloves on easy peasy. Merlin have hit the nail on the head with fitment and style with the Atlow.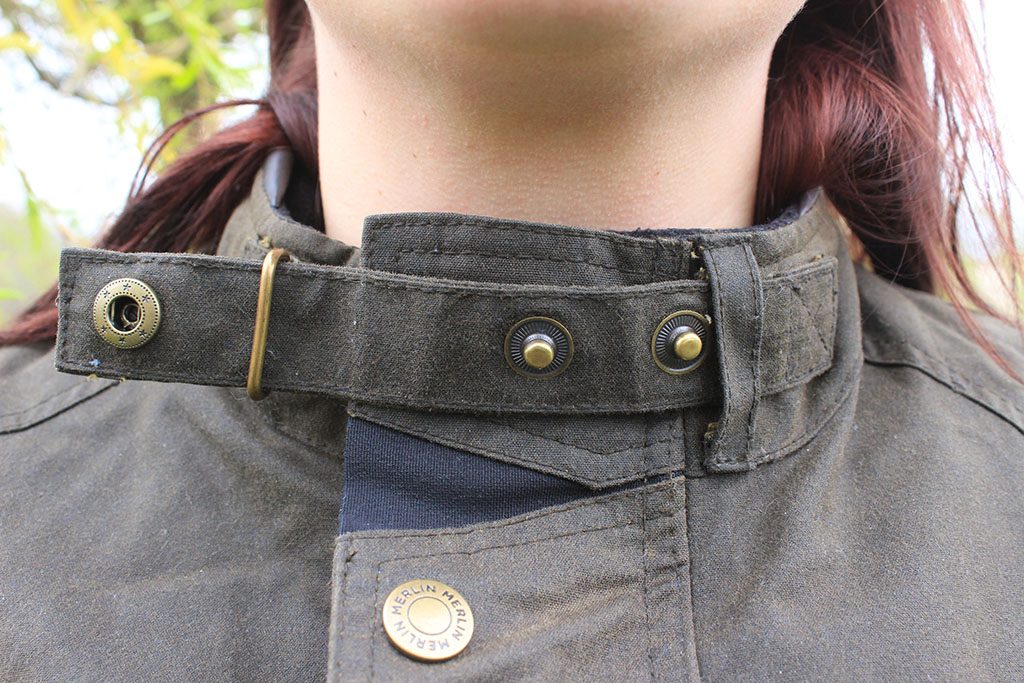 What's good?
It's a warm jacket, with an excellent fit and adjustable at the neck, wrist and waist to keep you toasty. It's also supremely comfortable and despite being a waxy jacket, it doesn't feel stiff in the slightest.
What I love most about this jacket is its style and functionality. There's no way it looks like its £250 price tag, I'd believe you if you said it was £400! Merlin have put some serious effort into making the Atlow look ultra-cool, and done a brilliant job of backing it up with top notch build quality and packing it with features. Well done, Merlin!
What's not?
Aside from its good looks and sleek style points, let's get back to its functionality. The Atlow is a three-quarter length jacket, made using waxed cotton with a fixed waterproof membrane. So, it was never going to be the ideal jacket for summer riding. It can be worn in the heat, but with no ventilation you're going to start sweating as it gets hot. It's also quite a heavy jacket, and while the wax cotton and waterproof liner do a good job of keeping the rain out, it can feel sodden and weighty after a soggy ride.
Round up
Well done, Merlin. This is a sleek, quality, retro styled jacket that looks and feels like it should cost double its price tag. Merlin have done a cracking job on the unisex Atlow and I love it.
Merlin Atlow Review: Total score: 18⁄20
Update
The Merlin Atlow jacket has been discontinued. Merlin has replaced the Atlow with the Monty and Nomad jackets in men's cut and the Harriet in ladies.  However, the jackets, materials and build quality are all very similar and so you may still find this review helpful. All links on this page now point to the newer Merlin jackets. 
We may receive a commission, at no cost to you, if you purchase a product using the affiliate links on this page. We're not sponsored, are completely impartial and don't run ads. So this helps us keep the site running. Thank you for your support.
Read more on Adventure Bike Gear
Thanks for checking out our Merlin Atlow Jacket Review. We hope you enjoyed it! Here's a few more articles on motorcycle clothing that we recommend you read next. 
We'd love to hear from you! Please leave your comments below.