Welcome to Thoughts from the Road. Here's Matthew Helliwell on why small bikes are better…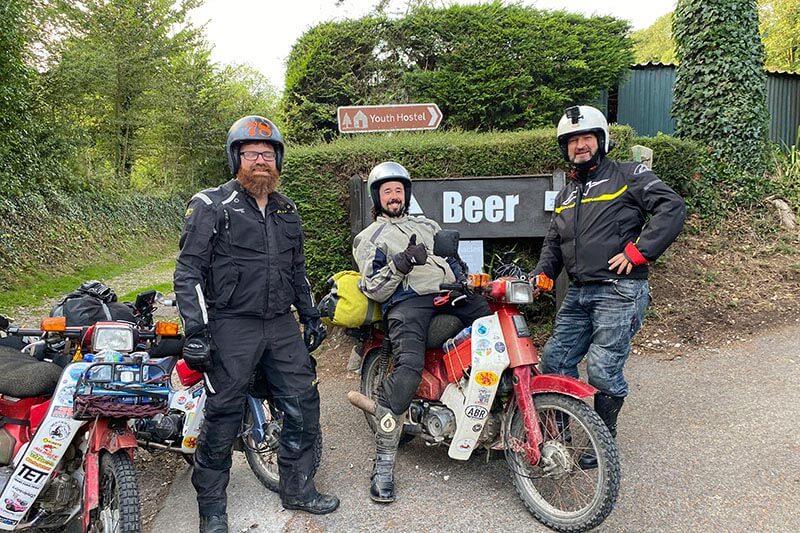 Matthew Helliwell is a New Zealander who has lived in London for the last 20 years while working to fund his thirst for two wheeled round the world travel. 
Seven years ago, Matt bought a £320 1989 Honda C90 and has been going on mad small bike adventures most riders with 'big bikes' wouldn't dare. He is the Kiwi on a Cub.
Check out and follow his awesome adventures here:
Why Small Bikes are Better
Small: of little importance/ a size that is less than normal.
Society has bashed these words into us since childhood – that small is not worthy.
Well, the world is changing and, with it, so are small bike adventures.
Just look at the new bikes coming out. Big motorcycle manufactures are now starting to produce smaller adventure bikes to cash in on the shifting market with 400,300 and 250cc machines. But you can go smaller still…
In a world of testosterone fuelled adventure motorcycles with their sleek, glossy mag marketing – there's still one bike that stands head and shoulders (not literally) above the rest – the mighty Honda Cub.
Trust me: after a mad ride from London to North Africa, battling the arctic landscape of Europe in full blown winter and blasting around the UK and Ireland on a Cub – I can tell you that it's a proper adventure bike and all you need.
Aren't you bored of not actually seeing anything while belting down motorways and dodging speed cameras? Wouldn't you rather absorb your surroundings and fully immerse yourself in the ride instead of just blasting past a blur of countryside? These small bikes force you to slow down and take it all in, to meet people, to make new mates and to really enjoy and savour what you're doing. You're slower and instead of sitting at 70mph and missing everything, you'll be plotting your way through winding backroads and connecting up little villages.
These bikes are lighter than a packet of crisps and come with a power to weight ratio of a three-legged dog. What could be more fun than wringing its throttle as you fly down country lanes and trails on one!
Are you skint and sick of high petrol prices? Small bikes are the answer and can be bought for no more than a night out on the turps (Australian for alcoholic drink) or swapped for an egg and bacon sarnie and a '80s porno mag. Oil changes are no more than one litre, parts are as cheap as chips too and so are repairs. I remember spending an evening in a mate's shed and after sinking 8 beers and scoffing a bag of Baby Bells, we managed to build a small bike out of a parts bin. And if you don't have a shed, you can even fit one in your house or through the front door – and if you're lucky, you even get one in your living room!
You'll experience more with a small bike because they always bring out big adventures and you'll end up being the one telling the stories around the camp fire. And we're a growing community too so you're not alone either. The small bike scene is bigger and brighter than ever.
We've all heard of Ed March and his adventures on a Honda Cub, but believe me, there are a lot more people out there doing it that choose to stay under the radar. We are like a bobbing iceberg in a vast ocean on a slow and epic journey.
Time is the only thing you need for a small bike adventure and we've got to make time for the good things in life. Get yourself a small bike, throw a bag over the back and go have yourself a big adventure.
Matthew Helliwell
Would you buy a small bike or do you already own one? What are your experiences? Let us know your thoughts on if small bikes make for better adventures in the comments. 
Thanks for checking out this Thoughts from the Road column. We hope you enjoyed it! Here's a few more articles that we recommend you read next.