"The Macna Velocity Jacket lets in so much air it's like wearing a fishing net! Seriously, the ventilation is that good. The Velocity has been the perfect hot weather riding jacket through Southeast Asia."
Snapshot
Update – we believe the Macna Velocity has now been discontinued
Price: £139.99
Mileage tested: 2,000
Testing conditions: Cambodia, Laos, Thailand 
Durability: 4/5 
Fit and comfort: 5/5
Protection: 3/5
Value for money: 5/5
Where to buy: sportsbikeshop.co.uk
Features
The majority of the jacket is made up of mesh panels and the entire lining is mesh too. It doesn't have any vent openings because it just doesn't need any. The entire back is mesh and so are the inside arms and chest panels. The rest is polyester rip-stop material. The Macna is mesh inside and out so you can actually see through the jacket.
The Velocity isn't packed full of features and isn't an over-the-top adventure jacket either. It comes with basic Velcro adjusters on the waist and cuff. Usually, I like a cuff that zips open to make sliding a glove inside the sleeve easier, but that's not necessary with this jacket anyway. The collar is low, simple and allows your neck to breathe. There are two zipped hand pockets by the waist and one internal zipped pocket too.
The Macna is a surprisingly well-fitted garment despite only having two simple adjusters. It has one of those sleek Italian-style jacket shapes and hugs your body. For that reason I'd recommend going up a size. It's a slim fit and if you're after a jacket for seriously hot weather riding then the last thing you want is it gripping onto your skin. Give yourself some room and go up one size.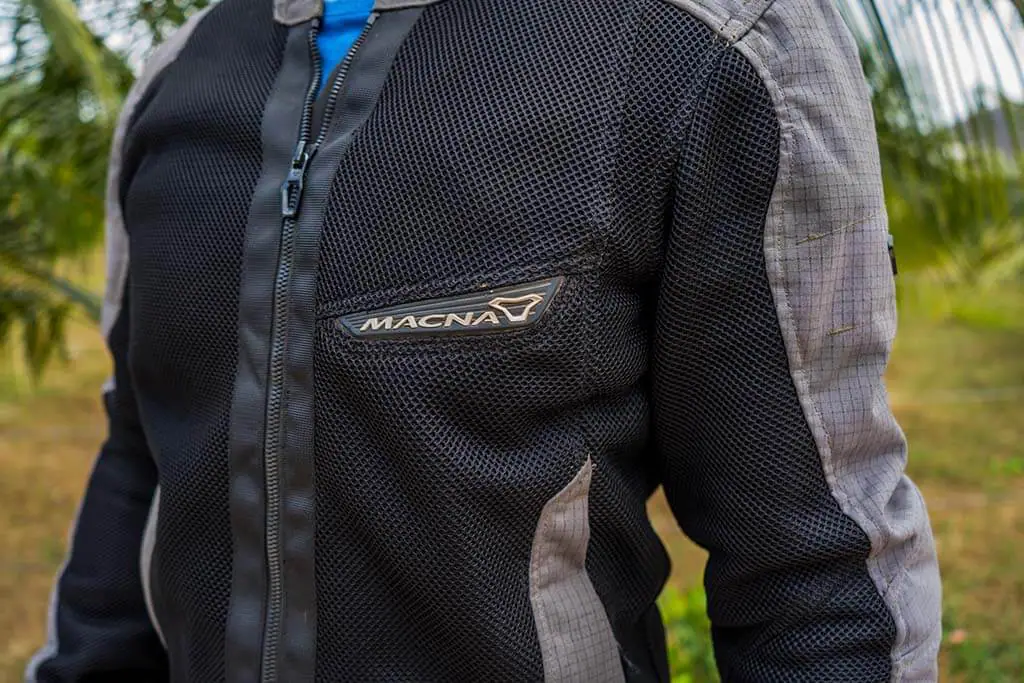 What's good?
The Macna Velocity Jacket lets in so much air it's like wearing a fishing net! Seriously, the ventilation is that good. The Velocity has been the perfect hot weather riding jacket through Southeast Asia thanks to its large mesh panels and excellent airflow.
As you might have gathered already, this jacket is reserved for blisteringly hot days. If the mercury drops even a little bit, you'll feel that wind chill biting at your chest, arms and back within seconds.
What's not?
There's only one point I can mark this jacket down for and that's it's lack of a back protector. It's a pet peeve of mine that so many jackets don't come with some form of back protection included as standard. The Velocity comes with shoulder and elbow protection only. You'll need to buy a back protector insert separately.
Round-up
The Macna Velocity is simple and focused and that's why I love it. It has one job: to keep you cool – and it does that perfectly. If you're after anything other than a hot weather jacket then this isn't the one for you.
Macna Velocity Jacket Review: 17/20
We may receive a commission, at no cost to you, if you purchase a product using the affiliate links on this page. We're not sponsored, are completely impartial and don't run ads. So this helps us keep the site running. Thank you for your support.
Read more on Adventure Bike Gear
Thanks for checking out our Macna Velocity Jacket Review. We hope you enjoyed it! Here's a few more articles on motorcycle clothing that we recommend you read next. 
We'd love to hear from you! Please leave your comments below.