"The Macna Burans are a proper hot-weather pair of textile riding trousers. And they're not messing about – these trousers can only be worn when it's hot enough to sunbathe!"
Snapshot
Price: £97.49
Mileage tested: 2,000
Testing conditions: Cambodia, Laos, Thailand 
Durability: 4/5 
Fit and comfort: 5/5
Protection: 4/5
Value for money: 5/5
Where to buy: sportsbikeshop.co.uk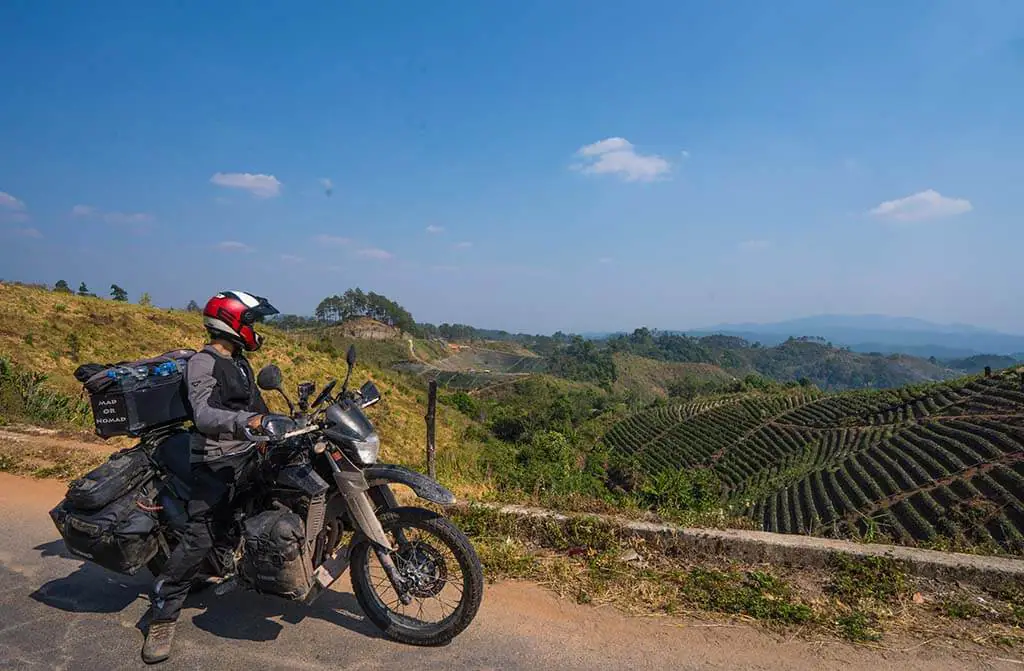 Features
The Macna Buran trouser fronts have two large mesh panels, one on the thigh and another on the lower leg. The back of the legs are completely mesh apart from the bum area, which has a grippy textile material. There's also a thin stretch of material running down the inside of each leg acting as a heat shield.
The inside liner is also mesh, meaning you can see through the front and out the back if you hold them to the light. That also means they're perfect for searing temperatures as they let waves of air flow through them.
The Macnas are also built very well considering the low price tag. The material is tough with no signs of fraying or damage and the zips and Velcro tabs seem pretty tough too. The lower leg has a big Velcro tab to fasten the trouser bottoms around your boots and there's a zip that runs almost up to the knee, which would even make getting these trousers over chunky motocross boots a doddle. That's a handy feature that I always appreciate in trousers as fighting with a tight trouser that refuses to slide over my boots is just bad design.
The Burans come with three pockets: there are two decent sized zipped pockets on the thigh and one tiny pointless zipped pocket by the waist that could just about fit a 50p coin.
The trouser fronts are done up with a sleek sliding button, there are two waist Velcro fasteners to keep them snug and there's also two loops on the waist band for suspenders (sold separately).
What's good?
The sun beat down hard as we rode through Cambodia, Laos and Thailand and these trousers did a fantastic job of keeping my legs cool and comfortable. They're a well-made, cleverly designed pair of trousers with decent finishing touches and solely built with the purpose of keeping you cool on boiling hot rides.
Give the Burans a go if you're riding in hot countries, they're the best hot weather trousers I've tested to date. 
What's not?
After 2,000 miles of boiling hot riding, I couldn't find any fault with these trousers. They're designed to keep you cool in hot weather and they do just that. 
Check out the matching Macna Velocity Jacket Review
Round-up
The Macna Burans are a proper hot-weather pair of textile riding trousers. And they're not messing about – these trousers can only be worn when it's hot enough to sunbathe! And that makes them perfect for touring in Southeast Asia where it's 30C+  on a 'cold' morning.
Macna Buran Trousers Review: 18/20
Read more on Adventure Bike Gear
Thanks for checking out our Macna Velocity Jacket Review. We hope you enjoyed it! Here's a few more articles on motorcycle clothing that we recommend you read next. 
Are you after a pair of summer motorcycle trousers? Let us know if you have any questions in the comments below!