"The Lomo motorcycle panniers are brilliant. They're incredibly hard to fault, extremely well priced, durable, waterproof, easy to put on and take off your bike and big enough to go on a round-the-world adventure." 
Snapshot
Price: £51.25
Mileage tested: 3,000
Time tested: 6 months
Testing conditions: Southeast Asia
Function: 5/5
Durability: 5/5 
Ease of use: 5/5
Value for money: 5/5
Where to buy: amazon.com/lomo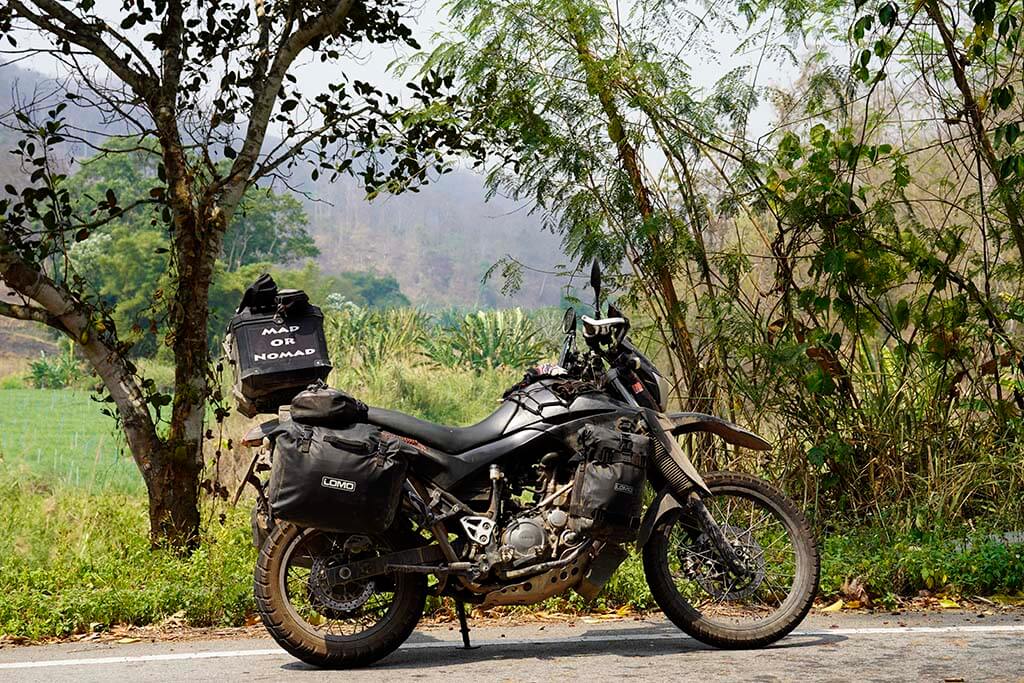 Features
The Lomo large panniers are throw-over bags with welded seams, a roll top closure and are connected by velcro straps.
To open and close the panniers, you roll the top down a couple of times and then clip the two sides and two top straps into place. 
There are three sets of straps to connect the bags together: a large middle strap and two supporting straps on either side. The straps can all be tucked under your bike's seat or fastened on top of the seat. 
The bags have a plastic loop on the bottom corners which can be fastened to your pannier rack.
Each bag is 30 litres with a combined total capacity of 60 litres and each one measures at 43x30x25cm.
Lomo also produce a medium and small set of panniers. This review is on the large set. The medium and smaller panniers don't have a connecting strap and can be fixed to pannier racks or crash bar racks up front.
LOMO Adventure Motorcycle Panniers Review
What's good?
The first thing you'll notice about these bags is the price tag. They're by far the cheapest motorcycle panniers on the market. Nothing comes close to this price tag for large roll top bags. 
Secondly, the ease-of-use and simplicity of the bags is excellent for riders who don't want all the faff of four hundred straps, loops, buckles and fasteners. They're simple, throw them over, tie them down and that's it. The roll top closure is easy to use and secure and they open up wide making it easy to get your inner bag out or rummage through. 
In the six months we've used them, they've been subjected to serious downpours and have kept our kit perfectly dry. They've also been knocked around a lot and show no signs of damage or fraying.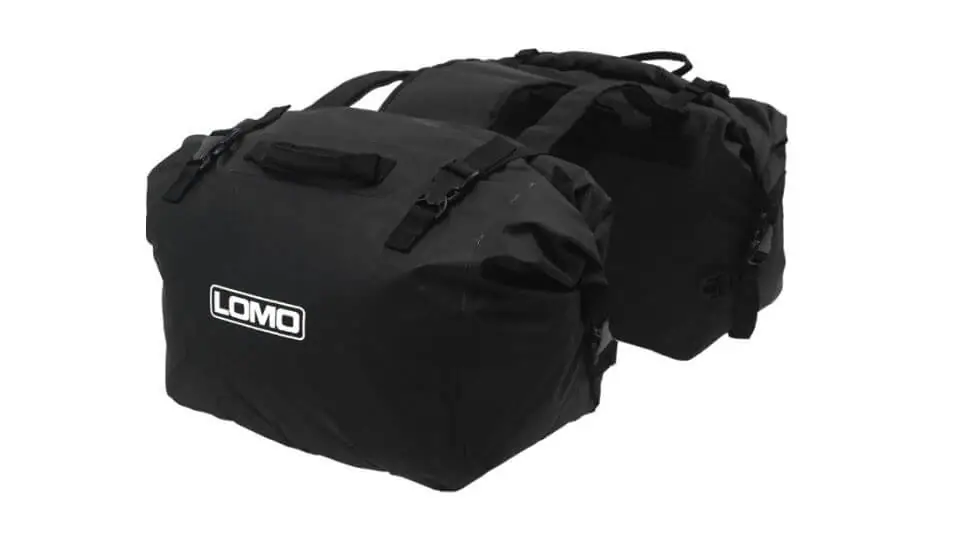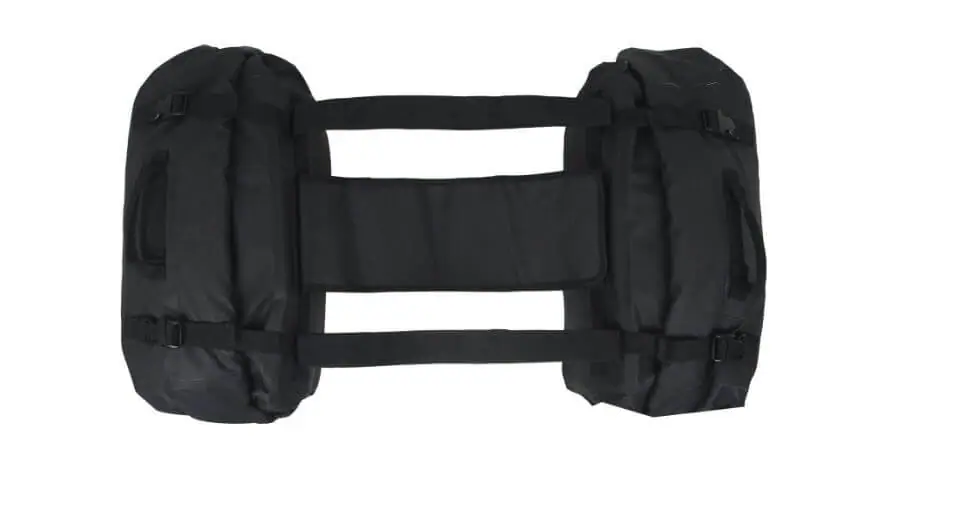 What's not?
There's only one thing I can pick these bags up on. There is a plastic loop located on the bottom corner of each bag. These loops allow you to fasten the bottom of the bags to your pannier rack, which is great as it stops them from moving and lifting. I think it'd be great if the bags also had hoops in the upper corners too, as that would share some of the strap's strain. 
Round-up
The Lomo motorcycle panniers are brilliant. They're incredibly hard to fault, extremely well priced, durable, waterproof, easy to put on and take off your bike and big enough to go on a round-the-world adventure. It's fantastic that Lomo has produced a motorcycle specific pannier set for your everyday adventure rider, as most bags on the market today are so highly priced. Nice one Lomo!
Lomo Motorcycle Panniers Review: 20/20
ps. We may receive a small commission, at absolutely no cost to you, if you purchase any products using the links on this page. We're not sponsored by anyone, are completely impartial and don't run ads. So this helps us keep the site running. Thank you for your support.
Read more on Adventure Bike Gear
Thanks for checking out our Macna Velocity Jacket Review. We hope you enjoyed it! Here's a few more articles on motorcycle clothing that we recommend you read next. 
We'd love to hear from you! Please leave your comments below.