"The Lomo Adventure Panniers have proven extremely durable, 100% waterproof, are easy to use with a simple roll top closure are the perfect size for what we need and are versatile enough to be used as crash bar bags, panniers or on hard boxes." 
Snapshot
Price: £39.00
Mileage tested: 3,000
Time tested: 6 months
Testing conditions: Southeast Asia
Function: 5/5
Durability: 5/5 
Ease of use: 5/5
Value for money: 5/5
Where to buy: amazon.com/lomo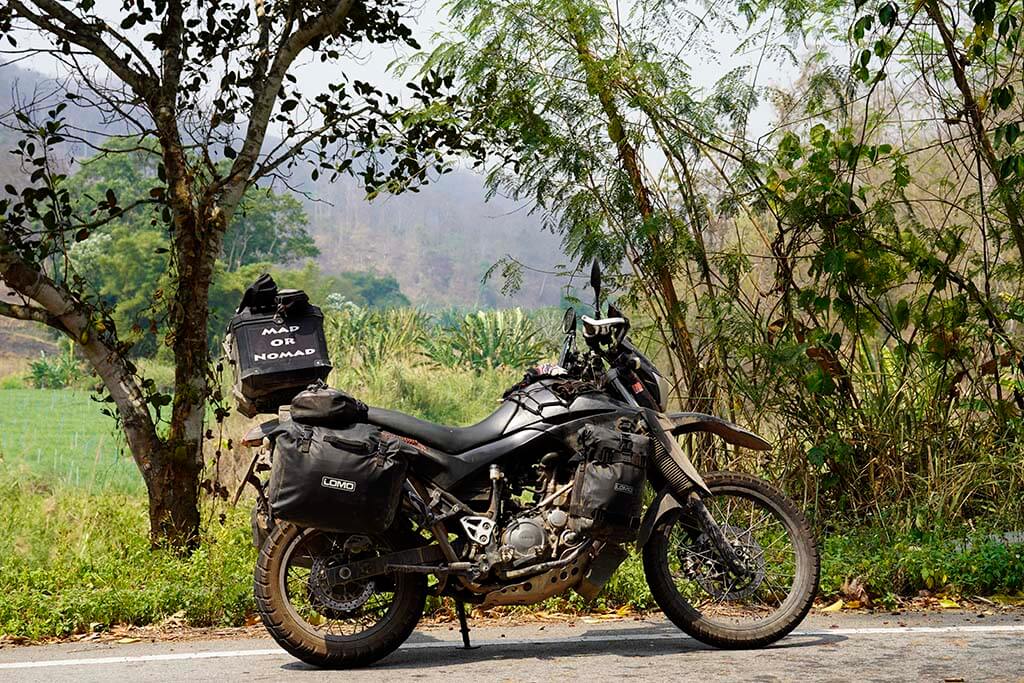 Features
The Lomo Adventure Panniers are Lomo's middle sized bike bags. Lomo also produce the larger Motorcycle Panniers and smaller Crash Bar Bags as well. 
The Adventure Panniers are throw-over bags with a single strap to connect them together as opposed to the large Lomo panniers, which have three Velcro connection straps. 
Unlike the large bags, these have webbing straps on the back for a more secure attachment.
To open and close the panniers, you roll the top down a couple of times and then clip the two sides and two top straps into place. 
The capacity is 13 litres per bag and are 26cm (base), 38c, (top) length, x 38cm height x 12cm width.
LOMO Large Motorcycle Panniers Review
What's good?
We already use the large Lomo motorcycle panniers on the rear of our bike. Lomo produce a Crash Bar Bag, but at 5 litres per big the capacity was too small for our needs. So we use these Lomo Adventure Panniers on our front crash bars and they're excellent!
At 13 litres each, they provide more than enough extra storage capacity. We use one bag to carry food and water and the other for our tyre pump, engine oil, chain lube and waterproofs. They're slim bags and don't knock my knees or get in the way. 
What makes them perfect though is the laced strapping on the rear. It allows the bags to be securely and easily fastened to the crash bars and stay in place. 
Because of the rear straps, these adventure panniers can also easily be used as auxillary bags strapped down on top of side hard side boxes or the top box. Or you could use them as rear soft panniers too.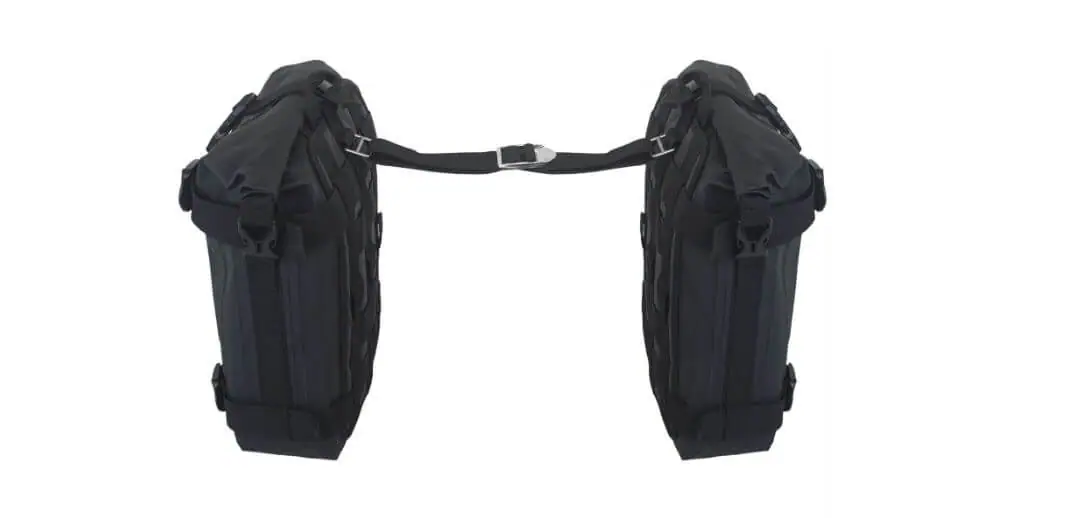 What's not?
We haven't picked up any faults with these bags. For the price tag and considering how good they are, anyone would be hard pushed to find a problem with them. 
Round-up
The Lomo Adventure Panniers have proven extremely durable, 100% waterproof, are easy to use with a simple roll top closure are the perfect size for what we need and are versatile enough to be used as crash bar bags, panniers or on hard boxes. Brilliant bags for the price tag and thoroughly recommended. 
Lomo Motorcycle Panniers Review: 20/20
ps. We may receive a small commission, at absolutely no cost to you, if you purchase any products using the links on this page. We're not sponsored by anyone, are completely impartial and don't run ads. So this helps us keep the site running. Thank you for your support.
Read more on Adventure Bike Gear
Thanks for checking out our Lomo Motorcycle Panniers Review. We hope you enjoyed it! Here's a few more articles on motorcycle luggage that we recommend you read next. 
We'd love to hear from you! Please leave your comments below.