Welcome to Thoughts from the Road. Here's Lawrence Bransby on the kindness of strangers…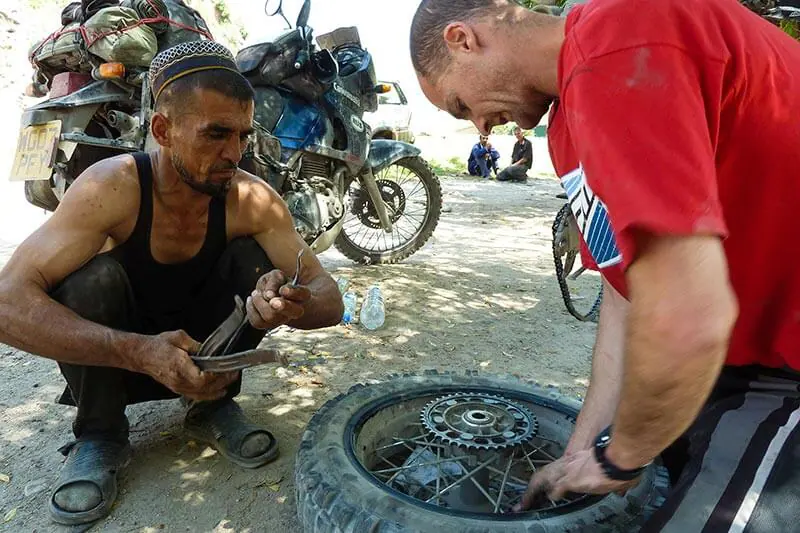 Lawrence Bransby is an exceptionally experienced motorcycle traveller. With five and a half decades of adventure travel, mostly on a bike, often alone. Trans-Africa; four increasingly long trips into Russia including the last, a solo, trans-Russia journey on an old DR350; three journeys into Central Asia; Vietnam, the USA, Canada and Alaska, two journeys into Morocco and Mauritania – a cornucopia of adventure stories and reflections from the long, hard road that have taken him to places most would-be adventurers can only dream of. He's also authored eight awesome adventure motorcycle travel books. Here's a link to all of Lawrence's books on Amazon.
The vast majority of the people who inhabit this world are kind.
When one day you break down (and, trust me, you will) no matter where you are, someone will stop by and offer help. Sometimes it might take a while, but it will happen. And, in my experience, it is those "Help me!" moments (or days) that become, in retrospect, the most memorable on a journey; times spent interacting with local good Samaritans and learning the humility that goes with dependence on a random stranger's help.
And yet, traveller's tales often focus on the opposite: the rare moment of hostility or danger that, in the telling, bigs up the journey, makes it sound just that much more adventurous and the teller just that much more brave.
A few decades ago now, I was contemplating my first long bike trip: Durban, South Africa to the UK. I had bought two old XT500s and had decided to take my 17-year-old son with me. But trans-Africa… with a lad who didn't even have a driver's licence? I had heard all the tales about the dangers of travel through Africa and I was afraid. What if we set off and I killed my son? (More important, how would I explain it to my wife who had, with remarkable sang froid, agreed to my mad plan?) I vacillated.
Searching for help and advice (there was no Internet then) I phoned a man who led those trans-Africa adventures using old ex-army Bedfords – "Adventure Overland" I think they were called at the time. I told him of my plan… what did he think? Would it be wise to attempt it? Would I be endangering the life of my son?
And I will never forget his answer: a very short and succinct, "Just do it. You'll never regret it."
And so I did.
And regrets? Never. An amazing trip. Inexperienced, naive and ill-informed, we bumbled our way across Africa and, in the process, laid the foundation for many further long-distance motorcycle journeys together over the years that have enriched our lives and deepened our relationship. That 17-year-old is now 42 and we still ride together, seeking out adventure in far-off places.
So, for those of you who are contemplating a journey but have been put off by the threats and warnings of the nay-sayers who sit on the sidelines of their comfortable lives and regurgitate the horror stories of others, I say – as that man said to me long ago: Just do it. You'll never regret it.
Because, trust me, after thirty years of adventure motorcycle travel covering much of the world, I have never once met with a single person who has wanted to do me harm. My universal experience has been one of the kindness of my fellow man, no matter what the language, the nationality or the religion.
And, usually, the poorer the man, the more generous has been the response.
Lawrence Bransby
What are your experiences on the road with strangers? Is the world as dangerous as everyone says or have you been met with nothing but kindness?
Thanks for checking out this Thoughts from the Road column. We hope you enjoyed it! Here's a few more articles that we recommend you read next.