Laos Motorcycle Rentals and Tours
Laos is the undiscovered gem of Southeast Asia. It offers some of the best adventure bike riding in Southeast Asia. Here's our recommended motorcycle tour and rental companies in Laos.
Recommended Motorcycle Rental and Tour Companies in Laos.
Please contact the companies listed on this page directly for more information.
"Big Bike Tours offer the most exhilarating authentic motorbike touring holidays and adventure motorcycle tours in Thailand, Laos, Cambodia, Myanmar, Vietnam, and Tibet (China) – all starting from Chiang Mai, Thailand."
Services:  Fully inclusive guided motorcycle tours from Thailand to Laos, Cambodia, Vietnam and Tibet.
Tour bikes: BMW G310GS, BMW F80GS, Kawasaki Versys 650, Kawasaki ER-6N 650, Honda CB650F, Honda CB500X, Honda CB300F, Honda CRF250 Rally.
Tour prices: Tours range from 3-20 days with their lowest priced tours starting at £180. There's a huge selection of tours to choose from and prices are dependent on the country, tour time and bikes. Check out their Tour Price page for more info. 
Insurance: Standard motorcycle damage insurance is included in the tour price and covers incidental damages. Customers are liable for the first £630. You can always opt for additional insurance.
Kit availability: Helmets, jackets, knee guards and gloves are all provided for free.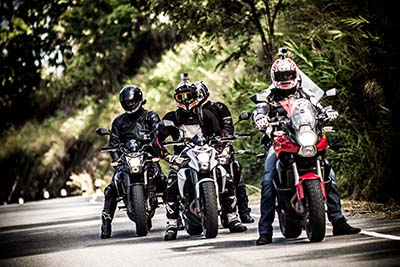 Chiang Mai, Thailand
  www.bigbiketours.com
 Mr. Nirin Chaiyapan
 (WhatsApp) +66 80 127 2595
  info@bigbiketours.com
Lao Adv Tours is run by Chris Corbett who knows Laos like the back of his hand, has an extremely well maintained modern fleet of Honda CRF250Ls and knows what he's doing. 
Services: Rentals, tours and maintenance.
Rental bikes: Honda CRF250L
Rental prices: £50 per day with deals for longer rentals.
Tour prices: Around £200 per day. Prices can be cheaper dependent on your group size and the length of the tour.
Insurance: Third party insurance is included.
Kit availability:  Kit is available.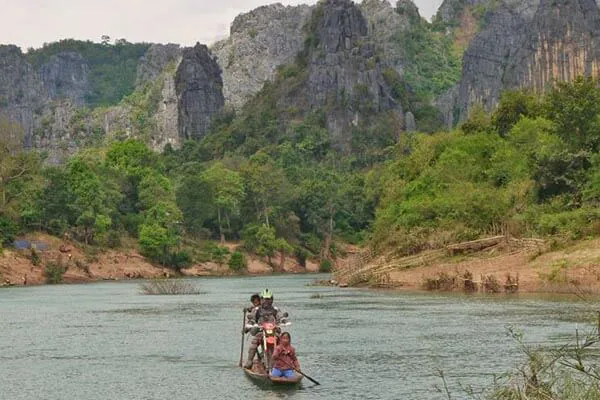 Luang Prabang, Laos
  www.laoadvtours.com
  Chris, Corbett
+8562091374267
 laoadvtours@gmail.com
Quick Facts on Laos Motorcycle Rentals and Tours
Money: ATMs are not hard to find and issue both USD and Laos Kip. Card is accepted in some hotels and restaurants but be prepared to have cash. 
Currency: Lao kip ₭
Food: Local meals and street food £0.50 – £3, Restaurant £4 – £8
Accommodation:
Some wild camping spots, dorms £2-£8. mid-range hotel £8 – £25
High: Nov – March
Hot but can still be breezy. Best all-round time to visit although mountains can be cold.
Mid: July – Oct
Wet in most parts and very humid, but nice scenery and greenery.  
Low: April – June
Hot season up to 40°C.
Visa: Visa requirements are dependent on your nationality. Please visit the country's government website for visa information. 
Driver's licence: You need a valid motorcycle licence to legally rent a motorcycle or join a tour. If you risk riding without the correct licence, then not only will you be breaking the law, but your insurance will be invalid too. 
International Driver's Permit: An IDP is a requirement for many countries. The UK Gov website lists every country that requires one and which IDP is required. 
Insurance: Motorcycle insurance needs to be checked with the rental or tour company. Ask what they offer, what's included and what the legal requirements are. 
You should purchase personal travel insurance separately from your home country before travelling. 
Emergency: 190 – fire, 195 – ambulance,  191 – police
Language: Lao
Time: GMT/UTC + seven  hours
Land Mass: 237,955 km²
4,000 Islands: Laos is a landlocked country in Southeast Asia, but the south is home to the incredible 4,000 Islands – a river archipelago of the mighty Mekong. 
Luang Prabang: No visit to Laos is complete with stopping off in Luang prabang. The ride from Vang Vieng is spectacular. 
For more information on both, check out our Loving Laos Life Blog Post. 
FAQs on Laos Motorcycle Rentals and Tours
Read more on Motorcycle Travel in Laos and Southeast Asia
Thanks for checking out our Laos Motorcycle Rental and Tour Companies post. We hope you found what you were looking for. Here's a few more articles on motorcycling in Laos and Southeast Asia that we recommend you read next. 
Click here for all of our Laos Motorcycle Travel Guides
Motorcycle Rental and Tour Companies
Planning a Fly and Ride bike adventure? Here's our recommended motorcycle rental and tour companies from around the world. Check out the page, click a country and see what's on offer!
Read More