Welcome to the Adventure Motorcycle Traveller Reviews. Here's a 20,000-mile review of the KTM 1190 Adventure R by motorcycle traveller Innes Ireland. 
Quick info
Bike: 2014 KTM 1190 Adventure R 
Purchased for: £7,500 
Miles covered: 20,000
Years owned: Two years  
KTM 1190 Adventure R specs
Engine: Twin, liquid-cooled, 1195cc, FI
Power: 147 bhp
Torque: 92.2 ft-lbs
Wet weight: 230kg
Seat height: 890mm
Tank capacity: 23 litres
Tyres: 21 and 18
Front suspension: WP USD forks 
Rear suspension: WP Monoshock 
In one word – compromise. At the time, I worked offshore on a four-week on, four-week off rotation. I wanted a bike that would allow me to quickly and comfortably cover large distances on motorways and A roads while still being capable of dirt and trail riding when I arrived at my destination. My Honda XR600, while being a great dirt bike, couldn't comfortably handle long trips on tarmac in such a short time – and frankly, kicking it to life every morning gets old very quickly. A hired GS put me off BMW and then a wet morning razzing around Bristol convinced me to buy the KTM.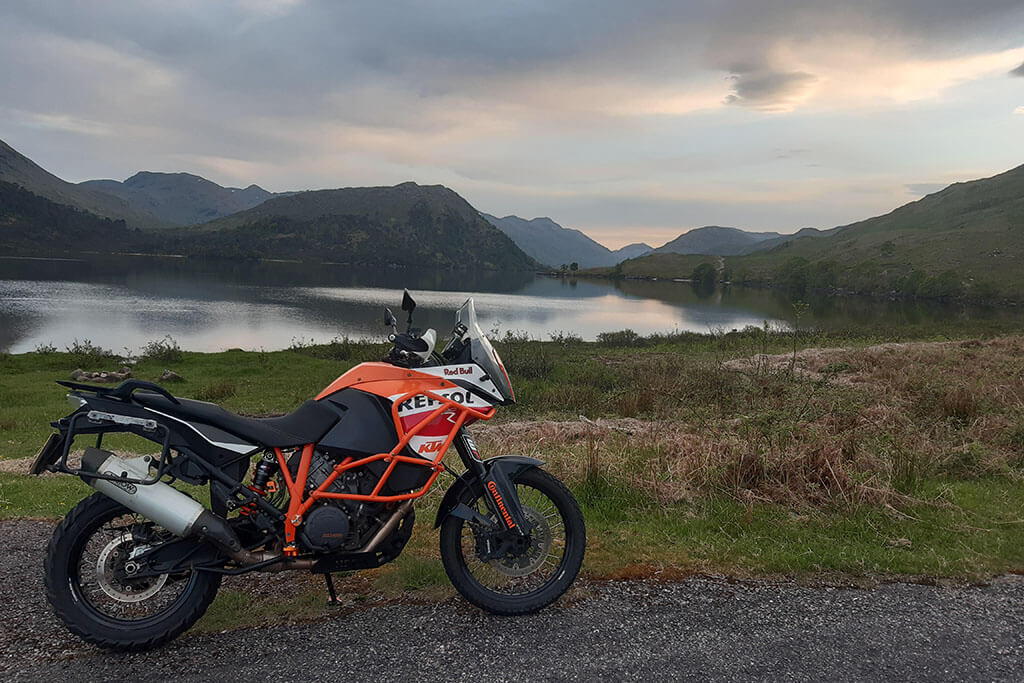 To make it more idiot-proof, the bike has been fitted with Touratech upper crash bars (these are also useful as tie on points and grip points for picking the thing back up) along with V-trec folding levers and double take mirrors which should be more resilient in a crash. A Heed skid plate protects the bottom of the engine from rocks  while an R&G racing radiator guard does the same for the cooling system.
The 1190s are also well known to be vulnerable to dust making their way into the air system. So, I fitted a Unifilter airbox sealing gasket along with the KTM powerparts pre-filters and a Guglatech air filter to try and combat this.
KTM also have a reputation for fuel pumps falling apart and so I've installed a Guglatech fuel filter kit, which includes a filter on the main tank itself and a far larger pre-filter for the pump along with an in-line filter too. A KTM powerparts dongle also allows the bike to run on low octane fuel and disable rear ABS only. Also, a Camel tank gives additional range.
In terms of ergonomics, I fitted Rade Garage wider and lower pegs which give a much better connection to the bike and allow for more confident steering and weighting of pegs when stood up. The lower mounting also gives a more spacious sitting position making the bike comfier over distance. A Rade Garage front end kit includes a taller screen along with more powerful LED Lights (this also has the happy side effect of making it look like a big Dakar bike, which is always cool.
To mount GPS and luggage, I use a Heed GPS mount and Givi pannier racks, there's also an Arrow end can on the bike but this does nothing except save some weight and make it sound sexy.
I fitted two Wolfman Expedition dry saddle bags and a large Wolfman Expedition duffel bag. They're all in yellow for added visibility. I also added some crashbar bags I bought off Aliexpress for keeping small tools in too.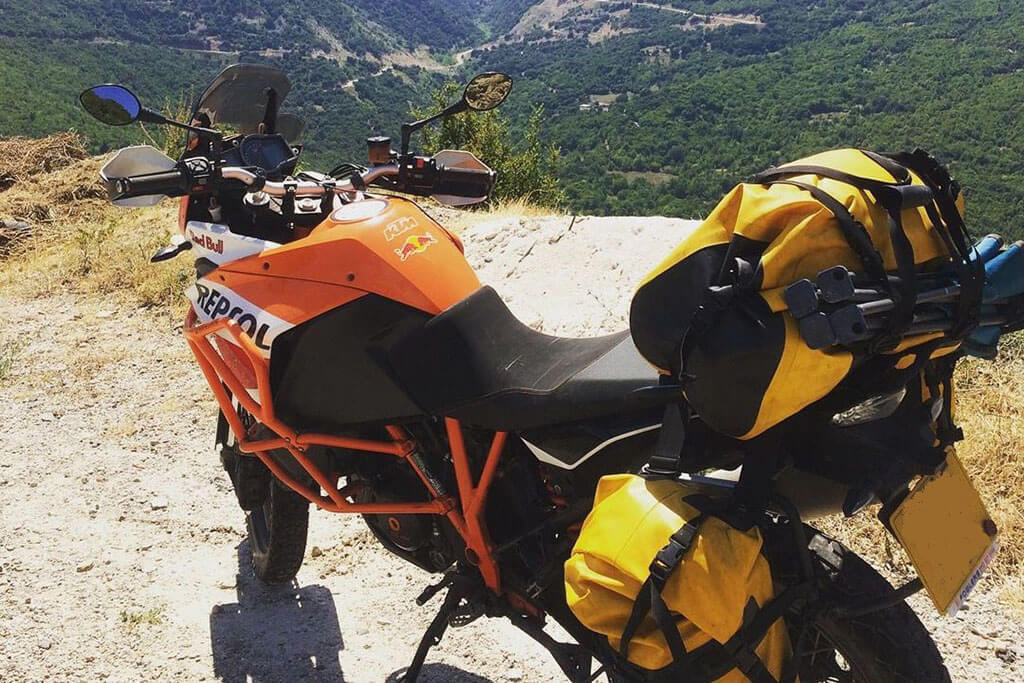 The KTM 1190 Adventure R is pretty reliable. Before I had the sense to fit a guard, I got a stone through my radiator in France, which left me on foot for a week while it was fixed.
The other issue I had was from running 10W-40 instead of the 10W-50 recommended. It worked well in colder climates, but in 30 odd degree European summer temperatures the oil was foaming up and giving low oil level warnings. A change to 10W-60 sorted this instantly.
Minor things include the full beam switch not latching properly so I occasionally need to dismantle the switchgear and give it some TLC. The oil level sensor has recently started playing up too, giving phantom low level warnings. My rear ABS sensor also got damaged causing the TC and ABS to fail, but I was able to glue it back together and reseat it correctly.
Oil and filter are changed every 9,000 miles and valves every 18,000. Brake and coolant fluid need changing every two years, so it's ideal for long distance travel.
General servicing is straightforward enough, although accessing the airbox is a bit of a pain because you have to remove the tank. 
The oil mesh screens that you need to remove and clean can also be awkward as the heads on them appear to be made of cheese. If you have to do it, it's best to try and heat them first. Failing that, have a bolt extractor tool for when it rounds. The other method (provided by Tim of Notiers Frontiers fame) is to JB weld a bigger nut onto the end of it so you can get more leverage. 
For spares I've used Fowlers Parts and they've always had what I needed. KTM have a pretty big dealer network now as well so you're never too far from expert help.
I find it very comfy, although I came from a Honda XR600 so a former Goldwing rider may disagree… It's a big tall bike so you've got plenty of room to stretch and the seat will fit two people easily. It's probably not as refined as a BMW GS or a big Triumph Tiger, but it's more than enough for me.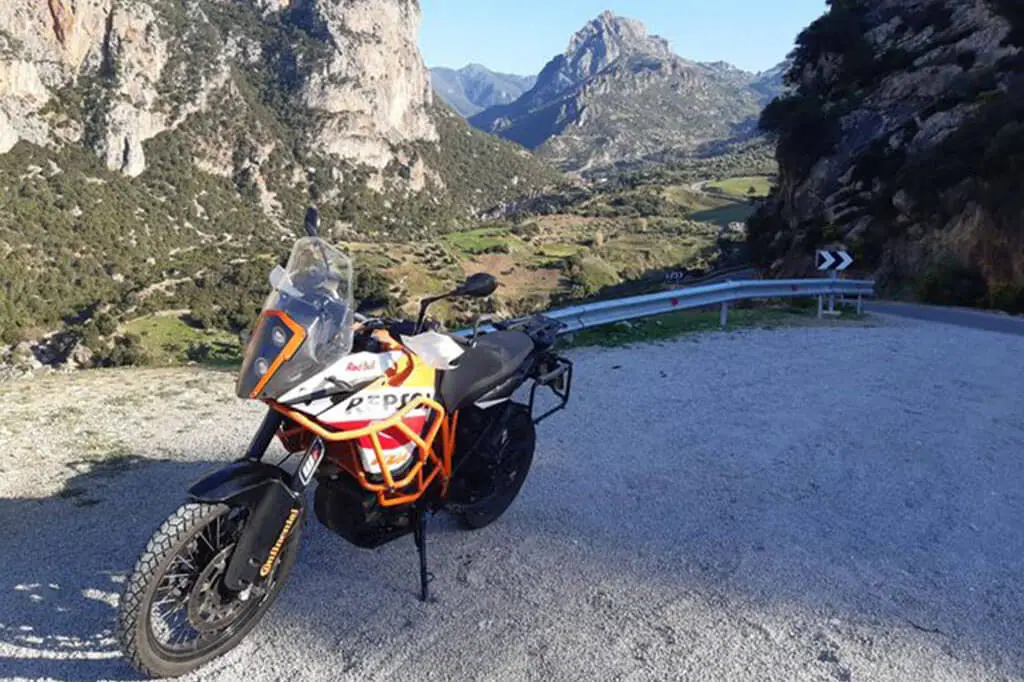 The engine. I like to think the KTM 1190 was born after the folk in R&D had a particularly heavy night on the Stroh and decided sticking the engine from the old RC8 in a giant traillie frame was a good idea. The result is predictably intense. The engine spins up quickly and pulls like a train encouraging overtakes, power wheelies, roll on tests and just all round hooning. They may have marketed the 1190 as "the worlds safest motorcycle" but these are ultimately giant hooligan bikes and beg to be ridden as such.
Alongside the engine, the 1190 boasts very good stock suspension with fully manually adjustable WP units on the R model, this coupled with the high ground clearance and 21" front make the 1190R incredibly capable for a bike of its size off-road and – until you drop it – it's all too easy to forget you're riding 230kgs of motorcycle.
The electronics are pretty handy too with Rain and Off-road throttle modes restricting power to 100bhp to make it a little more manageable. Traction control doesn't feel particularly intrusive and the lean sensitive ABS was a literal lifesaver when I got a bit carried away… The tyre pressure monitoring system is also a nice touch and I'd definitely install one on any future bike I own.
The biggest selling point though is the versatility, these bikes can and will handle just about anything you throw at them and in the right hands are supremely capable. They're quick enough to be engaging on tarmac, way better off-road than anything that size has any right to be and comfy enough to swallow a rider, pillion and gear for a long tour with no issues. I can't envisage ever selling mine as its just too all-round capable.
The equipment. KTM has a reputation, if any company is meant to know about off-roading its these guys and you'd expect their (at the time) flagship hardcore adventure bike to be kitted out appropriately.
Instead, you get no radiator guard, a pathetic plastic skid plate, a half finished set of crashbars and plastic handguards, not to mention an airbox that can't handle a ride on the beach and headlights about as bright as your average Brexit voter. There are aftermarket solutions to all of this (and very well made ones at that) but I don't think it's unreasonable to expect an almost £14,000 motorcycle (when new) to come with better as standard.
On top of all this, the early models have a severely underpowered starter motor which makes starting the bike in cold weather a lottery at best.
Adding all these solutions also contributes to the 1190's biggest disadvantage – the weight. At 230kg fully fuelled, a stock 1190R is at the lighter end of the scale for the big adv bike class, however being the lightest big adv bike is like being the best looking guy in the burns unit. Ultimately, it's still nearly a quarter ton of motorcycle before you add luggage and picking it up solo is not a fun time, particularly when you throw in the extreme temperatures, fatigue or even altitudes that are common in adventure riding. This weight coupled with its power can get you in a lot of trouble very quickly too if you're not on the ball.
The hooligan bike characteristics that can make it so entertaining are a double edged sword. It runs hot in traffic, Street and Sport fuelling are snatchy at low revs/speed and the sensation that it's always straining at the leash and encouraging you to push the limit can just be a bit much when you've done 14 hours in the saddle on a wet day and just want to get to the hotel/campsite and curl up to sleep.
On top of everything I've done, the suspension they used on the newer 1090R would make it even more handy in the dirt, especially teamed with stronger wheels from the 1290R. A heavier flywheel would make the power less snatchy down low as well for easier slow speed riding. I'd also get KTM to continue to produce the 1090/1190 range so we eventually see the same range of aftermarket support the old 990/950 has.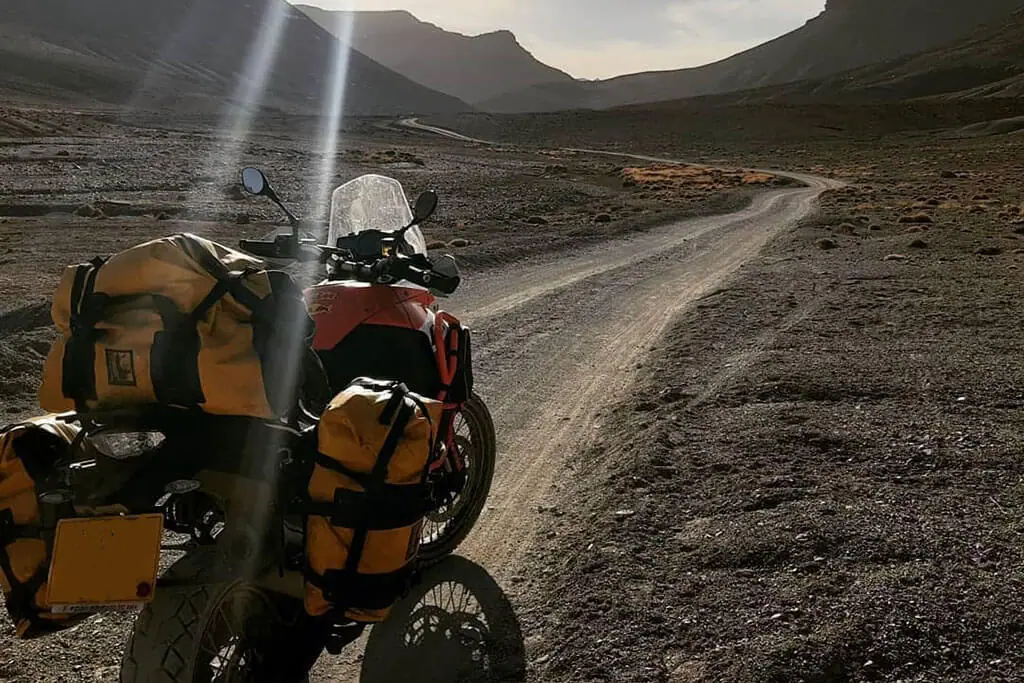 Ultimately, the KTM 1190 Adventure R is a brilliant bike, great fun to ride and incredibly versatile with most of its flaws being easy to fix. If you want to go adventure riding on a timescale they're comfy enough to smash out 1000km days on the motorway while having the ability to ride deep into the wilds once you arrive.
For two-up adventure travel, the 1190 would make an excellent mount due to its size, space and the sheer amount of power and torque on hand which means it will handle hauling two folk and their gear with no issues.
However, unless you are both a confident and experienced rider, I feel the weight, size and character of the bike make it less suitable for solo riding in the wilderness. So, for most of us mere mortals, I reckon a smaller and lighter machine would make a more confidence inspiring long-term, long-distance travel bike.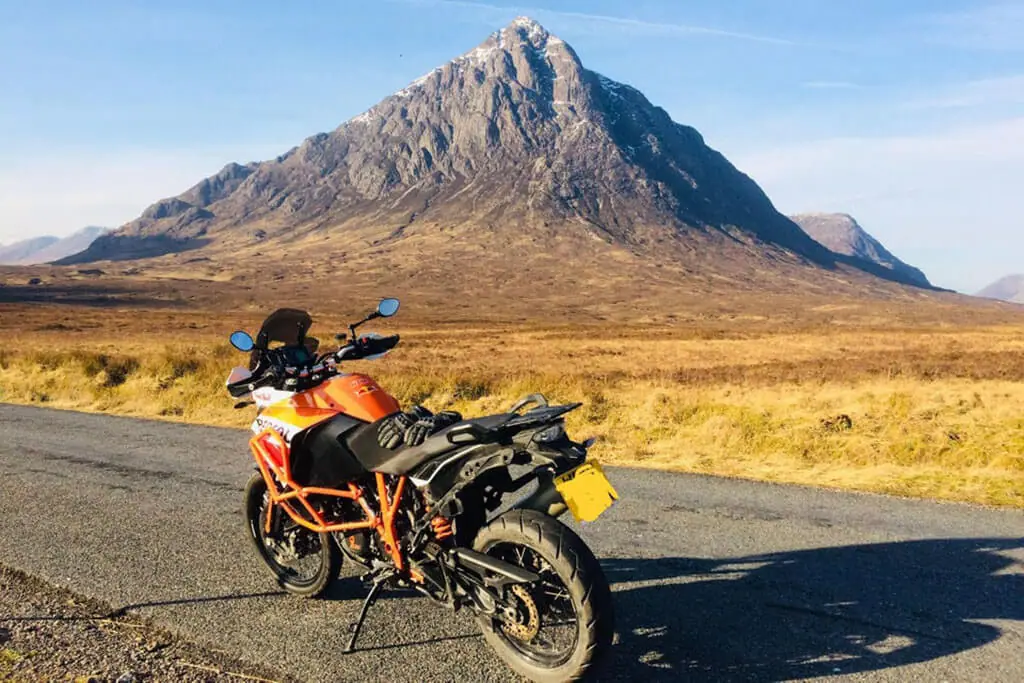 Innes Ireland
Innes is a 26-year-old part-time marine engineer, part-time motorcycle traveller. He's been riding bikes since he was 13 and solo travelling since 19. So far, Innes has visited 18 countries on a motorcycle and is currently gearing up for a round the world motorcycle ride in 2022.
Read more on Motorcycle Reviews 
Thanks for checking out this KTM 1190 Adventure R Motorcycle Review. We hope you enjoyed it! Here's a few more articles on motorcycle reviews that we recommend you read next.
Liked that? Try these next…
Are you planning a motorcycle trip, interested in the KTM 1190 Adventure R or have any questions? Let us know in the comments below.