Welcome to the Adventure Motorcycle Traveller Reviews. Here's a 7,5000-mile review of the KTM 890 Adventure R Rally by off-roader Canzius Pretorius.
Quick info
Bike: 2021 KTM 890 Adventure R Rally (limited to 700 units worldwide)
Purchased for: : £15,981 (R319,000 South African Rand)
Miles covered: 7,500 miles (mostly off-road)
Years owned: Bought new in Feb 2021
KTM 890 Adventure R Rally Specs
Engine: Parallel-twin, liquid-cooled, 889cc, FI
Power: 105 bhp
Torque: 73.7 ft-lbs
Wet weight: 210kg
Seat height: 850mm
Tank capacity: 20 litres
Tyres: 21 and 18
Front suspension: WP Apex forks 
Rear suspension: WP Apex Monoshock 
It was a bit of an impulse buy to be honest. I was riding a 2019 KTM 790 Adventure R at the time and absolutely loved the bike. Most 890 Rallys in South Africa were pre-ordered and deposits paid well in advance. When this one became available because someone couldn't honour their order, I had very little time to make up my mind. In the end, it was the WP Pro suspension which was the deciding factor.
The WP Pro suspension on the 890 Rally is on par with the suspensions found on the KTM factory rally bikes. The other extras included in the package were Rally foot pegs, Akrapovic silencer, rally seat and DID DirtStar tubed wheelset.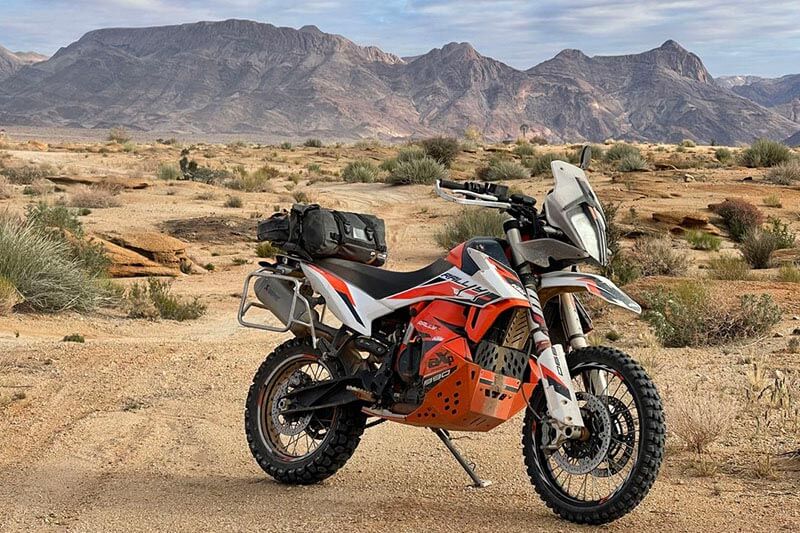 The KTM 890 is mostly used for riding challenging technical terrain. With this in mind, the modifications only add protection or improve handling in these tough conditions. Everything is functional and no unnecessary bling was added. Here's the list:
KTM Powerparts heavy duty wheelset 1,85" from and 2,5" rear
Hand guards
AXP bashplate
Luggage plate
Pre-filter
Steering damper and mount
Camel Adv 1-finger clutch conversion.
Protective sticker kit
Pannier frames to act as crash protection
DoubleTake foldable mirrors
For day trips I use Nomad Bags tail bag on the luggage plate. It holds all the tools I may need for minor repairs and punctures. For longer trips I add a 25l Enduristan roll bag on the back. I also have Enduristan Monsoon soft panniers if the trip requires more luggage, but these tend to get in the way on a very technical ride.
The 790/890 platform has been plagued by reliability issues which has been well documented on the internet. The only issue I've had on this specific bike was a failure on one of the front brake lines due to metal fatigue.
KTM assessed the failure and concluded that the brake line was too short. This caused tension on the brake line every time the forks extended and eventually failure due to metal fatigue. Repaired under warranty without any issues.
Service intervals are every 15,000km. I do a fluid and filter service every 5,000km due to the harsh riding conditions in South Africa Where temperatures can easily go as high as 40 degrees Celsius and most rides will be fairly dusty.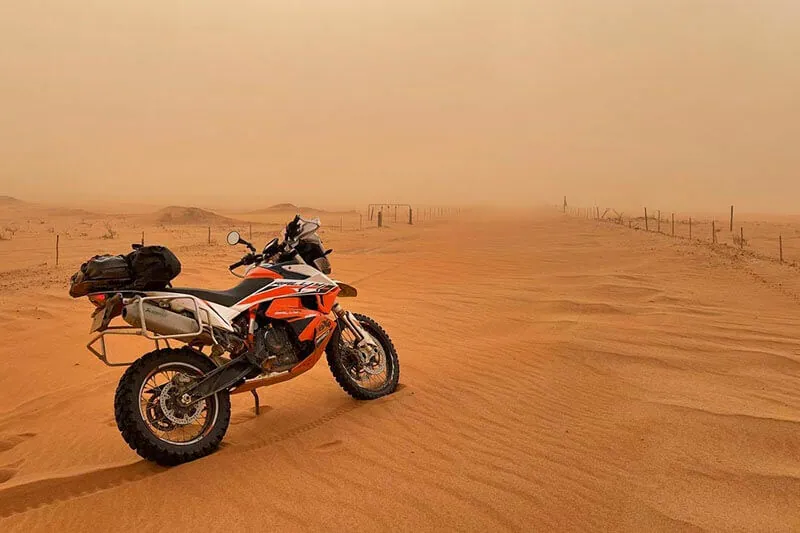 Basic maintenance is very easy to do in my garage. Oil and filter changes take less than 30 minutes. The air filter is very easy to access compared to other big KTMs.
Basic service parts have been very easy to source, but plastics and other parts have been a bit of a pain because of supply chain issues during the pandemic. Resetting service warnings is something I'm not able to do.
It is not the most comfortable bike over long distances. The screen is small as you would expect from a dirt orientated bike. The rally seat is hard and narrow, again for optimal off-road performance. But I'll happily sacrifice comfort for off-road ability though.
Having said that, I've done a 2,500km trip on the bike in 7 days and can't recall ever being uncomfortable.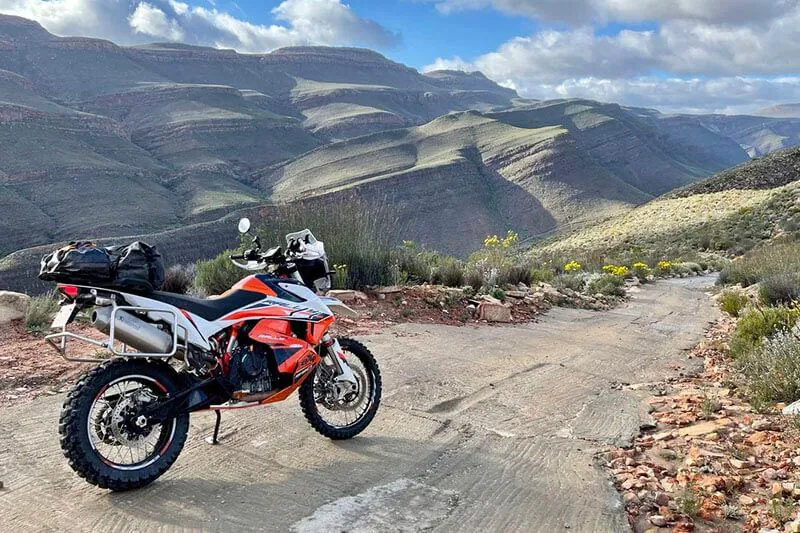 The KTM 890 Rally is a beast. The combination of engine and chassis is best in class and makes this an unbelievable bike to ride. The WP Pro suspension allows me to do things I never thought possible on a bike this size. It just soaks up everything, no matter the speed carried into or over obstacles.
The electronics package gets the best out of the amazing engine and although it takes a bit of getting used to, I couldn't do without now that I've got the hang of it.
It also has amazing fuel consumption of up to 21km/l and the 890 has oodles of lowdown torque and enough top end to keep you on your toes!
It's a very expensive bike. 
Reliability is always in the back of my mind.
The 890 isn't the best looking bike, but it's constantly growing on me…
The air box is an issue. KTM seem to struggle with air box design and this is not their first adventure bike with issues around filtration.
Reliability and a better air box design. Other than that, I can't imagine a better bike than this.
 This bike will appeal to someone who likes to push their limits off-road. The class leading engine and chassis combination paired with WP Pro suspension makes this the best bike I've ridden bar none.
Sadly, I would think twice about taking this bike on a RTW trip. I do think that smaller, cheaper and dare I say more reliable options are available for that application.
Canzius Pretorius is a 48 year old dentist from Nelspruit in the beautiful Mpumalanga province of South Africa. He enjoys regular weekend rides with friends that challenge his skills and riding. When work and family life allows, he undertakes longer trips to explore South Africa and neighbouring countries like Swaziland, Lesotho, Namibia and Zimbabwe.
Check out Canzius's impressive videos and awesome pics:
Read more on Motorcycle Reviews 
Thanks for checking out this KTM 890 Adventure Motorcycle Review. We hope you enjoyed it! Here's a few more articles on motorcycle reviews that we recommend you read next. 
Liked that? Try these next…
Are you planning a motorcycle trip, interested in the KTM 890 Adventure or have any questions? Let us know in the comments below.