"The Kriega Trail 18 backpack is an excellent lightweight rucksack for trail riding. It's all day comfy, has exceptional build quality and is perfect for adventure travels."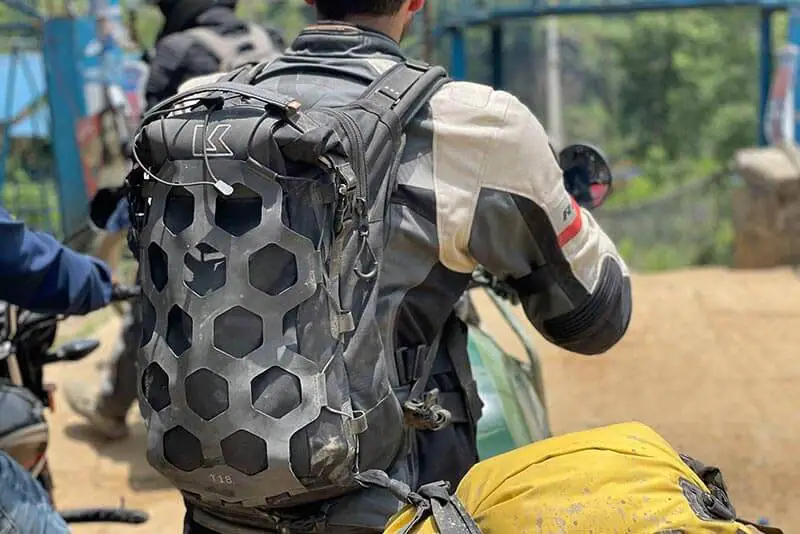 Features
Last year I was asked by MCN to attend a ride to the legendary Lo Manthang in Nepal. For that type of trip I needed a rucksack with bladder pack that I could also fit my camera in, a few snacks, wallet, phone and passport. It needed to be tough, comfortable and ultra lightweight. So I opted for the Kriega Trail 18 Adventure Backpack.
Storage
The Trail 18 is a lightweight backpack for – you guessed it – motorcycle trail riding. That means don't expect to find loads of space in here. But here's what you do have:
Seven litre rear compartment which can take a 3.75L hydration reservoir and squeeze in a few more items as well.
There's an internal pocket in there with a zipped compartment at the front and a roll top waterproof compartment behind it big enough for a phone and wallet.
And there's the main waterproof roll top compartment at the front, which is 11l. You can fit a 13" laptop in there, anything bigger and it'll need to go in the rear compartment.
You've also got the handy webbing up front, which you can quickly stuff your gloves, a water bottle or waterproofs in for example if needed.
Comfort
It uses the Kriega Quadloc harness and a waist strap, which when set up properly takes the pressure off your back and shoulders and feels weightless and all-day comfy. It also features an air-mesh back panel to allow your back to breathe.
Bladder pack
Unfortunately, it doesn't come with a bladder pack, but it is well setup to take one with openings and tabs for the hose and clips to hold the reservoir up in the backpack.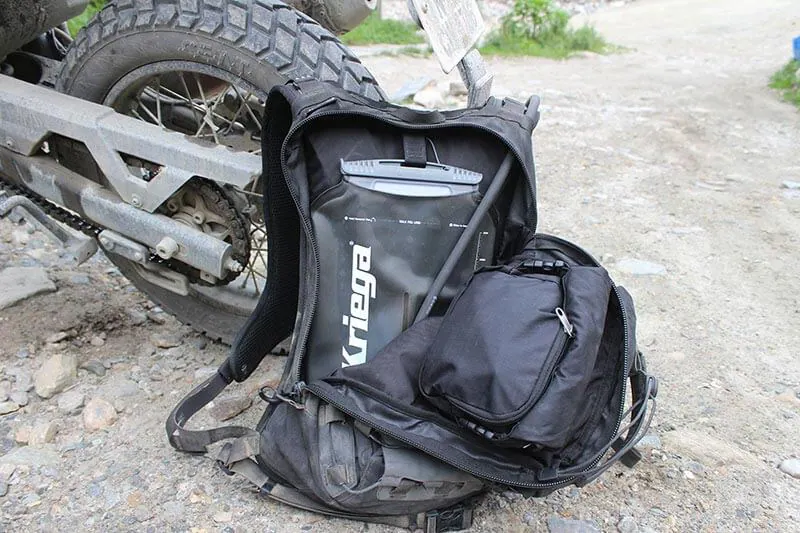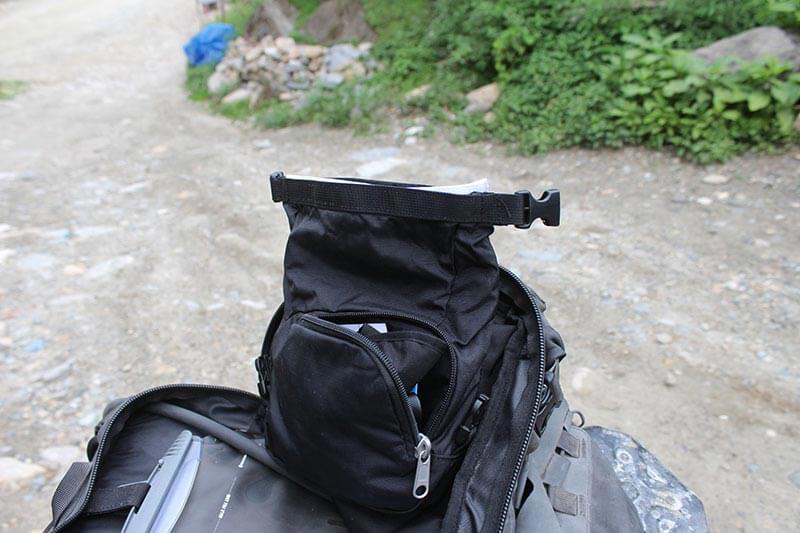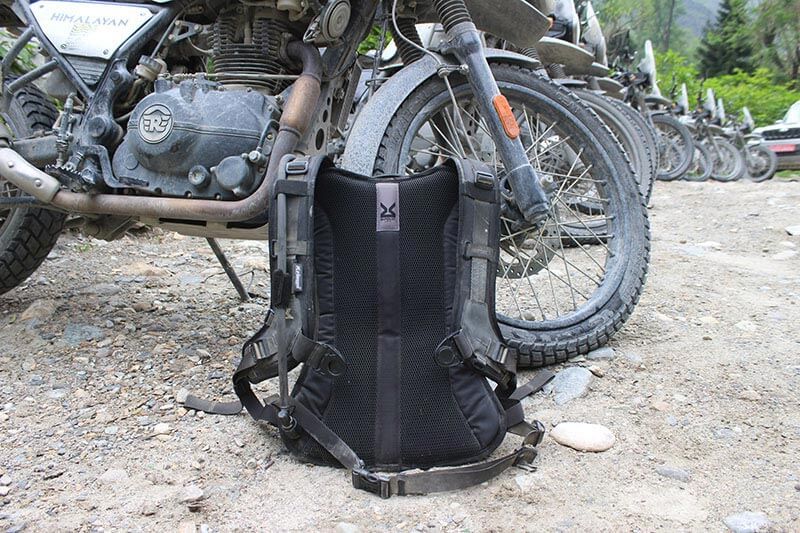 What's good?
Kriega products come with a whopping 10 year guarantee, which is hugely impressive. I've owned Kriega gear longer than that and they're still going. So there's no question on the quality of this Trail 18 rucksack. It's built to last and that's immediately apparent.
What I like about the Trail 18 is how well thought out it is. Kriega has made excellent use of space on what is essentially a backpack for a bladder pack. They've treated it to two fully waterproof compartments and it has the mesh net up front for quickly stashing items.
This backpack accompanied me on some very challenging terrain in Nepal and was more than enough for a lightweight ride.
What's not?
This is a £200 rucksack and that is very expensive. However, it's clearly a seriously premium product and exceptionally well-made. Couple that with your 10-year Kriega guarantee and it becomes understandable. If you're after an indestructible backpack for trail riding or adventure motorcycle travel, then this is it.  
Round up
The Kriega Trail 18 backpack is an excellent lightweight rucksack for trail riding. You can easily carry a hydration bladder and essential items in this bag with its fully waterproof compartments and still find space to pack a few more items. It's all day comfy, has exceptional build quality and is perfect for adventure travels.
ps. We may receive a small commission, at absolutely no cost to you, if you purchase any products using the links on this page. We're not sponsored by anyone, are completely impartial and don't run ads. So this helps us keep the site running. Thank you for your support.
Read more on motorcycle luggage
Thanks for checking out our Kriega Trail 18 Backpack Review. We hope you enjoyed it! Here's a few more articles on motorcycle luggage that we recommend you read next.
Liked that? Try these next…
Are you interested in the Kriega Trail 18 Backpack? Please leave any questions or comments below. We'd love to hear from you.