"The Kriega R3 Waist Pack is a handy, extremely well-designed motorcycling accessory. You've got high-quality materials, fully waterproof inner and an all-day comfy design."
Snapshot
Price: £75.00
Mileage tested: 10,000
Time tested: 5 years
Testing conditions: Worldwide
Function: 5/5
Durability: 5/5
Ease of use: 5/5
Value for money: 5/5
Where to buy UK: sportsbikeshop.co.uk
Where to buy US: revzilla.com
Features
The Kriega R3 waistpack has one large 100% waterproof roll-top compartment. It's protected by a hard-wearing flap with two clip buckles. 
Inside the flap there is a see-through mesh zipped pocket. And there is another quick access zipped pocket on the front of the main compartment too. 
The main waterproof compartment has a 3 litre capacity. Like with Kriega's US products, it has a removable liner that can be washed or replaced if necessary. 

The waistpack is secured with one large clip buckle and can be fastened with Kriega's alloy fastener (a cool feature that does away with loose belt ends).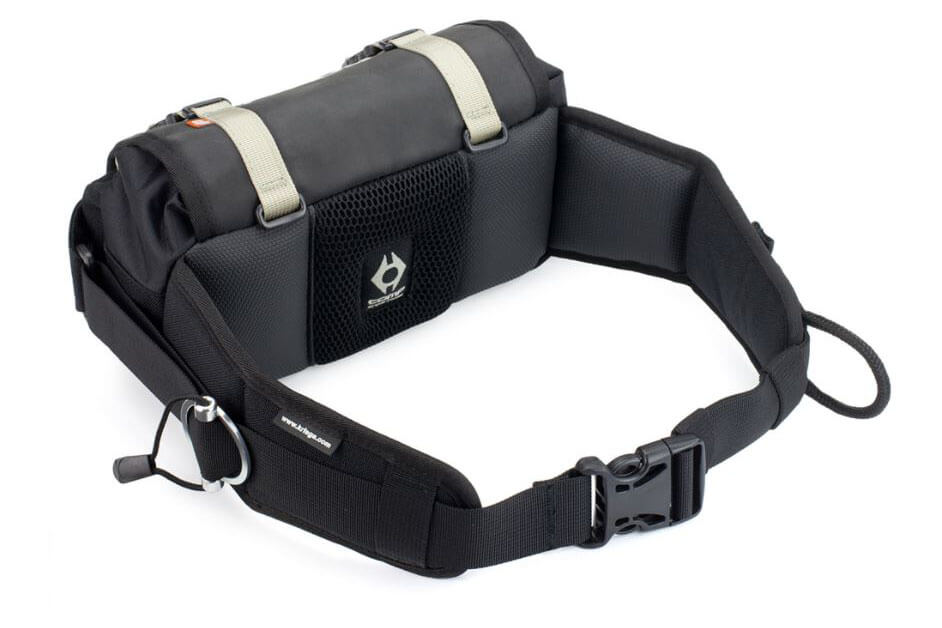 What's good?
I've been using the Kriega R3 waistpack for years on a variety of trips. I found it comes in handy on European tours where I need quick access to my phone, passport, tickets, point and shoot camera and money etc and don't want those things bulking up my pockets. 
But I mainly use the bag when off-roading and travelling. I originally got the bag for a two-week ride through the Himalayas and wanted something with quick access to my DSLR camera. I didn't want to leave my camera in a tank bag as I knew I'd be getting on and off the bike throughout the day and didn't want the faff of detaching the tankbag every time. 
The R3 bum bag was perfect. There's plenty of padding on the belt's side so it stays comfortable throughout the day. It's easy to turn the belt around to quickly can access the front compartment without taking it off and most importantly, everything is always perfectly dry. 
What's not?
It's always hard to pick faults with Kriega products because they're so well made (and come with a 10-year guarantee). This Kriega R3 bum bag does everything you want it to for a fair price considering the level of quality. 
Round-up
The Kriega R3 Waist Pack is a handy, extremely well-designed motorcycling accessory. You've got high-quality materials, fully waterproof inner, additional zipped mesh pockets, 3 litres of space (big enough to take a DSLR) and an all-day comfy design. If you don't want your mobile, keys, cards, cameras etc in your pockets or need that extra space then the R3 is perfect for you. 
Kriega R3 Waist Pack Review: 20/20
Kriega R8 version
Kriega also supply the R8. It's similar to the R3 set-up except it has two pouches giving it an additional 5 litres. The waterproof compartment is in the smaller pouch. 
Other Kriega products and reviews
ps. We may receive a small commission, at absolutely no cost to you, if you purchase any products using the links on this page. We're not sponsored by anyone, are completely impartial and don't run ads. So this helps us keep the site running. Thank you for your support.
Read more on Motorcycle Luggage
Thanks for checking out our Kriega R3 Waist Pack Review. We hope you enjoyed it! Here's a few more articles on motorcycle luggage that we recommend you read next. 
We'd love to hear from you! Please leave your comments below.