"Light, tough and comofrtable. The Kriega R20 backpack is a brilliant little rucksack for enduro and adventure riding." 
Snapshot
Price: £129.00
Mileage tested: 50,000
Time tested: 8 years
Testing conditions: Worldwide
Function: 5/5
Durability: 5/5
Ease of use: 5/5
Value for money: 4/5
Where to buy UK: sportsbikeshop.co.uk
Where to buy US: revzilla.com
Features
The Kriega R20 Backpack is a lightweight rucksack and well suited for enduro or adventure riding, but can be used as an everyday bag. Unlike the R30 and R35 backpacks, the 20 litre R20 isn't waterproof. 
It's sleeker than it's R25 big brother with a single click chest fastener and slimmer design. And it's far more useable than the ultra-light and small R15, which is better thought of as a hydration backpack with extra space. 
The R20 is a decent size with one main large compartment and an additional zipped front pouch for quick access. There's a sleeve inside the main compartment for a hydration pack and openings to run the water pipe. The inner sleeve can also be used to take a Kriega back protector insert.
The bag comes with a single chest fastener (easy to undo with one hand) and that takes the weight of the shoulders.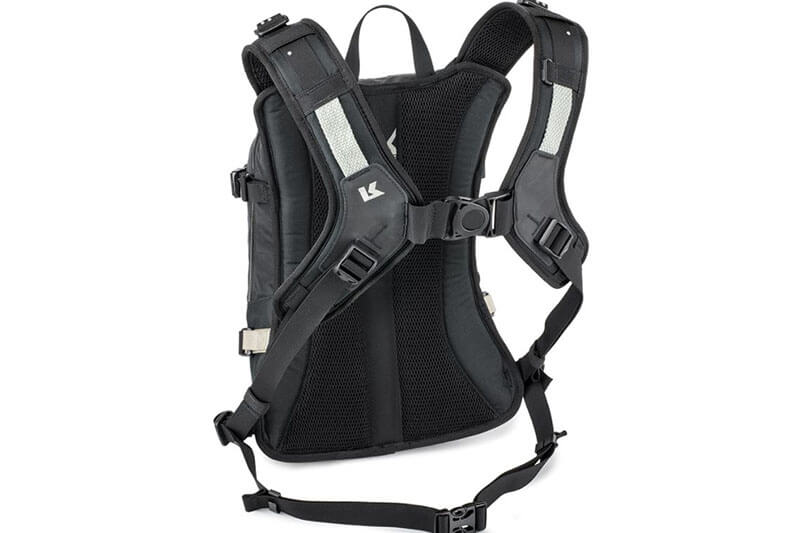 What's good?
I primarily use the Kriega R20 on off-road and enduro trips when riding abroad. It's big enough to carry waterproofs, a hydration pack, spare gloves, snacks and a warm top. 
The bag is super comfortable with its front harness system and is short so you can't really feel it when standing on the pegs. It fastens tightly to the back so you don't feel any weight pulling on your shoulders either. 
It's easy to access all your gear with a single zip opening and an additional zipped front compartment for quick access items. 
Importantly, I've owned this bag for years and it's still in excellent condition despite it's very hard life. It's a brilliant off-road/ adventure companion.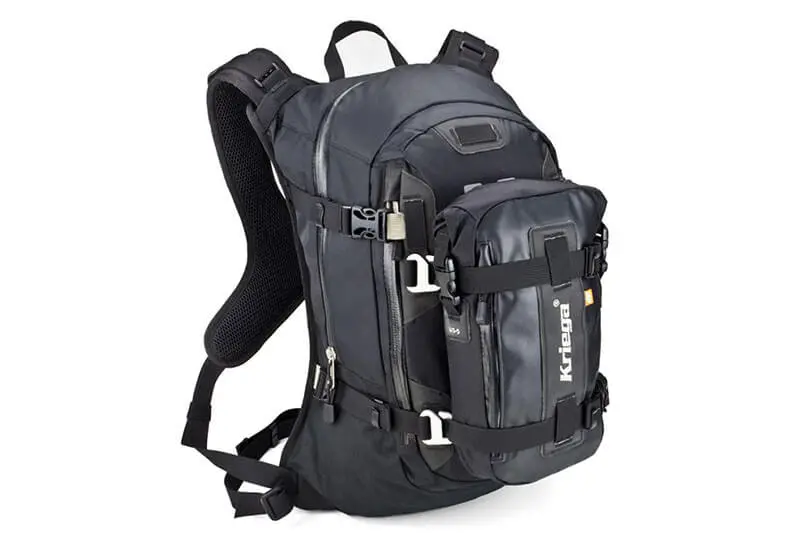 What's not?
The only niggle I have with the Kriega R20 is that it's not waterproof. It'd be absolutely perfect if it was. To get a waterproof backpack from Kriega you need to move up to the R30 which is a considerably bigger rucksack and has a roll top closure. 
For me, the answer is using my own inner dry bag to stuff my gear in on rides where I reckon it'll get rained on (or submerged), but it is a faff. For £130 I feel as though it should come with a waterproof compartment. Because it#s not waterproof, I deducted one point of the 'Value for Money' section. I only deducted a single point because it's still an incredibly well-made and premium product. 
There is the option of attaching a US-5 to the front, which is 100% waterproof. But, one of the R20's best selling points is how light and easy it is to use. I don't want the hassle of attaching more bags. So, I mainly only use this bag on hot weather rides. 
Round-up
Light, tough and comofrtable. The Kriega R20 backpack is a brilliant little rucksack for enduro and adventure riding. You can stuff loads of gear in there and it's built to take a hydration pack too for those hard rides. It's a great bit of kit, but the only downside is that it's not waterproof and you will need to use your own dry bag inside. If that doesn't bother you, then you can't go wrong with the R20. 
Kriega R20 Backpack Review: 19/20
Other Kriega products and reviews
ps. We may receive a small commission, at absolutely no cost to you, if you purchase any products using the links on this page. We're not sponsored by anyone, are completely impartial and don't run ads. So this helps us keep the site running. Thank you for your support.
Read more on Motorcycle Luggage
Thanks for checking out our Kriega R20 Back Pack Review. We hope you enjoyed it! Here's a few more articles on motorcycle luggage that we recommend you read next. 
We'd love to hear from you! Please leave your comments below.