"The Kriega US-30 tail bag is extremely durable, 100% waterproof, easy to use, can be fixed to any bike, is versatile, tough and hard-wearing. It's perfect for touring or long-distance round-the-world adventures and it won't let you down." 
Snapshot
Price: £145.00
Mileage tested: 100,000
Time tested: 9 years
Testing conditions: Worldwide
Function: 5/5
Durability: 5/5
Ease of use: 5/5
Value for money: 5/5
Where to buy UK: sportsbikeshop.co.uk
Where to buy US: revzilla.com
Features
The Kriega US-30 is a motorcycle tail bag used for strapping down to a pillion seat, rear luggage rack or used as part of a Kriega set with smaller US bags attached either side. 
It's a 100% waterproof bag and the largest in Kriega's US lineup. It uses a roll-top closure system with two clips either side of the bag and one over-the-top clip. The main compartment is waterproof with a removable and replaceable inner bag. The outer material is made of Cordura. And there are also two outside pockets (one on either side) – one is a mesh pocket and the other side has a zipped pocket for quick access. 
The 30 has a universal fit system. You get four loop straps with the bag which you can tie to the rear subframe or other metal parts underneath the pillion seat. There's a way round it whatever type of frame your bike has (check the Kriega website for fitting instructions). Once you've fastened those loops down, then it's just an easy case of hooking the bag on with the four hook straps also provided. It's an easy system to use. 
The US-30 also comes with a shoulder strap so it can be carried when off the bike.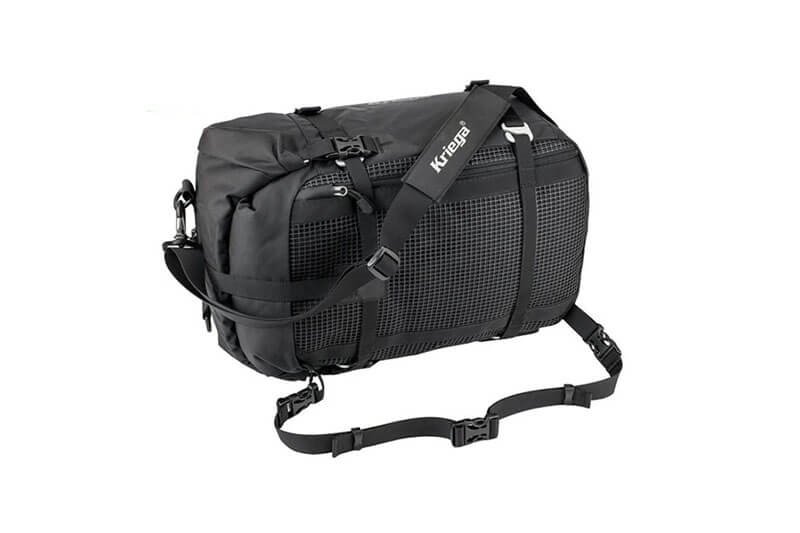 What's good?
I have owned a US-30 for 9 years. It's been with me on multiple bike trips to the Middle East, Europe and now even round-the-world. It's the longest and hardest serving bit of kit I own and it's still in brilliant condition. Kriega is renowned for high-quality gear, so much so that their products come with a 10-year guarantee. The only thing that has needed to be changed is the inner bag after 7 years of hard use. And that cost roughly £10 for a replacement direct from Kriega. So, the first point to make is that you get what you pay for. 
Secondly, it's ultra simplistic, easy to use and adaptable. At times i've had it fastened to my pillion seat. Other times it's on top of a side pannier and has even been strapped up front to my crash bars. 
Thirdly, it does everything you want it to – and perfectly. It's 100% waterproof, after years of hard use the zips don't drag, there's no fraying of materials and it's easy to access your gear. 
What's not?
It's very hard to pick fault with Krieg's US range. The 30 is their largest tail pack and the most expensive at £145. There are loads of cheaper alternatives on the market. But this is a high-quality, premium product that will last you forever and works. 
Round-up
The Kriega US-30 tail bag is a brilliant bit of kit. It's extremely durable, 100% waterproof, is very easy to use with a roll top closure and has plenty of space inside. It can be fixed to any bike, is versatile, tough and hard-wearing. The US-30 is perfect for touring or long-distance round-the-world adventures. It won't let you down. 
Kriega US-30 Drybag Review: 20/20
Other Kriega products and reviews
ps. We may receive a small commission, at absolutely no cost to you, if you purchase any products using the links on this page. We're not sponsored by anyone, are completely impartial and don't run ads. So this helps us keep the site running. Thank you for your support.
Read more on Motorcycle Luggage
Thanks for checking out our Kriega US-30 Dry Bag Review. We hope you enjoyed it! Here's a few more articles on motorcycle luggage that we recommend you read next. 
We'd love to hear from you! Please leave your comments below.