Kenya Motorcycle Rentals and Tours
If you're planning on joining a motorcycle tour or renting a bike in Kenya, check out these awesome companies first. 
Recommended Motorcycle Rental and Tour Companies in Kenya
Please contact the companies listed on this page directly for more information.
AMT Motorcycle Adventures
"We have a fleet of reliable motorcycles, our customer support system is top notch and our staff are friendly and ready to help anytime. We'll ensure you have a smooth and incredible motorcycle adventure in Kenya."
Services: Motorcycle rentals, guided motorcycle tours and motorcycle training (training is in Mombasa).
Rental bikes: AMT currently have a fleet of Kibo 160cc and Kibo 250cc motorcycles. The bikes are engineered in the Netherlands and assembled in Kenya.  
Rental prices: Daily rental prices are 17 Euros and 20 Euros for the bikes. 
Tours: AMT offer a selection of motorcycle tours ranging from one to three days. Visit their Tours page for more info.  
Insurance: Motorcycles come with comprehensive insurance included. 
Kit availability: Helmet, gloves, riding jacket and knee pads are available for 3 Euros per day.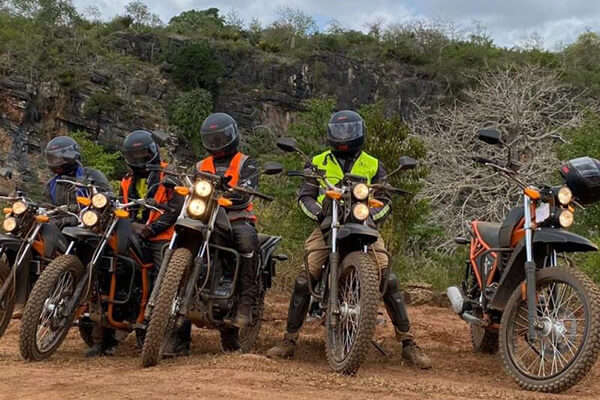 Akili Terry
0798045413
 amtmotorcycle@gmail.com
Cross border: Located in Kenya, Nairobi and Mombasa. Bikes can be taken across the border with a 66 Euro charge for paperwork. 
"We are the most reliable and affordable bike rental service in East Africa. Our well maintained motorcycles are ready to hit the road wherever you want to go, within Kenya and across borders, no problem!"
Services: Motorcycle and Gear Rental, cross border rental + Motorcycle Pick up/drop off
Rental bikes: Kibo 250cc , Bajaj Boxer 150cc and TVS Wego Scooter 110cc.
Rental prices: Daily rates are £27, £15 and £14 approx. for the Kibo 250cc, Boxer 150cc and Wego 110cc respectively.
Tour prices: There are currently bi-weekly day tours for £47 approx. iRideNairobi also assist renters to chart longer tours in Kenya and East Africa.
Insurance: The motorcycle has comprehensive insurance, however a refundable security deposit of £77 is required during the rental to cover minor damage that is below insurance repair thresholds.
Kit availability: Each rental comes with a helmet and reflector as standard. Additional gear is available at a fee.
Nairobi, Kenya
 iridenairobi.com
Michael
+254 (0) 794 592 350
 admin@iridenairobi.com
FAQs on Kenya Motorcycle Rentals and Tours
Read more on Motorcycle Travel in Kenya and Africa
Thanks for checking out our Kenya Motorcycle Rental and Tour Companies post. We hope you found what you were looking for. Here's a few more articles on motorcycling in Kenya and Africa that we recommend you read next.
Click here for all of our Africa Motorcycle Travel Guides
Motorcycle Rental and Tour Companies
Planning a Fly and Ride bike adventure? Here's our recommended motorcycle rental and tour companies from around the world. Check out the page, click a country and see what's on offer!
Read More